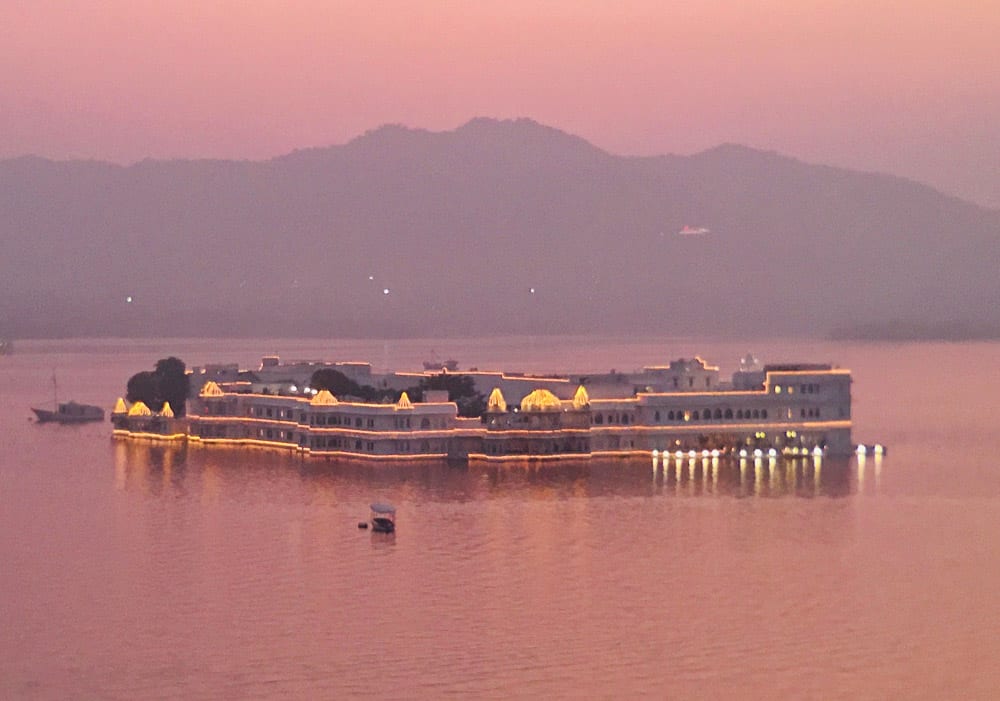 Intrepid Travel Classic Rajasthan: Small group tour of India
IF YOU'RE VISITING INDIA for the first time as a tourist, I highly recommend taking a small group tour. It's the perfect way to cope with the (almost) inevitable culture shock and the challenges of booking trains, haggling with autorickshaw drivers, coping with touts, and dealing with the myriad challenges travel in India presents. I also recommend Rajasthan — one of my favourite states, much beloved by travellers. So, as a long-time fan of small group travel company Intrepid Travel, I was thrilled to travel with them on their best-selling Intrepid Travel Classic Rajasthan tour from November 26 to December 9, 2019.
Intrepid Travel is my preferred small group travel company because of their philosophy of giving travellers authentic cultural experiences and because they uphold responsible travel practises. They were one of the first companies to ban elephant riding on all their tours, for example. And the Intrepid Foundation supports many worthwhile endeavours in India and elsewhere — such as building school playgrounds.
Intrepid Travel Classic Rajasthan is a 15-day tour that starts in Delhi, stops in Agra for the Taj Mahal, and then travels through Rajasthan by train and car, hitting some well-known destinations such as Jaipur, Udaipur, and Pushkar — and several fascinating places that are off the beaten path such as Madhogarh Fort, Pangarh Lake Resort, and Bijaipur Castle. There are so many incredible places to visit in Rajasthan!
Along the way we covered both the primary tourist sites such as UNESCO listed Amber Fort, as well as women's cooperatives, rustic villages, artisan workshops, and other unique places. The Intrepid Travel visits help support the local community — both with donations from the Intrepid Foundation, and through our hotel stays and shopping.
---
To book the tours
Urban Adventures Hidden Gems of Delhi
Urban Adventures Delhi Food Walk
---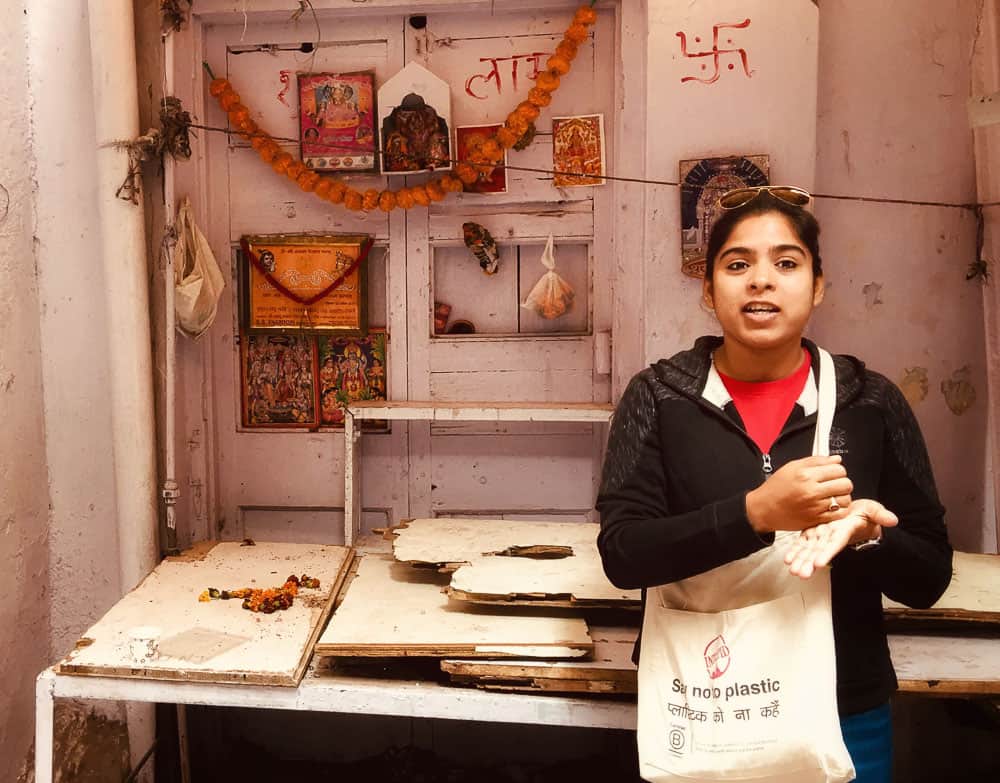 Top 5 reasons I loved the Intrepid Travel Classic Rajasthan tour
I loved the tour for many reasons, but here are the top five:
Our guide, Anjali, was incredible. She won the Intrepid Travel Guide of the Year last year, and it is easy to see why. She's smart, strong, fun, and knowledgeable. On top of her many gifts, she has a deft way of keeping the group together and on track while making it seem effortless.
The itinerary was very well-designed to provide a mix of urban and rural, touristy and off-beat, active days and rest days. Again, it seemed effortless, but I know how much thought and work must have gone into crafting the itinerary.
The small group size (our group had seven travellers plus guide Anjali), which meant we were agile and manageable. We could eat at small restaurants, we were able to be flexible about the schedule (itinerary permitting), and when we visited artisans, we did not overwhelm them.
Intrepid Travel's commitment to responsible travel was evident throughout the tour. When we visited Amber Fort in Jaipur, we walked to the top and absolutely did not take the elephant rides on offer there. When we went shopping — Rajasthan is a shopper's paradise! — we went to places that support the local community.
The emphasis on local and authentic cultural experiences. Over and over again, we had experiences that were way off the tourist trail. We rode a local train, in general class. We visited local shops in remote places to buy things like bangles, made by a husband-and-wife team. We went camping (glamping, really) on a remote lake and ate fresh, simple, local cuisine. We attended a Bollywood movie at one of the world's most beautiful cinema halls. And on and on.
Rajasthan tour itinerary

Rajasthan Tour Itinerary with Intrepid Travel India
The Intrepid Travel Classic Rajasthan small group tour started (and ended) in Delhi. We stayed in a hotel in Karol Bagh and spent two days exploring Delhi. But of course the VERY first thing we did was meet 'n greet. Our guide Anjali greeted us and we took turns introducing ourselves. Our group consisted of a couple from France, three Australian women (two were sisters) travelling together, a solo woman from Belgium, and me. That made a cosy and perfect eight in total.
After the meet n' greet, we went to Kitchen with A Cause for dinner. This was just the first of many activities on the itinerary that supported the local community — and one of the reasons I am so thrilled to be associated with Intrepid Travel, a company known for being a leader in the responsible tourism movement. Kitchen with a Cause trains and employs local youth, and the food is delicious.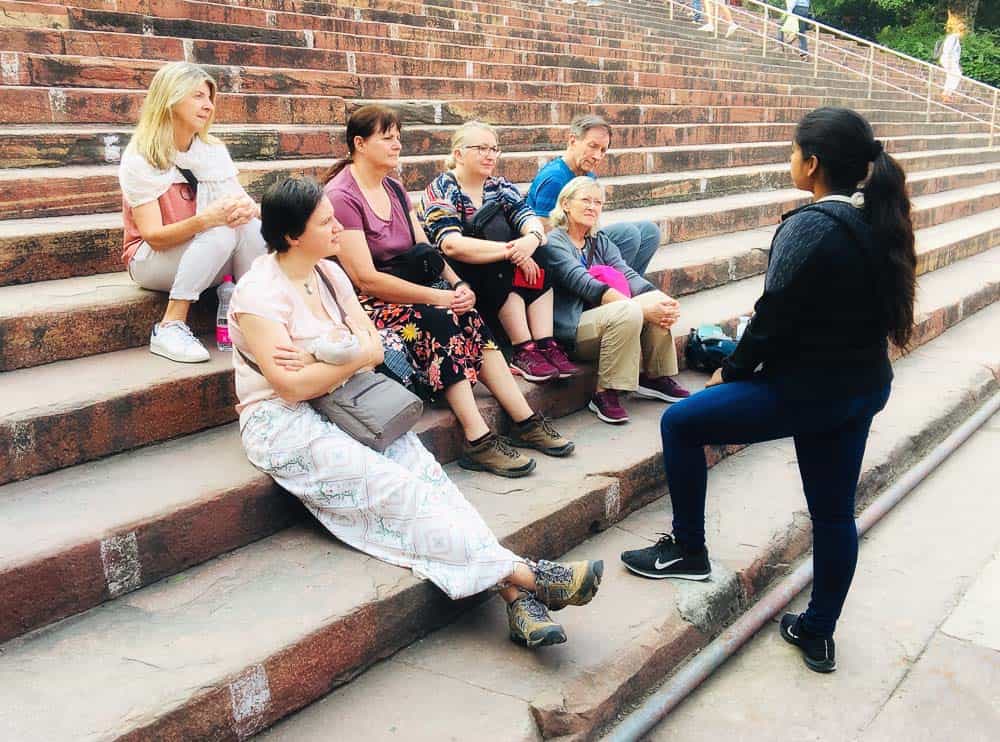 Hello Delhi!
The Intrepid Travel Classic Rajasthan tour includes guided walks, and also free time, in Delhi. On our first morning we headed out early, before rush hour, to Old Delhi. It was nice to be out in Delhi in the early morning, I loved the experience. We took the Delhi metro and transferred to cycle rickshaws to get to Jama Masjid, one of the biggest mosques in India. There, we sat on the steps in the morning sun while Anjali gave an informative talk about the history of India and Delhi. She gave everyone a context for what we were about to experience.
We spent the morning wandering the narrow lanes of Old Delhi, including the Chandni Chowk markets, Chawri Bazaar, the beautiful Sheesh Ganj Gurudwara, and stops for breakfast at Paranthe Wale and a tiny chai stand that sold outstanding masala chai.
Later in the day, I took the Urban Adventures Delhi Food Walk along with the French couple that was part of our group. Leader Komal guided us through a market near Delhi University, where we sampled tasty food from about 10 different restaurants and stalls. It was a fun and satisfying experience for many reasons, in spite of a cold, rainy afternoon and a power cut — we ate momos in the dark! I had never explored this part of Delhi, and I loved the street food experience.
TIP: I highly recommend Urban Adventures Delhi tours. I have also taken the Urban Adventures Hidden Gems of Delhi and it was sensational.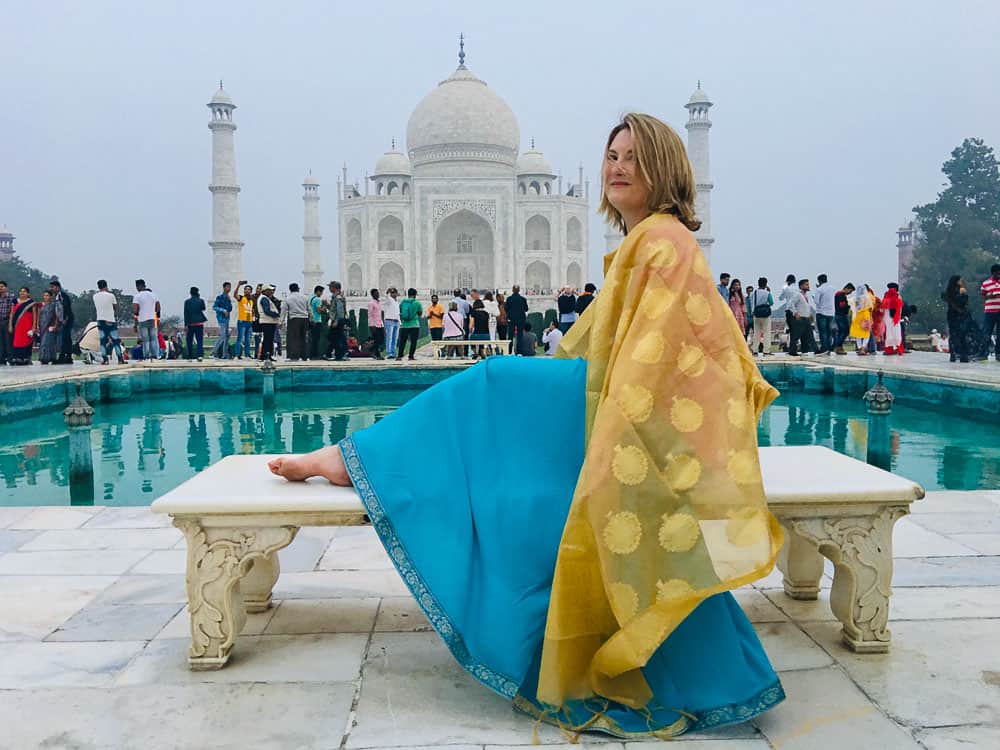 Agra and the Taj Mahal
The next morning we met early to take taxis through the centre of Delhi to Nizamuddin Railway station to catch the high-speed Gatimaan Express Train to Agra. We transferred to a mini AC bus, a Tempo, and drove directly to Agra Fort where we met our guide Ravi. Agra Fort is very well preserved, and though I've been there several times before, it was still a great experience to hear Ravi's stories — especially the story of Mughal Emperor Shah Jahan and how he was imprisoned in the fort for the last years of his life. The ill-fated emperor was doomed to look across the river at the Taj Mahal, the monument to love he built for his wife Mumtaz.
In the afternoon, we went to the Taj Mahal. I've been about six times, and there is nothing left to say about the Taj Mahal — you can read my guide to the Taj Mahal here — except it's fun to watch people as they enter through the massive gate and see it for the first time. It's so famous, so iconic … and so beautiful, too … that it really wallops people. They can't believe they are "really here!" and I know the feeling. We were given ample free time to experience the Taj — and take photos of course — and then we met outside the gates at a cafe. It started to pour rain, and we were stuck in the cafe, which was actually fun and cosy.
Agra is not just the home of the Taj Mahal and other historical monuments, it's also a vibrant, busy city — known for several industries such as shoes, sweets, and carpet making. It's been an Agra tradition for 400 years to make carpets by hand, using two traditional stitches. We stopped for a demonstration of carpet making, and drank tea in a showroom while several people bought carpets to be shipped home.
Introducing the group to local crafts and places they can shop for quality goods was part of the Intrepid Travel Classic Rajasthan itinerary, and we had similar experiences in several cities. Intrepid knows that tourists like to bring home souvenirs, so they build shopping into the itinerary — and add an educational component to it. All of the places we shopped also support the local community by employing local artisans. Everywhere we went, we spent our money in local restaurants and stores; our money stayed in the local community. Another thoughtful way that Intrepid Travel supports responsible travel principles.
Our dinner in Agra, as in many places on the tour, was at a restaurant carefully chosen to offer delicious food, charming ambience, and high standards in terms of hygiene and infrastructure. I noticed again and again how carefully everything on the itinerary was chosen. We feasted on thalis and tandoori and rich, hearty North Indian cuisine.
The next morning, our Tempo picked us up for the drive to Madhogarh Fort. We travelled by Tempo for five days, and I was very impressed by our driver Sonu. He was a nice person and an excellent driver. He adeptly handled all the craziness of Indian roads — which caused some of my fellow travellers, all new to India, a few heart-stopping moments.
Tip: Don't sit at the front of the bus unless you're prepared for a front-row view of the chaos. I sometimes think it's better not to look. There are so many near-misses … but it always turns out okay. Like so much in India, it doesn't make any sense but it works.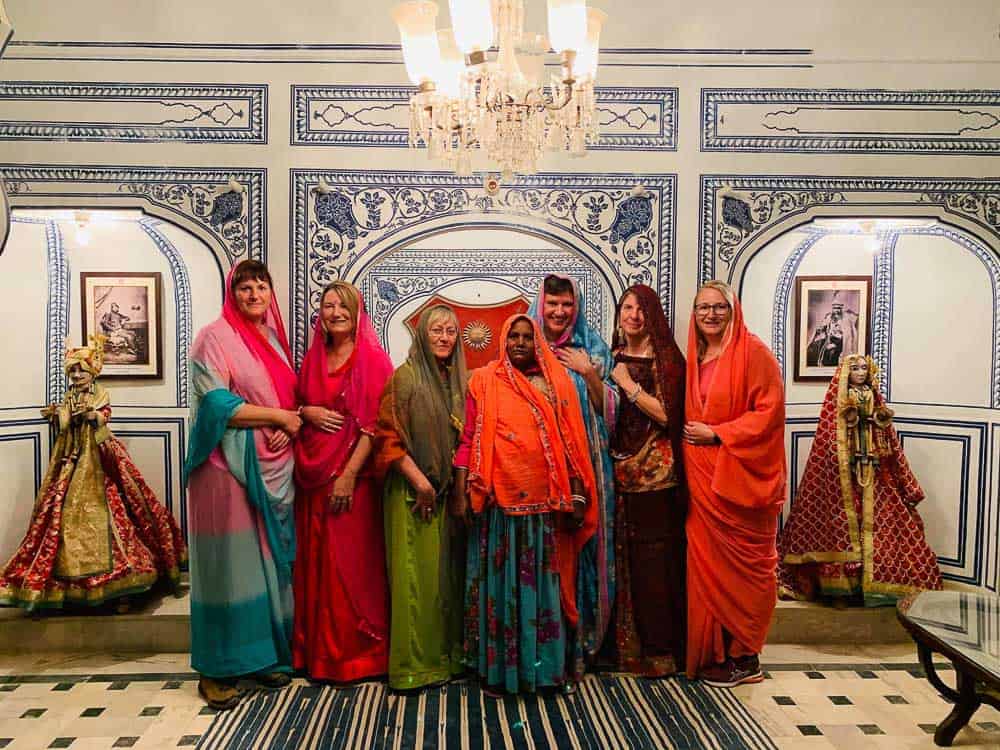 A real royal fort in Rajasthan
One of the fun things about the Intrepid Travel Classic Rajasthan tour was the off-beat things we did. In fact, our very first stop in Rajasthan, after crossing the border out of Delhi, was way off the beaten path. We left the highway and drove for an hour or two, way off the tourist trail, into rural Rajasthan to get to Madhogarh Fort. Driving through village after village, we delighted in waving at kids — not used to seeing blonde-haired foreigners.
Finally we reached the hill-top fort, after driving up a winding road that circled the hill. Staff in traditional dress greeted us at the massive doors and led us into the courtyard dining area, where we drank masala chai and met the owner, Shiv Pratap. The Prataps are a noble family that have been associated with the Jaipur royals for hundreds of years. Madhogarh Fort has been in his family for 500 years, and it does carry the romance of age.
I loved it at first sight — it's exactly my kind of place. Authentic, atmospheric, romantic, and with just enough comfort. They have wisely not modernized it too much. We ate dinner in the courtyard, and the next morning, breakfast on the top of a turret — with a bird's eye view of the surrounding countryside. We also dressed up in traditional Rajasthani clothing and had our photos taken in a beautifully restored historic room.
While at Madhogarh, we walked through the village and stopped at a government organization to see women weaving on handlooms, and saw an old man spinning cotton on a charkha — the very picture of Gandhi. We also stopped to buy lacquer bangles from a local husband-and-wife team, who make them in a tiny roadside workshop. These are the kinds of local, authentic experiences that Intrepid Travel builds into their itineraries, and that make their trips so memorable — and so supportive of the local community and economy.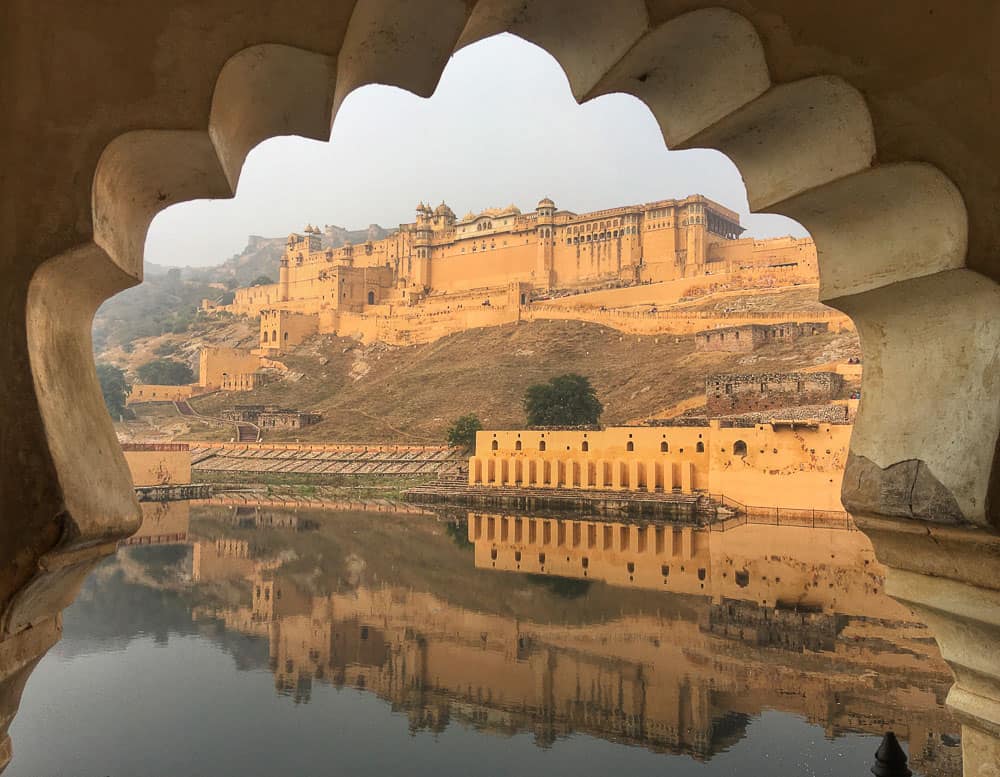 Jaipur, the capital of Rajasthan
After leaving Madhogarh, it was a short drive to Jaipur, the capital of Rajasthan, where we went directly to Amber Fort — one of the jewels of this very rich city. Amber Fort is massive, well preserved, and worth visiting — though it is always busy. It's a hilltop fort and there are three ways to get up to the top: walk, pay for a jeep ride, or pay for an elephant ride. Thankfully, Intrepid Travel has a global policy against elephant riding, so the entire group opted to walk. It's really not very far, and you can see the elephants up close as you use the same ramp in some spots.
I already knew the elephants are in bad shape — sick, crippled, blind, over-worked, and unhappy. But it's awful to see them up close. I stood by the side of the ramp and tried to send a few of them some comforting looks. Read my post on protecting India's elephants to find out why you shouldn't ride elephants here or anywhere else, for that matter.
Once inside the fort's huge courtyard, we met our guide Sanjay Sharma. Sanjay has been a guide for 15-20 years, and Anjali told me she always hires him because he teaches both culture and history, and gives visitors time to explore and take photos. He is a charming man — one of the many excellent guides that Anjali hand-picks for her tours.
In Jaipur for two nights, we had personal time to explore this great city, after an orientation walk through the Pink City — the historic part of the city. We also went shopping at a couple of emporiums, had a rooftop dinner with a view of one of Jaipur's forts, and went to a Bollywood movie at the Raj Mandir Cinema. Raj Mandir, built in 1971, is one of the world's most beautiful cinema halls. It is extremely ornate, with a huge auditorium. Some of the group members told me the option to see a Bollywood movie in India was one of their favourite things on the itinerary — one of the deciding factors that led them to book the Intrepid Travel Classic Rajasthan tour.
Jaipur is a great shopping city — one of the very best in India. The city is famous for a variety of crafts, such as block printing, and it's the centre of the gem trade and jewelry industry. There are so many beautiful things to buy in Jaipur — it's a shopper's paradise in India! But … caveat emptor. Buyer beware. It's also a very tricky place to shop as, unfortunately, there are a lot of unscrupulous dealers who sell fake goods and rip people off with various scams. Anjali always warns her groups about the scams. And, in general, Intrepid Travel tours try to support shops and businesses that employ locals and benefit the community.
---
Here are some more suggestions for an incredible Jaipur itinerary.
---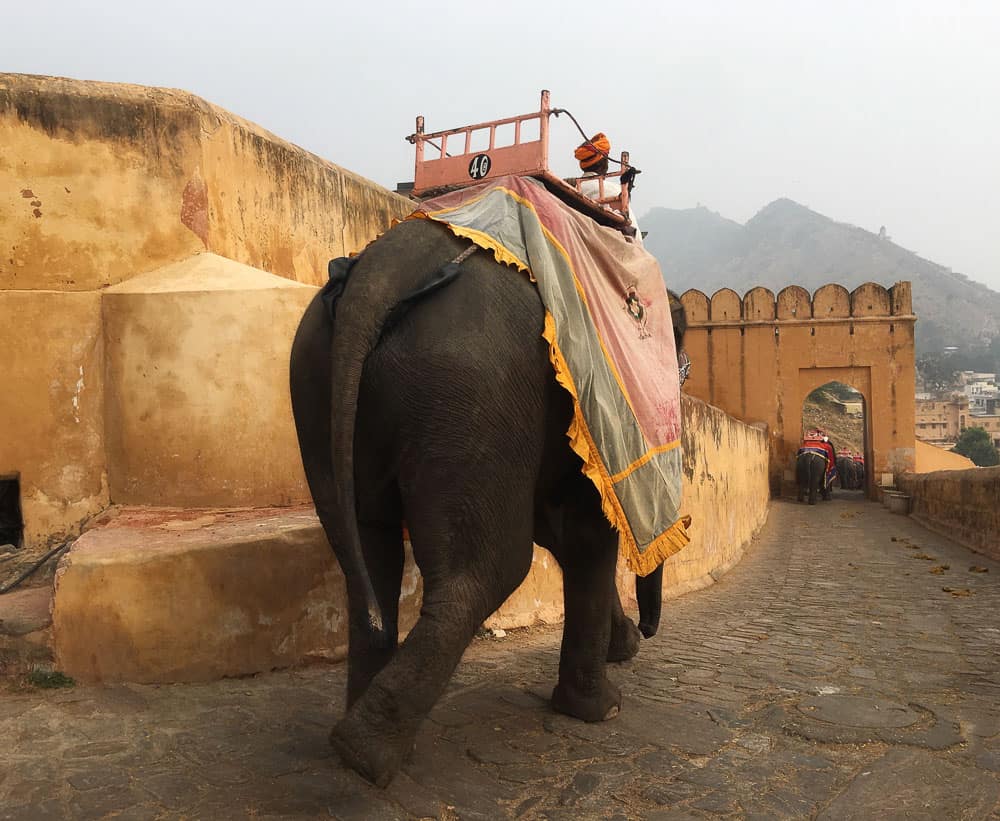 Wildlife safari in Ranthambhore Tiger Reserve
I never have enough time in Jaipur, I love all that the city has to offer, but luckily we left for a great destination: Ranthambhore Tiger Reserve. It's the most popular tiger reserve in India, due to its close proximity to Delhi, photogenic landscapes, and density of tigers. We stayed in nearby Sawai Madhopur, and went on an afternoon game drive in a canter with other people. It was lovely to drive through Ranthambhore, and we did see lots of animals and birds, but no tiger. We definitely came close though, as we heard alarm calls. Our guide felt the tiger was hiding in the forest, and could probably see us!
There was an option to do a second game drive, the following morning, by jeep — and most of the group took it and went back to Ranthambhore. Anjali told me that group members see a tiger about 70% of the time — but it doesn't really matter, it's still wonderful to go on a wildlife safari in Ranthambhore. There's so much to see and experience.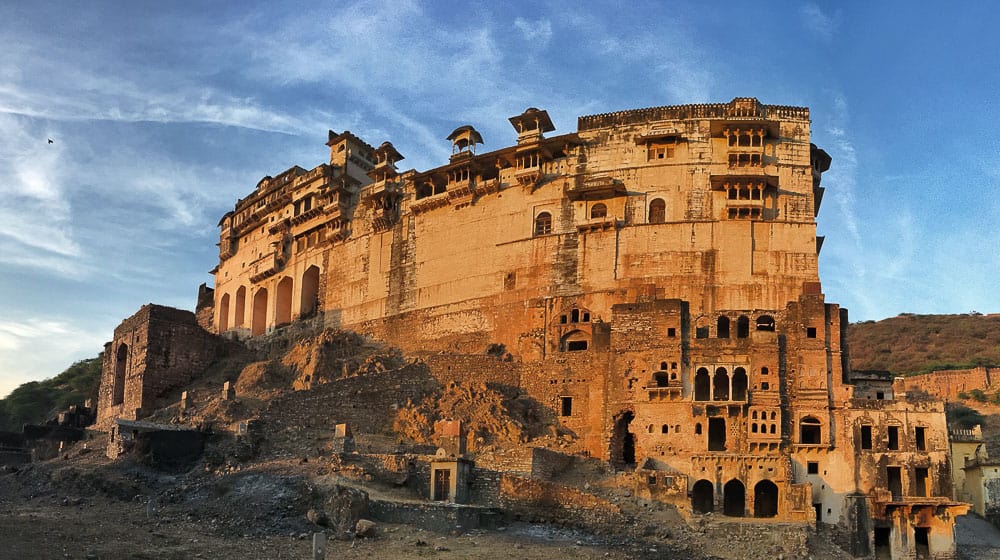 Offbeat Bundi and the palace of goblins
From Sawai Madhopur we drove to one of my favourite off-beat places in Rajasthan — Bundi. It's another stop on the Intrepid Travel Classic Rajasthan itinerary that is both amazing and unusual. The small city of Bundi doesn't get a lot of tourists, but it definitely deserves a visit. I was in Bundi several years ago and loved it (here's what I wrote about Bundi). I felt I had this historic and evocative town almost all to myself!
In Bundi, we again stayed at a heritage property, Ishwari Niwas, and had yet another great guide, Jogi. This was to be the theme of the trip! Jogi works at Ishwari Niwas and was a fun, relaxed, and informative guide to charming Bundi. He was more like a friend. Anjali is very careful about who she chooses to show us around, in fact she books these people months in advance.
First we saw one of the many step wells in Bundi, Rani ki Baori, and then we went to the Taragarh Fort (also known as Bundi Palace) that towers over the city with a gothic presence that can get your spine tingling. This is the place about which Rudyard Kipling famously said: "…even in broad daylight, is such a palace as men build for themselves in uneasy dreams — the work of goblins rather than of men."
Walking back through the market, we stopped at Krishna's Chai shop — proclaimed to be the best masala chai in India. We watched Krishna grind each spice on a well-worn stone, and then happily and enthusiastically boil it together with the tea and milk. It was amazing chai, full of rich, complex flavours, and very warming.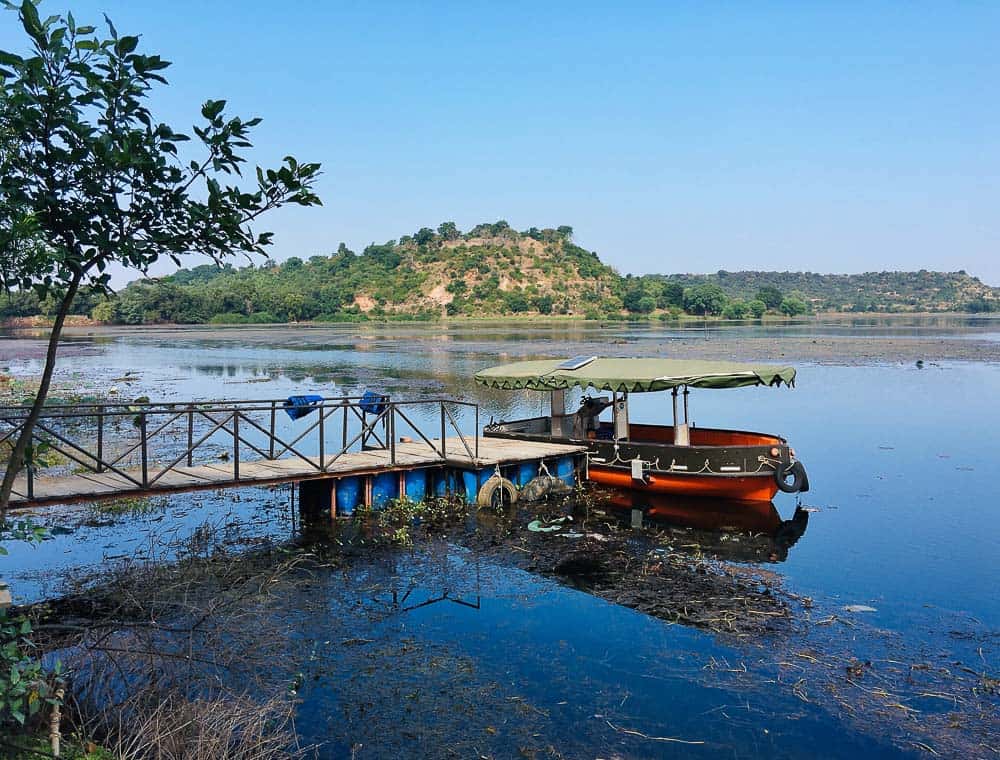 On to Pangarh Lake Resort by local train
The next morning we woke early to catch a local train, and travel by general class, to our next destination. I have taken many trains in India over the last 14 years — you can read my advice about taking trains in India here — but I had never before travelled in general class. This was one of the most truly authentic experiences of the entire trip.
We bundled into the train, which only stopped for about three minutes, and had to find room for us and our luggage, as people were just waking up and still stretched out on the bunks (we were in a sleeper car). It was a bit touch-and-go as some people didn't want to get up to give us room. But we settled in, and soon I was having my photo taken with just about every child in the coach.
When we reached our destination, a railway station in a remote and rural part of Rajasthan I had never been to before, an open jeep picked us up for the drive to Pangarh Lake Resort. Anjali teasingly told us that we were camping, and were going to be sharing a bathroom — she effectively lowered our expectations so when we saw the resort, we were very pleasantly surprised. It was not camping at all, but glamping! We each had our own luxury tent with spacious attached — and private — bathroom.
I loved the peace and serenity of this lovely place, set on the shores of a small lake. We ate in the dining room and the simple food was fresh and delicious. In fact, it was almost my favourite food of the entire trip. For dinner, we gathered outdoors around a big fire pit near the lake. We ate snacks and drank wine and beer as Anjali took the floor and explained the caste system and also how marriages are arranged. Then they staff BBQ-ed chicken, paneer, and veggies for us over an open fire, and we ate under the stars. It was one of my favourite nights of the trip.
Anjali carefully chose quiet times, while we were travelling or having a drink or snack, to talk about various topics related to Indian culture. She also wove in anecdotes from her personal life to make it relatable and to connect with the group. She covered a wide variety of subjects over the course of her talks, such as history, religion, and customs. I found these talks to be very compelling — she really knows how to hold her audience spellbound!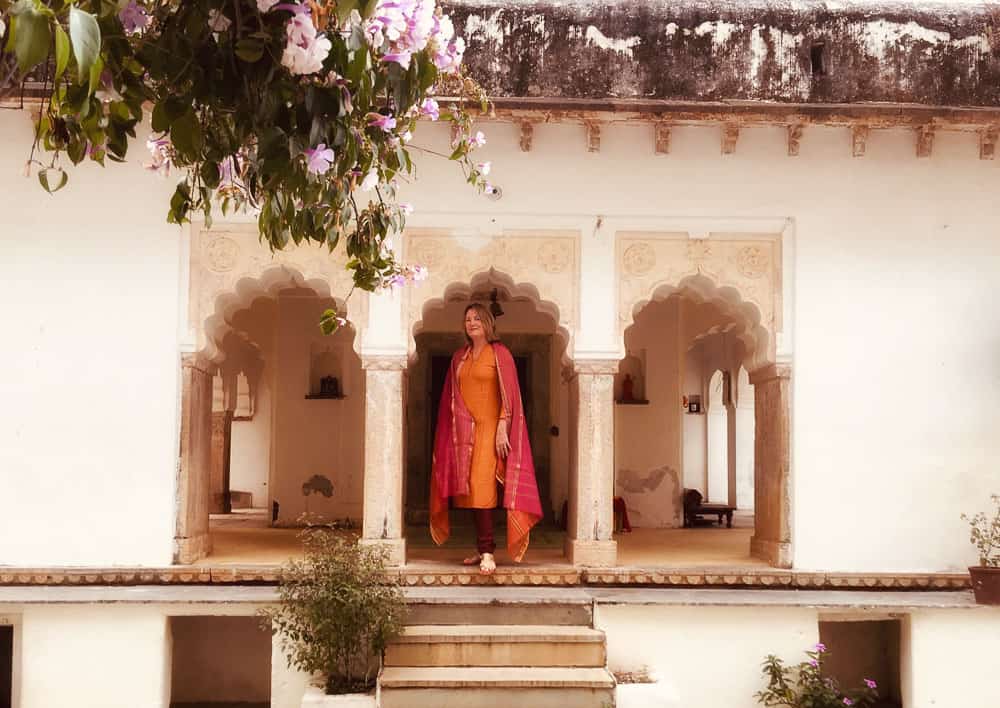 Stepping back in time at Castle Bijaipur
The time spent at Pangarh Lake Resort was very relaxing, but the next day we were off again — just a short drive to another property owned by the same family — Castle Bijaipur. I love Castle Bijaipur, I have been there before and was so happy to see it on the Intrepid Travel Classic Rajasthan itinerary! I stopped for one night there during my Mirabai expedition several years ago.
Staying at Castle Bijaipur is like stepping back in time. When you enter the magnificent gate, you enter a different world. The royal family who owns Castle Bijaipur still lives in a wing, and I met several of them — very charming and hospitable people who have wisely not upgraded the castle too much. It's comfortable but still retains the atmosphere of the past, when chivalry and romance were the order of the day. Castle Bijaipur is a fun place in which to ramble, with lots of secret nooks — and they have a great swimming pool, too.
Our stay at Castle Bijaipur basically warmed us up for the next destination: India's most romantic city, Udaipur!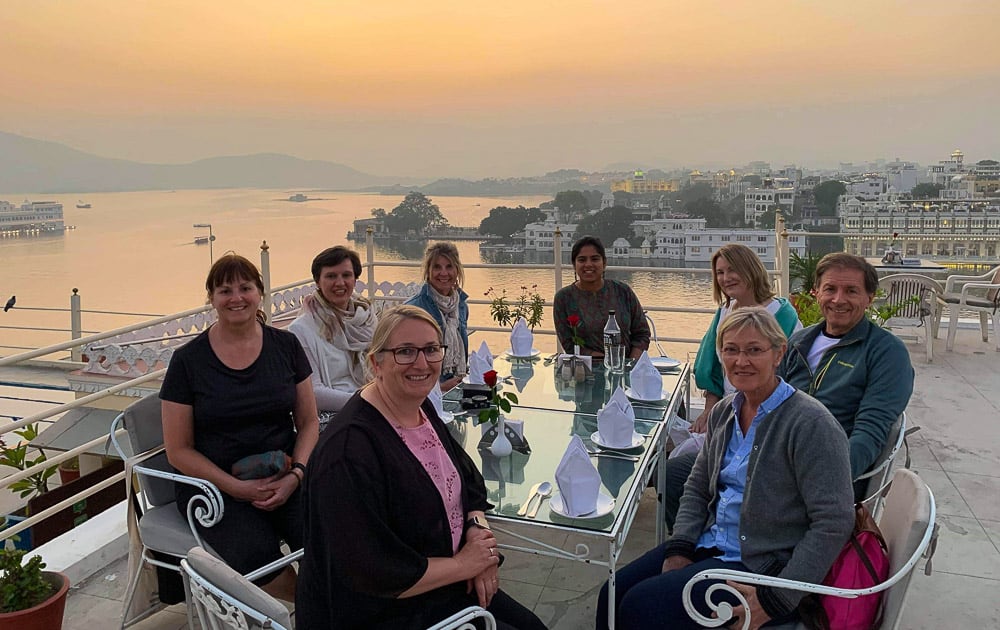 India's most romantic city — Udaipur
Of all the amazing and magical destinations on the Intrepid Travel Classic Rajasthan tour, I think I was looking forward to Udaipur the most. I was thrilled we were in Udaipur for two nights, with lots of time to wander in the market, and visit some of the incredible hotels and historic places — starting with a tour of the gorgeous City Palace.
We hit the ground running, and so did our guide CP Bhatt — another fantastic guide, who really brought the culture and history of Udaipur to life. He is a charming man, knowledgeable and friendly — and much much more, as it turned out. After we wandered through the fabulous city palace, CP Bhatt introduced us to the wonders of shopping in Udaipur.
Udaipur is another great shopping destination due to the skill and variety of artisans and crafts. Our first stop was a store called Lord and Taylor (no, not the same as the New York one!). Here, they sell gorgeous textiles made by local women. In fact, it is CP Bhatt himself who tours the local villages looking for talented women who can become part of this women's cooperative. This is one store I highly recommend — I loved the merchandise. Block print, hand-stitched, applique, patchwork — so many beautiful things made by hand. And shopping here supports women, the local economy, and contributes to the preservation of local skills.
But we did much more than shop in Udaipur. We took a sunset boat cruise on Lake Pichola, watched a very entertaining dance program, Darodhar, at the highly evocative Bagore ki Haveli on Gangur Ghat, and ate both our dinners on rooftop restaurants overlooking the lake and the world's most photographed hotel — the Lake Palace Hotel, which was originally built as a summer pleasure palace for the Maharana of Udaipur. We also went to a workshop to learn about Udaipur's long-standing tradition of miniature painting.
However all good things must come to an end, and we got up very early again for a train ride to the last stop on our tour — the sacred town of Pushkar. This time, we had chair car seats on a good train, and enjoyed the comfort and the opportunity to buy chai and snacks.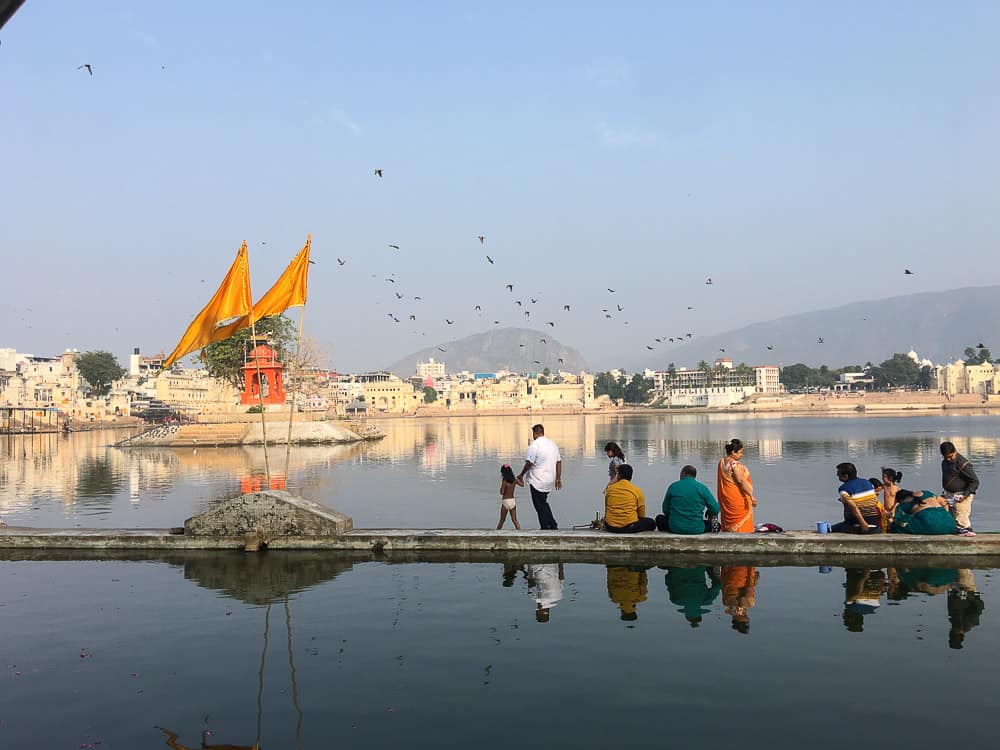 Serene and sacred Pushkar
Our last stop on the Intrepid Travel Classic Rajasthan tour was another favourite destination of mine, the peaceful, small town of Pushkar. Tiny Pushkar has a big soul. It has the only Brahma Temple in India and a sacred lake that is both beautiful and serene. It's one of those places in India that vibrates with spiritual energy — if you are open to feeling it. (Except perhaps when it is overrun with tourists during the annual Pushkar Camel Fair.)
We had lunch at our hotel and then Anjali led us on an orientation walk through the lively market that wraps itself around the lake, behind the temples and ghats. By now, our group was working like a well-oiled machine, and I was continuing to appreciate Anjali and all she brought to the experience — as well as her skill at holding and leading the group. Whenever she spoke, everyone listened with wrapt attention.
Pushkar is a sacred city, which means no meat or alcohol is allowed there. The group made a few jokes about how it was not exactly a fun way to end the trip — but it turned out to be a perfect way to end the trip. On our last night, we had another incredible local experience — we went for dinner at a homestay and ate the local (vegetarian) cuisine. It was delicious and it was an ideal way to end the trip, by really experiencing the authentic culture and genuine hospitality of India.
The following day, we had some free time before we boarded a train back to Delhi. I got down at Jaipur to explore the city some more … part two of my Rajasthan odyssey coming soon!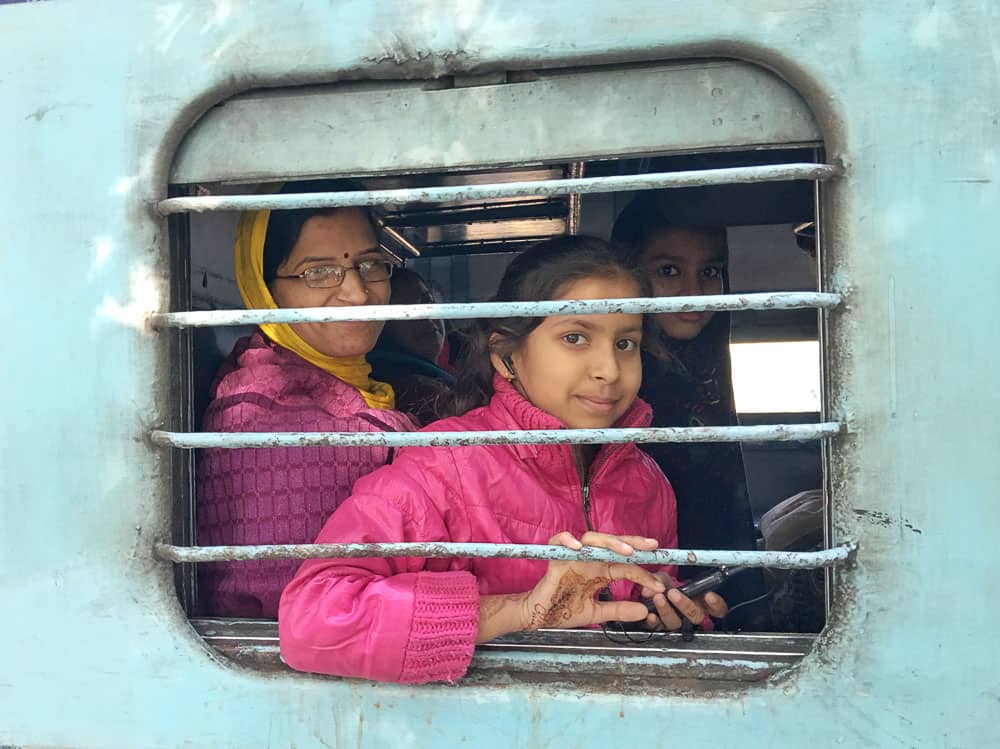 Summary of Intrepid Travel Classic Rajasthan tour
Overall, I would honestly give the Intrepid Travel Classic Rajasthan tour a solid A, mostly for the five reasons I outlined at the top:
our guide, Anjali
the well-planned itinerary
the small group size
Intrepid's commitment to responsible travel
all the authentic and local experiences
I liked almost everything about it and can recommend the Intrepid Travel Classic Rajasthan tour without hesitation. I think it's probably especially good for first time visitors to India, a good travel group for solo travellers, and for anyone who wants a tour of Rajasthan. I found out from personal experience how much thought and care Intrepid Travel puts into their itineraries and tours.
All of the other people on the tour were visiting India for the first time, and the itinerary was designed to gradually introduce them to the culture. Someone like me, who lives in India and who has travelled for years here, would obviously feel more comfortable and be immediately ready for a deep-dive into local experiences. So, having said that, and from my perspective, here are my suggestions for change:
The hotel in Delhi, where we started the tour, was very basic and uninspiring, and also in an area that I don't love — Karol Bagh. The Delhi experiences were mostly in Karol Bagh and Old Delhi. We didn't venture at all into all the areas of Delhi I love, such as South Delhi, Lodhi Road, Mehrauli, Hauz Khas etc. Anyone who only did this tour and the Food Walk would have a very limited idea of all that Delhi has to offer.
The shopping, dining, and hotel experiences in Jaipur were underwhelming. I know Jaipur well and I wish we had gone to better shops and restaurants, and stayed in a haveli hotel. Actually, there was absolutely nothing wrong with the rooftop restaurant where we had dinner — except that it was patronized only with other foreign travel groups. It was probably fine for the others, but for me it was a bit of a letdown. I would have preferred a more local experience. (Except having said that, I must admit the food and the view were fantastic.)
We rode many trains and buses, and had to sometimes scramble a bit for seats. I wonder if a system of rotating seat assignments would help make this process easier.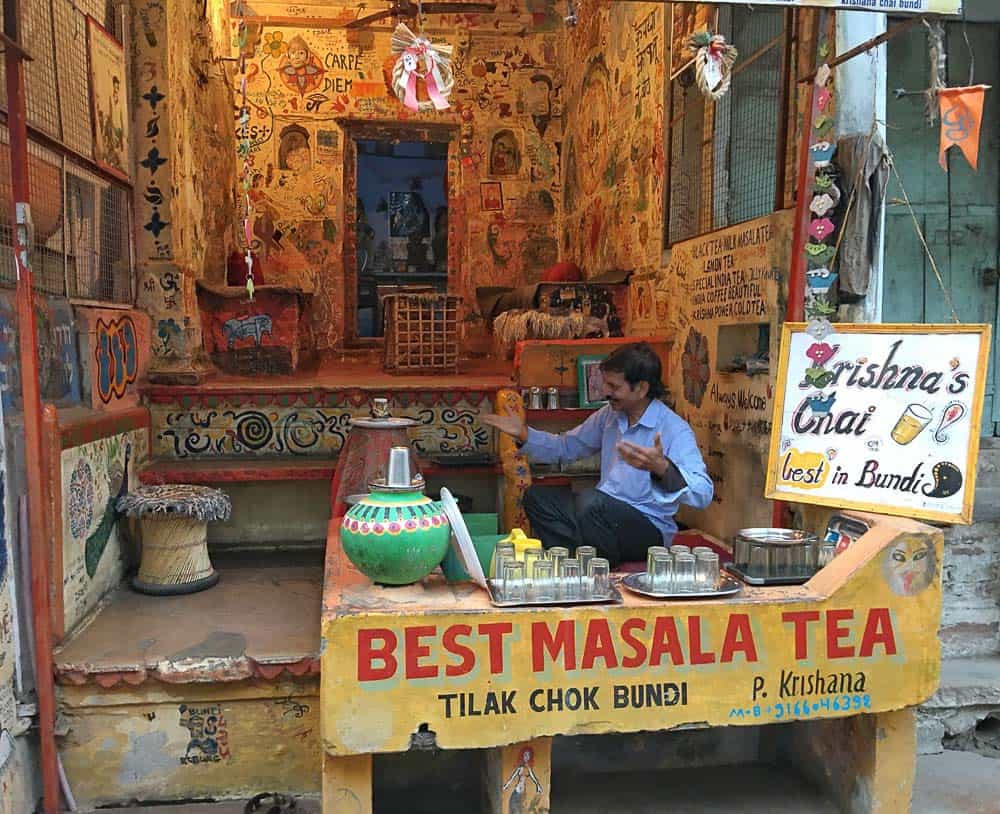 ---
NOTE: Thanks so much to Intrepid Travel for hosting me on this trip. I have long wanted to travel with Intrepid, as I know and respect the company, and I was thrilled that my experience lived up to my expectations. All of my thoughts and opinions about the tour are my own, and I wrote this post with the needs of readers in mind.
---
---
Pin it on Pinterest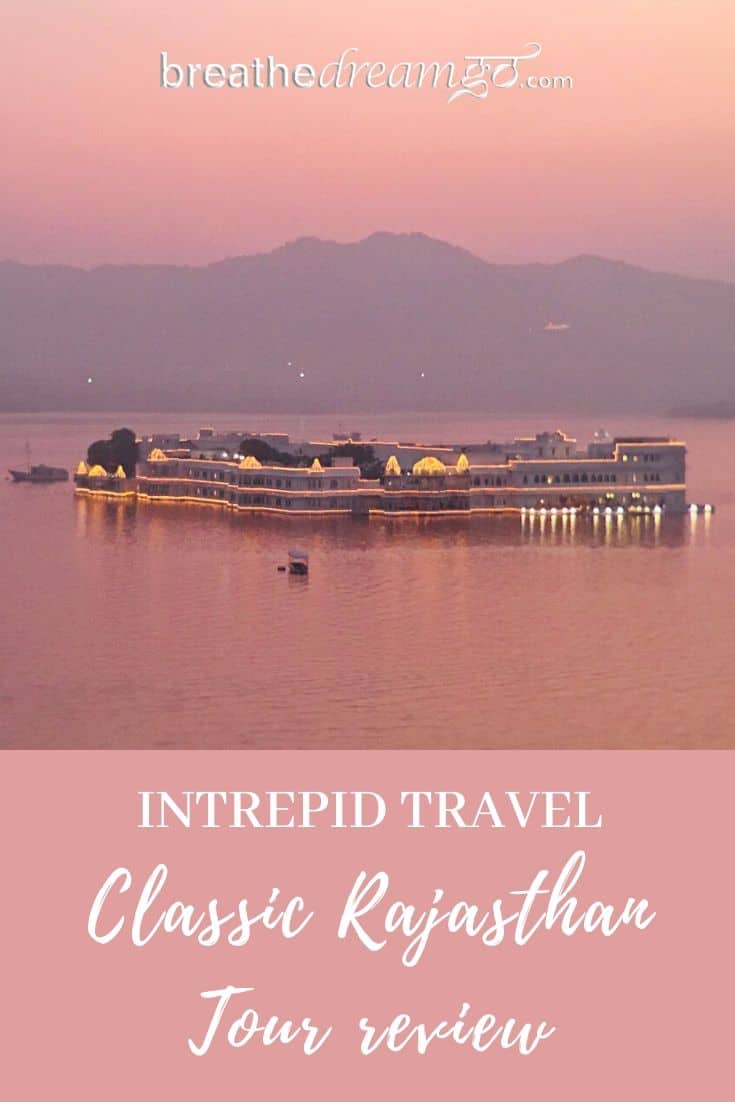 ---
If you enjoyed this post, you can….
Sign up to The Travel Newsletter in the sidebar and follow Breathedreamgo on all social media platforms including Instagram, TripAdvisor, Facebook, Pinterest, and Twitter. Thank you!