Insider's Guide to a Golden Triangle Tour India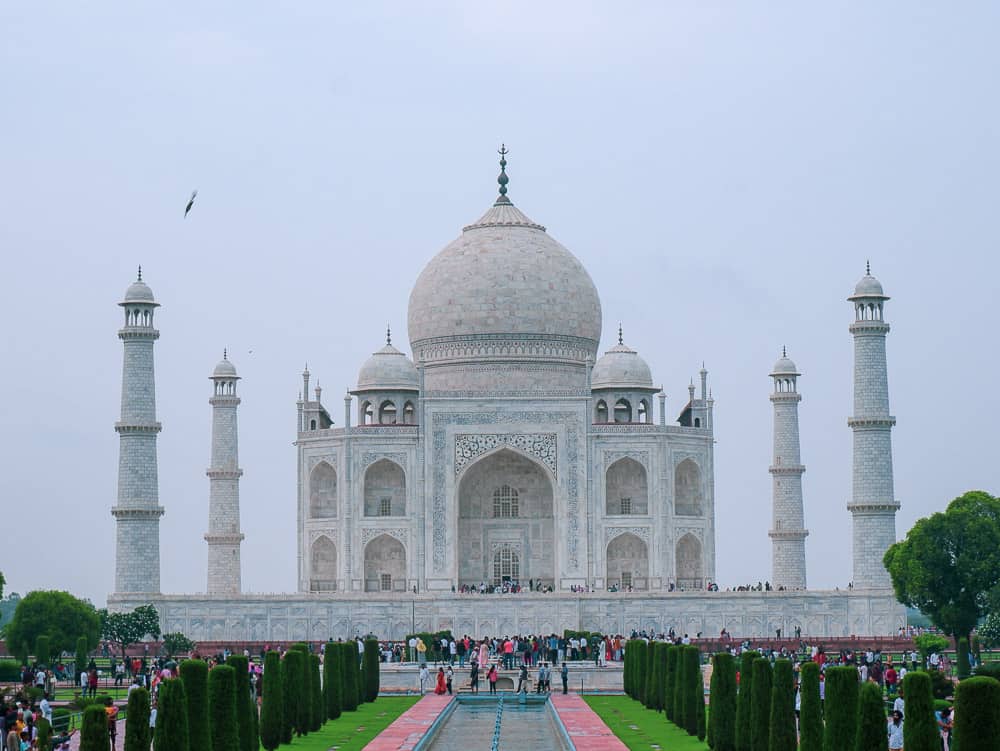 The Golden Triangle is the most well-known tourist route in India for foreign visitors. This "triangle" of destinations includes the historic city of Delhi, which boasts three UNESCO World Heritage sites; Agra, home of the Taj Mahal, the world's most beautiful building; and Jaipur, the Pink City, capital of Rajasthan.
A Golden Triangle tour of India takes in all three cities, which are roughly equidistant and you can drive between them in just 4-5 hours or so. This is called the Golden Triangle of India tour with Delhi, Agra, Jaipur.
My company, India for Beginners custom tours, does a Golden Triangle tour of India, but we include a lot of unique, authentic, and offbeat experiences; special hand-picked hotels; amazing guides; plus we offer a lot of insider tips.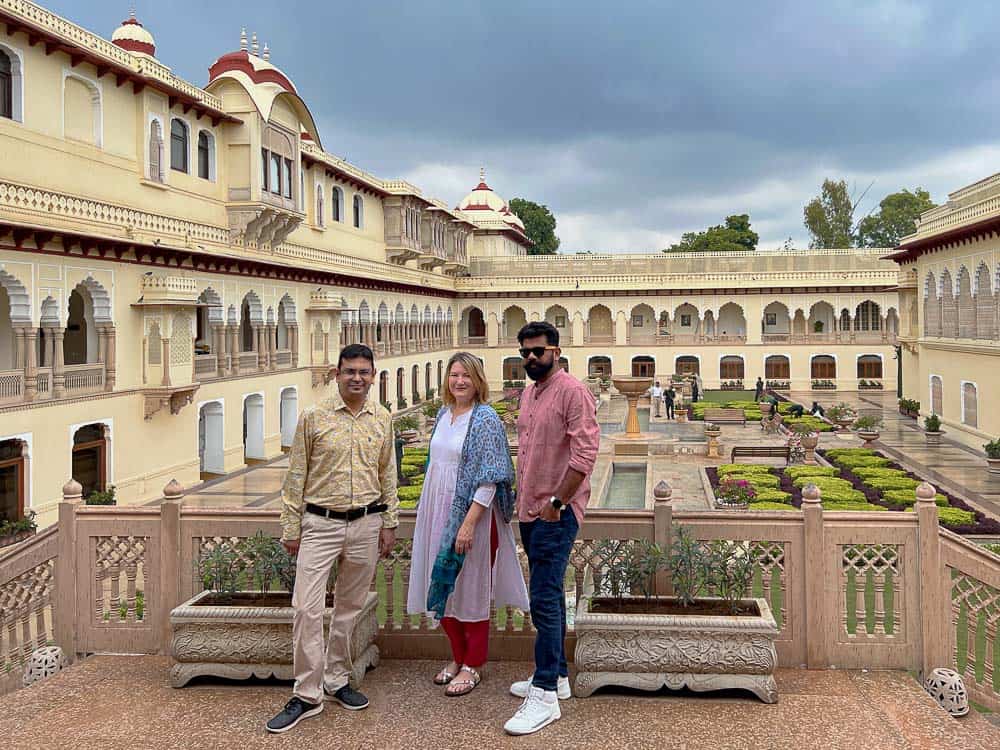 We can also do a luxury golden triangle tour with stays in five-star hotels such as The Imperial Delhi, The Claridges Delhi, ITC Mughal, Oberoi Amarvilas, Rambagh Palace, Sujan Rajmahal Palace and more. And we can organize a four-day Golden Triangle Tour and various Golden Triangle Tour packages.
Recently, the India for Beginners team went on a Golden Triangle tour together to discover the very best of Delhi, Agra, and Jaipur. We are constantly on the lookout for the latest information, the hippest restaurants, the most stylish hotels, and unique new experiences to share with our guests.
Golden Triangle of India tour with Delhi, Agra, Jaipur.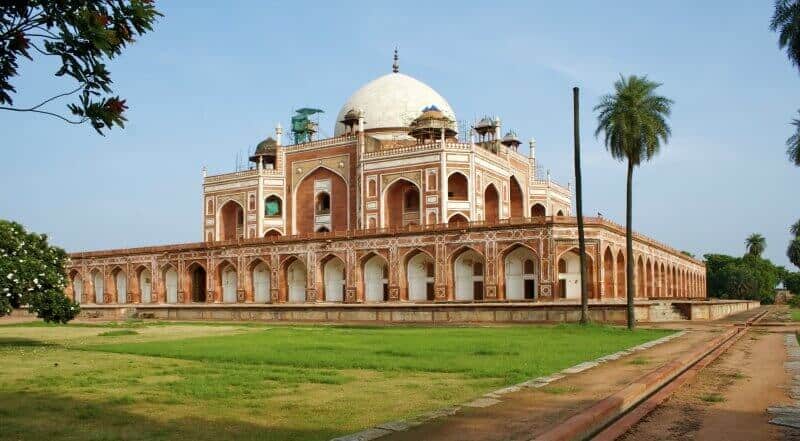 Golden Triangle Tour India: Delhi
Golden Triangle tours usually start in Delhi, as most international visitors land at Indira Gandhi International Airport in southwest Delhi. The capital of India, Delhi is a sprawling megalopolis of more than 20 million people (the actual number depends on whether the National Capital Region is included), and one of the most historic cities on earth. Over the past 2,000 or so years, at least seven or eight major civilizations have built their capitals at Delhi – and each has left behind an impressive trail of forts, tombs, and other monuments.
We start our Golden Triangle tour by picking you up at the airport and delivering you to a Central or South Delhi hotel or guest house. We believe strongly in picking up new visitors to India at the airport as the experience can be overwhelming.
Central Delhi is the most beautiful part of the city – it was designed by the British with wide, leafy boulevards and elegant white bungalows. In South Delhi, you can enjoy the quieter side of life in the capital and live more like a local, visiting cafes, parks, and local markets without the hassles that can spoil the more touristy areas.
Please read these posts about Delhi to get a feel for the city:
Our favourite Delhi hotels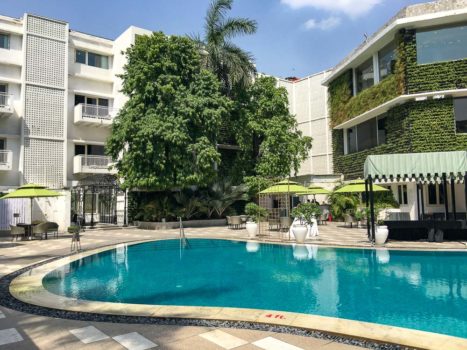 The Claridges Hotel
For those who like luxury, our favourite hotel is The Claridges in Central Delhi. A supremely elegant hotel, The Claridges is a historic landmark that was built in 1955 in the heart of Lutyens Delhi. It was designed in a classic style to mirror the Art Deco-inspired white bungalows of Lutyens Delhi. Among other amenities, the hotel features spacious rooms, a gorgeous swimming pool, and lots of dining options, including a tea lounge.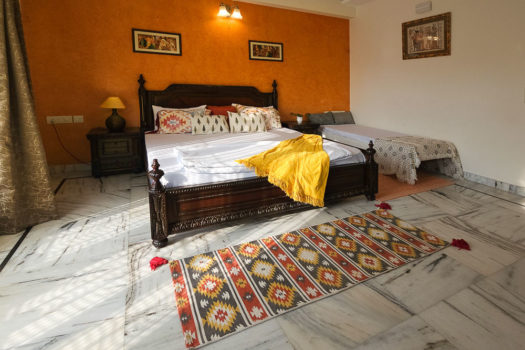 Prakash Kutir Bed-and-Breakfast
If you want the comfort, safety, and security of home, Prakash Kutir is our top choice in the home stay and guest house category. We love the location in South Delhi, right near Hauz Khas market, and also the wonderful Gupta family who own Prakash Kutir, and who live on the ground floor. There is nothing like landing in India for the first time and falling into the warm embrace of an Indian family – and this is the kind of experience you get at Prakash Kutir. By staying with an Indian family, you can learn a lot about Indian culture. In India, the family is the main social structure.
If you want to read more about Prakash Kutir, read Why home stays are the best option in India.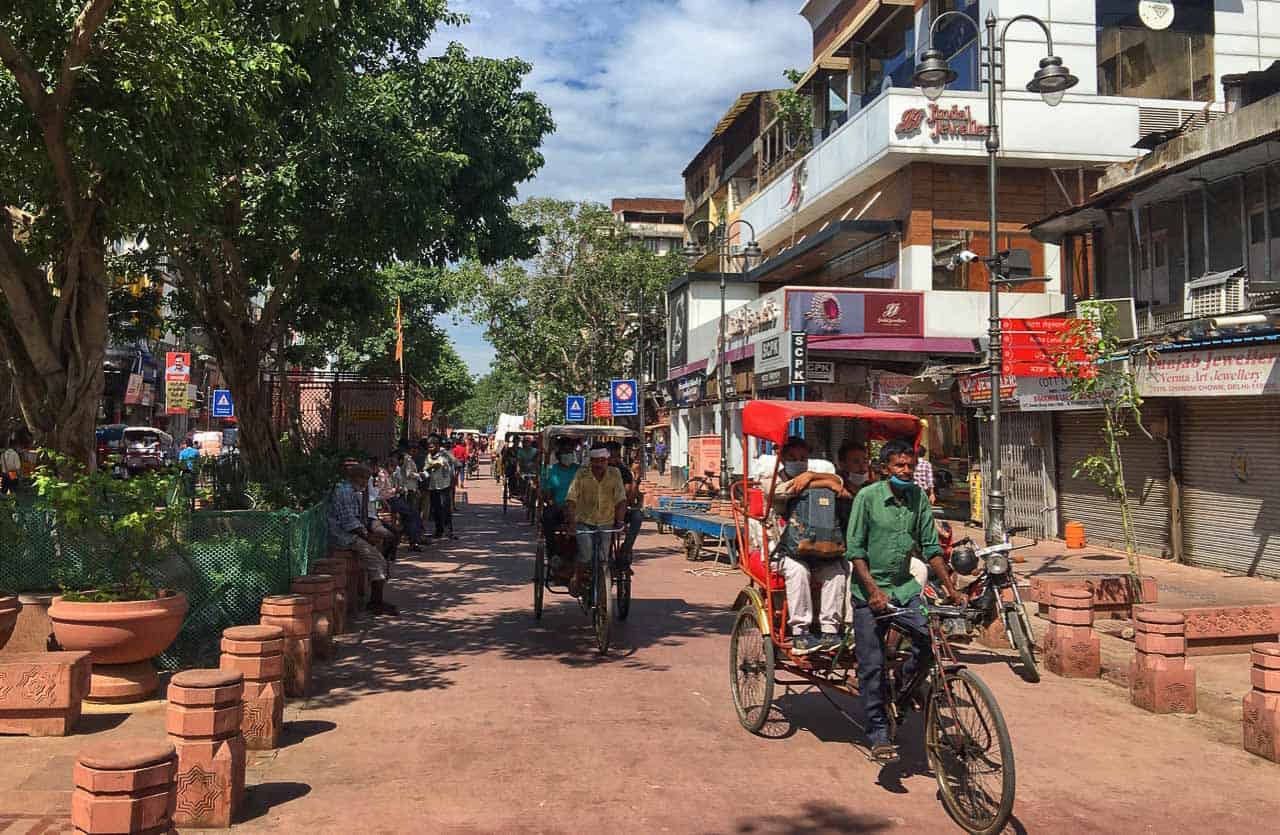 What to see and do in Delhi
Delhi is a massive, historic city and any list of things to do and see could be virtually endless. As India for Beginners is a custom tour company, we always work to match the itinerary to the interests of each guest. However, we do have our favourite places to go and things to do in Delhi. We recommend at least two full days in Delhi to at least see the highlights of this incredible city.
On day one, we recommend a tour of Old Delhi. This congested area of the city was originally developed by Mughal Emperor Shah Jahan, builder of the Taj Mahal. Shah Jahan moved his capital from Agra to Delhi and founded Shahjahanabad in 1648. He built a walled city that included Red Fort and Chandni Chowk – plus many fine mansions and gardens. Today it is a very busy commercial area, Red Fort is one of Delhi's three UNESCO World Heritage Sites, and Chandni Chowk recently had a restoration that makes it more enjoyable for pedestrians. We love taking visitors around this bustling area, and recommend a cycle rickshaw ride and a visit to Jama Masjid, India's largest mosque.
Depending on how much time you have, we also recommend a tour of Central Delhi (Humayun's Tomb, Lodhi Garden, Khan Market) and South Delhi (Qutub Minar, Lotus Temple, Hauz Khas). Plus, we will take you shopping and out for dinner to sample some of the finest foods in India — including street food. Delhi is the cultural, shopping, and culinary capital of India. There's a lot to do!
We live in Delhi so we know the city very well and can tailor your tour to find hidden gems and unique places of interest.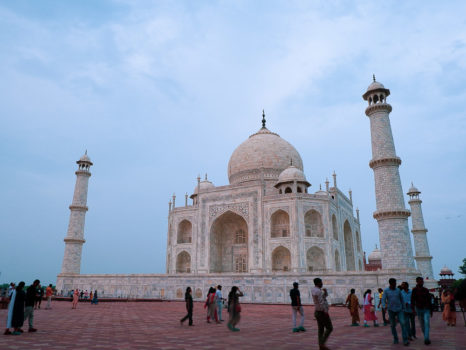 Golden Triangle Tour India: Agra
The next stop on the Golden Triangle tour is Agra. Delhi, Agra, and Jaipur are roughly equidistant apart, with a driving distance of approximately 4 or 5 hours between them. You can also take a train between the three destinations, plus there are flights between Delhi and Jaipur.
Almost every tourist who visits Agra goes to see the Taj Mahal, of course. It is a wonder of the world and worth the visit. The best tip for seeing the Taj Mahal is to go first thing in the morning, when it opens. It glistens in the morning sun, and the crowds are at a minimum. Be sure to carry as little as possible, just a bottle of water and your camera, as most items – even notebooks, pens, and tripods – are not allowed.
What to see and do in Agra
In spite of its renown as home of the Taj Mahal, Agra is not a beautiful or well-maintained city. However, it is known for a variety of local industries such as leather goods (shoes, bags, jackets, and belts), a translucent sweet called petha, marble work, and carpets. The marble table tops, jewellery boxes, vases and other items on sale in Agra are made with the same techniques as the Taj Mahal itself.
In Agra, the carpets are woven using age-old techniques that go back to the time of Mughal Emperor Akbar. In Agra, some of the better manufacturers use vegetable dyes to make reproductions of famous Mughal designs. In other words, it's a good place to dig in and shop local.
TIP: Be very careful when shopping for expensive goods in India such as jewelry, carpets, pashmina shawls, and carpets that you get each item authenticated before purchasing.
Here's my Guide to the Taj Mahal and also a post about offbeat things to do in Agra: Discovering the soul of Agra.
There are many other monuments in Agra to see including the Agra Fort, Itimad-ud-Daulah, and Fatehpur Sikri.
Our favourite Agra hotels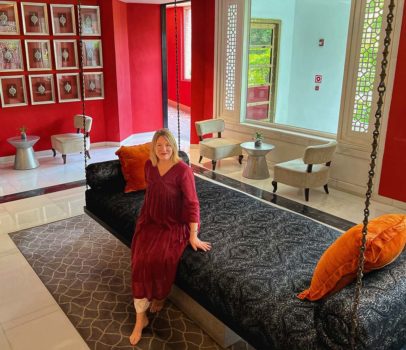 ITC Mughal
In the luxury category, we love ITC Mughal, a sprawling and magnificent property that manages to capture the splendour of the Taj Mahal. Every room in the hotel is excellent, but we love the Mughal Suites. When you stay in a suite category room, you can also use the Kaya Kalp spa, one of the leading spas in Asia. This beautiful and luxurious spa is spread over 9,000 square metres and includes a gorgeous outdoor pool and opulent treatment and relaxation rooms. You will feel like a Queen! The dining options at ITC Mughal are also magnificent. You may never want to leave.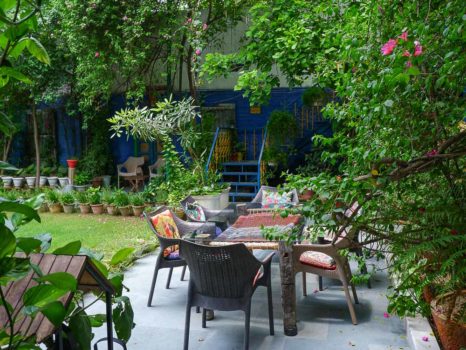 Coral Tree Homestay
Our favourite homestay in Agra is the Coral Tree. This charming and comfortable homestay is less than one kilometre from the Taj Mahal – it is literally walkable. Coral Tree is homey and comfortable – as well as very green and colourful! It is the family home of the owner Vandana and is centred around a lush garden. Breakfast in the garden is one of the highlights of staying at Coral Tree. They also run another newer homestay called Coral County, but it's not as close to the Taj Mahal.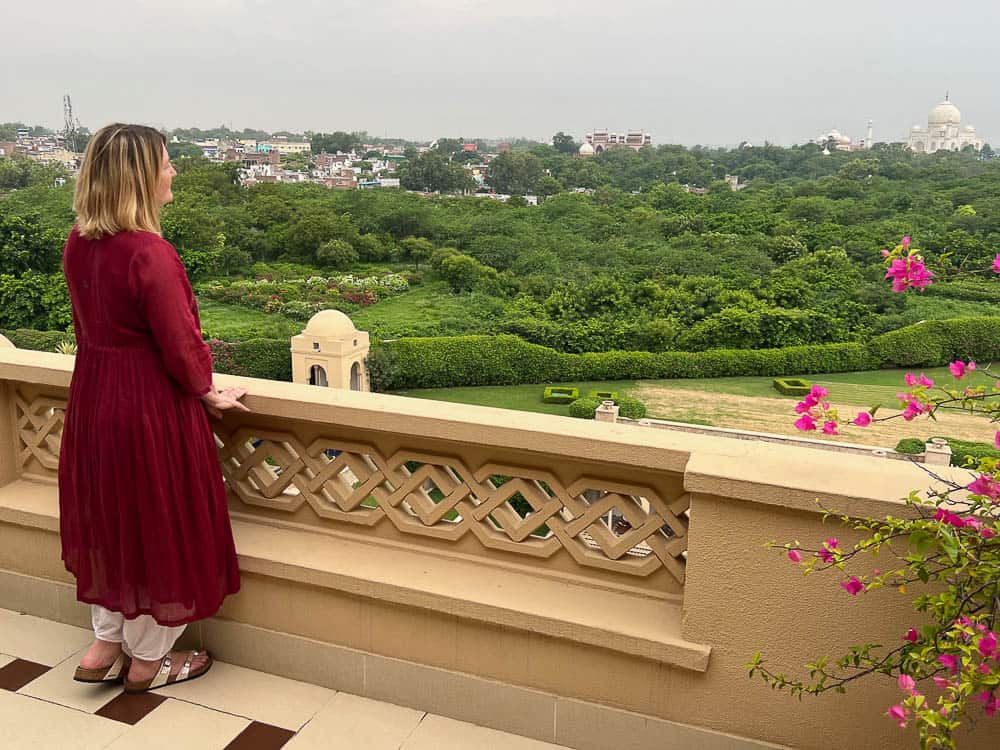 Golden Triangle Tour India: On the road
The abandoned city of Fatehpur Sikri is about an hour away. Also about an hour away from Agra are several rural locations that are well worth visiting to get away from the crowds and the pollution of the cities of the Golden Triangle India.
Bateshwar is a small town on the Yamuna River lined with temples and ghats (steps). It is sometimes called mini Varanasi, but is far more peaceful. Across the river from the temples is a meadow, and trees filled with birds, so the only sounds you hear are bird songs and the many temple bells.
An ideal stop on your way from Agra to Jaipur, Bharatpur Bird Sanctuary and Keoladeo National Park is a peaceful oasis. You can stay in a resort or lodge right outside the park, and enjoy the peaceful atmosphere and the sight of many species of endemic and migratory birds.
Also on the way from Agra to Jaipur, Sawai Madhopur is home to Ranthambore National Park, one of the premier tiger reserves of India. There are dozens of wildlife lodges near Ranthambore, in every price range. Ranthambore is considered one of the best places to see tigers in the wild in India, and it is also a very scenic park, dotted with ancient ruins and lakes. Read my Guide to Tiger Safaris in India to learn more.
Golden Triangle Tour India: Jaipur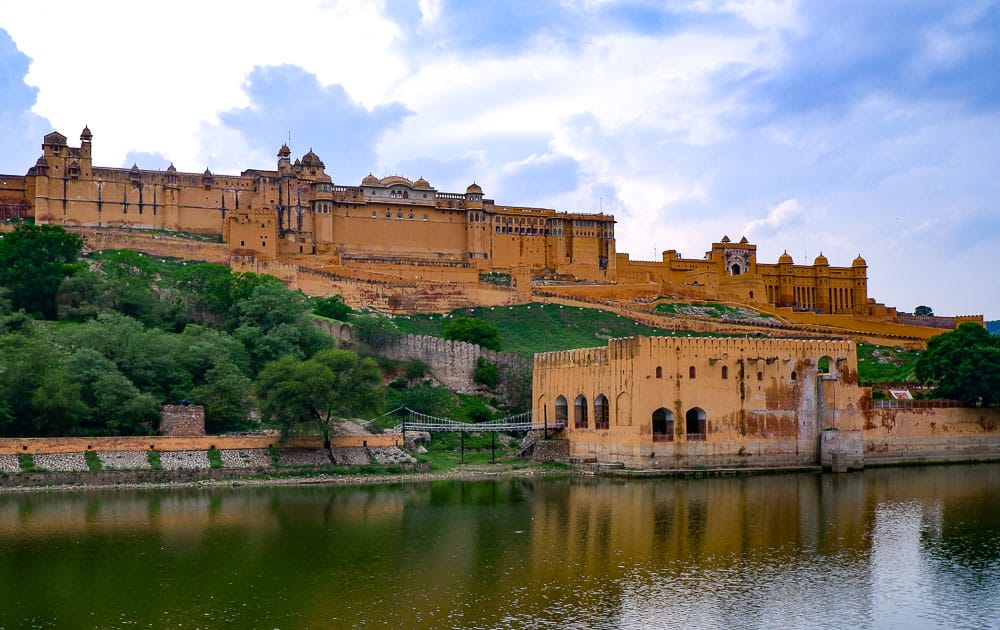 The last stop on the Golden Triangle tour, Jaipur was a planned city, designed on a grid pattern that was inspired by Hindu concepts. The entire city of Jaipur was certified as a World Heritage site by UNESCO in 2020. The Old City is referred to as the Pink City, as it was painted a pinkish colour for a visit by Prince Albert, husband of Queen Victoria, in 1876. Jaipur is the capital of the fabulous state of Rajasthan. Please read my Guide to Places to Visit in Rajasthan.
Jaipur is also a shopper's paradise, as the city was designed as a commercial centre and is full of artisans. It's famous for a variety of goods including gems, jewellery, block printing, leather shoes, and many other arts and crafts. Prowling the many famous markets and bazaars of Jaipur, especially in the Pink City, is a favourite activity for most tourists. Please read my Shopping Guide to Jaipur.
Not to be missed are Johari Bazaar, Ramganj Bazaar, Tripolia Bazaar, and Bapu Bazaar. There is also a maze of alleys throughout the walled city – the Pink City – that feature different goods – like the one completely devoted to lac bangles, one of the traditional crafts of Jaipur.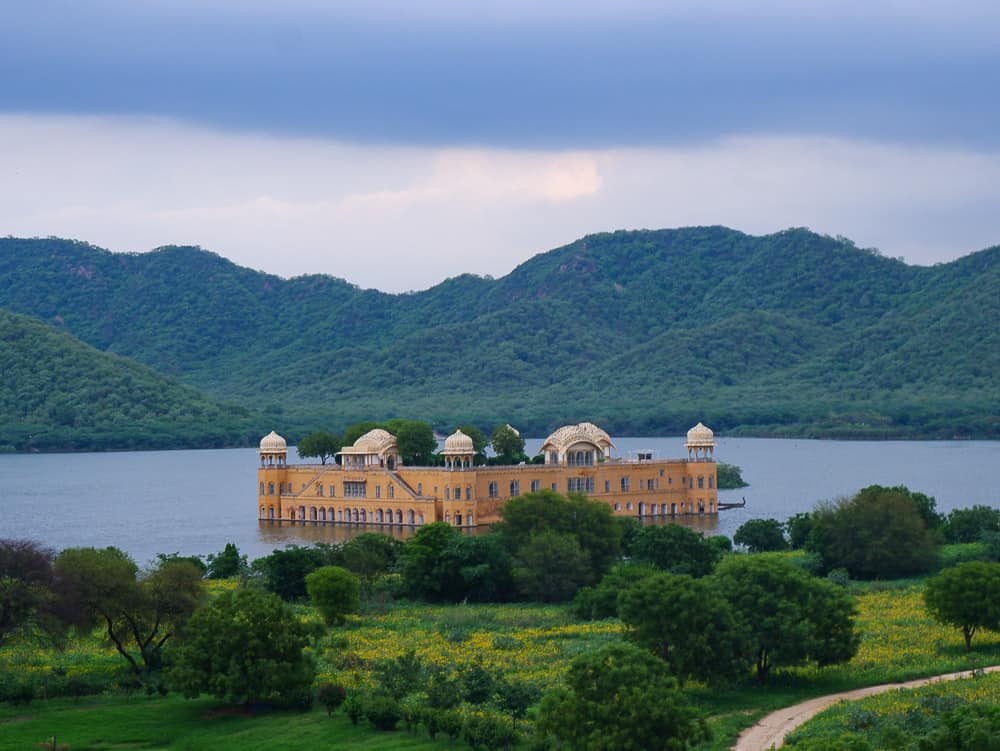 What to see and do in Jaipur
The top tourist attraction in Jaipur is Amer Fort (also known as Amber Fort), and it is certainly worth seeing as it is one of the largest and most well-preserved medieval forts in India, and a UNESCO site. Amer Fort is about 14 kilometres outside of Jaipur, one of the many attractions that skirt the city of Jaipur.
There are several other forts, lots of great hiking trails, and the spectacular Kishan Bagh Sand Dunes Park. This park was re-wilded by Pradip Krishen, a well-known Indian botanist who also created the amazing Rao Jodha Rock Park outside Mehrangarh Fort in Jodhpur. It's a great way to experience the natural landscape of Rajasthan, slow down, and smell the flowers – though in this case, desert grasses – before heading back to Delhi.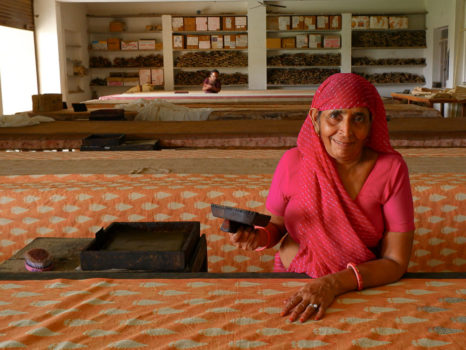 We love Jaipur and we visit often to check out hotels and activities and look for unique and offbeat things to do, see, and experience. We can organize block printing workshops and a visit to Bagru village, the centre for block printing in Rajasthan. When we went on our India for Beginners road trip, we spent half-a-day at the Titanwala workshop, visiting the Titanwala museum, watching the family work, and meeting three generations of the Titanwala family including patriarch Suraj Narayan Titanwala.
We can arrange a cooking demonstration in an authentic Pink City homestay, followed by a feast of local specialties. It's an evening you will never forget!
Our favourite Jaipur Hotels
Jaipur is the single best city in India for hotels. There is no other city in India with such an incredible variety of excellent hotels. Many are in heritage buildings and former palaces, they often feature ornate interiors and rooftop pools, and many other cultural amenities that make them stand out. You are literally spoiled for choice in Jaipur, and I could write a book about all the great hotels!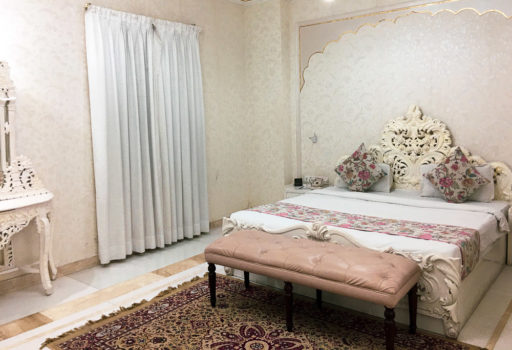 WelcomHeritage Traditional Haveli
One of our favourite hotels in Jaipur, WelcomHeritage Traditional Haveli offers a Rajasthani decor, nice rooms, and a beautiful lobby for a very reasonable price. We also love the location in Bani Park, which is residential and also central. There's a restaurant on the ground floor and a pool on the rooftop.
Ikaki Niwas
A large home stay in a residential neighbourhood with a heritage feel, Ikaki Niwas is a favourite place to stay in Jaipur. It is run by a warm and helpful family who make guests feel totally at home, and it is both comfortable and inspiring. The rooftop dining room and terrace is lovely, and overlooks a park.
Shahpura House
An opulent heritage hotel, Shahpura House is one of our go-to hotels in Jaipur as it hits every sweet spot: good value, great location, and all the royal Rajasthani atmosphere you could want. 
---
If you enjoyed this post, you can.
Sign up for Dispatches in the sidebar and follow Breathedreamgo on all social media platforms including Instagram, Facebook, Pinterest, and Twitter. Thank you!