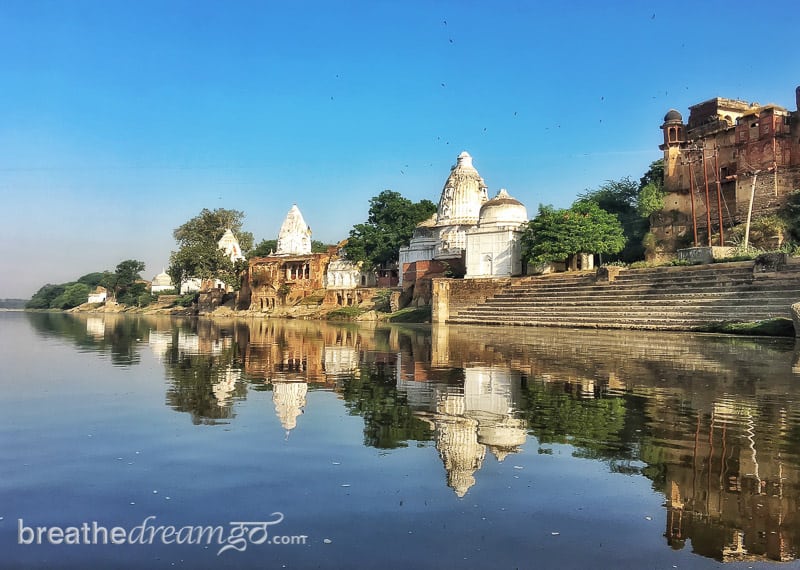 Top 5 soulful discoveries of Agra: a café for acid attack survivors, an eco lodge and an animal rescue centre
AGRA IS OF COURSE the home of the Taj Mahal – a top global tourist attraction by every measure. Millions pour into the city every year to catch a glimpse of this gleaming marvel, the world's most beautiful building. I get it. I've seen it at least four seven times, and I still get giddy with excitement.
But the Taj Mahal is not the only soul-stirring thing in Agra. Far from it. On a recent trip to the city, I had the opportunity to explore much more than the usual sites.
Here are my top five soulful discoveries of Agra … away from the Taj Mahal … These can all be included on an India for Beginners Golden Triangle tour of India.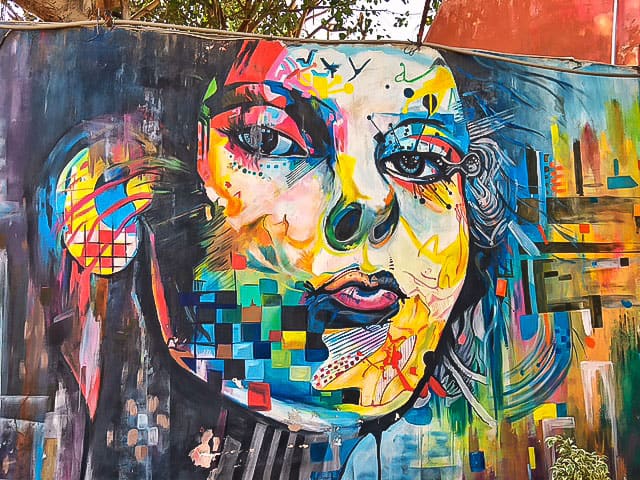 1. The heroes of Sheroes
Without doubt, the highlight of my trip to Agra was meeting Ritu Saini and the other heroes of Sheroes Hangout. Ritu is an acid attack survivor who found the inner strength to not only to overcome her ordeal, but also to help run Sheroes and empower others like her. Sheroes employs acid attack survivors and helps them to resume life. Plus, the organization advocates on behalf of acid attack survivors and is trying to get acid banned from being sold in stores. The movement is called #StopAcidAttacks.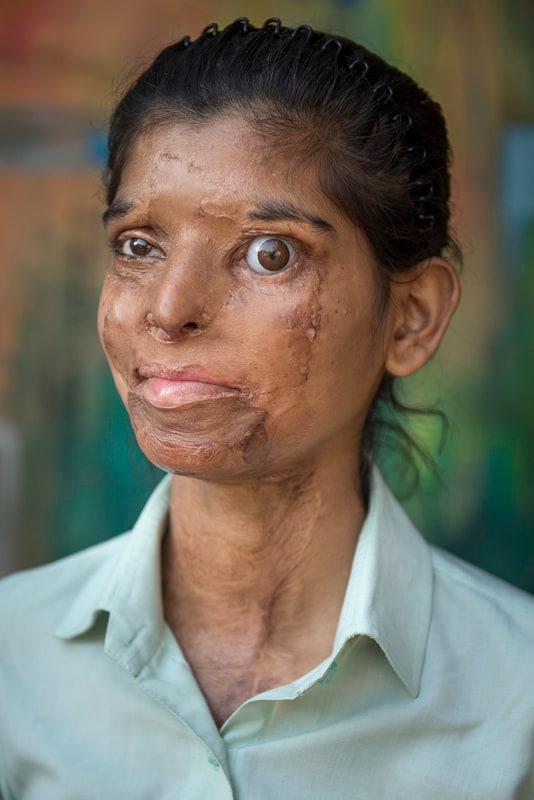 I admit, I was very nervous when we arrived at the café. I was not sure how I would respond to engaging with women whose faces have been so badly damaged by these violent deeds. Many acid attacks are provoked by rejected suitors – men whose egos are so fragile that they need to lash out and either kill or maim women who refuse their proposals. I was also worried about how emotional I would become when confronted with the evidence of this kind of brutality and violence against women. However, I was put at ease by the staff of the café, and by Ritu herself when she appeared about half an hour after I arrived. I saw the beauty of these women shine through very quickly, and stopped noticing their disfigurement. Ritu agreed to an interview, and to have herself photographed by American photographer Mark Edward Harris, who was also a participant of the U.P. Travel Writers Conclave. I was very lucky to have such a sensitive interpreter, Saahir Ebrahim, who is a marketing executive at Lonely Planet India Magazine. (Video of this interview to come!)
After the interview, I hugged Ritu and told her that I admired her, and that she's a hero to me. This was the moment when I was finally overcome with emotion. I was okay through the interview, but it was when I came to realize the tremendous inner strength of this tiny woman that I choked up. I felt I was in the presence of a mahatma, a great soul.
In our society, both east and west, we tend to admire men for their strength and heroic deeds. But for a very pretty young woman to be so badly hurt and maimed; to have so many painful operations; to have a "normal" life snatched from her; and to overcome it and become a pillar of strength to others, is more than remarkable. I feel that Ritu is one of the most incredible people I have ever met, and I encourage everyone who visits Agra to support Sheroes. You will be glad you did.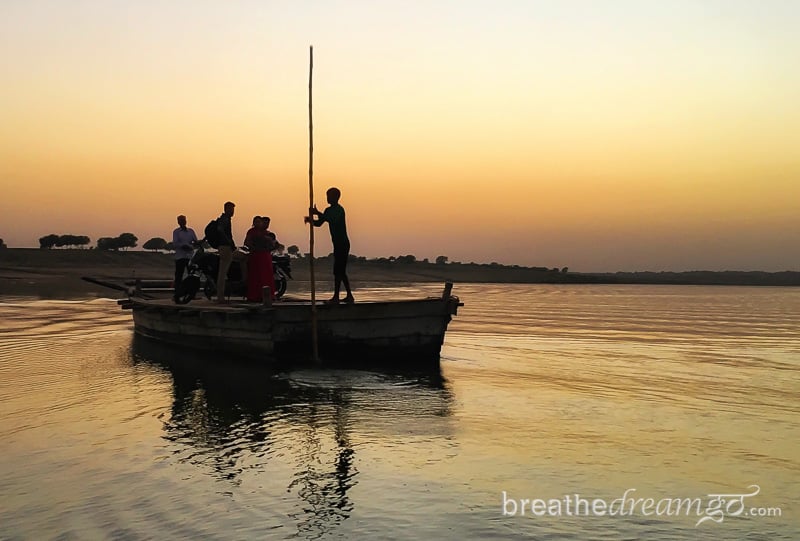 2. At home in nature: Chambal Safari Lodge
Only a short drive from Agra, the Mela Kothi Chambal Safari Lodge is a world away. Off the highway, through several villages and down a couple of dirt roads, you arrive at a peaceful sanctuary, surrounded by forest and the tranquility of the countryside. My first impression was: quiet, natural and relaxed. That impression never left, but it was deepened as I got to know the people, the place and the inspiring story behind it.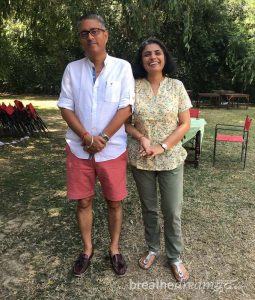 The property Mela Kothi Chambal Safari Lodge occupies has been the home of the Jarar family since 1472. They were the feudal chiefs of the region for many generations. But by 1999, the property had fallen into total disrepair.
However, it has risen like a phoenix due to the tireless efforts of the current owner, and heir, Ram Pratap Singh and his wife Anu. "With little more than a dream and the boundless optimism of the foolhardy, my wife Anu and I decided to give up the security of our professional careers and return to Jarar," said R.P. Singh. In 2001, after decades of neglect, we meticulously restored the Mela Kothi and rechristened it the Chambal Safari Lodge."
The Singhs did not just restore the buildings, they also supplemented the original 35-acre woodland with many indigenous trees and shrubs. The result is a thriving nature reserve rich with plants, birds and animals that progressively regenerates itself.
From the moment I set foot on the Chambal Safari Lodge property, I absolutely loved it. This is one of those very special places that I love to find in India. Carefully created and nurtured by the owners, it's a simple, elegant sanctuary with spacious, comfortable cottages and delicious home-cooked meals served either in the restored building or out on the lawn.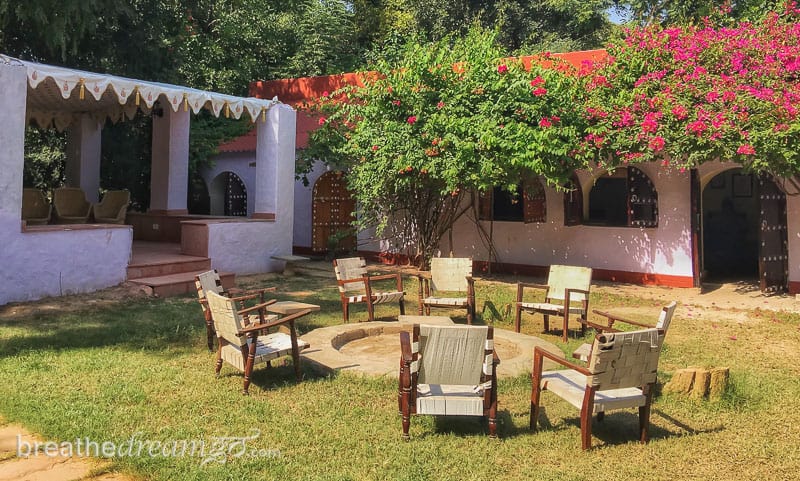 My cottage had a sitting room, a huge bathroom and a private outdoor area that looked out towards the forest. The atmosphere was old-fashioned and serene and I could imagine living there for long stretches of time. I especially loved the outdoor space, shaded by a colourful awning, and invitingly furnished with a day bed. I had a happy hour or two lying on this bed, listening to bird songs and dreaming myself to sleep.
The Chambal Safari Lodge is commendable as an eco-friendly, responsible, and sustainable destination. The Singhs have put a lot of thought and effort into using natural and authentic materials, serving local foods, and providing guests with a wide variety of experiences such as nature walks and river safaris.
Chambal Safari Lodge is situated between the Chambal River and the Yamuna, and in this area both are clean and alive with nature. We went out on a river safari on the Chambal River in the late afternoon and saw a myriad of birds, rare turtles, coyotes, gharials, and Gangetic dolphins. Several dolphins swam alongside the boat, delighting us by jumping out of the water in joyful arcs. And then, at sunset, our naturalist guide pulled out a thermos of hot, milky tea and we drank it together in the small boat. Ah, bliss and adventure together.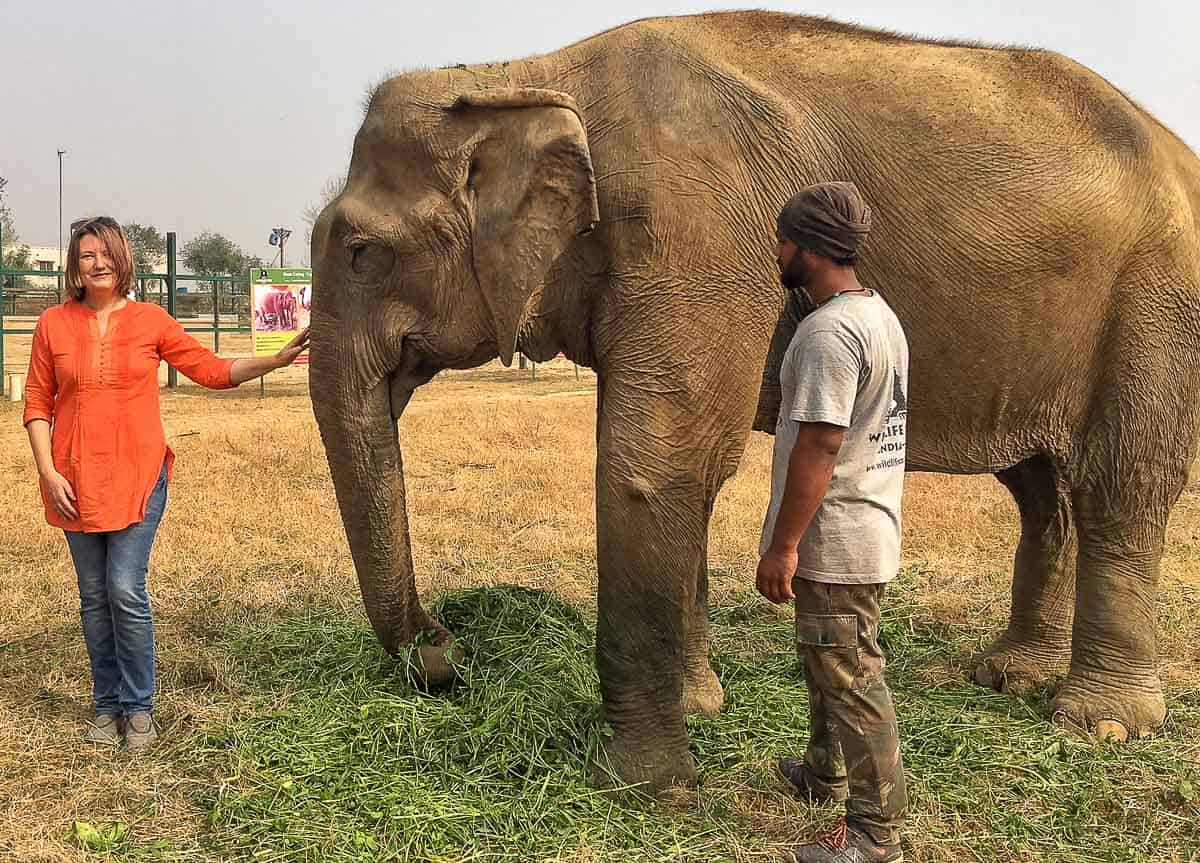 3. Rescuing animals at Wildlife SOS
I started following Wildlife SOS on Facebook some time ago because of Raju the elephant. Raju was a rescued elephant whose story of deliverance gripped the hearts of many people and made him an Internet celebrity. The people who run Wildlife SOS are not only good with animals, they are also good storytellers, and they made Raju's story compelling and heart-warming to follow. I guarantee, once you start following their Facebook page, you will be hooked!
So I was delighted to visit both of their locations near Agra: the Wildlife SOS Sloth Bear Rescue Centre and the Wildlife SOS Elephant Rescue Care Centre. And they rescue many other animals, such as reptiles and birds.
As we toured the Sloth Bear Rescue Centre, we learned that working with dancing bears is a traditional way of life for India's "gypsies." The bears perform and people give them money as they travel the country. But, in truth, the bears are not dancing at all. They are being led around by a rope through their nose, and they move and prance in extreme pain. This is an example of cruelty to animals in the name of entertainment for humans, and thank goodness Wildlife SOS is doing something about it.
Wildlife SOS actually buys the dancing bears from their owners, and rehabilitates them in a forested setting where they have room to move, and are well cared for. We walked through the property and saw many bears in spacious enclosures, and they seemed to be relaxed until we spent a little bit too much time huddled together photographing them. One bear started to show signs of agitation, and the caretakers moved us away.
At both rescue centres, we were given presentations about Wildlife SOS and the work they do. At the end of the visit, I could see that Wildlife SOS is a reputable, professionally run organization that follows ethical principles and adheres to standards of responsible tourism. The staff were very caring and committed to the animals' welfare. There are many ways to get involved – you can donate, volunteer, help share their stories of success and much more.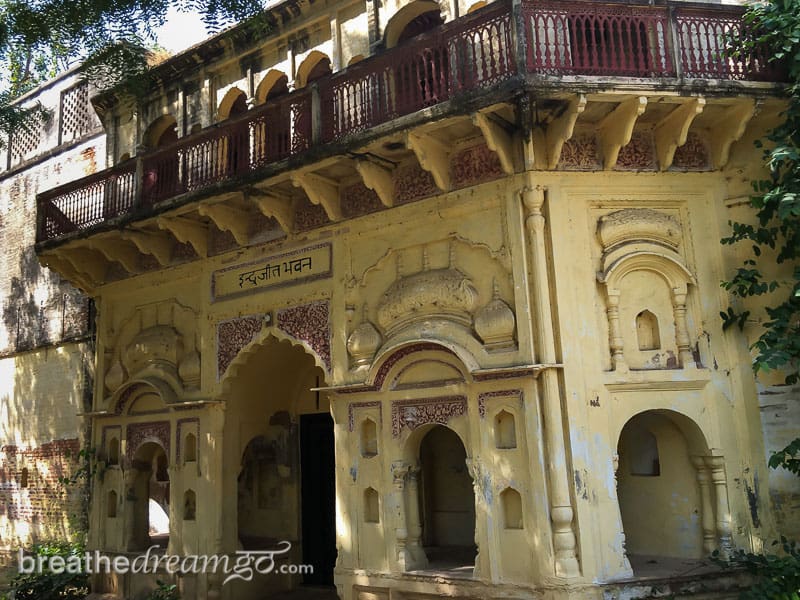 4. Holipura Heritage Village
Holipura, Uttar Pradesh's first heritage village is a peaceful place dotted with charming havelis and rustic buildings, some dating back 350 years. Holipura has a recorded history of 500 years and was ruled for many years by the prosperous Chaturvedi family.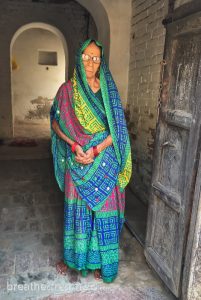 We walked through the village on a warm afternoon, admiring the architecture, receiving warm welcomes from the villagers and enjoying idyllic scenes of village life. Children sleeping on charpoys, cows gathered under shade trees and farmers waiting patiently on the steps of the bank.
I had a wonderful experience when I wandered away from the small group I was with and met Sita. She hugged me and wanted me to stay for chai, or for something to eat. Her invitation was offered with incredible warmth and affection, which moved me to tears. When I asked to take her photo, she posed with grace and dignity. What a lovely woman!
Holipura is only a 15-minute drive from Chambal Safari Lodge; it's one of the excursions they offer.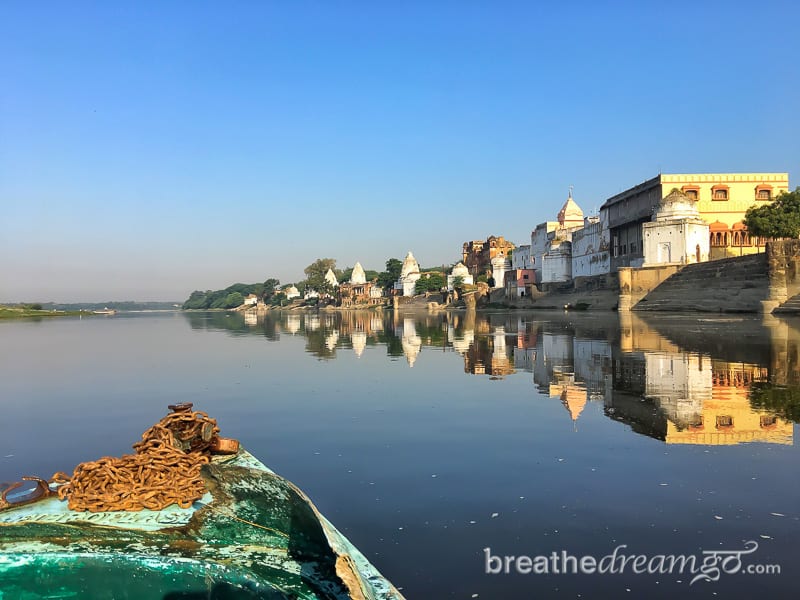 5. Mini Varanasi: Bateshwar
Bateshwar is often described as a mini Varanasi because it's a sacred town filled with Shiva temples that line a river – in this case, the Yamuna. However, it is infinitely more peaceful than Varanasi, and on a much smaller scale. We boated one way on the river and walked back along the ghats, enjoying the feeling of peaceful reverence among the temples. Across the river is a meadow, and trees filled with birds, so the only sounds were the bird songs and the many temple bells. Bateshwar comes alive once a year, in November, with the second largest animal fair in India. But otherwise, it seems to be a sleepy place.
I really enjoyed my time in Bateshwar. I felt the sacredness of the energy here, especially at a couple of the Shiva Temples. One in particular had an underground Shiva lingam, and walking down to it, I felt I was entering a different world.
Aside from the deep peacefulness, the other surprising thing about Bateshwar was meeting an impish holy man. He motioned for me to follow him behind a small temple with a gleeful grin on his wizened face. Well, they do say god works in mysterious ways … but I walked the other way.
---
If you enjoyed this post, you can….
Sign up to The Travel Newsletter in the sidebar and follow Breathedreamgo on all social media platforms including Instagram, TripAdvisor, Facebook, Pinterest, and Twitter. Thank you!