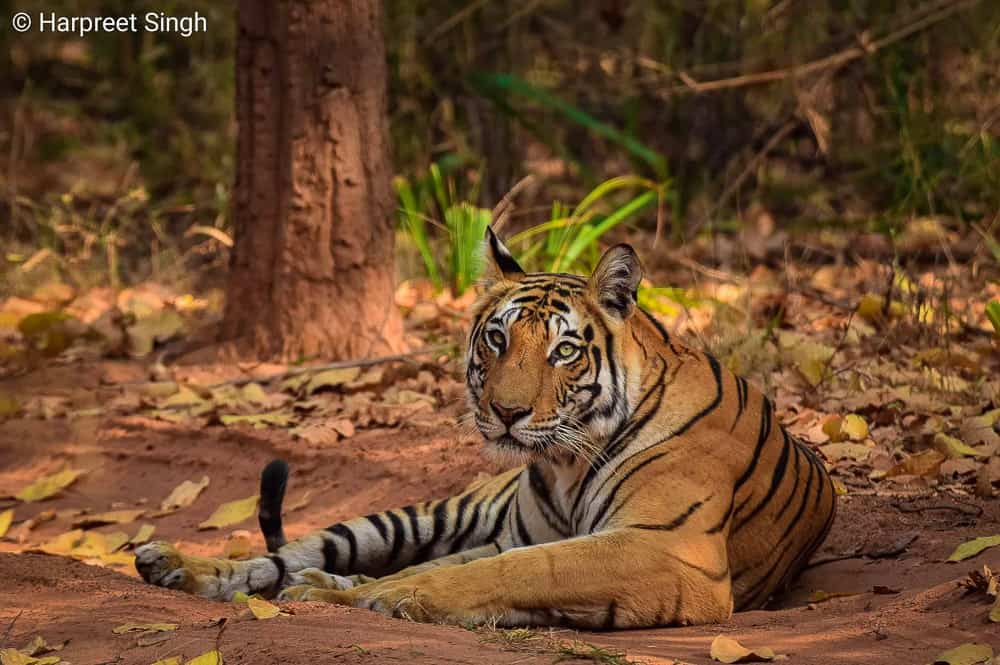 Guide to Bandhavgarh National Park and taking a wildlife and tiger safari in India
WHAT'S THE BEST PLACE to see a wild tiger in India? There's some debate of course, but many will say Bandhavgarh National Park is the best place for tiger safari in India. In other words, Bandhavgarh gives you the best chances of spotting a tiger in India. Located in Madhya Pradesh, in the heart of the country, Bandhavgarh National Park's unique terrain, combined with the density of tigers, makes it a great place for a tiger and wildlife safari in India. I can personally recommend Bandhavgarh for two reasons: one, I saw my first tiger in India there (in 2016), and two, I have seen a tiger every time I have gone on wildlife safari in this beautiful national park of India.
Bandhavgarh National Park has the highest density of Royal Bengal tigers in the world." Madhya Pradesh Tourism
Naturally, there are never any guarantees you will see a wild tiger when you go on a safari in India – the parks don't allow radio collars or walkie talkies. Part of the fun is the chase, and not knowing what will happen. The guides and naturalists use their skills and knowledge of the parks and the tiger population to track tigers. But, honestly, it doesn't matter. These parks are so beautiful, and so full of birds, animals, and scenic landscapes that you won't care. In fact, I truly believe you increase your chances of seeing a tiger by staying relaxed, appreciating the moment, and NOT pressuring the guides and naturalists.
Bandhavgarh is a place of mythological and legendary significance. The ancient Bandhavgarh Fort is of great importance as it is believed to have been gifted by Lord Rama to his younger brother Lakshmana." Madhya Pradesh Tourism
---
UPDATE SEPTEMBER 2021: Tiger reserves are open in India.
India's tiger reserves are open with new rules and guidelines and many wildlife lodges, hotels, and resorts are open for bookings, too. A wildlife and tiger safari is a good option for remote travel now, and it also supports the tourism industry, the national parks, and conservation.
You can book an India for Beginners custom tiger safari here and I will help you plan the perfect wildlife safari!
Or you can book directly with Pugdundee Safaris and avail a 10% discount by using this code at the time of booking: BREATHEDREAMGO10. Book here. On the final screen, where you add personal details and process with payment, apply the promo code BREATHEDREAMGO10.
---
The Breathedreamgo Wildlife and Tiger Safari with Pugdundee Safaris custom tour includes 3 nights at Bandhavagarh and 4 safaris – as well as 3 nights at Kanha tiger reserve and 4 safaris, plus safaris at Pench and Satpura tiger reserves in Madhya Pradesh. You will stay in Pugdundee Safaris award-winning luxury jungle lodges and go on safari with some of the best naturalists in India. All of your safari bookings, meals, transportation, and accommodation are included in the price. Click here for the India for Beginners tours page for more information or contact me by email.
---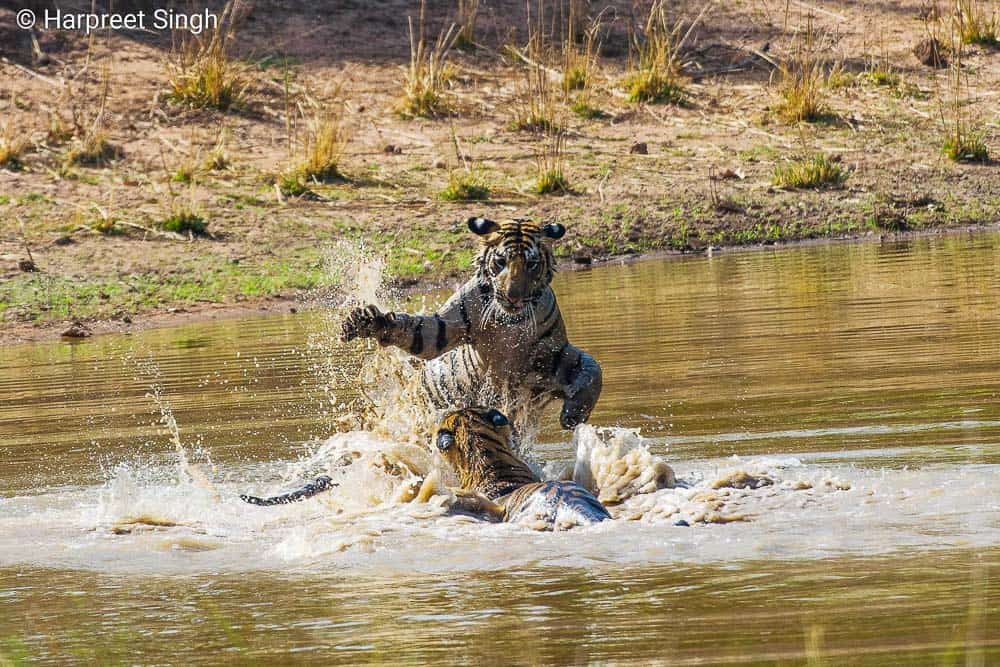 All about tigers
Thanks to tiger protection and conservation measures that started in the 1970s, India's wild tiger population is on the rise. Every four years a tiger census is conducted. In 2008, there were 1,411 tigers in India, increasing to 1,706 in 2010, and to 2,226 in 2014.
UPDATE: Just released on July 29, 2019 — Global Tiger Day — the 2018 tiger census revealed that the wild tiger population increased substantially to 2,967.
There are 50 tiger reserves scattered throughout the country dedicated to protecting and conserving them. Madhya Pradesh, a large state in the very centre of India, has six tiger reserves – the most of any state in India – including my favourite, Kanha (you can read my Guide to Kanha National Park here) and Bandhavgarh. Read my guide to learn more about all of the animals of India.
Did you know:
tigers are the biggest cats
the species found in India is the Bengal Tiger (Panthera tigris tigris)
Bengal tigers (or Royal Bengal tigers) are the most numerous tiger species in the world and are also found in Bangladesh, Nepal, and Bhutan
India has about 70% of the world's wild tigers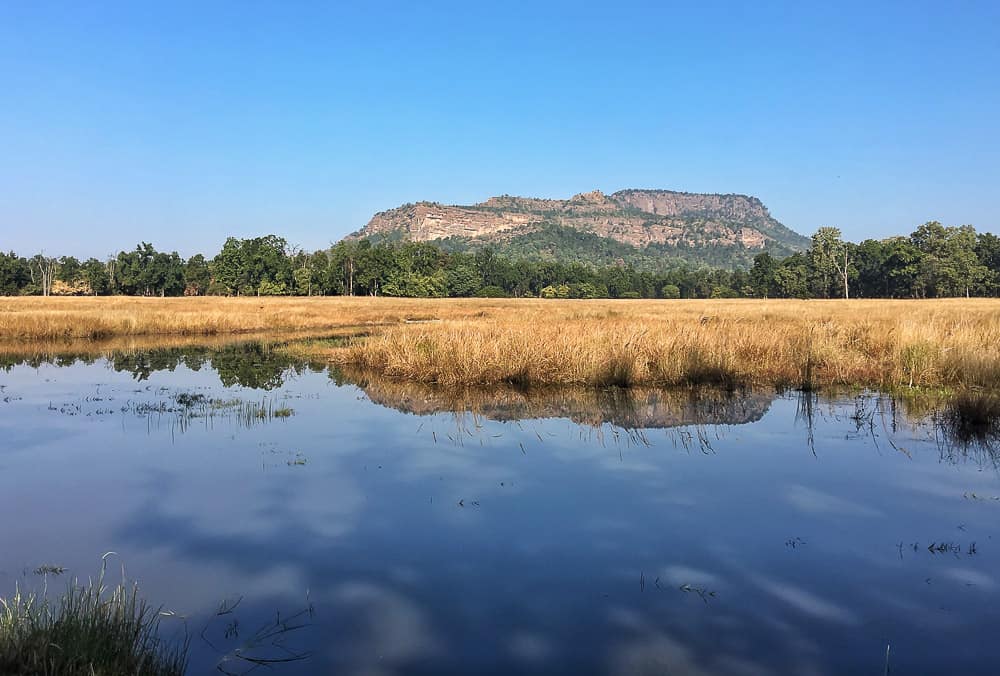 All about Bandhavgarh National Park
Bandhavgarh has a rich and ancient history. Tenth century Bandhavgarh Fort sits majestically atop Bandhavgarh hill (unfortunately, the fort is not open to the public). "Bandhav" means brother in Sanskrit and "garh" means fort, so the name of the fort – and the park – is brother's fort. The brother in question is Lakshman, younger brother of Ram, which means Bandhavgarh is associated with the Ramayana epic. This thickly forested region was part of the Maharaja of Rewa's hunting grounds until 1968, when the family granted the land to the government to become a national park. In 1993, it was declared a tiger reserve under the Project Tiger initiative.
Bandhavgarh park is divided into a core area, with three zones open to the public, and a buffer zone, totalling 1,598 square kilometres (including Panpatha Wildlife Sanctuary). The core area is 716 square kilometres, with the buffer zone adding another 820 square kilometres – but the area open to the public is only 105 square kilomtres.
The zones open to the public are Tala, Magadhi, and Khitauli, and they each restrict the number of vehicles that can enter. Tala was the original zone, and it includes Bandhavgarh hill and the ancient fort. Three buffer zones, spread over Umaria and Katni district, were added to the Bandhavgarh to alleviate the pressure on the core zones and give more people an opportunity to visit the park. They are Dhamokhar, Panpatha and Johila.
As of this writing, summer 2019, Bandhavgarh has about 60 tigers, though locals say there could be as many as 65 to 75. This figure does not include cubs, only full-grown, adult tigers. Over the past winter, every female tiger in Bandhavgarh had cubs, so there was a lot of opportunity to see mother tigers with their cubs.
This is why Bandhavgarh is probably the best place to see a wild tiger in India — with so many tigers in such a small tiger reserve, your chances are better than just about anywhere else, plus the terrain helps, too. Spread over the Vindhyachal mountain range, in the Umaria and Katni districts of Madhya Pradesh, Bandhavgarh is comprised of a semi-dry deciduous forest, grasslands and sal forests, 32 hills, and some stunning dramatic scenery that includes soaring cliffs and rocky plateaus (especially in Tala zone, which has the most photogenic landscape and some say the highest tiger density, too).
The reserve experiences at least three seasons – summers, winters and monsoon – and it's generally in well-preserved condition under the care of the Forest Department. (Though I have issue with the state of the toilets, which are deplorable …)
Bandhavgarh opens October 15 each year, and closes at the end of June. The park is closed from July 1 to October 14 to give the animals a break, and because of the monsoon season.
How to book a wildlife and tiger safari in Bandhavgarh
Bandhavgarh is a very popular national park and tiger reserve, and the number of vehicles that can enter each day is highly restricted. This means, it's imperative to book your safari in advance (at least 90 days) to ensure that you get the dates you want.
You can enter the park either by jeep (Maruti Gypsy) or canter, an open bus-like vehicle. My preference would always be for the Gypsy of course, as it is small and agile, and you are with only 4 or 5 other people.
There are three core zones open to the public: Tala, Magadhi, and Khitauli, and you will be assigned a zone.
There are two safaris each day, morning and afternoon – and the park is closed every Wednesday afternoon. Timings for safaris in the core zone are:
Morning: 6 am – 10 am or 6:30 – 10:30 am (depending on season)
Afternoon: 2:30 pm – 5:30 pm or 3:00 – 6:00 pm or 4:00 – to 7 pm (depending on season)
You can book a safari permit through the MP Forest Department website but you will still need to book a guide and vehicle. If you are staying at a luxury lodge, they can book your safaris and provide you with a guide and vehicle.
Always remember to carry your passport with you on safari as it will be checked at the gate. You will be turned away if your passport does not match the booking name and details. Also remember to bring everything with you, as once you enter the park, you cannot leave and come back.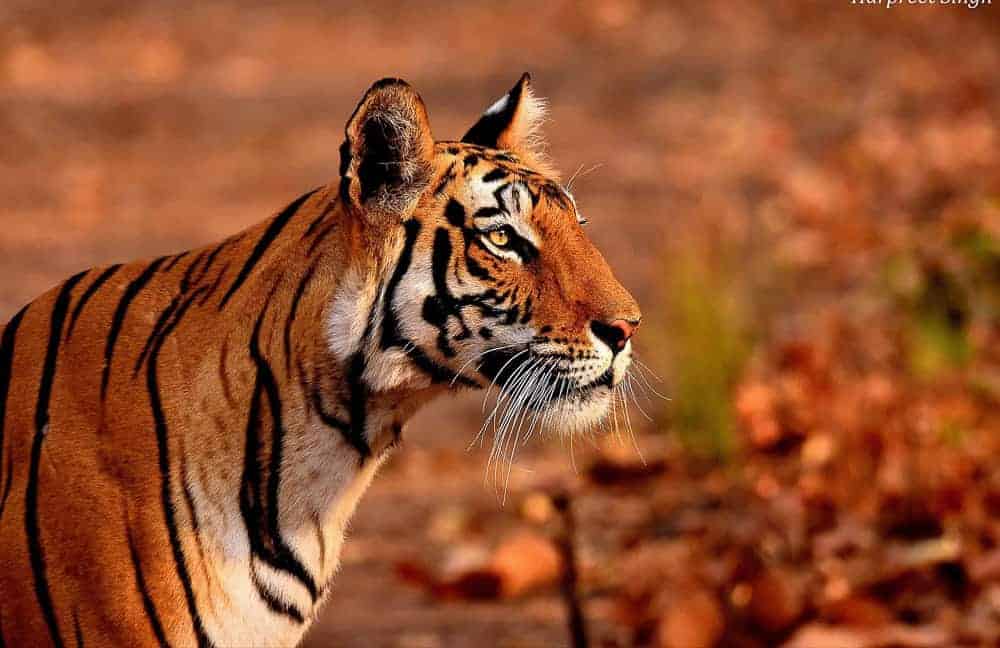 Best time to go on safari in India
Bandhavgarh is worth visiting every day that it's open, but there are different seasons and different reasons for going. Fall is pleasant, December and January are cold (it can drop to 2 C.) and April to June is very hot and can reach 45 C. – but it's the best time to see tigers because they gather at water holes to cool off and drink.
Tala is said to be a good zone for tigers while Khitauli is said to be a good zone for birding. Late fall, when the migratory birds appear, is a great time for birding at Bandhavgarh.
What to wear on tiger safari in India
Never wear bright colours on wildlife safari. It disturbs the animals. Wear earthy tones like beige and khaki, and layers as it's chilly in the morning and then warms up. A hat is essential and so is a buff, or scarf, to cover your nose and mouth on dusty drives. Wear sunscreen and bring sunglasses, plus binoculars, camera equipment, your passport and some rupee notes to tip the guides. I also recommend a water bottle, tissue, and hand sanitizer (plus wet wipes). Toilet conditions are not good at Bandhavgarh, I'm sorry to say, you are basically on your own as far as hygiene is concerned.
Getting to Bandhavgarh National Park
Like all the best tiger reserves, Bandhavgarh is in a remote location and it does take a bit of time and effort to get there. Of course, it's absolutely worth it when you do. The nearest train stations are Umaria (45-minute drive) and Katni (two-and-a-half hour drive). The nearest airport is Jabalpur, a four or five-hour drive away. There are trains and flights from Delhi every day. If you are coming from Khajuraho, one of the most popular tourist attractions in Madhya Pradesh, I recommend driving. Though it's a long drive, it's the most direct way to get there.
Once you make the journey all the way to Bandhavgarh, you are within driving distance of Kanha National Park, another one of the best parks in India for seeing a tiger. And from Kanha, you can drive to Pench, and then from there to Satpura.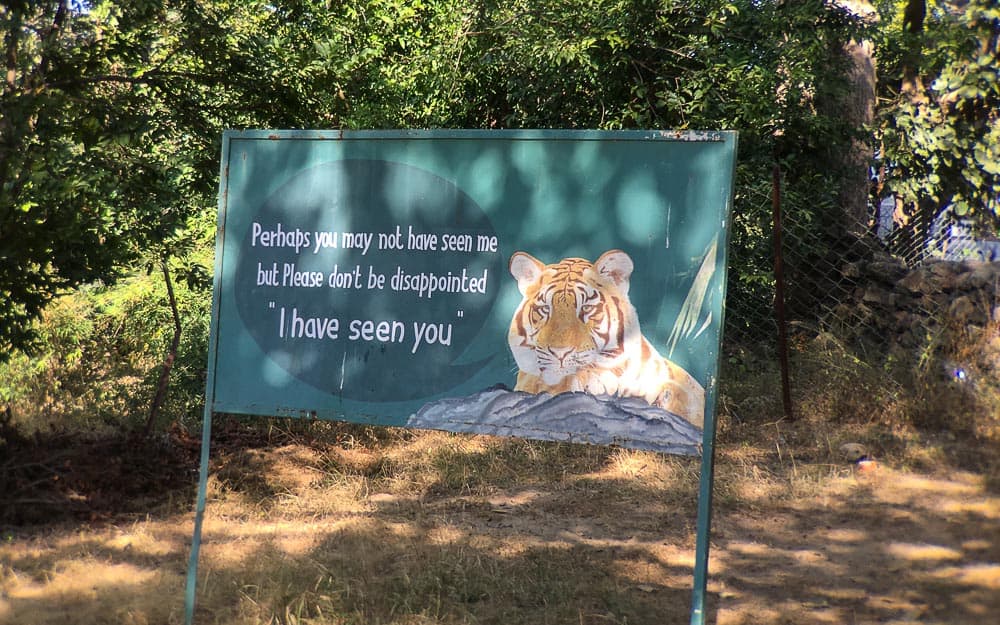 Animals, birds, and wildlife in Bandhavgarh National Park
There's lots more to Bandhavgarh than tigers. It's a great spot for birding with more than 150 species, plus 22 mammals including leopards, sambar deer, nilgai, gaur, Asiatic jackal, sloth bear, jungle cat and wild pig. Birds sighted include lesser adjutant crane, sarus crane, black kite, crested serpent eagle, grey hornbill, white breasted kingfisher, and an abundance of Indian rollers.
---
More reading on Breathedreamgo about wildlife tourism in India
---
My first tiger: A story
Did you know I saw my first wild tiger in Bandhavgarh National Park? I was on my very first wildlife safari in Madhya Pradesh, one of the first of my life (I had been on two in Ranthambhore), with Naresh "Gudda" Singh from Pugdundee Safaris Kings Lodge as my guide. We were on a tea break when Gudda heard a growl, and said, "Get in the jeep!" We slammed down our glass tea cups and jumped in. Gudda raced along the road, and suddenly stopped. I have no idea how he knew where to stop, it seemed magical at the time (but of course that's his skill) … and then out of the forest, a sub-adult male tiger walked nonchalantly towards us. He may have been non-plussed, but I was most definitely plussed! I don't know how I was able to capture this video, below, as I was so excited. I felt a sense of euphoria that is hard to describe. The tiger electrifies the forest, there is no doubt about it. Video below from that first encounter!
Bandhavgarh resorts, lodges, and hotels
There are lots of resorts, hotels, and lodges around Bandhavgarh to choose from, in various price ranges. I've chosen five of the very best.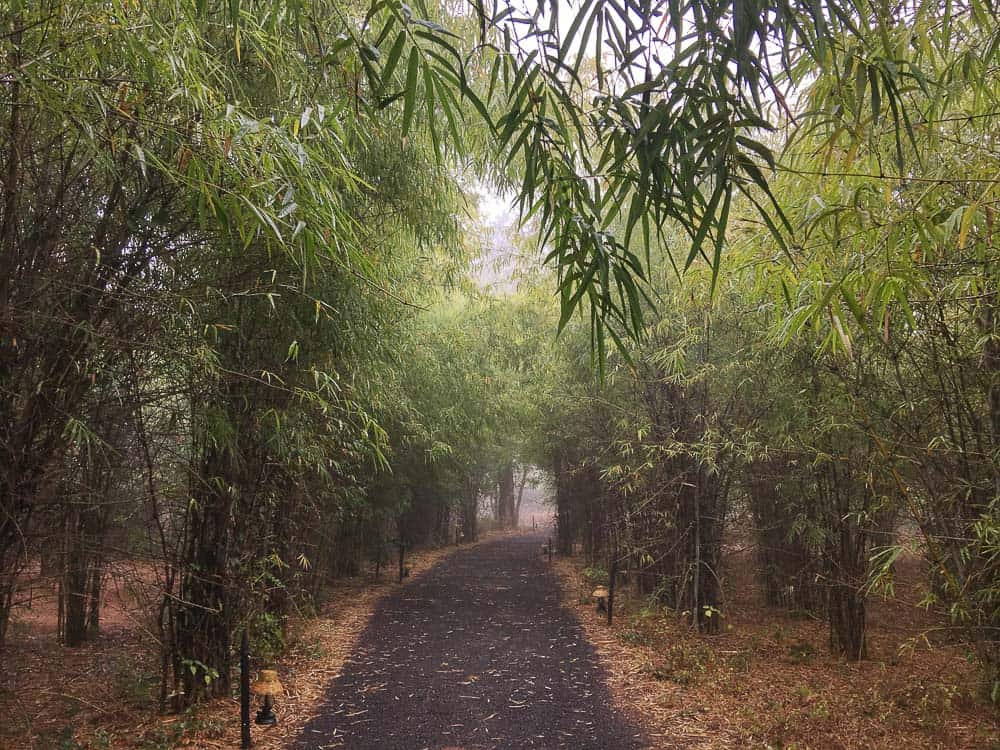 Pugdundee Safaris Kings Lodge Bandhavgarh
You can never go wrong with Pugdundee Safaris. This company ticks every box, and at a reasonable price that gives you a lot of value for money. The Kings Lodge is one of the company's premier lodges, and it's a very special place. A welcoming main lodge building includes a reception, library, dining room, pool, store, and outdoor terrace with firepit. Rooms are in individual cottages with large balconies, and lots of comfort and extra touches – way too many to list here. The food is great, the people are better, and the naturalists are the best of the best. I also like the location, in the buffer zone surrounded by grasslands and walking trails. You can read more about Pugdundee Safaris lodges here.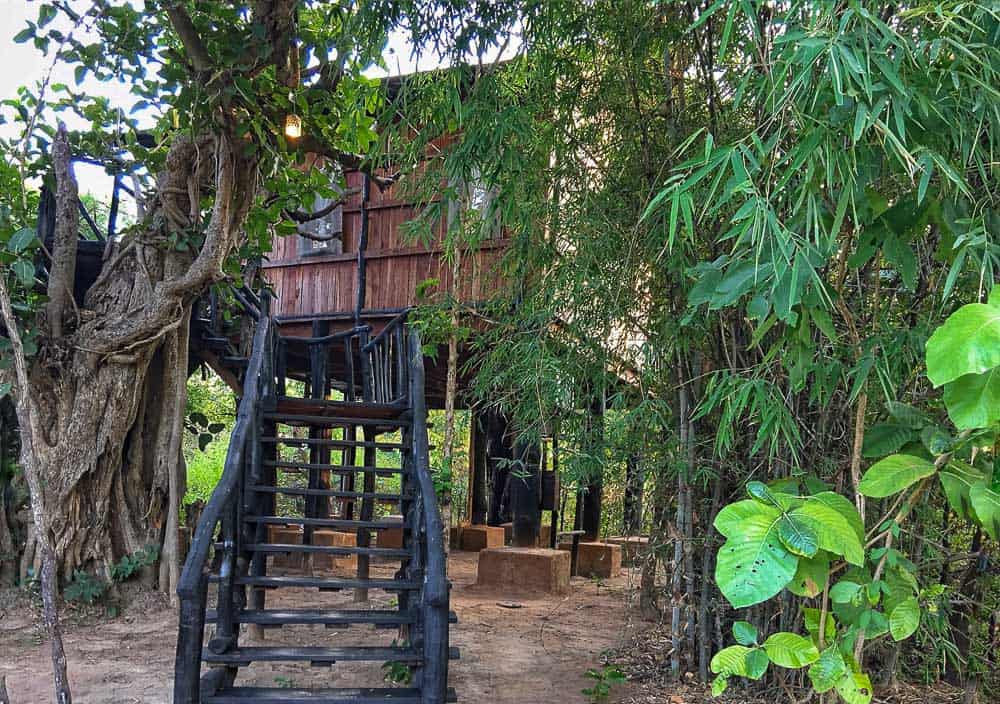 Pugdundee Safaris Tree House Hideaway
Who wouldn't want to stay in a tree house? Especially one that provides comfort and touches of luxury, like a shower with a sliding door that makes it open-air, a cushy seating area, a large balcony, and almost complete privacy. I'm very fond of the Pugdundee Safaris Tree House Hideaway, a charming property immersed in the forest buffer zone of Bandhavgarh. You really do feel you're in a tree house in the forest. Even the main lodge building is built around a huge mahua tree, with a lounge upstairs and an open-air dining room on the main floor. There is something very romantic about Tree House Hideaway, especially if you have a private field dinner. I can't recommend this place enough. Staying here and going on wildlife safaris will give you a harmonious experience of the jungles of Madhya Pradesh. You can read more about Pugdundee Safaris lodges here.
Bandhav Vilas
I wanted to include a more budget-friendly property in this recommended list so I spent an afternoon at Bandhav Vilas and I was really impressed. It is a place that's designed for groups, so it doesn't have that boutique feel, but they've done a great job to make the place both comfortable and still retain a cultural flavour with the design of the villas. They have a huge swimming pool and a large organic garden that provides the kitchen with produce. I also understand from my research and experience, they have excellent naturalists working there, so you will definitely be in good hands.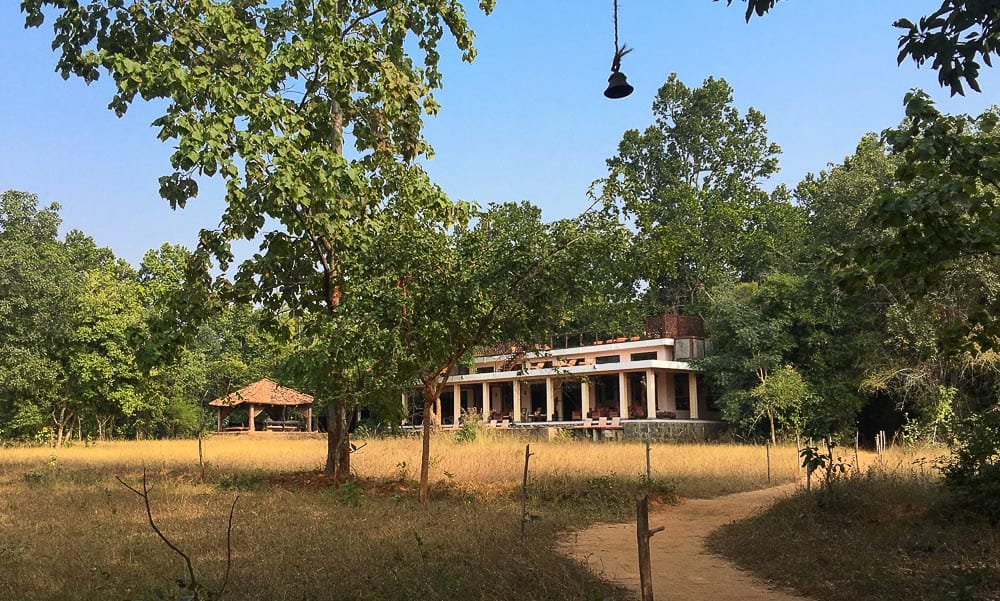 Taj Hotels Mahua Kothi
I spent an afternoon at Mahua Kothi and was very impressed. Though it is a luxury property, it retains a very natural, rustic feeling that befits a wildlife lodge. In fact, the company modelled their wildlife lodges after the very best in Africa. So you can enjoy the finer things in life without losing a sense that you are in a natural environment, and on a quest to enjoy the jungles and wildlife of central India. The lodge, dining areas, swimming pool, spa, and rooms are all designed to showcase the local culture and landscape. You will not be disappointed staying here, and of course the staff and naturalists are all best-in-class. To be honest, I was pleasantly surprised.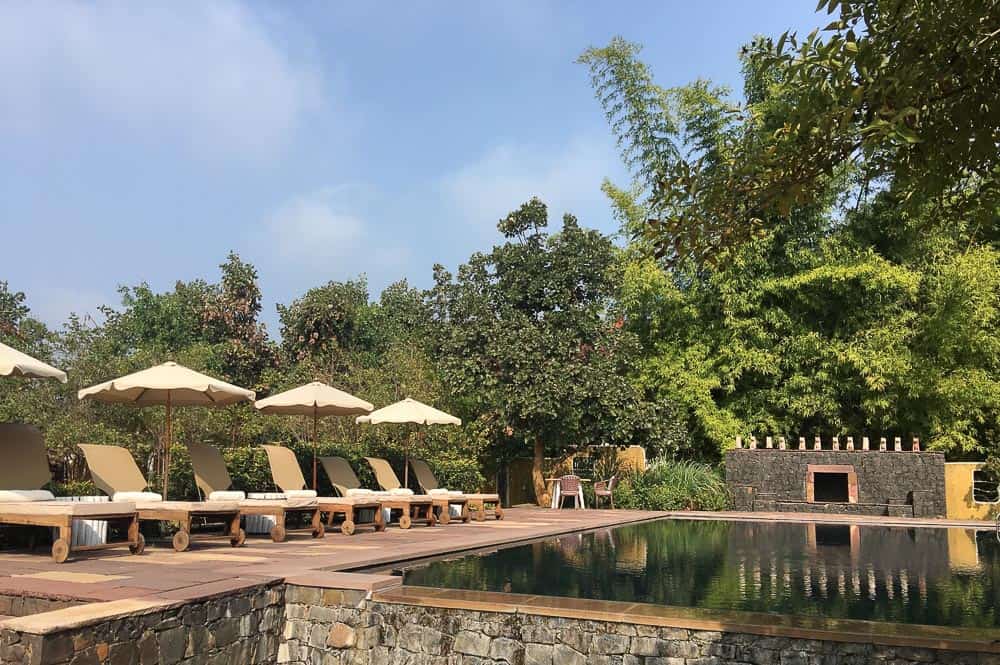 Samode Safari Lodge
The Samode Safari Lodge is perhaps the most luxurious lodge in the Bandhavgarh area, and the most remote. I had breakfast and toured the property and really enjoyed the food and the ambience. A Relais&Chateaux hotel, Samode is owned and run by the same group that owns and runs the famous Samode Palace Hotel in Jaipur (as well as the Samode Haveli and he Samode Bagh). The lodge features a tastefully decorated main building with wooden terraces, fire places, lounges, a pool room and library and various dining options. Twelve luxury villas are spread around the property, giving you privacy and comfort, and a pool, gym and spa are also available. The in-house naturalists take you into the park, which is a distance away as the Samode Safari Lodge is in a remote area.
---
---
PIN it on Pinterest
---
Note: Thank you to Pugdundee Safaris Kings Lodge for my stay while researching this guide to Bandhavgarh. And to Harpreet Singh, naturalist at Kings Lodge, for the stunning photos of tigers. Check out his Instagram account here.
---
If you enjoyed this post, you can….
Sign up to The Travel Newsletter in the sidebar and follow Breathedreamgo on all social media platforms including Instagram, TripAdvisor, Facebook, Pinterest, and Twitter. Thank you!