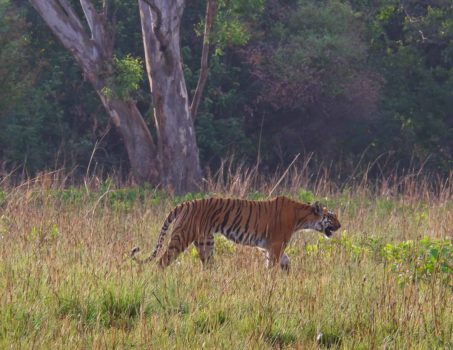 Complete Guide To Corbett National Park and tiger reserve
Corbett. The very word evokes feelings of excitement, adventure, danger … and thrilling images of magnificent beasts wandering freely among tall grasses, dense jungles, and among the rolling hills of the Himalayan foothills in Kumaon. Corbett National Park and Tiger Reserve, named after legendary hunter turned conservationist Jim Corbett, is a mythical landscape to me, a sanctuary for nature, birds, and animals to survive, a place of stories and legends.
Jim Corbett was a hunter of man-eating tigers and leopards, one of India's first conservationists, and a talented writer who could spin a page-turning yarn. The national park named in Jim Corbett's honour, Corbett National Park, was the place where Project Tiger was launched in the 1970s and an important animal and nature preserve in India. Corbett tiger reserve is home to more than 250 wild tigers, plus herds of wild elephants, many endangered species, and a vast number of birds. It's one of the best birding locations in India.
I had LONG wanted to explore Corbett, an incredible nature preserve right in my own backyard in Uttarakhand. This state, Uttarakhand, is a Himalayan state in north India, and Corbett National Park and tiger reserve spreads out across 1,288 square kilometres in the rolling foothills. To me, as a Canadian, there is something familiar and fresh about these robust forests. The cool mornings and fresh breezes, the pine trees and blue skies.
---
More reading on Breathedreamgo
Explore India's top tiger reserves!
The India for Beginners Wildlife and Tiger Safari small group tour, from Breathedreamgo, will take you to four of India's top tiger reserves. Stay in luxury eco lodges and immerse in the Indian jungle on 12 wildlife safaris. Dates: November 27 – December 11, 2022.
FIND OUT MORE!
Corbett National Park was created in 1936. The first national park in India, it was originally named Hailey National Park after William Malcolm Hailey, a governor of the United Provinces. Jim Corbett was on the committee to create Hailey National Park, and in fact drew the boundary line. For a short while, the park was named Ramganga National Park, and then a year after Jim Corbett's death in 1955, it was renamed Corbett National Park.
Recently, there's been a movement to rename Corbett to Ramganga National Park as the Ramganga River, a tributary of the Ganga, passes through it. However, most locals and wildlife lovers are unhappy with this idea.
One of the many reasons to visit Corbett is the wide range of landscapes, habitats, flora, and fauna. Forest covers more than 70% of the park, and grasslands are at about 10%. There are approximately 110 tree species, 488 plant species, 50 species of mammals, 580 bird species, and 25 reptile species. The core zone is 520 square kilometres, and the entire park including the buffer zone is 1,288 square kilometres.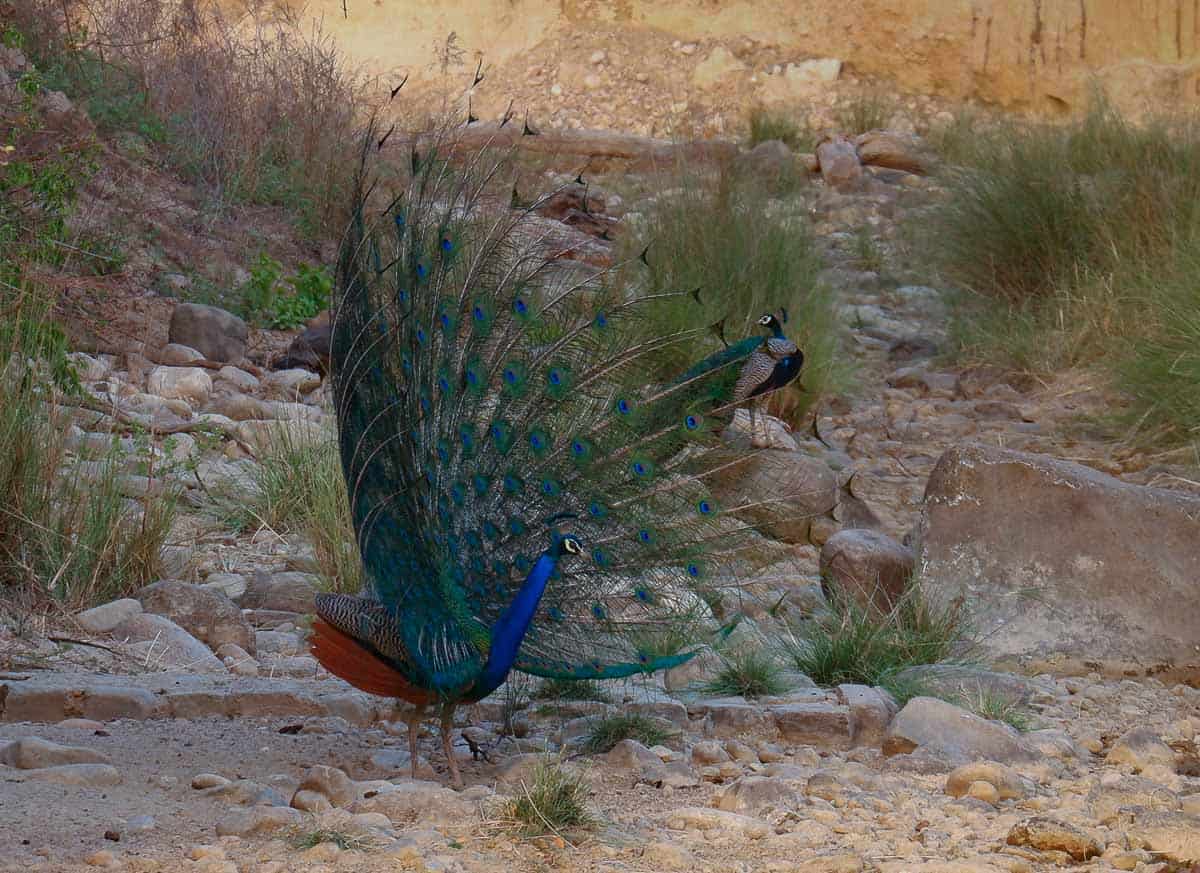 How to book a safari in Jim Corbett National Park
Corbett National Park has about five gates and there is commercial activity outside the two main areas.
Dhela Gate: entry point for Dhela Zone and Jhirna Zone
Amdanda Gate: entry point for Bijrani Zone
Garjiya Gate: entry point for Garjiya Zone
Durga Devi Zone: entry point for Durga Devi Zone
Dhangari Gate: entry point for Dhikala Zone
Vatanvasa Gate: entry point for Sonanadi Wildlife Sanctuary
The corridor that runs along Corbett National Park from the city of Ramnagar, past Amdanda Gate and Garjiya Gate, is the busiest area of the park. There are a lot of big leisure hotels that back onto the Ramganga River here, and most of them are much more leisure resort, and much less wildlife lodge.
Towards the Dhela Gate, there is a lot less commercial activity and here you will find some of the most serious wildlife lodges and homestays. This is where Aahana The Corbett Wilderness Resort, The Rangers Lodge, and Jim's Jungle Retreat are located. It's a much quieter area, dotted with villages and rural areas.
Vanghat Lodge is in another area entirely, 17 kilometres beyond Dhangari Gate, far from any commercial activity.
To book safaris in Jim Corbett National Park, contact your resort or lodge. If they don't have an in-house naturalist, consider contacting Imran Khan of The Rangers Lodge or Mohan Joshi of Green Escape, both highly recommended.
To book a forest rest house, and stay inside the Corbett core zone, click here.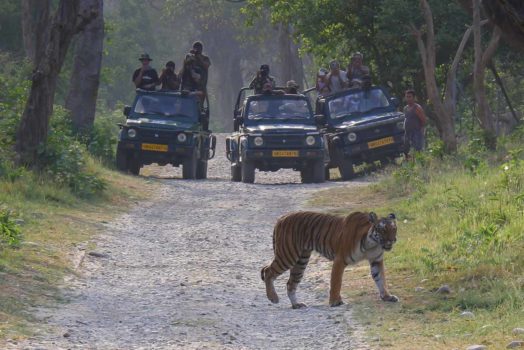 Best time to visit Corbett National Park
The park officially opens November 15 and closes June 30. From November to April are the best months to visit Corbett.
All zones of Corbett Tiger Reserve are closed for overnight stays from June 15 to November 14.
The Bijrani Zone remains closed for day visits from June 30 to October 14. The Dhikala, Lohachaur and Sonanadi Tourism Zones are closed for day visits from June 16 to November 14.
The Jhirna Zone remains open for day safaris throughout the year, including monsoon, subject to road and weather conditions.
Between June 1 to 15, the Dhikala, Lohachaur, and Sonanadi Zones are on standby mode. During this period, advance reservations are not done and these Zones can be shut down by the Director, Corbett Tiger Reserve at short notice depending on weather conditions and in consideration of visitor safety.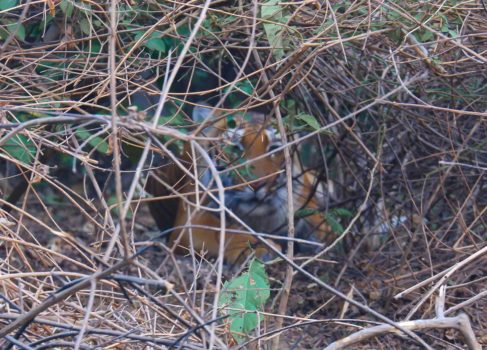 Animals of Corbett and tiger centric tourism
On my first-ever trip to the core zone of Corbett National Park, I had five safaris in three zones: Dhela twice, Jhirna twice, and Garjiya once. I had four tiger sightings in Jhirna (three members of a family: mother, male cub, and female cub), several elephant sightings including one magnificent male tusker (in Jhirna), well over 40 bird species including Asian paradise flycatcher (three times), lots of golden jackals, wild boar, sambar, dancing peacocks, butterflies, and on and on and on.
I loved my introduction to Corbett, even though I have not yet stayed in Dhikala — which is 30 kms inside the park. But that is my dream, and hopefully next time!
My first trip to Corbett — aside from a previous stay at Vanghat Lodge in the buffer zone – was really eye opening. I had a wonderful time making new friends and connecting with one or two old ones. I've absolutely loved my five safaris and all the incredible flora and fauna I saw. I found a couple of outstanding places to stay — see below.
And I learned a lot about Corbett — not just the park but also the wildlife culture here, which is very different than the tiger reserves of Madhya Pradesh. Sadly, some of what I have seen is shocking in terms of lack of respect for nature, for the rules of the park, and for the environment.
Corbett is perhaps the most tiger-centric park I have visited, along with Ranthambhore. It's very sad to see jeeps filled with city folk, intent on only chasing the tiger and not even stopping to see a crested serpent eagle sitting nearby on a low branch.
Over the course of my safaris here, I saw a couple of disturbing incidents where the vehicles (and the people in them) raced to find the tiger, creating noise, clouds of dust, and a ruckus, with a couple of drivers even yelling at each other.
Meanwhile, me and the naturalists I went with (Imran Khan of The Rangers Lodge, and Manoj and Amit from Jim's Jungle Retreat) agreed we would enjoy the safari, and be content with whatever the park wanted to show us!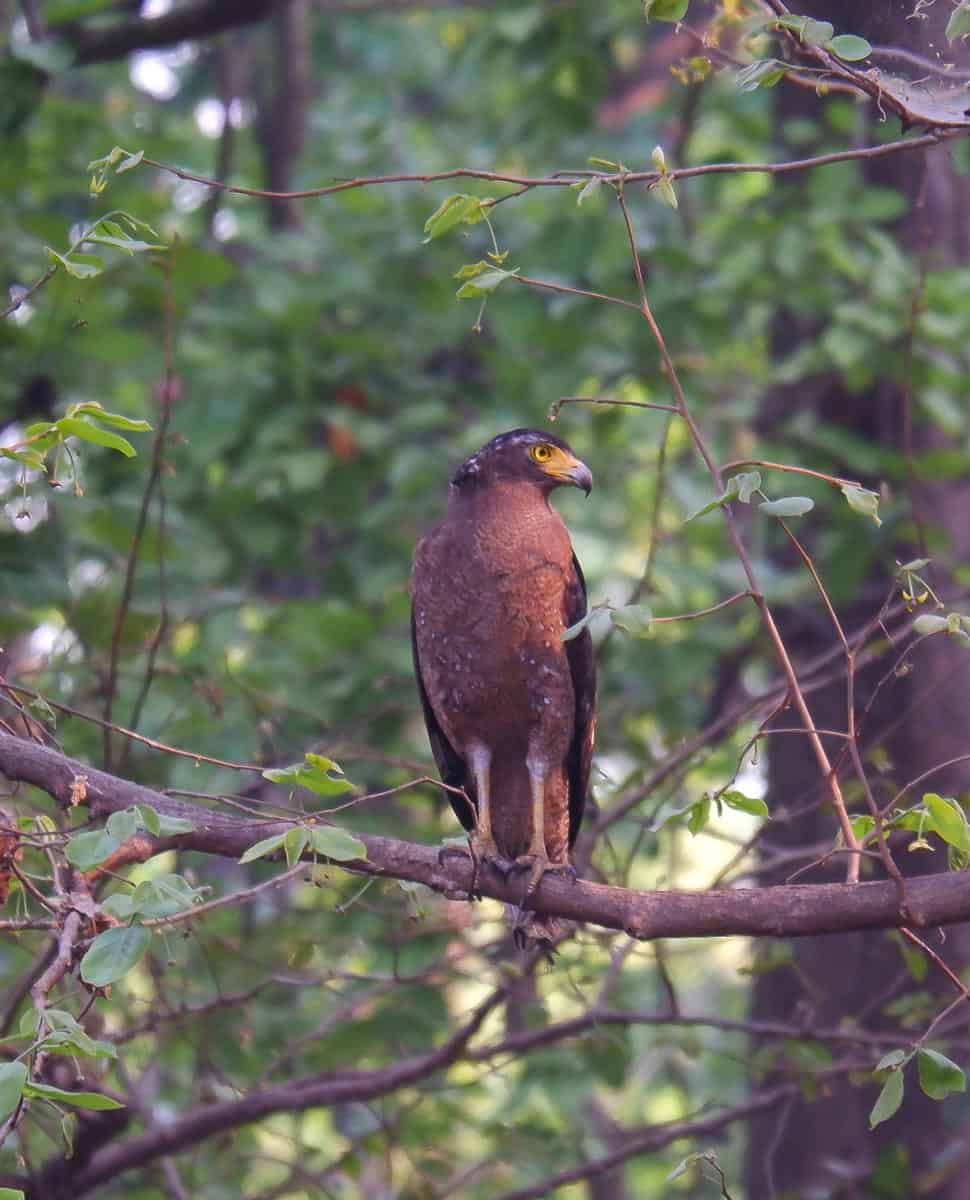 Manoj and I went into Jhirna zone one afternoon and twice we were the first ones in the exact right spot to see a tiger. We were driving past a wide, dry river bed and in the distance saw a tiger walk casually towards the bank, and then lie under a tree. Just our vehicle and one other saw this beautiful site for several wonderful minutes until a lot of jeeps found out and started to race towards us.
We left to escape the circus and drove around a different part of the zone. Eventually we found our way back to the stretch of road where jeeps were lined up, waiting to see if the tiger would cross. We stopped a little away from them for a few minutes and by chance, the tiger was sitting in the bush exactly opposite our jeep — looking straight at me! I quickly snapped a photo before the other jeeps found out, and started racing towards us. The tiger quickly turned and fled back into the bush, and I think I was the only one to get a photo.
Was this luck? Was it because we weren't chasing it? Did our respectful and accepting attitude play a part?
I don't know. But I do know that although I love seeing a tiger as much as anyone, I won't let chasing it ruin my wildlife safari. I am always very open and grateful about everything I see in the park, all the flora and fauna. And meanwhile, I am so often rewarded with tiger sightings. I saw 4 tigers in 5 safaris in Corbett. And all together I have seen 29 tigers in the 3-4 years I have been going to the tiger reserves of India.
I would love to help change this tiger-chasing culture, and raise awareness of the beauty of the jungle and the need to respect it.
Jim Corbett National Park resorts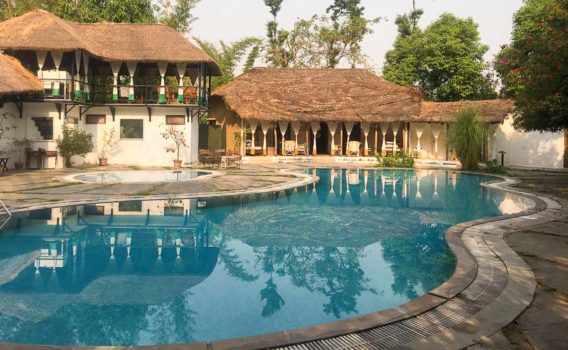 Jim's Jungle Retreat
Have you ever been somewhere that you liked so much, you wanted to stay and never leave? That seemed perfect in every way, and suited your style preferences, moods, interests? That's how I felt about Jim's Jungle Retreat, a renowned wildlife lodge near the Dhela / Jhirna gate of Corbett National Park.
I have been to a lot of wildlife lodges in India, and Jim's Jungle Retreat is absolutely one of the best in every way. It met and exceeded my expectations. And it all starts with the land. The family purchased the degraded land, adjacent to Corbett's core zone, about 20 years ago and began rewilding it. They did a phenomenal job because it is a rich wildlife zone in its own right, bursting with incredible flora and fauna.
This is not a tamed, manicured paradise! It is a genuinely natural environment that buzzes with birds, butterflies, and insects, and is complete with several waterholes, and a couple of machans that allow you to look right into the park. More than 250 bird species have been recorded on property, and I personally witnessed a large flapshell turtle walk from one waterhole to another. There is no sound except birds.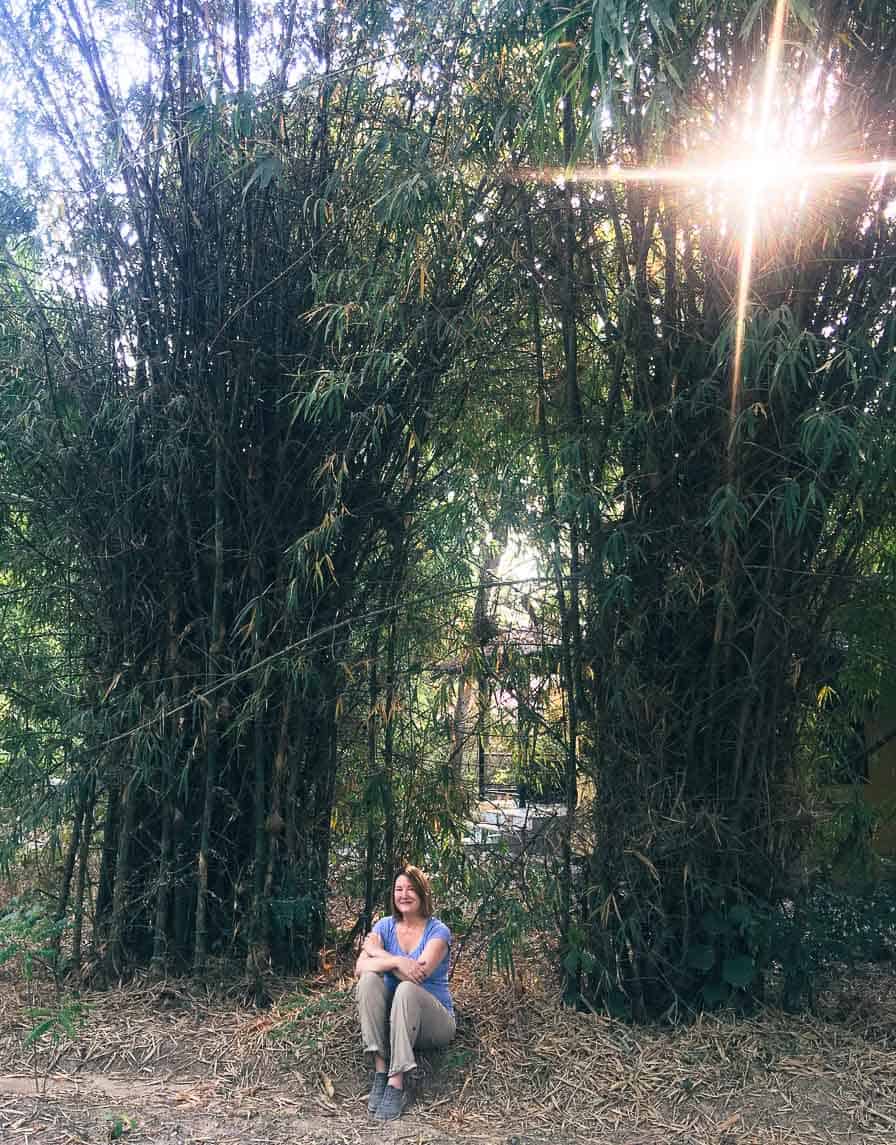 At Jim's Jungle Retreat, the buildings and cottages are almost hidden by the forest, giving the lodge a different and more natural ambience than any other wildlife lodge I have visited. I was in lodge #4, above the Yoga Shala. The lodges are newer than the cottages, and very spacious with just the right amount of luxury.
The decor and building construction harkens back to the era of Jim Corbett, it has a timeless and classic feeling that I absolutely loved. Ample use of wood and other natural materials, large terraces dotted with rattan furniture, framed period etchings of wildlife scenes, cottage-like rooms with chintz-covered sofas, open-air reception building and dining room, and many comforts too. Lunch is served at Carpet Sahib, an indoor cafe with air conditioning. (Carpet Sahib was the local name for Jim Corbett.) There's a library with comfortable reclining chairs, and a large swimming pool by the outdoor dining area.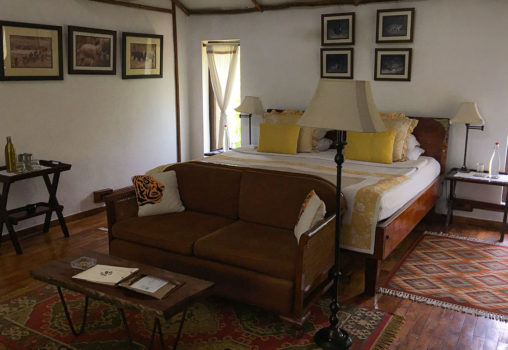 The Anglo-Indian culture is celebrated at Jim's Jungle Retreat in many ways, from the decor, to the cuisine, to the artwork on display, and even the names used – such as naming one waterhole Champion's Pool, after F.W. Champion, a noted wildlife photographer and conservationist who pioneered camera trapping and was a founding member of India's first national park in 1935 (renamed Corbett National Park in 1957).
On top of all this, there are three other major highlights of a stay at Jim's Jungle Retreat: the naturalists, the food, and the staff. These elements are superlative, delivered by dedicated and talented people. Food was fresh and delicious, and they make liberal use of local produce and ingredients. In fact, they sell many of the pickles, jams, preserves, and other condiments they make.. I bought a jar of mango jam and mustard kausandi. I particularly appreciate the many tasty gluten-free treats they made for me.
I had the great pleasure of spending time with senior naturalist Manoj Sharma, who has lived in the Corbett area for 26 years, has an encyclopaedic knowledge of all the flora and fauna of the region, and a passion for ecology and the ecosystem of the forest. We went on a morning nature walk together, and a wildlife safari into the park. Both times we saw tigers in Corbett, we happened to be in the exact right place at the right time … which takes as much skill as it does luck! I also went on a safari with Amit, one of the other naturalists, and we saw a serpent crested eagle and the critically endangered red-headed vulture.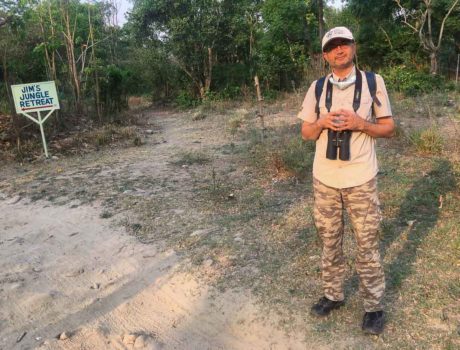 When you spend time in the forest with a naturalist, it comes alive. There are no random birds, or trees, or sounds. Each one has a name and a story. You begin to really look and see, and the forest becomes a book. Slowly you learn a new language, the language of the forest.
There's a motto at Jim's Jungle Retreat: Seek the tiger, find the jungle. The folks here work hard to raise awareness of the entire ecosystem and the need for conservation. They are in complete contrast to many of the hotels and resorts around Corbett, who offer leisure experiences and tiger-centric safaris that pay scant respect to the environment. Jim's Jungle Retreat offers the kind of wildlife culture experience I grew accustomed to in Madhya Pradesh – but is sadly extremely rare in Corbett.
Cannot recommend Jim's Jungle Retreat highly enough.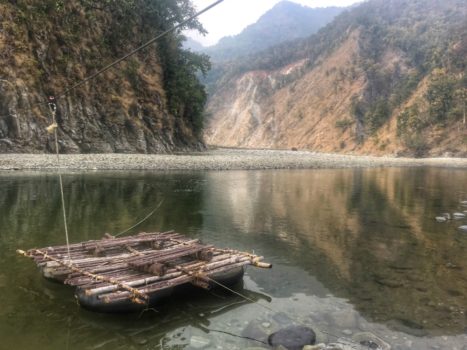 Vanghat Lodge
Vanghat Lodge is a very special place. Adjacent to the Corbett buffer zone, Vanghat is deep in the forest, a couple of kilometres away from the nearest road. You have to trek past several villages and cross the Ramganga River by makeshift raft to get there.
When you arrive, you are completely immersed in nature. There are no roads, no power lines, no connectivity. Nothing but pure nature, fresh air, thick forests, a sparkling river, and the seen and unseen presence of birds and wildlife.
Vanghat was formerly a small village, and owner Sumantha Ghosh kept one of the original stone buildings when he developed the site several years ago. He added four thatched roof cottages, a dining room, and a residence for staff and volunteers, ensuring that all the buildings were spaced apart to allow privacy, and the movements of animals.
At Vanghat, there are no jeep safaris – just walking safaris. When I was there, we went on a five-hour long walking safari across the river and into the park's buffer zone. We walked up hillsides, along ridges, through heavily forested areas, and to a cascading waterfall. We stopped for tea, put our feet in the waters of the cold, clear stream.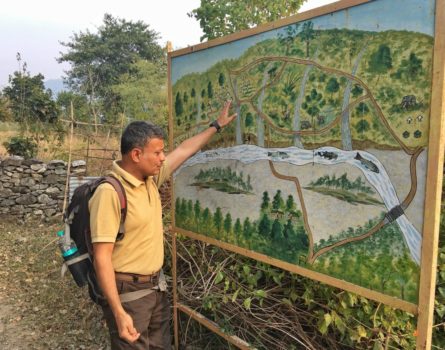 In this area, including at the lodge itself, there is very little to disturb the animals and as a consequence, so much to see. I saw langur monkeys, sambar deer, Himalayan goral, more birds than I could count, and lots of signs of the big cat, the tiger: pug marks, scat, and clumps of hair. By the fire one night, I saw a porcupine ambling along. Elephants, sambar deer, wild boar, and sloth bears have all been seen near the lodge or even on the property.
Vanghat Lodge is committed to sustainability in almost every way possible. They support the local community and help preserve the pristine nature, and demonstrate this commitment by hiring local staff, heating water with a wood-fired boiler, using traditional building methods and natural materials, serving chutneys, pickles, and jams made by a local women's cooperative, and by helping to end a destructive fishing practice along the Ramganga River.
The result of this holistic approach to conservation is the beauty, peace, and abundance of nature and wildlife you will experience at Vanghat Lodge. The memory of your time at Vanghat will never leave you.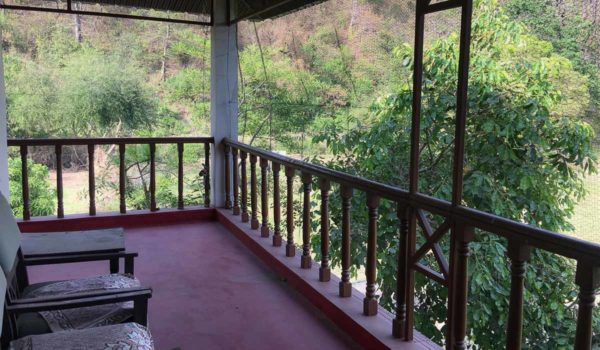 The Rangers Lodge Homestay
The Rangers Lodge homestay, the home of renowned naturalist Imran Khan. The Rangers Lodge is located in Kaniya village, close to the Dhela / Jhirna gate of Corbett National Park. This is the quiet side of the park, and one of the pleasures of staying at The Rangers Lodge is peace of village life.
Imran Khan helped develop tourism in Corbett, and he consulted on several lodges. So when it came time for him to build his own home, he chose a spot close to nature and designed it with wildlife viewing in mind, and in a timeless style that harkens back to the Jim Corbett era. Roomes are cottage-like with lots of wood and an old-fashioned feeling. And the large balconies and terraces that wrap around the building allow you to spot birds and wildlife right from the homestay.
The best thing about staying at The Rangers Lodge is Imran Khan himself. He has so much knowledge about Corbett, nature, wildlife, flora and fauna, guiding, wildlife lodges … I felt like a student with a master! I also enjoyed the peace of the village, and going out for a walk with one of the boys who works at the homestay, Karan. I came across a game of cricket with a young woman bowling, and met some other young women from the village, too.
There is a very casual feeling at The Rangers Lodge, which might not suit everyone. It is a down-to-earth place suitable for serious wildlifers, not for those looking for luxury. But if your main purpose is to go on safari with Imran Khan, then this is the place.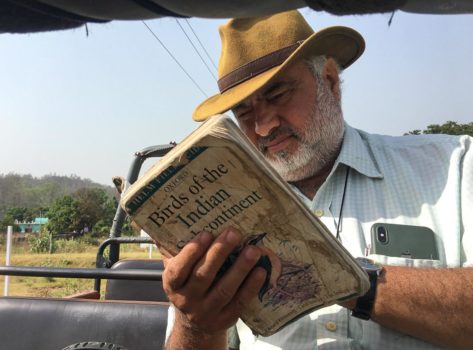 Imran Khan has been a driving force behind responsible wildlife tourism in Corbett for more than 18 years. He has helped start several leading sustainable wildlife lodges, trained scores of naturalists, and takes guests on nature adventures — from one-day safaris to multi-day itineraries.
I went on two safaris with him and they were both wonderful experiences. Both safaris — morning in Garjiya Zone and afternoon in Jhirna Zone — were spectacular. Not only were the sightings good, but going on safari with Imran Khan is like being with a master storyteller. Not only does he have encyclopaedic knowledge, he reads the forest like a book!
Imran pointed out things to me I would never have noticed, and explained the meaning such as the way a small herd of spotted deer were keenly watching two golden jackals on the other side of the road. He predicted the movements of a female tiger we watched cross the road and walk through a meadow towards a water hole in Jhirna Zone. And he provided colour commentary as male peacocks danced for several indifferent females. These are just three examples of many.
My two safaris with Imran were only my second and third safaris into Corbett — so I feel very lucky indeed. I saw 2 tigers, 1 tusker, 1 male Asian paradise flycatcher, a small herd of elephants, sambar deer, more than 40 bird species, and many more animals. The tigers were male and female siblings, cubs about two years old and almost fully grown.
But with Imran, I did more than just see them. He showed me how they fit into the ecosystem of the park, and the important part they each play. What a wonderful wildlife day I had!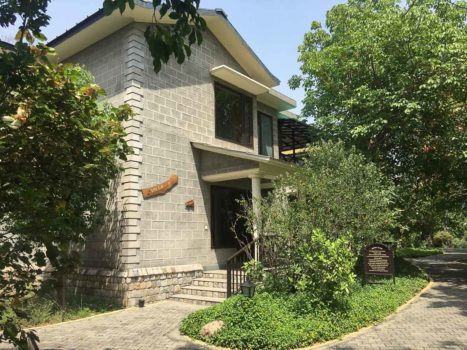 Aahana The Corbett Wilderness
Aahana is a wildlife resort virtually on the edge of Corbett National Park core zone. The property was lovingly restored by the owners with hundreds, even thousands, of plants and trees that attract insects, birds, butterflies, and more. Essentially, they restored the natural ecosystem of the land and then built a wildlife resort that's comfortable and makes the natural world accessible to anyone.
Aahana has managed to capture the "sweet spot" between a luxury leisure resort and a wildlife lodge that venerates and showcases nature. It is the ideal place for families, for people who are new to wildlife tourism, or for those who want some extra comfort and amenities while enjoying Corbett National Park.
I found several things about Aahana to be superb. Number one is the people. Aahana is a fairly big resort, yet I never felt I was just one of the crowd. The staff at Aahana are truly amazing. They are warm, professional, friendly … and they remember everything about you and what you like from day-to-day. I don't know how they do it! I always felt treated as if I was special, and I think every guest must feel this way.
My second favourite thing is the location next to the Corbett core zone and property itself, with so much flora and fauna. I loved going on a morning nature walk with the in-house naturalist Sanjay. We saw dozens of beautiful birds including an Asian paradise flycatcher, white throated kingfisher, green bee eater, grey hornbill. From my balcony that faced the core zone I saw golden jackals, herds of grazing deer, and a multitude of birds.
The amenities at Aahana are my third favourite thing. I had a very comfortable and spacious room with a large first floor balcony that faced the park and so many personal touches I couldn't possibly list them all. They really think of everything from a choice of pillows to an umbrella stand in the room! There's a very large and gorgeous swimming pool with crisp, clear water (unfortunately not always the case in India), a spa (I enjoyed one of the steam rooms), indoor and outdoor dining options, and an excellent buffet with lots of choices that included Indian and continental cuisine. Big shout out to the chefs for making me all kinds of gluten free goodies including melt-in-your-mouth chocolate cake.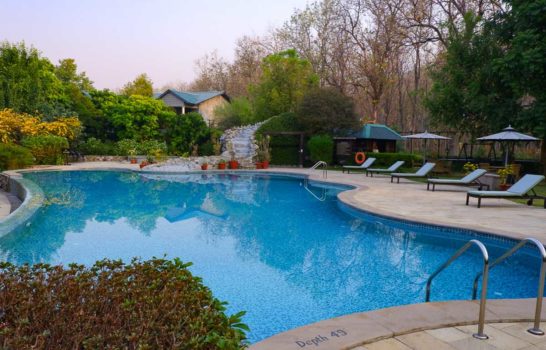 I was also impressed with Aahana's commitment to sustainability. About 90% of the staff is local, they use a lot of local produce in the kitchens (including from their own organic garden), and put a great deal of time and effort into rewilding the 13.5 acre property. Before building, they planted thousands of trees and plants that attract insects, birds, butterflies, and animals. More than 180 bird species have been recorded on the property and more than 300 species of plants and trees. They also installed a Sewage Treatment Plant at the outset that uses canna flowers to help recycle the water.
In summary, I recommend Aahana as a leisure lodge that respects nature. My only disappointment was our park safari as they did not send a naturalist and the one we were obliged to pick up at the gate was basically useless. The driver luckily picked up the slack somewhat, but it was not one of the most satisfying safaris of my life. If you want a really good leisure lodge AND a good safari experience, I would recommend you stay at Aahana and hire a naturalist such as Imran Khan at The Ranger's Lodge or Mohan Joshi and his company Green Escapes.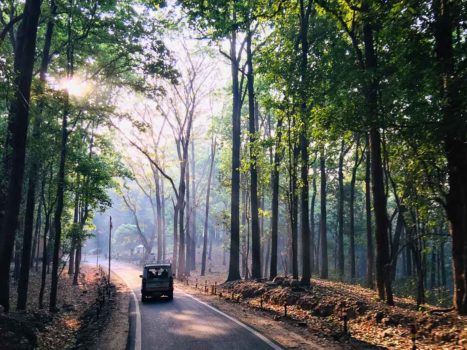 Green Escape safari tours
While in Corbett National Park, I met up with an old friend, Mohan Chandra Joshi, also known as Mojo. We met several years ago when he was a naturalist with Pugdundee Safaris at Tree House Hideaway in Bandhavgarh National Park, Madhya Pradesh. Our paths crossed several times after that in M.P., and I was always delighted to see him. He is an excellent naturalist and has an easy way with people.
I particularly remember going on a walking safari with Mojo in Satpura tiger reserve, and he told me the story of how he became a naturalist. He was educated as an engineer – every Indian parent's profession of choice – and got a job in the field upon graduation. However, he lasted just 29 days. He knew he needed to be in the forest, and went back to school to train as a naturalist.
During the pandemic many things changed, and a lot of people working in tourism related fields went home. Mojo, too, went home – in his case back to Ramnagar, Uttarakhand – which is very near Corbett National Park. Back home, Mojo started his own business, Green Escape Uttarakhand where he offers his guiding services and intimate knowledge of the Corbett region.
When I was in Corbett for a week, Mojo and I went on a roadtrip to discover the region surrounding Corbett. We left early and drove past the main gates of Corbett – including the gate to Dhikala zone, the legendary zone that's 31 kilometres inside the park.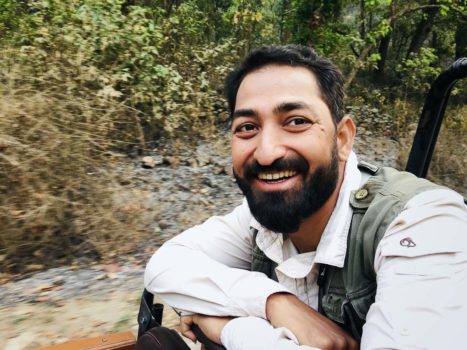 As we drove, we spotted birds, stopped at lookouts, and Mojo told me stories about the area – such as pointing out a trail that Jim Corbett probably used to track a man eating tiger, the man eater of Mohan, shot in 1931. This was one of the thrilling stories Corbett recounted in his famous book, The Man-eaters of Kumaon. Mojo also showed me some trekking trails, but we didn't have time to stop.
We arrived at a peaceful lookout point, a tiny village, where a local family made us pakoras and chai. It was a charming morning, I learned a lot, and I absolutely loved seeing the abundance of sal trees and rolling hills. From one place, we could see Corbett park spread out below us like a green carpet. The only thing missing was the astounding views you get of the white-peaked Himalayan mountains in the winter, when skies are much clearer.
Mojo and I both professed our love for the Himalayan state of Uttarakhand as we drove. He spent considerable time as a naturalist at the tiger reserves in Madhya Pradesh, but always said something was missing. I asked him what, exactly, and he replied: "The sound of cicadas, the song of the great barbet, and the fresh mountain air."
If you are planning a trip to Corbett, I cannot recommend Mojo and his company Green Escape enough.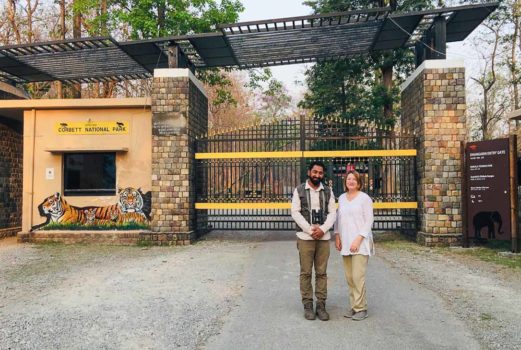 ---
Photo Gallery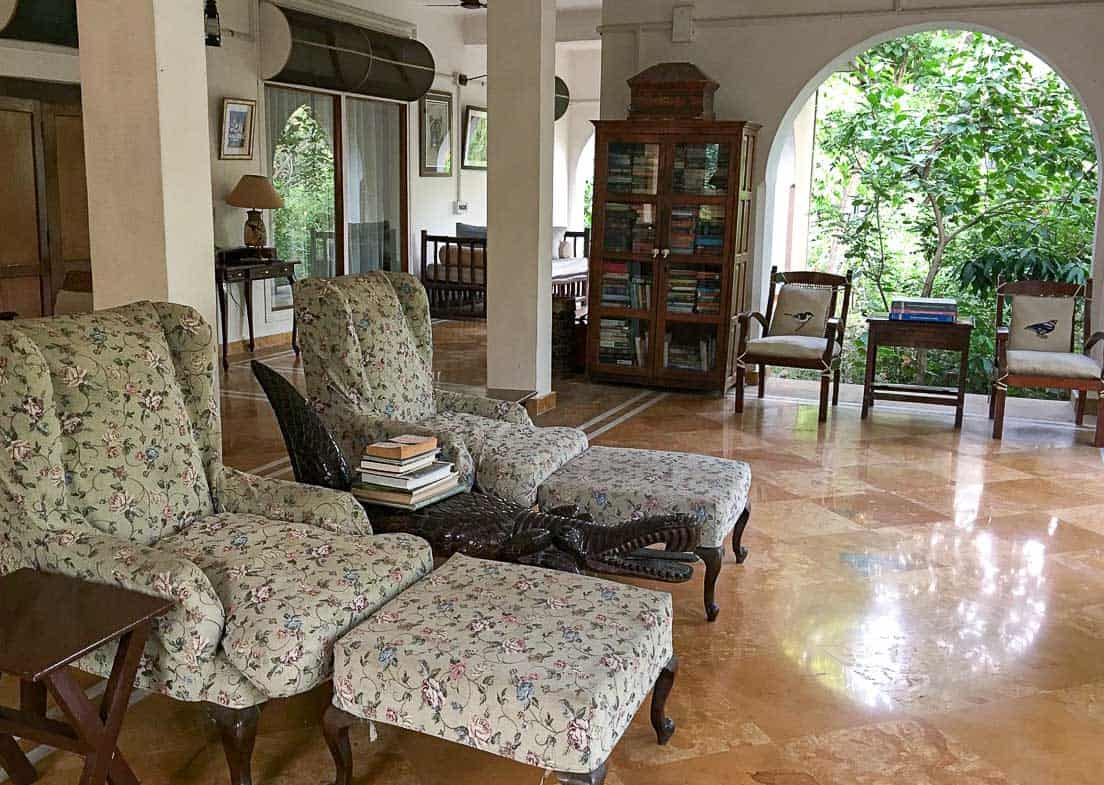 If you enjoyed this post, you can.
Sign up for Dispatches in the sidebar and follow Breathedreamgo on all social media platforms including Instagram, Facebook, Pinterest, and Twitter. Thank you!