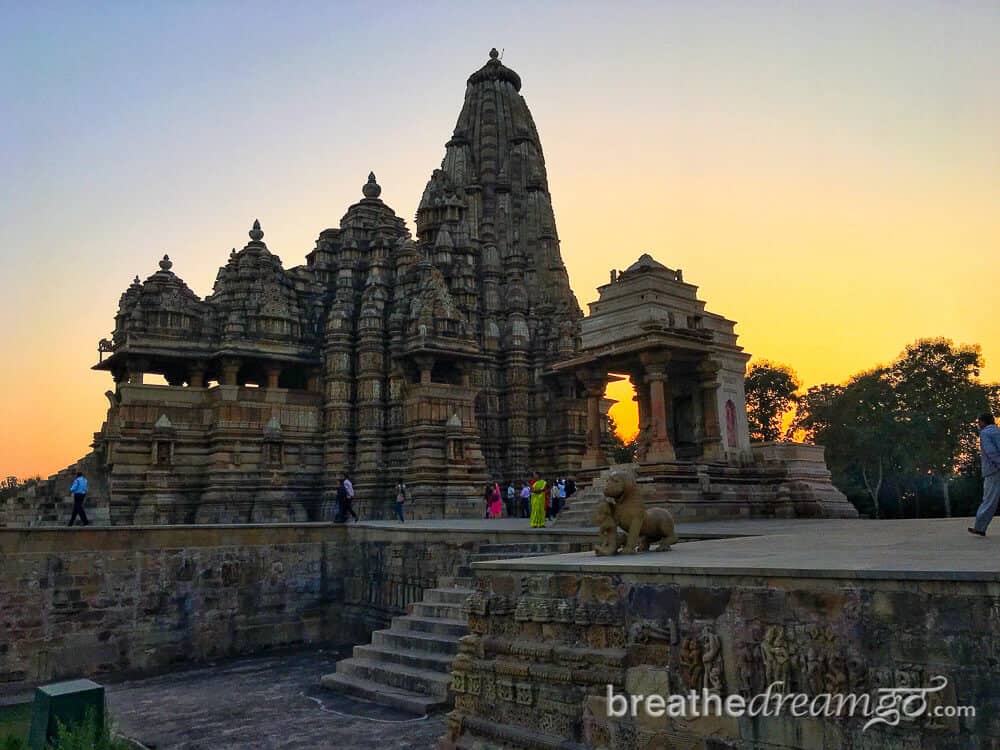 Madhya Pradesh tourism is on the rise with treasures like the Khajuraho Temples, Kanha National Park, and beautiful Orchha
Madhya Pradesh has some incredible treasures throughout the state, such as Khajuraho Temples, Kanha National Park, Orchha, Bandhavgarh National Park, Maheshwar, Gwalior Fort, Mandu, and Bhopal. Situated right in the centre of India, the heart of India, this state is one of the most interesting places to visit in India — and one of my absolute favourite states.
Madhya Pradesh tourism is on the rise, due to the fact there are three UNESCO World Heritage sites, some of the best tiger reserves in India, the most beautiful temples and forts, fascinating and historical cities like Orchha, Bhopal, Gwalior, and Indore, and greenery – MP still has about 40% forest cover and some of the best national parks and tiger reserves in India.  These are some of the best places to visit in MP, Madhya Pradesh, but really … I am only scratching the surface of one of my favourite states in India.
Read my Offbeat and local Madhya Pradesh itinerary to discover a perfect getaway that's easily accessible from Delhi and Agra.
---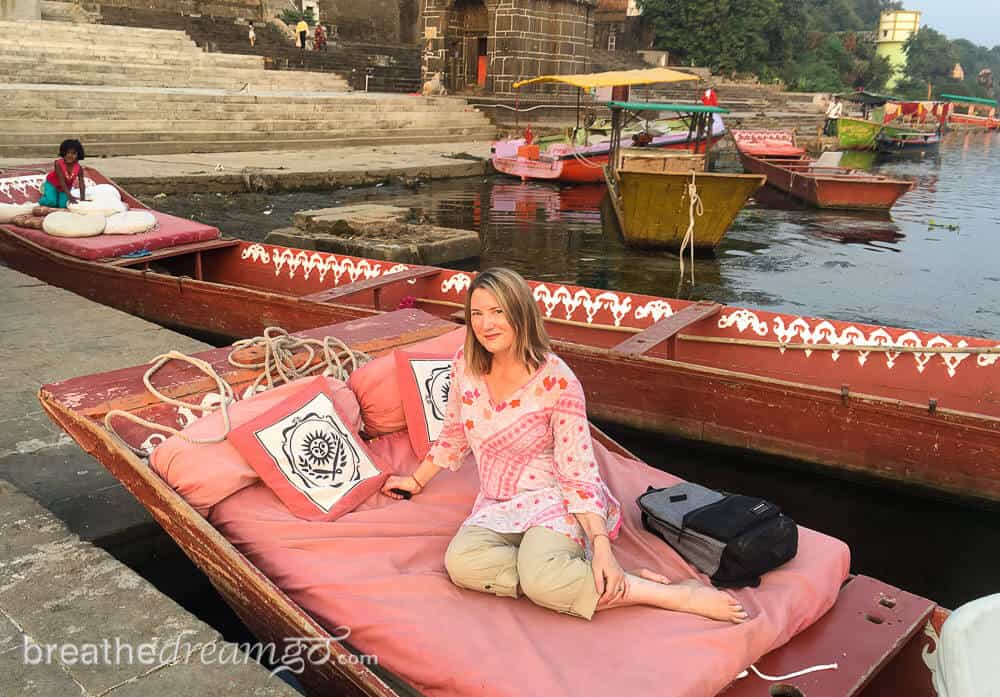 So here they are, some of the best tourist places to visit in Madhya Pradesh based on my travels there over the past two years.
Khajuraho Temples
Kanha National Park
Bandhavgarh National Park
Orchha
Maheshwar
Gwalior Fort
Mandu
Bhopal
What you need to know
How to get there
Best time to visit
Where to stay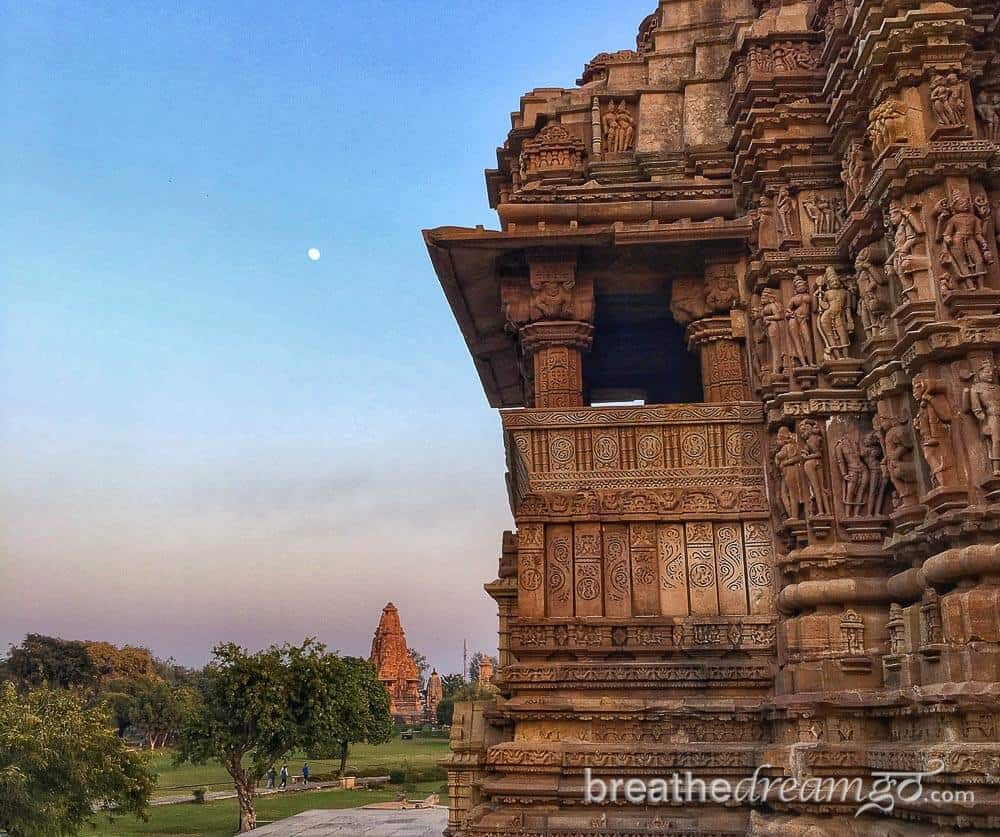 Khajuraho Temples
Eternity carved in stone is the best way I can think of to describe the temples of Khajuraho. Many consider them to be the finest temples in India in terms of both the sophistication of the architecture and the quality of the carvings. I'm not an expert, but I can tell you that I was transported. The temples exceeded all of my expectations and I consider them to be among the top wonders of India, equalling the Taj Mahal, Hampi, Fatehpur Sikri and others. The best temples are in the Western Group of Monuments, which requires an entrance fee. There is also a sound and light show here each evening that is worth seeing.
Khajuraho is of course famous for the "erotic" carvings that form part of the art on several of the temples. There are numerous explanations for their presence. Some think they illustrate the Kama Sutra. Personally, I liked what my guide, Govind, said about them. He's been working as a guide at Khajuraho for 20 years. He said the figures — even in wild, acrobatic and bestial couplings — are neither erotic nor obscene. He said they are Mithuna figures and they represent divine love, the union of Shiva (male) and Shakti (female) energies. They are among thousands of carvings of people engaged in various acts of life such as fighting, dancing, eating, hunting. Devotees visiting the temples were to reflect on all aspects of life as they did their rounds and rise above them in spiritual ecstasy.
Not only do I love the Khajuraho Group of Monuments, which is listed as a UNESCO World Heritage site, I also love the town of Khajuraho. Except for the assertive touts and rickshaw drivers who ply the road in front the Western Group of Monuments, it's a very charming and laid-back small town. I could spend the entire day upstairs at the Raja Café, which forms a kind of treehouse, overlooking the pedestrian road that runs along the Western Group of Monuments. Food is good at the Raja Cafe, too!
What you need to know: The temples are open sunrise to sunset. There is an entrance charge for the Western Group of Temples (INR 500 for foreigner tourists, INR 30 for locals). You can watch the spectacular Sound and Light show in the Western Group of Temples after sunset, for a separate fee.
How to get there: You can fly directly to Khajuraho from Delhi or Varanasi or take a train.
Best time to visit: Madhya Pradesh gets hot, so anytime between October and March would be ideal.
Where to stay: For the budget conscious, Zostel has a lovely hostel in a prime location. At the higher end, you can't beat The Lalit with view of the Western Group of Temples right from some of the rooms and the swimming pool.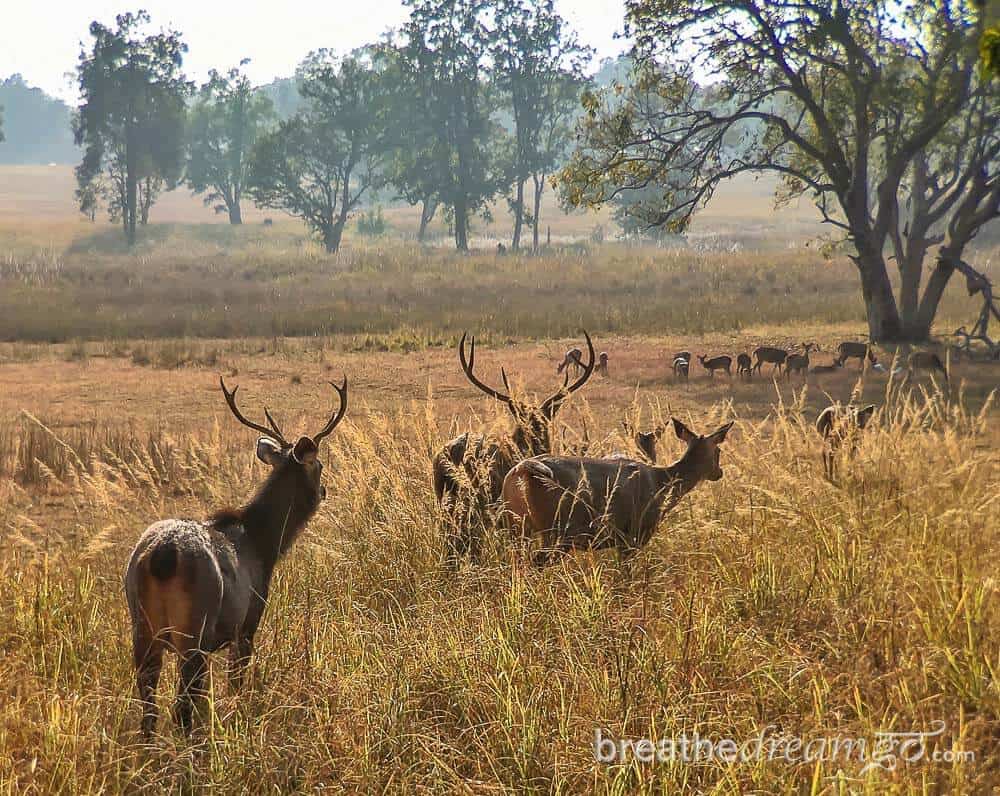 Kanha National Park and Tiger Reserve
Kanha National Park is one of my favourite places in India. It's not only a great place for wildlife and tiger sightings, it's a spectacularly beautiful park that is also extremely well-managed. I've been to Kanha several times, and I never tire of getting up before dawn to go for the morning safari. No matter what happens, when those park gates open, you know you are going to have a wonderful morning. There's the thrill of the chase, of course, as your guide and naturalist attempt to show you a tiger. But it doesn't matter if you don't see one. There is so much else to see.
Kanha is a bird lover's paradise, and it's also full of animals such as chital, gaur, dhole, jackals, sloth bears, and the magnificent barasingha. The barasingha hard-ground swamp deer was almost extinct until Kanha organized a captive breeding program. Now you can see large herds of them grazing in the park's gorgeous meadows.
Kanha is one of the busiest and most-sought after national parks and tiger reserves in India, and you have to book well in advance (120 days or more) to secure a Gypsy (jeep) booking during high season, from December until May. Last year, the entire month of March was sold out. At 940 square kilometres in the core zone, and 1,009 square kilometres including the buffer zone, Kanha is the largest park in Central India – but only about 20% is open to tourists. Kanha has two main gates, Katia/Kisli and Mukki, and five zones: Katia, Kanha, Kisli, Mukki and Serai. There are lodges clustered near each gate, in every price range, and some excellent places to stay. I always recommend booking a lodge based on the quality of the naturalists more than any other factor – a good naturalist will make your safari.
You can read more in my Guide to Kanha National Park, and the four lodges I recommend – both for their naturalists as well as their ambience, service, and commitment to sustainability.
What you need to know: Kanha National Park is open from October 16 to June 30. It is recommended that you book your safari tickets at least 120 days in advance.
How to get there: You can fly to Jabalpur, Nagpur, or Raipur and drive, depending on whether your lodge is at the Katia/Kisli gate or the Mukki gate.
Best time to visit: When the weather heats up in March, April, and May, tiger sightings are at their peak as they are drawn to the waterholes. Winters can be very chilly, especially morning safaris.
Where to stay: Pugdundee Safaris Earth Lodge is my top choice, followed by Singinawa, Bagh Villas, and Kipling Camp.
---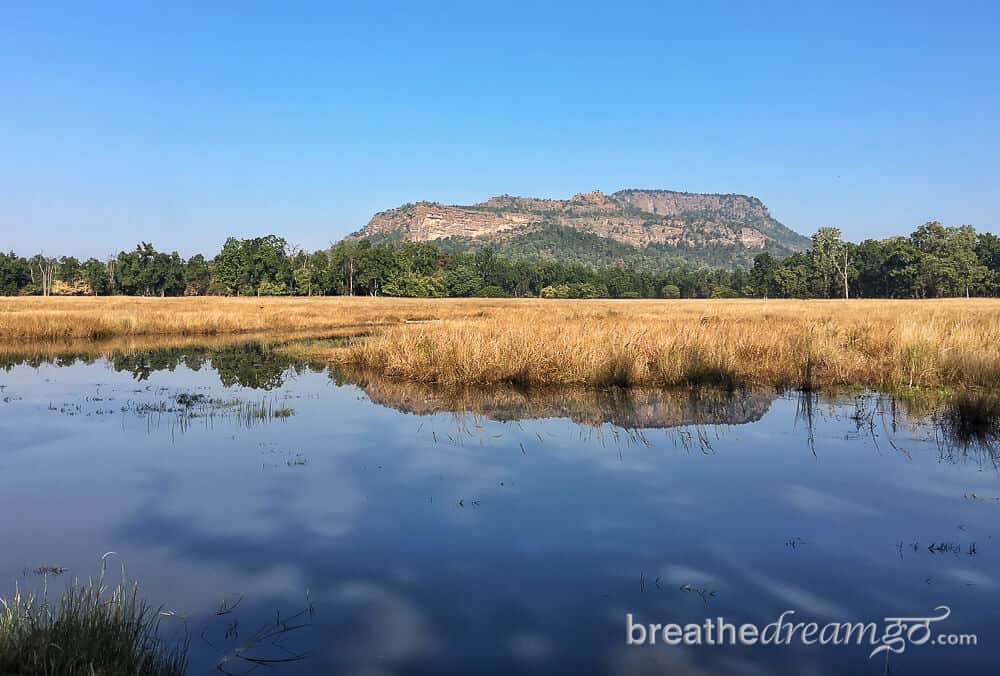 Bandhavgarh National Park and Tiger Reserve
On this recent trip to Madhya Pradesh, an overnight train ride on the Narmada Express took me to Bandhavgarh National Park, where I stayed for four nights at Pugdundee Safaris Kings Lodge. I explored the local villages and went on two wildlife and tiger safaris with locally born-and-raised naturalist Naresh "Gudda" Singh, and saw five tigers: Dotty and her three cubs and Bheem.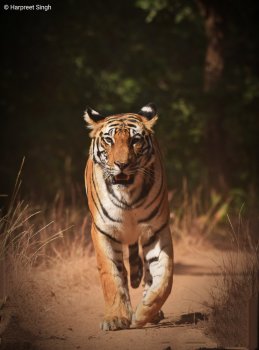 Bandhavgarh is the state's second most popular national park and tiger reserve. Not as big as Kanha, it is easier to spot tigers in Bandhavgarh. In fact, it is considered by many to be the best place for tiger sightings in India. I also love this park, and like, Kanha, I have seen a tiger every time I have entered it. I remarked to one guide that I was very lucky to see so many tigers, and he said, "Maybe they want to see you!" A very charming thing to say, and typical of the friendly people I always meet in these natural places.
Bandhavgarh has three gates and three tourist zones: Tala, Magdhi, and Khitauli. The core zone of the park is 450 square kilometres, but the tourist area is restricted to 105 square kilometres. Sal trees and bamboo dominate, giving the park a lush atmosphere. Tala zone is considered the most picturesque, here you will see Bandhavgarh Hill after which the park is named, and the outlines of an ancient fort that sits on top. The region is rich in history and legend, associated with the Ramayan – in fact, Bandhavgarh means "brother's fort." It was formerly a game reserve for the Maharajas of Rewa until 1968 when it became a state park.
Check out my Guide to Bandhavgarh National Park and everything you need to know to visit, and also where to stay and the complete guide to Tiger Safaris in India.
What you need to know: Bandhavgarh National Park is open from October 16 to June 30. It is recommended that you book your safari tickets at least 120 days in advance.
How to get there: You can fly to Bhopal and take a train to Umaria. Or fly to Jabalpur and drive.
Best time to visit: When the weather heats up in March, April, and May, tiger sightings are at their peak as they are drawn to the waterholes. Winters can be very chilly, especially morning safaris.
Where to stay: Pugdundee Safaris Kings Lodge or Treehouse Hideaway are my top choices. A more budget conscious choice would be Bandhav Vilas. At the very high end, Taj Safaris has a beautiful property, Mahua Kotha. And the Samode Safaris Lodge is heavenly.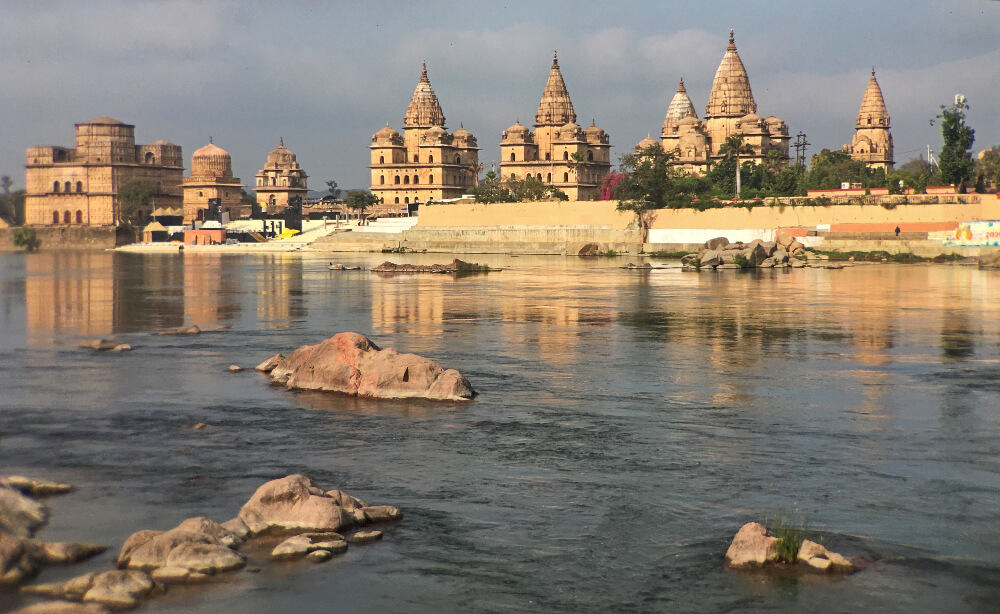 Orchha
I first visited Orchha for the Namaste Orchha Festival in March 2020, and can't believe I had overlooked this hidden gem for such a long time. And it is a hidden gem, even though that phrase is overused in travel writing because the word Orchha literally means hidden. In fact, the 16th century Bundela Rajput ruler Rudra Pratap Singh built Orchha to be hidden, among the lush forests of Madhya Pradesh, on the banks of the rushing Betwa River.
However, the Namaste Festival certainly blew Orchha's cover. It was an exciting weekend of stellar performances at various locations around the small town. The festival was designed to showcase the beauty and antiquity of the monuments, chattris, forts, palaces, and ghats.
Read all about Orchha in this post: Orchha, India's hidden gem.
What you need to know: Orchha is a small so you can see and do everything in a fairly short time, but it's the type of place you will want to slow down.
How to get there: Orchha is easily accessible from Delhi by car or train.
Best time to visit: Like most of Madhya Pradesh, after March it gets hot!
Where to stay: I stayed at Hotel Bundelkhand Riverside and really loved the location on the Betwa River. You can opt for a small cottage or a room/suite in the main building. Other good properties include the Amar Mahal Hotel and the Orchha Palace Hotel and Convention Center. There are numerous homestays in Orchha too, such as Faagun Haveli Homestay.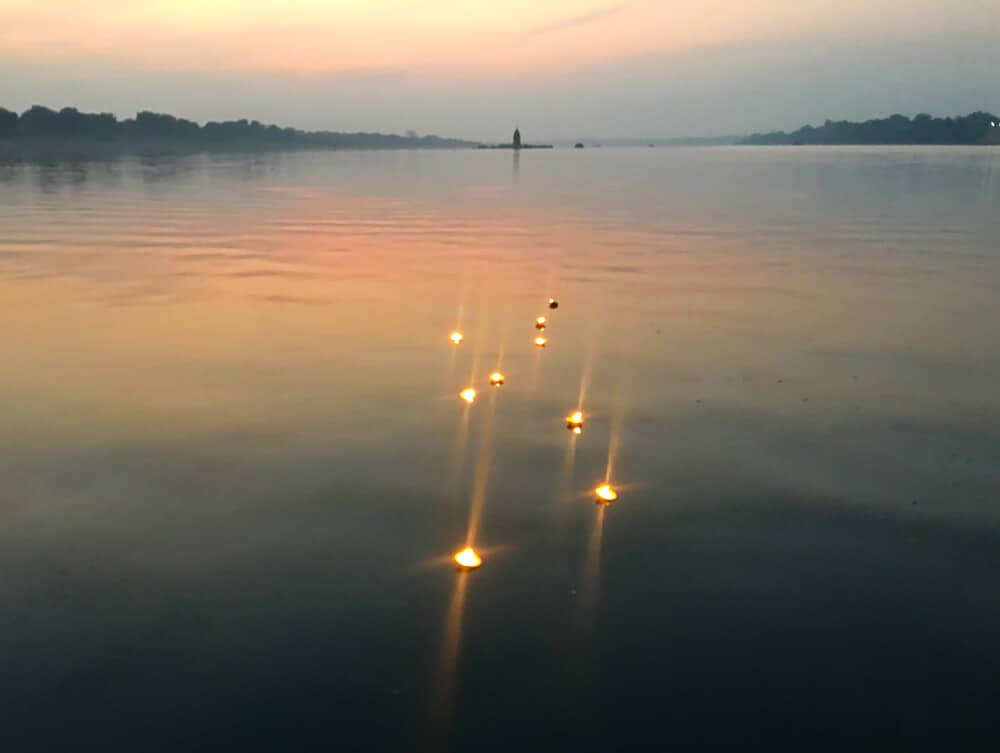 Maheshwar
I was drawn to the ancient temple town of Maheshwar long before I finally visited on the Narmada Heritage Trail trip in December 2018. I'd seen many beautiful images of the ghats along the river glowing with diyas and the sublime light of reverence. This small city on the sacred Narmada River is known for history, architecture, weaving, and spirituality. It charmed me instantly and quickly became one of my favourite places in India.
Many of Maheshwar's attractions are within the compact area that runs along the river, where the ghats are found. These include the Ahilya Fort Hotel, the Royal Palace of Maheshwar, the Ahilyabai Temple, Rehwa Society Weavers (open to the public from 10 am to 6 pm), and of course the Narmada River. It's a fascinating area any time of day, but takes on a magical quality at dawn and dusk. Colourful boats are available to gently paddle you out the "centre of the universe," an ancient Shiva temple. It's believed that a heavenly line from the north star passes through this temple to the centre of the earth.
The beauty of Maheshwar is almost completely the work of legendary ruler Ahilyabai Holkar. A princess of Malwa who was widowed at the age of 29, her father-in-law, the king, prevented her sati. After he passed away 12 years later, she petitioned to become ruler of Malwa – needless to say, a very unconventional step for a woman. She ascended the throne and became ruler of Indore on December 11, 1767. Her rule was a glorious one. She built temples, roads, ghats, tanks, and wells. She made her capital at Maheshwar into a cultural centre, patronized artists and craftsmen, and established the city as a centre for weaving.
The legacy she left behind is palpable, enhanced recently by the work of her descendant, Prince Richard Holkar, son of the last Maharaja of Indore. He and his former wife Sally Holkar revived the Maheshwari weaving tradition by establishing the Rehwa Society Weavers in the 1970s. In 2000, Richard converted his home into the rambling, romantic, exquisite Ahilya Fort Hotel – one of my absolute favourite hotels in India.
What you need to know: Come prepared to buy glorious Maheshwari fabrics – saris, scarves, shawls – made from cotton and silk.
How to get there: Maheshwar is an easy drive from Indore (about 95 kilometres).
Best time to visit: Madhya Pradesh gets hot, so anytime between October and March would be ideal.
Where to stay: There are several options, but a stay at the Ahilya Fort Hotel will be one you will never forget. A minimum of three days is required to fully embrace this special place.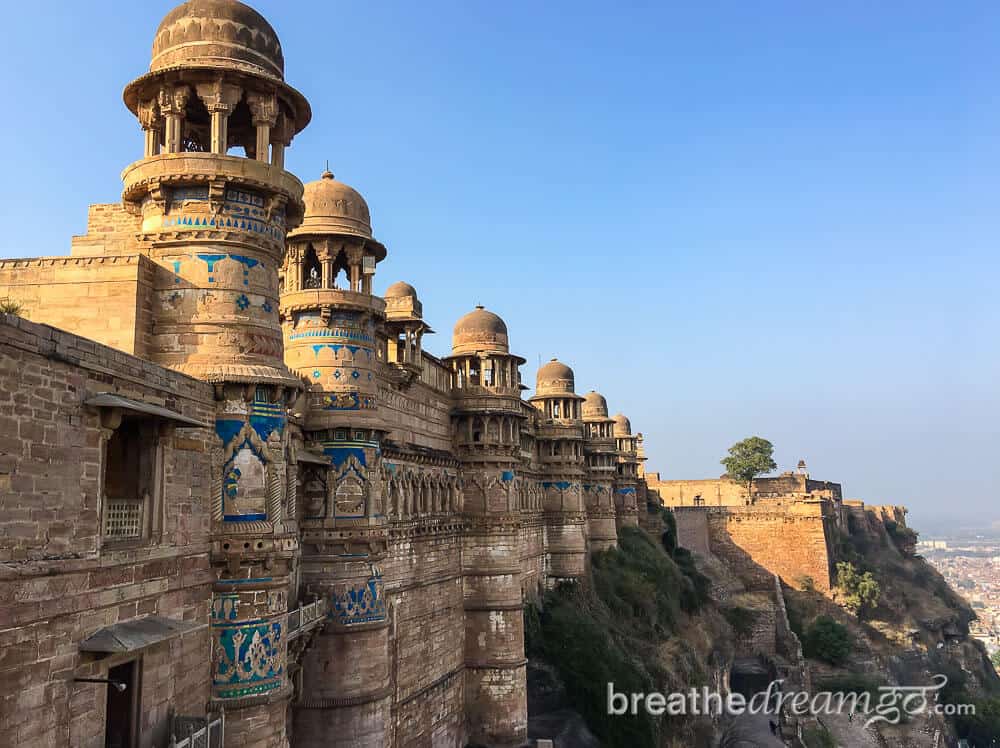 Gwalior
Madhya Pradesh is blessed with a number of historical cities, each with their own enduring monuments. Gwalior is among them, and 8th century Gwalior Fort deserves its renown. In fact, Gwalior is more famous than you might think. There is a small temple in Gwalior Fort that is ground zero for zero. As I wrote in an article for BBC Travel:
"In Gwalior, an 8th-Century fort rises with medieval swagger on a plateau in the town's heart. Gwalior Fort is one of India's largest forts; but look among the soaring cupola-topped towers, intricate carvings and colourful frescoes and you'll find a small, 9th-Century temple carved into its solid rock face. Chaturbhuj Temple is much like many other ancient temples in India – except it's famous for being the oldest example of zero as a written digit: carved into the temple wall is a 9th-Century inscription that includes the clearly visible number 270."
Of course there's much more to see and do in Gwalior aside from the magnificent fort, such as soaring Jain Sculptures, Man Singh Palace, the eccentric and opulent Jas Vilas Palace and Scindia Museum, and the Old City.
What you need to know: You can tour Gwalior on MP Tourism's yellow bus, called Gwalior Darshan.
How to get there: Gwalior is located in the most northern part of the state. The Taj Express Highway connects Gwalior to Agra (120 kilometres) and Delhi.
Best time to visit: October to March.
Where to stay: If you want to splash out, stay at the Usha Kiran Palace, built for King George V when he was the Prince of Wales.
---
More reading on Breathedreamgo about travel in India
---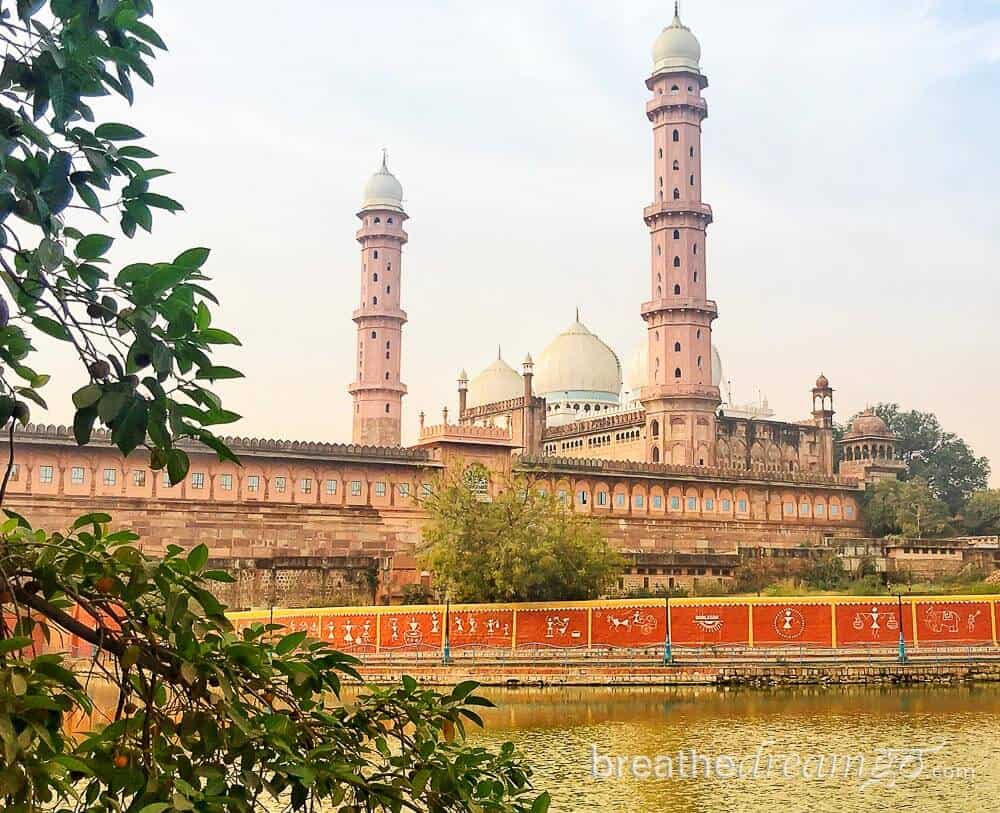 Bhopal
I travelled to Madhya Pradesh to attend AdventureNEXT India (hosted by the ATTA, MP Tourism, and the ATOAI). The conference was in Bhopal, a city I have come to admire, and included a pre-adventure tour that explored places along the Narmada River. The Narmada River Heritage Trail was organized by Renok Adventures, and they did a great job. I also spent four days exploring Bandhavgarh National Park, going on wildlife and tiger safaris, and enjoying the hospitality of Pugdundee Safaris Kings Lodge.
I've been to Bhopal several times and I've come to really enjoy and admire the city. Like many people, the only thing I knew about it was the Union Carbide gas tragedy that killed thousands of people in 1984. In fact, I was there on the 34th anniversary of the tragedy, December 2nd and 3rd. But though this terrible disaster did leave a negative impact on many of the survivors, it has not left a negative impact on the city. It's a lovely city, with a slower pace of life and a rich historical past.
Bhopal is known both as the City of Lakes and the City of Begums. Bhopal's lakes dominate the city, and create some charming vistas. It's also a city graced with historically and architecturally significant palaces and mosques – and many of them were built by begums (a begum is a queen). From 1890 three generations of queens ruled here and left a lasting legacy. A young begum, widowed at the age of 20, fought to have her daughter made the heir. The Bollywood actor Saif Ali Khan is a descendant of this family (and actually a prince).
While in Bhopal for the AdventureNEXT India conference, I went on a walking tour of the Old City and discovered some of the city's fascinating history and architecture. Our first stop was Taj-ul-Masijid Mosque, the largest mosque in India: 60,000 people can gather together in the courtyard to pray. Shahjehan Begum commissioned Taj-ul-Masijid in 1878, and one of the most interesting aspects of this mosque is that there is a special section for women to pray, unseen by male worshippers. From there we walked to the other side of a small lake to dilapidated Benazir Palace, and through bustling Chowk Market.
There's so much I could write about Bhopal, but don't have the space here – I will have to write a dedicated blog post about the city one day. But can't end without mentioning the Jehan Numa Palace Hotel (in the city centre) and the Jehan Numa Retreat (on the city outskirts near Van Vihar, a large lakefront safari park). These hotels are outstanding in every way, and I especially love the Retreat property as you really do feel as if you're in a jungle lodge.
I also have to mention the Tribal Museum, which is unique and fascinating, and the word museum does not do it justice. I've never seen anything like it. It's more like a huge art installation that has attempted to capture the essence of various tribal communities, the way they see the world, how they live, and especially their relationship to the natural and spiritual world. "The whole universe is related to this invisible power and there is nothing in the tribal societies that is not temporal and supernatural at the same time. The purpose of this museum is to understand the tribal societies and their view of life in their entirety. In tribal life there is no concept of art separate from life." It's an extremely ambitious mandate and they have done an exceptional job. Must be seen.
What you need to know: Aside from the delights you will find within Bhopal, there are also two UNESCO World Heritage sites within driving distance: Bhimbetka Caves with 30,000 year old paintings, and Sanchi Buddhist Stupa, built by Emperor Ashoka.
How to get there: Fly to Bhopal, the airport is near the city centre, or take a train into Bhopal Junction station.
Best time to visit: Madhya Pradesh gets hot, so anytime between October and March would be ideal.
Where to stay: Jehan Numa Palace Hotel (in the city centre) and the Jehan Numa Retreat (on the city outskirts near Van Vihar, a large lakefront park) are the best places to stay in Bhopal.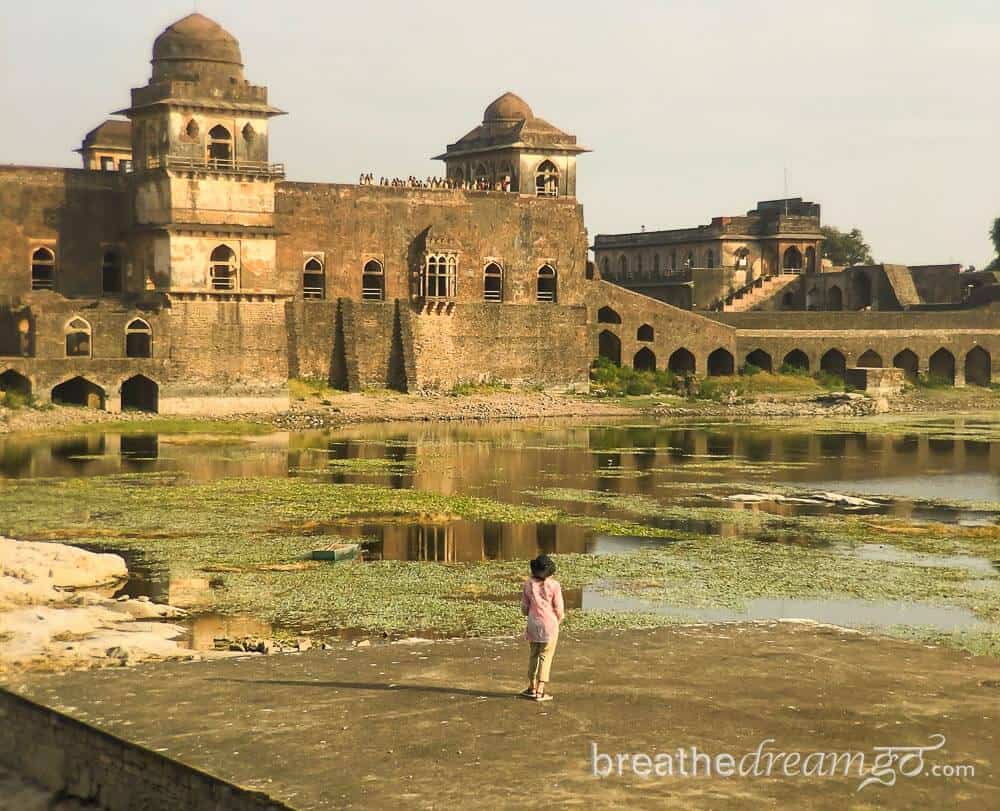 Mandu
Sometimes, stories enliven stone, and turn buildings into symbols. The Taj Mahal is a supreme example, it's known the world over as a monument to love. Mandu is the same. For me the romantic story of how poet-prince Baz Bahadur wooed Rani Roopmati by promising to build her a pavilion from which she could glimpse her beloved Narmada River is almost enough, alone, to make Mandu an enchanting place to visit. But there is so much more.
The story of Mandu goes back almost 1,000 years. It has long been a fort-capital, due to its location on a plateau that provided natural defences. Many epochs left their mark. Today, the site is a very well-maintained treasure trove of architectural gems that include pavilions, palaces, and tombs, plus ingenious waterways, ornamental canals, poetic vistas, and the legends and stories that enliven them all.
India has an embarrassment of riches when it comes to incredible historical monuments and architectural wonders. Mandu would be a top tourist attraction and famous the world over if it was situated in any other country. Worth visiting, especially if you have a good guide.
What you need to know: Mandu is a big place, the circumference of the walls is 45 kilometres. Start with the Central Group, which includes magnificent structures such as Jahaz Mahal and Hindola Mahal; and the Rewa Kund Group, which includes Baz Bahadur's Palace and Roopmati's Pavilion.
How to get there: Indore is 100 kilometres away, the closest major centre with an airport and railhead.
Best time to visit: According to the Madhya Pradesh Tourism brochure about Mandu, monsoon season is the best time to visit. No doubt this is because the series of ponds, canals, and waterways would be filled.
Where to stay: MP Tourism runs nearby Malwa Resort and Malwa Retreat.

---
If you enjoyed this post, you can….
Sign up to The Travel Newsletter in the sidebar and follow Breathedreamgo on all social media platforms including Instagram, TripAdvisor, Facebook, Pinterest, and Twitter. Thank you!