I love shopping in Delhi! Since my first trip to India in 2005, I have spent a lot of time in Delhi prowling the markets, bazaars, malls, and boutiques. I know the shopping malls, clothes markets, and the best places for shopping in Delhi like the back of my hand.
Though I am usually just window shopping, and not buying, I find wandering the markets to be a fun and informative cultural exercise. I find it a great way to engage with local women and learn about customs – as well as get fashion and beauty tips. You can also try the famous foods of Delhi as you shop, as there are usually loads of cafes, restaurants, and Indian street food nearby.
Since I started travelling, there are now a lot of shopping malls in Delhi, as well as markets in Delhi. For me, the best mall in Delhi is the Select CityWalk mall in Saket. Though the markets and bazaars of Delhi are more traditional and fun, it is worth visiting at least one of the malls – as this is the new and modern India. 
NOTE: Buy beware. When buying costly items anywhere in India (jewellery, rugs, furniture, pashmina shawls etc.), please have the items authenticated before purchasing. Sadly, many fakes are sold to unsuspecting tourists. For my personal list of shopping recommendations in Delhi and Jaipur, download this PDF.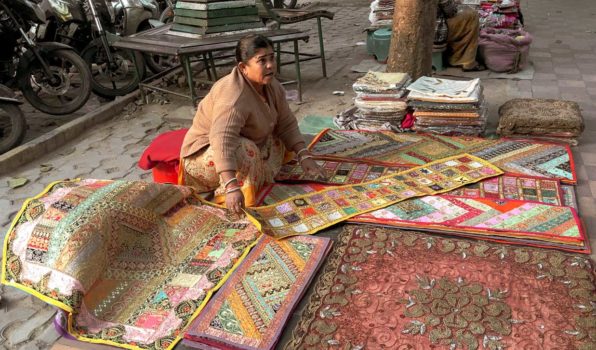 Shopping in Delhi: What can you buy
The short answer is … everything! India is a country of artisans and craftspeople and there is nothing like shopping in India. From textiles and clothes, to leather shoes and bags; from precious and costume jewellery, to hand-made rugs and wall hangings; from brass wear to pottery … India has an astounding range of dazzling goods for sale. Shopping in Jaipur is another favourite past time — the city is a veritable Aladdin's Cave of treasures. In fact every stop on any Golden Triangle tour of India will offer incredible shopping opportunities.
As a general rule, made in India goods are of far better value than imported goods (as India slaps on a hefty import tax). Don't think you will get a deal on an iPhone or Nikon camera – imported electronic items are far more expensive in India than in the USA or Canada.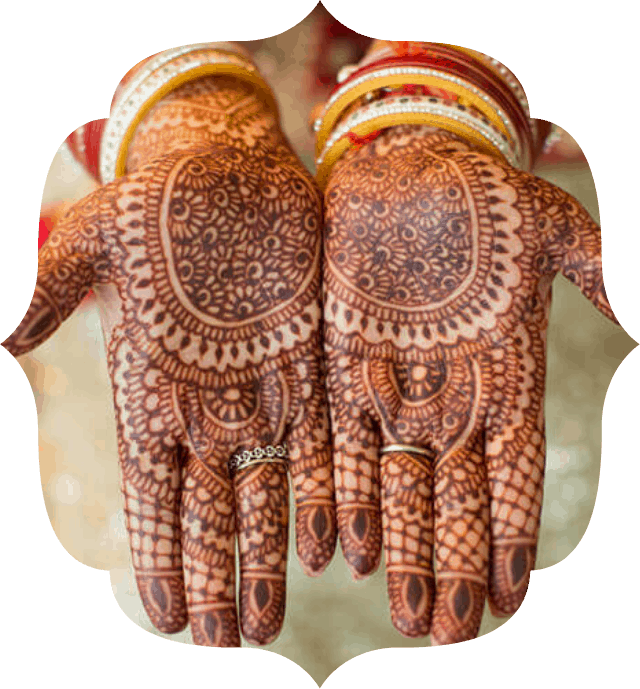 Come to India with us!
Are you dreaming of a trip to India? Come to India with India for Beginners custom tours, from Breathedreamgo and let us show you the India we love. With India for Beginners, we help you design a tour based on your interests, preferences, and budget. We hold your hand in India!
FIND OUT MORE
Should you bargain while shopping in Delhi?
Bargaining, or haggling, is a time-honoured practice in India (as it is in many countries). But in India, you generally don't bargain in fixed-price stores, just street markets. For example, Janpath market in Connaught Place is a good place to bargain. The prices are over-inflated for tourists, so getting them down by 10-50% (depending on your bargaining skill) is a must. And in Sarojini Market, they actually have a "haggling wall."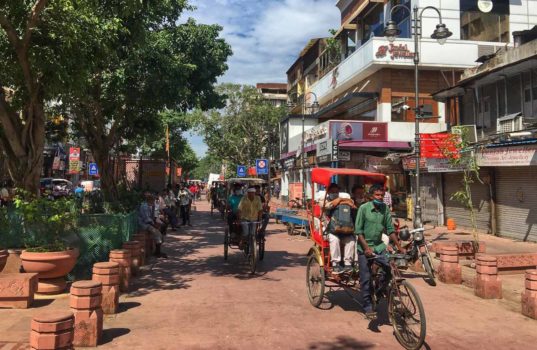 Best places for shopping in Delhi
There are great places to shop all over Delhi, but below are a few key areas that you should know about. And check out this 3 day Delhi itinerary for ideas on how to organize your visit. Thanks so much to the bloggers, shopaholics, designers, and Delhi lovers who contributed their favourite Delhi shopping experiences and markets.
Old Delhi
Also known as Chandni Chowk, the Old Delhi market is massive, sprawling, chaotic… and fun! It's one of the most densely packed parts of Delhi, so I don't recommend you go there alone, at least not the first time, until you get your bearings. Different parts of the Old Delhi / Chandni Chowk market specialize in different things. Asia's largest spice market is found in this area, and the area devoted to wedding apparel is dazzling.
Karol Bagh Market, North Delhi
One of the biggest markets in Delhi, Karol Bagh goes on and on. It's easy to get to by metro, but is usually jammed packed, and famous for shopping streets such as Ajmal Khan Road and Gaffar Market for electronics goods. You can get almost anything and everything in Karol Bagh – especially clothing, shoes, sunglasses, jeans, accessories, home decor – if you know where to look, and prices are significantly lower than in regular markets and stores. Closed Mondays.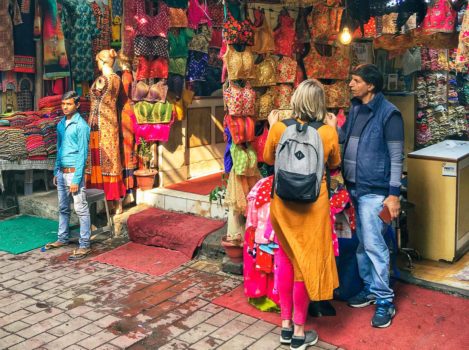 Lajpat Nagar Market, South Delhi
Also known as Central Market, Lajpat Nagar is one of the most popular markets for shopping in Delhi. It's famous for wedding apparel, accessories, jewellery, shoes, home decor, and electronics – and especially fabrics, Indian ethnic wear, and wedding jewellery. There's also a plethora of street food and fast food available. Lajpat Nagar is home to a lot of large brand-name and up-market stores, but the real fun is diving into the narrow alleys of the bazaar to scour stalls and tables heaped with merchandise. Closed on Mondays.
Khan Market, Central Delhi
I once wrote a blog post called "All roads lead to Khan Market." For expats in Delhi, Khan Market is an oasis of imported foods, quality goods (especially women's clothes, shoes, and jewellery), hip cafes, and high-end beauty salons. It's a one-stop shopping destination for the well-to-do.
Khan Market is also a great shopping in Delhi destination for tourists as most of the top Indian chains such as Fabindia, Anokhi, and Amrapali Jewels have stores there.
I always recommend Fabindia to first-time visitors to India. It's a great place to get loose, flowing cotton and silk clothes that are appropriate to the climate and culture in India. You can buy kurtahs (tunics), salwar kameez (3-piece suits), saris, dupattas (scarves), shawls, and more.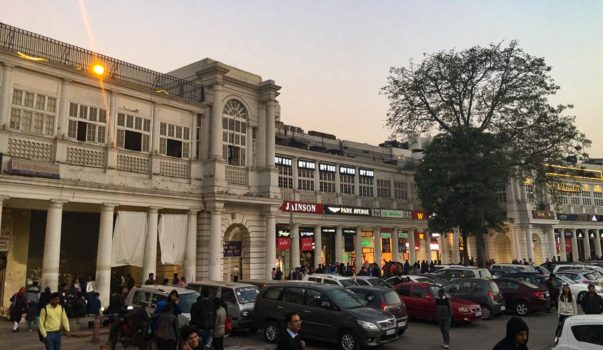 Connaught Place, Central Delhi
Connaught Place, or CP as it is endearingly called by locals, is the commercial centre of Delhi. When it comes to shopping in Delhi, this is the centre. This huge circular ivory structure was built in 1929 by the British, modelled after the Royal Crescent in Bath, England. It is designed as two concentric circles, with a large park in the centre. You can visit CP just for the architecture alone – a prime example of the way Delhi melds the colonial past with modern development. A marketplace of firsts, it houses Delhi's oldest toy store, first ice cream parlour, first revolving restaurant, and first proper art gallery.
Thousands of shops line the inner and outer circles, making Connaught Place a shopaholic's paradise. Some of the biggest international fashion and lifestyle brands such as Bata, Nike, Lacoste, Rolex, Tag Heuer, H&M, Levi's, Bose, Sony compete for attention with Indian brands such as Louis Philippe, Fab India, Hidesign, Aurelia, Wills, Biba, Hamleys. You will find stores for clothing, shoes, toys, books, watches, electronics, jewellery, bags, cosmetics, money exchange, bespoke tailoring, art galleries and much more.
As CP is in the centre of Delhi, it is easily accessible by the Delhi Metro. Note: the metro station is called Rajiv Chowk and not Connaught Place (as the inner circle is called Rajiv Chowk). You may want to avoid the metro between the 5 – 8 pm rush hour as it becomes extremely crowded.
TIP: Don't miss visiting the underground marketplace called Palika Bazar, which sells cheap knockoffs of branded clothes, watches, and electronics.
Contributed by Sagar Gupta, who, along with his family, runs Prakash Kutir, a B&B registered with the Department of Tourism in Hauz Khas, South Delhi. He has been hosting travellers from around the globe for more than 10 years and knows about all things Delhi!
[Editor's Note: In Connaught Place, be very careful of the conmen, touts, and scam artists. CP is ground zero for the worst scammers of Delhi. They will try to sell you over-priced merchandise, or lead you to stores that offer them commission, or lie to you about your hotel / train / flights etc. so they can sell you over-priced tours. They will even lie to you about the true location of the official India Tourism office at 88 Janpath and the location / status of the International Tourist Bureau at New Delhi Railway Station.]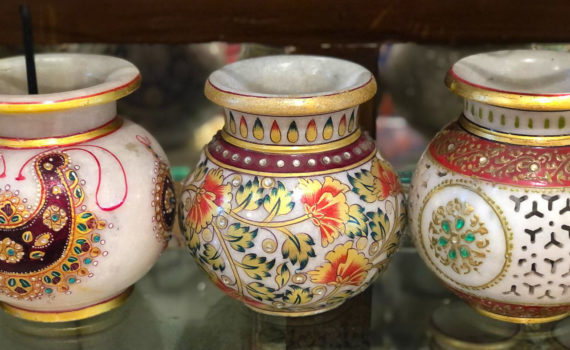 State Emporia Complex, Central Delhi / CP
The State Emporia Complex is a treasure trove of goods from all across India, conveniently located along one stretch of road near Connaught Place in central Delhi. In fact, the shopping is so good, you can travel throughout India and buy your gifts and souvenirs in Delhi at the end of your trip – saving you the hassle of carrying extra luggage.
In the State Emporiums, you will find authentic and reasonably priced handicraft and cultural items from across India. For example, you can buy tea from Assam, pashminas from Kashmir, marble carvings from Rajasthan, silk saris from Kerala, and brass deities from Tamil Nadu, all in one afternoon.
Nearly every state in India is represented by its own shop, conveniently located on one side of Baba Kharak Singh Road, between Block P of Connaught Place and the Shivaji Stadium metro station entrance. The emporiums take up four blocks, so wear comfortable shoes and take frequent breaks.
Unless you see a "fixed price" sign, you can try bargaining, though perhaps not as adamantly as in the street markets.
For a lunch break try Coffee-Home, located between the Maharashtra and Assam emporiums. It's a cafeteria style restaurant with excellent south Indian food. I love their dosa and filtered coffee.
Where: The state emporiums are lined up on one side of Baba Kharak Singh Marg. The nearest metro station is Rajiv Chowk on the yellow and blue lines.
Timing: The emporiums open between 10:00 and 10:30 am and close between 6:30 and 7:00 pm Monday to Saturday. They are closed on Sunday.
TOP TIP: Avoid the Delhi emporium, which is the first one if you are starting from Connaught Place. The items tend to be over priced and are just a collection of what can be found in the other shops.
Contributed by Suzanne Hooker, a Canadian living in Delhi with her dog, and the writer of the travel blog Suzanne Wanders Delhi.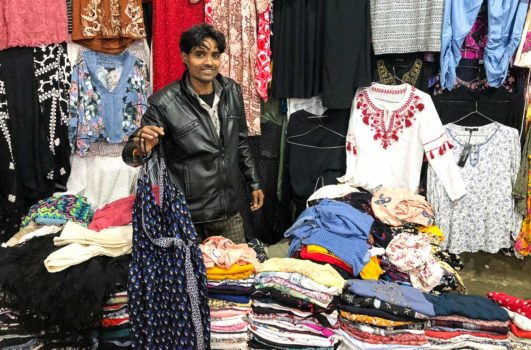 Sarojini Market, South Delhi
Sarojini market is one of my favourite places for shopping in Delhi. If you love sifting through thrift stores and value racks to find your perfect piece for the right price- Sarojini is for you! Keep in mind, it's a busy street market and it will require lots of energy and vigilance; while the shopping experience is the exact opposite of a posh boutique, you can definitely find "posh boutique" designer clothing here for a fraction of the price. All you really need is the patience to wade through all the bad pieces to find the hidden gems.
Success at Sarojini does require that you have a basic understanding of what fabrics and styles you like, in order to make decisions quickly as you burrow through the racks. Designer samples and vintage pieces can be found alongside crappy fast fashion t-shirts, all squeezed in together on the same racks.
I personally prefer the racks that have a fixed price (they are clearly marked, average prices range from 50 rupees to 200 rupees) as opposed to the walls of hanging things where you need to haggle. Not only is haggling exhausting, I think the best secret finds are on the racks.
So how does this happen? Delhi is an international production hub with countless export factories. These factories always keep designer samples for reference, and after a year or two they sell them in bulk to domestic markets. Most of these samples are either defective or a complete mess, but the ones that are still wearable often end up at Sarojini Market.
My tips for finding good quality and designer clothing are to look beyond the label – because often the labels have been ripped out due to copyright issues.
1. Feel the fabric: is it soft and nice to the touch or is it rough with a synthetic feeling.
2. Look at the way it's stitched: do the threads match?
3. Are the buttons heavy and high-quality or are they cheap plastic?
4. Look at the way that the bottom edges are finished especially: are they flat and smooth, or are the edges wavy? Or are they not finished at all and completely raw?
It takes time to learn the ways of Sarojini market and to train your eye to see these variances, but once you do, an entire world of underground designer clothing can be yours.
TOP TIP: Bring cash! And don't assume you can get cash at any nearby ATMs as they have long lineups and run out.
Contributed by fashion designer Liz Hartman of Swiatlo Design who lives and shops in Delhi.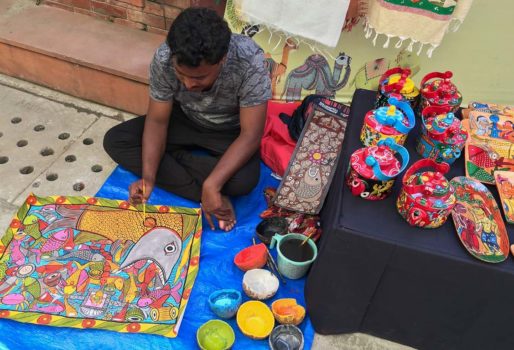 Dastkar Nature Bazaar, South Delhi
Similar in some ways to Dilli Haat (below), Dastkar Nature Bazaar is an open-air marketplace designed to be friendly and accessible to tourists, and a great destination for shopping in Delhi. Located in South Delhi near the Chhatarpur metro station, Dastkar Nature Bazaar is the ideal place to shop for hand-made crafts.
The Dastkar organization has worked for more than 30 years in India to nurture craftspeople and artisans, and they partnered with Delhi Tourism to create the Dastkar Nature Bazaar. Each month for two weeks, they hold a themed mela (fair) at Dastkar Nature Bazaar that features the work of about 100 different participants. The marketplace becomes a hub for experiencing and buying some of India's best weaves, block prints, embroidery, footwear, accessories, fashions, games, toys and products made from wood, metal, porcelain, and terracotta.
Dastkar Nature Bazaar also holds craft demonstrations, workshops, and cultural performances – and they have a food court that features regional specialties from across India. As you walk through the marketplace, you will see many artisans at work in their stalls. One of the many special things about Dastkar Nature Bazaar is that the stalls are occupied by the actual craftspeople and artisans who make the products for sale – which makes it a much more culturally engaging experience than merely shopping.
"The crux of Dastkar's programme is to help craftspeople, especially women, to use their own traditional craft skills as a means of employment, income generation and economic self-sufficiency. Dastkar guides the process of developing a craft – from identifying the skill and creating awareness of its potential, in both craftsperson and consumer, to developing, designing, costing and then marketing the product, and finally suggesting the proper usages and investment of the income generated. The objective is to make craftspeople self-reliant, independent of both the commercial middleman and of organisations like Dastkar, by allowing them to market and sell contemporary products directly, and not simply subsist through subsidised craft."

From the Dastkar website
TOP TIP: Consult the Dastkar Nature Bazaar schedule here before you head out to make sure a mela is happening.
Contributed by Mariellen Ward, Breathedreamgo and India for Beginners.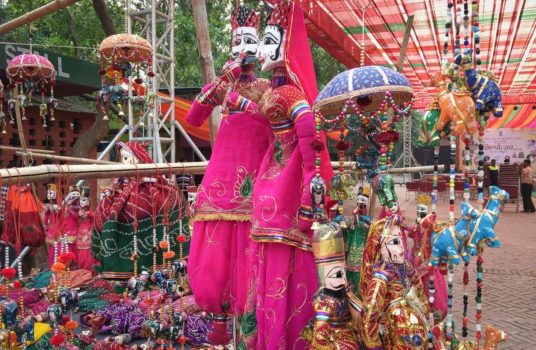 Dilli Haat, South Delhi
Dilli Haat was built like a village market. The market, next to INA Metro Station, is popular with tourists and locals alike, who flock to Dilli Haat for the lively ambience, the safe environment, and the good deals on handicrafts.
The philosophy behind this place was to create a "Haat" or an open market where artisans could connect and sell products to customers directly without the intervention of middlemen. The stalls keep changing here to allow more artisans the opportunity to sell their goods. One can find good quality Indian handlooms and handicrafts covering decor items, clothes, ornaments, accessories, light furniture, leather craft, and so on. They also have food stalls from the various states of India and an amphitheatre for cultural programs.
The picturesque architecture is an open compound with simple brick rooms surrounding it. Depending on the season or the kind of crafts festival, the place is colourfully decorated, giving it an upbeat vibe. Shopping for anything Indian in an unpretentious setting is what we love most about this place.
There are other branches at Dilli Haat at Pitampura and Janak Puri. However, we recommend Dilli Haat at INA since this is the most bustling.
Where: You can take the metro and drop at INA metro station on the yellow line and Dilli Haat is just adjacent. Also, any auto rickshaw or radio taxi would take you. There are ample car parking arrangements too.
Timing: Dilli Haat is open from 10:30 am to 10:00 pm on all days.
TOP TIP: Avoid the 1st and 16th of every month because those are change days. Artisans are either winding up or setting up their stalls on these dates and many of them are not open for business.
Contributed by Sundeep and Bedabrata, who run the award-winning travel and lifestyle blog Delhi-Fun-Dos.com. They write about travel, arts, crafts and cuisine. They are popular on social media as DelhiFunDos.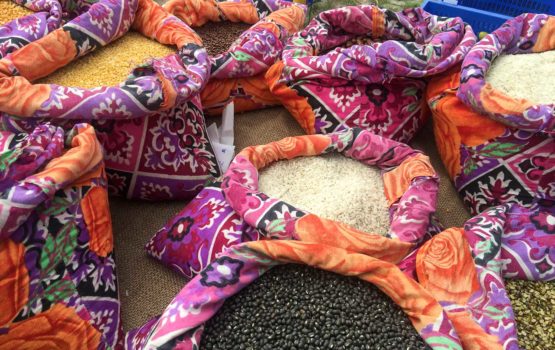 Pahar Ganj, Central Delhi
Pahar Ganj, a frenetic swirl of shops, restaurants, cafes, and cheap backpacker hotels, is only a 10 minute tuktuk ride from the relative calm of Connaught Place. But the moment you step into Bazar Road, you enter into a completely different world.
Pahar Ganj is all about rough and ready picking. This is where the sharp-eyed will find great bargains in textiles, costume jewellery, shoes, leather goods, and handicrafts. In between are health and wellness shops, electronics, and fashion outlets. You can also get things like bags custom-made – quickly and to your design.
Spend a full day or stay at one of the many hotels and shop the brightly lit street by night. As you browse, look out for these favourite shops:
Indian Tea Shop: Full complement of teas
Taj Leather Goods: Bags, wallets etc. at fair prices. Ask about custom made items.
Akal Purakh Handicraft: Wooden, ceramic handicrafts – a great emporium for browsing
Hare Rama Hare Krishna Handloom: Woven household items
Jackson Books: Multi language offerings in this iconic shop
Jurek's Jewellery: Semi precious loose stones and macrame bijoux
Vishal Footwear: Sandals and colourful slippers along with street footwear
Where: Take the metro line – the Blue Line – and get down at RK Ashram Marg
Timing: Anytime! Pahar Ganj goes all day and night.
TOP TIPS: Stay at the Metropolis Hotel where you can have a lunch or dinner of authentic Indian dishes or their wood fired pizza. Portions are generous and prices are reasonable. Lovely rooftop ambiance enclosed by plants and bamboo fencing.
Visit the German Brown Bread Bakery tucked behind AJay Guesthouse. Free-trade coffee, baked goods, and several boutiques share the same space. Good breakfast options.
Try My Bar for hip evening cocktails or Sam's Bar and Cafe in the Vivek Hotel, a more modest spot. Skip the lounge and head to the back for a quiet table to sip your Kingfisher and have a snack
Contributed by Louise Orpin, who has spent five years in India and provides tours for women at Beauty of India Tours and On Her Own | But Not Alone 50+ Women's Travel.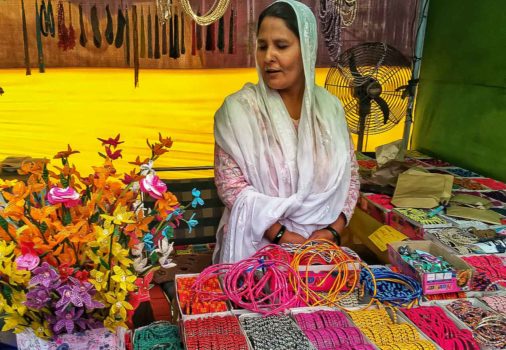 Chor Bazaar, North Delhi
The Chor Bazaar in Delhi is a huge flea market with vendors of all kinds offering different types of products for sale. Located in one of the oldest parts of town, this market is sometimes called the "Thieves Market" and you can buy anything here from books to clothing, electronics or trinkets. The easiest way to get to the Bazaar is either by taxi or, if you're feeling adventurous, you can take the metro. Hop on the Violet Line to Jama Masjid Station which is allocated right by the market. Coming here by taxi is also a good option and will be more comfortable although it also takes longer. Visiting in the morning is recommended to avoid the crowds, although this market is rarely quiet.
Just be prepared for busy streets and chaotic crowds, this market is not for the faint of heart. Keep your belongings cose and beware of pickpockets which this area is notoriously known for. If you see past the chaos you'll be able to find fantastic deals though so a trip here is worth it without a doubt. Just make sure to not shop too much so the limited space in your luggage doesn't fill up too quickly. If you can, visit the Chor Bazaar on a Sunday when you'll find a lot of book sellers offering a wide selection of reads in different languages. If you've been looking for an unusual book to read on your trip this is the place to go.
Keep in mind that the majority of things for sale here are second hand although you'll also find a few sellers offering new objects. Haggling is an absolute must-do and initial prices may be inflated. To get a good deal, be persistent and consider how much you would be willing to pay for an object in your home country.
Contributed by Victoria of GuideYourTravel.
Shopping in Delhi: Delhi airport
Indira Gandhi International Airport, aka Delhi Airport, has been voted one of the world's best airports. In the departures area, there's a gleaming shopping concourse that features Indian and international brands — from local favourites such as Forest Essentials (high-end Ayurvedic skin care), Satya Paul (sarees), and Tanshiq (jewellery) to global heavy weights Benetton, Tommy Hilfiger, and Swarovski.
Where to stay for shopping in Delhi
Please see my posts about my favourite hotels in India, the best hotels in Aerocity, and Why homestays are a good option in India.
---
If you enjoyed this post, you can.
Sign up for Dispatches in the sidebar and follow Breathedreamgo on all social media platforms including Instagram, Facebook, Pinterest, and Twitter. Thank you!