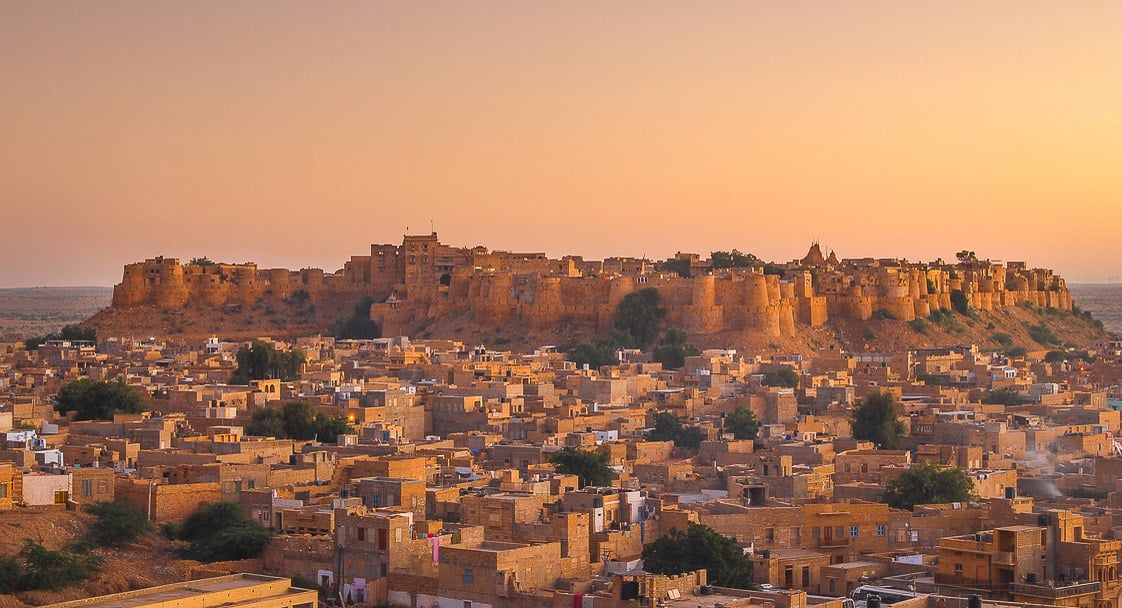 18 Best places to visit in Jaisalmer, India
Rising out of the Thar Desert in western Rajasthan like a sand castle, Jaisalmer is a city of fables and dreams. Known as the Golden City of India due to the yellow colour of the sandstone used to build it, Jaisalmer was founded by Rawal Jaisal in the year 1156. Jaisalmer means the "Hill Fort of Jaisal" and visitors who make the long journey to Jaisalmer, on the far western edge of India, find enchantment around every corner. In this guide, we cover all of the best places to visit in Jaisalmer, India.
Jaisalmer Fort was built in the 12th century and it is still occupied to this day – it is the oldest continuously inhabited fort in India. As Jaisalmer was located on the Silk Road between Afghanistan and Delhi, the city became rich. Many wealthy merchants built intricately carved havelis, which stand to this day. The golden sandstone, ancient fort, and fine havelis together create a beautiful, small city, surrounded by desert. It is favourite of many travellers.
With its roughly 90,000 inhabitants, Jaisalmer is much smaller compared to other Indian cities. Nevertheless, there are many fabulous places to visit in Jaisalmer, one of India's best cities. The array of things to do in Jaisalmer is incredible and though this small city can be visited in a mere two days, we recommend spending longer to take in all that it has to offer. In this post, we highlight all the best places to visit in Jaisalmer and provide a few tips on how to make the most of the city.
---
More reading about Rajasthan from Breathedreamgo
---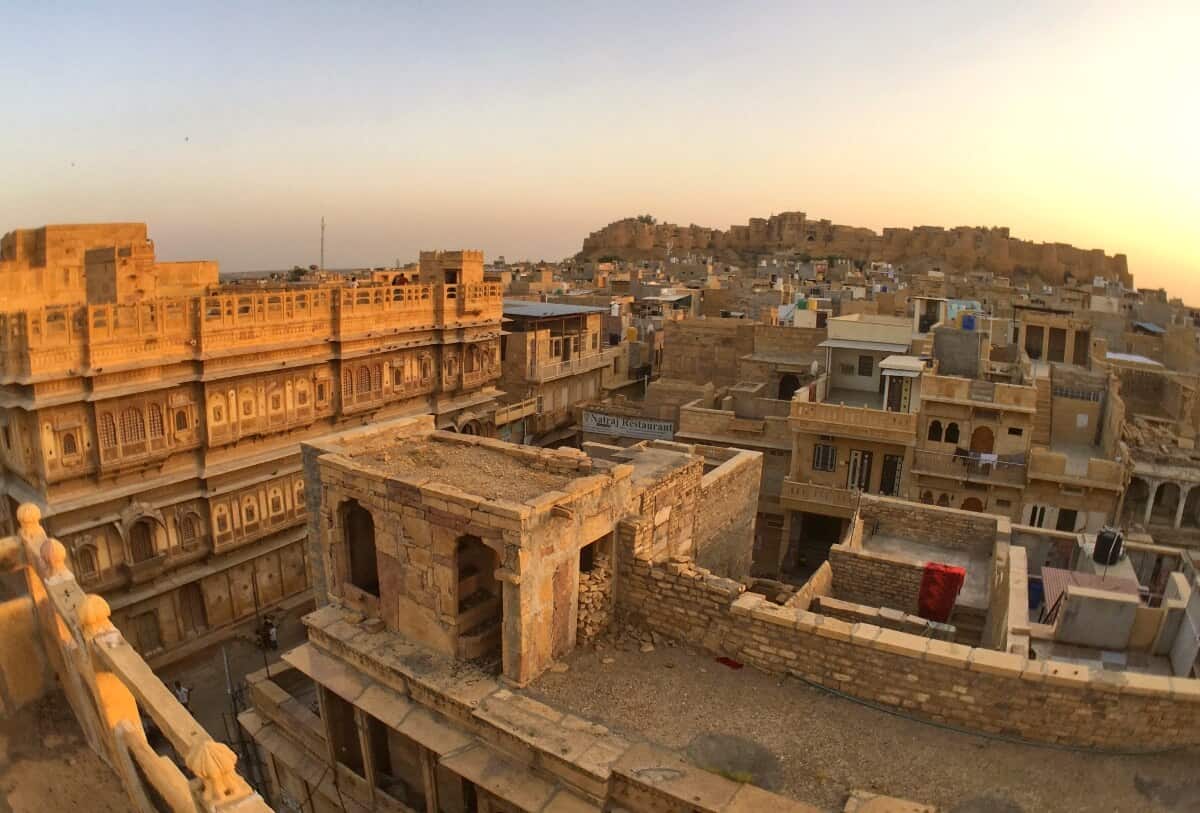 Jaisalmer Fort
The number one place to visit in Jaisalmer is its gorgeous fort, which together with other hill forts of Rajasthan is a UNESCO World Heritage site. Located on a plateau, Jaisalmer Fort makes for an incredible sight from a distance. What makes it special compared to other forts in Rajasthan is that people still live there – there's a community of around 3,000 people living within the walls.
Jaisalmer Fort is a charming combination of narrow, winding lanes, and beautifully made temples and houses, as well as handicraft shops, guesthouses and restaurants. Founded in 1156 by the Rajput ruler Rawal Jaisal, and then reinforced by other rulers, Jaisalmer Fort has been the site of many battles.
You can enter through the eastern gate, near Gopa Chowk, and walk around the other four massive gates until you reach Dashera Chowk, the gate that opens to the square that used to be the centre of the fort.
Sadly, Jaisalmer Fort is facing some major issues as the sandstone foundation has started to crumble in the past 20 years. Part of the problem is water seepage as the drainage system cannot keep up with the many hotels, restaurants, homes and other businesses operating within the fort. Conservation and heritage groups are studying the problem and recommending that tourists and residents scale back their water use. You can read more about the situation here.
TIP: Consider staying in a hotel outside the fort. You will help protect the fort and, as bonus, find a stunning view. Many of the boutique hotels and guest houses are built with rooftop lounges and restaurants that offer a magnificent view of Jaisalmer Fort from a distance. It is still very easy to get into the fort, and the surrounding city.
Jaisalmer Fort Palace
Jaisalmer Fort Palace is one of the most incredible places to visit in Jaisalmer. This gorgeous seven-storey palace is where the former rulers of the city used to live. It is partially built on top of the fourth Jaisalmer Fort gate, known as Hawa Pol.
Visiting the Jaisalmer Fort Palace is one of the best things to do in Jaisalmer to get an idea of how the buildings, especially the important ones, were designed to keep the outside world at a safe distance. The palace contains a series of small rooms with very low doorways. These don't reflect the actual stature of the rulers but were made with the idea of forcing anybody who walked in to bend down and keep a humble attitude.
TIP: Most of the palace is now open to the public. To make the most of it, take a guided tour, it lasts about 90 minutes. The tour also goes to the beautiful Rang Mahal, the mirrored and painted room of 18th-century ruler Mulraj II.
Jain Temples
Jaisalmer Fort is dotted with beautiful Jain temples that date back to the 15th and 16th centuries. These are among the best places to visit in Jaisalmer. Jain temples are characterized by incredibly intricate carvings and decorations. The ones in Jaisalmer are so beautiful that they rival those of the marble Jain temples of Ranakpur.
You will find the ticket window for visiting the Jain Temples near Chandraprabhu Temple. To its right is Rikhabdev temple, which is adorned with beautiful sculptures. Other temples include Parasnath, Shitalnath, Sambhavant, Shantinath and Kunthunath, some of which which feature incredibly sensual carvings.
TIP: Make sure to check the opening times of the temples before going, because they can be erratic, though the temples are always open for worshippers. Make sure to dress appropriately if you plan to visit, and note that it is forbidden to take things such as food, drinks, cigarettes and any leather items inside the temples.
Laxminarayan Temple
Laxminarayan, a Hindu temple dedicated to Lakshmi, goddess of abundance, is one of the most sacred places to visit in Jaisalmer. It's simpler in design then the Jain temples, but has a beautifully decorated dome.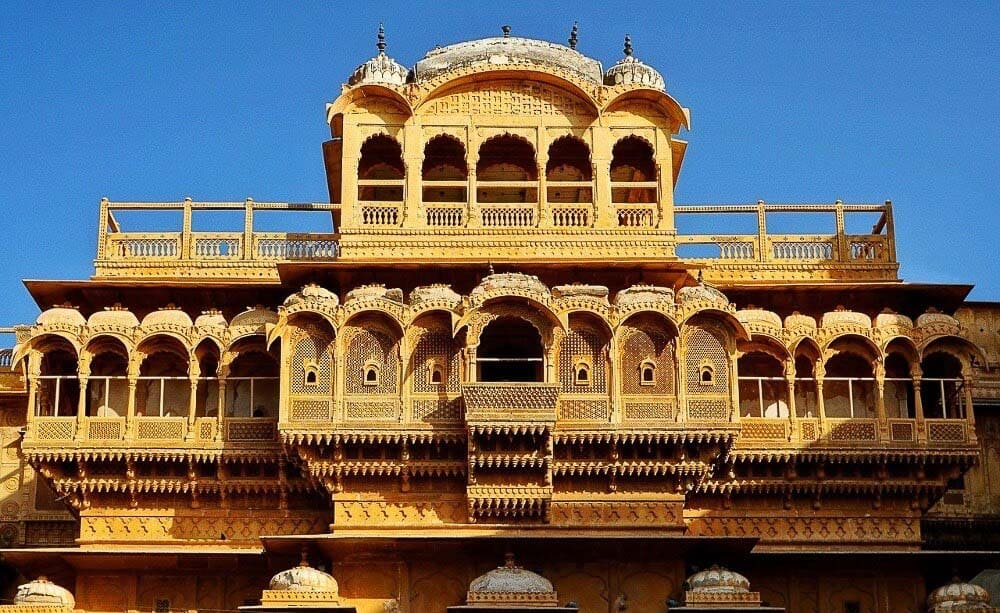 The Havelis
Jaisalmer is home to many fine havelis scattered throughout the city, both inside the fort and outside. These are some of the most interesting places to visit in Jaisalmer. Havelis are beautifully carved sandstone mansions and they feature gorgeous doorways, jali screens, balconies, and turrets. There are some that date back to the 18th century, built by wealthy city merchants.
Among the most spectacular havelis in Jaisalmer is Patwa-ki-Haveli, which was built between 1800 and 1860 by five rich Jain brothers. It is divided into five sections and the Nathmak-ki-Haveli, which used to be the prime minister's house, is still partly inhabited.
Desert Cultural Centre and Museum
One of the most interesting places to visit in Jaisalmer is the Desert Cultural Centre and Museum, which will help you get a better understanding of Rajasthani culture with exhibits on music, textiles, and religion among others.
TIP: Note that the ticket also includes admission to the Jaisalmer Folklore Museum.
Jaisalmer War Museum
Another interesting and offbeat place to visit in Jaisalmer is the War Museum. It opened in 2015 and is a great place to learn more about the history of the Indian military. There is a strong focus on the war with Pakistan in 1965 and the Battle of Longewala, which took place in 1971. The exhibit includes military equipment and even the aircraft used during the Battle of Longewala. Admission to this interesting museum, which is located by the Military Station, is free.
Thar Heritage Museum
Visiting the Thar Heritage Museum in Jaisalmer will give you a proper introduction to this incredible desert. This is a small, privately owned museum with a very good exhibit that includes things such as turbans, musical instruments, fossils, and even kitchen equipment.
TIP: If the museum appears rather uninteresting initially, rest assured that it quickly turns into one of the most interesting places to visit in Jaisalmer thanks to the guide, local historian LN Khatri. If you happen to get to the museum and find it closed, try to look for Mr Khatri in the nearby shop, Desert Handicrafts Emporium.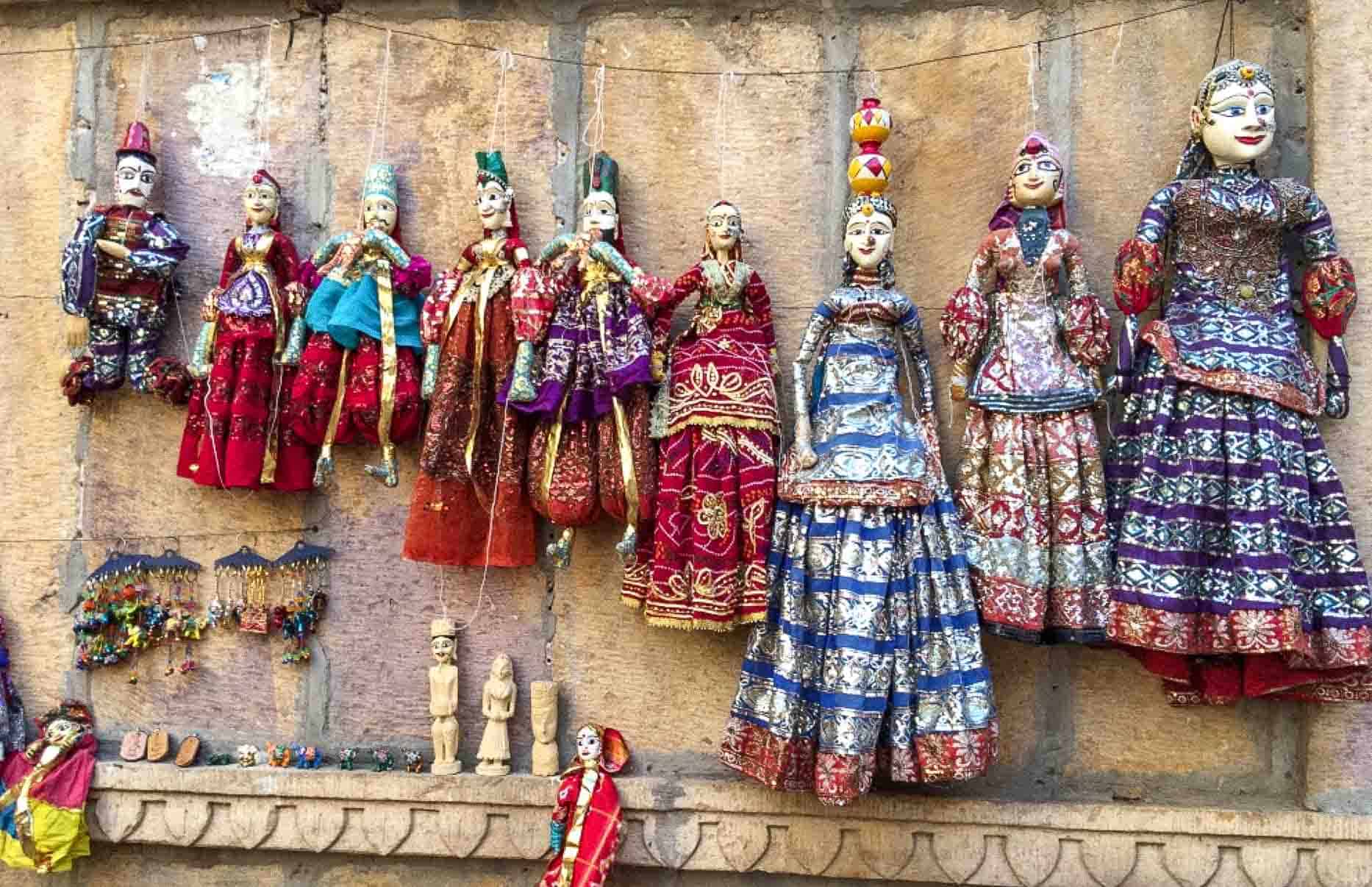 The market
One of the most fun places to visit in Jaisalmer is the market, where there is a great selection of souvenirs, food, crafts, and more. Jaisalmer is a great place to shop. There are a lot of stores where you can buy local crafts such as beautifully embroidered spreads and bed covers, oil lamps, antiques, textiles, wall hangings, and clothing such as cotton shirts, skirts, tunics and even saris.
You can spend hours wandering through the narrow, winding alleys of Jaisalmer, shopping and people watching. The maze of narrow streets gives plenty of opportunities to observe the local life and to discover some of the most charming sights in town.
TIP: Whether you buy in shops or at the market, make sure to haggle before agreeing to buy anything.
Gadisar Lake
Gadisar Lake is one of the most amazing places to visit in Jaisalmer. It's an artificial lake originally built as a water reservoir in the 1400. The best time to visit is early morning when locals go to pray at the temples around the lake and then feed the fish. Sunset is also a very evocative time to visit this extremely photogenic place.
TIP: From the lake, the view of Jaisalmer Fort is fantastic.
Bhang Lassi
In India, most things fall into the "shades of grey" zone, there is very little that is black-and-white. Bhang is one of those things. Though the production, sale and consumption of certain parts of the cannabis plant are prohibited by law in India, the leaves are an exception, and bhang is made with cannabis (marijuana) leaves. There are a couple of cities in India with government-approved bhang shops, and Jaisalmer is one of them (along with Pushkar and Varanasi).
Bhang is popular among sadhus (Hindu holy men) throughout India. You can often see them smoking a clay pipe known as a chillum. Bhang can also be mixed into drinks and food. The most popular way to imbibe bhang is in a drink called thandai or in a lassi, a sweet yogurt drink.
In Jaisalmer, bhang lassis are sold in places such as the the government authorized Bhang Shop, outside the fort. It is one of the most popular places to visit in Jaisalmer to get a bhang lassi, or bhang cookies, chocolates, and other sweets.
TIP: Go easy! Bhang is very strong and you could have a bad trip. It may taste delicious, it may not seem to be strong, but it certainly is! Start with just a taste.
Food glorious food
One of the highlights of travelling in India is the delicious Indian food. Jaisalmer has many good restaurants serving local and international cuisine, so one of the best things to do in Jaisalmer is to eat! Local food is generally cheaper and a typical meal consists of rice, roti or chapati, dal or chickpeas, and a vegetable dish such as potatoes and spinach, or potatoes and cauliflower.
You can try some of the famous street food of India and there are many Rajasthani specialties available as well such as lal maas (spicy meat dish), dal bhati churma (wheat balls that you dip in dal), kachoris (fried, stuffed bread), and ker sangri (a local vegetable dish). But be warned, Rajasthani chillies are legendary and locals like their food fiery hot.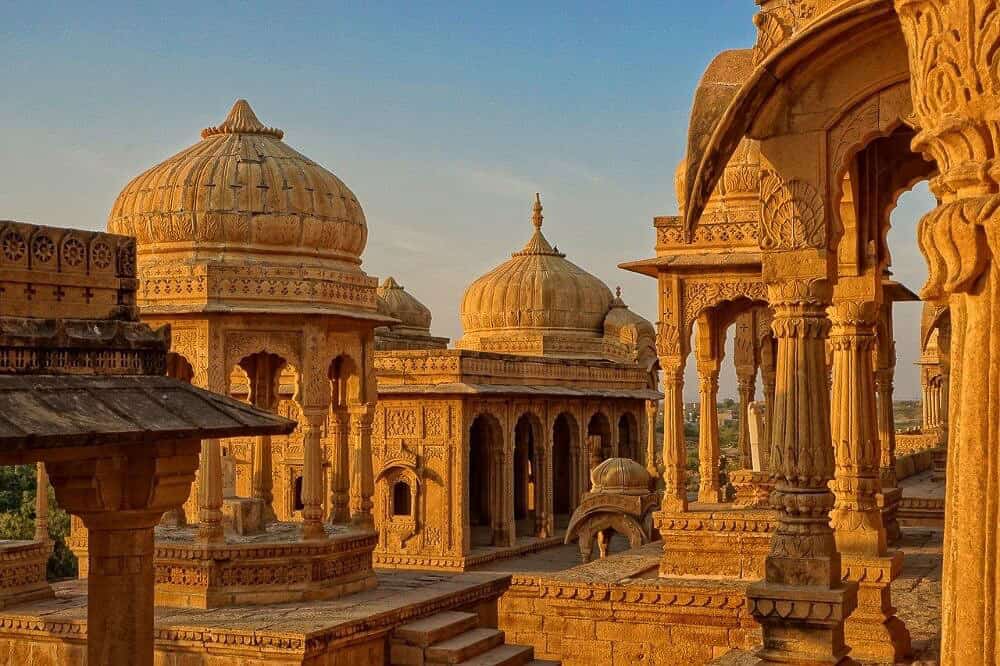 Bada Bagh
Six kilometres out of Jaisalmer, on the outskirts of the city, you will find a spectacular site and one of the must-visit places in Jaisalmer: a "garden" of golden Chhatris dedicated to the royal rulers of Jaisalmer. The Chhatris, or cenotaphs, are empty tombs that were built from the time of Maharaja Jai Singh II, who founded the city in 1688 and died in 1743. The tradition continued until the 20th century. Today, Bada Bagh is glorious vision of dozens of domed cenotaphs of various sizes lined up and glowing, especially in the golden light of dawn or dusk. Truly a photographer's dream. The best times to visit are sunrise and sunset. This is a sacred site so please be respectful and take your shoes off before walking onto the tombs.
Vyas Chhatri
Speaking of sunset, if you want to get the best sunset in Jaisalmer city, head to Vyas Chhatri, which is on the northern edge of Jaisalmer and is dedicated to Vyasa, author of the Hindu epic The Mahabharata.
It used to be a cremation ground for Brahmins and there are various empty tombs. It's one of the best places to visit in Jaisalmer for sunset views.
Khaba Fort
Khaba Fort, located a 40-minute drive from Jaisalmer, was built in the 14th century by the Paliwal Brahmins. The fort was built to be self-sufficient and included an elaborate water management system. However, the fort was abandoned in the 19th century due to a severe drought.
Today, the abandoned village is a fascinating place to visit as the deserted city offers a peek into the past. Many of the homes and buildings have been ravaged by time and the desert, but the Hindu temples remain intact and are well-preserved. The carvings and sculptures represent some of the many Hindu gods and goddesses.
Sunset is a magical time at Khaba Fort, and a photographer's dream. As peacocks strut among the ruins, the golden sunset baths the fort, silhouetted against the barren desert.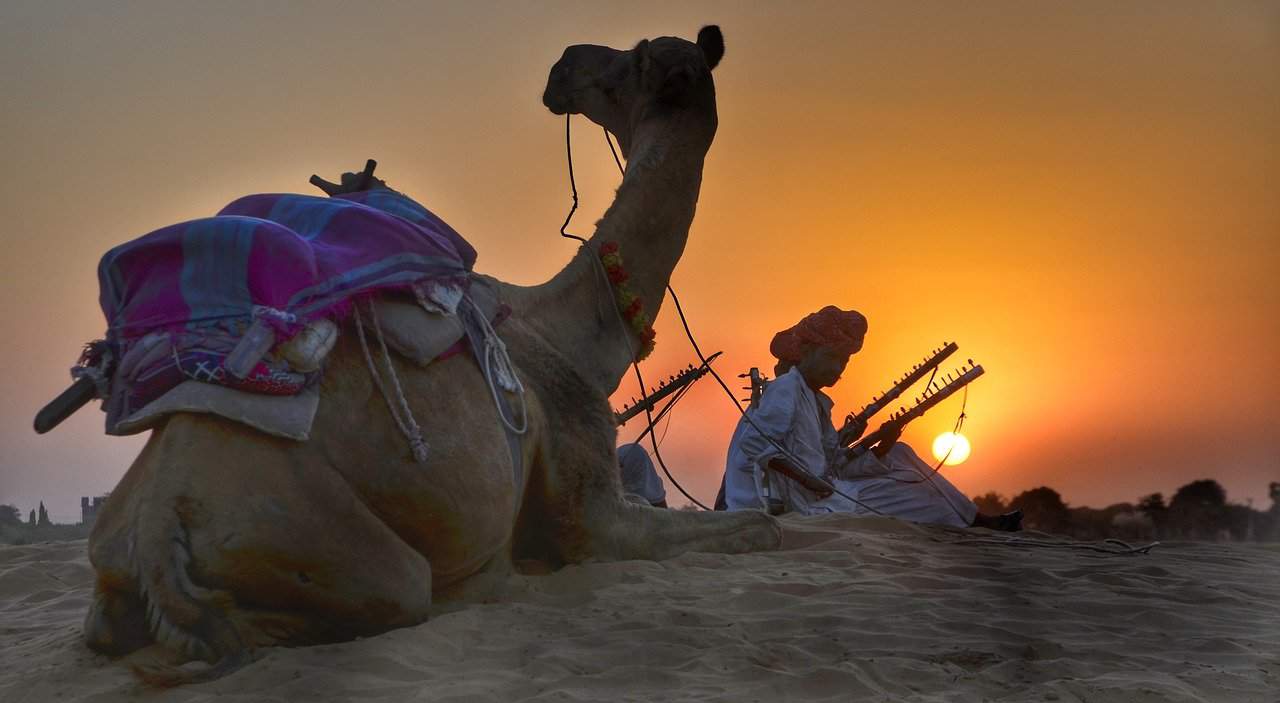 Camel Safari and Sam Sand Dunes
Jaisalmer is located in the Thar Desert, one of the world's largest deserts. About 40 minutes' drive outside the city you can find the Sam Sand Dunes. The sand dunes are perfect for getting away from the city. You can go on a day trip camel safari in the sand dunes, or an overnight trip, where you camp on the sand dunes. 
It's truly wonderful to walk along the sand dunes, admire the incredible sunset, have dinner in camp listening to traditional music, try some camel milk, and marvel at the unbelievably starry sky (I wrote about this experience in my post the 1,001 Tales of the Jaislamer Desert.)
Tip: A camel safari to the sand dunes is one of the best things to do in Jaisalmer, and one of the best places to visit in Jaisalmer – but please be warned this has become a very commercial activity. Be careful to choose a very ethical, reliable, and reputable operator. Make sure the animals are treated fairly and that all garbage is taken back to the city and not abandoned in the desert.
Kuldhara Village
Kuldhara village is not to be missed. About a 45-minute drive southwest of Jaisalmer, Kuldhara is an abandoned village with a haunted past. The village was founded in the 13th century by Paliwal Brahmins who were able to grow crops in the barren desert around them and prosper. But one night in 1825 everyone in Kuldhara and the surrounding villages vanished. 
Since then, the abandoned village has slowly crumbled and eroded. It is said by the local people that it is cursed, and no one wants to live there. Indeed, it does have an eerie feeling, as the skeletal buildings stand starkly against the arid desert. The site, protected by State Archaeology Department, is a gold mine for photographers and for those who love a good story.
As legend goes, an evil prime minister wanted to marry a young woman of the village, but rather than accede to his demands, everyone left to protect her. (It is also possible that a heavy tax burden forced them to leave, but that is not such a good story!)
Masala chai and chill
India basically runs on masala chai. It is a drink made of hot black tea, milk, sugar, and spices. Jaisalmer is packed with lovely cafés, some of them offering stunning views of the fort. Drinking masala chai with a view of the fort, especially at sunset, is one of the best things to do.
Where to stay in Jaisalmer
Jaisalmer has many good accommodation options: within the city, within the Jaisalmer Fort, and outside in the desert.
Luxury: Suryagarh
Mid-range: The Gulaal
Mid-range: WelcomHeritage Mandir Palace
Mid-range: Hotel Killa Bhawan
---
If you enjoyed this post, you can.
Sign up for Dispatches in the sidebar and follow Breathedreamgo on all social media platforms including Instagram, Facebook, Pinterest, and Twitter. Thank you!