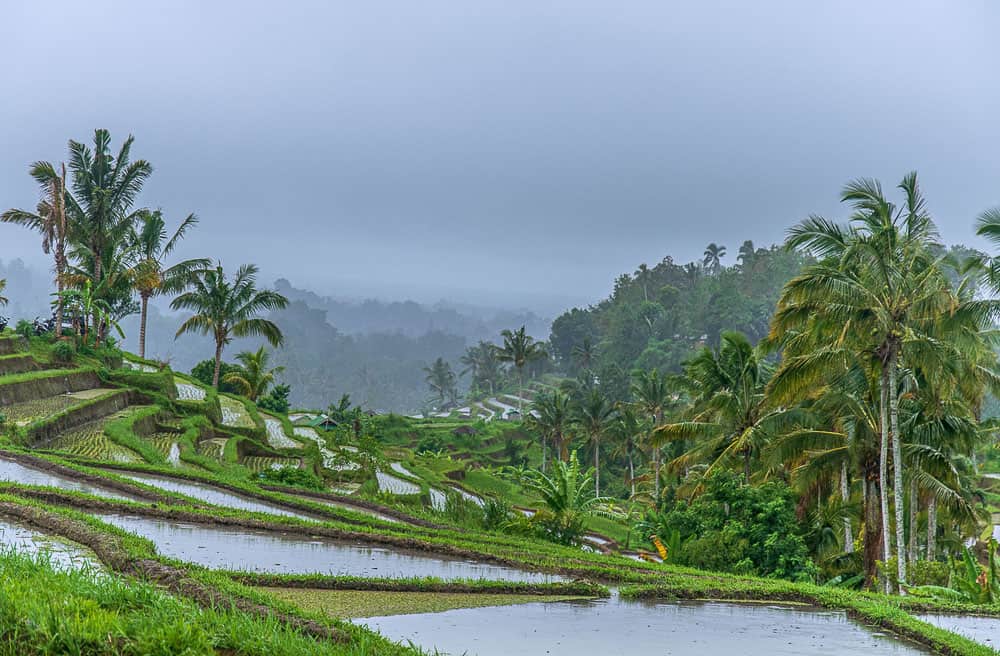 Our guide to the 14 most amazing monsoon travel and rainy season destinations around the globe
The monsoon, or rainy season, is a very special time to travel. There are many monsoon travel destinations around the world that come alive during the rainy season and offer visitors and tourists a very unique experience.
The word monsoon is generally associated with the Indian Ocean, and the weather patterns that affect the countries in that region such as India, Sri Lanka and Myanmar. The monsoons determine the climate for India and most of Southeast Asia.
However, many nations have a distinct monsoon-like rainy season, which equally impacts the climate and the seasons in those countries, including Thailand, Philippines, Mexico, and even the southern United States.
Following is a guide to experiencing the monsoon, or rainy season, in 14 destinations around the globe. Monsoon travel brings with it magical moments and also specific challenges. These tips will help prepare you for some very special travel experiences.
Monsoon travel and rainy season in Asia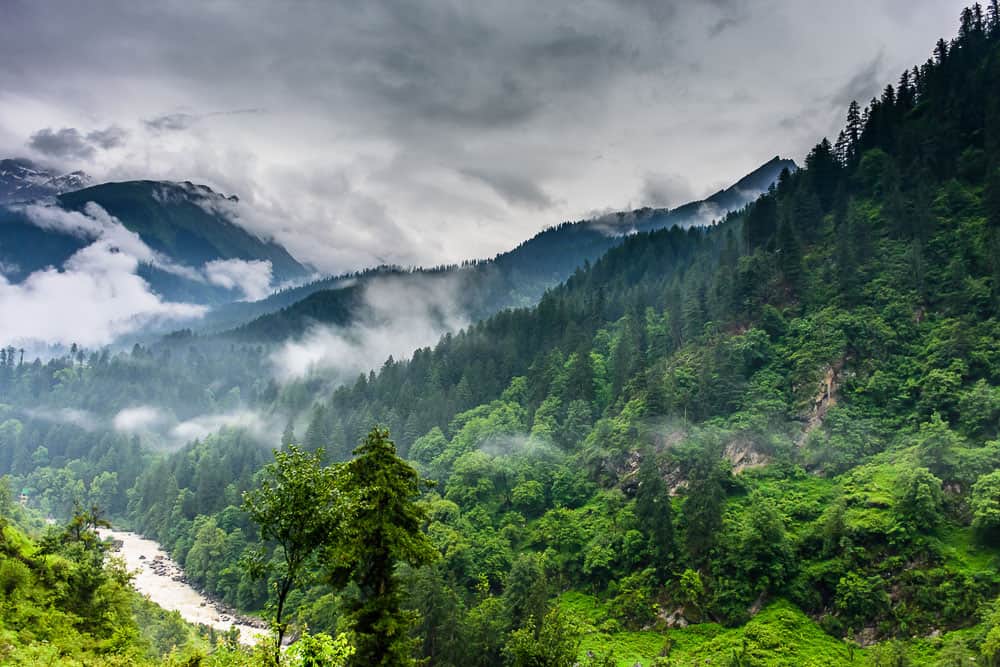 India: A joyful time
The southwest monsoon in India lasts from early June until September. It hits the coast of Kerala in South India on or about June 1 and sweeps north up the country bringing rain and much-needed relief from the heat of summer. There are some who enjoy chasing the Indian monsoon and many who (like myself) are monsoon watchers.
The Indian monsoon is celebrated in song and film in India. It's a joyful time of year when rain drenches the fields and brings down the temperatures. While the rain adds to the fecundity of the nation, it also imbues in people a feeling of leisure. Monsoon means time to relax, enjoy snacks like chai and pakora, and celebrate the lushness of the season.
There are many destinations in India that are seemingly made for the monsoon season. Goa, Kerala, the Western Ghats, Rajasthan, and Kashmir are some of the best places to visit in monsoon in India. Monsoon is also an ideal time to take Ayurvedic treatment at a resort or clinic in Kerala, the home of Ayurveda in India.
"For months there is no rain, and then there is too much. Half the world's people survive at the whim of the monsoon," wrote photographer Steve McCurry in a blog post about India's monsoon. "Good monsoons, those rain-bearing winds of Asia and the subcontinent mean life and prosperity."
However, you do need to be aware that heavy monsoon rains can cause flooding, landslides, and other potentially dangerous situations, especially in the mountains. While you should not hesitate to visit India during the monsoon, you should be aware of the potential problems and plan accordingly.
Contributed by Mariellen of Breathedreamgo and India for Beginners custom tours.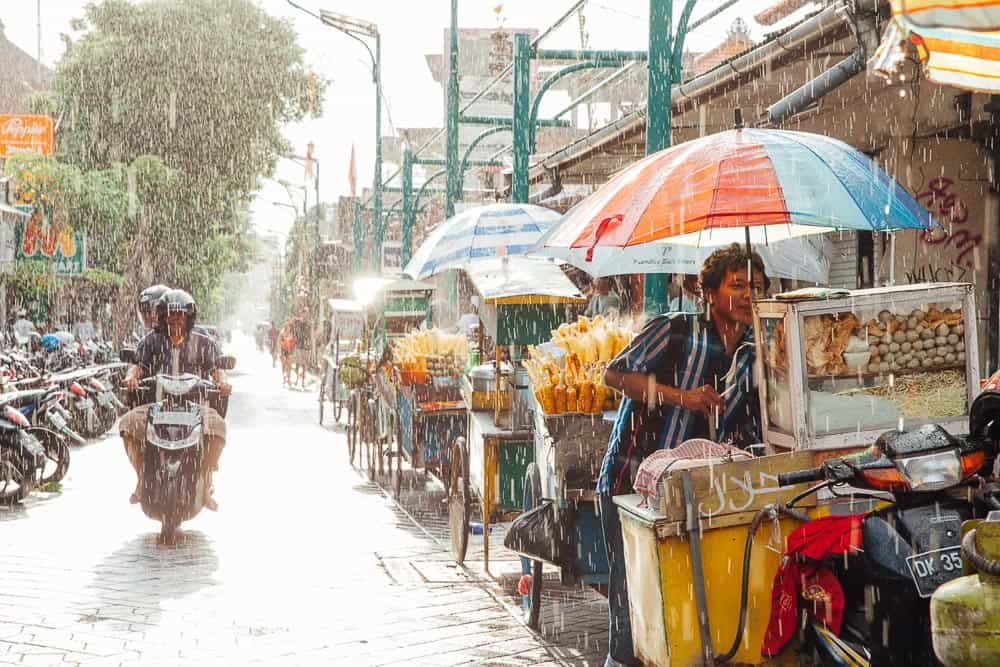 Bali, Indonesia: Magical monsoon
Monsoon season is a magical time in Bali, Indonesia. Typical of other destinations in South East Asia, Indonesia experiences a wet and dry season. The island starts its dry season in mid-April until the end of September. Then, once the storm clouds start rolling in on a daily basis in October, Bali enters its wet season (also known as monsoon season). It's typical to see a couple of hours of storm each day with a mix of sun and cloud for the rest of the day.
While the dry season may be the best time to surf and explore the beaches of Bali, the wet season is the best time to adventure inland. At this time of year, the rainforest grows greener and lusher, and the waterfalls start to gush.
Bali's green and vibrantly spiritual epicentre is Ubud. Imagine starting your adventure by waking up at your unique Ubud accommodation overlooking the rice paddies and enjoying a cup of Indonesian coffee before starting your day.
Venture out to Ubud's plethora of waterfalls via scooter. You will find the majority lying east of the town a 30-minute scenic drive. Here you will find the incredible Suwat Waterfall, Tibumana Waterfall, and Kanto Lampo Waterfall, all easily explored in a day.
No Eat, Pray, Love moment would be complete without a visit to the Tegallalang rice terraces to partake in the picture-perfect Bali swing. For something more spiritual though, cleanse yourself in the waters of Tirta Empul Temple.
Be aware, that during the wet season, Bali's inland region can turn a bit muddy. Be careful when hiking off-the-beaten-path trails, especially to some waterfalls in the north. The trek up Mount Agung is also a bit more precarious during this time.
[Editor's note: Bali has recently banned trekking and other activities on the country's sacred mountains due to unruly tourist behaviour.]
Contributed by Haley of Haley Blackall Travel.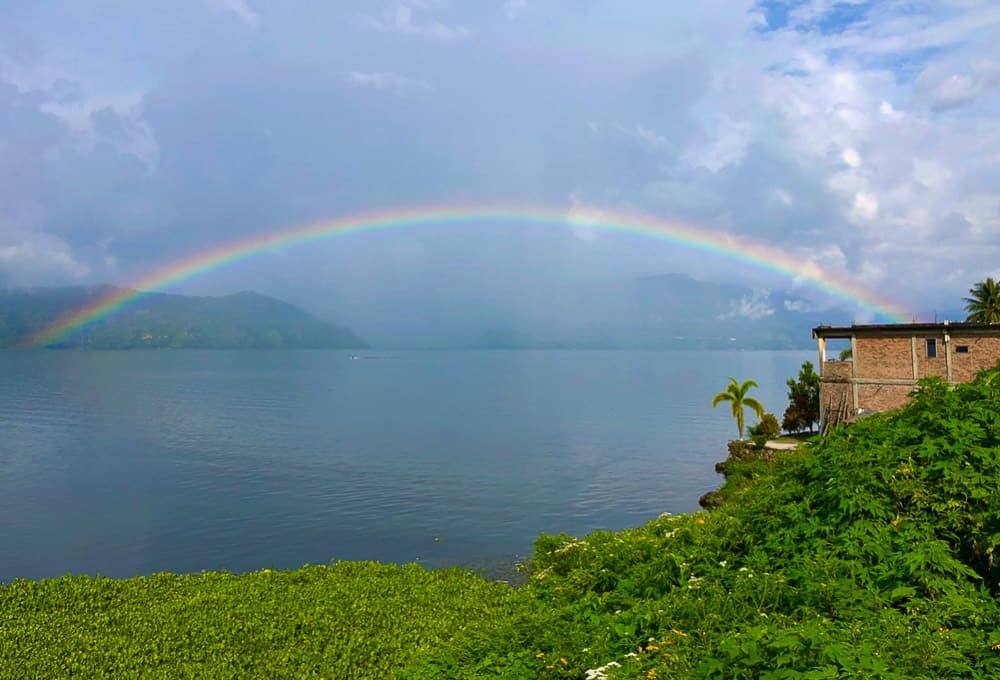 Sumatra, Indonesia: Breathtaking haven
The monsoon looks slightly different in Sumatra, Indonesia than in other regions of Southeast Asia. Because this sizeable island straddles the equator, the weather patterns vary between the northern and southern provinces.
In the slightly more tropical climate of North Sumatra, the wet and dry seasons are less defined – and become more unpredictable year by year due to climate change. This is great news for intrepid travellers because the traditional "wetter" months between October and January are an excellent time to discover one of Sumatra's most jaw-dropping, up-and-coming destinations – Lake Toba.
This enormous volcanic lake (the largest in the world) cradles an island the size of Singapore, and the entire region has its very own unique climate, due to the higher altitude, and the cooling breezes coming across the lake.
During the October to January monsoon, this spot is a breathtaking haven for travellers looking for respite from the humidity of the nearby jungle.
While the chance of rain increases slightly during these months, the heavy showers are usually transient and often occur in the late afternoon and evening. This leaves most of the day free, sunny and warm (but not too hot) for those epic scooter adventures that can only be had on Samosir Island.
After living here for the past 18 months, we much prefer the monsoon to the dry season. The rice fields are an indescribably vibrant shade of green, the numerous waterfalls in the area are even more gorgeous, and because it's low season, there are fewer tourists around and cheaper prices for flights and accommodation.
We can't imagine a better place than Lake Toba in North Sumatra to plan your monsoon travel adventures!
Contributed by Agung and Carly from Exploring Sumatra.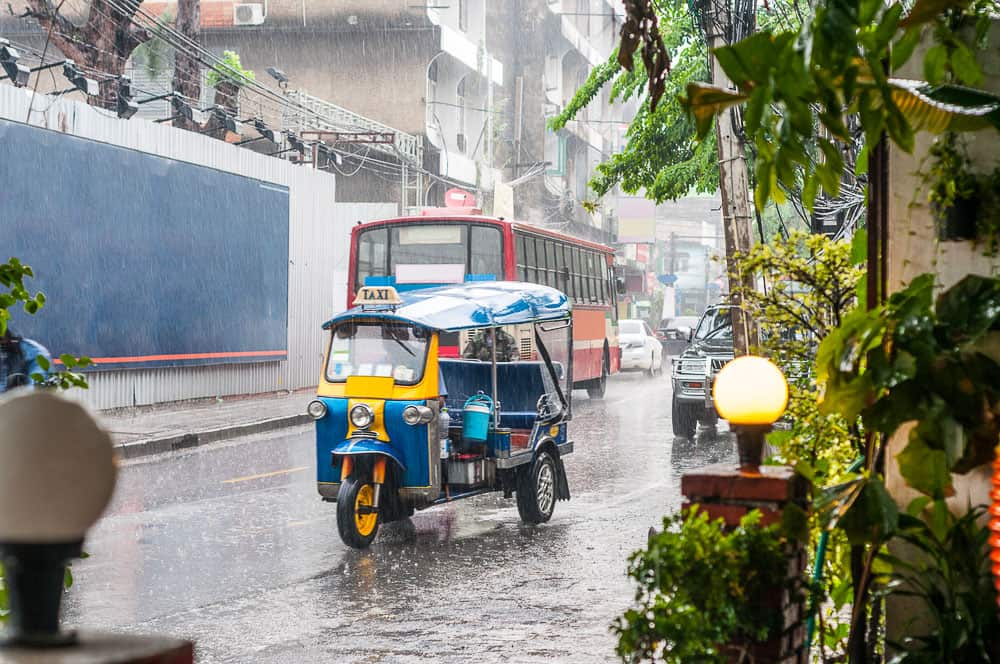 Thailand: Embrace the rain
Monsoon season in Thailand means it pours for a few hours almost every day. While some travellers may avoid this time of year, there are reasons to embrace the rainy season and experience the country at this unique time.
Thailand's climate is shaped by the interplay of two distinct monsoons, the southwest and northeast monsoons. In most of Thailand, the southwest monsoon season usually starts in May and lasts until October, with the heaviest rainfall typically occurring in August and September.
However, the east coast of southern Thailand, which includes famous islands like Koh Phangan, Koh Tao, and Koh Samui, experiences a different climate. Heavy rainfall is expected between November to March, allowing visitors to choose which season best suits them, year-round.
Despite the heavy rainfall, there are perks to visiting during this time. For one, the crowds are thinner, so popular tourist places like Koh Phi Phi and Phuket are without the typical masses. Prices are also generally more affordable, and last-minute deals are more available.
Thailand's monsoons often bring heavy rainfall for a few hours each day, interspersed with a few sunny days. Be flexible with your plans and keep backup activities in mind. Learn to cook Thai food in Chiang Mai or take some Thai massage classes. Break a sweat training Muay Thai and then cheer in a professional match. Try a meditation retreat, the north is dotted with them. Finally, if the rain ever messes with your plans, Thailand has seemingly endless markets to wander through in every city. Monsoon travel in Thailand is always a good idea.
Contributed by Catherine Xu of Nomadicated.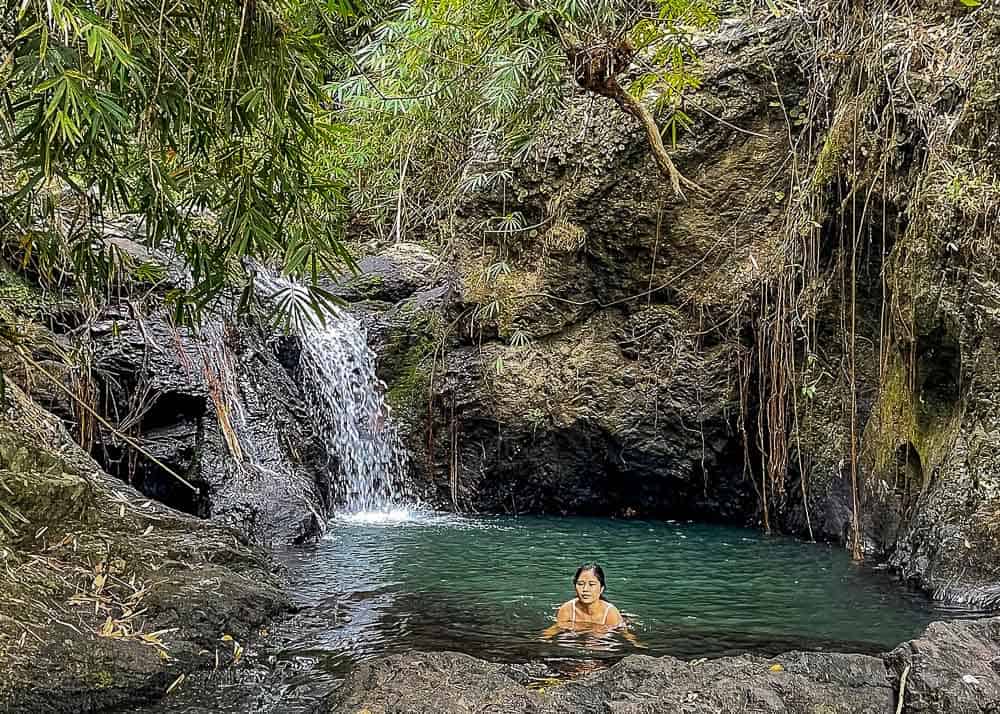 Philippines: Hidden beauty
The monsoon season in the Philippines typically occurs from June to October. The country experiences heavy rainfall and increased humidity during this period. As a Filipino traveller who has explored much of this country, this is my favourite season – when I can explore unique experiences with lesser crowds.
This season brings lush greenery to this archipelago, making it an ideal time for scenic hikes and photography. Batanes, for example, is the perfect destination for its stunning landscapes, rolling hills, and dramatic cliffs.
You can also visit the ancient Banaue Rice Terraces, a UNESCO World Heritage site, during the golden harvest in June. Or, participate in the planting season from August to September. Hike along the terraces, interact with the Ifugao indigenous community, and learn about traditional farming.
Experienced surfers can enjoy the best surfing time in Siargao, the Surfing Capital of the Philippines. The rainy season provides waves that go as high as eight to 12 feet in some places.
The abundant rainfall during the monsoon also breathes life into hidden waterfalls, such as this one in Palawan. I use this time to reconnect with nature, trek through lush forests, and meditate with the melodic sounds of cascading water.
The monsoon season allows travellers to enjoy the country's famous spots with a bit more solitude. It's the off-peak season, so you can save on flights and accommodation. However, you may experience delayed flights and typhoons. So, come prepared and have an unforgettable adventure during the monsoon travel season in the beautiful Philippines.
Contributed by Filipina traveller Gladis of Happiness On The Way.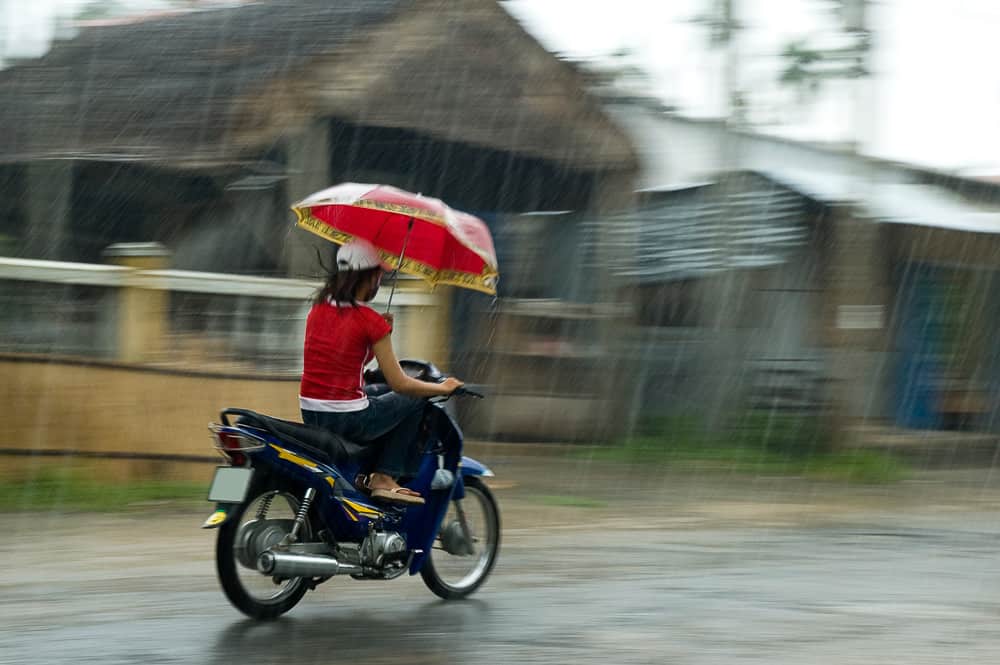 Vietnam: Cooler and less crowded
If you don't mind being flexible, you can visit Vietnam during the rainy season and still enjoy most of its natural and artificial beauty. Museums, cafés, temples, and monuments stay open during the rainy season and are far less crowded. In fact, Vietnam is one of the best places for monsoon travel because it makes the country cooler, more pleasant, less crowded, and more budget-friendly. Plus, the rain showers in Vietnam mostly last for a few hours and do not end up costing you a full day's worth of travel.
However, some places do get impacted by the rain such as Halong Bay and Ninh Binh. But even cruises in Halong Bay stay operational in the monsoon season unless the region is experiencing severe cyclonic conditions. The cruise prices are also much more affordable and the cooler weather makes beach time at Halong Bay a lot more enjoyable. Luxury hotels in costlier areas of Hanoi and Saigon also cut down prices making travelling through Vietnam in monsoon a win-win situation.
The one area that is badly affected during monsoon season is Hoi An. In case of severe rainfall, the Old Town of Hoi An gets flooded with knee-deep water. Likewise, you need to give the famous Golden Hand Bridge at Ba Na Hills a miss as the rains restrict visibility and also dampen the French village experience.
But other day trips from Hoi An continue to remain perfectly accessible to tourists. Also, note that the rainy season in Central Vietnam is from October to November unlike the rest of Vietnam which experiences rainfall between June and September. So if you travel to Vietnam between June and September, you'll mostly experience no rain in Hoi An or Da Nang.
Contributed by Vrushali from Couple of Journeys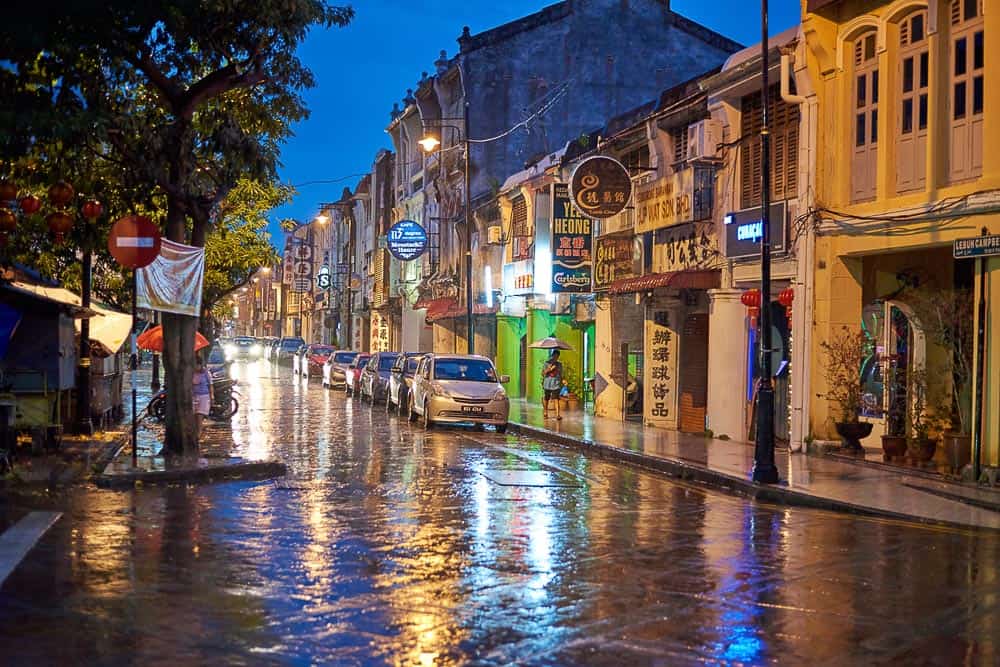 Malaysia: Tailor made for monsoon
Like any tropical country in Southeast Asia, Malaysia experiences monsoons. The thing is, the country doesn't have one, but two — the Southwest Monsoon (roughly happening between late April and September) and the Northeast Monsoon (from late October to March).
It may sound like a lot of rain, but in truth, the monsoon that travellers should take under consideration the most is the Northeast, because it affects many of the best diving and snorkelling islands along Peninsular Malaysia's east coast. Between late October and March, most of these islands are barely accessible, with limited boat connections due to hazardous seas, and many of their accommodation options shut down for the slow season. It's no fun being there, especially when this is the area where rains are the longest, and consequent floods are more and more common.
On the West coast of Malaysia, on the other hand, the Southwest monsoon is not THAT terrible. Rains of course do happen, but they are quick and fast, most often only for about half an hour to an hour, and also during night hours. When it rains during the day, it's like an outburst of freshness that leaves the place cooler than before — an ideal time to visit Malaysian cities like Ipoh, which tends to be very hot outside of the rainy season.
The shophouses of heritage cities like Ipoh and Penang are tailor-made for the monsoon: their shophouses were built with a "five foot way" right before their doors. This passage (typically five feet long) is a covered walkway that allows people to walk through the old city centres without getting wet.
Contributed by Marco Ferrarese of Penang Insider and MonkeyRockWorld.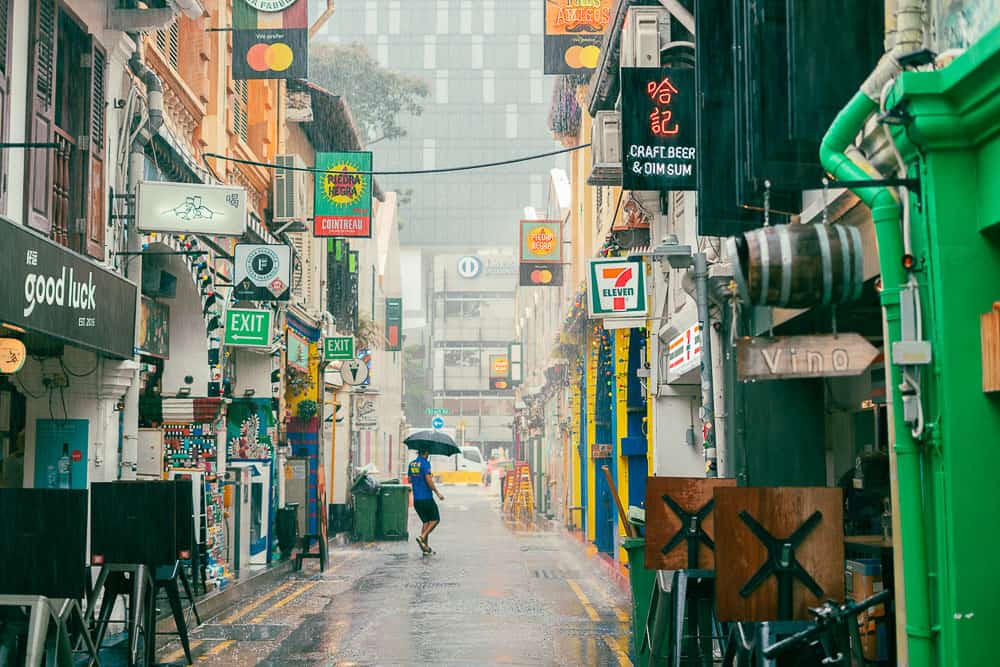 Singapore: Indoor adventures
Located one degree north of the equator, Singapore sits in a region of hot and humid weather. There are no seasons, just hot and hotter. This southeast Asian country borders Malaysia and experiences two monsoon seasons; from December to March and June to September.
The monsoon season typically starts with heavy rain and high humidity but tapers off to a dry period for the last two months. Travelling from February to March or August to September offers slightly cooler temperatures and lower humidity.
If you travel in early February, you'll likely arrive during the Chinese New Year. It's a chance to enjoy the Chinese New Year Lantern Festival and see the spectacular fireworks at Marina Bay.
While rain can fall from 30 minutes to two hours, you must be flexible with your Singapore itinerary. So, plan a mix of indoor activities with places to explore outside. As a compact country, you'll find it easy to do monsoon travel in Singapore.
Located on the waterfront, Gardens by the Bay has two large greenhouses, ideal for a rainy-day visit. The Flower Dome, the largest global greenhouse, features tropical flowers fashioned into themes, which change periodically. In spring, it features a Tulipmania event. Next to it, the smaller Cloud Dome mimics a tropical rainforest. However, its displays usually stay the same.
Before you leave Singapore, spend a day at Changi Airport. Rated as the best in the world, it features a magnificent Rain Vortex, movie theatres, shopping, and fabulous eateries.
Contributed by Karen of Forever Karen.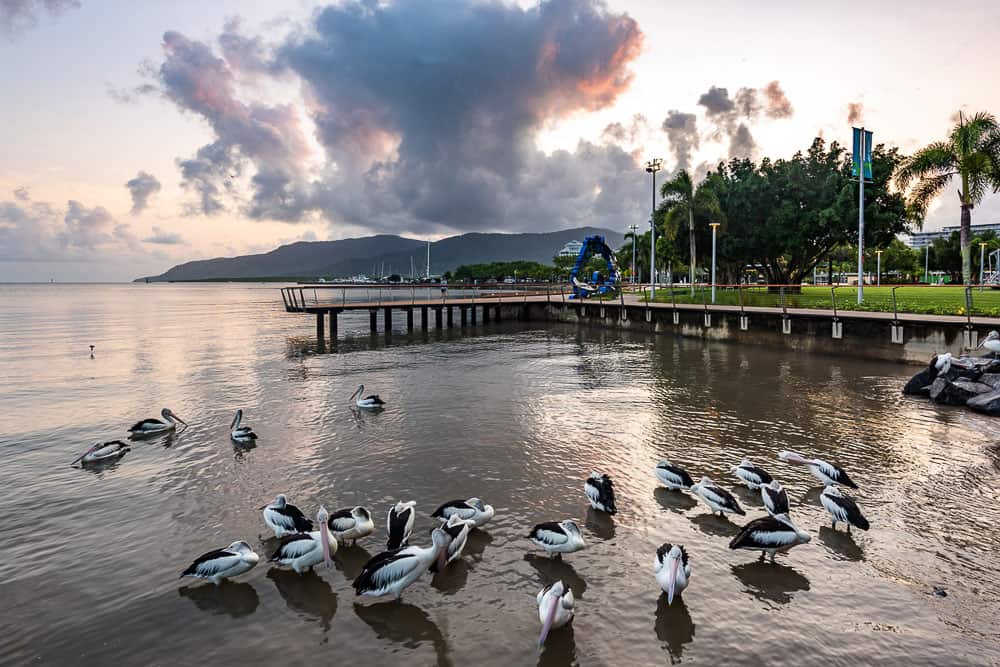 Cairns, Australia: Great Barrier Reef
The monsoon – or wet season as it is called in Australia – runs from November to March. Monsoon season is a surprisingly good time to explore the Great Barrier Reef and monsoon travel is recommended. Even though the enormous runoff causes decreased visibility around the islands closer to shore, it is still a good time to get to the outer reef.
Best of all, there is very little wind so surface conditions on the ocean are much calmer than in the dry season, when there is a consistent breeze. We certainly enjoyed the calmer conditions – no one likes being seasick.
Cairns is in Tropical North Queensland and is best known as an access point to the incredible Great Barrier Reef. Travelling in Cairns during the monsoon has another advantage: it's a spectacular time to view the region's waterfalls.
The Atherton Tablelands right behind Cairns has dozens of waterfalls. Baron and Millaa Millaa Falls are particularly amazing. The sight of the thundering water and spray more then makes up for the soaking you get at the lookouts.
The one downside to travelling to Cairns in the monsoon is that many of the swimming holes are too dangerous to enter, depriving you of the opportunity to cool off. Otherwise, the monsoon is a fascinating time to visit Cairns while also avoiding peak tourist season.
Contributed by Natalie and Steve of Curious Campers, a popular Australian travel website.
Monsoon travel and rainy season in the Americas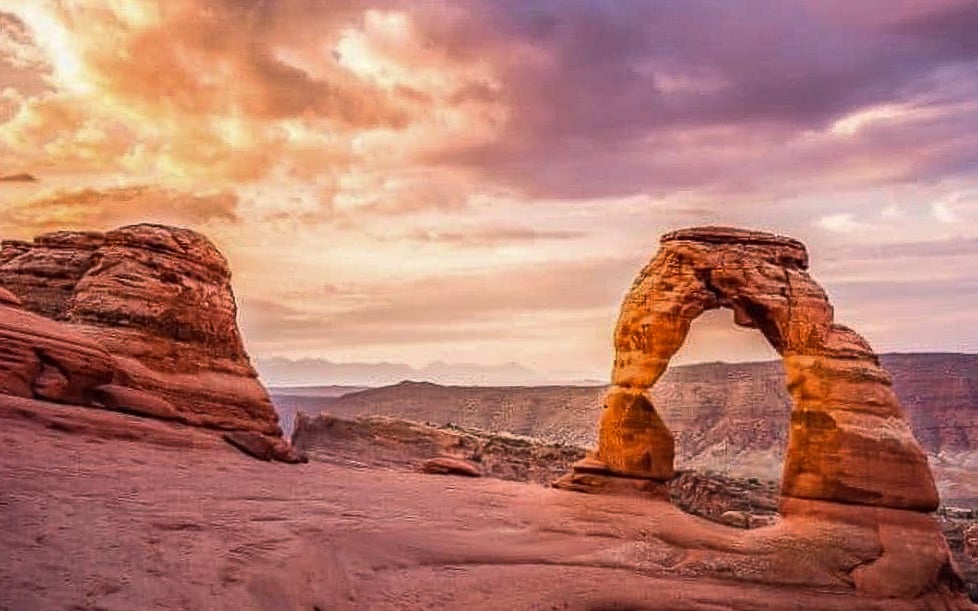 Southern United States: Vibrant colours
Contrary to popular belief, the southern United States does have a monsoon season – and it's one of the best places for monsoon travel. The monsoon begins in Mexico in June and moves into the southwestern United States in July. Eventually, it ends in mid-September.
Many parts of the southwestern United States will experience heavy periods of rainfall in the afternoon, accompanied by intense thunderstorms, during the monsoon season. The states most impacted by the monsoon in the southern United States are primarily Arizona and New Mexico, as well as Colorado, Utah, California, Nevada, and Texas.
As a result, visitors should take care when hiking and doing other summer activities in many of these states including Utah national parks since flash flooding is a very real danger, especially in famous slot canyons like Antelope Canyon and The Narrows.
However, the benefit of travelling during monsoon season in the southern United States is that everything is lush and green since this is when this desert region receives the majority of its rainfall.
White water rafting in the Grand Canyon during monsoon season is at its peak since more water is released into the river to accommodate the increased power needs of surrounding areas like Las Vegas
Visitors will love seasonal activities like hiking Herman Gulch to see Colorado wildflowers. However, as this hike is very popular, start by 7:00 am at the latest so that you can enjoy a bit of peace as you tackle this 13,000-foot peak near Denver.
Please note, if you are hiking at higher elevations, be sure to get up early and avoid intense afternoon showers since thunderstorms can be quite dangerous above the treeline.
Contributed by Jamie of Photo Jeepers.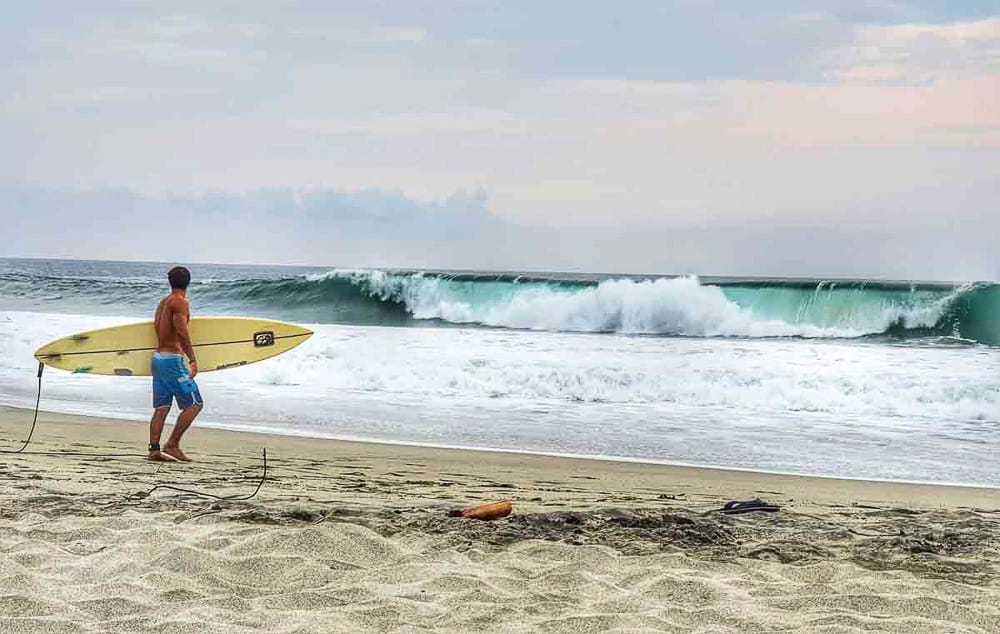 Puerto Escondido, Mexico: The biggest waves
Puerto Escondido is a small, surf-mad, beach town in Oaxaca on the Pacific Coast of Mexico. While its name translates to 'hidden port' Puerto Escondido is no longer a secret but despite its increasing popularity Puerto Escondido retains its authentic and laid-back vibes.
Puerto Escondido is famous as one of the best surf spots in Mexico, if not the world! Zicatela Beach is home to the Mexican Pipeline, a huge beach break with 20-foot waves. While you can surf all year round, it's in the rainy season, June to September, when you'll see the biggest waves, the pro surfers, and international surf competitions.
Another good thing about visiting Puerto Escondido in monsoon is that it's cheaper, there isn't a seaweed problem, and the chance of hurricanes is much smaller compared to Mexico's Caribbean Coast.
Due to the huge waves and strong currents, Zicatela Beach is not safe for swimming or for beginner surfers, especially during monsoon. If you are looking for calmer waters for swimming, or learning to surf, head to sheltered coves like Carrizalillo Beach where there are professional surf schools offering surf lessons for all levels.
I'm no expert surfer, and it will be a long while until I approach Zicatela, but watching the epic sunsets while the surfers tackle the massive waves is just mesmerizing.
Also, there are other unique and magical experiences to be had such as releasing a baby turtle into the sea and swimming with bioluminescent plankton in the nearby Manialtepec Lagoon. You'll also find plenty of beach bars, yoga classes, and a lively nightlife scene in Puerto Escondido, too – so monsoon travel is a great time to visit, there really is something for everyone, not just surfers.
Contributed by Anna, a travel writer and digital nomad who blogs about her adventures on Global-Gallivanting and Love Yoga Love Travel.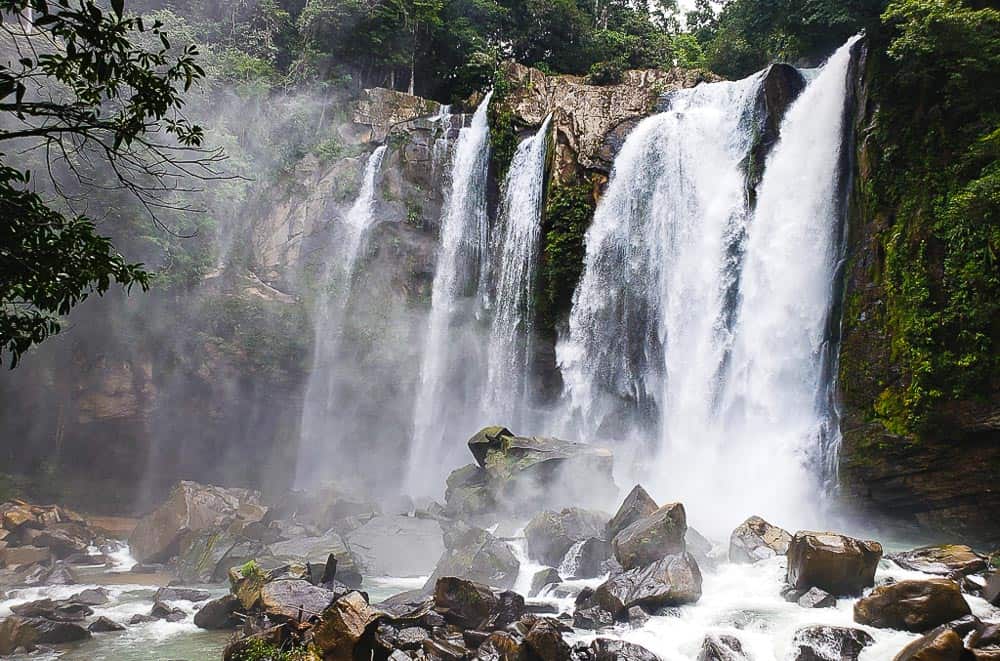 Costa Rica: Lush, green, and tropical
Costa Rica has a tropical climate and two distinct seasons, dry and rainy. Dry season is from December to April, and is locally referred to as the summer. Rainy season runs from late April to early May until December.
For chances of more sunshine hours, most travel guides recommend visiting Costa Rica between December and April. That is some sane advice. However, if you are willing to pack a raincoat and do not mind a few showers here and there during your trip, you can explore this lush tropical country when it is at its greenest.
We love Costa Rica during the rainy season because the tropical forests have a fresh appeal, the waterfalls are fuller and some of the most popular travel experiences like hiking, zip-lining, and soaking in hot springs do not stop because of the rains.
In fact, during the rainy season months, you get to experience some of the most unique wildlife sightings. Humpback whales from the south migrate to the warm tropical waters along the south Pacific coast of Costa Rica. Thousands of Olive Ridley Sea Turtles come for nesting at Ostional Beach on the Nicoya Peninsula. The endangered Green Sea Turtles arrive for nesting at Tortuguero Beach on the Caribbean coast.
September and October are the rainiest months on the Pacific coast, whereas on the Caribbean side, October is one of the sunniest months. Pacific coast sees a mini summer in the month of July. So, for choosing the best months to visit, first pick the places you wish to visit and the activities you want to experience.
Rainy season in Costa Rica is not like typical monsoons where it rains incessantly. You get to enjoy sunny mornings as it usually rains in the afternoons. So, plan your activities for the morning, and enjoy the afternoons with a book and a cup of Costa Rican coffee.
Contributed by Pubali and Indranil from Paradise Catchers.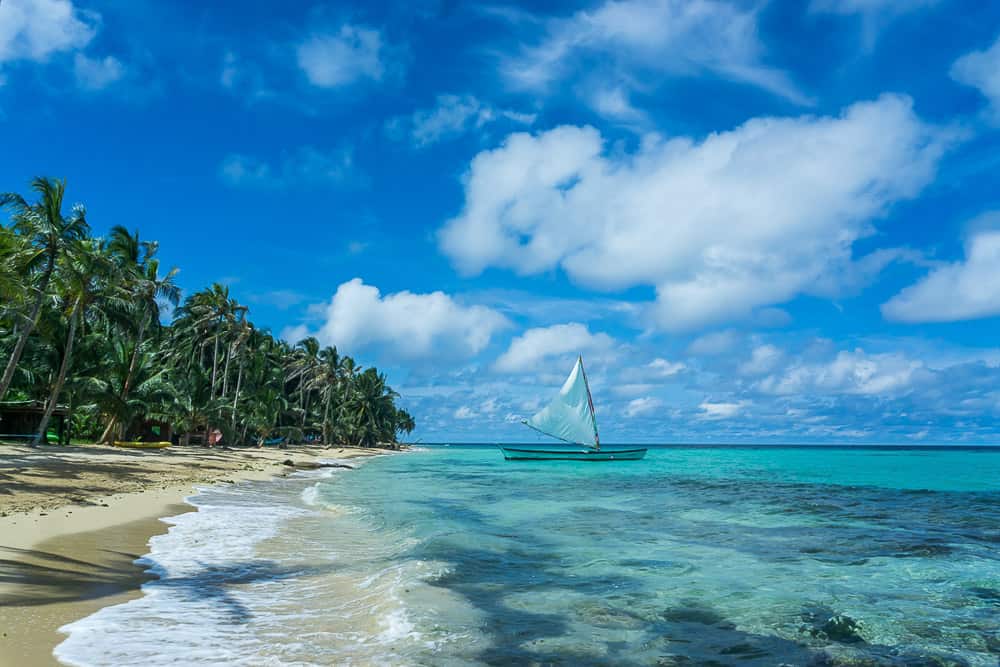 Nicaragua: Paradise found
What you find in Nicaragua during the wet season is gorgeous lush green scenery – which is why I would recommend travelling to Nicaragua during the wet season.
Nicaragua's rainy season lasts from May to October, although the temperature doesn't change much given the country's tropical climate. I spent the whole month of October travelling through Nicaragua, visiting both coasts. Surprisingly, I only experienced light showers in the afternoons and no torrential downpours, even though October is the wettest month.
Since the rainy season is considered off-season, accommodations and tours are cheaper, and it is unnecessary to book in advance. I was greeted by friendly locals everywhere I went, with only a few other travellers in sight.
During the day, you can hike volcanoes and surf, and in late afternoons when the chance of showers is the highest, enjoy swinging in the hammock on the beach or trying some traditional Nicaraguan food.
I highly recommend hiking Cosiguina volcano in Potosi, surfing and releasing turtles at Jiquilillo beach, hiking Maderas volcano on Ometepe Island, and last but not least, visiting Little Corn Island.
Little Corn Island is an untouched slice of paradise in the Caribbean. There are no hotel chains, resorts, or roads on the island. Everything is within walking distance, you live among locals, and you can have the beach to yourself. Paradise found.
Contributed by Maya, an adventure athlete who travelled around the world and shares adventure travel guides on her blog, Travel with the Smile.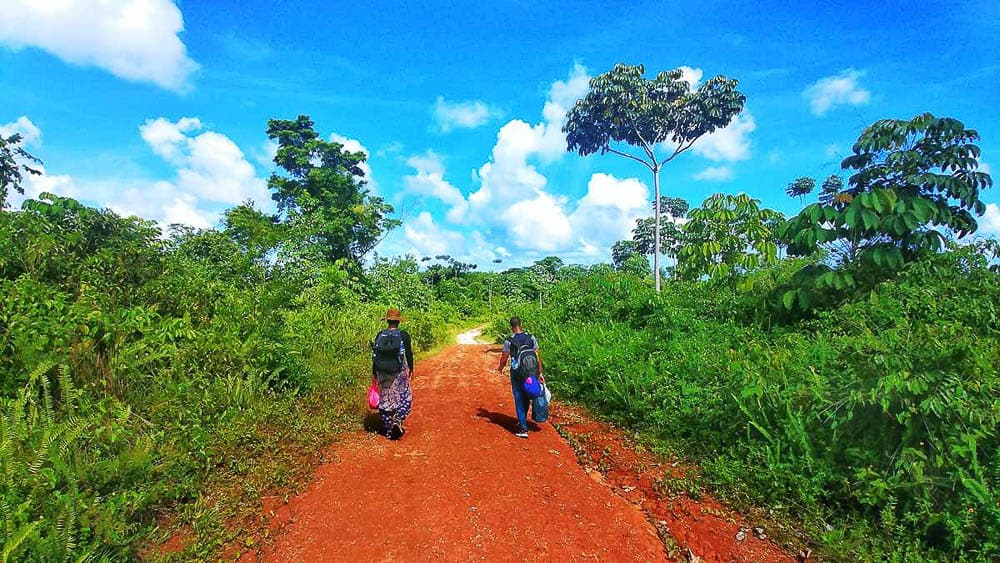 Dominican Republic: Tropical showers
The Dominican Republic is one of the best countries to travel to during the rainy season, particularly as the climate is still very pleasant. During the rainy season, the weather in Punta Cana and the Dominican Republic consists of short and intense rain showers that last 15-20 minutes, usually around 2-3 times a day, and a lot of sunshine in between. There are few overcast days during the rainy season, which makes it a perfect time to travel – particularly as the prices for hotels are lower than during the dry season and the tropical vegetation shows its entire green and lush beauty.

The rainy season in the Dominican Republic lasts from May to November, with September and October being the wettest months.
The hurricane season in the Caribbean is between June and November, with August to October being the most active months. However, also during those months, the chances of being affected by a tropical storm or a hurricane are low, as they usually run past the Dominican Republic or just touch the country slightly.

During the rainy season, the best activities all include the tropical and lush vegetation of the Dominican Republic, as the colours are particularly intense. Perfect destinations for the rainy season are the Los Haitises National Park, the Samaná peninsula and the southwest.
The southwest region is particularly dry and therefore is not impacted as much by the rainy season. However, the southwest is only recommendable for adventurers on a road trip as you won't find the typical tourist infrastructure (beach resorts, guided excursions, etc.). For an easy beach holiday during the rainy season in the Dominican Republic, better pick Punta Cana, Bayahibe, or Samaná.

Special tip: always have a set of changing clothes in your car or your backpack. The weather can change quickly and heavy downpours – even if they only last 10 minutes, which is often the case – might soak you in a few seconds. However, don't worry, it feels like a natural shower and thanks to the tropical temperatures (and the sun which quickly will come out again), you definitely won't feel cold.

Contributed by Chris of Punta Cana Travel Blog.
---
If you enjoyed this post, you can.
Sign up for Dispatches in the sidebar and follow Breathedreamgo on all social media platforms including Instagram, Facebook, Pinterest, and Twitter. Thank you!