5 Best places to visit in Amritsar include the Golden Temple, Partition Museum, and the Wagah Border ceremony
Amritsar is a big, busy city in Punjab, near the border of Pakistan. There are many places to visit in Amritsar, owing to its location and history, such as the Harmandir Sahib – Golden Temple – and the newly opened Partition Museum. Amritsar has often found itself at the front lines of history because of its location in the country's north-west – including during the birth of the nation. I visited for three days in March 2017 as a guest of the Taj Swarna Hotel, on a hosted media trip.
On August 15, 1947, history was made when India was declared an independent, sovereign nation – after more than 200 years of British rule and occupation. The Indian flag was hoisted above the Red Fort in Delhi, and independent India's first Prime Minister, Jawaharlal Nehru, gave his famous "tryst with destiny" speech.
Two days later, on August 17, 1947, the Partition of India was announced. A British lawyer, Cyril Radcliffe – who had little knowledge of India and used out-of-date maps and census materials – was tasked with drawing a line through Punjab, the gloriously fertile "land of five rivers" in north-west India, and Bengal, in east India.
Chaos erupted as the Partition announcement launched the largest mass migration in human history. Approximately 14 million people were displaced as Hindus streamed from the newly created Pakistan into India; and Muslims streamed from independent India into Pakistan. About one million people died in violent clashes during the mass migration.
1. Places to visit in Amritsar: The Partition Museum
The photos from this time are iconic. Mohandas K. "Mahatma" Gandhi at his spinning wheel in 1946, taken by Margaret Bourke-White for Life magazine. India's last Viceroy, Lord Louis Mountbatten, standing on the steps of Viceroy House in New Delhi during the Partition Talks. Prime Minister Nehru giving his speech on the ramparts of Red Fort. And, heart-breakingly, images of some of the displaced millions, carrying their meager possessions, crammed into over-stuffed trains, walking long miles on foot, or balanced on bullock carts, as they fled. And gruesome images of the dead lying the side of the road. Trains pulling into stations filled with slaughtered and mutilated corpses. Ad hoc refugee camps in Delhi.
I have long been fascinated by the independence of India movement, and the Partition. This period in Indian history, the mid-20th century, is one of the most dramatic and world-shaking. The ripples of are still felt to this day. So, I was really excited about finally visiting Amritsar, to see the brand-new Partition Museum, and the many other historic and spiritual places in this fascinating city.
The world's first Partition Museum  was still under construction when I was there in March 2017. It's official opening is on August 17, 2017 – exactly 70 years to the day when Partition was announced. Housed in the historic Town Hall, in the centre of Amritsar, it contains exhibits, photos, memorabilia, and creative work that acknowledges the sacrifices, hardships, and triumphs of this historic event. Though a small museum, I still found it to be big in ideas and impact.
Exhibits trace the history of Partition, and provide context and historical background for those who are unfamiliar with modern Indian history. Memorabilia and oral histories bring the events to life and give them a human dimension. A phulkari (Punjabi shawl) and briefcase, for example, were two of the few possessions a young couple carried with them when they fled their homes. Their story is written next to the display – each lost family members to the massacres, and they lost each other, too, before they were miraculously reunited in a refugee camp. Read more about the Partition of India in Remembering Partition, Unknown and unsung heroes of Partition and The hidden story of Partition.
2. Places to visit in Amritsar: The Golden Temple
When it comes to places to visit in Amritsar, number one is Harmandir Sahib. Also known as the Golden Temple, this Gurdwara is at the centre of the Sikh religion – and the centre of the city. A large percentage of people in Amritsar (and Punjab) are Sikh, and of course many more are drawn to the city to visit this astounding place. I had long wanted to go, and was not disappointed when I finally visited. It lived up to all my expectations and more.
I took the overnight train from Delhi, and arrived in Amritsar late in the morning of my birthday, March 8. The Taj Swarna Hotel, which had just opened, sent staff to pick me up at the station. For the next three days, this new luxury hotel in Amritsar treated me to a huge suite, warm and hospitable service, excellent food, and some wonderful opportunities to tour and get to know the city. After checking in and having a quick lunch – I was quick to order famous Amritsari fish when I saw it on the menu at the Taj Swarna – the hotel staff drove me to the Golden Temple and gave me a personal tour that lasted the entire afternoon and into the evening.
I immediately loved the atmosphere, which managed to remain serene and peaceful, even though it buzzed with activity as volunteers cleaned, ushered visitors, and of course cooked and distributed massive amounts of food in a practice known as langar. This is the term for the free vegetarian meal that is served at Gurdwaras to all who visit – without distinction of religion, caste, gender, economic status, or ethnicity. At langar, all people eat sitting together on the ground, as equals.
The kitchens at the Harmandir Sahib serve more than 50,000 meals per day. At different times when I was there, I helped distribute rotis, drank milky sweet chai, and sat and ate the langar on the floor, in a long row of people from all religions, all walks of life, all ages. It was an uplifting experience that brought home the message of Sikhism, and of spirituality: we are all brothers and sisters, all part of one family.
I was so impressed with the Harmandir Sahib for both pastoral and spiritual reasons. I truly felt a deeply peaceful, spiritual atmosphere and never wanted to leave. I can understand why some people sleep there. It's opened 24 hours per day, and the amplified prayers, which are for the well-being of the entire human race, ring out for about 20 hours per day, adding to the soothing vibe.
The Harmandir Sahib is also a very beautiful place, harmoniously designed, spotlessly clean, and dazzling with the picturesque gold-covered Golden Temple in the centre of the Amrit Sarovar, which means "the pond of the nectar of immortality." The discovery and excavation of this sacred tank of water dates back to the 16th century, and marks the founding of both the Harmandir Sahib and the city of Amritsar itself. Indeed, the name comes from the "Amrit" that flows in the Amrit Sarovar.
The dedication of the army of volunteers is another focus of my admiration. Not only do volunteers cook, serve, and clean up after more than 50,000 free meals per day, they also donate all the food used in the preparation. To serve is a very important tenet of the Sikh faith. And so is equality.
Anyone who visits the Harmandir Sahib can pick up a packet of free booklets that explain the Sikh faith. I've been reading the books, and the more I learn, the more my admiration for this religion grows. It was originally created to unite Muslims and Hindus, to transcend casteism, and to build a peaceful world community. Moral conduct, service to the community, social equality, and hard work are some of the other important aspects of Sikhism. I highly recommend picking up these books. For those of you who can't make it to the Gurdwara, there are some excellent resources online for learning about Sikhism. Thanks to Simran Jeet Singh (@SikhProf on Twitter) for the online recommendations.
3. Places to visit in Amritsar: Jallianwala Bagh
Recently, a beautification project in the area around the Golden Temple has made it a very pleasant place to walk and shop. I never saw it before, but now there is a wide, vehicle-free boulevard that retains the historical character of the place, and is dotted with impressive statues, dust bins, and a few benches. At one end is the Town Hall and the Partition Museum, at the other end is the Golden Temple. In between, among the shops and food stalls, is the entrance to Jallianwala Bagh.
On April 13, 1919, British Brigadier General Reginald Dyer's troops opened fire on a peaceful gathering within the confined space of Jallianwala Bagh and killed hundreds of civilians. It was one of the blackest days in the history of British India. There was nowhere for anyone to escape. Many jumped in a well and died. I've long been haunted by this horrible event, the Amritsar Massacre, and was nervous about visiting the site.
Jallianwala Bagh is now beautifully kept, and honours the memory of the people who lost their lives that day with statues, plaques, artwork and other memorials. I was able to remain calm until I came to the well, which is now covered and called Martyr's Well. I looked inside and the tears welled up. The tragedy of that terrible day seemed to be concentrated in that dark hole, and the horror and sadness filled me with feelings of grief. However, after spending more time at Jallianwala Bagh, and talking to a group of Sikh men gathered there, I felt better. At least this incident helped propel India towards independence. And it is not forgotten.
4. Places to visit in Amritsar: The old market
I was eventually able to enjoy the lively and vibrant atmosphere of central Amritsar. Together with my guide, we dove in and explored the narrow, ancient laneways of the old city – where the atmosphere is palpable with history and culture … and the smells of Amritsar's famous foods make you instantly hungry. Amritsar is the acknowledged culinary capital of Punjab, and that's saying a lot as I think the food I ate while in Punjab was just about the best I've had in my life.
As we walked those streets, my guide and I stopped at several places to try Amritsar's famous thick lassi, stuffed kulcha with chole (also known as chana masala), and gulab jamun. I have eaten gulab jamun all over India, but I have never tasted one as good as the one I had from a tiny, hole-in-the-wall sweet shop that looks like it's been there a hundred years. Later, I went to Makhan Fish Corner for more Amritsari fish, which is naturally gluten-free and melt-in-the-mouth delicious. I wrote about the food of Amritsar in this article for Outlook Traveller: Mustard Fields Forever. And for more in-depth and comprehensive guides to the sensational food of Amritsar, read Amritsar food trail with Vikas Khanna and Guide to eating out in Amritsar.
Note to my readers: I am actually a Celiac and have to eat a gluten-free diet. I made an exception in Amritsar to try kulcha and the gulab jamun. I felt unwell for about a day, but it was worth it.
5. Places to visit in Amritsar: The Wagah Border Ceremony
This is actually a place to visit NEAR Amritsar! I never went to see the border ceremony at Wagah. However, Ellie Cleary from Soul Travel Blog wrote this account from her recent visit:
"Flags and hats with India's colours were being sold along the admission queue, on the Indian side of the border with Pakistan, where hundreds were waiting for entry to the ceremony. Once inside the stadium, building work to add more seating capacity was visible on both sides of the border. A sign of growing tourist numbers, or a bid to outdo one another? Loudspeakers on either side also bid to outdo one another. While the Indians may have won the numbers game, the Pakistanis definitely had the better music.
The flag bearers ran in and a deafening cheer rose up from the crowds on both sides. Thirty minutes later, we heard a final whistle, and saw high marching, and a blink-and-you'd-miss-it handshake between officers. The gates between India and Pakistan clanged shut once again. You'd be forgiven for thinking you'd come to a long-anticipated cricket or football match.
Perhaps the biggest surprise of this experience is that the ceremony takes place at all. Seventy years on from the tragic events of Partition in India, relations between India and Pakistan are arguably as tense as ever. That the line drawn down Punjab in August 1947 resulted in the largest migration crisis in human history is a fact still omitted from too many history books. Knowing that more than 14 million people fled or left their homes when Partition was announced, and seeing that line, makes the border experience even more real. Through the separating trees comes the harsh reminder that Punjab was once happily one. The faces looking at each other from either side of the gate are remarkably similar.
Just 35 kilometres from Amritsar, the famous spectacle of the Wagah border ceremony draws in hundreds every day and is popular with Indian tourists and foreigners alike. You can get a shared pickup or rickshaw from outside the Golden Temple, or for greater comfort and much less waiting around, organize a private taxi.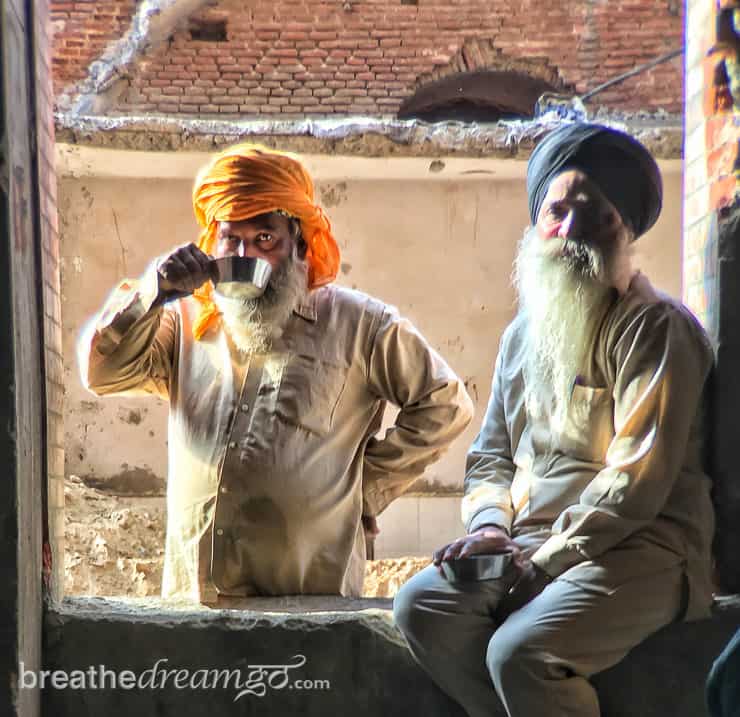 ---
Thanks to the Taj Swarna Hotel
Thanks to the Taj Swarna Hotel for hosting me in Amritsar. Newly opened when I stayed there, the Taj Swarna is one of the only luxury hotels in Amritsar. It's fresh, elegant, and modern … and the history, culture, and design of Amritsar is tastefully incorporated into the decor. I ate classic local dishes such as Amritsari Fish in the Grand Trunk restaurant and my spacious suite was decorated with artful photographs of the historic city. I also tried out the spa, and had an excellent massage, and had a session with a personal trainer in the gym. Away from the centre of Amritsar, the Taj Swarna is a destination hotel, and has a lot to offer. It was my birthday when I was there, so I experienced the top-notch service offered by the hotel first hand. They made me feel very special! Though I was on a hosted #mediatrip, as always, my opinions are my own, my stories are heart-felt and I only make recommendations based on personal experience and with the needs of my readers in mind.
---
Pin to Pinterest

---
If you enjoyed this post, you can….
Get updates and read additional stories on the Breathedreamgo Facebook page.
Follow Breathedreamgo on Instagram.
Follow Breathedreamgo on Twitter.