INDIA HAS SOME of the best beaches in the world, from the white sand beaches of Goa, to the palm fringed beaches of Kerala, to the tranquil beaches of Karnataka. With more than 7,500 kilometres of tropical coastline, there are beaches for everyone in India. There are many, many others but this is our guide to the best beaches in India.
Many coastal areas in India are lined with famous beaches that feature dramatic cliffs, excellent surfing, underwater cave diving, dolphin watching cruises, amusement parks, traditional rituals, gorgeous sunsets, and much, much more. The longest beach in India is an urban playground in Tamil Nadu, some of the best offbeat beaches are in Maharashtra, and there are even some (unofficial) nude beaches in India.
Let us guide you to some of the best beaches in beautiful India and what you can expect from each one.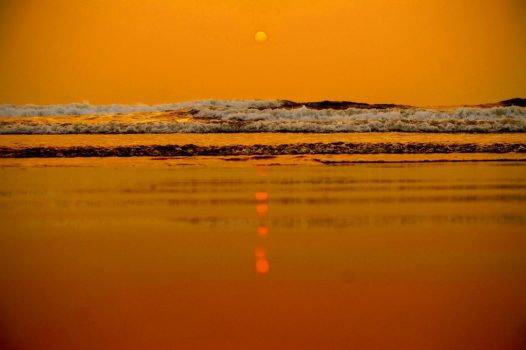 Tarkarli Beach, Maharashtra
The beaches of Tarkarli, Malvan, and Devbag are among the finest and most tranquil on the beautiful Konkan Coast in Maharashtra, and many believe some of the best beaches in India. Here, you find serene fishing villages, cashew farms, narrow roads, plus many beachfront guest houses, homestays, and other affordable options. It's an area that has yet to see development set in, so enjoy it while you can.
Nearby, you can also find many activities such as some of the best snorkelling and scuba diving available from mainland India.
The beaches of Goa
Goa is India's most famous beach destination, and the names of Goa's beaches are like music to sun and sea worshippers. The tiny state is divided into north and south, with the capital city, Panjim, in the middle, at the halfway point. Generally, north Goa is more boisterous, developed, and crowded than south Goa, and has a party vibe. For quieter beaches, more forests and greenery, and a laid-back vibe, head to south Goa, which is more of an offbeat Goa.
Arambol, North Goa
With a laid-back feel, budget-friendly Arambol beach is ideal for backpackers. Beach shacks serve delicious local specialties like Goa seafood curry and there are some affordable accommodation options such as ocean-facing beach huts.
Anjuna, North Goa
Famed for its weekly flea market, Anjuna has a slender beach lined by cliffs. A hotspot for tourists since the 50s, some consider it the best beach in Goa. It is certainly one of the most lively.
If you're looking for water sports, Anjuna beach has it all, including bungee jumping, jet skiing, and banana boats.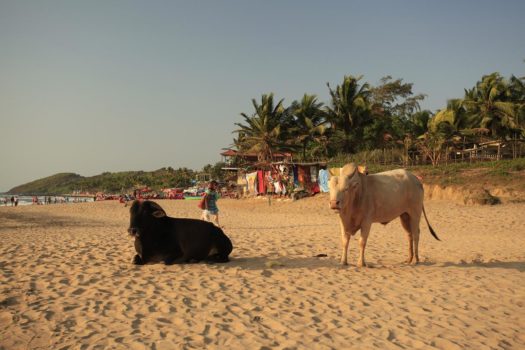 Agonda, South Goa
Agonda beach is a wide crescent of golden sand framed with coconut palm trees. It's a tropical paradise, relaxed, roomy, and tranquil. Agonda attracts Yoga students, older travellers, spiritual seekers, and all those who relish nature and serenity. The gentle surf is ideal for swimming and bodyboarding. Small resorts, beach huts, seafood restaurants, and cafes line the beach, which is still not overly developed. Agonda is one of the best beaches in India, and one of my personal favourites.
Nearby Cola Beach is within walking distance. It features a beautiful lagoon that is extremely popular with kids and a peaceful place to wade. For families with little ones, this is a popular beach to visit in south Goa.
Palolem, South Goa
In the deep south of Goa, near the Karnataka border is Palolem Beach. Palolem is a perfect crescent with gentle, turquoise waters and a sandy bottom, ideal for families and groups of friends. You can rent kayaks, paddle boards, and find lots of other activities too, such as Goan cooking courses and organic farm visits.
Nearby Patnem Beach is popular with foreigners, artists, and those looking to get away from it all. Here you will find fishing villages, a community vibe, and a Yoga scene. Patnem, a bit rougher than Palolem, is bordered by rocky cliffs, dotted with beach shacks, and much less busy.
The beaches of Karnataka
Gokarna, Karnataka
Slightly off the beaten track in northern Karnataka, you'll find Gokarna. The white-sand beaches of Gokarna are interspersed with rocky coves, plus cliffs that offer stunning sunset views. It's a quiet, off-grid beach, with good swimming, a few beach shacks, and plenty of activities from kayaking, to Yoga, to surf school.
Gorkarna has gorgeous paths that wind along the Arabian Sea coast offering access to many of the most well-known beaches such as Om Beach, Kudle Beach, Half Moon Beach, and Paradise Beach. With a laid-back vibe and fewer tourists, this beach town is a perennial favourite for those seeking tranquility, peace, and privacy. These are among the best beaches in India, without a doubt.
Kapu and Malpe Beaches, Karnataka
Kapu Beach, near Udupi in Karnataka, is a popular beach with locals. Wide, expansive sands and a famous old lighthouse make it a star attraction in the region. There's generally a festival atmosphere on Kapu Beach, with plenty of snack food stands and beach shacks nearby. And if you climb up the lighthouse, which is open to visitors during certain times of the day, you will be rewarded with an incredible view of the beach and the sea.
For a more peaceful and beautiful beach, that is also much less commercial, try Malpe Beach about a 30 minute drive north. Shimmering white sand, clear water, and rippling sand bars that stretch way out into the ocean make it ideal for swimming and sunbathing.
The beaches of Kerala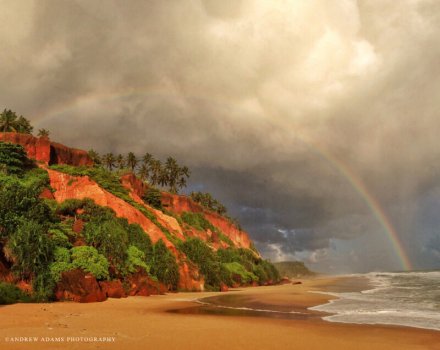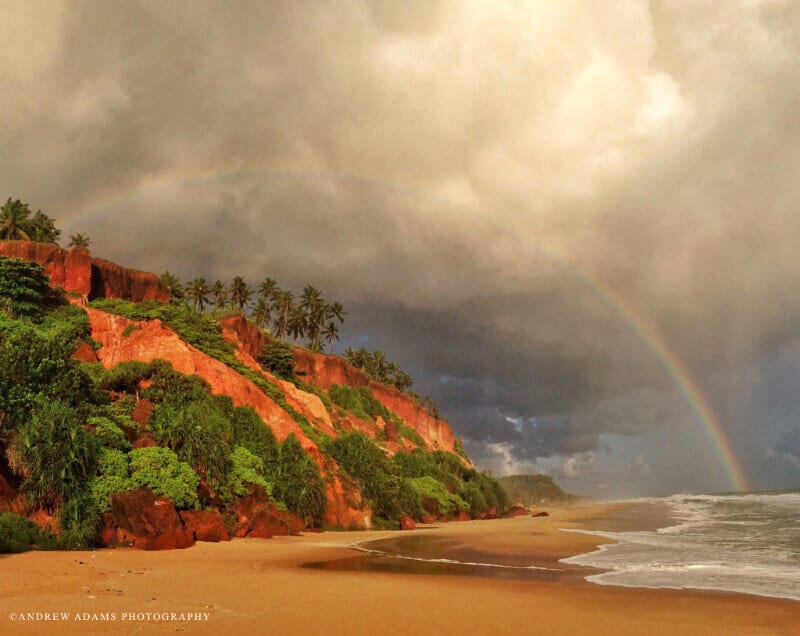 Varkala Beach, Kerala
There is no question that Kerala is home to some of the best beaches in India, both north and south. Southern Kerala has twin beach towns on either side of Thiruvananthapuram (Trivandrum). To the north is Varkala, a lively beach popular with backpackers and surfers. Varkala is divided in two, at one end is the busier tourist hub. At the other end is the traditional town, a pilgrimage centre with an ancient temple and a sacred beach where pujas are performed daily.
The impressive red cliff that rises above the beach to the north is the centre of the tourist hub, and is lined with restaurants, cafes, guest houses, resorts, souvenir stores selling hippie wear, Yoga schools, and Ayurveda centres – all with an incredible view of the Indian Ocean, especially at sunset.
Kovalam Beach, Kerala
To the south of Thiruvananthapuram (Trivandrum) is the well known beach town of Kovalam. Kovalam beach itself is busy and too overly developed to be called pristine, however, the beaches near Kovalam are lovely. I especially love the Chowara area, about eight kilometres south of Kovalam. the beaches are beautiful and as an added bonus, there are a lot of great Ayurveda resorts in this area.
The beaches of Tamil Nadu
Most of the best beaches in India tend to be on the western coast, along the Arabian Sea. On the other side of the country, however, the coastline of Tamil Nadu along the Bay of Bengal has some beaches that are renowned for a variety of reasons.
The longest beach in India
The longest beach in India is Marina Beach in Chennai. At six kilometres, it is also the second longest urban beach in the world. Marina Beach runs the length of the bustling city of Chennai, one of the largest cities in India. It is very much an urban beach, dotted with statues, food stalls, and amusement rides, and crowded with families and friends who gather to picnic, stroll, and enjoy the sea breeze. No swimming or bathing is allowed on Marina Beach as the current is very dangerous.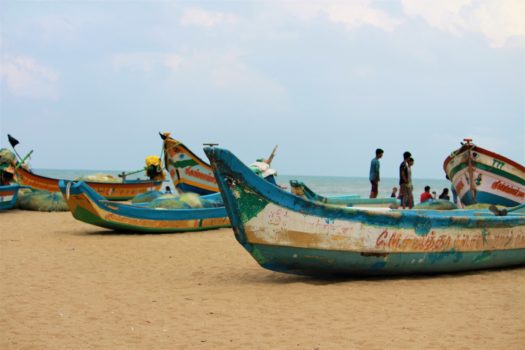 Pondicherry, Tamil Nadu
Pondicherry (now known as Puducherry) is a historic town with a French colonial past, which can still be seen in the small "French quarter" of the city, near the coast. Brightly coloured French colonial buildings host restaurants and boutique hotels, and people stroll the wide promenade that lines the sea front. Here, the beach is rocky and the waves are very rough, so no swimming, bathing, or boating is allowed, but locals and tourists alike enjoy the promenade.
Nearby, within driving distance, you can find more peaceful beaches suitable for sunbathing, boating, and swimming such as Paradise Beach and Serenity Beach.
The beaches of Odisha
Puri Beach
One of the most popular beaches in India, Puri Beach in Odisha is a famous destination for both pilgrims and holiday makers. Though it's a large beach, it is often crowded. For those who prefer a more tranquil beach, try nearby Gopalpur-on-Sea, an old-fashioned beach town with a quaint vibe.
Chandrabhaga Beach's Blue Flag status
In 2018, Chandrabhaga Beach in Odisha "became the first beach in all of Asia to receive the iconic Blue Flag certification, one of the world's most recognized eco labels awarded to beaches and marinas that have met a series stringent educational, safety, environmental, and accessibility criteria."
According to this article on community based tourism and conservation, "This incredible recognition of Chandrabhaga beach marked an important milestone in India's journey towards a Clean and Green India and inspired the authorities in different states to work towards achieving the prestigious certification."
"India exhibits a strong commitment to protect and conserve the pristine coastal and marine ecosystems through holistic management of the resources. India has recently provided some exemplary models of environmental conservation and protection in the tourism sector. "
Tips for visiting Indian beaches
If you've never been to India before, there are a couple of things you should know about visiting the best beaches India has to offer.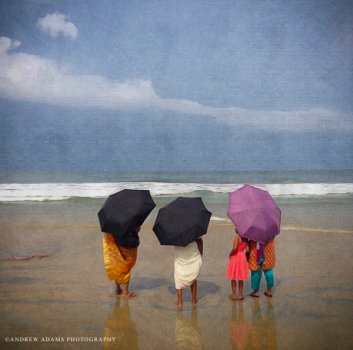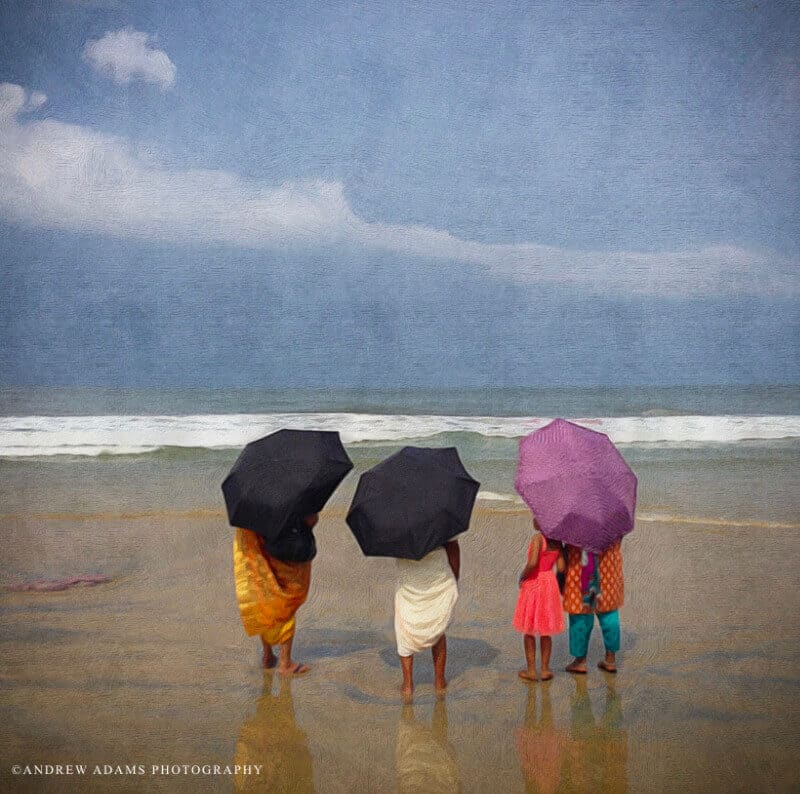 Best time to go to a beach in India
In general, there are three seasons in India: winter, summer, and monsoon. India's beaches are best enjoyed during the winter months from November to March, as they are warm and tropical, and offer a respite from colder climates. All of the best beaches in India are enjoyable at this time. April to June is the hottest time in India, and it will be too hot, even on the beach
But don't let monsoon rains deter you from visiting India's beaches. Monsoon season brings rain to most of the country between June and September, and there is another rainy season between October and December in eastern India. You usually can't swim in the ocean during monsoon, but there are many other reasons to visit beaches in Goa, Kerala, and elsewhere during monsoon. In fact, many say it's the most magical time!
Dress modestly
Modesty is taken very seriously in India and as a tourist, it's polite to respect the culture. On the beach, swimwear is appropriate, especially in Goa. However, you'll see many locals swimming fully clothed, especially women. Personally, I wear a one-piece bathing suit rather than a bikini in India, and use a cover-up while walking to and from the beach. You can read up on what to wear in India here.
Nude beaches in India
Technically, there are no nude beaches in India as it is illegal to appear nude in public. However, people do sometimes find a quiet and private spot by walking away from busier beaches, over rocky cliffs, to secluded coves. Here they might swim and sunbathe nude if no one else is around, however, keep in mind it is still illegal.
---
If you enjoyed this post, you can.
Sign up for Dispatches in the sidebar and follow Breathedreamgo on all social media platforms including Instagram, Facebook, Pinterest, and Twitter. Thank you!