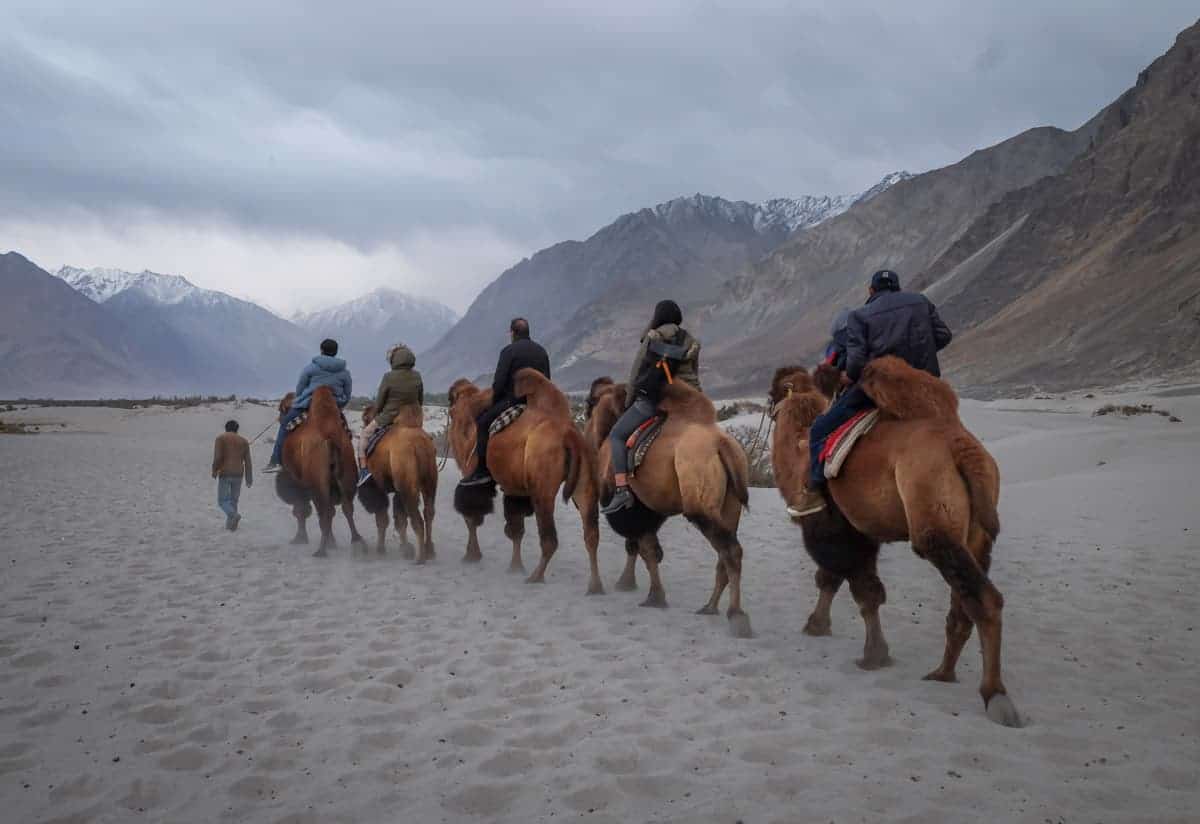 Essential Guide to planning your Ladakh Trip
FEW PLACES IN INDIA are as diverse and breathtaking as Ladakh, the high altitude desert that straddles the eastern part of India's northwestern horn. For a long time it was a part of the state of Jammu and Kashmir, but at the end of October 2019 Ladakh became a separate Union Territory. Its capital Leh is certainly one of the must visit hill stations in North India, and with its new status as a Union Territory, this is a perfect time to visit this former Buddhist Himalayan kingdom. Even if tourist numbers are up, get out of capital Leh and you'll truly find yourself in one of the most unexplored places in India.
This post outlines all you need to know to prepare for your Ladakh trip. From the best places to visit in Ladakh, to the best time to visit Ladakh, and deciding if going on an organized Ladakh tour or not, I will walk you through all you need to know to prepare your tour of Ladakh. With my suggestions, you'll enjoy all the beauty that Ladakh has to offer, from high altitude desert scenery to ancient monasteries where you'll learn the secrets of Vajrayana Buddhism.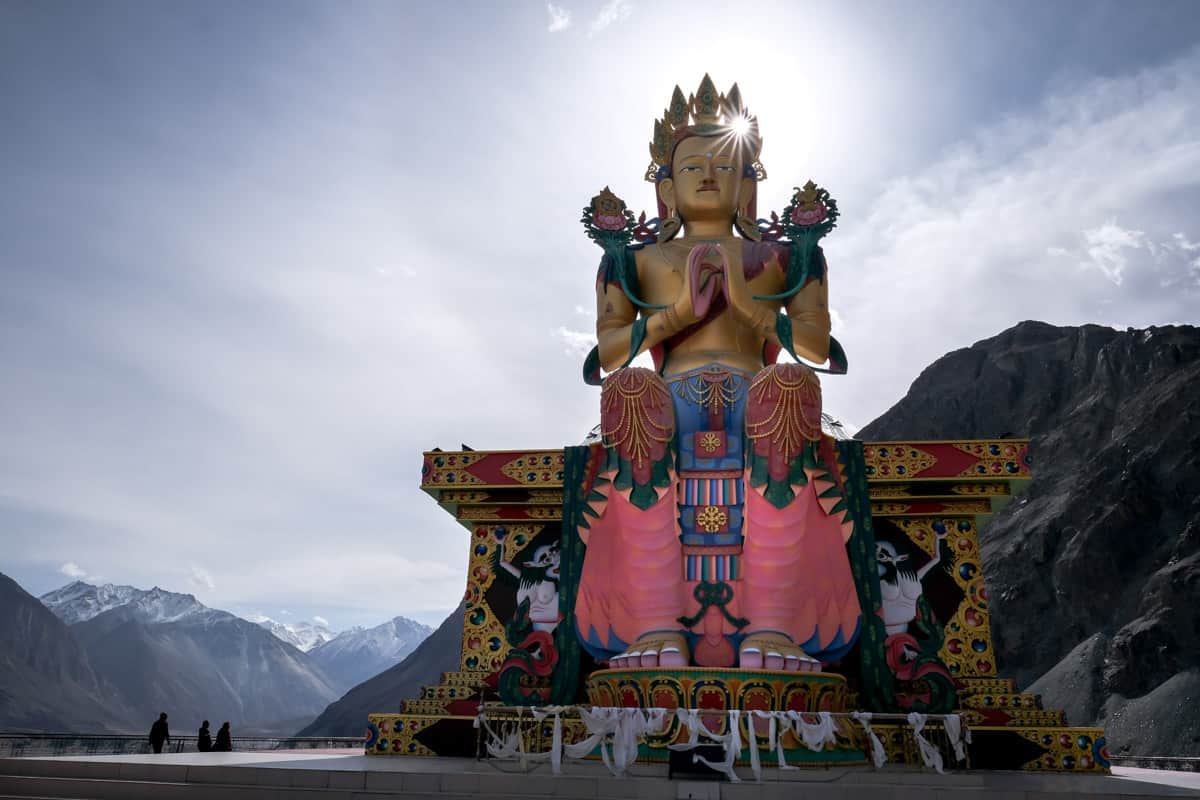 Taking a Ladakh tour: Pros and cons
To start with, Ladakh is not the best place for independent travel. The reason is simple: beyond the buses that connect it to Srinagar or Manali in Himachal Pradesh, there is very little in terms of public transport. Independent travellers sometimes bundle up with a few others and take a tour to one of Ladakh's main sites (usually, the Nubra Valley and Pangong Lake). You can try to organize this with a private driver (there are many hanging around Leh's main square, just north of the bus station), but because of language barrier, most travellers end up using one of the many agencies clustered in Leh's main bazaar.
Taking an organized tour
To save time, you may as well decide to come to Ladakh with an established tour operator. India Someday is one of them, and the Ladakhi chapter, Unplugged Life is a very responsible choice. They only employ local drivers through a local transport agency, promote responsible eco-tourism, and are also very conscious about disposing rubbish — a real necessity in a less-serviced, remote border region like Ladakh. Joining a tour will not only help you customize tour itinerary, but also reach the best places to visit in Ladakh quickly to enjoy the best of your time.
Responsible travel tips in Ladakh
Glaciers in Ladakh are melting not just because of global warming but also because of local pollution from vehicles. The exhaust particles released by vehicles settle on the glaciers; the white glaciers become darker, absorb more heat from the sun and melt faster. Problem is that glaciers are the only source of water for Ladakhis! Be a responsible traveller and follow the tips below.
1) Avoid hiring taxis with empty seats while travelling in Ladakh. Use shared taxis so that the number of cars as well as the impact on the environment can be reduced.

2) Avoid buying plastic bottles when you travel to Ladakh. During the tourist season, thousands of plastic bottles are thrown away each day. Ladakh doesn't have the infrastructure to recycle, and struggles to deal with this huge quantity of garbage. Tourists should refill reusable water bottles instead of buying plastic bottles. There are shops in Leh where bottles can be refilled with filtered water.
3) Public buses can be used to travel on the main Leh-Manali and Leh-Srinagar highways. However, when it comes to travelling within Ladakh and exploring the main tourist attractions, hiring a vehicle is the only option. Using a shared taxi not only reduces the tour cost, but also cuts down the carbon footprint. Shared taxis in Ladakh can be booked online here for Nubra Valley, Pangong Lake and other popular destinations.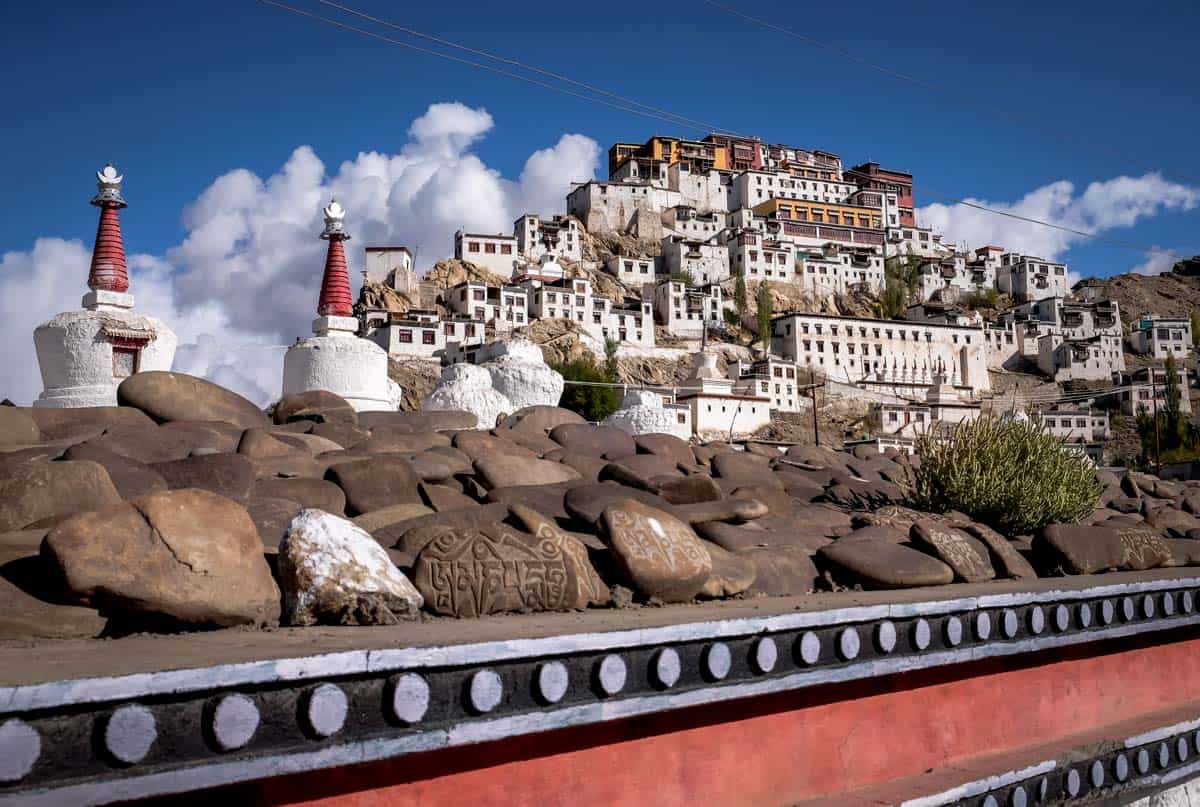 5 Best places to visit in Ladakh
Rest assured, you can't see all of Ladakh in one visit. The region offers a lifetime of exploration, and months' worth of trekking. But there are five great places to visit in Ladakh you should put on every itinerary.
Leh, Ladakh and surrounding area
Like it or not, every tour of Ladakh starts or ends in Leh. Whether you catch the short flight from Delhi, or travel by road for two days in a rickety bus via Manali and Keylong, relaxed Leh is a good place to rest and get acclimatized to high altitude — don't underestimate the risks, especially if you fly into Leh. It sits in a 3500-meters-high valley, surrounded by ash-grey peaks that look like the fangs of a dragon.
Leh has a beautiful palace overlooking the city, a main bazaar where you can find everything you need, and a couple of local markets selling home wares and warm winter clothing — a must if you forgot to bring some, for it gets chilly even in the summer months.
The Shanti Stupa, perched high on the opposite side of town, is another fantastic viewpoint to soak a wide birds-eye view of the Leh valley. Make sure you ambulate clockwise around the stupa itself, for this is a Buddhist place of worship.
You will find every comfort food in Leh, from local Tibetan dishes to western steaks, pizzas, and cappuccinos. In truth, tourism has brought in rapid development, but the old town, snuggled right at the bottom of Leh Palace, is still a timeless maze of alleys where you'll find plenty of local colour. Anyone interested in street photography should come here armed with a set of well-charged batteries.
Nubra Valley
The Nubra Valley lies 150 kilometres north of Leh on the way to the Pakistani border, and as such, foreign travelers require a travel permit to visit it. You can get a permit from most tour companies in Leh (it costs about 700 INR), or your tour operator will take care of getting it for you.
Nubra Valley was one of the ancient Silk Road routes into central Asia, and borders with the region of Baltistan in Northern Pakistan. Some of the people of Nubra are a mix of Balti and Ladakhi and have European features, though the majority are Ladakhi.
The people of Nubra live in a beautiful, narrow valley strewn with poplar trees and crossed by a long stretch of desert. It's quite predictable that the sand dunes near the village of Hunder are the main tourist draw in Nubra, and one of the best places to visit in Ladakh. Every day before sunset, locals bring out their Bactrian camels, offering joyrides into this surreal lunar landscape.
Truth be told, the place can get flocked with Indian families and feel touristy, but regardless, it's a fantastic place to visit in Ladakh. You may want to come here in the morning, when the dunes are very quiet and shimmer in the morning light, or, if you are the adventurous type, camping here at night is an option to enjoy the view of the Milky Way and a million stars.
Those who prefer comfort may opt to stay at Stone Hedge Hotel instead: this recently built boutique hotel has large rooms with plush beds and balconies facing a wide and green courtyard that's perfect to relax. There's an excellent restaurant on the grounds, and the views from the rooftop give a great perspective of the Nubra Valley.
Before you return to Leh, don't forget to pay a visit to the Diskit monastery, where a huge statue of the Buddha sits and looks out towards the northern end of the Nubra Valley. From here, the views are incredible.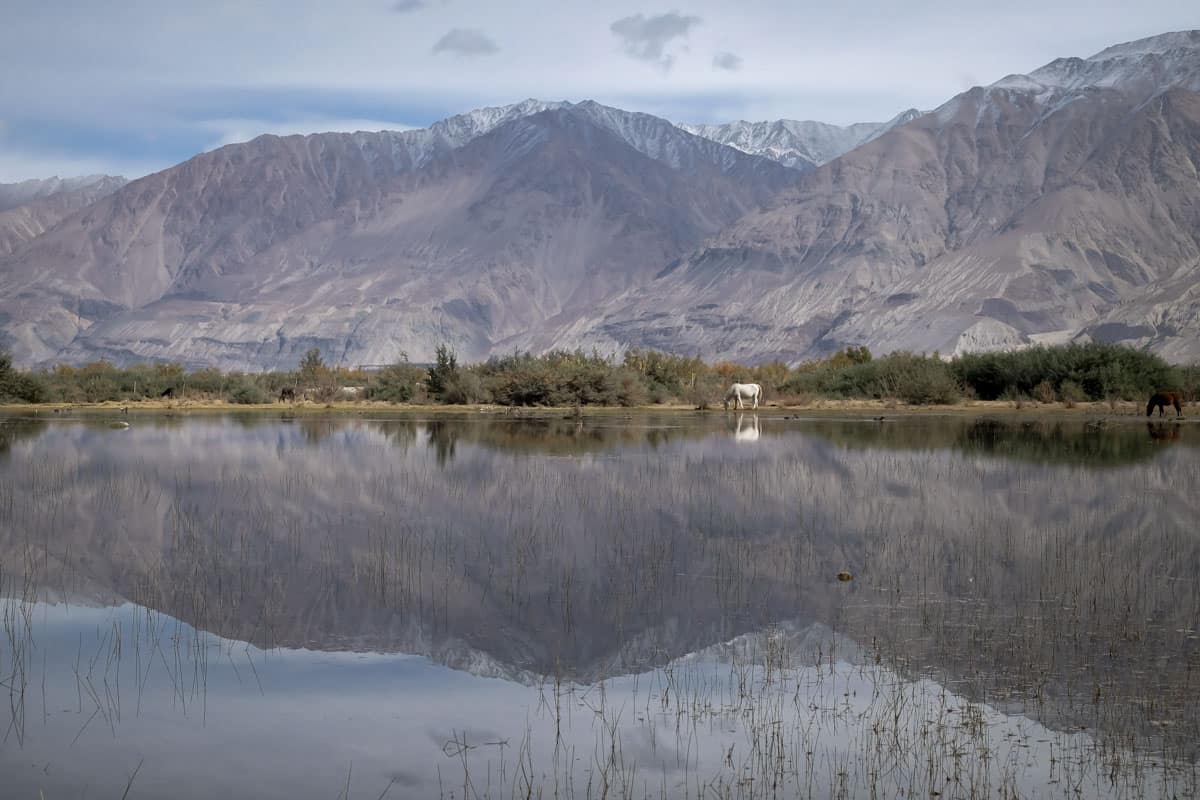 Pangong Lake
Perched at 4200 metres, this lake in eastern Ladakh stretches for a hundred kilometres into western Tibet. It's a hit with Indian tourists because it featured as a setting in the Bollywood blockbuster, Three Idiots starring Aamir Khan and Kareena Kapoor. Locals have learned well how to capitalize on this: you will see way too many Insta-friendly set ups placed along the shore for that joyful selfie opportunity. Oh well… let's focus on Pangong Lake's natural beauty.
Nestled between a wide, arid shore and a row of mountains that extend as far as the eye can see, Pangong Lake's beauty is the ever-changing colours of the water. Shades of dark blue turn into emerald green and indigo as the waves of this giant lake crash on the shore. Pangong is also a good place to see Tibetan birds in their natural habitat, but please remind that it's also one of the coldest places in Ladakh, and accommodation here is often provided in form of tented camps — in the summer — or simple cottages.
Try to avoid coming here during Ladakh's peak tourist season (July and August) as the place fills up with hundreds of noisy tourists. On the other hand, from mid-September onward, night temperatures here can plummet below zero, with strong, cold winds that will howl through the valley all night.
Hemis Monastery
Rising about 60 kilometres south of Leh, Hemis is the largest among Ladakh's monasteries and the setting of some of the region's best festivals, especially the Hemis Festival. Located behind a mountain face, it was founded in the 17th century and up to today has hosted hundreds of monks. It has a very interesting museum collecting artifacts and statues from many centuries past: the exhibit is well worth visiting, especially for those with minimal knowledge of Buddhism, as the many boards and explanations in English language make it much easier to get a grasp of this religion's most important concepts.
You could easily spend a full day here, walking around the large complex and visiting nearby meditation caves and rock inscriptions.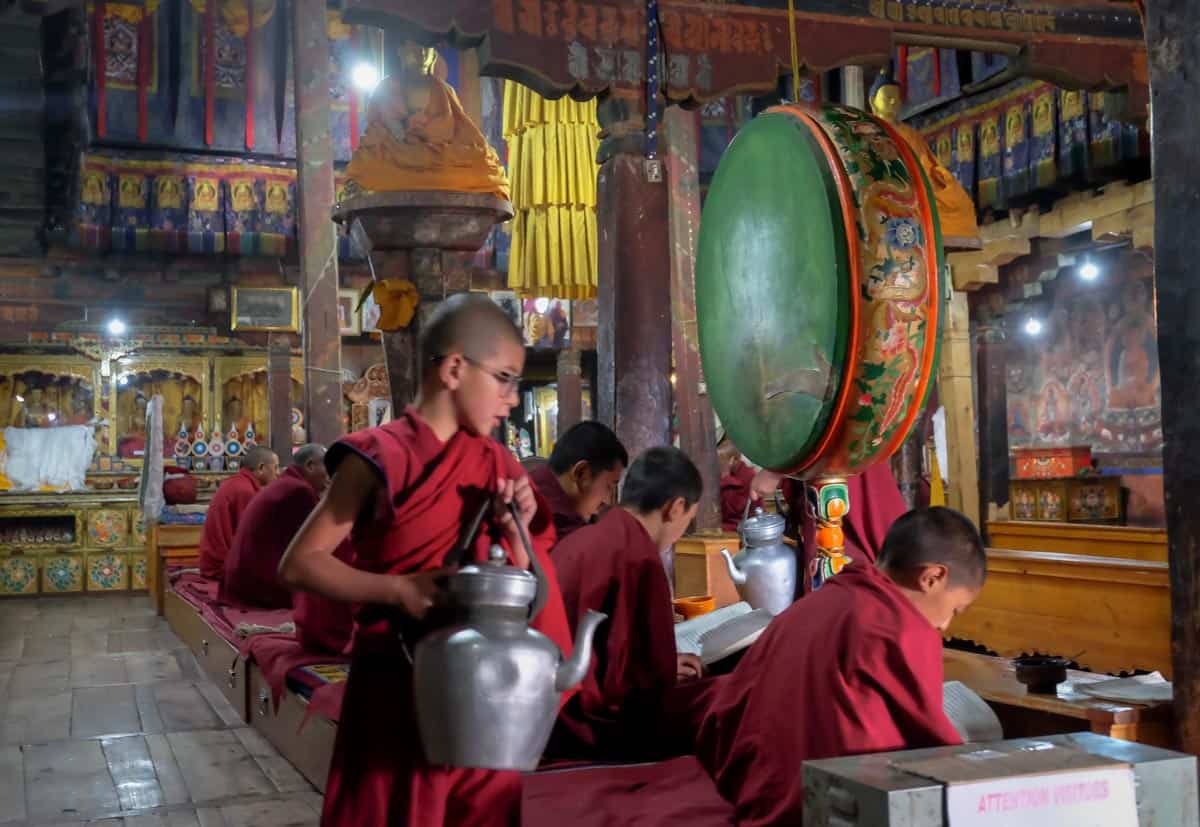 Eastern Monasteries
In only 19 kilometres east of Leh on the way to Manali are two more of Ladakh's most stunning monasteries, Thiksey and Shey — two some of the most stunning Buddhist monasteries in the Himalayas. The first is the most important place of worship of the Yellow Hat Gelugpa sect in Ladakh. Sitting majestically atop a cliff, it's layers of red and white resemble the Potala Palace in Lhasa, Tibet and welcome visitors into a world of devout mysticism. The best time to visit is in the early morning at 6.45 am, when monks congregate in the main prayer hall to chant. You may hear them send the call to prayer from the roof of the gompa, blowing into a conch shell or a Tibetan trumpet. Join them and sit silent at the right side of the prayer hall: you will be treated to a cup of warm butter tea while monks young and old go through their daily routine of learning.
Four kilometres back toward Leh is Shey, a worthy stop for its scenic yet crumbling palace and the Shey monastery, which houses a giant copper and gold statue of the seated Shakyamuni Buddha. A hike up to the palace ruins is an energetic activity that also grants beautiful views over the valley. If you still have some breath left, head down and explore the village to the side of the road. Don't miss the fields strewn with a series of old, crumbling stupas scattered along the countryside. It's another perfect spot to explore, meditate, or fill up a whole memory card with tons of great pictures.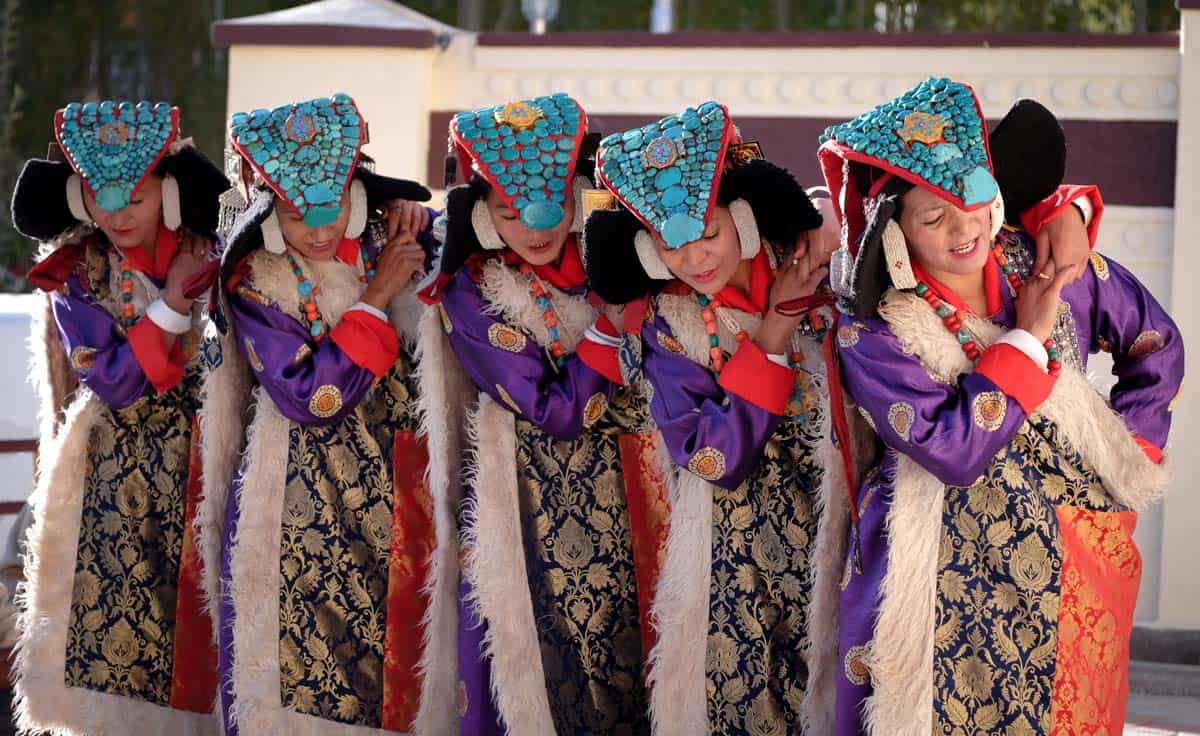 Best time for Ladakh trip
Now that you know where to go, you should consider that a Ladakh trip is very dependent on the region's short holiday season, which runs roughly from May to mid-October. Beyond this window, the weather is way too cold and days are too short to even consider visiting.
Also consider that the people of Ladakh really depend on tourism for their incomes, and with such a short tourist season, you may well understand that the place becomes more expensive and more packed in the months of June, July, and August.
Perks and problems of Ladakh trip in high season
High season in Ladakh runs roughly from late May to early September. Remember that, if going overland from Manali, the Rothang pass generally only opens from mid-June until mid-October. These are the best months weather-wise, perfect if you want to go trekking in Ladakh. You can do so bringing your own tent and camping gear, or by availing of the wide network of home stays open throughout the summer months even in the smallest of Ladakh's villages.
Photographers beware: a summer problem in Ladakh is that it's many rivers won't be very clear. With the increasing melting of high altitude glaciers caused by global warming, the waterways of Ladakh become soil rich and muddy in the summer.
Also, if you plan to spend most of your summer Ladakh trip in Leh, you may want to reconsider. Accommodation prices soar, the place gets congested with tourists and bikers — to Indian travelers, riding from Manali to Leh has become somewhat of a rite of passage these days — and at times it's hard to find a room. Try to opt for less busy destinations, such as Lamayuru and its beautiful monastery, or other Buddhist gompas, like those at Alchi (one of Ladakh's most ancient) and Likkir.
Perks and problems of Ladakh trip in off season
Off season in Ladakh means the shoulder months of May and September/October. Keep in mind that by October 15th, the season officially ends, and most hotels and restaurants in Ladakh close their business because it gets too cold. Flying from Delhi to Leh then becomes the best way to reach Ladakh, because roads are not well maintained, and landslide/snowfall can be a serious hazard.
May and September are by far the best months to visit and enjoy Leh: temperatures are just about right, with sunny days and comfortable nights, prices are lower, locals more happy to see the first or last few foreigners, and the city is free from the tourist circus you'd find in high season. On the other hand, it can get chilly, especially in October — homes in Ladakh have no central heating system, so beware if you are used to the warmer climate of other parts of India.
Also consider that it may get harder to find partners to team up and share the costs of a car and driver to Panggong Lake and Nubra valley with. If you travel in off season, it's best if you arrive in Ladakh with your own small groups of travel buddies, or consider a pre-arranged Ladakh tour.
At last, nature-wise, May and the fall are the best times to travel in Ladakh: the rivers are powerful and crystal clear, the trees have shades of yellow and red, and the morning light shimmering on those ash-grey peaks are just amazingly beautiful.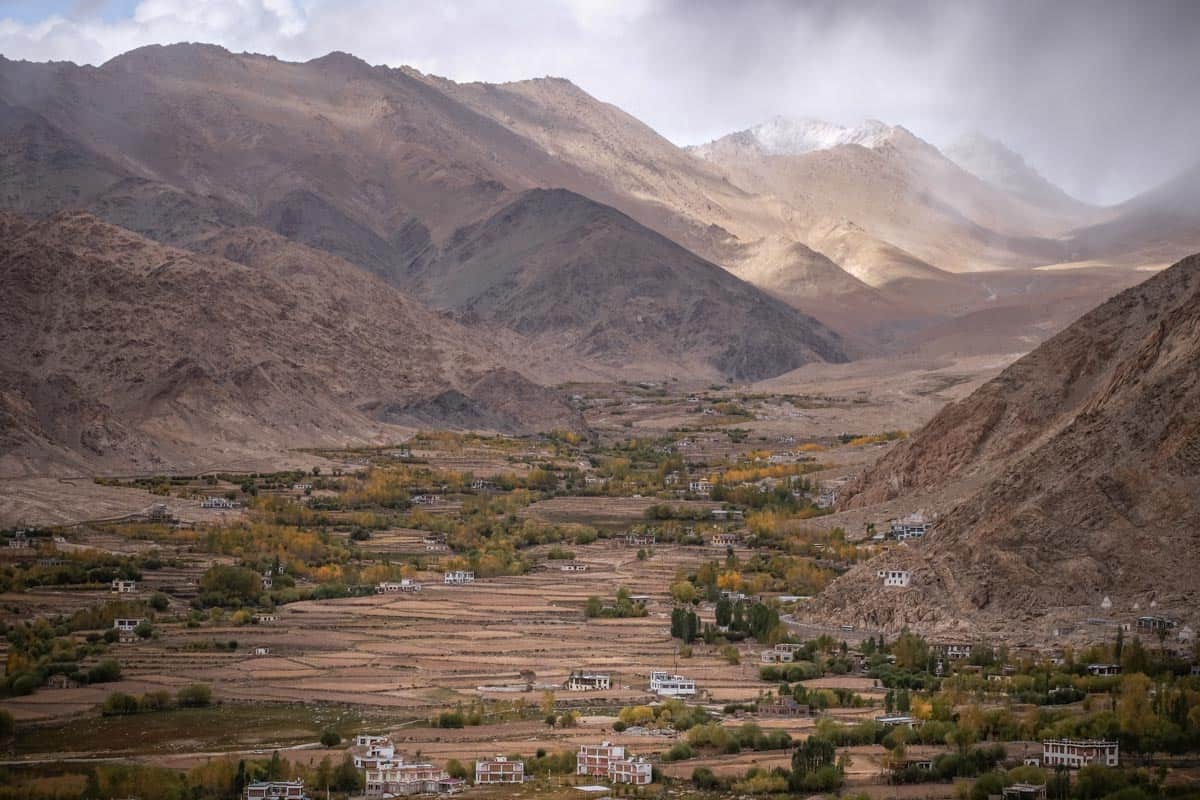 ---
Where to stay in Leh
We stayed at Gangba Homestay in Leh, which is one of the top-rated B&Bs in Leh. Gangba Homestay is a family-run lodging in located about 10 minutes from the main bazaar. Here you can wake up to the view of mighty Stok Kangri and Shanti Stupa outside your window.
Guest post by Marco Ferrarese of MonkeyRockWorld. All photos by Kit Yeng Chan.
---
If you enjoyed this post, you can….
Sign up to The Travel Newsletter in the sidebar and follow Breathedreamgo on all social media platforms including Instagram, TripAdvisor, Facebook, Pinterest, and Twitter. Thank you!