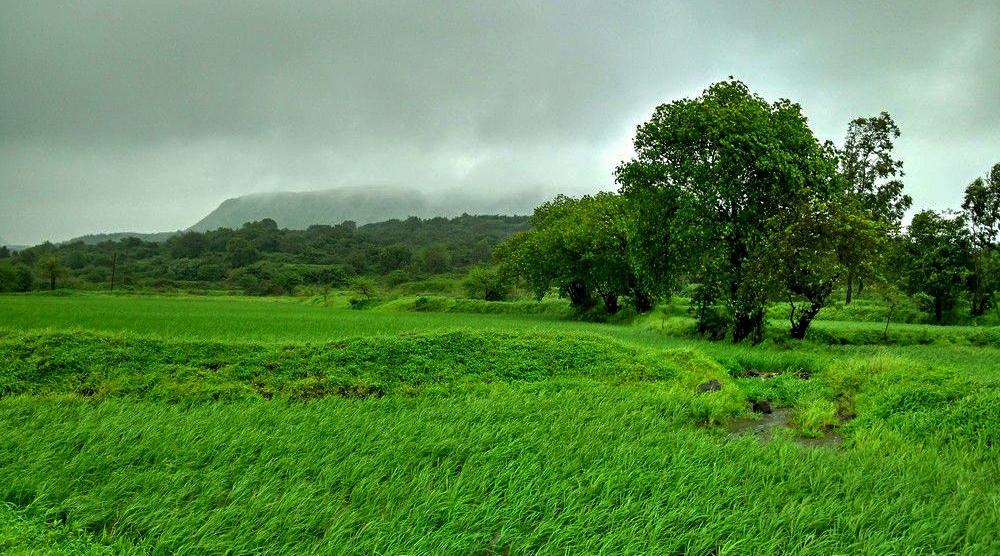 Top 12 monsoon destinations in India
THE INDIAN MONSOON is a very special time of year. After the broiling heat of spring and early summer, everyone welcomes the arrival of the southwest monsoon in India. The rain brings down the temperatures … and cools off temperaments, too. Monsoon means time to relax, enjoy snacks like chai and pakora, and celebrate the lushness of the season. Some destinations in India are seemingly made for the monsoon season.
I asked local experts for their favourite places to visit during the monsoon in India. Read on for insider tips on some of the best places to go during the monsoon — which typically starts in Kerala on June 1 and travels up the coast and across India until September. Do not hesitate to travel to India during monsoon, if you know where to go, you too can enjoy the rainy season in India. Here are the top 12 monsoon destinations in India.
TIP: check out this post about Best Offbeat Places to Visit in Bali to find out about visiting Bali in monsoon. And this post to discover the 14 Best monsoon travel destinations around the globe.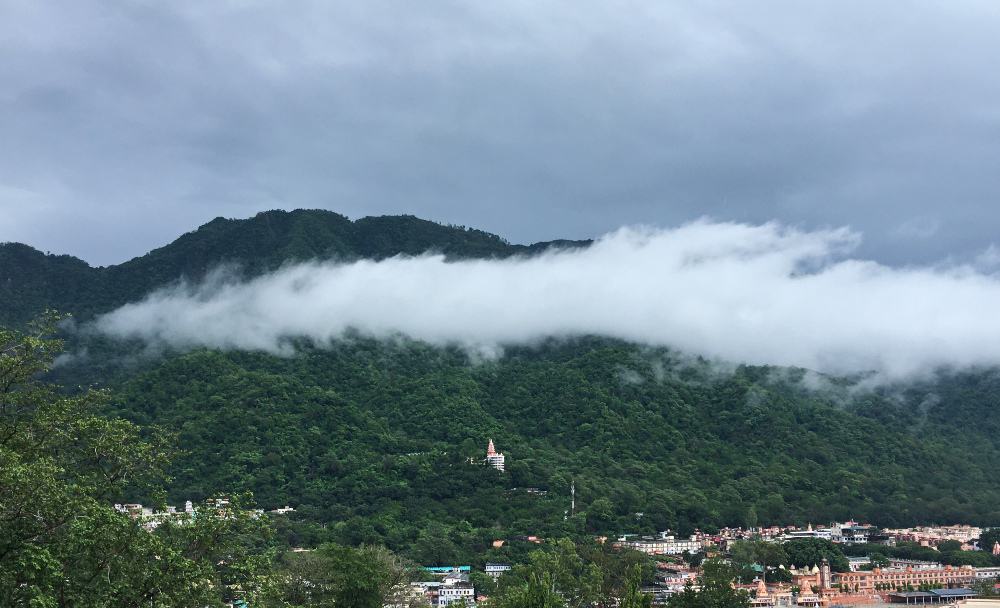 Rishikesh and the mountains of Uttarakhand by Mariellen
It's the mist that hangs on the mountains, a scarf of white clouds draped across emerald green forests, that gets me every time. Rishikesh and the mountains of Uttarakhand are beautiful in the monsoon. The sky is thick like an oil painting, the flora bursts with fecundity, and the rivers swell and run with ferocious energy.
I've spent two monsoon seasons in Rishikesh, thanks to the pandemic. Though the humidity can sometimes be overwhelming, I've learned to love the slower pace of life and the lush colours. Every stone wall has a patina of green moss, everywhere flowers bloom and butterflies flutter. The rain pours down at least once almost every day, the Ganga River rises and roars, and there's sometimes not much else to do except sip chai and watch the season unfold. Stroll among the jungle-like grounds of The Beatles Ashram or hike up to a nearby waterfall. Sip chai in The Beatles Cafe in Tapovan, with an astounding view of the river, and later enjoy one of the many evening aartis (song-filled rituals that take place along the river banks at dusk to honour the mother river of India).
If you have more time, take some Yoga classes — or better yet, spend time in a Yoga ashram. India is the birthplace of Yoga, and Rishikesh is the capital. You can read my recommendations about Yoga in India and in Rishikesh here. My favourite ashram is Anand Prakash Yoga Ashram in Tapovan.
Throughout Garhwal and Kumaon, there are many hill stations that can make for a relaxing break. My favourites are Landour (near Mussoorie) and Mukteshwar (near Nainital). Corbett Tiger Reserve is open all year 'round now, and there are several sustainable lodges with great in-house naturalists such as Vanghat Lodge, Jim's Jungle Lodge, and The Ranger's Lodge.
By Mariellen Ward, travel writer, blogger, and publisher of Breathedreamgo.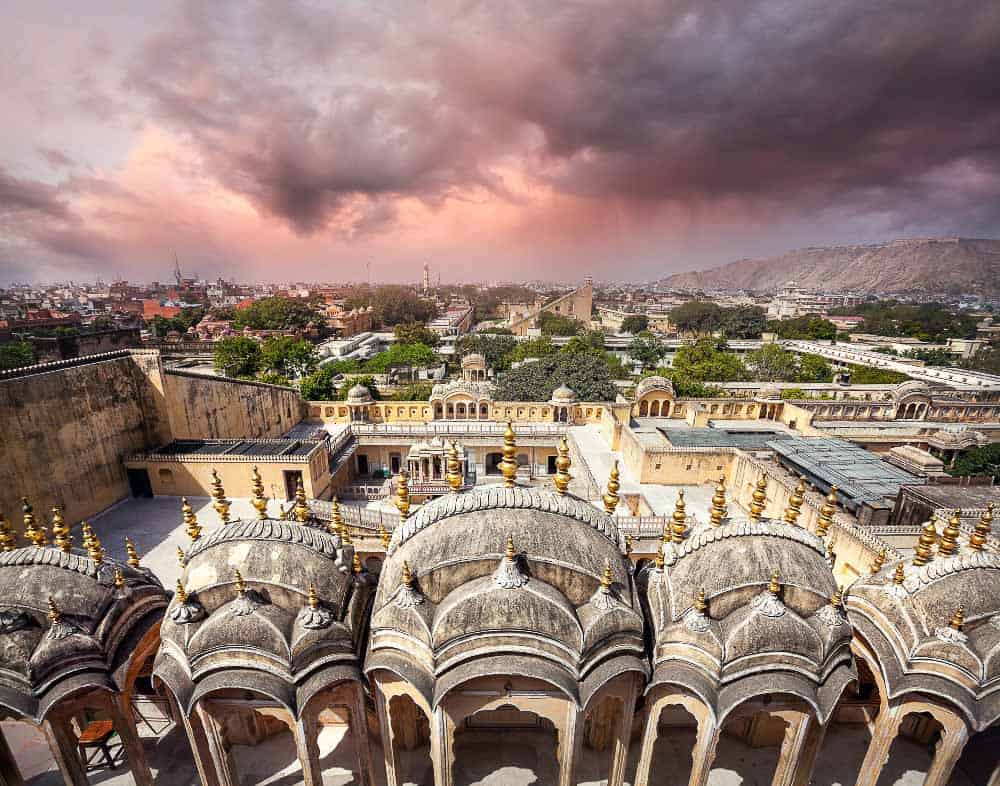 Jaipur, Rajasthan by Charu Goyal
The pink city of Jaipur has its own charisma come monsoon. With the Aravalli mountains covered in the most beautiful hue of green and the already splendid forts and palaces freshly washed down with raindrops, visiting Jaipur during the monsoon season is like seeing a newly painted canvas.
Begin your trip with driving to the iconic Amer Fort, where you will pass by Jal Mahal, the palace rising from the shimmering lake, the sky overhead dotted with graceful herons. Make your way to Maota Lake and admire the verdant landscape that looks even more delightful during the rainy season.
There is an off-the-radar viewpoint situated right across the main parking lot, offering a bird's eye perspective of both Amer town and the city of Jaipur. While there, savour the green mountainous views — uncommon in the desert state of Rajasthan.
Join us in India for Diwali!
Come to India with us and experience the Festival of Lights!
The India for Beginners Diwali and Fabulous Rajasthan small group tour, from Breathedreamgo, new date coming soon.
Tour includes sunrise visit to the the Taj Mahal, two tiger safaris, and celebrating Diwali in Jaipur. BOOK NOW!
The nearby Panna Meena Ka Kund is also a great spot to visit in monsoon as the baori fills up with rainwater, making it more soothing and more photogenic. Continue onto Jaigarh Fort and Nahargarh Fort that together with Amer Fort make the trinity that used to protect the old city. The Padao restaurant at Nahargarh Fort is a beautiful spot to watch the sunset over Jaipur.
The local beloved Tapri tea house (central location) is also a must-visit during the monsoon season. Make sure to get a table overlooking the lush central park and try a piping hot cup of masala chai. Steaming hot kachoris are also a must when it starts to pour — head to Rawat Mishthan Bhandar or Laxmi Mishthan Bhandar.
Charu is a full-time travel blogger and photographer from Jaipur, India. Along with travel guides about destinations in Asia and Europe, she also writes about photography and blogging tips on her website travelwithcg.com.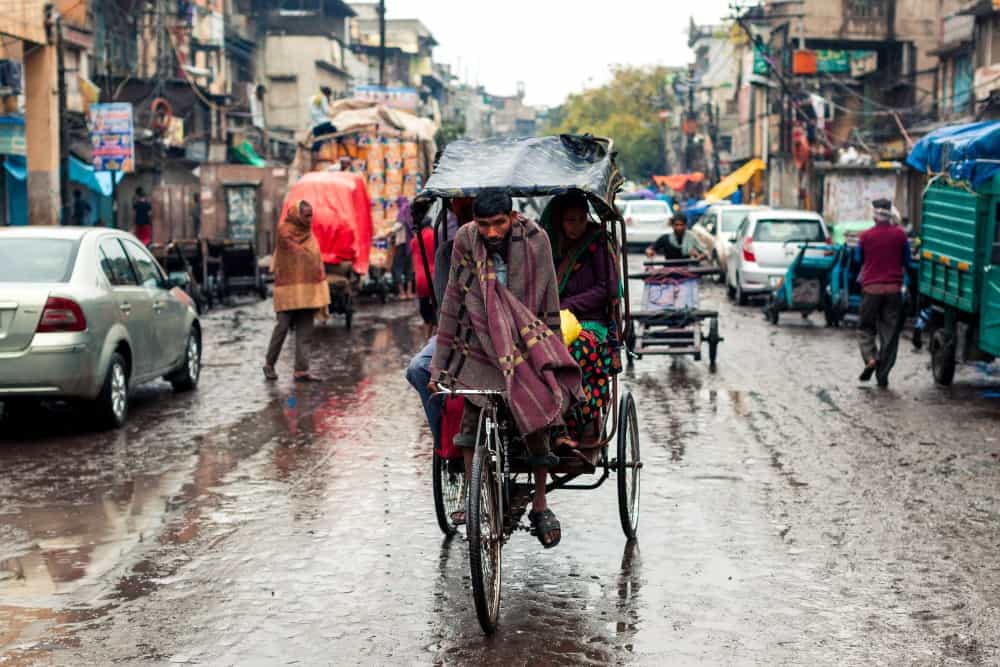 Delhi in monsoon by Sundeep and Bedabrata
Have you ever seen the dance of the peacock? They say that in India, peacocks dance during monsoons. While that may be a romanticized notion, India, a predominantly agrarian economy, looks forward to the rainy season.
No matter which part of India you visit, the monsoon has its own flavour. Delhi monsoon arrives a little late compared to southern and eastern India. But when she does, it is worth the wait. The first showers in Delhi are reserved for getting wet. After the prolonged harsh summer, every soul in the city is parched. Be it fancy terraces, humble rooftops or the streets, almost everybody runs out and drenches themselves to their heart's content.
The cascade of sneezes that follow is moderated with hot cups of strong milky ginger tea with sides of savoury pakora or samosa. In fact, Delhi households have a set of sweets and savouries that are reserved for the monsoon. Malpua, gulgule, and our favourite ghewar — try these sinful sweets from any sweetshop in the city. The famous foods of Delhi are delicious.
Delhi is one of the greenest capitals of the world. Be it the Delhi Ridge, the Lodhi Garden or the flora at Garden of Five Senses, the trees and bushes sparkle with freshness. If you are near any of these areas, do visit these oases. The neighbourhood parks can be a good substitute as well. The smell of the moist earth — called the petrichor — is intoxicating anywhere in Delhi.
Also, Delhi is a city of mausoleums and some of these look particularly gorgeous after a fresh shower. We recommend tours to Hauz Khas, Humayun's Tomb, Mehrauli area, or the Qutub Minar. The rain works magic on the stone structures and transforms these into beautiful shades of red. The view is totally worth notwithstanding the traffic jams that you might face, perhaps the only bane of monsoon in Delhi.
Sundeep Bhatia and Bedabrata Chakraborty publish the travel blog Delhi Fun Dos.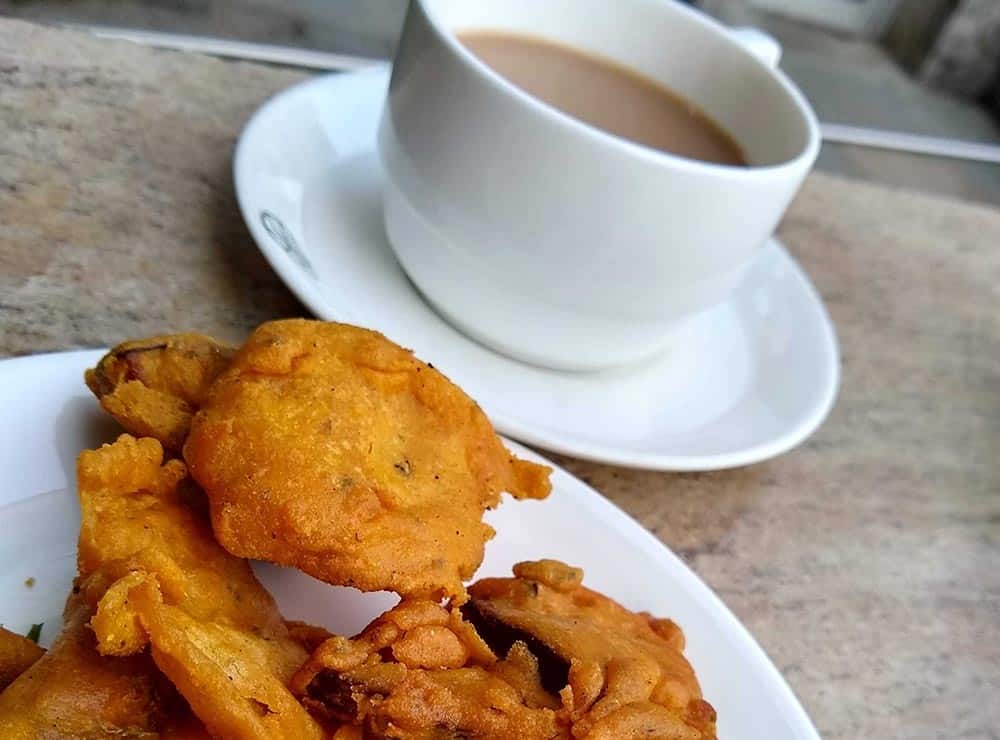 Goa in monsoon by Shivya Nath
For a long time, I ran away from the monsoon in India. I had no idea how beautiful the rainy season could be, how rejuvenating monsoon travel could be. After years of fleeing the monsoon in India, I now chase it with all my heart.
Ever since I gave up my home to embrace a life of travel, Goa has become my digital nomad refuge in the monsoon.
That liberating feeling of driving a scooter along the endless rice paddies and palm-fringed interiors. Working out of quaint cafes with decent Wifi. Indulging my taste buds in authentic Goan curries and at organic cafes. Calling charming old Portuguese houses (and other offbeat stays in Goa) 'home' for a few weeks.
This offbeat Goa, a Goa that few end up discovering, is everything I need to recharge my batteries, catch up on work and retreat into susagade (contentment) mode.
I lie on my back, floating alone in the pool, soft raindrops gently falling on my face. Palm trees rustle in the breeze. A peacock cries in the distance. Grey clouds move swiftly through the sky. I close my eyes and deeply inhale the heavy monsoon air, thinking that maybe, the clouds are erupting just to indulge me.
I've come to believe that nowhere else in the world does the rainy season like India. Not Cuba, not Guatemala, not Southeast Asia. The rains in India are laden with an indescribable feeling of joy. The earth bursts into shades of green, the aroma of pakoras waft out of every house, the immense relief from the hot summer is visible on every face.
I love getting drenched in the lashing rain of the monsoon in India, inhaling the moisture-heavy breeze and filling my lungs with the smell of wet earth. For this is the feeling I came back eagerly to chase. This is my season. The season I'd be if I were a season.
My suggestions for Goa in monsoon:
Slow down, stay a while and discover offbeat Goa through responsible travel and sustainable living experiences. In monsoon, you can get away from the grey beaches and boisterous crowds and experience places where peacocks dance in open meadows in the rains and locals gather at neighborhood churches to pray and socialize. Where long-term dwellers embrace an organic way of life, and creative types find abundant inspiration.
Having spent nearly 10 monsoons in Goa, I've discovered secret waterfalls, swimming holes, cycling trails and kayaking routes that will introduce you to the Goa far beyond the beaches (though Goa does have some of the best beaches in India). A Goa where the susegad life still trumps all!
Shivya is the author of a bestselling travel memoir and runs one of India's most popular travel blogs – The Shooting Star. During the pandemic, she co-founded Voices of Rural India, which aims to upskill and enable rural communities to build alternate livelihoods through digital journalism. She also runs Journeys, a subscription-based travel newsletter at the intersection of meaningful travel, sustainable living and self-discovery.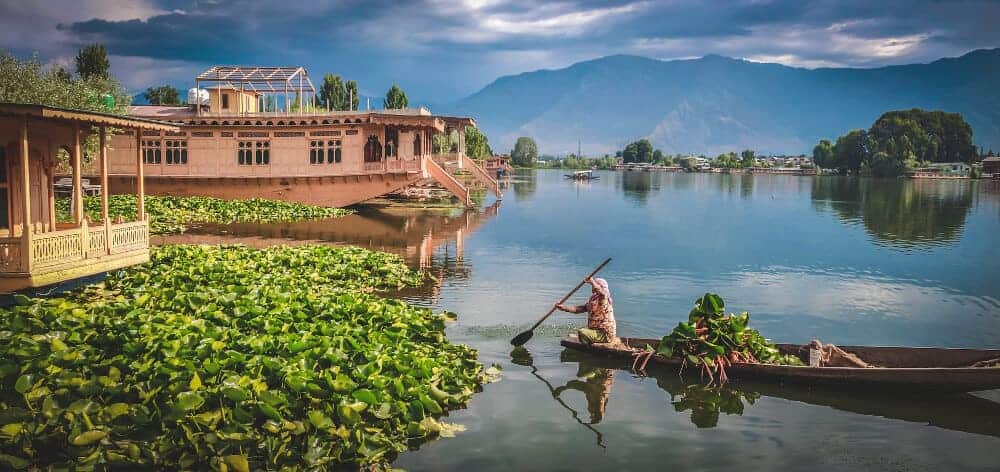 Kashmir in monsoon
Since the time of the Mughal Emperor Jahangir, Kashmir has been called "heaven on earth." This quote below is attributed to Jahangir about Kashmir.
If there is a heaven on earth, it is here … it is here … it is here …"
The Kashmir valley is a beautiful landscape at any time of year, and Srinagar especially is famed for the beauty of Dal Lake. But the monsoon season is in fact one of the best times to visit Kashmir valley as temperatures rarely rise above 30 C. And, though the monsoon season in the Kashmir valley starts in July and ends in August, there is very little rainfall. The mountains and lakes moderate the climate and temperature, and the long summer days gives visitors lots of time to enjoy the region. Every month between March to October is a good time to visit the Kashmir valley, but August would be a good choice as it is apple picking season with bounteous fresh fruit available.
The beauty of the Kashmir valley is mesmerizing and will transport you to another realm. In Srinagar, don't miss the resplendent Mughal Gardens or watching the charming shikaras skim the surface of beautiful Dal Lake, against the backdrop of a stunning mountains. Like tourists from the golden age of travel, you can stay in a houseboat and wake to the sounds of a floating market place. Along with Srinagar, other tourist friendly destinations include Pahalgam, Sonmarg, and Yusmarg. There is no doubt that Kashmir is one of the best tourist places to visit in India during the monsoon. If you want to visit, check out these Kashmir tourism packages, they can make trip planning a lot easier.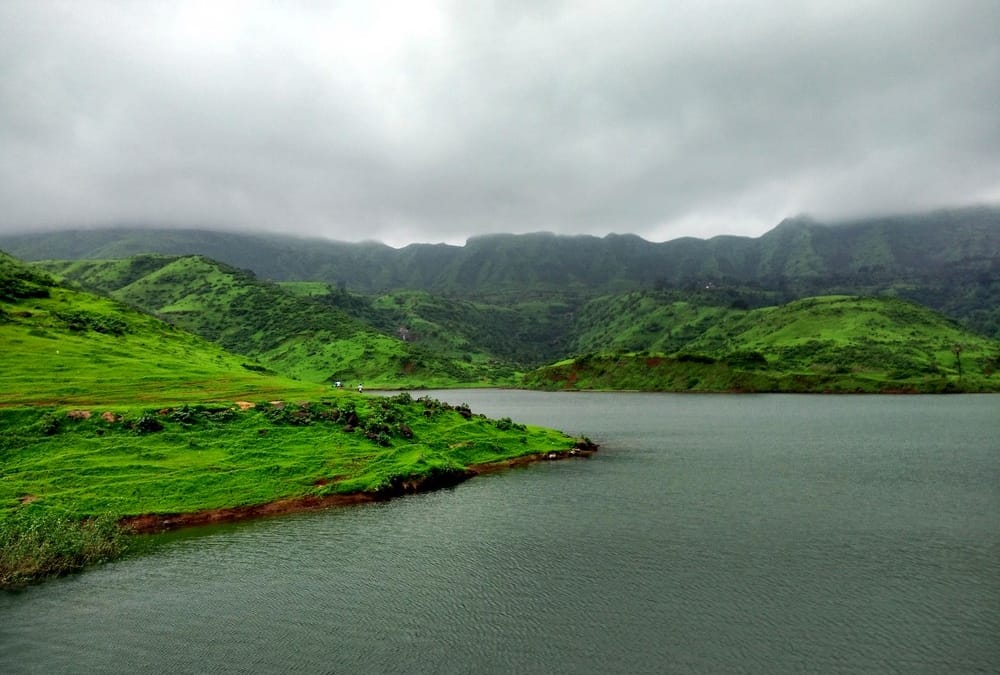 Western Ghats in Maharashtra by Arti Shah
It wouldn't be trite to say that Maharashtra transforms into a temple for nature pilgrims during monsoon. The Western Ghats, a UNESCO World Heritage site, runs along the entire Sahyadri mountain range in the northern part of Maharashtra. They welcome travelers away from the crowded urban milieu, offering visitors a deeper sense of wonder during the season then they can find in a city's purest charms.
Here, visitors find unspoilt lakes, dramatic waterfalls, rustic countryside, smoky blue hillsides enmeshed by well-marked webs of rocky trails and hiking paths that lead to some very popular places of attraction. Here, monsoons clothe the entire landscape of the Western Ghats in a relentless tangle of greenery. The fresh greenery, mist covered foliage, rustling of leaves, and cascading rains seep into your wearied mind, body, and soul replacing old outdated thoughts with brand new perspectives.
And when you witness and fall in love with this whole sensual feast, you encounter the history, monuments, and ambiance that is bound to leave you mesmerized.
There is no dearth of places to visit in Western Ghats of Maharashtra during the monsoon season. Weekend road trips to popular hill stations like Matheran, Mahabaleshwar, Igatpuri, Lonavala and Khandala are in huge demand alongside treks to several known and lesser known forts, temples and mountain peaks like Torna, Harishchandra, Kalsubai, Tungareshwar Temple, Lohagad, Rajmachi, Bhimashankar, Devkund Falls and many many more.
The monsoon love affair is incomplete without a mention of the foodstalls and eateries, which are usually run by the locals and do a brisk business. Sipping cups of piping hot masala chai along with a plate full of pakodas or spicy hot vada pav is the perfect way to double the joys of the season during the journey.
Arti is a wanderer at heart and a wonderer in spirit; discovering, creating and simply being present for the gift called life. Her blog, My Yatra Diary, focuses on her spiritual journeys, and is all about her love of exploring and learning.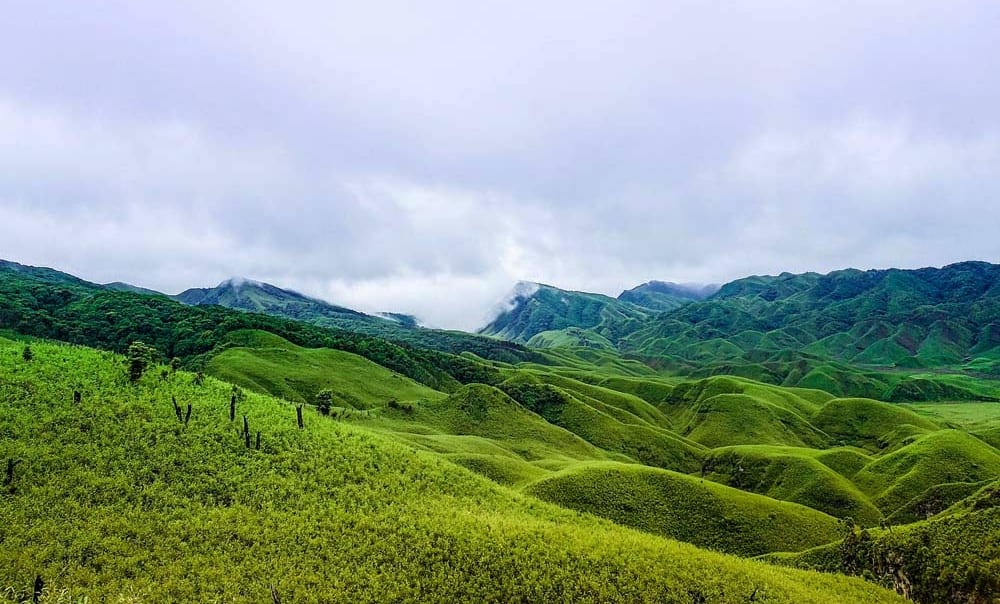 Dzukou Valley, Nagaland by Joydeep Phukan
The northeast Indian state of Nagaland is not only home to 16 major ethnic groups, but is also blessed with abundant hills and mountains. Dzukou Valley in Nagaland, at an altitude of 2438 metres above sea level, is a hiker's paradise. Starting the hike from either the Jakhama or Viswema trail, the five-six hours' climb through the evergreen tropical forests, streams, and gorges lead to a campsite maintained by Southern Angami Youth Organisation (SAYO). It is surrounded by mountains and a majestic view of the valley.
The monsoon (May to August) revitalizes the valley with vivid flowers, the rare Dzukou Lily, and bamboo shrubs that dance along with the wavy wind against the background of clear blue skies. I still cherish that empyreal night at Dzukou when the clouds flowed like a river into the valley forming white layers over the hillocks, and then rose up caressing us under the starry moonlit sky.
Things to do and food: One may hike down the valley, dive into the cold river stream, and watch the panoramic view of Dzukou. Hiring a local guide to explore the lesser-known waterfalls and caves is worth it. The campsite offers makeshift kitchens for self-cooking, and Naga cuisine is available as well.
How to reach? Dimapur in Nagaland is the nearest railway station for Dzukou Valley. While the nearest international airport is in Guwahati, Assam. Rental cars and public buses are also available from Dimapur to Kohima till the beginning of trails.
Joydeep Phukan is a travel blogger based in Assam, India. He publishes The Gypsy Chiring, a fusion of stories on travel, adventure, hiking, trekking, mountaineering, cultures and nature, thoughts, poetry, and life as a whole.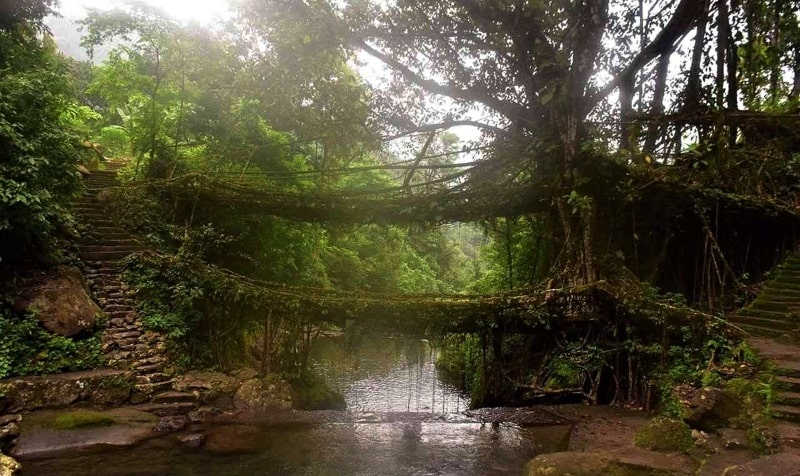 Meghalaya by Amrita
There are some places in India that are absolutely gorgeous during the monsoon season. The rains seem to just add more charm. Meghalaya in northeast India is one such place — breathtaking in the rains. In fact, Meghalaya literally means the "abode of clouds" and the state is also the home to the wettest place on earth, Mawsynram.
There are a number of places to visit in Meghalaya, but the best place to explore during the monsoon is Cherrapunjee or Sohra. The place is pristine and you can see almost nothing but green everywhere. The weather is quite unpredictable, as expected in monsoon. Clouds literally play hide and seek with you. The best thing about Meghalaya in monsoon are the waterfalls — they come alive with the rains. You can visit the Seven Sisters Falls, Nongriat Falls, Wei Sawdong Falls, and Dainthlen Falls. If you love hiking and wilderness, then you can go for Nongriat Trek.
Apart from Cherrapunjee, the monsoon is also beautiful at Shillong and Mawsynram. After all, Mawsynram receives the most rain in the entire world!
Khasi cuisine is quite delectable, especially pork preparations and Jadoh — a laboriously-made dish of rice and meat. So if you are a foodie, do not miss the Jadoh at Trattoria near Police Bazaar in Shillong.
Do carry your rain wear and proper shoes while you visit Meghalaya during the monsoon. The roads connecting the main towns in Meghalaya are quite good and you can travel easily in the rains. Meghalaya definitely is one of the most beautiful places to visit in India during the monsoon.
Amrita is an adventurer by heart who finds joy in the unexpectedness of life. A writer by passion and an SEO expert by choice, she runs the blog Tale of 2 Backpackers along with her partner Agni.
Hampi by Ellis Veen
The monsoon brings much awaited refreshment in Hampi after the scorching summer heat of April and May. This area was once the capital of the Vijayanagara empire (1336–1646). There are so many ruins of temples, palaces, and other structures that it would take weeks to see everything — especially as Hampi has a relaxed atmosphere that will invite you to slow down.
Everywhere you go and everywhere you walk are remnants of Hampi's glory days. Hampi is best explored on foot and with not much shade you will appreciate the cloudy monsoon days. Hampi actually sees less rainfall than other places in India — if you are apprehensive about the monsoon rains.
There is just enough rain in Hampi to change the rocky landscape into lush greenery. The perfect climate to wander around the 7th century Virupaksha temple or the ancient Vittala temple with its famous stone chariot. Other highlights include the lotus palace, the elephant stables, the queen's baths, stepped wells, and large statues of Ganesh and Laxmi Narashima.
After days of busy sightseeing, you can relax and enjoy a beautiful sunset over the Tungabhadra River. For the most scenic hotels you will have to cross the river to the village of Virupapur Gadi. Here you will find paddy fields that are a bright green during the monsoon.
Hampi is in the north of Karnataka and easy to reach by train from Bangalore. From Goa there are convenient trains (to nearby Hospet) and night buses.
Ellis Veen publishes the travel blog Backpack Adventures and is also on Instagram.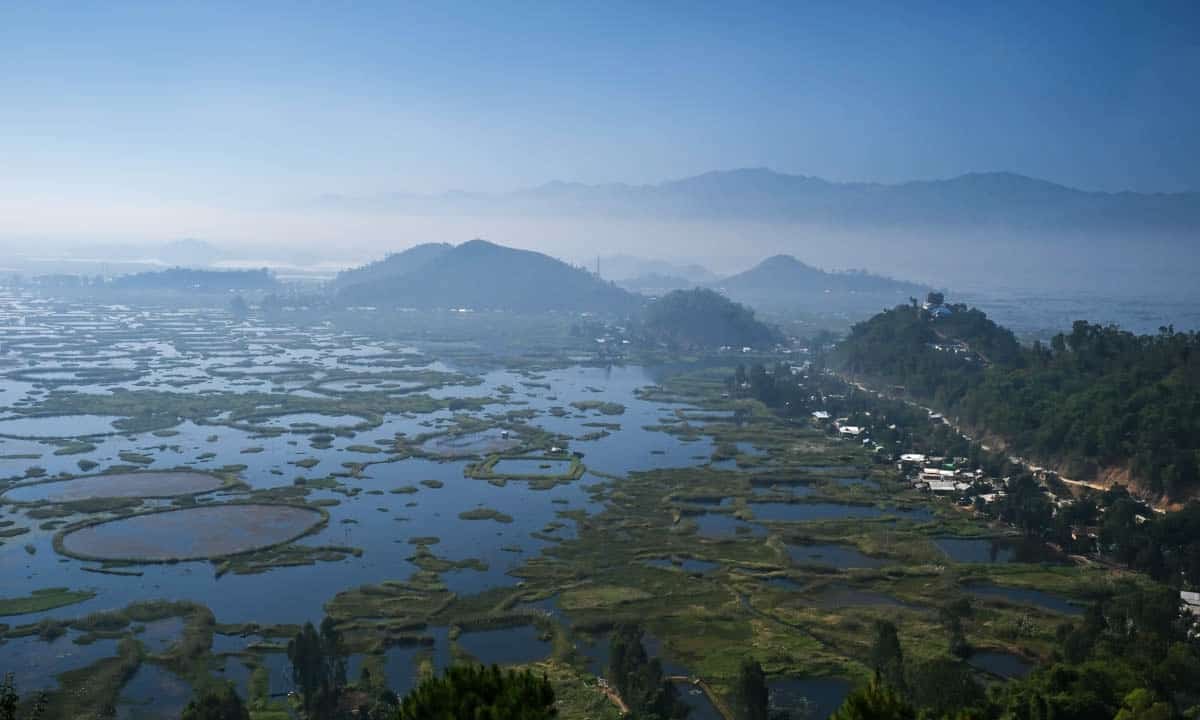 Manipur by Marco Ferrarese
Lush and semi-tropical Manipur, the easternmost state of India, is one of the best places to visit in Northeast India. It borders Myanmar and resembles Southeast Asia in spirit and climate more than other parts of India. Manipur is a different, offbeat place to visit during the monsoon season, which kicks in a bit later than in the rest of India here — roughly at the end of June, which is still a summer month. But as soon as the rain starts, the verdant hills that hem this state shimmer in their truest colours.
It's easy to start in the state capital Imphal, which is well connected to the rest of India by air, and via road to Kohima in nearby Nagaland. If you come this way, your passport will be stamped at a checkpoint on Manipur's border.
Start your Imphal visit with a tour of the extensive grounds of what once was the fortress of Kangla, and take your time to browse the Khwairamband bazaar at the heart of town. Also known as Ima Keithel (the mother's market), it's four buildings and sidewalks full of thousands of Meithei women, who peddle their stuff rain or shine in the biggest market exclusively run by women in Asia.
But the highlight of a monsoon visit to Manipur is Loktak Lake. Only about an hour's drive south of Imphal, this lake is a part of the Keibul Lamjao National Park, and the region is home to the endemic Sangai deer.
This large body of water surrounded by green hills is most famous for its phumdis, which are circular floating enclosures made with matted vegetation by the local fishermen and used as natural fish traps. It's possible to stay overnight in traditional accommodations set on the phumdis themselves and learn about life in this most special ecosystem of land and water on the border of India and Myanmar.
Marco Ferrarese is a freelance travel and culture writer based in Southeast Asia. He publishes the travel blog Monkey Rock World along with his wife, photographer Kit Yeng Chan.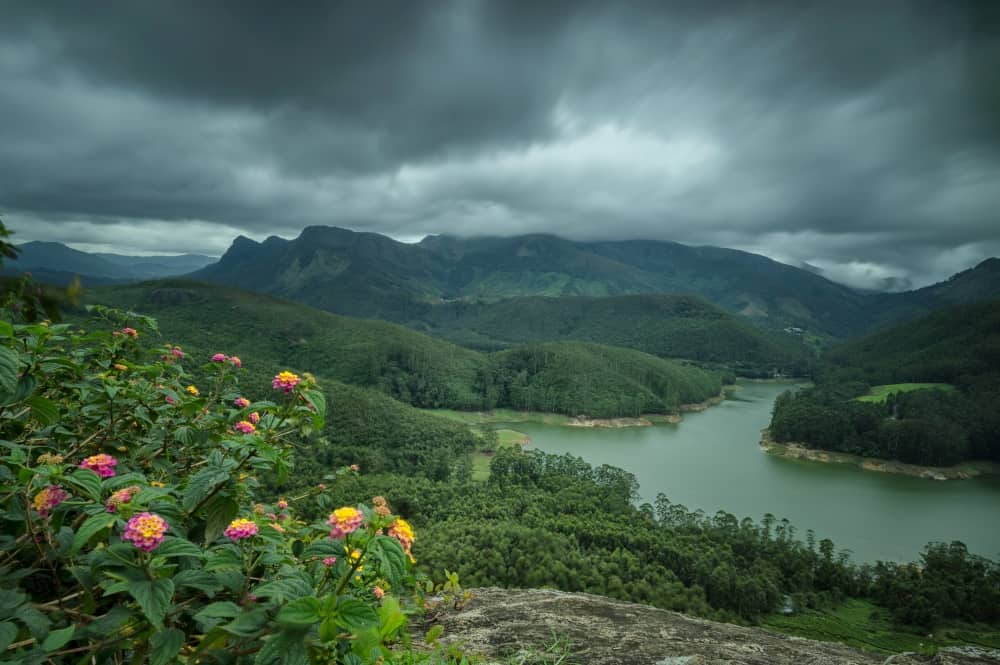 Munnar, Kerala by Sinjana Ghosh
Munnar in monsoon is not just a treat for the eyes, but a therapeutic experience for the body and mind that you will cherish forever. The winding roads with opulent tea estates on one side and the lofty mountains on the other are breathtaking. The monsoon casts its magical spell and adorns Munnar with a dreamlike mist — lovely waterfalls cutting through the greenery add to the charm.
The major tourist spots in Munnar are Lockheart viewpoint and tea factory, Eravikulum National Park, Carmelagiri Elephant Park, and Matupetty Dam. Of these, Eravikulum National Park is my favourite, definitely on a must-visit list. This is the only place in the world where you can spot the endangered Nilgiri Tahrs with ease. Like many other tourist spots, however, it is crowded almost all year 'round.
But no worries, the beauty of Munnar is best experienced on the outskirts. Take a boating trip in Anayirangal Park to see wild elephants come to the lake to quench their thirst. Ditch the tourist zones and explore the Tata Tea estate of Chinnakanal for free (with hardly any tourists around). Visit a tea factory to learn about the process of tea production. A jeep-ride into Kolukkumalai, the highest tea garden in the world, must also be on your itinerary for a trip to Munnar (although it's technically located in Tamil Nadu).
Sinjana Ghosh publishes the travel blog Backpack & Explore.
---
More reading about Kerala on Breathedreamgo
---
Monsoon in Kasauli by Neha
Monsoon in India is a beautiful time and especially in the mountains. With greenery all around and a blanket of clouds, it makes for a spectacular sight. A favourite monsoon destination is the hill station of Kasauli in Himachal Pradesh, north India. Kasauli is a small cantonment town established in 1842 by the British. It is a two-hour drive from Chandigarh, which makes it a great weekend getaway from Delhi and many other cities in Punjab and Haryana. It is also enroute to Shimla.
The best way to experience the beauty of Kausali is to walk along the Mall Road with scintillating views of the valley. There are many tea stalls on the Mall Road, all thronged by tourists savouring hot cups of chai and scrumptious pakoras (vegetable fritters) while the rain pours down. Take a walk from the Mall Road to Sunset Point for amazing views. It will feel as if the clouds are welcoming you, and keeping you company. (But mind the restricted army areas.)
Another must visit is Monkey Point, the highest point in Kasauli, with beautiful views of Satluj river and Himalayan mountains. There is a Hanuman temple at Monkey Point that is believed to have mythological significance. Note: There are many monkeys in the area, so avoid eating anything while walking or feeding them to avoid snatching.
The weather remains pleasant during the monsoons with cool nights and is a great time to visit. Baikunth Resorts and Ramada Kasauli are great places to stay.
Neha is a traveler at heart and loves to travel with her family all across the globe. She truly believes "Not all classrooms have four walls" and want her kids to explore the culture, cuisine and architecture of different places and become global citizens. She pens her experiences at Travelmelodies.com helping other families to travel.
---
If you enjoyed this post, you can…
Sign up to The Travel Newsletter in the sidebar and follow Breathedreamgo on all social media platforms including Instagram, TripAdvisor, Facebook, Pinterest, and Twitter. Thank you!