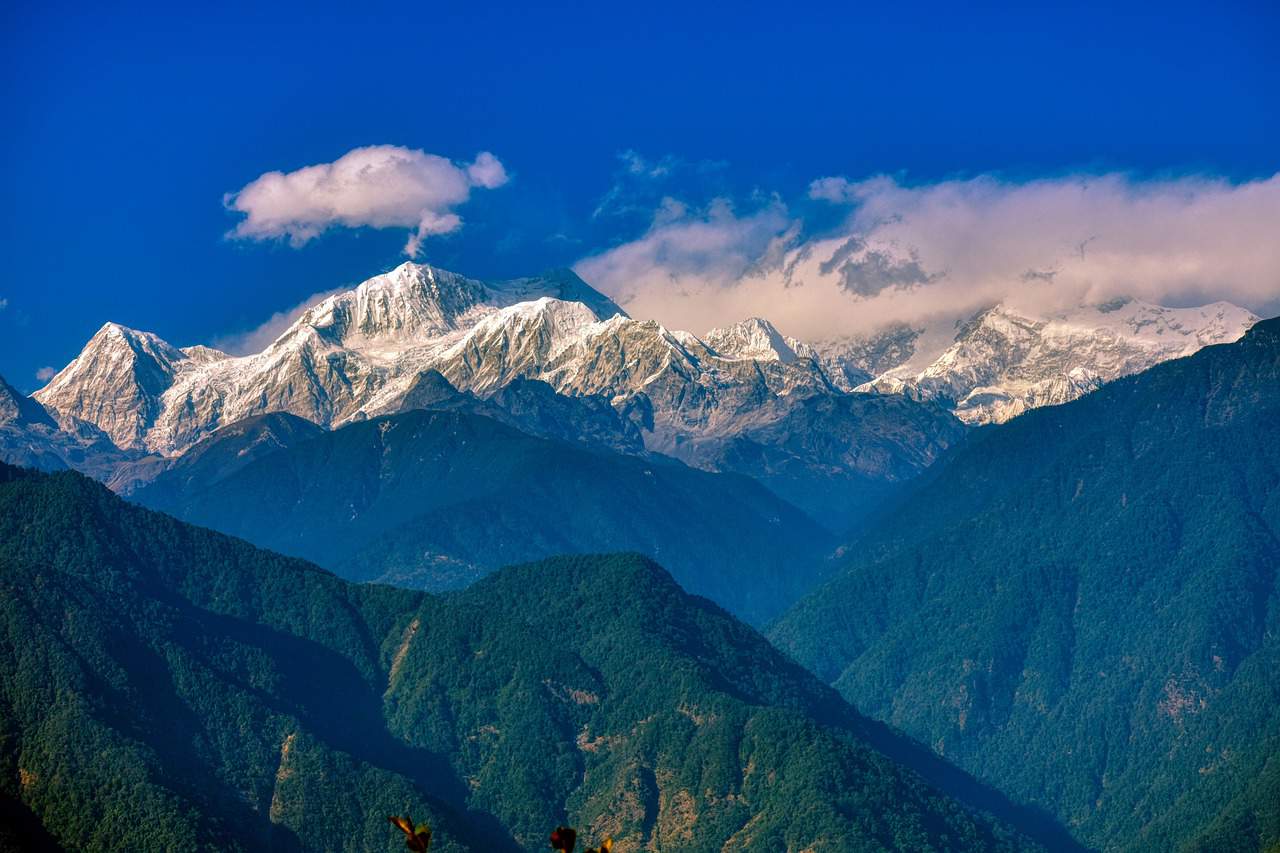 Immersed in the mist, mystery, and mountains of Sikkim
Sikkim, in northeast India, is a magical, mystical place lush with forests and swirling with mist. Presiding over the small Indian state — formerly an independent Himalayan kingdom — is the mighty five-peaked Kanchenjunga mountain, the third highest on earth. I went to Sikkim with India Tourism in 2010, and spent just a few days in the state on a press trip. I have been longing to return ever since.
March 2010: I left Darjeeling for Sikkim thinking I could visit Gangtok and Pelling in three days. They are only about 130 kms apart. Sometimes, it is hard to leave Canada-brain behind: in Canada, that would take about an hour-and-a-half. In Sikkim, it takes most of the day. The roads are so narrow, so windy, so bumpy and at such an incline (either up or down) that you have to drive very slowly.
So, three-quarters of the way to Gangtok, I had to decide where I would spend my three days in Sikkim, and I chose Pelling. This added many difficult hours of driving to my trip, more so for my wonderful guide (Paras) and driver (Ashok). It was very sporting of them to not only agree to this abrupt change of plans, but to encourage it: they wanted me to have the best possible experience in Sikkim, and they felt Pelling would be a better choice. These guys from Help Tourism are true professionals; I cannot speak highly enough about them. You can also learn more by visiting Sikkim Tourism.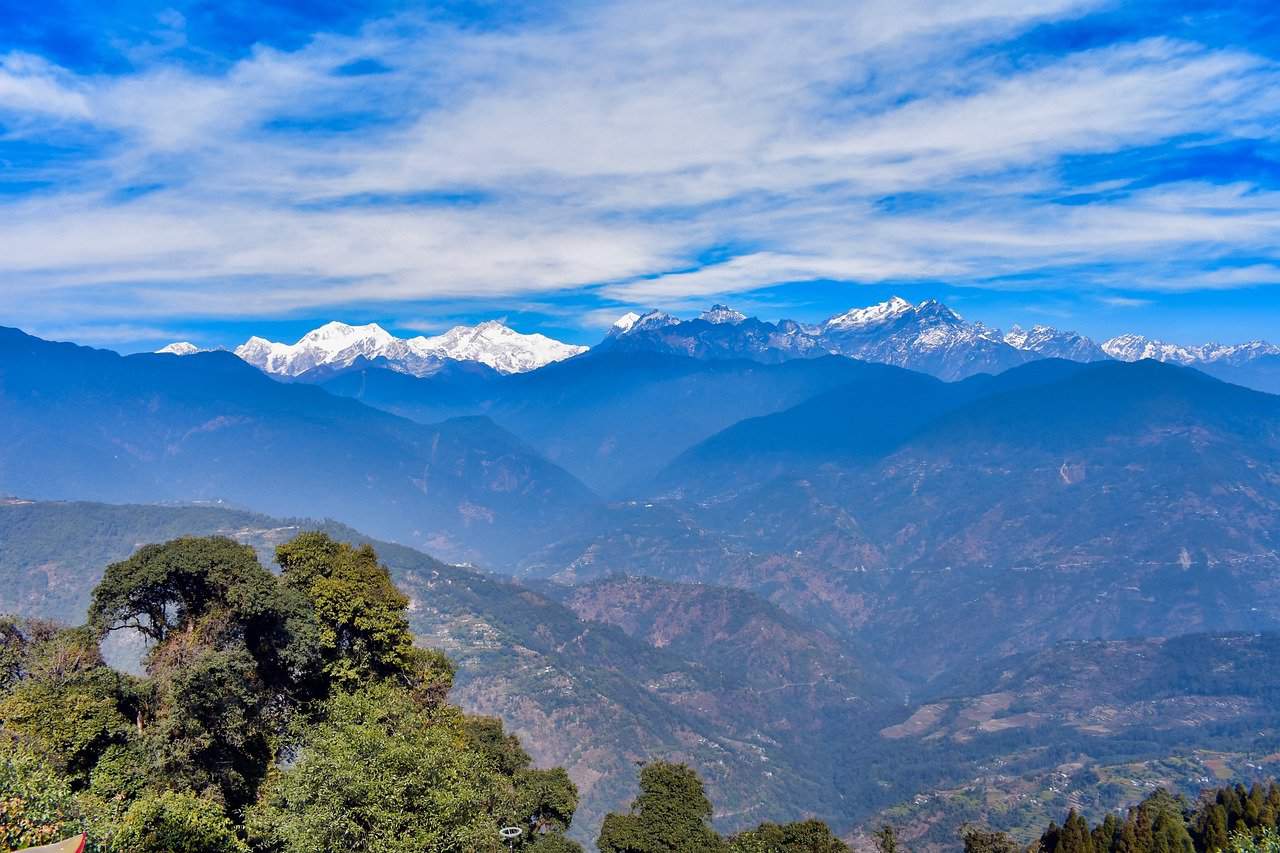 While Gangtok is the capital city of Sikkim, I chose to go to Pelling because it is a small town surrounded by historic ruins, important monasteries, authentic villages and of course the mountains, especially Kanchendzonga, the world's third highest. Sikkim seems to be an entirely mountainous state, and it is one of the smallest of India's 28 states. It is also one of the newest. Until the mid-1970s, Sikkim was an independent mountain kingdom, ruled by a Buddhist King. How it came to be part of India is a controversial subject that still stirs up feelings. The book about the modern history of Sikkim and its annexation by India is called "Smash and Grab," which gives you some idea about how some people think about it.
I knew next to nothing about Sikkim before going, so it was a real adventure in many ways. I knew only that it was supposed to be beautiful (it is) and mystical. The massive massif Kanchendzonga is its presiding deity. It houses five gods (one for each peak) and provides both spiritual and physical protection: no invading army could ever scale it. Pelling just happens to be the best spot to see Kanchendzonga, as it is only 43 kms away. But that is only if the mountain decides to show itself to you.
I was blessed with seeing it in Darjeeling on my birthday, but, alas, not while in Sikkim. Though absolutely enormous both in height and width, the mountain in also elusive. It hides behind thick swirls of mist and cloud. This is probably one of the reasons it has gained such a mystical reputation. You feel like you can practically reach out and touch it, but you can't see it! It's maddening … and it quickens the soul and is of course a great teacher of the eastern spiritual values: patience, respect, acceptance and faith in the divine plan.
I made some quick notes while I was driving through Sikkim. Sikkim is:
masses of red rhododendrons
bananas trees by the side of the road
lean handsome people
short people carrying huge bundles on their heads: twigs, leaves, wood, boxes
terraced rice paddies
bamboo groves
chickens wandering everywhere
And of course ribbon-like roads winding around graceful mountains, deep valleys with thin rivers that will fill to torrents during monsoon and clouds of thick mist obscuring mountain tops and views. It's a lovely place, very gentle, and the people seem gentle too.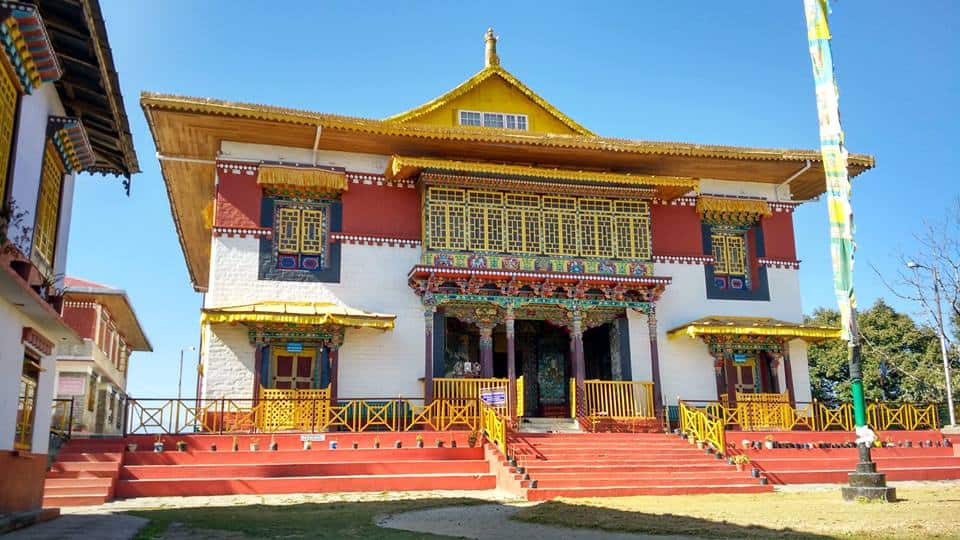 My first morning in Pelling I went immediately to the Pemayangtse Monastery, which is considered a very old and very important Buddhist monastery. I went for two reasons: one was to see the monastery itself, of course, and the other was to meet Yapu Yongda, a highly regarded Buddhist monk with a colourful past who opened a school in Pelling to teach children both general subjects and Buddhism.
The temple is extraordinary, but as usual I wasn't allowed to take pictures inside. Huge murals of fierce looking gods cover the walls and upstairs there's a painted sculpture of the various levels of heaven that is considered a masterpiece. In this room, gentler, more playful murals adorn the walls — and several erotic paintings are covered by silk yellow curtains. The day I was there, the only other visitor was a German woman who whispered to me: "Look behind the yellow curtain." I was a bit afraid, to tell you the truth, until I saw the lovely, LOVING images. Then I was delighted!
Ancient Hindu temples are also often adorned with erotic images, usually in stone, so it seems that puritanism is a more recent trend (and ultimately very destructive, to my mind).
Yapu Yongda, 66, lives behind the monastery in an ancestral home. I believe he comes from an illustrious family. He was in charge of the Chogyal (King) of Sikkim's personal bodyguard until the monarchy was dissolved in 1975 when Sikkim became part of India. At that time he was imprisoned briefly for his anti-India stance. Now he lives in Pelling where he seems to keep very busy with his duties as a monk at the monastery and running the DPC School that he founded 30 years ago.
I interviewed him on tape twice, for about three hours in total — he is a great talker — and I learned a lot about the history of Buddhism in Sikkim and the takeover of the country by India. I was really moved when he told me that the Chogyal, Palden Thondup Namgyal, decided not to resist the takeover because it would have been against his Buddhist principles of doing no harm. It must have been a difficult decision for the Chogyal to take.
Among other things, he lost his American wife Hope Cooke, who moved back to the U.S. with their children for safety reasons. Some years later, the Chogyal went to the U.S. for cancer treatment, but died there at the age of 59. There are pictures of this handsome, thoughtful man in Yapu Yongda's office, and I felt very moved by his plight.
In the afternoon I went to Rabdentse, the ruins of the former palace of the Chogyals of Sikkim. They reigned from this small mountain top site, with an amazing vista (if only the mists would clear!!) until the middle of the 19th century, when the capital was moved to Gangtok. The best part about this site was the long walk through the woods to get there.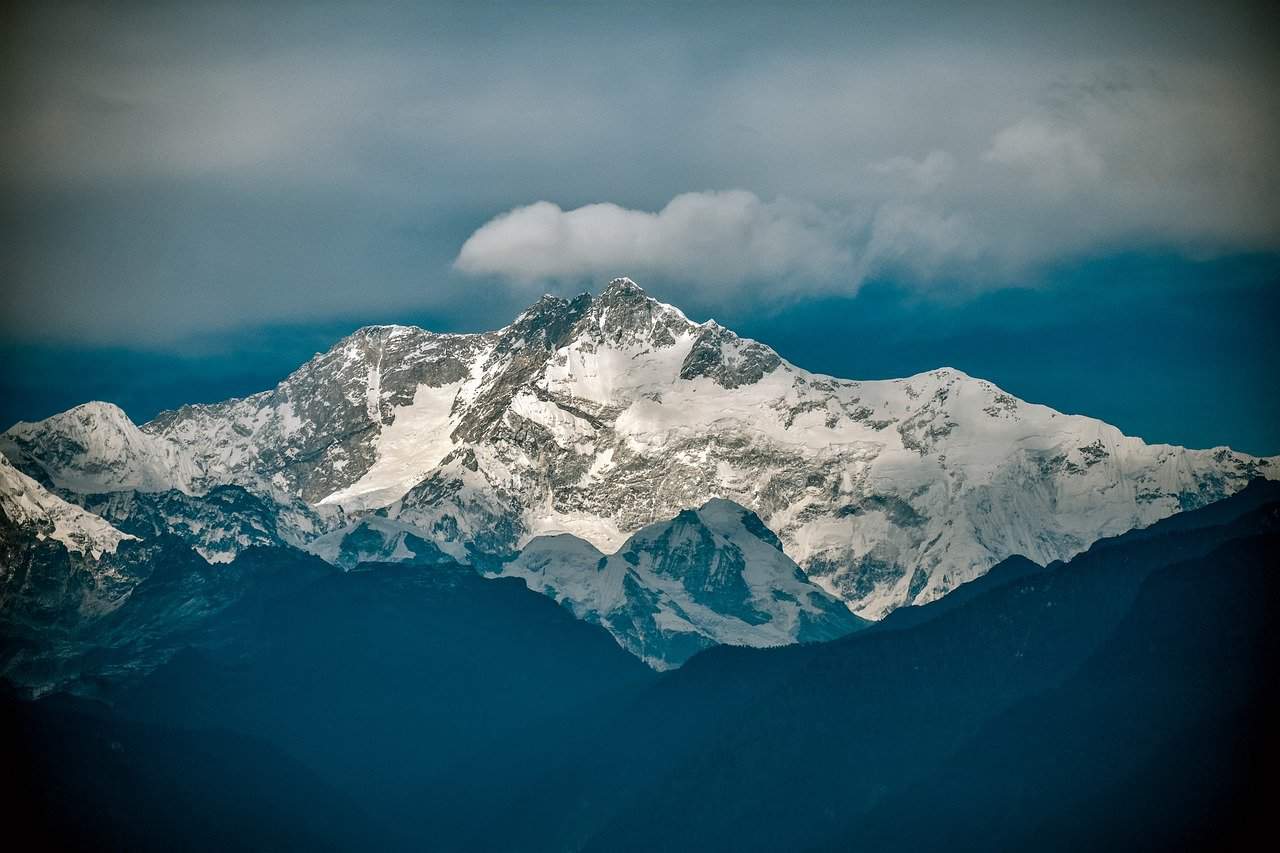 On my second day in Pelling, Sikkim Tourism finally sent me a guide, and he was terrific. Manoj is a young, recently married Sikkimese man who lives in Pelling and is very enthusiastic about Sikkim. His passion, more than his knowledge, makes him a good guide. Manoj and I walked waaayyy up a mountain outside of Pelling to visit another monastery — but we turned back before reaching the top. I was recovering from the effects of drinking bad water at my hotel and not used to the high elevation. But the view from near the top was amazing. Or it would have been if it was just a tad less misty!
After tea with Manoj's beautiful wife and Mother in their very small one-room apartment in town, we drove to Darap Village, about 8 kms from Pelling. There we were met by Shiva Gurung, a man who runs an authentic Lepcha homestay — called Daragoan Retreat (Gurung Homestay ) — with two rooms, and he walked through the village with us, as our guide. Darap is a small rural community in a peaceful valley ringed by gorgeous mountains. The small wooden houses are painted in shades of yellow, pink and turquoise, children and farm animals play in the open fields and the whole places seemed quite idyllic to me.
On our walk, Manoj and Shiva told me about a local religion called Yuma that was making a comeback; and pointed out houses that had the Yuma flag (each with a small shrine at the base). They wanted to know if I wanted to meet the "Yuma," the main priestess — who apparently never meets foreigners or tourists. I leapt at the chance.
Shiva took us to a simple house on the edge of town. First we had to take off everything made of leather and leave it outside, with our shoes. Then we had to wash our hands and finally we were escorted through a low door into a small dim room. The room was almost empty except for a white wood cabinet and large chair. My heart leapt when I walked in and saw a vision in white sitting on the chair: an astonishingly beautiful, very slim, light-skinned young woman with Asian features. She looked like one of the paintings I had seen in Ajanta. She was in a meditation posture, very still and she seemed light, ethereal and almost translucent.
I felt like I had walked through a portal into an altered state. The room had a calm, sacred energy that was quite unlike anything I have ever experienced. Shiva, Manoj and I were instructed by a woman who was also in the tiny room to sit a certain way on the ground with our legs crossed under us. After praying together, the Yuma allowed me to interview her on tape and take pictures — which I felt was very generous of her. Manoj translated her simple, straightforward answers. She told me that she only eats fruit, and I asked her if eating fruit only would help cure my ongoing digestive problems,. She said she would bless me, and said some prayers over me using leaves, water and rice; and then gave me the rice and told me to eat nine grains whenever I feel unwell. After about 20 minutes I felt I had asked enough questions and we left.
Without going into too much detail, the main teaching of Yuma is that you must know yourself, especially your own heart, to reach the bliss state or heaven. It makes sense to me. Perhaps in another blog I will explain more about this intriguing religion and about the young woman herself. When I left they gave me a CD with some teachings on it, but I haven't listened to it yet and I don't even know what language it is in. (They speak Nepali in Sikkim.)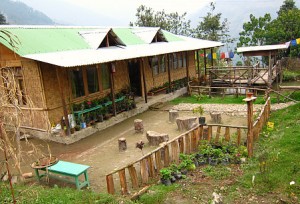 From there we went to the homestay, where Shiva's wife made us soup and tea and our driver, Jiten, drew pictures with their young son. It's a simple place, very clean and very peaceful. I didn't stay there, but I feel I can recommend it based on my experience and on how warm and welcoming Shiva and his wife are. I can imagine that it would make a great place to stay for a few days to experience village life and as a base for treks.
The entire three days I was in Pelling, I had one eye fixed continuously on the western horizon. This is where Kanchendzonga, the world's third highest mountain is supposed to be — and only 43 kms away, apparently. It never appeared from behind the mist and cloud, though occasionally I felt I could discern the white outline of five majestic peaks. I do, however, admit it could have been my longing and my imagination.
Humans are alone among animals for making meaning, and I have decided that I am meant to go back to Shangri La — I mean Sikkim — to see this mystical mirage, this deity, this mountain. But next time, I will not be on a fixed timeline. I will find a quiet place to stay in or near Pelling, or maybe Yaksom, and I will stay until the mountain blesses me with its appearance.
DISCLOSURE NOTE: While in Sikkim, I was a guest of IndiaTourism. But as always, views expressed are my own and are in no way influenced by accepting a press trip. I will not compromise the editorial integrity of Breathedreamgo.
PHOTO CREDIT: labunhanglimboo on Pixabay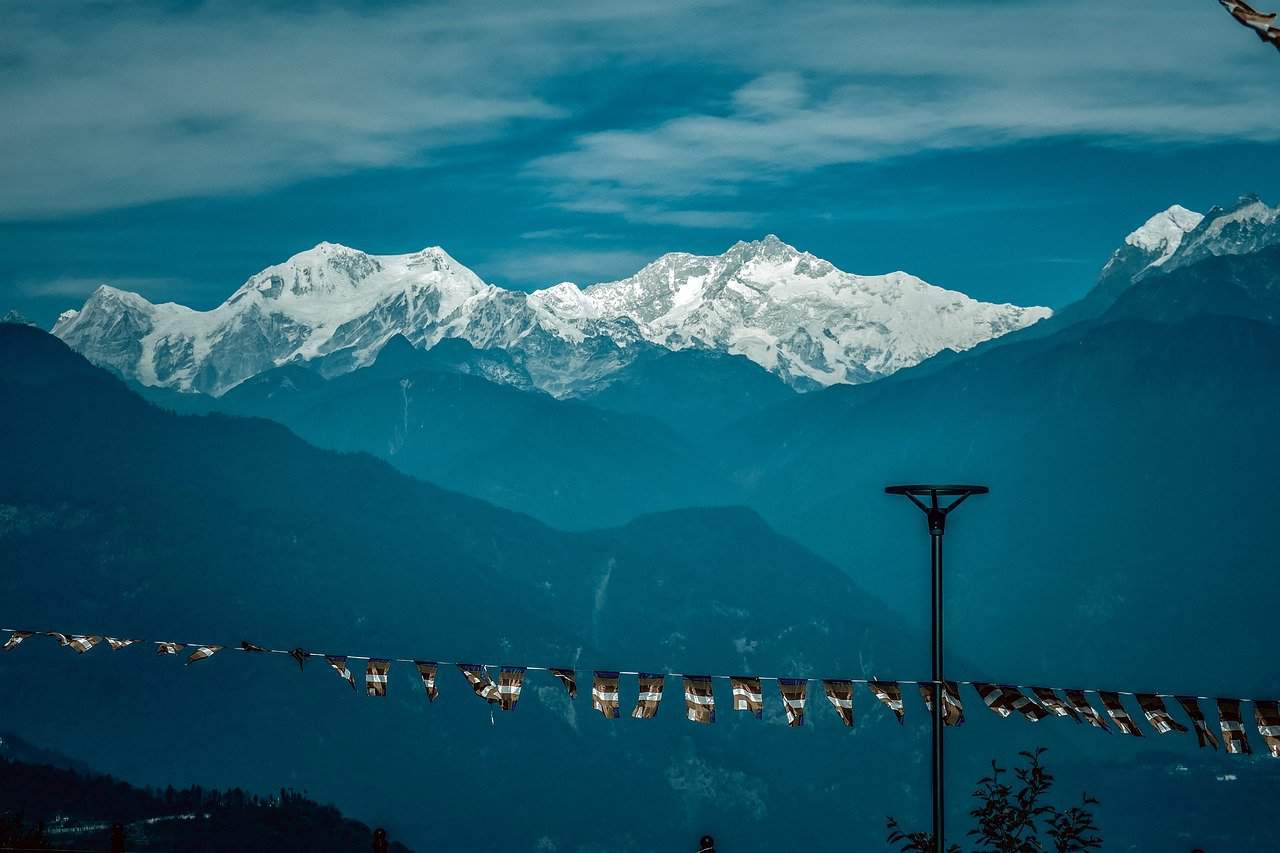 ---
If you enjoyed this post, you can….
Sign up for Dispatches in the sidebar and follow Breathedreamgo on all social media platforms including Instagram, Facebook, Pinterest, and Twitter. Thank you!