Spicy food, ancient caves and the world's most sublime building
[Note: Originally published on Bootsnall as 10 Reasons to visit India now.]
1. The Taj Mahal. Yup, it is. The world's most beautiful building. This is one of those rare times in life when all of your expectations will be blown away, no matter how much hyperbole you've been exposed to about it; no matter how many pictures you've seen; no matter how much poetry you've read. Tagore had it right when he wrote the Taj Mahal is, "a teardrop on the face of eternity." See it at sunrise, put up with Agra, do whatever you can, but make sure the Taj Mahal is on your itinerary or you will kick yourself for eternity.
2. Sensory overload. India is a place to be experienced not visited, and the culture shock that jolts your system – often into a heightened sense of awareness and perspective – is part of the fun. So, throw yourself into the mayhem and learn as quickly as you can to enjoy it. You may find that there's a lot to be said for chaos – and a lot to be said for learning to let go and go with the flow. At the very least, life back home will seem a lot easier to handle.
3. Yoga. There are many yoga teachers, schools and ashrams in India to choose from, but you don't actually need to study yoga to absorb its essential teachings about flow, oneness and finding your inner stillness. Just about everything that happens when you're traveling in India is an exercise in yoga. Train delay? Perfect time for meditation. Aggressive touts after you? Practise accessing your inner witness and not reacting. Dose of Delhi-belly? Go with the flow (literally) and remember this too shall pass.
4. Festivals. There's a festival just about every day in India. You name it, and there's a festival for it: elephants, camels, unmarried women, kites, the nectar of immortality, Krishna's birthday, Rama's return, etc., etc. Holi is a favourite of locals and visitors alike. Also called the Festival of Colour, people throw coloured powder at each other and eat sweets in a frenzied celebration of spring. Another favourite is Diwali. Called the Festival of Lights, it takes place in the fall. On the big night, the sky lights up in a blitz of fireworks that last hours and hours and hours and hours ….
5. The Himalayas. Many of the world's highest mountains – including the top three, Everest, K2 and Kanchenjunga – are part of this vast range that runs along India's eastern border for more than 2,400 kilometres. These are also some of the world's most sacred mountains. A visit to India is not complete without a stop at a touristy hill station like Simla or Darjeeling, or a sacred city in the foothills, like Rishikesh.
6. Spicy food. If you don't like spicy food, don't go to India. It's not that you can't avoid it …. But what's the point?! Opinion is divided as to whether the state of Rajasthan or the southern city of Hyderabad has the hottest food, but you can find hot and spicy dishes all over the country. If you're worried, order some dahi or curd (yogurt) or a sweet or salty lassi (yogurt drink). The yogurt quenches the fire in your mouth.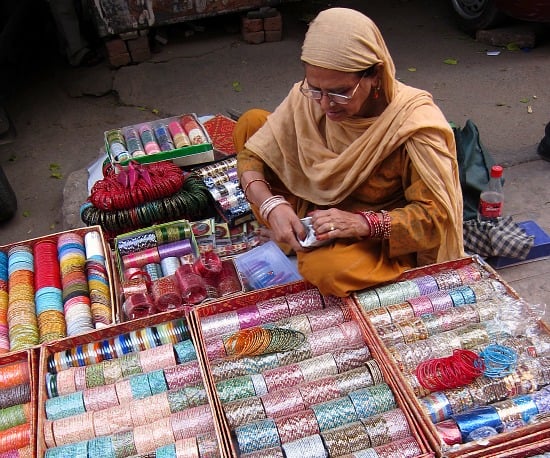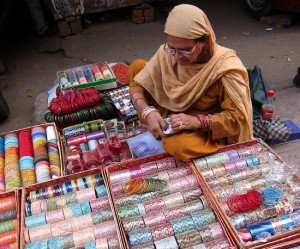 7. Shopping in a bazaar or market. In India, a trip to the market (or bazaar) is much more than a shopping expedition: it's full-on cultural immersion. The markets are incredibly lively, full of colourful merchandise and even more colourful characters. And some of them, like the medieval lanes of Old Delhi, are like a journey into India's storied past. Go with the unhurried zeal of an explorer, enjoy the process of finding a treasure and get into the spirit of the place by haggling over the price. In India, the fine art of bargaining is part custom, part relationship building exercise and part spectator sport. Don't let shyness or misplaced ethics keep you from partaking in India's favourite pastime.
8. Beaches. India has 7,500 kilometres of coastline, and though not all of it is pristine, there are some wonderful stretches, especially in Goa (which tends to be touristy) and Kerala. Most tourists flock to the well-known beaches, which means it's easy to get far from the madding crowd. Try Gokarna in Karnataka, the beaches of the Andaman and Nicobar islands, Tarkarli in Maharastha or Puri in Orissa. Wherever you go, you can find options at each end of the budgetary scale, from tiny beach shacks for $2 per night to seven-star luxury resorts that provide you with your own butler.
9. The caves of Ellora and Ajanta. Ajanta is older and full of Buddhist paintings; Ellora is bigger and features carvings and rock-cut architecture. They're both within an easy drive of Aurangabad, a nondescript city about a nine-hour train ride inland from Mumbai. But the mere facts do not prepare you for the magnificence of these UNESCO World Heritage sites, second only to the Taj Mahal. The entire two days I spent exploring them I kept thinking, why don't more people know about these!?
10. A long train ride. Preferably overnight. Indian Railways is the world's largest employer, and the train system in India is extensive to say the least. There are several grades of trains – the best are Shatabdis and Rajdhanis – and three main classes: first, second and third. Second class is usually a good choice with four bunks per compartment, each separated by a curtain; but an overnight train ride in first class on a Rajdhani train is a nice treat (though don't expect luxury, especially in the bathroom).
If you enjoyed this post, you can….
Get updates and read additional stories on the Breathedreamgo Facebook page.
Buy Song of India, a collection of 10 feature stories about my travels in India. E-book version is now only $1.99.
Subscribe to the free — and inspiring! — e-newsletter, Travel That Changes You.