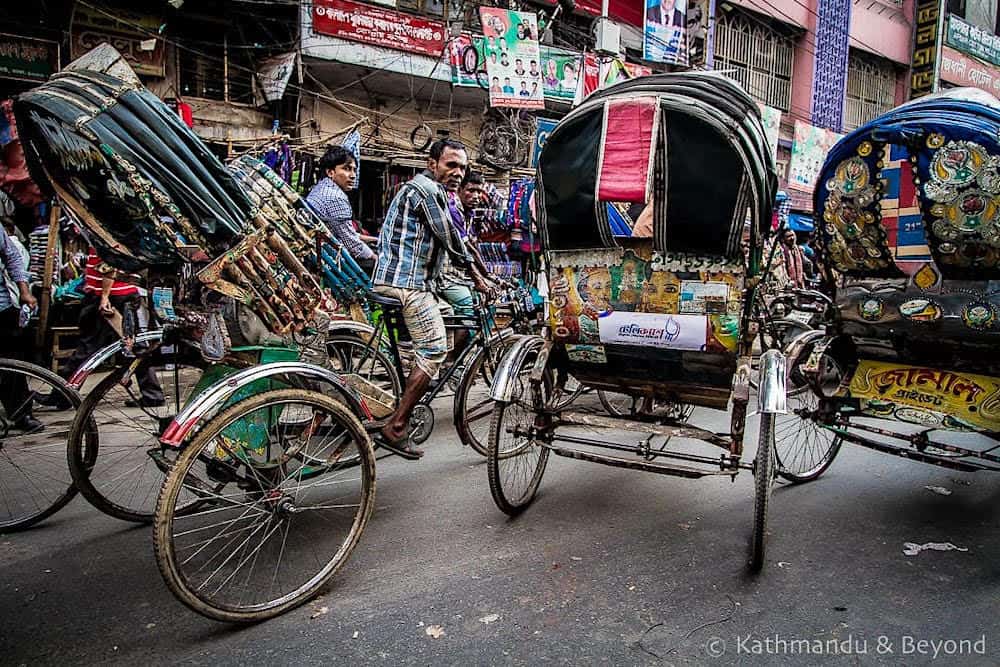 Explore 21 undiscovered destinations in South Asia: Myanmar, Bangladesh, Nepal, Sri Lanka, Maldives, and Bhutan
South Asia is one of the most populous regions on earth (largely because it includes India at 1.3 billion) and encompasses some of the oldest and most fascinating cultures. This post explores undiscovered destinations in Sri Lanka, Maldives, Bhutan, Nepal, Bangladesh, and Myanmar. In a separate post, discover 22 stunning offbeat places to visit in India.
I've spent the last 14 years traveling in South Asia, it's my favourite region on earth. Though there is a lot of tourism to this region, the numbers are far less than Southeast Asia and it can still, at times, feel a bit unspoiled and unexplored. Add to this a vast rage of geographies from the world's highest mountains — the Himalayas — to the beaches of the Maldives, and some of the most ancient, undisturbed cultures on earth.
There are many good reasons to visit lesser known and undiscovered destinations in South Asia. It bolsters the local economy and encourages local entrepreneurs, especially women (when it's well managed), it can involve the entire community, and it eases the burden on overly touristy areas. Plus, it gives tourists a more authentic cultural experience and an opportunity to transcend typical tourism and really get to know the local people and culture.
Please read on as 21 travel bloggers offer their best suggestions for getting off the beaten path in South Asia! And for added reading, check out my Guide to offbeat places in Phuket you must experience, the Best beaches in Southeast Asia, this post on this post on best destinations for families travelling in Asia, this Guide to the best places to visit in Kathmandu and Best Offbeat Places to Visit in Bali to experience authentic culture.
Myanmar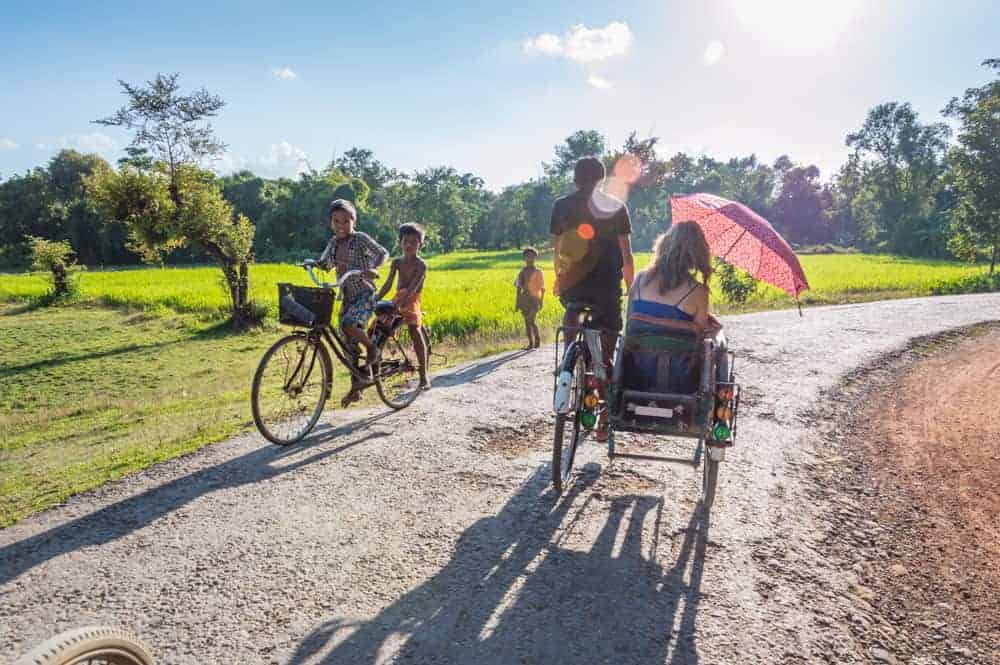 Mrauk U, Myanmar
Hidden Kingdom worth the trek

Myanmar is best known for the ancient temples of Bagan, but unfortunately, it's popularity has led to it becoming rather overrun with tourists. These days Bagan feel a bit less authentic than a decade ago.
What most visitors don't realize is there is another amazing location in Myanmar to get your temple fix. Located along the northeastern edge of Myanmar near Bangladesh, Mrauk U is so off-the-beaten-path you will actually be quite shocked when you encounter other tourists.
Mrauk U was the capital of the Arakan Kingdom for 350 years and was an important trading port on the Bay of Bengal. There you'll find a vast plain of temples and pagodas dating from the 15th to 18th century. Plus you'll be surrounded by cheerful, longyi wearing locals that still find the appearance of foreigners to be a pleasant surprise.
But reaching Mrauk U is no easy feat. First, you'll need to catch a flight to the port city of Sittwe and then ride a local ferry five hours up the Kaladan River.
The government of Myanmar is currently in the process of having Mrauk U certified as a UNESCO World Heritage Site which will almost certainly lead to an increase in tourism in the near future.
We would recommend at least 2 days in Mrauk U, but don't be surprised to find yourself slipping into the slower pace of life and lingering a bit longer in this little hidden gem of Myanmar.
Nick and Val Wheatley are photographers, travel bloggers, adventure-seekers, and storytellers. After traveling the world for the last three years they have settled in Ho Chi Minh City, Vietnam where they write about their expat experience slurping noodles and dodging motorbikes. They blog at WanderingWheatleys.
Kalaw to Inle Lake Trek

Interaction with rural villagers makes trip unique

The trek from Kalaw to Inle Lake in Myanmar takes 2-3 days, and each night is spent in a tiny farming village in a local's homestay. While most tourists go straight to Inle Lake by bus or train, trekking to Inle Lake is the off-beat alternative.
Kalaw itself is a beautiful mountain village, and the perfect place to fuel up and get a great night's sleep before starting the trek. There are a few trekking companies based in Kalaw that will provide a local guide for the trek to Inle Lake, however it is possible to trek unguided for a more intrepid experience.
Each day on the trek covers 10-15 kilometres, on relatively flat, dirt terrain. Locals from the many tiny villages in this area have been using the same trails to get around for decades. Scenery you'll encounter include locals tending to their chilli fields and rice paddies, walking their water buffalo, and doing their part in day-to-day village life. There are no epic mountain views like other treks around the world, but the local kids who come running up to you asking for pictures so they can see what they look like in your camera, makes the trek a priceless off-beat experience.
The homestays on the trek are humble, and the best dorm-like accommodation was saved for guided tours. One night I slept in the spare room above the farmhouse, with a family of five in the room next to me, and could hear the cows snoring below me in the night! Although the homestay owners know minimal English, it's always possible to communicate with a bit of charades and big smiles. Expect amazing home-cooked meals that are vegetarian-friendly, to shower outdoors using well water, and beautiful starscapes at night due to the remoteness of the villages. Trekking from Kalaw to Inle Lake and spending time in the local Myanmar villages is an experience you'll always treasure.
Erika has been backpacking since she left the U.S. in October, 2017. You'll find her searching for the best treks around the world, though she is currently based in the neon jungle of Tokyo, Japan. She blogs at ErikasAdventures.
---
Click here to get more ideas for a Myanmar itinerary.
---
Please read more posts in my series on off-beat and undiscovered places:
---
Bangladesh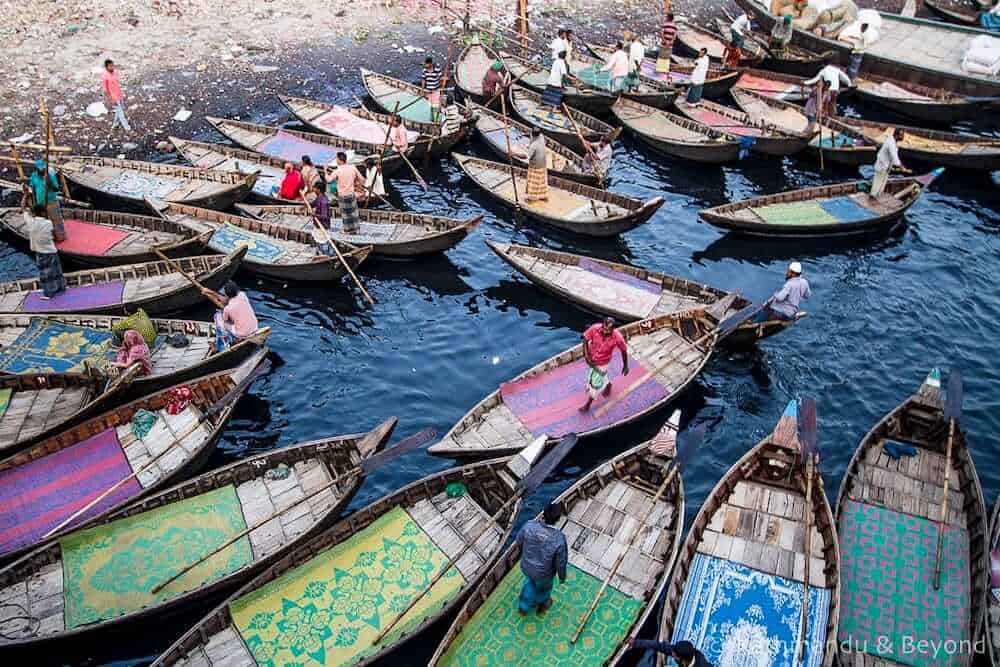 Old Dhaka, Bangladesh
Spellbinding Dhaka is like Calcutta on speed
"Dhaka is like Calcutta on speed," a friend warned us ahead of our visit to Bangladesh. Having visited India countless times, I'm no stranger to the subcontinent's "craziness" and I found the streets of Old Dhaka spellbinding. It sounds like a travel cliche, but Old Dhaka truly is one of those places where it's more about the experience and less about ticking off a list of 'must-see' sights.
Sure, you should visit the 17th-century Lalbagh Fort, and Ahsan Manzil, the royal residence of the Dhaka Nawabs, known as the Pink Palace. But for me, the real Dhaka is found in the frenetic streets of the old city — a densely-packed part of the capital where pedestrians, cycle rickshaws, tuk-tuks (or baby taxis as they are known in Bangladesh), bikes, and taxis all vie for space.
Walking through the narrow lanes, we were frequently besieged by people wanting to say hello, ask a few questions, or have their photo taken with us. It was the overwhelming friendliness of Bangladeshis that won us over, not just in Dhaka, but throughout the country.
I never get bored of exploring local bazaars and one of my favourite parts of Old Dhaka is Bangshal Road where the artwork for Dhaka's super-colourful rickshaws is produced. There is plenty more to discover but don't forget to stop for chai at a local tea stall. Another highlight is Old Dhaka's chaotic port area, Sadarghat riverfront. There you can take a trip in a small rowing boat around the harbour on the Buriganga river — it's particularly photogenic in the late afternoon light.
Many airlines fly into Bangladesh and as the country's capital, most travellers will first arrive at Dhaka airport where, like us, you'll be greeted with your first of many wide smiles. I remember thinking that if everyone in Bangladesh is as friendly as the immigration police, we were in for a fantastic trip.
Full-time traveller and Asia addict Kirsty Bennetts travelled solo before sharing the last 20 years of travel with her husband, Mark. For the past 10 years, they've been chronicling their travel stories on Kathmandu & Beyond, a travel blog with a strong focus on photography and off the beaten path destinations and offbeat things to do in more established places.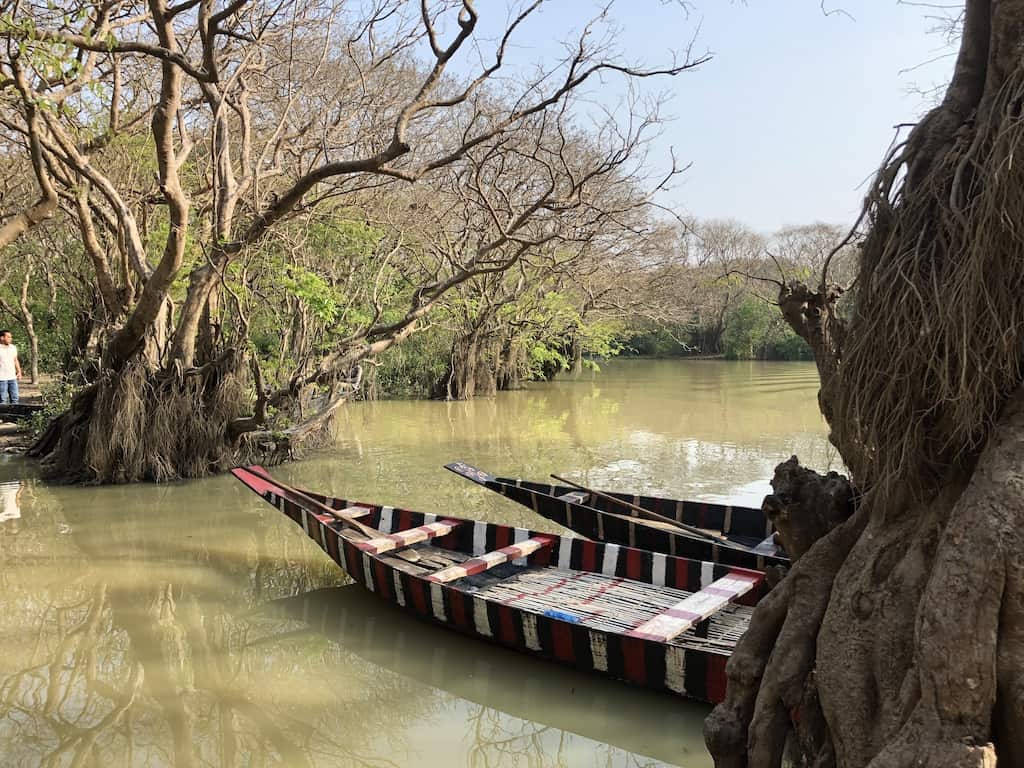 Sylhet, Bangladesh
Serenity by boat

If you are looking for a place in South Asia that is off-beat you only have to visit Bangladesh. The whole country is so far from the beaten tourist path that I saw a total of three other tourists during my 10 days there.
There are many interesting places in Bangladesh, for example the old town in Dhaka, the Sunderbans, the biggest mangrove forest in the world, or Cox's Bazar, the longest natural sea beach in the world — but I would like to introduce you to the beautiful nature found around the city of Sylhet, east side of the country.
The top place to visit from Sylhet is Ratargul Swamp Forest, a beautiful and serene place only accessible by boat. The scenery is like nothing I had seen before with twisting trees growing in the still waters and a variety of birds nesting and singing in the branches. Because the little boats are powered by muscle energy only it is very quiet and almost serene to be in this place so far away from civilization.
Other interesting places around Sylhet are Bisnakandi, a village at the border to India with a beautiful river flowing through, and the tea plantations just outside of the city — the biggest tea plantations in the world.
To get to Sylhet from Dhaka you can take a domestic flight, which is what I did. The flight is relatively cheap and takes only 45 minutes. You can also take a train, which of course is more of an adventure. The trains take between seven and eight hours if everything goes well.
There are also buses connecting Dhaka and Sylhet which take about five to six hours depending on traffic.
From Sylhet, your only option is to book a driver for the day. He will then take you to the places you want to visit. It is best to ask your hotel to organize a driver for you and to discuss with them the places that you want to visit since the drivers usually don't speak any English.
Lena is the founder of Nagoya Foodie, a food and travel blog focused on Nagoya, Japan. She wants to invite travelers to Japan to go off-beat and get to know a less touristy place with the help of her in-depth knowledge.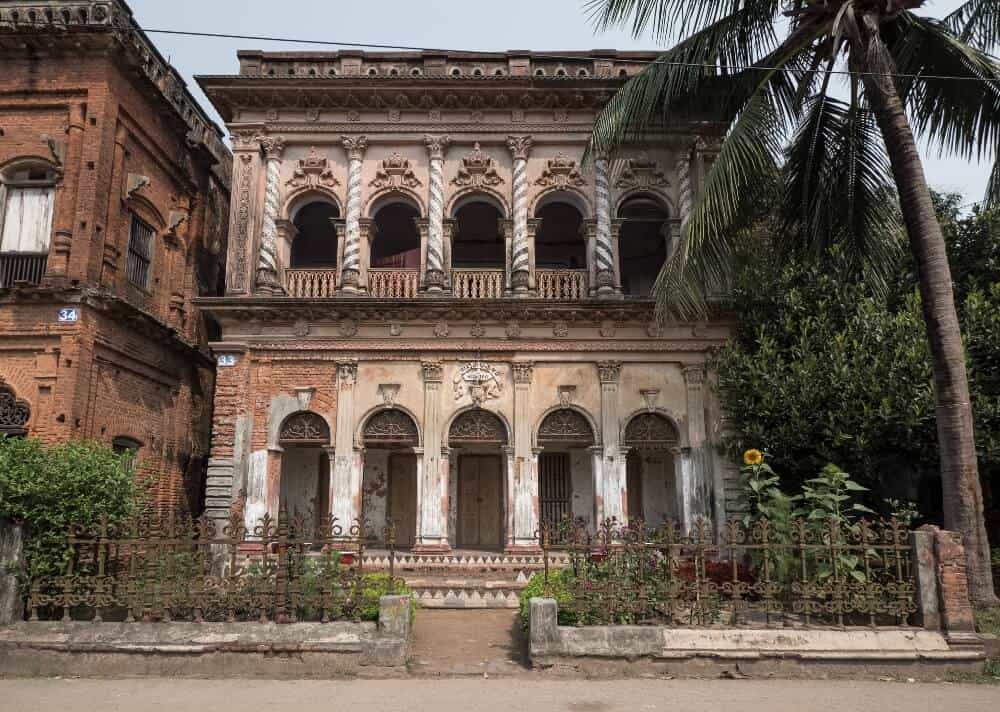 Sonargaon, Bangladesh
Mansions of the former capital
Sonargaon was the ancient capital of the East Bengal region and flourished during the 13th and 14th century. However, much of the city was destroyed or abandoned when the Mughals moved the capital to Dhaka in the 17th century. What you can visit today is Panam Bazaar, which is a street lined with 19th century mansions that were built by textile traders.
Panam Bazaar was a thriving 600 metre long street where wealthy Hindu traders built their homes. When the textile industry declined in importance due to competition from mechanization during the colonial times, and later the annexation of Bangladesh with Pakistan at the end of the Raj, the houses were abandoned.
You can stroll the pedestrian street and see mansions in various degrees of conservation. Some are still well preserved and you can go in and see the beautifully intricate door frames, balconies and stained glass. The street follows the river so there are lush patches of green at the back of the houses, which are popular for locals to enjoy a picnic.
Nearby is also the 1901 Sadarbari mansion which today houses a folk museum, and the 16th century Goaldi Mosque, the only remaining building from the ancient capital times.
To get to Sonargaon you can take a bus from Dhaka, but the best way to explore is with a guide who will be able to tell you more about the area (there is no information on site) and also show you the mansions that are safe to enter.
Mar is a former strategy consultant and Googler turned luxury and out of the ordinary travel writer and content creator who has visited 110+ countries. She blogs at OnceinaLifetimeJourney.
Nepal
Bandipur, Nepal
Relaxing in the cafes of Bandipur
Trust me when I say Bandipur in Nepal is the best place in the country to be after a multi-day trek in the Himalaya Mountain regions. Due to its remote location in the middle of the highway between Pokhara and Kathmandu, Bandipur is becoming a great getaway spot for backpackers and trekkers, who're looking for a quiet and hassle-free place. This hilltop Newari town is surrounded by hills, and on a clear day, you can catch the magnificent view of the snowy mountain ranges. The local community there also made a rule on shop vendors. They're not allowed to approach or push their sales on foreigners. So you need not to worry about saying "No, thank you," while walking in the bazaar.
What I love about Bandipur is the quiet environment, and pleasant weather. Even though there are not many things to do there, I felt like I could literally spend a week there, just chilling outside the café reading books. And the things there are not expensive at all despite its status right now.
However, getting to Bandipur is a little tricky. First of all, you'll have to buy a bus ticket which drops you at Dumre. Most of the buses traveling between Kathmandu and Pokhara can do that, you just have to ask. In Dumre, you'll be approached by many Jeep drivers, asking whether you need transportation to Bandipur. If you don't mind paying a little extra, go ahead with that. It's Rs 500 to be exact. But if you're tight on budget, follow your GPS and walk to the gateway to Bandipur, around 15 minutes. There, you can take the local bus, which cost Rs 60 to get up there.
Check out this post for everything you need to know for visiting Bandipur.
Yen blogs at Swingabroad.
Panauti, Nepal
A refreshing getaway close to Kathmandu
Located less than a two hours drive from Kathmandu, the medieval town of Panauti, which dates from the 13th century, is an excellent option to get away from the mundane noise and discover a very friendly side of Nepal. With purer air then you find in the cities, welcoming people, it's a very enriching experiences.
Thanks to an invitation, I was able to experience the hospitality of a young family from this town for two days and one night. Upon arriving the family took me and my partner to some of the most important landmarks of their town, such as the temple and the suspension bridge over the river, before seeing the sunset from a hill. Later, they taught us how to cook momos, one of the most typical dishes of Nepal. Finally, they left us a couple of sarees and took us to a nearby house where there was a small gathering of people from Panauti. We all ended up dancing to Nepalese tunes. What else could someone ask for?
If you want to live a similar experience, get in touch with the Panauti Community Homestay organization. And if you like the idea, check out Annapurna Community Trek to Mohare Hill too. You won't be disappointed!
Inma and Jose blog at AWorldtoTravel.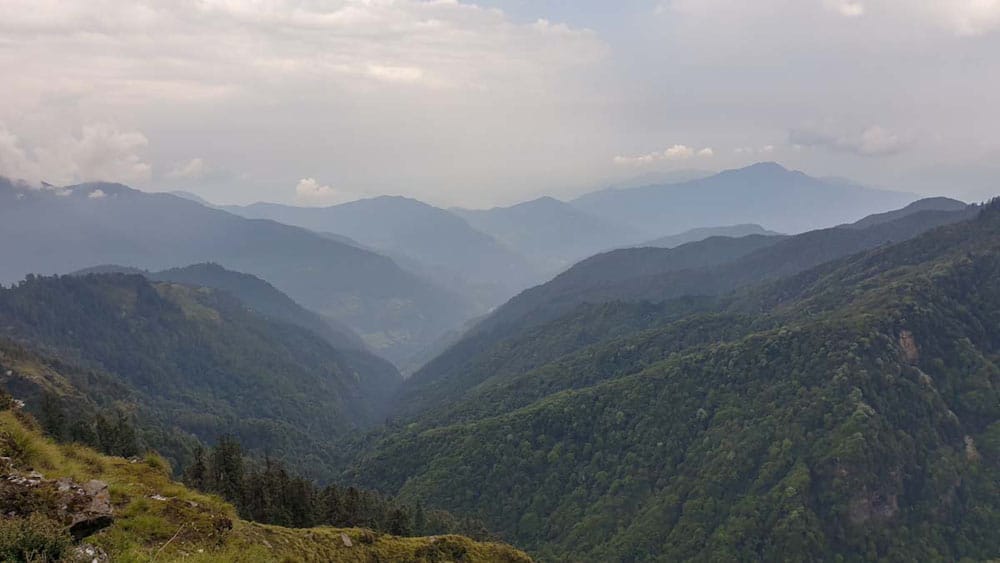 The Mohare Danda Trek, Nepal

Going up and down in Nepal

A little bit up, a little bit down. Just a little bit over the hill, around that corner and past that town. This is, in its simplest form, a beautiful explanation of what it is like to experience trekking in Nepal. Not only are you walking a little bit up and a little bit down, so too will your emotions. The highs and the lows never cease to amaze me, when travelling through Nepal. The community eco-trek to the summit of Mohare Danda is no different. It's all up, down and through the unique mountain towns
This trek is a mid-range altitude trek. There are some tough and long days of walking, but for a hiker with moderate fitness you won't find yourself in too much strife. Really if you can put one foot in front of the other, and drink water, you'll be perfectly fine on this trek. Some areas on the trek are very remote and others are areas are walking through orange groves and farm lands.
Along the trek you'll stop in a variety of villages, each one offering community based accommodation and dining. Each community that you walk through offers a community dining hall. These are the perfect place for momos, a hot masala chai or even some mushroom soup.
The wonder of this trek is how raw and untouched it is. During my trek we saw not one other hiker on the trails. Not during the village stays or the hours of walking along the trails. Yaks, buffalo, goats and friendly trail dogs were common. But not a single other foreigner.
Basic facts about the Mohare Danda trek: The Mohara Danda eco-community trek is approximately a three-hour drive from Pokhara. Length of time is four nights, five days The longest day is approximately seven hours of trekking. The shortest, yet toughest day, is the first day. To reach the summit, 3,300 metres, takes three-four hours.
Jean is a coffee fuelled adventure traveller. Focusing on sustainable and ethical travels, ensuring that we leave the mountains and oceans for future generations to enjoy. She blogs at TravelingHoneybird.
Sri Lanka
Tangalle, Sri Lanka
Gorgeous beaches and old fishing port offer rustic charm on south coast
The southern coast of Sri Lanka is a popular destination. Places like Hikkaduwa, Mirissa, and Unawatuna get their fair share of visitors. For me, the crowds sometimes took away the charm of traveling along Sri Lanka's southern coast, until I reached Tangalle.
This sleepy fishing town is famous in Sri Lanka for having the oldest fish port. It also has a number of picture perfect beaches and exciting day trip opportunities. Even though Tangalle is getting more popular among tourists ,you can still consider it one of the best off-the-beaten-path destinations in Sri Lanka.
What I personally liked most about Tangalle were the friendly people. From the fishermen that showed me their catch of the day to the family that treated me as a guest of honour in their newly opened restaurant. Everywhere I went I received a warm welcome and there was a laid-back atmosphere that made me feel at ease.
The beach in Tangalle is nice enough to relax for a few days, but there are also several interesting day trips you can make. The turtle hatcheries in nearby Rekawa, or ancient Buddhist temples, for example.
If you are looking for a place without the crowds, and that gives you a feel for authentic Sri Lankan culture, then Tangalle is the best place on Sri Lanka's southern coast. From the capital Colombo it is only seven hours by bus.
Ellis is cultural anthropologist from the Netherlands who has travelled for more than 20 years to over 50 countries along the ancient Silk Road. She blogs at BackpackAdventures.
Kalpitiya, Sri Lanka
Kiteboarding & surfing in wonderfully windy Kalpitiya
Located on the northwest coast of Sri Lanka, Kalpitiya is a tiny fishing village known by few international tourists. Those who make the trek to this out-of-the-way spot usually do so because they know that this otherwise typical Sri Lankan village has something extraordinary about it: wind.
Thanks to its fortuitous location on the shores of the Bay of Bengal, Kalpitiya is perfectly positioned to receive strong, reliable wind throughout most months of the year. As a result, the world's travelling kitesurf tribe flock to Kalpitiya's blustery lagoons to make the most of what has come to be known as one of Asia's premiere kiteboarding locations.
There are a dozen-odd kitesurfing centres scattered along the shores of the renowned lagoon, where visitors can avail of beginner kitesurfing lessons, advanced clinics, and equipment rental. In contrast to the stark offerings in Kalpitiya village, the kite clubs at the lagoon offer quite a lot of options for accommodation (everything from eco cabanas and glamping tents to luxury resorts). Many of them also host regular social events — like barbecues and beach parties — so the vibes at the lagoon are always high.
Considering how off-the-beaten-path Kalpitiya truly is, getting there takes a bit of time — and patience. The most straightforward way to reach the village is to fly into Colombo airport and from there take a private car/van — which you can book online in advance. There are also public buses and trains that go from Colombo to Kalpitiya, though many of them stop in Puttalam and require a change.
Half of the adventure travel blog Extreme Nomads, Grace is a freelance writer and content creator for the outdoor travel industry. She has spent the past few years living in China, Vietnam, and Thailand working as a blogger, TV presenter, and documentarist with a specialty in kiteboarding.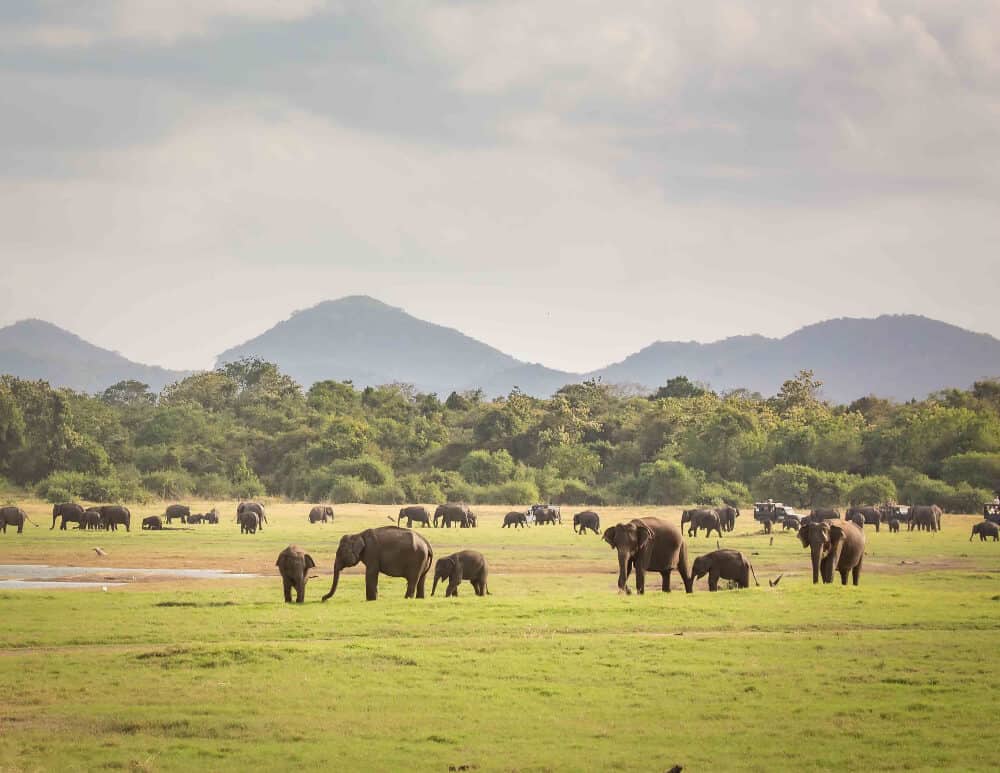 Kaudulla National Park

Majestic elephants in Sri Lanka
The central provinces in Sri Lanka are usually only a quick stop to see Sigiriya, better known as Lion Rock. However, once a year — typically in July and August — a spectacular natural phenomenon occurs in this region: the elephant gathering. This is the largest congregation of the endangered Asian elephant in the world, and you can see more than 100 of these graceful animals in the same place. They come from the surrounding areas to the only places that still have water during the height of the dry season. Seeing so many of these incredible animals at once is an unforgettable experience. You'll see groups of adults with calves bathing in mud, feeding, drinking water, or simply playing.
The vast majority of tours head to Minneriya National Park, but Kaudulla offers the same spectacle, with a fraction of the crowds and a cheaper price tag. The tours will take you from Sigiriya and normally last four hours (including the time to get there and back). Unlike a lot of wildlife tours, spotting the elephants isn't difficult, meaning you have at least two hours just taking in the scene. It's not whether you'll see elephants, but how many.
There are several operators in town, and you can choose to go with a group or book a private jeep for about $60 USD (no matter how many people are in the jeep). The jeeps have an open top which make for a particularly exciting experience.
If you're visiting Sri Lanka in July or August, Kaudulla should definitely be part of your Sri Lanka itinerary.
Walk My World are Joe & Cat – two Brits who left London on a one way ticket in 2012 and have been adventuring ever since.
Wilpattu National Park, Sri Lanka
Catch a glimpse of wild leopards and sloth bears at Wilpattu
Going on wildlife safari in Sri Lanka is one of the best things to do in the country, but most people end up visiting Udawalawe or Yala National park. Few people seem to visit Wilpattu National Park, yet it is world-renowned for its thriving leopard population.
Wilpattu is one of the oldest national parks in Sri Lanka and the largest at an impressive size of 1,317 square kilometres. Another unique feature of Wilpattu National Park is the 'willus,' the natural lakes. These natural, sand-rimmed water basins fill with rainwater that attracts wildlife. There are nearly 60 lakes throughout Wilpattu.
Inside the park, you can see most of the wildlife that Sri Lanka has to offer. Some of these include monkeys, deer, mongoose, storks, crocodiles, birds, hares, tortoises, elephants, and eagles. But the biggest highlights of the park are the wild leopards and sloth bears.
I loved visiting Wilpattu National Park not only for the diversity of wildlife, but because almost no one else was there. Some of the parks in Sri Lanka can be quite crowded and you almost feel bad for the animals being bombarded by jeeps. But in Wilpattu, you often have the animal viewings all to yourself.
Wilpattu National Park is located in the Northwest coast of Sri Lanka, 30 kilometres west of Anuradhapura or 180 kilometres north of Colombo. You can either take a day tour from Colombo/Anuradhapura or take the bus/train to Anuradhapura and a tuk-tuk to Wilpattu National Park from there.
Lora is an adventure travel blogger on a mission to visit every country in the world and find the best wildlife and nature that each one has to offer. She blogs at ExploreWithLora.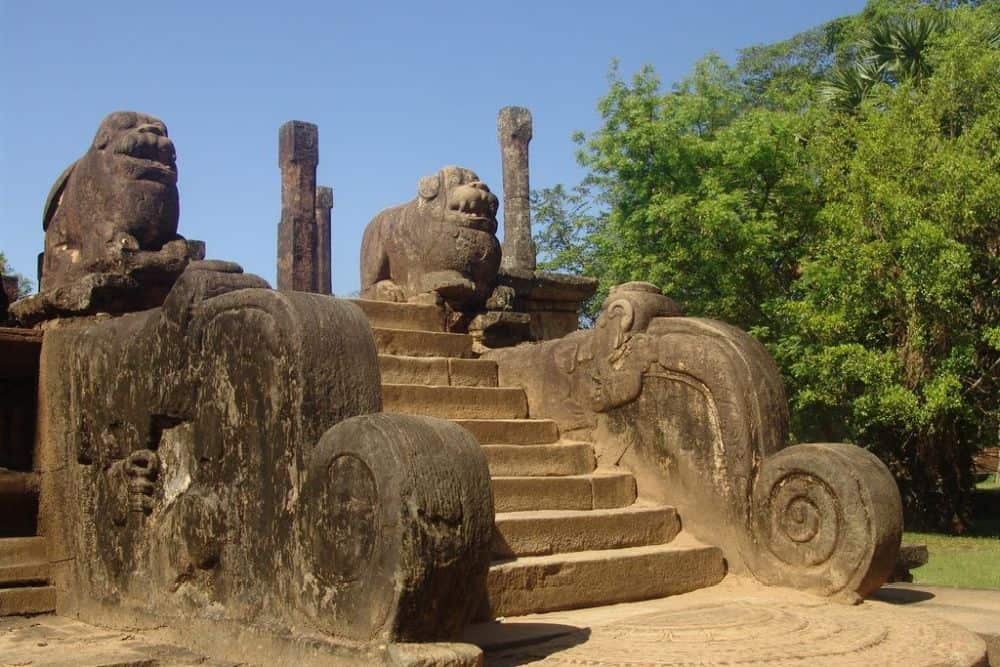 Polonnaruwa, Sri Lanka

Sacred site of Sri Lanka

Once the capital of various kingdoms that successively ruled Sri Lanka, Polonnaruwa is now an archaeological park filled with ruins of bygone eras. Inside you will find stupas, tombs, temples and giant Buddha statues, and the whole complex has been listed by UNESCO as a World Heritage Site.
While Polonnaruwa was first built in 993 AD after Anuradhapura had been destroyed, most of what is visible today was built a couple of hundred years later, in the 12th century.
A main highlight of Polonnaruwa is the Sacred Quadrangle. This compact group of buildings surrounded by a wall is also known as the Royal Citadel. One of the most impressive buildings in the Quadrangle is Potgul Vehera. It's a circular shrine where sacred Buddhist text were kept and where monks chanted blessings. Keep an eye out for the beautiful carvings here, including the makera (a mythical animal) and the moonstone at the entrance to the Royal Audience Hall.
Another place you should definitely visit in Polonnaruwa is Gal Vihara, otherwise known as the Rock Temple. This is where you'll find the three giant Buddha statues. The first one is standing, the second is lying down, and the third is seated. They all have one thing in common, though — they are carved out of the same granite boulder.
Given the size of the archaeological site, renting a bicycle to explore it is highly recommended. Lots of businesses around town rent bicycles, and you may even be able to rent one from your homestay or guesthouse. You might also ask your homestay host to prepare a packed lunch of Sri Lankan food, as there's not much food for sale inside the park beyond fruit and snacks.

Polonnaruwa is about three hours by bus from Kandy, or one hour from Dambulla. Most of the banks, shops and other facilities are in Kaduruwela, four kilometres east of Polonnaruwa.
Wendy is an intrepid traveler, vegan foodie and animal lover. She travels all over the world (111 countries and counting) uncovering vegan treasures to show you how you can be vegan anywhere. Wendy blogs at TheNomadicVegan.
Ahangama, Sri Lanka
Surfing and Yoga all part of life on the south coast
Ahangama, located on Sri Lanka's South Coast, is a truly stunning surf town located between Galle and Mirissa. Although Sri Lanka is not always known for its daily huge swells, the south coast guarantees secret surf spots that only locals and those in the know are aware of – the best kind of surf beach! Ahangama is exactly that, with its wide and sweeping sandy beach, populated by surf shacks yet quiet enough to enjoy perfect peace. With a slightly larger swell than neighbouring Weligama, it's the perfect beach for beginner to intermediate surfers. LA Point Surf Camp runs awesome week-long residential camps here, and they can organize individual surf lessons or board hire.
If surfing isn't exactly your thing, there's a whole host of other amazing things to do in the area around Ahangama, my favourite being SUP Yoga. Enjoy a sunrise paddle board across the lagoon for a gentle stretching session, before meandering back through the stunning mangroves. You'll feel totally secluded, a million miles from the stresses of every-day life – talk about the dream off-beat spot! After, head to nearby Weligama to enjoy one of the gorgeous health food cafes of Nomad or Ceylon Sliders.
Annie blogs at Off Goes Annie, an adventure travel blog aimed at encouraging you to explore the world further than ever before, getting off-the-beaten-track to all the best bits!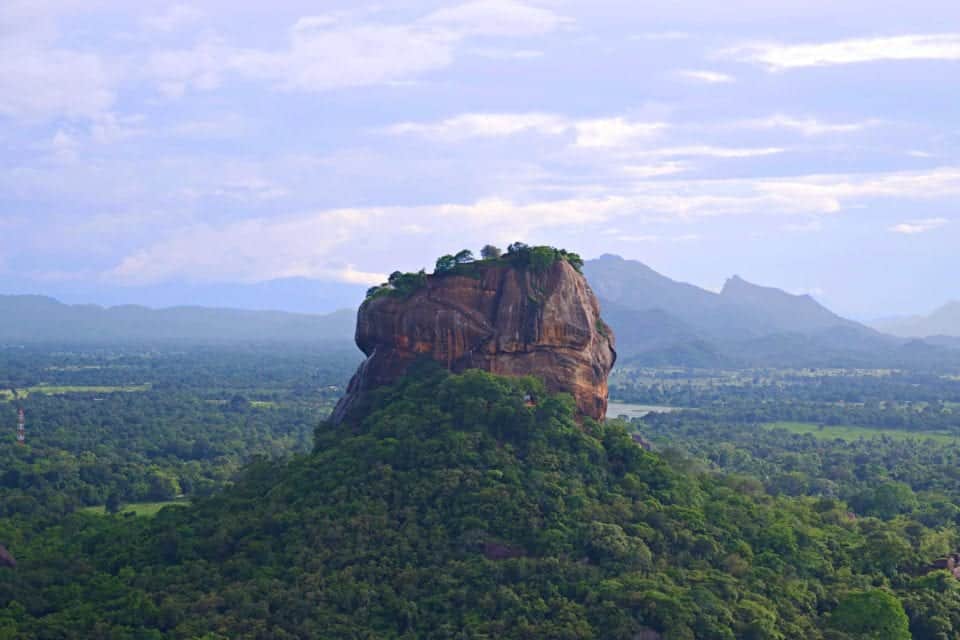 Pidurangala Rock, Sri Lanka
A hidden gem with an iconic view
Are you looking for an astounding offbeat destination in South Asia? Have you ever heard of Pidurangala Rock in the central highlands of Sri Lanka? Budget-minded adventure travelers stumble upon this hidden gem when they are looking for alternatives to the busy, crowded, and expensive Sigiriya Rock. Climbing Pidurangala Rock awards you an iconic view of Sigiriya from the air without using a drone. Pidurangala cost only a couple of dollars to enter while it's over $30 to visit Sigiriya. About a third of the way up, there is a thousand-year-old cave temple you can visit that's included in the ticket price.
You can easily walk between Pidurangala Rock and Sigiriya Rock, and the town of Sigiriya. You'll find an additional free temple complex just outside of Pidurangala along the way. It takes two hours to hike to the summit and back, but you will want to allow extra time to visit sites along the trail. Highlights include the reclining Buddha statue, cave temples, and the views from the top. Cool mornings or late afternoon are the best time to visit. If you're looking fora new perspective on the famous Lion Rock, you have to climb Pidurangala.
Jenn and Ed Coleman blog at ColemanConcierge.
Jaffna
Raw, off-beat and worth the trek
Jaffna is a city on the northern tip of Sri Lanka. It was not safely or easily accessible until recently due to a civil war that took place between 1983 and 2009. Despite being a Sri Lankan and visiting Sri Lanka a couple times a year, it was only in my 36th year that I visited Jaffna and discovered the things to do in my dad's birth city.
As you can imagine, tourism is a new concept — making Jaffna an off-beat place in Sri Lanka that's worth the trek. For accommodations, there are many guest houses, but not all of them are created equal (as I found out) so my advice is to stay at the Jetwing Jaffna if you enjoy your creature comforts. They also serve up a fantastic breakfast so you will be able to enjoy local Tamil cuisine and traditional Sinhalese dishes that should be on your list of things to eat in Sri Lanka.
Jaffna does show signs of the war that waged for 25 years, with many bombed-out or bullet riddled buildings, but we felt safe walking around at night. Over the course of two days you can visit the local markets, catch sunset at Jaffna Fort, and visit the local library. If you're looking for beaches, Kankesanthurai Beach and Keerimalai Pond are within a 25-minute drive.
While Delft island is the most frequently visited island in Jaffna, the main attraction for me was Mannar Island. Located an hour from Jaffna, here you will find palm trees, colonial forts, wild donkeys, and fishing boats as you roam around the largely abandoned island. For those looking for a soulful experience, a visit to Nallur Kandaswamy Temple is highly recommended before you make the six hour journey back to Colombo. If you're looking for a place that is raw and also features delicious local cuisine, Jaffna is for you.
Yashy Murphy is a girl about town who refused to let go of her pre-baby lifestyle. As parents, she and her husband have continued to travel the globe and to explore everything there is to eat, drink and do in Toronto with their two young, travel-seasoned kids. You can follow their adventures, and misadventures, on BabyandLife.com,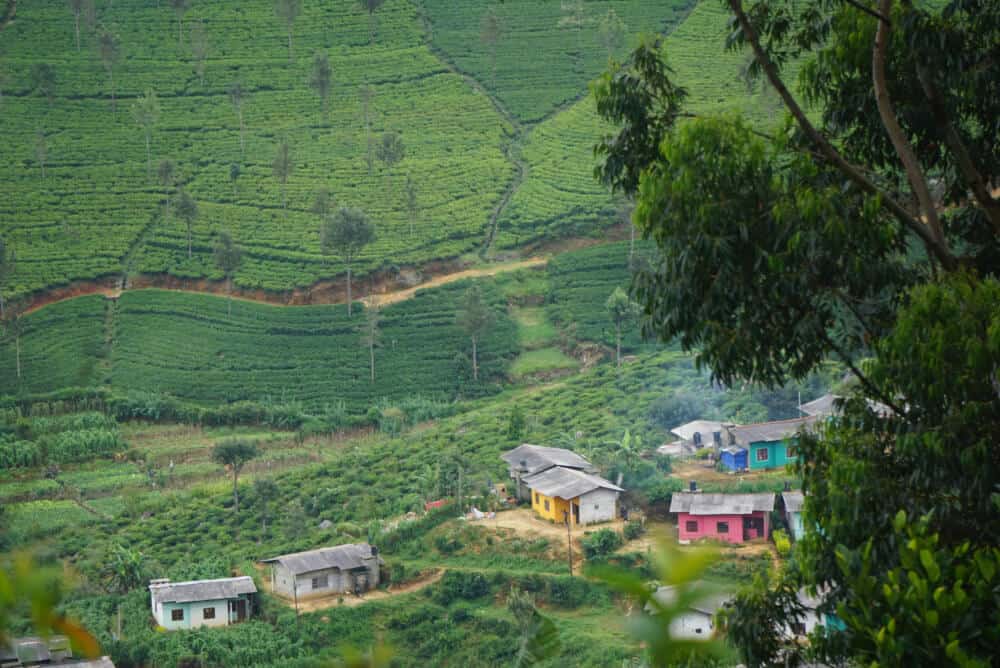 Haputale, Sri Lanka

Cooling down with tea in authentic Haputale

Sri Lanka's hillside town of Haputale is a true gem. Spend a day exploring the town, trying bites at local food carts and walking along the railroad tracks, where you'll find locals commuting by foot. End the day with a local meal at one of the many cozy home stays in the area, for a more authentic dining experience!
Cozy up with a cup of tea and a beautiful view in the evening. Due to the higher elevation, you'll find that the temperatures are a bit cooler in Haputale than in the surrounding areas.
While spots such as Ella and Nuwara Eliya can be found on most Sri Lanka travel itineraries, the small town of Haputale is often skipped over. Offering similar tea plantation landscapes and climate as the famous nearby towns, Haputale itself is relatively free of crowds. A visit to Haputale offers a glimpse of the local lifestyle in Sri Lanka.
Additionally, the town serves as a great starting point for the famous tea plantation, Lipton's Seat, which is located just 45 minutes down the road. This is especially convenient for those looking to visit the plantation for sunrise. Haputale can be easily reached by train, as it is one of the stops located on the famous train ride between Kandy and Ella.
Taylor Taverna of TavernaTravels is a travel specialist and content creator, leading international group trips for young travelers!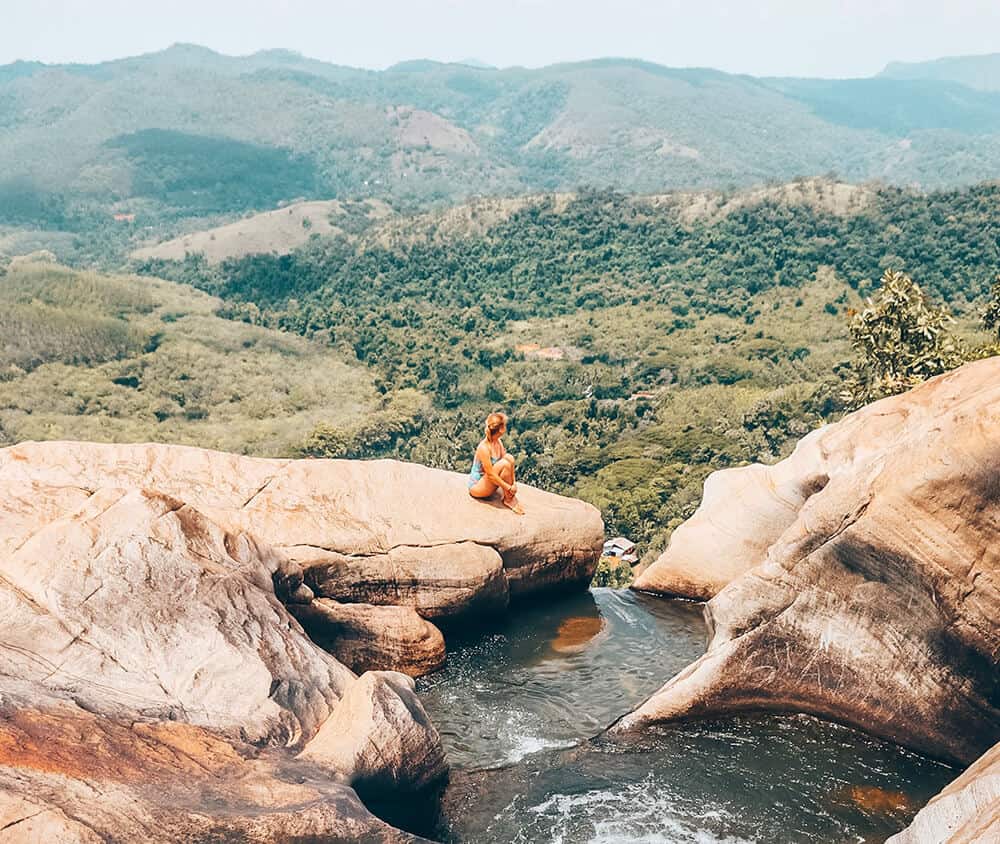 Diyaluma Falls, Sri Lanka
A refreshing and secluded oasis
Diyaluma Falls is the second highest waterfall in Sri Lanka and is 220m high. This is the perfect day trip from Ella town, which you can reach on the famous Ella train from Kandy. The falls can be reached with or without a guide, but I would definitely recommend a guide. We paid 2000 Sri Lankan rupees for a guide between the four of us. This is about 10 Euro.
The hike to Diyaluma Falls is through lots a forest without a clear path in some sections. Once you reach the top of the falls, there are a few pools with cool fresh water to jump in! After these pools, the waterfall cascades down below. The best way to capture this in photo from above is with a drone. If you don't have a drone, then it can be seen from below.
After you have had a dip in these pools, start walking even higher up the waterfall. Here you can do cliff jumping and slide down the waterfalls. We saw one person with their own rubber ring to slide down on.
It is such a beautiful and unique area full of natural beauty. You can easily spend a few hours here. I have seen a lot of waterfalls from down below, but it is amazing to climb right to the top and experience the view from here. I thought that as Sri Lanka is becoming more popular, that it would be busier here. However, even at midday when we were there, we were the only ones for quite a while.
Hanna is a full time traveller and sun seeker. She has a particular interest in architecture and is always on the lookout for hidden gems. Hanna blogs at SolarPoweredBlonde.
Tissamaharama, Sri Lanka

Birdlife and political history part of small town's attraction

Tissamaharama (fondly known as Tissa) is a quaint little town in the Hambantota district of Sri Lanka, which acts as a base for the nearby Yala and Bundala National Parks. Before going to Yala National Park Safari, we stopped for the night at Tissamaharama and quickly learned more about this beautiful town. The entire town revolves around a man-made reservoir called Tissa Wewa, which with its amazing birdlife, provides the scenic milieu to the town. An evening boat-ride on Tissa Wewa viewing blooming water lilies while enjoying the sunset is so refreshing after a whole day of the journey.
Tissamaharama (earlier known as Mahagama, 'The Great Town') was a sanctuary for the Sinhalese nationalists who fled to rally support against Dravidian invaders from Southern India, was founded in the 3rd century BC by a brother of the King Devanam Piya Tissa of Anuradhapura. It later flourished under King Kavantissa, father of the hero of the nation, King Dutugamunu of Ruhuna. Tissa is surrounded by a beautiful expanse of paddy fields amidst which stands the most impressive of Tissa's dagobas (stupas). The town of Tissa has an earthly beauty; a sense of history from its cluster of snowy white dagobas and beautiful water reservoirs, making it distinct from the other towns of the southern coast.
If you are planning to visit Yala or Bundala National Park, I would suggest you to stay in Tissamaharama and enjoy the surroundings. So, you can reach Tissa, from Ella via Telulla or Kataragama or from the South Coast via Tangalle.
Anwesha Guha writes Going Places with Anwesha Guha.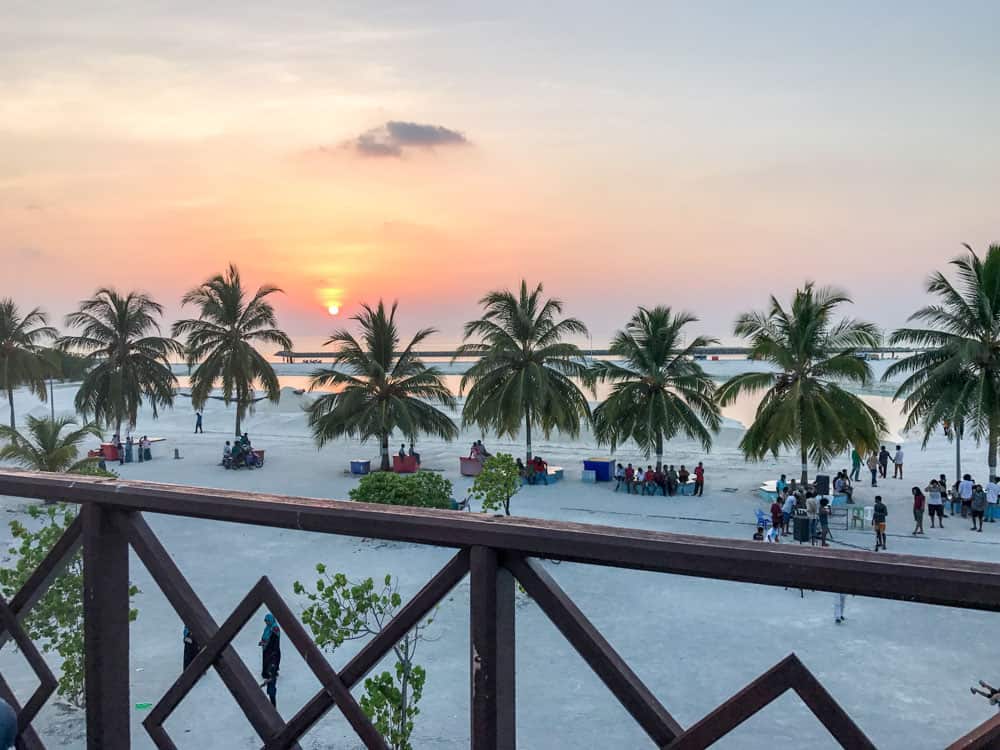 Maldives
Friendly Maldives has something for everyone
The Maldives is known as an expensive destination but the opening of its local islands to visitors in the last decade, it no longer is the case. Many of these islands like Maafushi are now popular because of its proximity to the capital Male. If all you want is to enjoy the beach, soak in the local culture and be one of the only tourists on the island, then consider Gaafaru. It's a three-hour public ferry ride from Male on the Kaafu Atoll in the north.
Gaafaru's first hotel didn't open until 2016 and now there's only three on the island. During my week there, there were at most six guests, which meant we had the bikini beach designated for tourists for ourselves. You can snorkel or kayak straight from the beach, with shipwrecks snorkelling and sandbank visit just a quick speed boat ride away. They even know the best places to spot dolphins and sea turtles, and I even found an octopus on a picnic island visit.
One of the best things to do on the island is to walk around and admire the colourful houses, rivalling Burano and Cinque Terre. When I take my walks around town, kids would come up and say hi to me, some even gave me shells as gifts. I was invited to the owner's cousin's house for a visit, joined the local music night, watched a football match, and enjoyed a rooftop coffee by the pier.
Nam Cheah is a Hong Kong-based bubble tea addict with a passion for travel, hikes, food, and puns. She blogs at LaughTravelEat.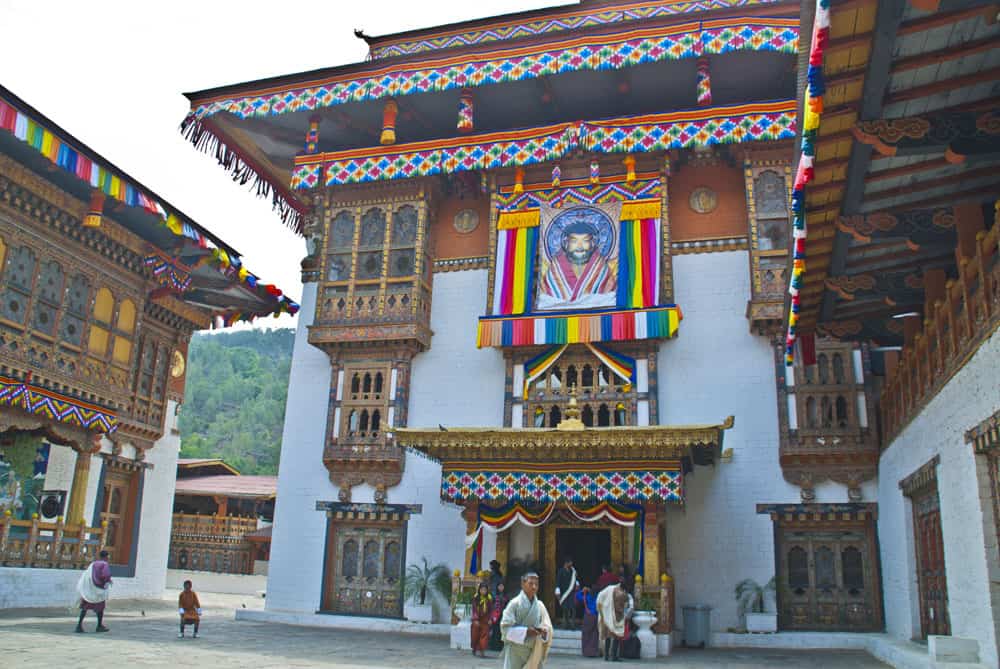 Bhutan
The rich history and beautiful views of Bhutan
Bhutan is a small Asian country known for the beauty of the landscapes, towns and culture. There are some beautiful places to visit in Bhutan, but a trip there would be incomplete without visiting Punakha. This town is situated at 1,200 metres above sea level and one of the warmest place in Bhutan. Punakha is in the valley of two main rivers Pho Chu and Mo Chu and that is why the land is very fertile. I saw paddy (rice) fields everywhere in Punakha.
While Punakha is a naturally beautiful place there are some unique monuments also. My favourite place is Punakha Dzong, which is situated on an island at the confluence of the Pho Chhu and Mo Chhu rivers. It was built by the first Zhabdrung Rinpoche in 1637–38 and it was the seat of the Government of Bhutan until 1955. Punakha Dzong is made of carved wood, bricks, and metal. The paintings done on its interior walls are mesmerizing. The workmanship in the main hall of the Dzong is so beautiful that it leaves you speechless. Punakha Dzong is surrounded by jacaranda trees and when mauve flowers bloom in spring, they add to the beauty of the Dzong.
My other favourite place is the Punakha suspension bridge. This bridge is approximately 250 metres in length and used by villagers to cross the Mo Chu and Po Chu rivers. The bridge sways when you walk on it and for people like us, it's an exciting feeling. Another interesting place in Punakha valley is the monastery Chimi Lhakh, situated on a hill and surrounded by paddy fields. There are some easy treks in Punakha valley. Some of these are winter treks and some are summer treks. Punakha is a perfect place to explore nature. Thimpu is 85 Km from Punakha and it takes about two-three hours hour by road. The nearest international airport is in Paro, which is 125 kilometres from Punakha.
Sapna is a travel blogger from India. She loves exploring monuments, local culture, and food during her travels. She blogs at MySimpleSojourn.
---
Tip: Monsoon is a great time to travel in Asia. Read about the 12 Best places to visit in monsoon in India and the 14 Best monsoon travel destinations around the globe.
---
Pin it on Pinterest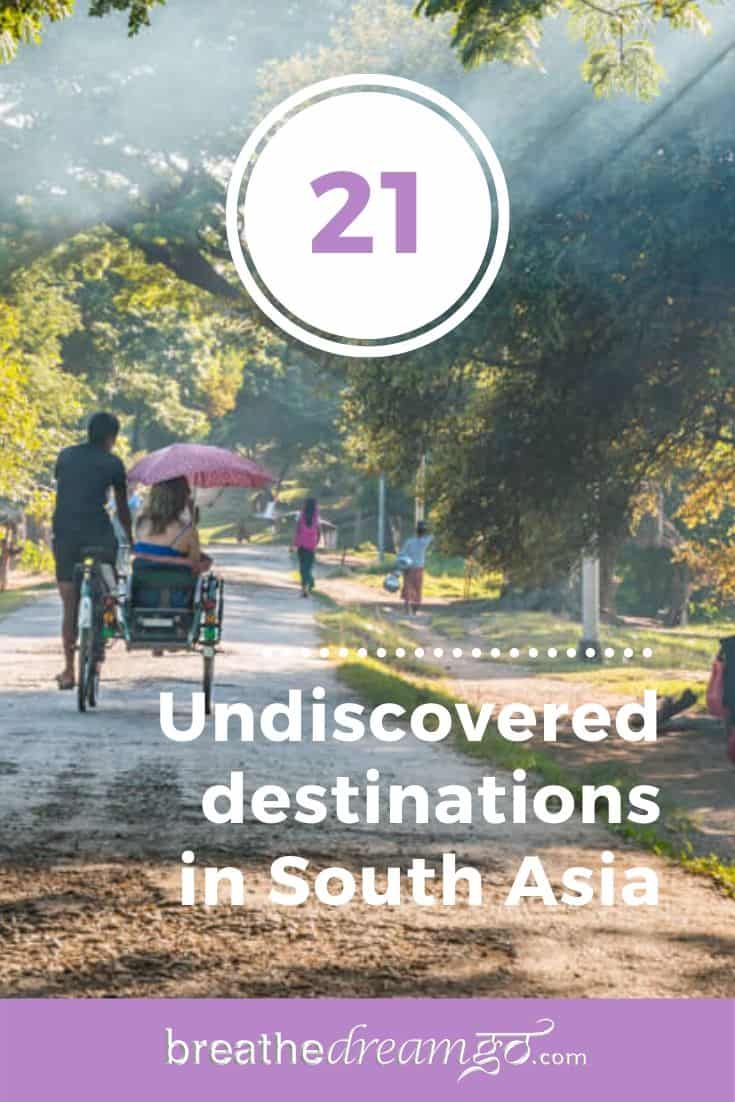 ---
If you enjoyed this post, you can….
Sign up to The Travel Newsletter in the sidebar and follow Breathedreamgo on all social media platforms including Instagram, TripAdvisor, Facebook, Pinterest, and Twitter. Thank you!