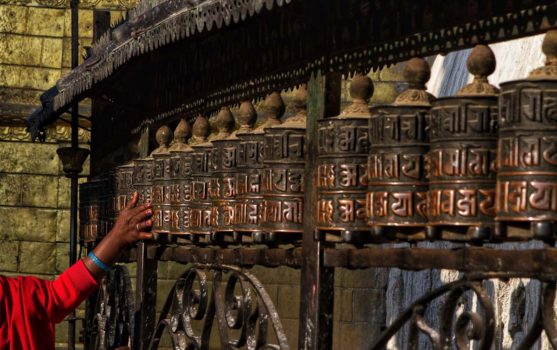 Guide to the best places to visit in Kathmandu, Nepal
KATHMANDU IS THE CAPITAL CITY of Nepal, and the city with the only international airport, too. Kathmandu is in a valley, surrounded by mountains, with the soaring white peaks of the Himalayan range in the distance. While Nepal is known for adventure travel, mountaineering, and trekking, Kathmandu is a historic and cultural city in its own right, with many fascinating neighbourhoods and tourist attractions. You don't have to climb Mount Everest to enjoy a trip to Kathmandu and Nepal! In this Guide to the best places to visit in Kathmandu, I hope to share some of the things I truly love about this city.
I've been to Kathmandu four times, and it was the fourth visit that completely won me over. After seeing so many different places to visit in Kathmandu, the city stole my heart, as did Nepal. Nepal is one of my favourite countries for several reasons that include the warm and open people, the interesting history and culture, the harmonious mix of Hinduism and Buddhism, and of course the incredible natural beauty. As home to many of the world's highest mountains, including number one, Mount Everest — which is known in Nepal as Sagarmatha and in Tibetan as Chomolungma — Nepal has magnificent vistas and large regions of wilderness that are largely untouched.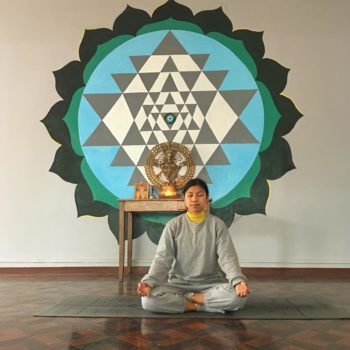 On my fourth visit to Kathmandu, I started to uncover a different side of Nepal and had the chance to experience wellness and spirituality. At Avata wellness centre, in the heart of the city, I found a serene and peaceful garden surrounded by a health food cafe, a spacious and sunny Yogashala, and a luxurious spa. I would consider Avata one of the best places to visit in Kathmandu.
This inspiring visit to Avata began to open up the spiritual side of Nepal for me, and I hope to continue to explore it. The Himalayan mountain range that runs through Nepal gives the country a reputation for being mystical, rugged, and remote. The Himalaya is the birthplace of Yoga, the home of Shiva, the destination of one of the holiest of all pilgrimages — Mount Kailash — and the location of mythical Shangri-la, a utopia among the peaks. Many stories of bravery, courage, and hardship spring from here, both known and untold. While many are drawn by the magnetism of Mount Everest, there is much, much more to explore in Nepal. Even in Kathmandu itself, there are many spiritual places to visit.
In this post I asked some of the my friends — travellers, bloggers, and photographers — to tell me their favourite places to visit in Kathmandu. My favourite neighbourhoods are Boudhanath, Bhaktapur, and Patan. And I also enjoy visiting the centre of Kathmandu — Durbar Square, Freak Street, and Thamel. On a day-long walking tour I did with Kalpana of Royal Mountain Travel, we covered many of these places.
My company India for Beginners will be working with Royal Mountain Travel to create a unique Nepal for Beginners tour that focuses on wellness, spirituality, culture, soft adventure and nature / wildlife tourism — with a Community Homestay visit to experience authentic local culture. Coming soon!
---
More reading about Nepal on Breathedreamgo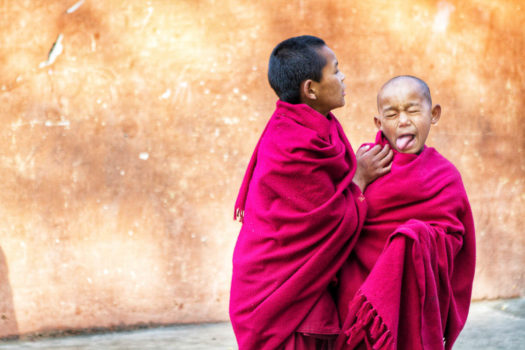 Kathmandu photo essay by Andrew Adams
I visited Kathmandu in 2012 to photograph a Hindu wedding and fell in love with the culture and the warm welcoming Nepalese people. I was also amazed at the historical significance and architectural beauty: stunning, ornate temples made of carved wood, and gleaming white Buddhist Stupas, and centuries old buildings. Will definitely visit again.
The photos in this series covers many of the best places to visit in Kathmandu including Pashupatinath Temple, Swayambhunath Stupa, Kathmandu Durbar Square, and a traditional Nepalese wedding in Kathmandu.
Andrew Adams is a Canadian photographer with a focus on South Asian culture, portraits, and travel. For more of Andrew's photography work visit his website.
---
Best places to visit in Kathmandu Valley
The Kathmandu Valley is the cultural centre of Nepal. UNESCO has inscribed seven Monument Zones as part of the Kathmandu Valley World Heritage designation.
From the UNESCO website: "These monument zones are the Durbar squares or urban centres with their palaces, temples and public spaces of the three cities of Kathmandu (Hanuman Dhoka), Patan, and Bhaktapur, and the religious ensembles of Swayambhu, Boudhanath, Pashupati, and Changu Narayan. The religious ensemble of Swayambhu includes the oldest Buddhist monument (a stupa) in the Valley; that of Boudhanath includes the largest stupa in Nepal; Pashupati has an extensive Hindu temple precinct, and Changu Narayan comprises traditional Newari settlement, and a Hindu temple complex with one of the earliest inscriptions in the Valley from the fifth century AD."
I've been to most of these as they are within a relatively small region, and they are amazing to experience. I particularly love the Durbar Squares in central Kathmandu (properly known as Hanuman Dhoka, after the royal palace), Patan, and Bhaktapur.
The Durbar squares of Kathmandu, Patan, and Bhaktapur are living history, the site of priceless monuments, gilded with antiquity and reverence – and yet they are pulsing with life, just as relevant today as when they were built. The temples are open and in daily use, and the squares throng with tourists, pilgrims, and locals. The squares especially come alive during celebrations, festivals, and rituals when people pour in to celebrate centuries old traditions.
There is an entrance fee for each of these monument sites, which is much higher for foreigners than for locals or citizens of SAARC (South Asian Association for Regional Cooperation) countries.
In November 2021, I paid:
1,500 Nepali rupees to enter Bhaktapur
1,000 Nepali rupees for Hanuman Dhoka Durbar Square
400 Nepali rupees for Boudhanath Stupa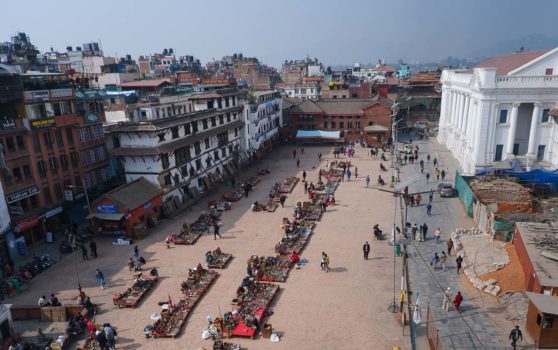 Kathamandu (Hanuman Dhoka) Durbar Square
In the heart of Kathmandu is a complex of palaces, monuments, shrines, and temples, both Hindu and Buddhist, that make up the area known as Kathmandu Durbar Square. It's also known as Hanuman Dhoka Durbar Square after a Hanuman statue that adorns one of the palaces — and it is most definitely one of the best places to visit in Kathmandu — in fact, it cannot be missed.
Once a royal residence, this is the cultural centre of the city, and it's a fascinating area to wander, a living museum of antiquities, many built between the 12th and 18th centuries – but the origins of the square go back much, much further in time.
Until the early 20th century, Durbar Square was the home of Nepal's royal family, and the place where coronations were held. The Royal Palace was largely constructed in the 17th century, but has been renovated many times.
Within Durbar Square, there are several inner squares, and many different chowks, courtyards, and temple compounds as well – it is an area rich in priceless antiquities. Many important festivals are held here, and people stream in from all over the city and the country to celebrate in Kathmandu Durbar Square.
Wear comfortable shoes, bring a bottle of water, and spend the day wandering in Kathmandu Durbar Square. There's so much to see! When you get hungry, find the cafes that line one side of the open square near the Site Office, at the start of Freak Street. From a rooftop cafe or coffee house, you can get a great view of the area.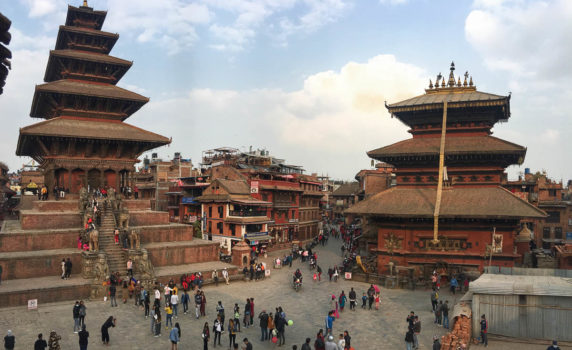 Bhaktapur
Bhaktapur was the capital of Nepal until the 15th century, and it remains an important cultural centre and a living museum of Newari culture. Known in Newari as Khwopa, Bhaktapur is an area of about seven square kilometres, about 15 kilometres outside of Kathmandu.
Bhaktapur is architecturally stunning, with beautiful pagoda-style temples, Buddhist stupas, and palaces around every corner. It really has to be seen to be believed! And it is just as rich in intangible history as it is in buildings, gates, monuments, and houses. Bhaktapur is alive with locals, pilgrims, and tourists and the site of many traditional festivals.
Within the area of the city, there are four important squares: Durbar Square, Taumadhi Square, Pottery Square, and Dattatraya Square. Each is fascinating in its own way. Dattatreya Square is the oldest part of the city, and features the oldest temple. Both Durbar Square and Taumadhi Square are spectacular to behold.
In Durbar Square you will find stone sculpture masterpieces, the Golden Gate and and 55 Windows Palace, replicas of Char Dham temples, erotic wood carvings, and the National Art Galllery. In Taumadhi Square there are several multi-roofed pagoda-style temples, stone sculptures, and a water tank / well with carved spouts.
Bhaktapur is known for pottery, handicrafts, black caps, black sarees with red borders and Juju Dhau, a thick, sweet yoghurt that is not to be missed! You can easily make a day of exploring this amazing area, where Hinduism and Buddhism harmoniously blend, and the past is alive in well-maintained buildings and ongoing traditions.
Or, you can stay in a local guest house in Bhaktapur and immerse totally in the evocative atmosphere of this ancient city.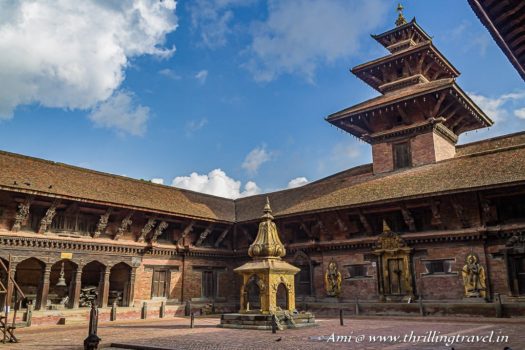 Patan Durbar Square by Ami Bhat
It might be the smallest of the three Durbar Squares (erstwhile kingdoms of Nepal) but Patan Durbar Square is the most artistic of them all. Every structure, intact or in ruins, is a testament to the stunning Newari craftsmanship. The UNESCO World Heritage site has lots of ancient temples, the royal residence of Malla kings, and a well-curated museum that offers you glimpses of artefacts dating back to the 7th century.
Hidden within the royal palace are two of my favourite structures: the stunning bronze statues of Ganga and Yamuna in Mul Chowk, and the dazzling step well called Tushahiti in Sundari Chowk. The statues guard the entrance of the Taleju temple – the royal deity of the Malla Kings – and are almost life-sized. Tushahiti charmed me with its elaborate carvings, at the centre of which is a golden tap in the shape of Vishnu riding on Garuda. The step well was used for ceremonial baths by the royal family.
Patan Durbar Square has a plethora of secrets to be unravelled. One day is not nearly enough to discover them all. It is one of the very best places to visit in Kathmandu (and you can stay in one of the many charming guest houses or boutique hotels, too).
Ami Bhat is a full-time travel writer, photographer and blogger who believes in counting experiences and not just places. You can catch her adventures at ThrillingTravel.in
Thamel by Paula Martinelli
A trip to Nepal was on my bucket list for many years. Home to a centuries old culture and the highest mountains on the planet, the small Himalayan country long intrigued me. I spent 30 days in Nepal, with most of my time in Kathmandu.
One of my favourite things to do was to explore Thamel. A crowded commercial spot, with disorganized streets and narrow alleys, Thamel offers visitors a mix of religious monuments, magnificent temples, lively pubs, restaurants that serve delicious local cuisine, and shops filled with local handicrafts and artwork. In Thamel, you can walk for hours and have fun getting lost while you look for clothes, hiking gear, or bargains. Or, you can simply stroll and enjoy the people watching.
As Thamel is a touristy area, the prices are higher than in other areas of Kathmandu – so be prepared to bargain.
Thamel is a car-free area, so if you are not in a mood to walk, you can take a cycle rickshaw to get around. If you are not staying in the area, taxis are the easiest and quickest option to get to Thamel. I chose to stay in a hotel close to Thamel, so I could walk every morning to find a cosy and colourful café, and every evening to find a new amazing restaurant.
Paula Martinelli blogs at Paula Pins the Planet.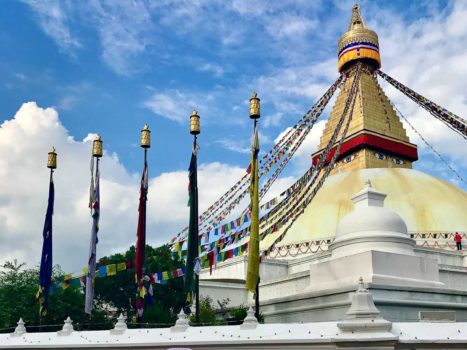 Boudhanath by Teja on the Horizon
I don't know what possessed me to stay near Boudhanath instead of the more popular choice of Thamel when I was in Kathmandu. But I'm glad I did.
Boudhanath is a UNESCO site because of its stupa's importance as a Buddhist pilgrimage destination in the Himalaya for hundreds of years. Aside from being among the largest in the world, I also found the stupa's wisdom eyes fascinating.
The Boudhanath neighbourhood has a different character than the rest of Kathmandu. It has a peaceful vibe that I thoroughly enjoyed. The shops sell Tibetan artwork, souvenirs, and brightly coloured traditional Tibetan clothing, which the local women wear as the circle the stupa.
A constant flow of pilgrims walk or prostrate in circumambulation around the gleaming white stupa, chanting mantras as they go. The ring of multi-storey buildings that surround the stupa house Buddhist seminaries, monasteries, and vegetarian eateries. Some of the latter have rooftop access, where you can gaze out over the square and upon the enigmatic eyes of the stupa. After sunset, countless lamps gild the plaza in light.
As a pilgrimage and tourist attraction, it is easy to get dropped off at Boudhanath by taxi from Thamel. But it took me two tries to find it from where I was staying. The Boudha stupa, though massive, is nestled within a ring of buildings, and the passages into it from adjacent roads are not obvious.
Inspiring and insightful travel from Teja on the Horizon.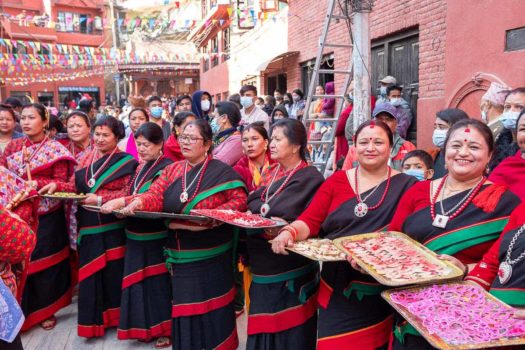 Kirtipur, town of Newars, by Eileen of NomadicNumerist
The Kathmandu Valley is home to the Newars, a people said to be descended from the Kirat, the legendary People of the Himalaya. Living on the crossroads of ancient trading routes, a wide range of influences have mingled to create their unique culture. While Kathmandu, Patan, and Bhaktapur are well-visited Newar towns, Kirtipur is a delightfully small and lesser known Newar town, just on the outskirts of Kathmandu.
Kirtipur is easily accessible by bus in a half hour ride from Kathmandu's Ratnapark bus station. It's old town boasts tranquil lanes and the red-bricked, ornate buildings for which the Newars are famous. I was there for the Indrayani Jatra, Kirtipur's most important festival during which the goddess Indrayani is taken from her shrine and carried around the streets by the men of Kirtipur.
After a lunch in Lahana Newa restaurant, where I was cajoled into trying the Newari favourite, sapumhicha (buffalo intestines stuffed with bone marrow), we tracked down the jatra. It was in full swing as sweating men charged around with Indrayani on a heavy, wooden chariot, and women circled with jugs of aaila (Newar rice whisky). Indrayani was eventually brought to the main square where the locals hustled to touch their head to her feet and make offerings of vegetables. The aaila flowed, prasads were thrown and the dancing continued all day.
Eileen is a travelling writer who finds it hard to leave the Indian subcontinent. Her writings can be found at Nomadicnumerist.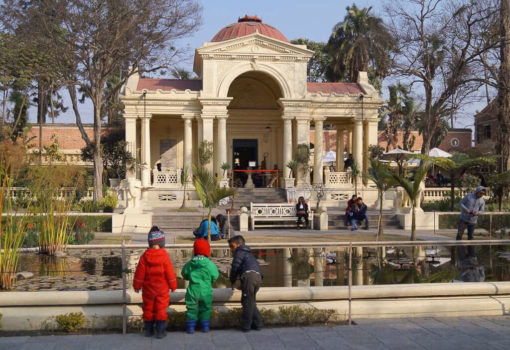 Garden of Dreams by Jenny of TraveLynn Family
Garden of DreamsThe Garden of Dreams is an oasis within the chaos of downtown Kathmandu with its manicured lawns, ponds, and flora-arched walkways. There are even mats and cushions laid out for use, and you're allowed to bring in your own drinks and picnic. It's a lovely place to spend the afternoon; although expect to share the lawn with a few canoodling locals (it's apparently the best place in town to bring a date).
Whilst we loved exploring the various sites of the city and wandering Thamel to stock up on important things like Spiderman woolly hats for our Himalayan trek, finding a green space in the city centre was a breath of fresh air (literally).
If you're visiting Nepal with kids (it's one of our favourite trips we've done with the kids), you will no doubt spend some time in Kathmandu and discover, as we did, that Garden of Dreams is perfect for kids. Entrance is 200 rupees for foreigners.
Jenny from TraveLynn Family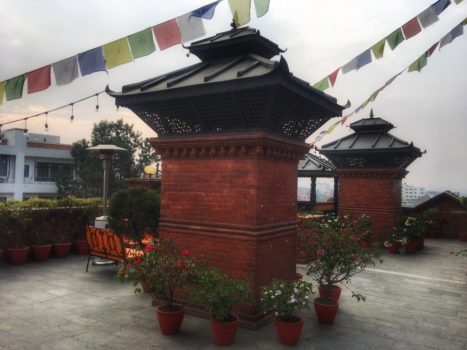 Best places to stay in Kathmandu
Kathmandu has many options when it comes to accommodation. There are luxury hotels, mid-range hotels, boutique hotels, guest houses, hostels, and home stays, and something for every budget. The city is spread out and transportation is not the best in Kathmandu, so I would suggest carefully choosing your area. Popular choices are Thamel (for backpackers), central Kathmandu, Patan, and Boudhanath.
I love the hotels owned and operated by Royal Mountain Travel. Traditional Comfort Boutique Hotel is in central Kathmandu — and yes it is both in a traditional style and very comfortable. And on a smaller scale, the charming and elegant Traditional Stay Hotel in Patan, which has a fantastic location very near Durbar Square.
In Thamel, I love Kathmandu Guest House, which has a large garden, many room choices, and a whole lot of history! The Kathmandu Guest House is one of those iconic hotels, legendary for both its place in local history and folklore, and for the people who have stayed there. Celebrating 50 years in 2018, it opened in Thamel in 1968 when the area was just farmer's fields. The Thamel we know today, as the tourist hub of Kathmandu, grew up around the Kathmandu Guest House, and this was the place many writers, explorers, mountaineers, and celebrities stayed. You can read more about it in this post.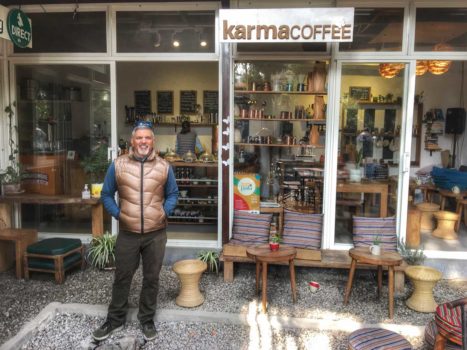 Where to eat and drink in Kathmandu
There are lots of choices but when I was recently in Kathmandu, my favourite spot is Karma Coffee and HUB Boudha, run by my friends Birgit and Raj. Raj Gyawali is the founder fo the responsible tourism company Social Tours. HUB Boudha is a wonderful "concept space" with shady trees, outdoor seating and the amazing food, tea, and coffee of Karma Coffee. They go to great lengths to ensure the products are locally sourced and fair trade. And not only is everything fresh and delicious, they have gluten free options too, which I was worried I would not find in Nepal.
---
If you enjoyed this post, you can…
Sign up for Dispatches in the sidebar and follow Breathedreamgo on all social media platforms including Instagram, Facebook, Pinterest, and Twitter. Thank you!