A guide to the best offbeat places to visit in Bali for Yoga, culture, and spiritual retreats
For many, Bali is the definition of paradise on earth. And for good reason. Bali's culture is beautiful, the nature is mesmerising, and it has so much to offer – from fun adventures discovering waterfalls and beaches, to exploring temples, parks, rice terraces, and volcanoes. There are many things to do in Bali, beautiful places to visit in Bali, and of course resorts and incredible beaches in Bali, too. Many people travel to Bali for spiritual retreats, and many have life-changing experiences attending a Yoga retreat in Bali.
However, Bali has also become known for mass tourism and some areas are overcrowded, noisy, and polluted – sorry to say. In this Guide to Best places to visit in Bali for Yoga, culture, and spiritual retreats, we are offering some offbeat destinations and suggestions to avoid the crowds, and to experience the authentic Bali culture.
---
NOTE: Guest post by Ines Luttenbacher of Bali Buddies.
---
TIP: Did Eat, Pray, Love inspire you to visit Bali? Looking for more? Read this if you want to have an Eat, Pray, Love experience in India.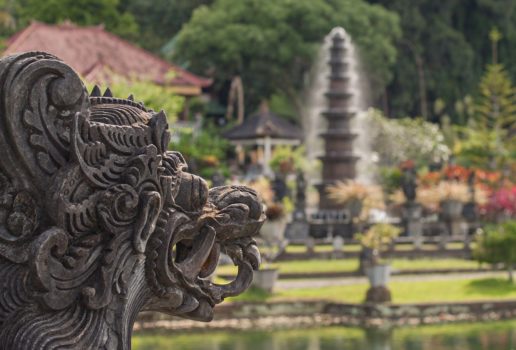 1. Best time to visit Bali
To be honest, any time is a good time to visit Bali and all seasons have pros and cons. There are two main seasons in Bali: The dry season that runs from April to October and the rainy season that runs from November to March. Let's talk about the pros and cons for each.
The dry season is when most people visit Bali, because, as the name suggests there is almost no rain at all and less humidity which makes it much easier to explore the island. Also, sunbathing on the beach is much more comfortable when it doesn't rain. And most importantly, only during the dry season can you do and see some of the most famous destinations in Bali, such as Mount Batur or Angel's Billabong on Nusa Penida. On the downside, you'll have to share the island with thousands of other tourists. Trust me, it's going to be packed and traffic will be a nightmare. Further, prices will climb during these months as well.
What about the rainy season? Well, it's going to rain more often – but not every day. It will make it a bit harder to plan everything weeks in advance because you won't know which days are going to be the rainy days. On the plus side, less tourists means more time to explore everything in peace. Sunsets are more beautiful during the rainy season, the waterfalls are more powerful, and stunning and the rice fields are as green as they can get. Plus, most things will be a bit cheaper.
In conclusion, the best time to visit Bali is really a personal question that varies for people with different preferences. If you have the liberty to do so, I would choose the best of both worlds, meaning arriving towards the end of the dry season and staying until the beginning of the rainy season.
2. Bali culture
Bali, also called The Island of the Gods, has a very beautiful and special culture that draws people from all over the world to the island to take a trip to Bali. The Balinese follow a form of Hinduism – they believe that mother nature is affected by spirits. Bali's main temples, the 9 Directional Temples (kahyanganjagat), are the most important ones in Bali culture as they are thought to protect the Balinese from evil spirits. Often, these temples are located on mountains, cliff edges, and in caves as those locations are considered to attract good luck. There are more than 20,000 temples scattered around the island, and each has a specific function and ritual for the Balinese. As the temples are sacred places, anyone wishing to enter must follow temple etiquette, which means one has to cover his/her shoulders, wear a sarong, and not be on their menstrual period.
There are lots of ceremonies for every special event in a Balinese person's life, such as birth, maturity, marriage, and death. Besides these more personal ceremonies, there are also huge ceremonies for public holidays, such as Nyepi (day of silence). When walking the streets in Bali, you will often see offerings (sesajen) on the road that Balinese put out as offerings to the spirits. They are made of palm tree leaves, flowers, rice, candies and often have incense in them as well. These offerings are thought to maintain the balance and peace on earth.
When you visit Bali, I highly recommend taking part in a Balinese village experience to fully immerse yourself in the Balinese culture. You can visit an authentic Balinese family village compound and interact with the locals on a more personal level. You will learn how to make the Hindu offerings and will even get to take part in a blessing ceremony. It's not to be missed if you want to experience Balinese culture and traditions and spiritual Bali.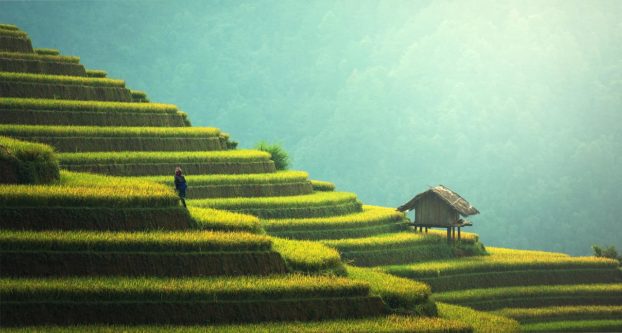 3. Beautiful destinations in Bali
Bali is filled with beautiful destinations and really offers something for everyone. No matter if you're into exploring waterfalls, temples, beaches, rice terraces, or volcanoes, Bali has it all. Here are some of our recommendations for the most beautiful destinations in Bali:
1. The three most beautiful temples
You most likely will not have time to visit all 20,000 temples on your next Bali trip, but there are a few that are definitely worth checking out. Our favourites are the Ulun Danu Beratan Temple, which is located on the edge of Lake Beratan. When the water rises, it will seem like the temple is actually floating on the surface of the lake – it looks incredible. Uluwatu Temple is located at the edge of a cliff and is definitely worth a visit. Make sure to watch the famous Kecak fire dance that takes place every night right at sunset. And last but not least the most famous temple among tourists: Lempuyang Temple. Here, you'll see the giant Mount Agung in the background hovering between the gates.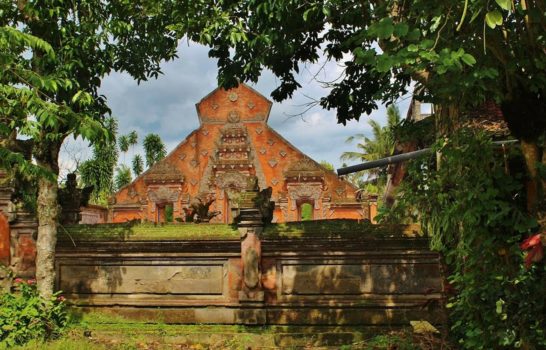 2. The three most beautiful waterfalls in Bali
There is definitely no shortage of waterfalls in Bali. The three most beautiful and stunning waterfalls are Sekumpul waterfall, Leke Leke waterfall, and Tukad Cepunk waterfall. Sekumpul waterfall is the biggest waterfall in Bali and is tucked away in the most beautiful nature I've ever seen! It's truly remarkable and still very untouched. Leke Leke waterfall isn't far from Sekumpul waterfall and is surrounded by beautiful nature and looks like it's straight out of a fairytale land. Tukad Cepung waterfall is located in Ubud and is actually located between steep cliffs with sun rays breaking though the cliff giving it a magical vibe.
3. The most beautiful beaches in Bali
Bali is blessed with amazing white and black sand beaches, sandy beaches, and rocky beaches, beaches on the bottom of a cliff, and beaches that are more easily accessible. Uluwatu is the area in Bali that offers the most beautiful beaches for both sunbathing and surfing. If you're close to Uluwatu, we definitely recommend checking out Greenbowl beach, Bingin Beach, Thomas Beach, and Nyang Nyan Beach. For the surfers, Suluban Beach is the best one.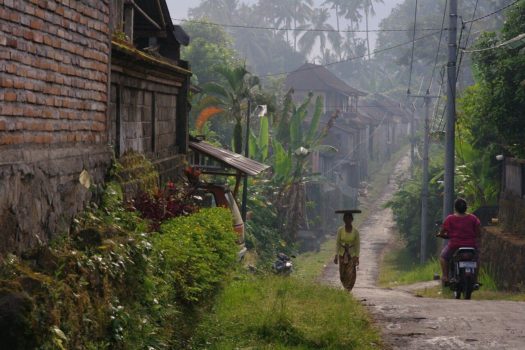 4. Looking for Offbeat Bali
If you're looking for some offbeat and natural places in Bali that's away from tourists, there are a few areas in Bali that we recommend exploring. Sidemen, an area on the east side of Bali, is still quite untouched for reasons I don't really understand. It has some of the most beautiful scenery that you can find in Bali. Think rice terraces everywhere you look, palm trees, jungle vibes, cute local warungs, and just a very calm and relaxed atmosphere. Driving around, stopping whenever you find a beautiful spot and enjoying the amazing views will be a simple yet unforgettable day.
The north of Bali is also quite untouched, and an equally beautiful Bali destination. Here you get to enjoy more jungle vibes, walk on black sand beaches, watch dolphins, hike volcanoes, and go snorkelling. We like driving along the coast from Lovina to Amed. On the way, you'll find some hidden black sand beaches behind a forest of palm trees. If you have a drone, you can get amazing footage of the blue ocean, the black sand, the green palm trees, and the volcano (Mount Agung) in the background. In Lovina, you can go swimming with dolphins and in Amed you can go snorkelling and explore shipwrecks, beautiful coral, and colourful fish.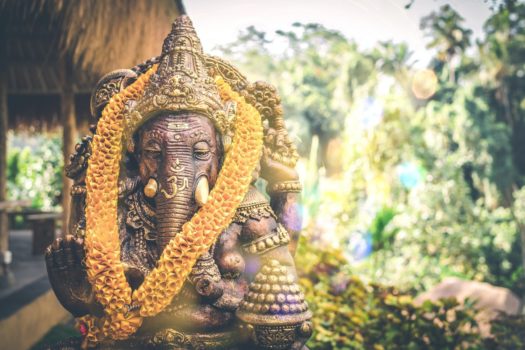 5. Spiritual and Yoga retreats in Bali
Just being in Bali is already a spiritual retreat. In Bali, you'll find everything from amazing Yoga retreats to life-changing spiritual retreats – to suit everyone's needs and budget. Since Bali is a very spiritual island, finding spiritual retreats will be quite easy. But what's not so easy is figuring out which ones are actually legit and worth experiencing.
We talked to Savitri Devi to give us some tips and insights. Savitri is a holistic health practitioner, life coach, Yoga and meditation teacher, and Reiki Master Teacher who lived in Toronto before moving back to her home country Bali. Since there are so many retreats to choose from, she recommends asking the retreat leader a few questions in order to ensure quality and satisfaction, such as how long has s/he been teaching, how many retreats has s/he led, and also their qualifications. Be aware that a flashy social media presence does not always equate to a teacher's depth of knowledge and experience.
Savitri has been a Yoga and spirituality leader for more than 20 years. She has taught and led wellness programs at several leading wellness resorts in Ubud. Currently, Savitri curates and facilitates customised Yoga and Wellness retreats, teaches weekly Kundalini Yoga and meditation classes, holds space for New and Full Moon morning, equinox and solstice sadhana, and provides various holistic wellness services at Mansion Wellness, The Mansion Bali.
The retreats that she offers could be personalised to meet individual needs and spiritual and personal development, such as the Return to Balance retreat. For more Yoga and Wellness retreats with Savitri Devi, please visit Return to Yourself and Spa Village School of Life.
TIP: Read this post if you want to find out more about Yoga in India — India is the birthplace of Yoga.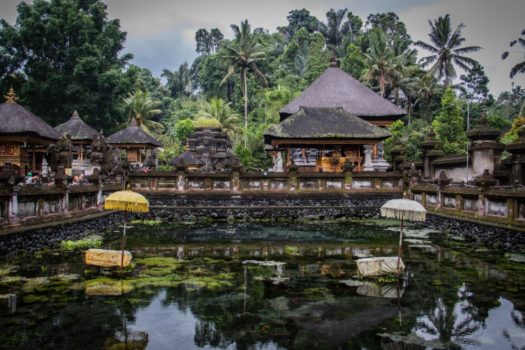 6. Insiders Guide to Ubud
Ubud is the cultural heart of Bali and home to many Yoga and spiritual retreats. But Ubud has much more to offer than Yoga – Ubud is definitely worth exploring, in spite of how touristy it can be. When in Ubud, make sure to check out the authentic Ubud market to find cute coconut bowls, banneton bags, silk scarves, and so much more. If you're an animal lover, please read this post about ethical animal experiences in Bali and avoid anything that causes cruelty to animals.
Aside from these more touristic spots, Ubud also has some still relatively unknown places where you can go to escape the crowds. Explore the surrounding rice terraces, cute cafes, Warungs and waterfalls such as Kanto Lampo waterfall. Tis Café is one of my favourites – it has three infinity pools overlooking a beautiful rice terrace. It is not well known yet so make sure to stop by before more and more people discover it. If you'd like some peace, and want to go on a scenic walk, I suggest choosing the Campuhan Ridge Walk. You'll be surrounded by beautiful nature and won't be bothered by many tourists.
7. A trip to Bali
Bali is the perfect place for anyone looking for peace, mesmerising nature, beautiful culture, spirituality, and Yoga. If you are looking for a trip to Bali to recharge you and help you rediscover yourself, we've got you covered. Follow our suggestions to get the most of your trip to Bali, to get off the beaten track, to experience authentic Bali culture and spirituality, to support sustainable tourism and eco-friendly travel, and to have a memorable and life-changing trip.
This post was written by Ines Luttenbacher of Bali Buddies. Bali Buddies is your Insider's Guide to enjoying Bali on any budget. Bali Buddies is Bali's number one insider's guide to exploring the best of Bali. Written by a dynamic team who live and work on the Island, you can expect all of the most up to date information on all things Bali and surrounds from the Bali Buddies team. Facebook: Bali Buddies Instagram: @balibuddies
Photo gallery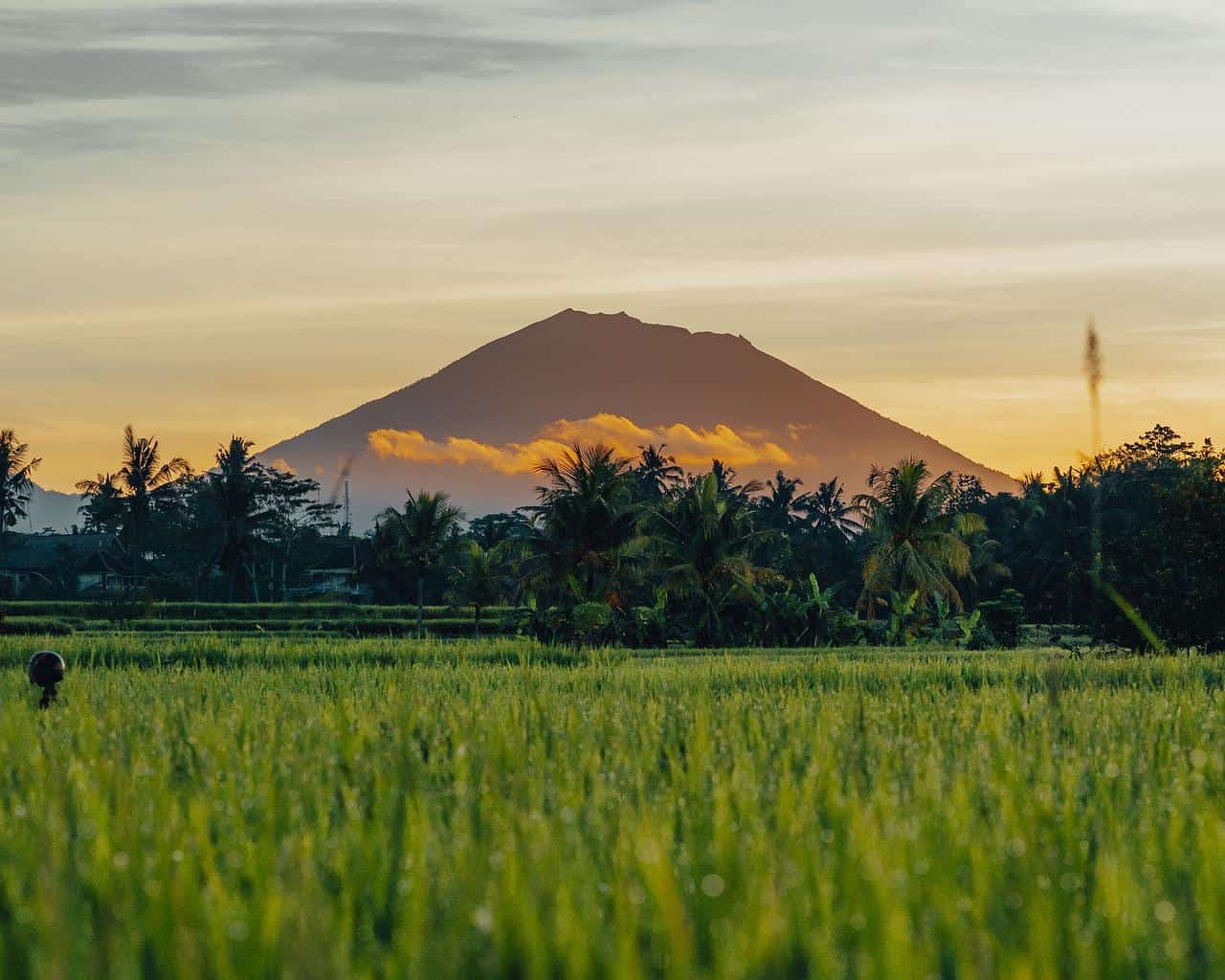 ---
If you enjoyed this post, you can.
Sign up for Dispatches in the sidebar and follow Breathedreamgo on all social media platforms including Instagram, Facebook, Pinterest, and Twitter. Thank you!