Phuket is an island off the coast of Thailand, in the Andaman Sea, popular with tourists from around the globe. It's a tourism hotspot, a beautiful, tropical island – lined with about 30 incredible white-sand beaches – that also has an international airport, hundreds of resorts in every price range, and loads of activities from fine dining to scuba diving. While Phuket is an appealing tropical getaway destination, it's also highly developed and it can take some work to get away from the crowds and traffic jams.
However, in spite of its popularity, there are offbeat, unique, unusual, and local things to do in Phuket, plus hidden, off the beaten track places in Phuket as well. Included here are some responsible travel options that support sustainable tourism initiatives on the island.
I've travelled to Thailand multiple times, and I have even visited Phuket twice – both times with TBEX (Travel Bloggers Exchange conference). In 2015, I was a speaker at the very first TBEX Asia event, and I visited Phuket on a "fam" (familiarisation tour). I wrote about it in this blog post about Bangkok, Phuket and Koh Samui. During that trip I stayed at the 5-star SALA Phuket Resort and Spa, where I had my own villa and pool. We also went out on a yacht to experience snorkelling in the ocean, had a massage at Sukko spa, cooking classes at The Blue Elephant, and watched the macabre Phuket Vegetarian Festival.
On my most recent trip, in November 2022, I was a speaker at TBEX Asia 2022, this time held at the Angsana Laguna resort in Phuket. While in Phuket, I had a chance to visit a couple of very unique, amazing places that were built from the ground up on responsible and sustainable principles, The Paresa Resort and Jumpa Restaurant and Farm. I also asked other TBEX travel bloggers and attendees to contribute their unique, offbeat Phuket experiences, below.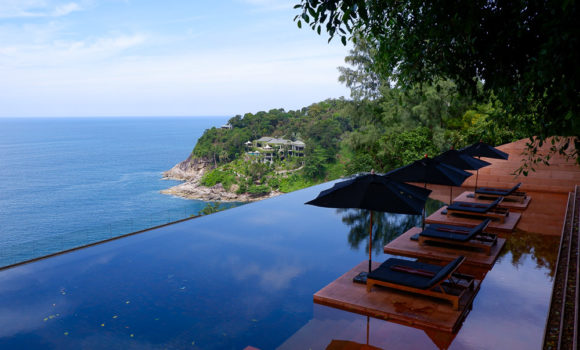 Paresa Resort, Phuket
Contributed by Mariellen of Breathedreamgo.
I knew there was something special about Paresa Resort from almost the moment I arrived. A five-star luxury resort on the coast of Phuket, Thailand near Kamala Beach, it is beautifully and elegantly designed – which I expected. But what was unexpected was how profoundly peaceful it is. This felt like a bit like a mystery that needed to be unravelled, and I spent my two nights / three days at Paresa Resort exploring the reasons behind the resort's profound serenity.
The first and most obvious reason for the quiet serenity is that every suite is built on a cliffside as a separate villa: discretely separate from the others, each ocean-facing villa has an infinity pool and offers a feeling of privacy and seclusion. I swam naked in my infinity pool, luxuriating in the natural environment of sea, sky, and jungle that surrounded me.
The idyllic location on a secluded cliffside also adds to the peacefulness. This area, near Kamala Beach, is referred to as "millionaire's row" as the only other buildings nearby are either large private villas or small, exclusive resorts. My taxi driver from the airport actually thought we were lost as the road leading to the Paresa is so secluded.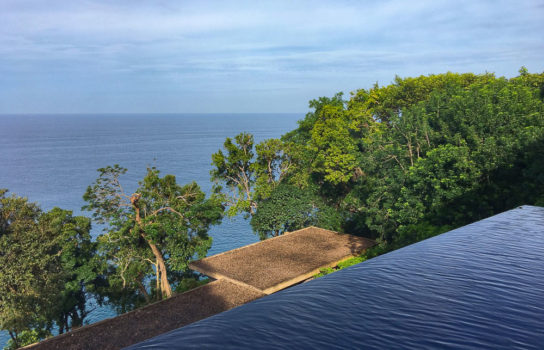 As I wandered the property to dine at the open-air, cliff facing restaurant, soak in the energy pool, and enjoy a massage at the lovely spa – with ocean views from each treatment room – I noticed the property's rich and scented foliage, and large, ancient trees. This was another clue to the tranquil vibe that was finally revealed to me when I had a chance to meet the owner of the property and ask her about it.
Paresa means "house of the gods" in Sanskrit, and denotes the highest levels of all the Hindu heavenly realms. The resort was originally envisioned as a retirement home for the owners, who live in Bangkok, but grew to become a very special resort. The architects hired for the project were given a sacred brief: they were not allowed to cut down any of the old trees – and especially the big banyan – that dotted the property. They had to find ingenious ways to navigate both the steep, ocean-facing cliff and to build around the trees.
And the other secret was the owner fell in love with the property because of the abundance of nature, so she didn't want to destroy it. She made nature the priority and the result is a luxury resort that is surprisingly soulful. In this day and age, choosing nature over capacity or revenue opportunities is a radical – and responsible, sustainable choice – and needs to be celebrated.
I found Paresa Resort through the website Secret Retreats, a collection of very special, unique hospitality experiences in Asia including resorts, hotels, restaurants, yachts, and much more.
Mariellen Ward is the published of the travel blog Breathedreamgo and founder of the custom tour company India for Beginners.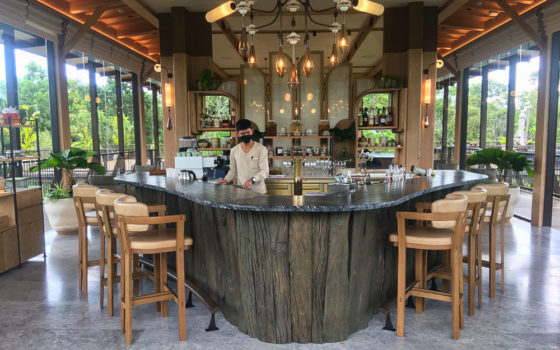 Jampa Restaurant
Contributed by Mariellen of Breathedreamgo.
Jampa was just about the last thing I expected on the island of Phuket. An airy, sophisticated, zero-waste, organic restaurant – on an island known for packaged tours, beach shacks, and jet skis? But it shows you can find responsible and sustainable options almost everywhere you go.
Jampa is a farm-to-fork restaurant that offers a menu of fresh, creative, and tasty food that changes daily, depending on what is available on land and sea. The restaurant is located in a residential community called Tri Vananda, in the centre of Phuket among agricultural lands and the rural countryside.
Jampa was designed by renowned hospitality designers AvroKO with a light, spacious, natural, and elegant feeling. There is a seamless flow of light and colour between inside the restaurant and the natural world outside the building. This openness to nature runs through the entire philosophy and menu.
Under the direction of Executive Chef Rick Dingen — who hails from the Netherlands — Jampa offers changing menus that utilise fresh ingredients from their own organic farm including fruits, vegetables, edible flowers, and chicken eggs. Other ingredients they source from local farmers and fishermen. And, with their zero waste commitment, they use every part of every ingredient. They also sell a Jampa product line of home made items such as tea, jam, chutney, and kombucha.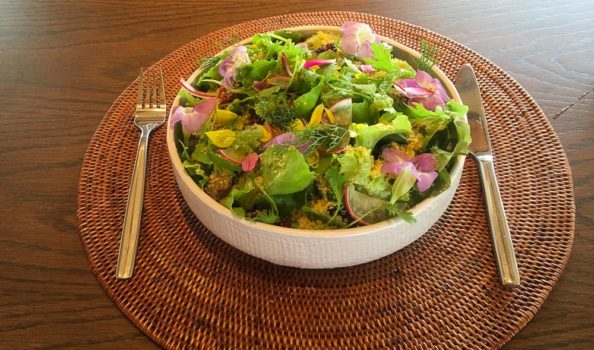 "We use the whole fish, the whole plant," said Rick Dingen when I interviewed him. "Nothing goes in the bin." Anything that can't be used in the kitchen goes into the compost to fertilise the farm.
Rick also explained to me that part of what they do is to educate people about the philosophy of zero waste and farm-to-fork.
When I was there, I had a lovely lunch of tasty but light dishes that lived up to their goal of being nutritious and delicious. I started with a garden fresh salad that included a selection of edible flowers and herbs, followed by sea bass and eggplant. We ended with homemade goat milk ice cream and figs. It was a lovely experience because not only was the food good, the ambience was very relaxing, and I also felt I was contributed to the "dine good, do good," movement.
I found Jampa Restaurant through the website Secret Retreats, a collection of very special, unique hospitality experiences in Asia including resorts, hotels, restaurants, yachts, and much more.
Mariellen Ward is the published of the travel blog Breathedreamgo and founder of the custom tour company India for Beginners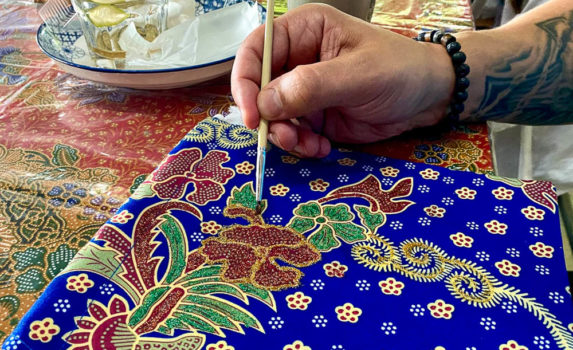 Bangrong Community-Based Tourism
Contributed by Sarah of LiveDreamDiscover.
Going to one of Thailand's largest and best-known islands, we didn't expect to find much in the way of off-the-beaten-path experiences. However, we were pleasantly surprised with the selection of quiet beaches, secret spots and unique activities available in Phuket. We even found jungle treehouse accommodation in the hills behind Kamala Beach.
One particular experience really moved us while also providing an authentic look into local life in Phuket. This was the Bangrong CBT (Community-Based Tourism) Tour. Hundreds of years ago the village of Bang Rong was quite a busy place with the Bang Rong Pier being a top port. Today it is a Muslim community where most of the inhabitants are fishermen or farmers.
What began two decades ago with a conservation program for the area's mangrove forests has evolved into a wonderful community-based tourism project. The tours are managed and led by people in the community and all the proceeds are returned to the community.
You can choose from half-day or full-day tours which are booked directly on their site with no middleman taking a cut. Activities are fun, informative and educational with a focus on sustaining the local culture and nature. We joined a half-day tour that involved a visit to a pineapple plantation where we learned to harvest some of the sweetest pineapples we have ever tasted. Other activities included tapping a rubber tree and watching the process of creating rubber sheets, painting our own Batik bags, learning how to husk and open coconuts then using the meat to create a delicious dessert.
Full-day tours also include a cruise through the mangrove forests, a visit to a remote island, releasing endangered crab and a delicious locally sourced lunch.
Sarah has been travelling full time for 10 years with her husband, Nathan. Together they run several travel and lifestyle websites including their first born "Live Dream Discover."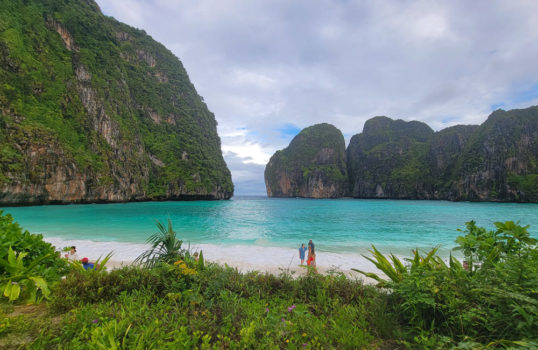 Island hopping Phuket to Maya Bay
Contributed by UnstoppableStaceyTravel.
Exploring the islands off the coast of Phuket was my favourite offbeat experience, especially the trip to Maya Bay. A victim of over tourism due to the popularity of a film called The Beach that was made there, Maya Bay was closed down by the Thai government for several years to allow its stressed and fragile marine environment to recover.
Recently, Maya Bay was reopened with a swimming ban and a cap on the number of tourists that can visit the mystical cove.
We were excited to visit the idyllic spot, even with the restrictions in place, and hopped a ferry from Phuket's Rassada Pier for a two-hour sail to Phi Phi Don, the largest Phi Phi archipelago. From the ferry landing, a longtail boat awaited to zip us to rustic accommodation further up the coast. When our host at the beachside cabanas announced, "Our boats tomorrow are booked until 11:30," our hearts fell. We'd taken rooms to get an early jump on tourists coming to the deserted island as a one-day trip from Phuket town.
"You must know someone with a boat," I pleaded. "A cousin, a friend?" Staring at the aquamarine waters for a moment, she said, "Come with me."
She walked us down the powder sand beach to a group of sun-varnished men. "This is Lowji, he'll help you out." She left us to negotiate price and time.
The next morning Lowji motored in at precisely 7 am. Clouds followed us to Phi Phi Leh, where we disembarked on the far side of the tropical island. Since boats are no longer allowed in Maya Bay, we walked through tropical forests to reach the beach. As the jungle opened to pristine sands surrounded by towering palisades, I felt like I was entering a place cut off from the world.
It was all worth it – to witness a beautiful spot that was rescued from inevitable destruction and preserved for both tourists to visit and the natural environment to thrive.
Stacey Wittig's followers call her unstoppable because she doesn't let age, gender, or family stop her from travelling. She typically goes solo and documents her adventures at UnstoppableStaceyTravel.com.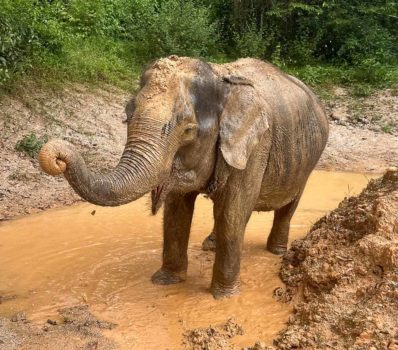 Phuket Elephant Sanctuary
Contributed by Marta.
Phuket Elephant Sanctuary in Phuket, Thailand is known as the first and most ethical sanctuary in Phuket. Located in Phuket's lush countryside, it can be easily reached by hiring a taxi via the Grab app.
One of the things I loved most about Phuket Elephant Sanctuary was the intimate and personal experience it offered. In addition to feeding and bathing the elephants, volunteers also have the opportunity to take part in a mud bath with the elephants and create a medicinal lotion to apply to the areas of their skin that have been damaged by years of abuse. This was a truly humbling and rewarding experience that allowed me to engage with the elephants.
Another aspect of the sanctuary that I appreciated was the emphasis on the ethical and humane treatment of the elephants. The elephants at the sanctuary are rescued from abusive or exploitative situations and are given the care and attention they deserve. The staff at the sanctuary are incredibly knowledgeable and passionate about the welfare of the elephants, and it was inspiring to see their dedication to providing the best possible care for these animals.
In addition to volunteering, visitors to the sanctuary donate the cost of their admission ticket to help support the sanctuary and keep it running. I personally found this to be a great way to give back and make a positive impact during my time at the sanctuary. This is a great social impact travel experience that allows visitors to not only have a unique and enriching experience but also make a positive impact on the lives of the elephants at the sanctuary.
During the volunteer experience, visitors are treated to a home-cooked typical Thai lunch, which was absolutely delicious, plus a Pad Thai cooking lesson. It was a great way to experience the local cuisine and fuel up for the rest of the day's activities.
A top tip for visitors is to bring a bathing suit, towel, a change of clothes, sunscreen, and a hat to protect yourself from the hot sun. The sanctuary provides rain ponchos, lockers available for personal items, and a waterproof phone case with a lanyard for those who want to take photos during the mud bath or in case of rain.
Overall, I highly recommend visiting the elephant sanctuary in Phuket for anyone looking for a unique and rewarding experience. It is a truly special place that offers the opportunity to connect with these amazing, majestic animals in a way that is not possible (or ethical) at other tourist attractions.
Marta is a specialized solo traveller and content creator with over 50 countries visited. She is passionate about volunteerism and social impact travel and is currently working on a New York City destination site. You can find her on Instagram at @themartatravelsblog.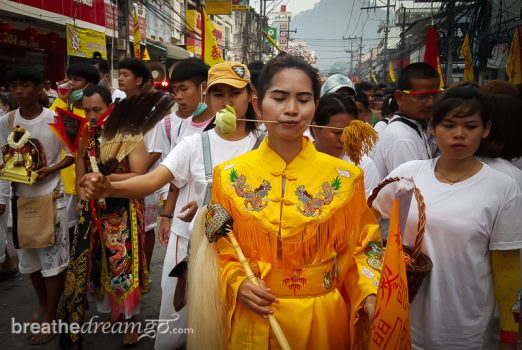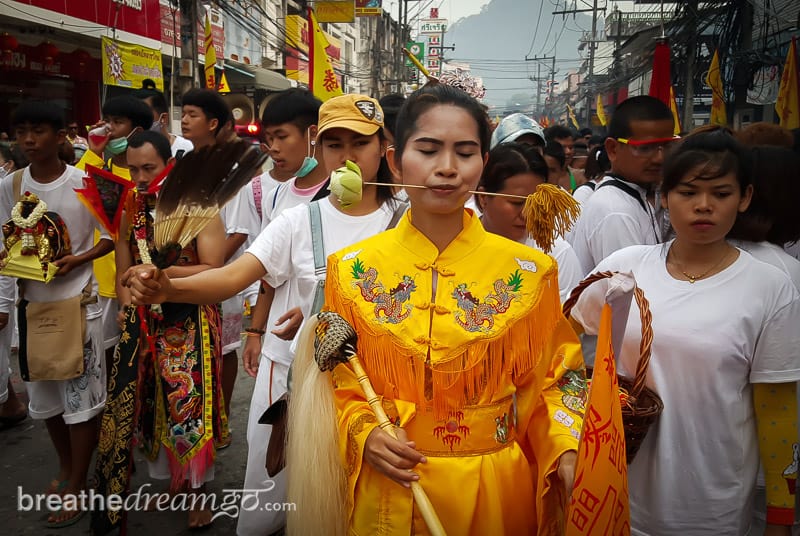 Phuket Vegetarian Festival
Contributed by Ian Ord.
Don't let the name fool you: though vegetarian food is served during the festival, this is one of the most extreme ceremonies I've ever witnessed. Daily events and ceremonies include thousands of devotees walking on hot coals, climbing ladders made with sword blades, dancing in a sea of firecrackers, and forcing spikes, knives, swords, blades, and other objects through their cheeks – not easy to see if you are easily queasy. This is done as a way to express their gratitude to the gods, as well as attempting to get rid of bad luck.
The Phuket Vegetarian Festival, which has Chinese origins, is more commonly known as The Nine Emperor Gods Festival amongst locals. The festival starts on the eve of the ninth lunar month of the Chinese calendar (meaning the date is different every year) and is celebrated by local Chinese communities in many Southeast Asian countries. The belief is that by only eating vegetarian food, participants will obtain good health and peace of mind.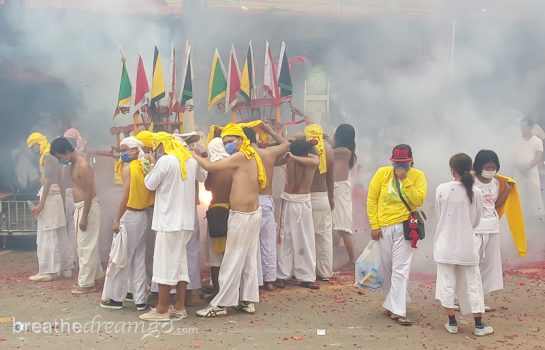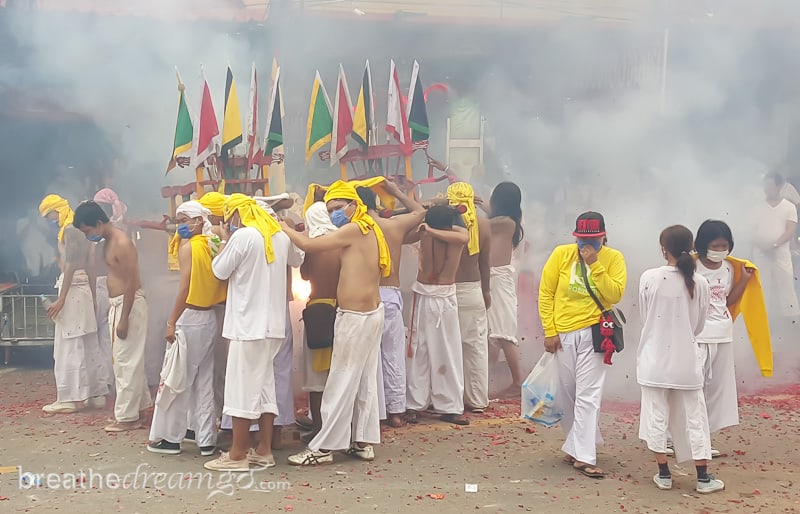 To be the most respectful while at the festival, it is customary to wear all white clothing, and abide by the vegetarian diet. I also recommend that participants give people space, especially while they may be in a trance or have spikes and swords through their cheeks. It's always a good idea to show gratitude and respectfulness for the honour of being able to be part of their sacred rituals.
Though not for everyone due to the extreme nature of the ceremonies, Phuket's annual Vegetarian Festival is one of the most unique experiences I've ever had.
Ian Ord founded Where Sidewalks End.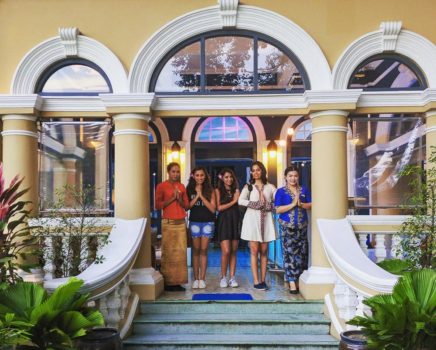 Blue Elephant Cooking School
Contributed by Raksha of The Roving Heart.
One of the best – and most immersive – experiences I had in Phuket was attending a cooking class at the Blue Elephant Cooking School. It was a fun and engaging way to learn about Thai cuisine and gave me a glimpse into the local community and culture. During the class, we learned how to prepare three delicious Thai dishes: Panang Okra Curry, Mushrooms with Black Peppers, and Northern Curry with Egg Noodles.
I loved the hands-on nature of the class and was amazed at how delicious the dishes turned out. The chef who led our class was knowledgeable and patient. We were also treated to a sumptuous meal featuring the dishes we had prepared and other local specialties.
Overall, attending a cooking class at the Blue Elephant Cooking School was a fantastic experience that allowed me to learn about Thai cuisine and culture in a fun and immersive way.
If you plan on attending a cooking class at the Blue Elephant Cooking School, be sure to wear comfortable clothing. You will be standing for a significant amount of time, so comfortable footwear is a must.
Raksha is a travel blogger from India who writes and makes videos about herself travelling the world as a solo female traveller. She focuses on adventure and experiential travel – and loved her trip to Krabi, Thailand as well.
Chalong Bay Distillery in Phuket
Contributed by Jane of To Travel Too.
When it comes to visiting distilleries around the world, Thailand does not come first to mind. But it should as Thailand is the second largest exporter of sugar cane in the world, behind Brazil, and its sugar cane is used to make some of the best rum in the world.
So when there was an opportunity to visit Chalong Bay Distillery in Phuket, I jumped at the chance.
Since 2012, Chalong Bay Distillery has been producing award-winning rum – rum with lemongrass, rum with thai sweet basil, rum with cinnamon, rum with kaffir lime, and rum with lime. They even produce gin and vodka. Their imported French copper still is used to create outstanding spirits made with traditional French distillery techniques.
The Chalong Bay Distillery tour started with learning how to create a Chalong Bay mojito using local rum, lime juice, and mint leaves. Up next was Devils Gold, a cheeky Chalong Bay Kaffir Lime Rum drink with fresh mango, honey, lime juice, and a very hot red chili.
A tour of the distillery followed, which was welcomed to let the cocktails settle before heading back to taste six different rums, gin, and vodka. The final creation was our tour group's favourite – the Sunset Kiss made with watermelon, passionfruit, cinnamon syrup, and Chalong Bay White Spiced Rum.
Chalong Bay Distillery provided for a very memorable local experience – but my suggestion is to eat first.
Jane is co-founder of To Travel Too, a global baby boomer travel website inspiring all that "age is no barrier when it comes to travel."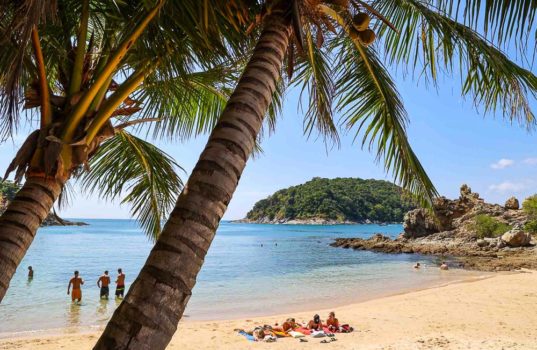 Yanui Beach
Contributed by Brigitte and Jake of Nothing Familiar.
The beaches of southern Phuket are some of the most beautiful on the island. While many travellers head to popular Nai Harn, one of our favourite beaches, Yanui, is just a five-minute drive up the coast.
On our first visit to Yanui Beach, we noticed the colourful kayaks sitting on the shore. So the following day we woke up excited to get out on the ocean! Swimming and kayaking at Yanui quickly became one of our favourite ways to spend the morning on Phuket.
Yanui is a small cove that is protected by another large island just offshore. It costs just 100 baht an hour per person, and you can rent single or double kayaks right from the beach.
Kayak along the coast or head out to sea for a closer look at the yachts that fill the bay. This is also one of the best places to snorkel on Phuket. With the clear blue water, you may even see some tropical fish from your kayak.
We preferred to go in the morning to avoid the hot island sun. However, kayaking is also a great activity for golden hour. Just above Yanui Beach is the famous Phuket Windmill, which is actually one of the most popular places to watch the sunset.
Brigitte and Jake are American travel bloggers who spend their summers in Europe and winters in Southeast Asia. They love outdoor adventures, large bowls of noodles, and sharing personal experiences abroad on their blog NothingFamiliar.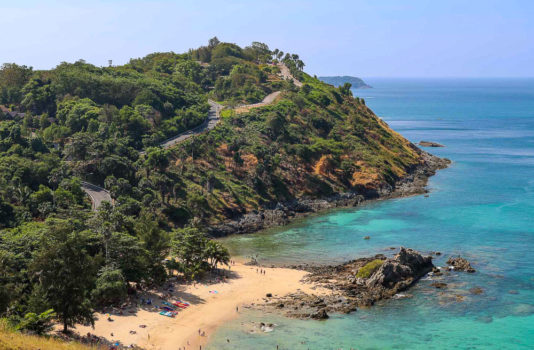 Coffs & Burgh Cafe in Old Phuket
Contributed by Rachel Heller.
While there are plenty of cafés and restaurants in Phuket, Coffs & Burgh is special because it gives you a glimpse of how the shophouses of Old Phuket once looked. The house is 120 years old, and has barely changed.
The front room, as you enter from the street, is used for the coffee shop, and features antique furniture, old ceiling beams, and cracked plaster on the walls: what you might call shabby chic. Make sure, though, to look in the rear section, behind the café. The rear room is a museum of sorts, with plenty of interesting objects to look at relating to the family's history. The original stairway leads up to what was once the family's home, as these shophouses used to be both shops and houses; the family worked and lived there.
Also make sure to see the outdoor space behind the rear room. This space, the original kitchen, still has the massive stove, built to hold three woks over a wood fire. The old well stands in an open-air, sunken space that, in the old days, was used for washing both people and whatever household items needed washing.
Visiting Coffs and Burghs is like stepping back in time and witnessing Phuket before the tourism explosion.
Written by Rachel Heller, history geek and creator of a new website about travel to UNESCO World Heritage sites.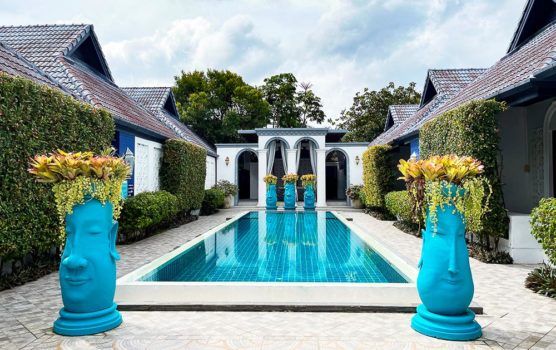 Oasis Spa
Contributed by Megan of Blogger At Large.
After a four-hour treatment at Oasis Spa in Phuket, I am ready to declare that spas in Thailand are the best in the world. Oasis Spa is an upscale day spa, architecturally designed with indoor / outdoor flow, and relatively affordable – especially considering what you get for your money.
When I went to Oasis Spa in Phuket, I wanted the longest treatment they had, which was four hours. This meant four hours in my own personal villa complete with outdoor rain shower, indoor bathtub, bathroom, and two massage tables.
I started in the steam room, wrapped in only a sarong with a G-string that was about as useless as a knife with coconut soup. Then when my pores were open and soft, I rinsed off in my personal shower. Then, I enjoyed a sugary, oily body scrub.
Another rinse off (and another useless G-string), then back on the table for a mud wrap. I was left to marinate for 45 minutes, then back in the shower.
All of this pampering was followed by a milk bath. Fruit and hot tea were served as my therapist left me to soak like Cleopatra. Then back to the massage table for my four-hand massage. That's right, two therapists choreographing their moves along my now silky smooth skin.
But that's not all, it ended with a beautiful facial. Four hours flew by. If there is a pampering heaven, I found it, among the tropical lushness of Phuket, and the gentle hospitality of Thailand.
There are 15 Oasis Spas in Thailand, so you can experience them as you travel throughout the country. Oasis Spa Phuket has their own complimentary pick up service if you are within a few kms. Cost was approximately 5,500 Thai Baht /$160 USD for the full 4-hour treatment.
Megan Singleton is a New Zealand-based travel blogger at BloggerAtLarge who is enjoying exploring again after the eternal Covid lockdowns. She is the weekly travel correspondent on the country's largest radio station and also hosts tours for her readers. Thailand is now on the list!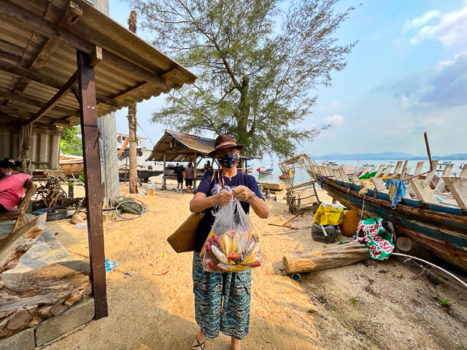 Live Like Locals in Phuket
Contributed by Jenny of Little Wandering Wren
My best tip for a memorable island experience is to connect with one of the five Phuket communities participating in the Live Like Locals program. You will meet community leaders, experience their livelihoods, enjoy cooking and craft activities, and eat a wonderful Thai lunch.
Khun Tiki, the community leader from Bang Tao – Cherngtalay, arrives at my Surin Beach hotel on his red tricycle with fresh coconuts for us. We are soon whizzing around his 'hood. We start at Laem Sing viewpoint and can see Bang Tao residents are blessed with both fertile land and access to the Andaman Sea.
Throughout the morning Tiki introduces us to local ways of life and we meet the community. We start our day choosing lunch at the Bang Tao fishing village. We visited an organic farmer and tried our hand at milking goats at the Bang Hod goat farm.
Then we meet Khun Lab, who takes us out on his rubber plantation and tells us proudly these trees have paid for his children to attend university. The pineapple plantation Bang Rong is another of the five Live Like Locals organizations.
We end our morning back at the beach where Mamma Bat has turned our fish into a banquet at See Sea Restaurant, on Bang Tao beach.
I loved spending my money on an authentic Phuket experience that directly benefited the local community. It was a very rewarding experience for all, and a completely different side of Phuket from mass tourism.
You can contact Khun Tiki at +66 (0) 62 228 7896 or by email at tiksonthaya@hotmail.com
Jenny Littlewood is the Chief Explorer and award-winning content creator at Little Wandering Wren. Both an Aussie and a Brit, she has had her nest in Thailand since 2017.
---
If you enjoyed this post, you can.
Sign up for Dispatches in the sidebar and follow Breathedreamgo on all social media platforms including Instagram, Facebook, Pinterest, and Twitter. Thank you!