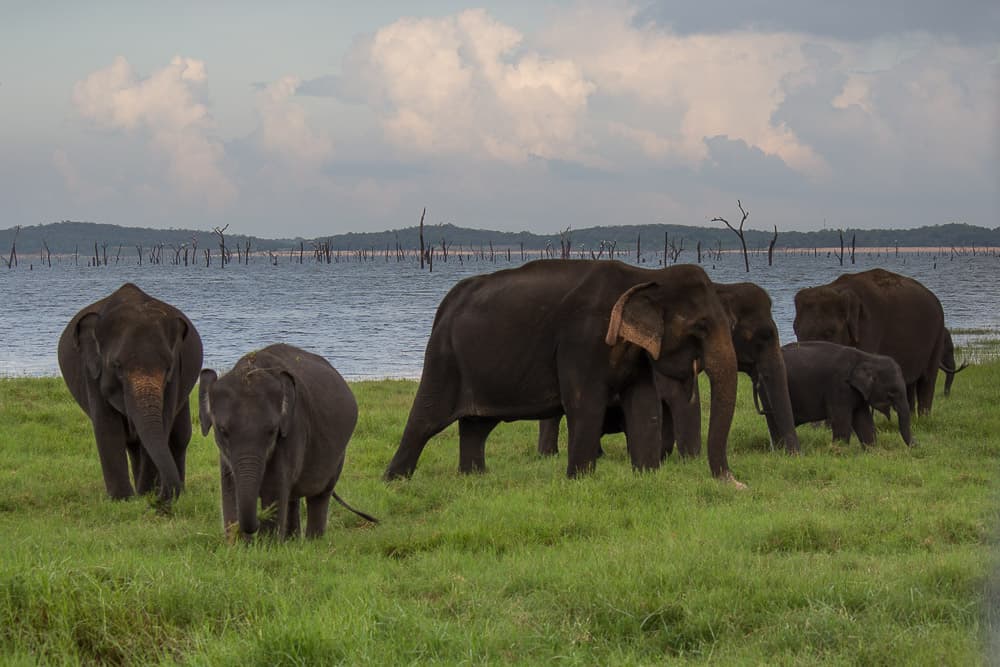 Everything you need to know to go on a Sri Lanka safari
This guest post was written by Meg Atteberry of Fox in the Forest.
FOR SUCH A tiny island nation, Sri Lanka is surprisingly diverse and a great holiday destination. With so many different places to visit in Sri Lanka, it can be hard to choose where to go. However, one of the most unique activities is to go on a wildlife safari in Sri Lanka. Keep in mind that there are many different tour operators to choose from, and it can be overwhelming. Not all tour companies have the animals' welfare in mind. Let's dive into what to look for while planning a Sri Lanka safari and how to choose an ethical wildlife safari tour operator in Sri Lanka.
Advice for visiting Sri Lanka
Sri Lanka tourism is fascinating, with many places to visit. The country is home to many cultures, ecosystems, climates, and wildlife. In fact, it's really hard not to see any wildlife in Sri Lanka. The Asian or Sri Lankan elephant is commonly found alongside busy roads and near beautiful temples. Before you visit Sri Lanka, it's important to be prepared for your visit to the teardrop island. Here are a few quick Sri Lanka travel tips:
Sri Lanka is home to many different religions and, in general, is a conservative and traditional country. Be sure to dress modestly and choose clothing that is light and airy to accommodate for the oppressive humidity.
Don't receive or give items with your left hand, it's considered unclean.
Transportation in Sri Lanka doesn't always run on time. Be sure to factor in extra time between destinations.
Sri Lankans are some of the world's friendliest people. Always smile and say hello and don't be shocked if you get stopped on the street just to have a friendly conversation.
For more information on visiting Sri Lanka, check out this list of Sri Lanka travel tips.
Why go on a Sri Lanka safari?
If simply taking the train across lush, green landscapes doesn't have you wishing to explore the depths of the verdant jungles and grasslands, I don't know what will. Sri Lanka is home to a myriad of wildlife including elephants, leopards, jackals, crocodiles, water buffalo, peacocks, and more! The best way to view the wildlife is to embark on a Sri Lanka wildlife safari. Here's where to go to see elephants in Sri Lanka.
Specialized raised jeeps with comfy seating (usually for up to eight people) are designed to take you along bumpy jungle roads in search of wildlife in one of many national parks in Sri Lanka, such as the well-known Yala National Park. Visitors can expect to spend at least a half-day on safari, more if they choose to have a more immersive experience.
---
Wildlife in Asia
This post is part of a series on Breathedreamgo about Wildlife in Asia that seeks to highlight rare, unique, endangered, and/or fascinating animals in Asia. The series includes:
---
When is the best time to go on a wildlife safari in Sri Lanka?
Most national parks in Sri Lanka offer safari excursions year-round. However, the best time to view wildlife is typically during the dry seasons. This is because the animals will be in more concentrated areas during these times. However, keep in mind that the parks will be substantially more crowded during these times.
For Yala National Park, the dry season runs from February through September. The nearby park of Udawalawe has a similar dry season from November to October. However, October through January is an excellent time to spot baby elephants. In the north, Minneriya National Park experiences a dry season in July and August.
Another thing to consider when planning a wildlife safari is the rest of your Sri Lanka travel itinerary. Keep in mind that many of Sri Lanka's most famous beaches and the incredible scenery of Sri Lanka's hill country are in monsoon for half the year. So be sure to take the monsoon seasons into account when planning your trip to Sri Lanka.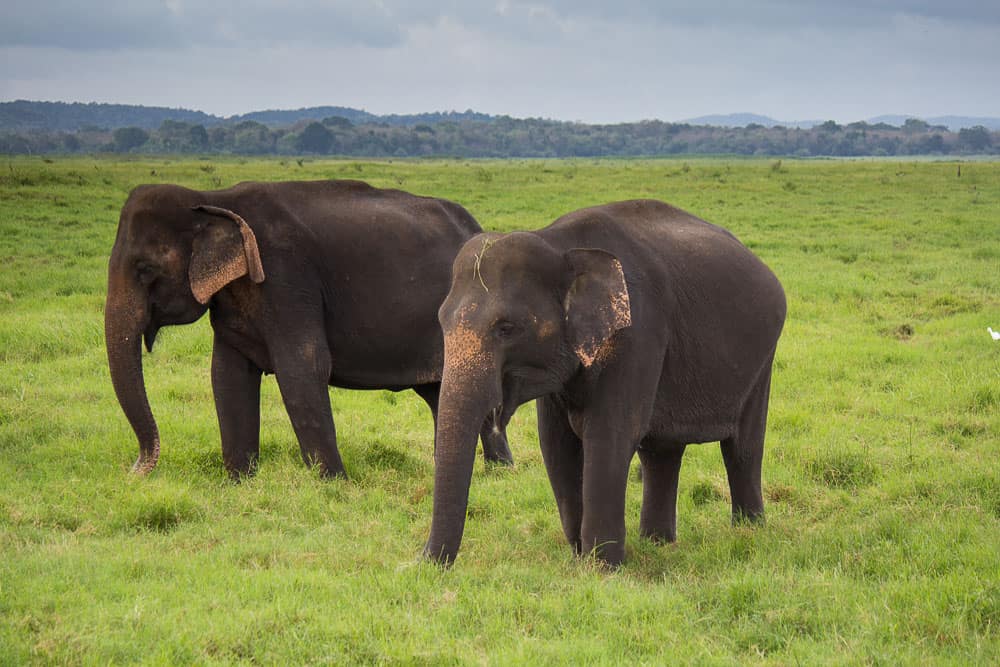 How many days should I plan for a wildlife safari in Sri Lanka?
The great thing about going on a Sri Lanka safari is that, unlike in Africa, it doesn't have to take several days. Most tours last a half-day, making it a doable commitment for any itinerary. However, keep in mind, you likely won't see every type of animal on one quick safari. Typically you'll want many safaris in order to better your chances. Try to go to different areas of the parks or lesser-known quadrants for better chances.
Those who truly love wildlife or are looking for a unique experience may want to consider a luxury glamping overnight safari experience. Spend the night in a tent with all the luxuries (toilet, shower, and some even have AC) and be immersed in nature. These tours can last one or two nights and include several safari experiences, as well as trips to local animal rehabilitation centers and more.
Either way, it's advisable to book a safari either first thing in the morning or in the evening. There's magic to watching the sunrise within the national parks of Sri Lanka. The animals are most active during these times. Sunrise is typically far busier, and it's a bit of an adventure jockeying with other jeeps to be the first car in the park.
What tours do your recommend in Sri Lanka?
One of the best tours I've seen is the Sri Lanka Expedition: Wilderness and Wildlife tour from Intrepid Travels, a company known globally for their responsible travel practises. You will explore the diversity of the Sri Lankan wilderness on this 12-day expedition, from shallow waterways thick with mangroves and birds to dry evergreen forests inhabited by elephants. The tour includes daily safaris, staying in an eco-lodge within a World Heritage-listed tropical rainforest, and a visit to charming Galle, a colonial town with modern flair. Other exciting Intrepid Travel tours include Sri Lanka Expedition: Village and Tea Treks and Sri Lanka Explorer.
Get Your Guide has some great wildlife tours to choose from, from full and half-day safaris, to whale watching to national park tours. – Mariellen
What hotels do you recommend in Sri Lanka?
Sri Lanka has an incredible number of great places to stay, from quaint guest houses, to exciting eco-lodges, to luxury hotels and resorts. My favourite is the Jetwing Vil Uyana — a completely unique property. Here, you get the best of both worlds: comfort and luxury in a beautifully designed resort AND immersion into the natural world of a man-made jungle wetland. Birds, crocodiles, and even an endangered species — the Grey Slender Loris — roam the place, and each villa is separate, private, and surrounded by various landscapes.
But all Jet wing properties are spectacular, I stayed at several of them including: Jetwing Beach in Negombo is gorgeous, right on a beautiful beach, and has THE best breakfast buffet I have seen in my life. And there are equally spectacular Jetwing properties near many of the top tourist places in Sri Lanka such as the Jetwing St. Andrew's near Nuwara Eliya, and the Jetwing Lake near Dambulla. – Mariellen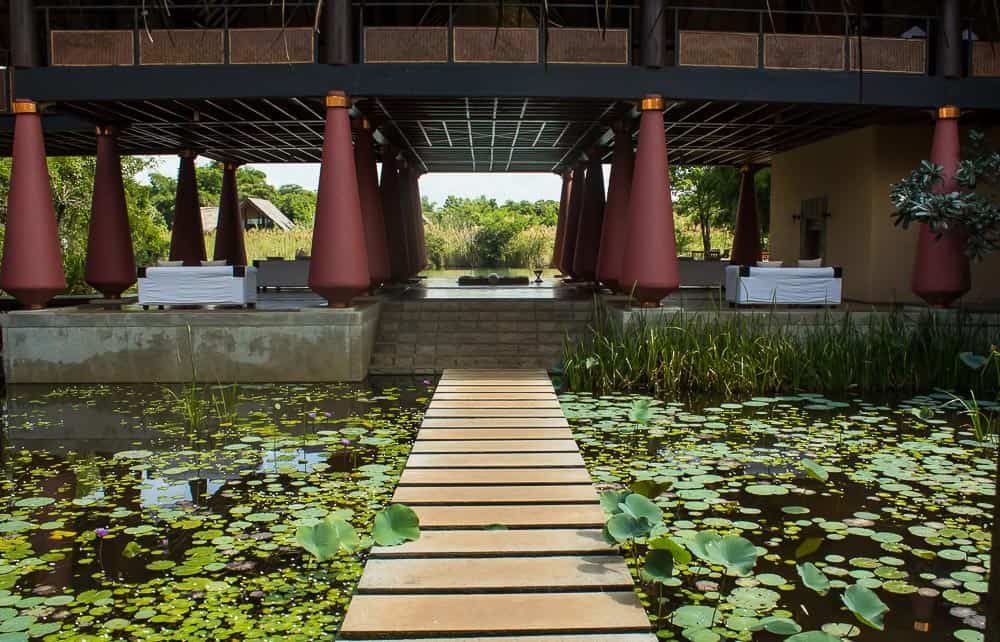 The best places for Sri Lanka wildlife safari
It's really hard to go wrong choosing a National Park in Sri Lanka. There are three major parks that offer something for every nature enthusiast.
Yala National Park
Arguably the most famous national park in Sri Lanka, a Yala safari is a must-do on most Sri Lankan itineraries. Located on the southern tip of the island, this park is famous for its concentration of leopards. However the secret is out, and many people report that the huge amount of crowds and jeeps have actually scared away the wildlife. Expect to wait in long lines, chase down other jeeps, and generally jockey for space in Yala.
Some of the worst treatment of wild animals happens in Yala, so take extra care when selecting a tour operator.
Udawalawe National Park
Home to a diverse collection of wildlife, Udawalawe is the much quieter neighbour to Yala National Park. Udawalawe is home to a healthy population of Sri Lankan elephants, you're almost guaranteed to bump into the gentle giants before you even enter the park! There are leopards here too, although they are much rarer. With that being said, there is an intense diversity of animals in Udawalawe, and if you plan your trip right, you just might come across a rare jungle cat or a hawk eating its breakfast.
The scenery here is absolutely beautiful and it's well worth a visit if you're looking for fewer jeeps and a more secluded feel than Yala.
Minneriya National Park
Towards the north, just outside of the town of Habrana, is Minneriya National Park. This is the premier park to spot Sri Lankan elephants. In fact, the park sees a huge gathering of elephants — up to 200 during the mating season — each dry season. The scenery in Minneriya is more lush grasslands than the rolling mountains of Udawalwe. Other wildlife is abundant, but most people visit Minneriya to see the elephants.
Major problems with wildlife safaris in Sri Lanka
Unlike wildlife safaris in India or Africa, wildlife safaris aren't nearly as well-regulated in Sri Lanka. In fact, the government has no regulations regarding how many jeeps can be inside the park, or any laws requiring safari vehicles not to approach wildlife.
Unfortunately, this means there are a lot of really bad practices with tour operators. It isn't uncommon for jeep drivers to chase or encircle animals, making the animal stressed or uncomfortable. Since there is no quota system in place, it can also get quite crowded in certain parks (like Yala), which really detracts from the experience and puts immense pressure on the wildlife. There are even scammers who claim they are taking you to an ethical sanctuary, only to find elephants in chains with no room to move. Therefore, it's really important to do your research in order to make sure you're supporting eco-friendly businesses that promote the ethical treatment of animals.
Lastly, remember, this doesn't make Sri Lanka a bad place. Elephants are traditionally working animals in Sri Lankan culture. This has been going on for generations and although many people realize that holding these gentle giants in captivity for tourism is not okay, change is slow to come.
---
More reading about Responsible Travel on Breathedreamgo
---
How to find an ethical wildlife Safari
Finding an ethical Sri Lanka safari can be a bit tough compared to many other places in Asia and Africa. Due to the lack of regulations and increasing pressure on guides by tourists in search of the perfect insta-worthy photo op, many tour operators don't practice responsible tourism. To make matters more complicated, some operators even tout being a responsible tour company — and it's only while out on safari that you discover they chase animals, or show you chained animals. Before you go on your Sri Lanka wildlife safari, keep these tips in mind.
Do your research
Responsible tourism doesn't just happen. It takes work on your end, hence the phrase "responsible." Do a deep dive into each tour company you are interested in. Read reviews from multiple websites, check the website of the tour operator, and even email them to ask questions. Be wary of any reviews and pay attention to these factors:
A review that mentions the driver getting close to the animals, instead of the animals approaching the vehicle (this does happen)
A review that mentions of drivers chasing wildlife and running down other jeeps to be the first in line.
Whether they reveal how they collect the trash from snacks and other items.
Any mention of baiting or feeding animals. This is a huge no-no.
Any mention of corralling wildlife, or blocking animals from exiting the road
Look for good reviews of operators and tour guides who are knowledgeable and passionate about the animals in the park, and who prefer to go to the quieter corners of the park.
Be an active participant
Don't just sit back and let the tour operators control the experience. Tell your guide in advance you are not comfortable chasing animals, and you would prefer to watch them from a distance. Tell your guide not to call to animals, or make a lot noise.
Pick your park wisely
A few of the national parks have worse reputations than others. For example, Block One of Yala National Park is notorious for bad behaviour. We heard two girls explain how their driver went off the road (which is illegal) and chased a leopard up onto a rock so they could get better photos. In Minneyara, people will likely outnumber the elephants. It's up to you to use your dollar to support the right organizations and the right parks.
Typically, Udawalawe and the lesser-known Bundala National Park have far more ethical safari operators than the bigger-named parks.
Avoid feeding animals
Some roadside stalls near park entrances offer food to feed animals. Please, do not participate in this activity. It not only breeds human dependance, but it can also make the animals very sick if they ingest something that isn't a part of their natural diet.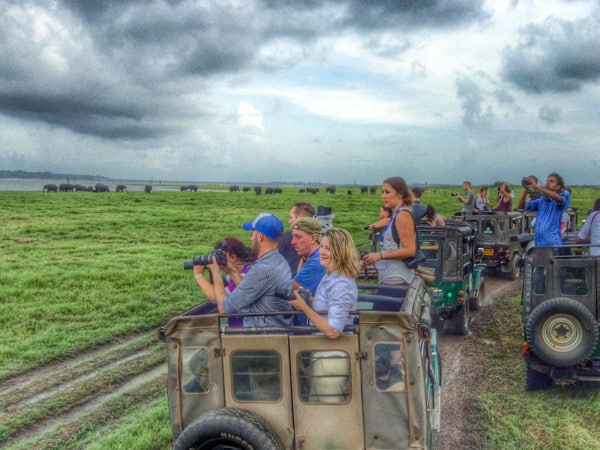 Tips for going on a wildlife safari
Once you've found an ethical wildlife safari tour operator, you'll need to be prepared for your wildlife excursion. Here's a few handy wildlife safari tips for Sri Lanka.
Go early or late
Animals are most active in the early hours of the morning or late evening hours, spending most of their time lounging and resting during the heat of the day. Therefore, it's best to go on a safari during these hours. You'll see much more animal activity including playing, feeding, and mating.
Bring cash
There are no ATMs or services at the park. Although tipping is not typical in Sri Lanka, tipping your guide is always appreciated. Tip 10% for starters or more for better service.
Keep your eyes peeled
Ask if your tour operator provides binoculars, if not, it certainly helps to have a pair. There is a lot going on in national parks. Keep your eyes peeled in the trees and scan the ground for animal activity. You'll be surprised what you see. We found birds eating, jackals playing and mating, and much more!
It isn't all about the elephants and leopards
Although it's impressive to see an elephant in the wild, there is so much more to Sri Lanka wildlife than elephants and leopards. Be open to all of the beautiful birds, animals, and scenery in Sri Lanka.
Wear comfy and neutral-coloured clothes
The dress code for a safari experience is to be comfortable and wear neutral colours like khaki, beige, and brown. Layers are also a good idea. Keep in mind that it will be chilly in the morning, especially in an open-air jeep. Bring a rain jacket in case it rains. Also, the heat can be oppressive so it's best to dress in light layers that help protect you from the sun, but can breathe.
Protect yourself from the sun
Don't forget a hat and sunscreen. Most jeeps don't have a roof (unless it rains), so you can stand up and get a better view — but this means you'll be open to the elements all day long.
What about the bathroom?
When it comes to going to the bathroom while on a safari, your options are limited aside from nature! Simply ask your guide and they will find a spot for you to pop behind a bush and do your business. Carry hand sanitizer and toilet paper. Put your toilet paper in a baggie, do not litter.
Ask questions
If you have a question about the wildlife don't hesitate to ask. We learned so much from talking to our guides about the different animals and their behaviour. It was really cool to feel like you were in the heart of a nature documentary.
Be prepared for a bumpy ride
The roads in Sri Lanka's national parks are not paved and can get pretty rough. Be prepared for a bumpy journey. The seats themselves are quite comfy, but you'll be bouncing around quite a bit.
Overall, a wildlife safari in Sri Lanka offers an excellent way to discover the magical wildlife that this small island has to offer. Be sure to support ethical tour operators and enjoy the adventure.
---
---
About the author
Meg Atteberry is a full-time freelance writer and blogger for the outdoors and adventure travel scene. As a hiker, climber, and mountaineer, she spends her time searching for the most beautiful natural scenery across the globe. Her goal is to empower others to go on an adventure. You can learn more about Meg at her blog, Fox in the Forest. She'd rather be dirty than done up.
---
---
PIN it on Pinterest
---
If you enjoyed this post, you can….
Sign up to The Travel Newsletter in the sidebar and follow Breathedreamgo on all social media platforms including Instagram, TripAdvisor, Facebook, Pinterest, and Twitter. Thank you!