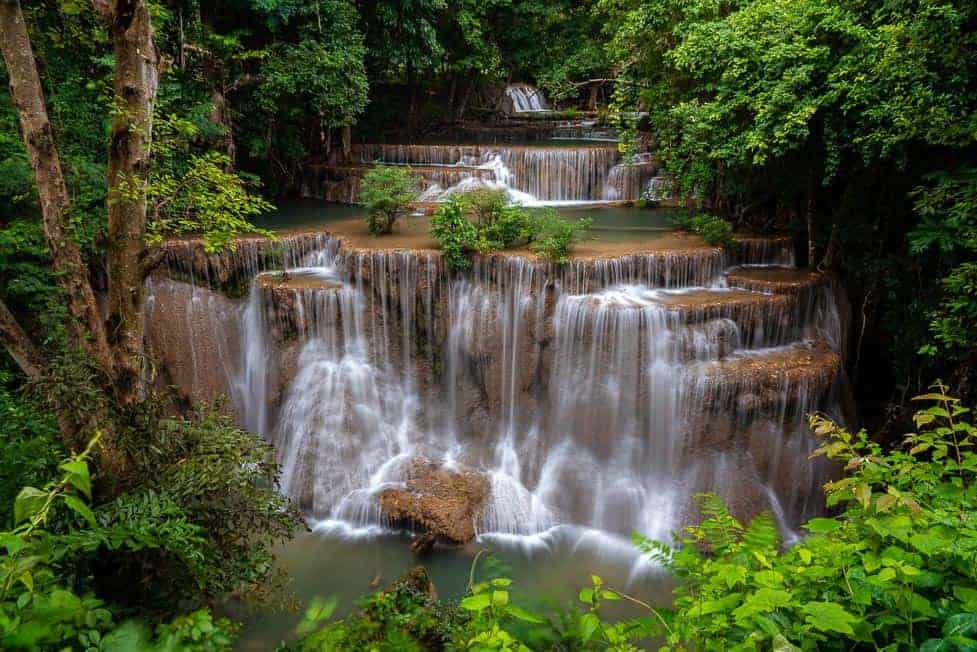 Responsible tourism holidays in Thailand include elephant sanctuaries, eco resorts, paradise islands, and pristine beaches
IF YOU'RE AVOIDING TRAVEL to Thailand because you think it's too touristy, read on. In this post you will find lots of options for getting off the beaten path. I reached out to my travel blogging community and discovered there are some fantastic options for having a responsible tourism holiday in Thailand. These places truly are "hidden gems" – an over-used word that is applicable in this case. They include eco resorts, ethical elephant sanctuaries, paradise beaches, pristine national parks, zero waste markets, sustainable home stays, and more.
I first travelled to Thailand when I lived in Japan in the 1990s. It was a different country back then (I wrote about it in Thailand Then and Now), not nearly so inundated with tourists and commercial ventures that can be exploitive, and hard on locals, animals, and communities. If you're like me, and not that interested in tourist attractions such as Instagrammable beaches, Bangkok, Phuket, or Chiang Mai, you will find some sustainable and culturally authentic ideas in this Responsible Tourism Guide to Thailand. I also looked into Thailand Visa requirements for citizens of India.
Note: Check out my Guide to offbeat places in Phuket you must experience. And read this post to discover a three-week Thailand itinerary and places you just can't miss.
How to get a Visa for Thailand
Nationals of 21 countries including India are eligible for the Thailand eVisa. The Thailand Online Visa (Thailand eVOA) is an electronic travel authorization which allows citizens of eligible countries to enter Thailand for tourism purposes. Applying online in advance vastly simplifies the procedures to enter Thailand. To be eligible, you must have a passport valid for at least thirty (30) days upon the entry date and arrive by plane at one of the international airports in Thailand. Once there, you can pass quickly through border control using the dedicated fast line for eVisa on arrival holders. You can learn more about the Thailand eVisa here.
Responsible tourism options in Thailand
Elephant sanctuary in Thailand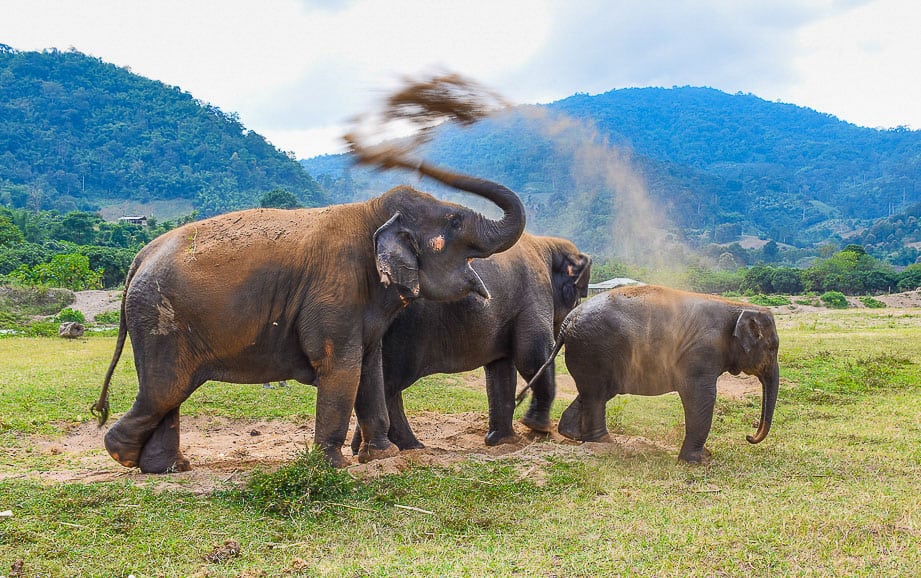 Elephant Nature Park
The Elephant Nature Park in Chiang Mai is one of the best elephant sanctuaries and rescue centers in Thailand. Not only is it ethical and sustainable, but the it's run by the passionate Lek Chailert, who founded Elephant Nature Park in the 1990s.
What makes it special is that it's not focused on the visitors (tourists), but on the elephants. It's a non-profit organization, and the money they get from visitors goes for maintenance, food, and rescue operations.
The focus is on the well-being of the elephants and the other rescue animals living in Elephant Nature Park. This is probably the most ethical and best way to see elephants in Southeast Asia, and even though it's one of the most popular places to visit in Chiang Mai, it has still kept its authenticity and continues to improve life for the rescued elephants and animals.
By visiting this place you get to see these beautiful animals in their natural habitat and you're helping them live a better life where they can roam freely. Plus, you also help rescue more elephants and expand the sanctuary area.
Alex Waltner is a professional travel blogger and photographer who has traveled the world full-time for the last 5 years, and visited more than 50 countries. He runs the most read travel blog in Scandinavia, Swedishnomad.com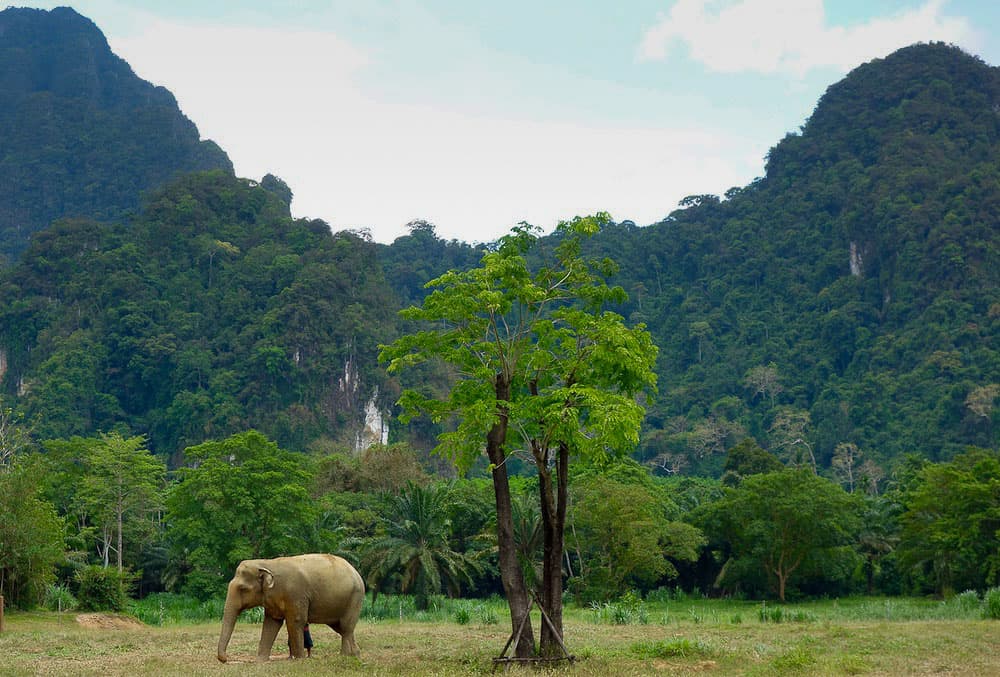 Elephant Hills
Elephant Hills, in the unspoiled wilds of Khao Sok National Park, combines a non-exploitive elephant encounter (no riding!) with upscale glamping accommodation and jaw-dropping views of green tangled mountains. During this ethical animal experience, you can watch the elephants as they forage and splash in a mud pond (if they feel like it that day), as well as help wash, feed and prepare their meal – so get ready to chop pineapples with a machete.
In order not to tax the elephants, animal interaction is limited but there is so much more to explore in this thickly forested region of dramatic karst mountains, and the camp is a soft adventure destination especially popular with adventure-seeking couples and families. There is a pool but you'll probably be too busy to use it.
A PATA (Pacific Asia Travel Association) Grand Award Winner in 2018 for Environment, Elephant Hills also won a 2018 Responsible Thailand Award in the Eco Lodge category, so it's clear they take sustainability to heart.
Most travellers who visit Elephant Hills add on a stay at their sister property, the romantic floating Rainforest Camp on remote Cheow Larn Lake, and packages include transfers from Phuket, Surat Thani and other destinations in Southern Thailand.
Carol Perehudoff is a multi award winning luxury travel blogger at WanderingCarol.com, and was voted a Top 10 Luxury Travel Blogger in USA Today's 10Best Readers' Choice Awards. Read her Elephant Hills review.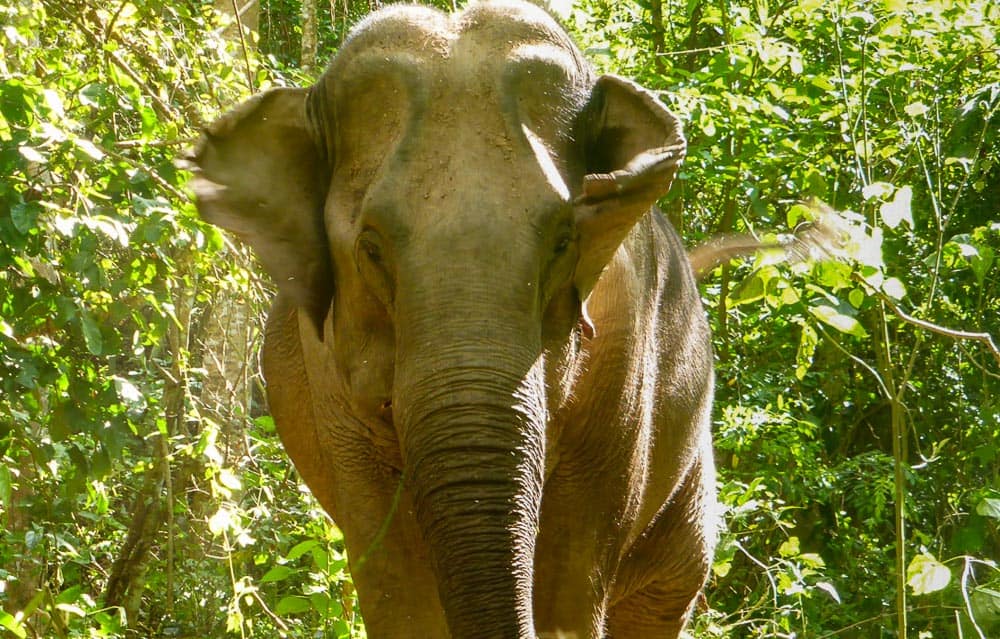 Mahouts Elephant Foundation
My family and I searched until we found a truly ethical way to see elephants in Thailand, and we were pleased to find the Mahouts Elephant Foundation. It's a community-based program that returns elephants to the forest of Huay Pakoot by walking them out of tourist camps in Chiang Mai and back to their home.
The program is jointly managed by the mahouts who wanted to bring their elephants home and create a sustainable form of income for their community. Tourists get to spend time in the village and try traditional activities or support small shops, and enjoy a thoughtful homestay with a local family. We loved getting to know our host family and were very well looked after.
To see the elephants living freely in the forest we had to trek for several hours with the mahouts to find the herd. Another big positive about this program is that there is no interaction with the elephants. We did not get to feed, bathe, or pat them, and rides or selfies are definitely not a part of this experience. Instead we got to simply observe happy elephants living their lives, which is not what most experiences offer. We were able to understand their habits, see their distinct personalities shine through, and witness them foraging for their natural diet.
It was a blessing to just sit back and observe … and come away with knowledge of how elephants really live. Mahouts Elephant Foundation is a unique experience that takes travelers to see elephants on their terms, in a very safe way under the watch of their mahouts. It's a wonderful way to support a whole community, too.
Emma is a freelance writer and a sustainable family travel and lifestyle blogger on Small footprints, big adventures. She and her partner travel regularly with their young children, focusing on slow travel and ethical experiences. Read more about Mahouts Elephant Foundation in her blog post Ethical elephant experience.
---
More reading about Responsible Travel on Breathedreamgo
---
Offbeat places in Thailand
Wiang Kum Kam
We love Chiang Mai, but it can be crowded, loud and generally overwhelming. Fortunately, just five miles from the center city outside the ring road and across the River Ping, an antidote can be found in the leafy, shaded neighborhood of Wiang Kum Kam. Arrange your day visit or a stay here to enjoy an authentic experience of the Lanna (Northern Thai) culture. The main draw here is the lost city of Wiang Kum Kam comprised of many Khmer-era ruins which were only re-discovered within the last thirty years.
Since this was the original ancient capital before flooding forced a relocation, the archeological treasure trove is vast. Rent bikes or stroll along tidy paths and alleyways where you'll encounter over thirty different sets of ruins set among the traditional northern Thai residences. Two large temples – Wat Si Bunruang and Wat Chediliem – anchor neighborhood life these days. Here you can arrange for a Thai massage from the "temple ladies" or enjoy a variety of tasty specialties prepared by local vendors. Traditional Lanna hospitality includes refreshing watering stations for passersby who can ladle cool water from shaded terra cotta pots.
Betsy and Pete Wuebker traveled the world full time for four years, visiting close to 50 countries. They've chronicled their journey to location independence since 2008 on their blog, PassingThru.
Huay Mae Khamin Waterfall
Huay Mae Khamin Falls (also often spelled Huai Mae Khamin) are located amongst lush vegetation within Sri Nakarin Dam National Park, about two hours from Kanchanaburi. While it is a popular place with locals, it's rarely visited by tourists, making it a much more peaceful experience than the well-known Erawan Falls. There are no tourist buses that go here so you will have to arrange your own transport, but that's part of the beauty. It was only on my third trip to Kanchanburi that I discovered this stunning "hidden gem."
Huay Mae Khamin Falls is comprised of seven spectacular tiers of cascading water falls – some of the most beautiful in Thailand. As they are off the tourist trail, they can be enjoyed without the crowds. If you visit on a weekday, you are likely to have the falls all to yourself, with only the sound of insects and birds chirping to disturb you. Better still, you are able to swim at all levels, except the large drop at tier four, so relax and enjoy a refreshing dip in the cool water.
If you have the time, there are even two campsites nearby, used mainly by locals at the weekends. You can fall asleep to the soothing sound of rushing water and wake up next to your own slice of paradise.
For more detailed information, check out my photo guide to Huay Mae Khamin Falls (so you can see why you MUST visit these falls).
Sophie has spent many years traveling full-time, driven to discover the unique beauty of each country by her passion for photography. Her goal is to explore the world while creating powerful images and useful guides that inspire wanderlust and travel aspirations. Follow her journey at Travels of Sophie.
Chanthaburi, Thailand
During my recent visit to Thailand's capital Bangkok, I had the chance to escape the buzzing city for a day and go on a tour to Chanthaburi, Thailand with the local tour operator Take Me Tours. Most people have never heard of the town Chanthaburi, located east of Bangkok towards the Cambodian border – and this is exactly why you should visit!
While many places in Thailand don't seem to be very authentic anymore due to the tourist crowds, Chanthaburi is still undiscovered and provides a real, authentic experience of Thai culture and life. During my time in Chanthaburi, I explored the city and its various temples, markets, and busy streets along the river, and I also had the chance to see the surroundings.
Since Chanthaburi is famous for gems (it's called "The City of Gems"), I visited a gem mine just outside of the city, and also headed a few kilometres south to the coast and explored the beautiful mangrove forest. I didn't see any other tourists in any of those places and truly enjoyed getting to know an authentic part of beautiful Thailand.
Patrick is the founder of the bilingual adventure travel blog "German Backpacker," where he writes about his experiences traveling around every corner of the world.
---
---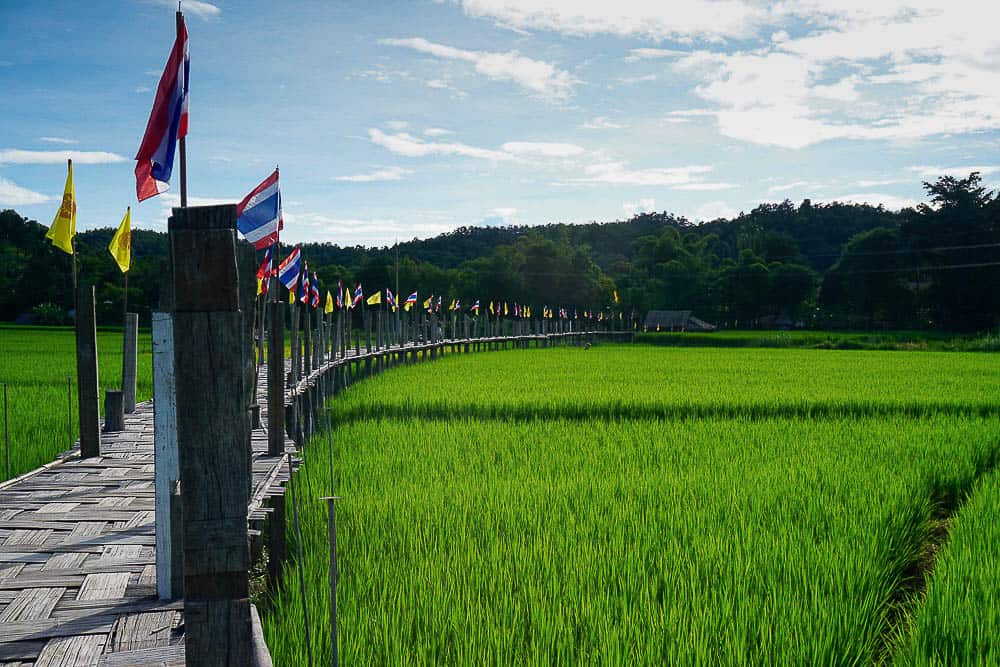 Mae Hong Son
Thailand is an amazing place to visit, but unfortunately, it's been so overrun with tourists there aren't many places left that feel authentic. When we were in Thailand we were seeking to have a special experience and go someplace where not many tourists travel to/know about. That is why we ended up in Mae Hong Son, a providence of Thailand in the northwest corner right next to the border of Myanmar.
The town of Mae Hong Son doesn't have a ton to do, so we rented a motorbike and ventured out to the Thai countryside. On our motorbike trip, one of the most special experiences we had was discovering an extremely long bridge made out of bamboo leading to a temple on the top of a hill. The bamboo bridge is located just outside of Mae Hong Son in Su Tong Pae and is 500 meters long.
The bridge crosses over rice paddies where you can watch farmers tending to the rice growing below. On the other side of the bridge is a gorgeous temple perched on top of a hill, looking out over the Thai countryside. We were the only tourists in sight, and the monks living at the temple were all very happy to see us. Venturing to Mae Hong Son and exploring the Thai countryside is such a special experience as you can see what Thailand is really like without all the crazy backpackers and hoards of tourists around every bend.
Jessica and her husband Ron are the founders of Unearth The Voyage, a travel blog dedicated to inspiring others to travel more often- no matter the destination! Their blog shares details of teaching English overseas, their journey of becoming digital nomads, and information about how to visit off-the-beaten-path destinations.
Sustainable Market in Phang Nga
In the south of Thailand, a few local organizations have been working on reducing single-use plastics, a litter has become an epidemic in this part of the country. One initiative is called "ตลาดน้ำคลองงา" in the Thai language, and is found in the province of Phang Nga, north of Phuket. This market only happens on Saturdays, mostly during the daytime. You'll find clothing vendors and other tangible items at the top level. Dig enough and you can discover some great, locally made souvenirs. Head down one of the staircase along the river's edge though and be rewarded with some amazing street food dishes.
The best part? Most of the food sold is offered in sustainable, eco-friendly packaging. People buy coconut water held in small boats made of palm fronds. Others order sticky mango rice put into hollowed out bamboo shoot tubes. There are plenty of recycling stations throughout the market, and locals make a point to keep the space clean. Organizers hope other markets in the area will follow suit with the conservation efforts too.
Eileen Cotter Wright from Pure Wander, a travel blog about traveling in packs worldwide.
National Parks in Thailand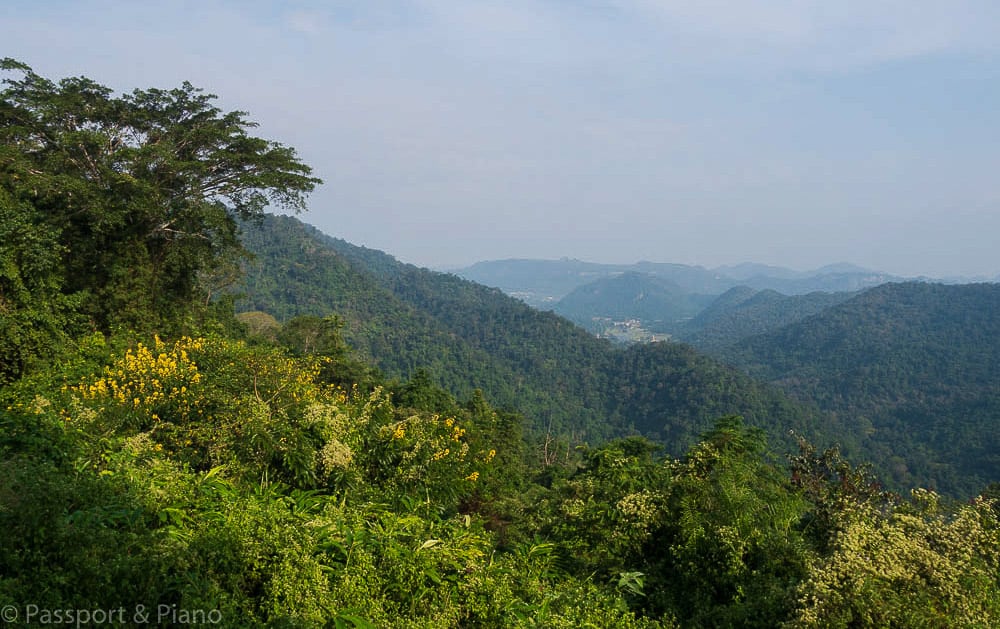 Khao Yai National Park
Khao Yai is one of Thailands best National Parks and it's just a few hours by car from Bangkok. While the park is often busy around the visitor's centre with locals and tourists groups, many of the trails within the park are seldom ventured.
There's plenty of wildlife to see, and it's a haven for birdwatchers which is what appealed to me. For the best sightings, I'd recommend taking a private guide. I hired my guide, Jay, through Facebook, and he was excellent. His knowledge of the park was superb. We discussed what wildlife I wanted to see and Jay new precisely where to find it. For me seeing wild gibbons, elephants, porcupines, great hornbills and so much more made Khao Yai a special destination, and I'd recommend it as one of the best places to visit in Thailand.
In the nearby town, there's plenty of hotels to choose from, but if you're looking for somewhere more unique, I'd suggest Moosiyard Hometel Khao Yai.
It's a family run guest house, and the owners will go out of their way to ensure you have a fabulous stay. You get your own wooden bungalow to stay in which has a spacious terrace at the front from which you can sit and admire the stunning gardens.
At the bottom of the garden is a stream and in the trees, you can watch the hornbills from closer proximity than in the National Park itself.
Breakfast was a delight, and you'll be served plenty of fruit from the garden along with a hearty cooked meal. I can honestly say you won't find anywhere more accommodating and welcoming than this homestay.
Passport and Piano is a travel blog written by Fiona, a travelling music examiner who writes about destinations away from the ordinary. It gives travellers inspiration and knowledge about unique and exotic travel places.
Temples and Monasteries in Thailand
Wat Tam Wua Forest Monastery
While in Thailand we were seeking to experience something unique and off-the-beaten-path. We really wanted to do a meditation retreat or temple stay, but without the hordes of other tourists/backpackers. When researching online, I discovered a Thailand meditation retreat about an hour outside of Pai (a town located in the Northwest of Thailand) where you could come and go whenever you felt like and was donation based. We decided to give it a try and are so happy we did!
We had such a special experience staying at Wat Tam Wua Forest Monastery. The monks there teach Vipassana meditation and you are expected to follow the rules and meditate whenever the monks are meditating. You will experience sitting meditation, laying down meditation, and sleeping meditation.
At the Wat, they grow all of their own food and everything is vegetarian. One of the most special things about this place is that it is a real Wat (temple) where monks live, and anyone can live there too. They don't charge anything to stay there, and only have a donation box where you just give what you can. It is a very spiritual experience and we learned a lot from the monk's teachings. It is also surrounded by gorgeous rolling hills and rice paddies in a very peaceful setting. If you are looking to have an authentic experience, a way to learn more about Buddhism and Thai culture, and a place to go to unwind and relax, staying at the Wat Tam Wua Forest Monastery is a great choice!
Jessica and her husband Ron are the founders of Unearth The Voyage, a travel blog dedicated to inspiring others to travel more often- no matter the destination! Their blog shares details of teaching English overseas, their journey of becoming digital nomads, and information about how to visit off-the-beaten-path destinations.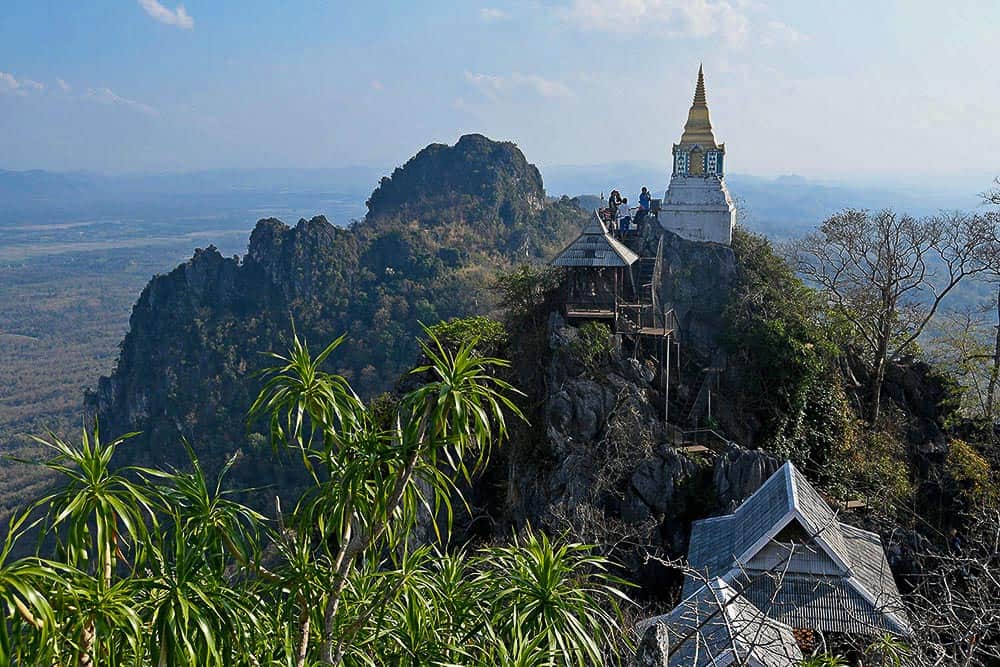 Wat Chaloem Phra Kiat
Thailand has no shortage of beautiful temples that give you a deeper look into the country's culture. But if you're looking for a unique temple experience that isn't on the typical tourist path, listen up…
Located in the north of Thailand, Wat Chaloem Phra Kiat makes an unforgettable day trip from Chiang Mai. Rent a motorbike and drive through picturesque villages, past babbling rivers and over mountain passes before arriving at your main destination — Wat Chaloem Phra Kiat.
Perched high in the mountains, you'll see several white pagodas and one gilded in gold, take one look and you'll have no doubt why it's often referred to as Thailand's "Floating Pagodas".
Exploring Wat Chaloem Phra Kiat is not like most other temples you'll find in Thailand. It's likely you'll be one of only a handful of foreigners. In fact, we were approached by more than one Thai person who asked how we knew about this place.
Aside from the fact that it's not crowded or touristy, the grounds are incredibly peaceful and picturesque. And don't forget to wander around the wooden pavilion for breathtaking views. On a clear day, you'll have a panorama of the countryside below.
Katie and her husband Ben have spent the majority of their 6 years of marriage living and traveling overseas, and have called Chiang Mai, Thailand home for nearly a year of that time. They share their adventures (and misadventures), sustainable travel tips, and photography, on their blog, Two Wandering Soles.
Paradise islands and pristine beaches in Thailand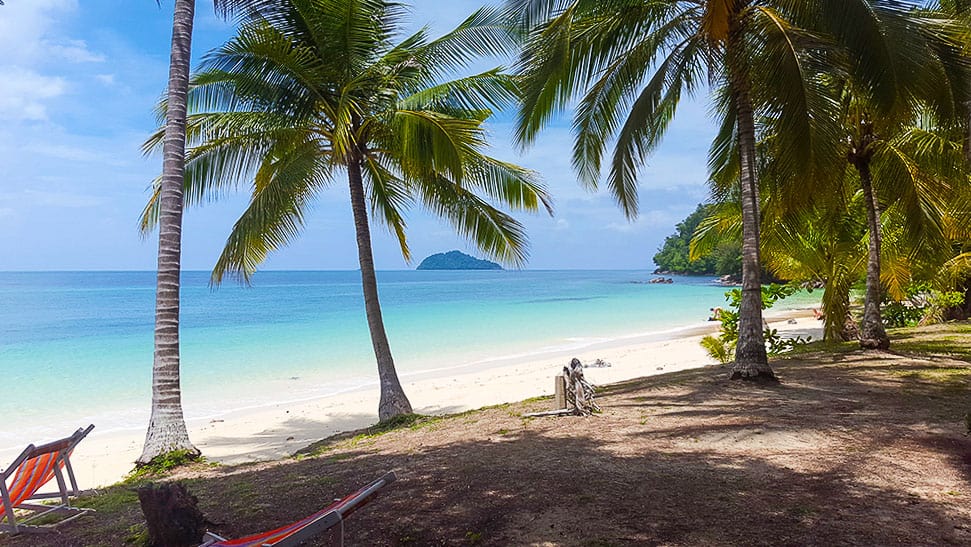 Koh Bulon Lae Island
Koh Bulon Lae is the possibly the most sustainable, eco-friendly island in all of Thailand. It's also about as off the beaten track as you could want to get. A magical island with pristine white beaches, turquoise lapping water and palm trees gently waving in the breeze. I call it Thailand's Paradise Island.
The islanders take sustainability very seriously. Despite the already limited accommodation, no more accommodation is allowed to be built. This limits the number of visitors and ensures that the volume of recycling is kept at manageable levels.
All electricity is supplied by solar energy which is stored during the day and is only available for a few hours in the evening. With only a few hours to charge electronics, why not just switch off and have a real holiday?
The beaches to the North are tidal with mangrove swamps so not always good for swimming. School Beach on the East coast is where you want to be. It is a beautiful stretch of blindingly white sand and with so few tourists, you'll have it almost to yourself. That being said, the island is really tiny and it only takes about 15 minutes to walk from the Northern Bays to the East Coast. That means you can stay anywhere and still enjoy everything the island has to offer.
Kayak round the island, wander through the rubber plantations, go snorkeling or fishing or just relax on the beach with a good book. However you chose to spend your day, you'll love your time on Koh Bulon Lae!
Jeanne and Tai, a mom and son traveling team. We have been full-time traveling, homeschooling and working our way around the world. Join us as we explore new places, eat exotic food, dance in the rain and look for high adventure wherever we go!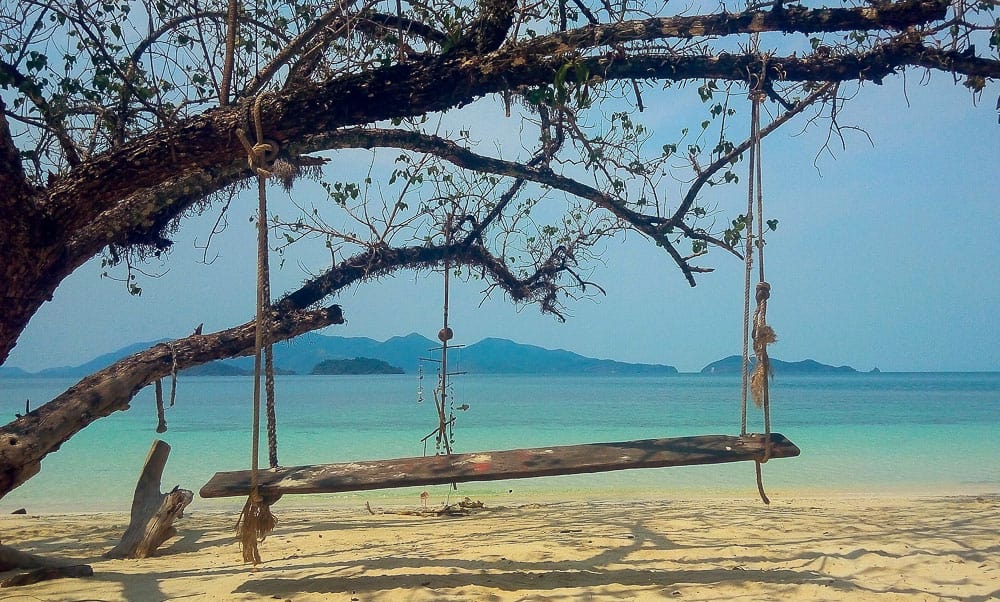 Koh Wai
Koh Wai is one of the best lesser visited islands in Thailand. This tiny island feels like it's a million miles away from the more famous Koh Phangan, and even from Koh Chang, which is the closest access point. Koh Wai is one of the last few places in Thailand that can really be called a paradise. There are two main beaches, both blessed with gorgeous white sand and incredibly clear waters, where you can snorkel to admire an incredible variety of colorful fish. The beaches are lined with palm trees, where you will be able to find shelter from the sun.
The price you pay for this paradise is that you will not find the comforts of the popular big resorts located in Koh Chang and on other islands in Thailand. There are no roads or traffic, no reliable Wifi, and no electricity, other than that from generators. You won't have air con – you'll have to rely on the marine breeze to keep you cool at night.
Instead, you will find only a trail that goes through the forest and around the island, a few small huts where you will have just basic comforts. And the opportunity to disconnect from the stress of daily life.
Koh Wai can be reached from the southern coast of Koh Chang; it takes about 25 minutes by fast boat to get there from Bang Bao. Most people visit Koh Wai on day trips from Koh Chang, so the island may get a bit more crowded during the day. But they all leave at around 5:00 pm, when the last boat to Koh Chang departs.
Claudia Tavani is a former human rights lawyer who abandoned her career in academia to pursue a life of travel. Through her blog, she strives to help people to travel more, better and more responsibly, sharing plenty of organization tips.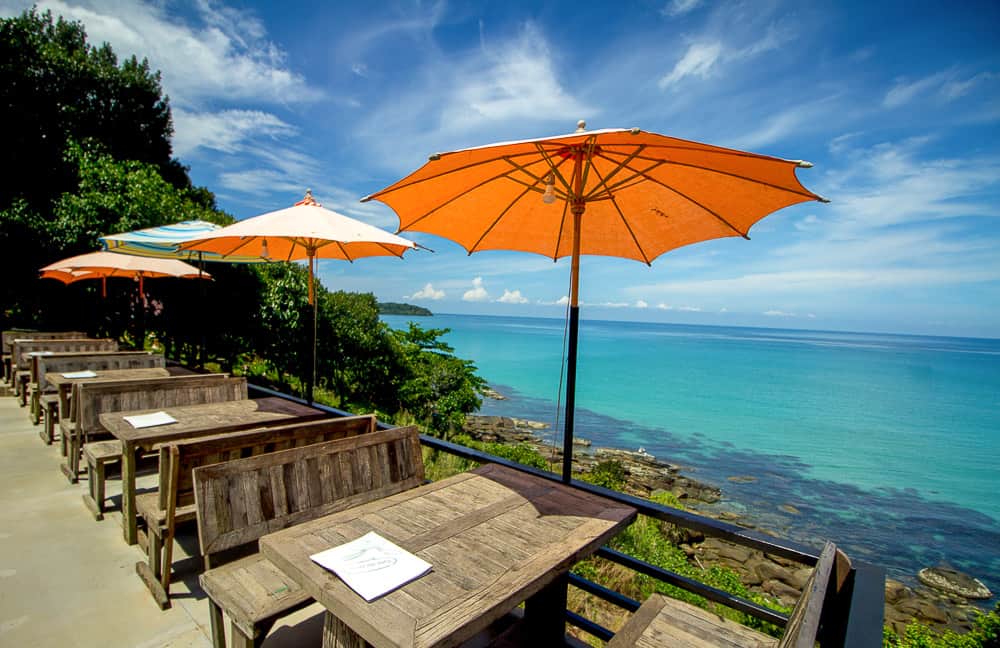 Koh Kood
Many visitors to Thailand dream of pristine beaches and untamed jungles, and are woefully disappointed when they arrive on the popular islands. But while the most famous spots have become overcrowded and heavily polluted, Koh Kood has seen minimal commercial development and receives relatively few tourists. For an independent adventure or to truly relax, this is the place to go.
There's no Starbucks, 7-eleven, or any other corporate presence on Koh Kood; instead, it's mostly rustic local restaurants and small guesthouses. There's almost no nightlife scene to speak of, meaning local people have largely been spared the affront to traditional culture that has happened on more touristy islands. Koh Kood's beaches remain uncrowded, even though the diving and snorkeling is exquisite, thanks to the well-preserved coral around the island. The jungly interior is even more secluded, and you may only see a few other people on a motorbike ride to any of the waterfalls or the famous Giant Trees.
Koh Kood is also home to the world-famous Soneva Kiri, a luxury eco-resort that not only offers the ultimate indulgence but also maintains a commitment to the environment. Soneva prides itself on being carbon-neutral and conducts incredibly detailed assessments of its sustainability initiatives. At the opposite end of the budget spectrum on Koh Kood, we stayed at Cozy House, a sustainable choice for completely different reasons: it's a small family-run guesthouse that uses up minimal resources. They even have recycling bins, which are a rarity in Thailand.
Jen Ambrose and Ryan Victor are a married couple who left their office jobs in the U.S. over two years ago. Since then, they've been working as freelance writers (and in Jen's case, as a yoga teacher) while they slowly explore the world.
Sustainable Hiking Tours with Pooh Eco-Trekking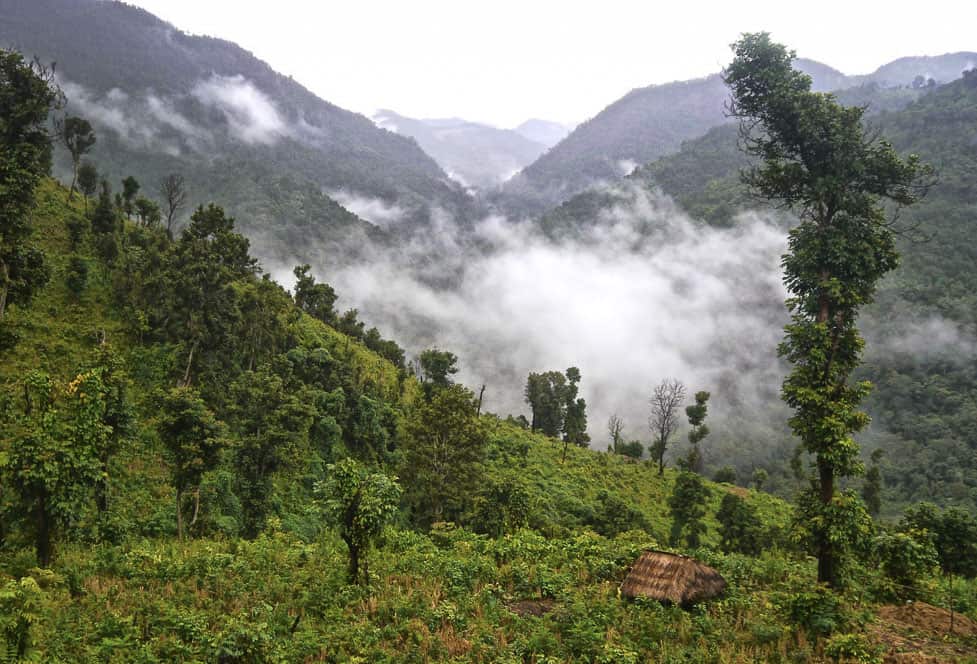 Pooh Eco-Trekking
Pooh Eco-Trekking runs small, sustainably-run hiking tours along the Thai-Burmese border. Unique for their promotion of low-impact tourism, Pooh's tours focus on creating an immersive experience that is as authentic as possible.
Founder Pooh decided to open a tour agency when he became discouraged by companies that promoted eco-tourism for branding purposes only. His passion project has become a rare gem with stellar reviews.
On paper, the eco-trekking tours are quite basic. The tours do not follow the standard scripted itineraries of elephant rides, bamboo rafting and photo ops with the long-neck tribes. Instead, the small group tours are limited to seven people and consist of hiking through splendid mountain scenery and staying overnight in traditional Karen villages.
Overnight homestays give participants and hosts an opportunity to cook together, eat together and share stories with one another.
Pooh put a lot of thought into constructing his tours. Instead of working with one or two families, Pooh's tours rotate between different communities. Rotating allows hosts to focus on their traditional means of subsistence, spreads money around the community and keeps hosts from forming a dependency on tourist dollars.
While Pooh's eco-trekking tours are a bit more expensive than the standard, third-party tour packages prevalent in Chiang Mai, the immersive, low-impact experience is both memorable and sustainable.
Erika is a flight attendant and backpacker who is always seeking off-the-grid adventures. From her home base in the Pacific Northwest, she has visited nearly 100 countries on six different continents and blogs at Erika's Travels.
Scuba diving and snorkeling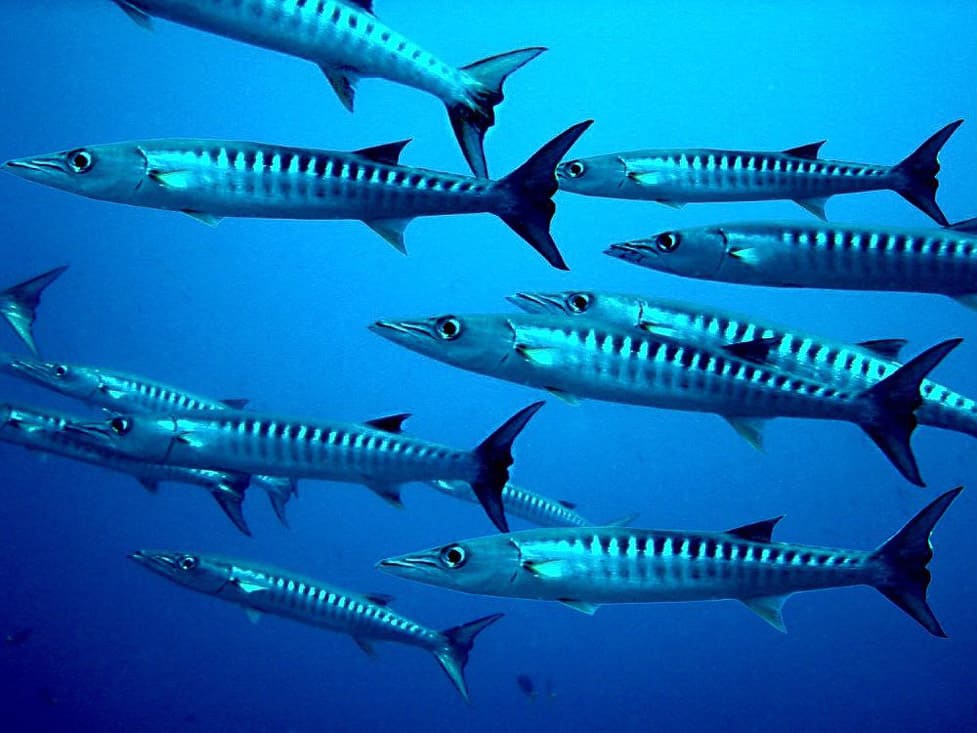 Sail Rock
Sail Rock is the tip of a huge underwater pinnacle that sticks out eight metres above the water, it is located between the islands of Koh Tao and Koh Phangan in the Gulf of Thailand. Many rate Sail Rock as the best site for Scuba diving in the Gulf of Thailand and having dived there a couple of times, I have to agree, it is truly an underwater paradise.
Located far from the islands it is a haven for marine life with many large pelagic shark and fish species frequenting Sail Rock. It is unreal being surrounded by massive schools of Chevron Barracuda and Big eye Trevalley swimming around the pinnacle, look carefully, because large Queenfish and solitary Great Barracudas often circle just outside the big schools. Schooling Long Fin Batfish and Giant Groupers hanging close to the pinnacle makes it feel like you are diving in a giant aquarium.
This premiere dive site is well known for shark life with divers with a bit of luck seeing Bull sharks and diving with large Whale sharks that feed here during season is definitely a bucket list experience. Sail Rock also offers plenty for macro enthusiasts with plenty of small critters living in the colourful hard and soft coral covering stretches of reef. This spectacular underwater utopia can be accessed from most of the islands in the Gulf of Thailand, don't miss it if you go diving in Thailand.
Stingy Nomads is an adventure travel blog written by Campbell and Alya while traveling around the world exploring the best dives and hikes the planet has to offer.
---
Pin it on Pinterest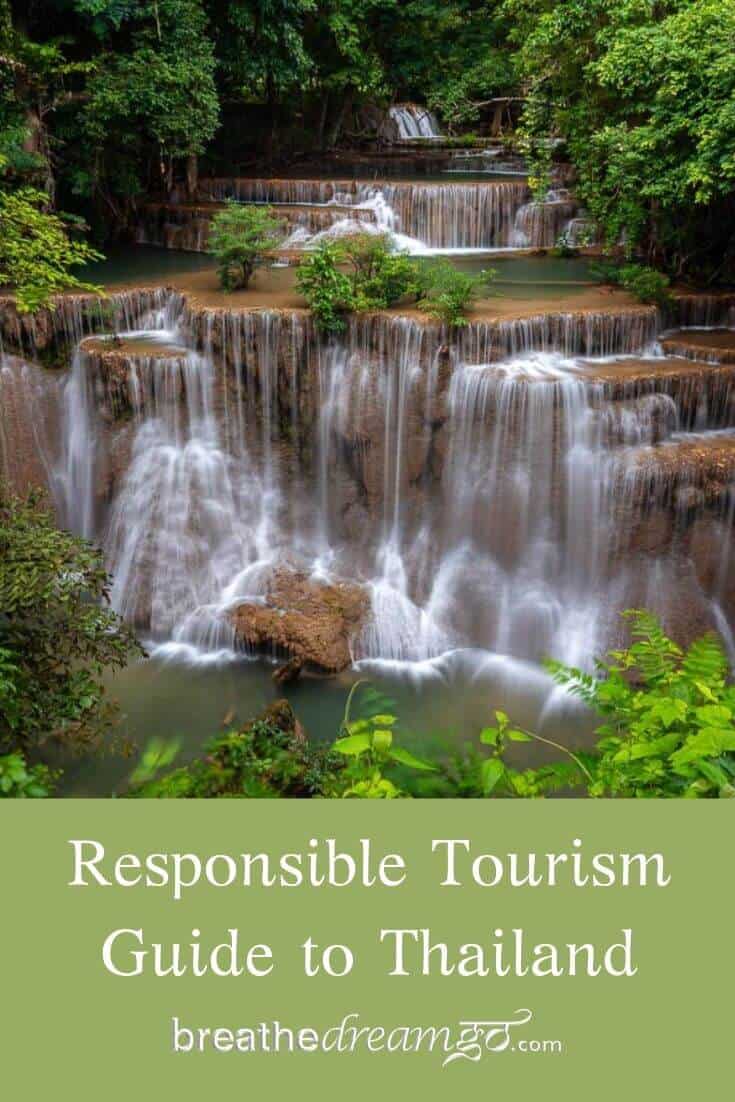 ---
If you enjoyed this post, you can….
Sign up to The Travel Newsletter in the sidebar and follow Breathedreamgo on all social media platforms including Instagram, TripAdvisor, Facebook, Pinterest, and Twitter. Thank you!