Street food in Asia is among the best in the world, and the street food of Vietnam is no exception. In Asia, life is lived out in the open. Eating fresh, tasty, and often spicy food in the streets is part of the social life of most Asian countries including Vietnam.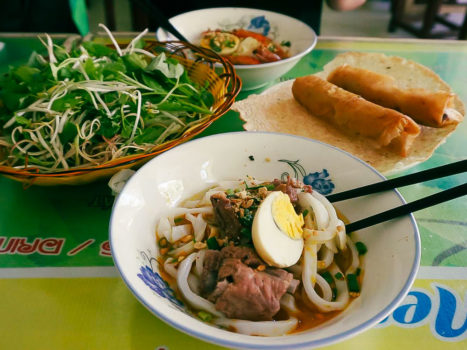 Street food and drinks to try in Vietnam
Guest post by Kat Smith of A Way Abroad. Kat Smith, the founder of A Way Abroad, has been living around the world for the past 10 years. She recently lived in Vietnam for three of those years.
Call me crazy but I firmly believe that the best food in the world is served on stools far too small for grown adults, sitting hunched over a comically small table, if there's even a table, while the traffic whizzes by. I've tried and tested this method in countries worldwide and have repeatedly been proven right.
Vietnam is certainly no exception to this rule. The street food of Vietnam is readily available and readily delicious.
While I do suggest you air on the side of caution when choosing which street stall you'll dine at, you can certainly find some meals that will top what's served at the restaurants. Always take a peek around to see that the cart looks clean, that plenty of locals are also eating here, and that the food looks fresh.
Trust me, you won't lack options so if one street cart doesn't look appetizing enough, go for the next one. Vietnamese street food is well worth the effort, and so is visiting the best places in Vietnam.
---
Please also see the other posts in this series:
---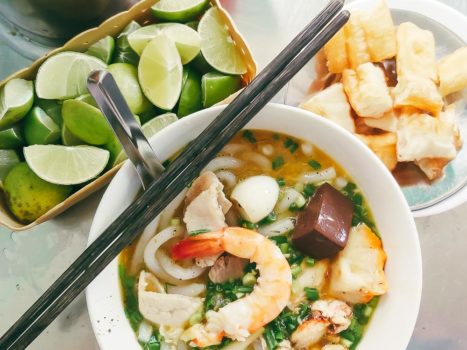 Soups in Vietnam
Although Vietnam is typically hot, like the type of hot that makes your back drip after just a few steps out your door, soup is the reigning king of street food. While that might seem entirely counterintuitive, they say if you warm your body up from the inside, you won't feel so hot on the outside. Lucky for you, testing that theory will be enjoyable. The soups served street-side in this country are flavourful, filling, and cheap, and one of the best street food of Vietnam.
Phở
Phở is quintessential Vietnamese street food. If you've ever tried any Vietnamese food before, it's probably been this. Phở is simplicity at its finest. Although it takes time, patience, and plenty of ingredients to make, when eating it, you'll be reminded of a more flavourful beef or chicken noodle soup.
You can find phở anywhere in the country.
Mì Quảng
Mì quảng is the shining jewel of Vietnamese street food, in my opinion. Also a soup, the broth is heartier, the rice noodles are thicker and doughier, and the varieties are more abundant. My go-to is fish mì quảng and it really never disappointed me.
Mì quảng is from the Quảng Nam providence, which is in central Vietnam. This soup is more common than phở in Da Nang and Hoi An.
Bún ốc
Bún ốc will most likely not be everyone's cup of tea but it's certainly mine. This tangy snail noodle soup with tofu packs a flavourful punch, especially when you add lime and a touch of hot sauce to the broth. Bún ốc soup is most commonly eaten for breakfast.
Bún ốc is a Hanoi staple. It's not too common outside of Hanoi but still possible to find.
If you decide to visit, here's a helpful post on How to get around Hanoi.
Cao Lầu
Cao lầu is unlike any other soup I've ever eaten. The recipe is said to be over a century old and has hardly changed since. The noodles are what really sets this soup apart: they're thick, chewy, and have a smoky flavour. The pork is also not just a big chuck with bones like most other soups, but instead finely sliced pieces.
Cao lầu is a specialty from Hoi An. You'll be hard-pressed to get great cao lầu somewhere else.
Bún Chả
It's really a stretch to put bún chả on a list of soups but personally, bare with me on this one. Bún chả is a dish served with noodles, minced pork patties, veggies, and a broth made from fish oil and fermented veggies. All of these parts will be served to you separately and it's up to you to put them all together to eat. Personally, I love the broth so end up making a soup out of all my ingredients, hence adding it here to the list, but this is a personal preference so instead you could simply use the broth as a dipping sauce.
Bún chả is from Hanoi but given its immense popularity, it can found throughout the country.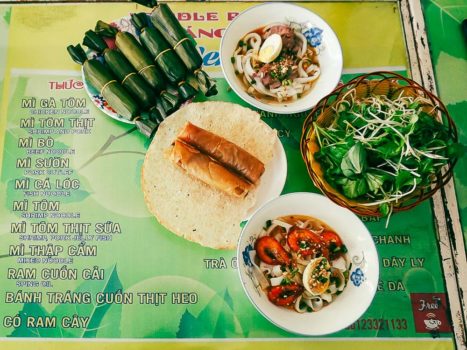 Meat and Rice
Although I realize meat and rice doesn't sound like the most unique street food meal you can get, these two Vietnamese dishes have put their own spin on classics. If you're really hungry and want a quick and cheap way to fill up, these should be your go-to options as they are a staple of the street food of Vietnam.
Com Sườn Nướng
I'm starting this list off with a basic meal that the Vietnamese have made extra tasty. It's grilled pork served with broken rice and a fried egg. What makes it unique is that they grill the pork with a generous amount of lemongrass.
Com sườn nướng can be found throughout the country.
Xôi Gà
Xôi Gà is sticky rice with shredded chicken. It's usually topped with crushed peanuts and fried onions. The exact toppings you'll get will vary based on where you eat it, so my best piece of advice: try it throughout the country to find your favourite one.
Variations of xôi gà can be found throughout the country but most likely during breakfast time.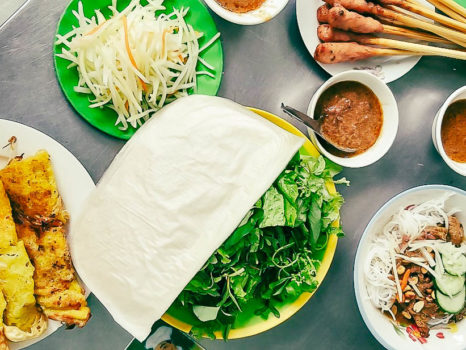 Other street food of Vietnam
Sometimes "other" is the category of those ill-forgotten items that don't really stand a chance against the rest of the categories on this list. This is not one of those times. These dishes are simply too unique to put in any sort of category. Two of these dishes fall into my top three favourite street foods of Vietnam, along with my beloved mì quảng.
Bánh Xèo
Bánh xèo is typically translated to "Vietnamese pancake" but in my opinion, it's closer related to a savory crepe. The crepes themselves are made from frying dough made from rice flour. They're then stuffed usually with small shrimp and bean sprouts and folded in half. Now that you have your crepe, you can start arming your bites. Eating this meal does have a learning curve, so to do it properly, watch some locals, or follow these instructions:
Take a bite-sized piece of your crepe
Get a piece of lettuce, like the size you would use for a lettuce wrap
Stuff your lettuce with carrots, cucumbers, and your piece of crepe
Wrap it up
Dip it in the peanut sauce
Enjoy!
My favourite bánh xèo is in Hue, but it's a common street food throughout the country.
Nem Lụi
It's common to find nem lụi at the same places that serve bánh xèo. Other than serving both plates with the same delicious dipping sauce, they're both also eaten by making little roll-ups out of the ingredients. Nem lụi is skewered BBQ pork. You make your wraps with rice paper, pickled veggies, mango, and a variety of greens.
The best nem lụi is served in Hue, but it's possible to find it in other places throughout the country.
Bánh Mì ốp La
Introducing your new favourite breakfast sandwich: bánh mì ốp la. Bánh mì means the actual sandwich but the variety I prefer needs the "ốp la" (fried egg) added to it. Always served in a baguette, the best bánh mì ốp las have pate, pickled veggies, greens, chill paste, and soy sauce.
Lucky for you, you can enjoy a bánh mì ốp la anywhere in the country.
Bánh Tráng Nướng
The last street food you need to try while visiting Vietnam is bánh tráng nướng, commonly called "Da Lat pizza." Don't make the associate with pizza too close to the pizza you're used to, because other than it being made on a flat circle, like a pizza, the commonalities end there. Instead of bread, the base is a sheet of grilled rice paper. Toppings include things like eggs, beef or shrimp, mayonnaise, and shallots.
You might have guessed given the name, but bánh tráng nướng is everywhere in Da Lat but can be found in other places, too.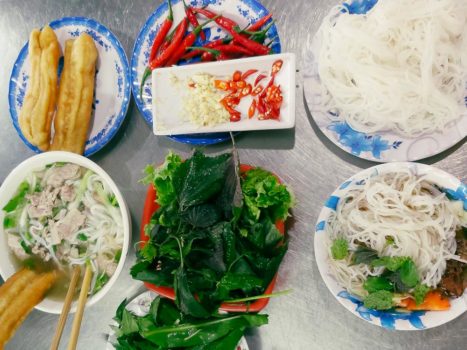 Coffee and Tea
Although not food, Vietnam's streets run on coffee. Really strong, sweet, coffee. Vietnamese coffee culture is unlike anywhere else in the world, as you'll quickly see from the strange variety of coffee drinks available. My biggest piece of advice: be open-minded and try as many variations as you can, you never know which will be your next favourite concoction.
Here are just a few of my favourites:
Cà Phê Sữa Đá: Ice coffee sweetened with condensed milk (available throughout the country but the Saigon version is my favourite).
Cà Phê Trứng: Vietnamese egg coffee (most common in Hanoi)
Cà Phê Dừa: Coconut coffee (most common in Da Nang and Hoi An)
Sữa Chua Cà Phê: Yogurt coffee (not super common anywhere, but I drank it in Da Nang)
Cà phê Đen đá: A basic but important to say, this is just a black iced coffee, no sugar or milk. (available throughout the country)
Sinh Tố Bơ Cà Phê: Avocado coffee (most common in Da Nang and Hoi An)
Tra Chanh: Lime tea. Obviously not coffee but worth mentioning this street drink because if you're not a fan of coffee, or need a break from it, this is a great choice. Most big tea shops have a wide variety of fruit, but street stalls tend to be lime only (most common in Da Nang)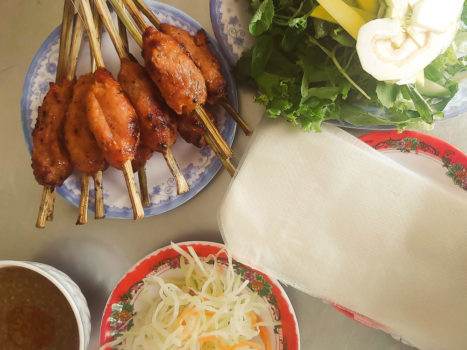 Get ready to eat the street food of Vietnam
With this, you're ready to eat well but spend a little while traveling through Vietnam. With so many great street foods to try, you're sure to find a handful of great dishes that appeal to you. While this list highlights my favourite things to eat in Vietnam, this list certainly isn't everything you'll find to eat on the streets of Vietnam.
My best piece of advice to you: get adventurous, have fun, and taste test your way throughout the country to find your list of favourites, too.
---
Tip: Monsoon is a great time to travel in Vietnam. Read about the 14 Best monsoon travel destinations around the globe.
---
If you enjoyed this post, you can.
Sign up for Dispatches in the sidebar and follow Breathedreamgo on all social media platforms including Instagram, Facebook, Pinterest, and Twitter. Thank you!