CGH Earth: The best Kerala hotels and resorts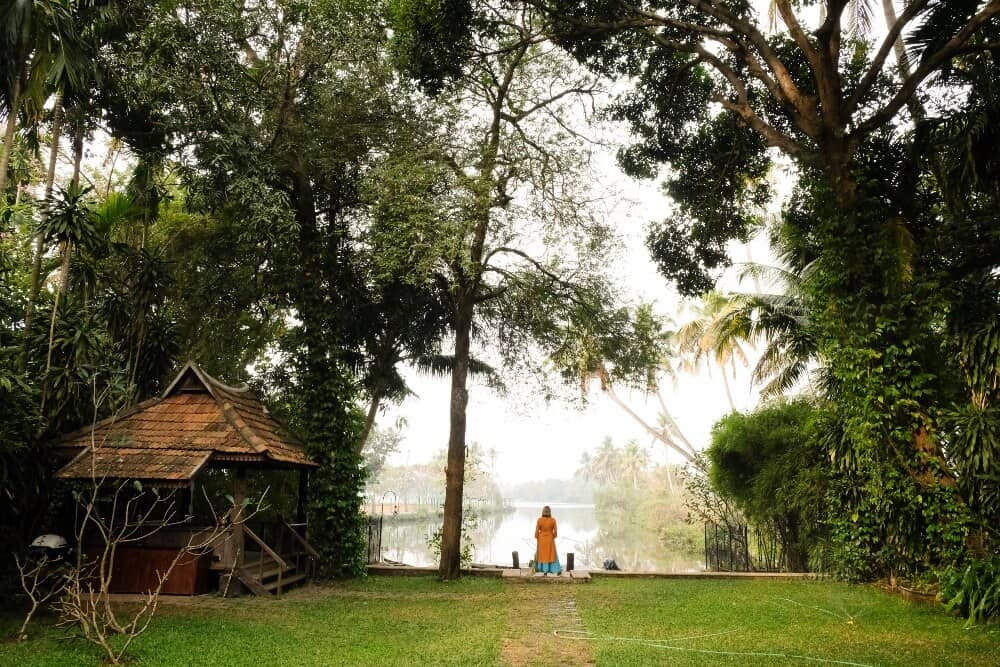 Showcasing CGH Earth Kerala Hotels and Resorts on a 10-day trip
In January 2019, photographer Andrew Adams and I travelled in Kerala for 10 days with CGH Earth. The idea was to visit five different CGH Earth Kerala hotels and resorts, located in five different landscapes of Kerala, and to showcase the current tourism conditions. The world heard about the devastating floods of August 2018, but not about the recovery, and return to normal. This is part 1 of a two-part series on our journey.
Kerala is often called "God's own country." It's a beautiful, tropical state in South India with palm-tree lined beaches, an extensive system of Backwaters, rolling green hills, wildlife and tiger reserves, and much, much more. Kerala is a soft landing for first time visitors to India, and a gentle respite from some of the more hectic parts of the country. There's a lot to see and do all over the state. This post is a suggested itinerary based on a 10-day trip I took with photographer Andrew Adams to five Kerala hotels and resorts managed by CGH Earth.
CGH Earth is a local company, based in Fort Cochin / Kochi, Kerala, that runs about 19 hotels and resorts in South India – most of which are in Kerala. CGH stands for "clean green healthy" and these principles help to steer their operations. The company is a pioneer in the field of creating sustainable tourism options and sophisticated wellness retreats.
We visited five Kerala hotels. We started at Marari Beach Resort on the Arabian Sea coast, then drove up into the cool, fragrant Cardamom Hills to visit Spice Village in Thekkady – and Periyar Tiger Reserve. Then, we drove back down to the Backwaters of Kumarakom to stay at legendary Coconut Lagoon before heading into the historic port city of Fort Cochin / Kochi and the iconic Brunton Boatyard hotel. Our final stop was the show-stopper: we were the only guests at a private, royal retreat – the former palace of an erstwhile king – called Chittoor Kottaram. Read on to discover these special properties and this ideal itinerary for tasting the best of Kerala. I've highlighted my Three Top Things about each property and why you should go!
Andrew is a superb chronicler of India — especially Kerala — in image. Check out out his photography here on his website AndrewAdamsPhoto.
---
India has some of the most spectacular hotels in the world. Read my guide to the Best hotels in India and how to book them for inspiration and ideas.
---
Three Top Things about Marari Beach Resort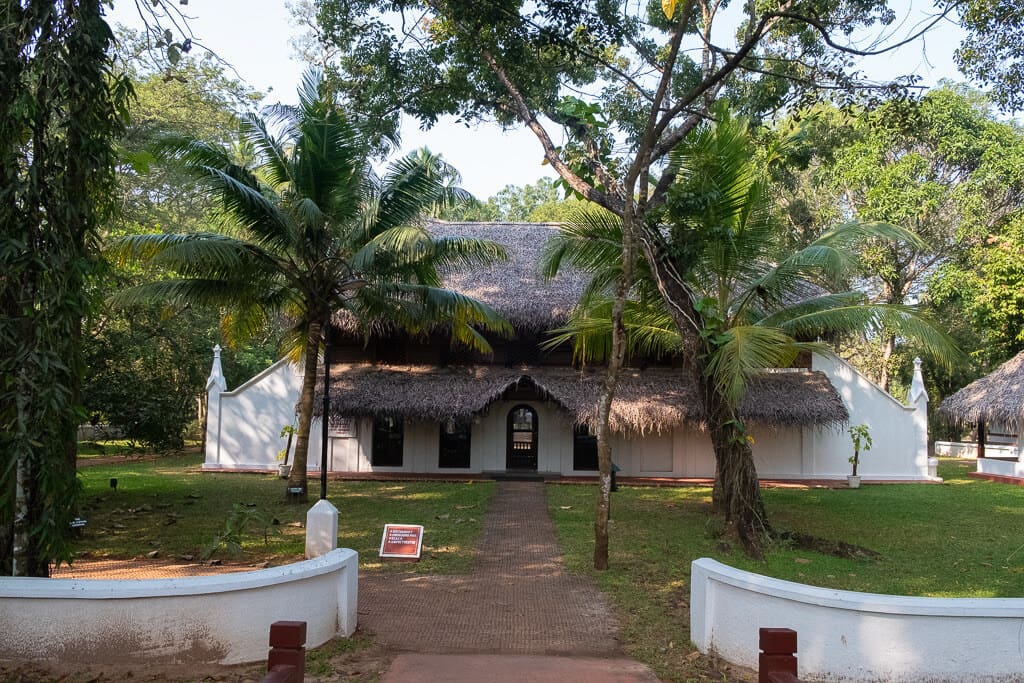 Fishing village and heritage buildings
Marari Beach Resort was inspired by a local fishing village and is spread across 35 acres of land. It has a long beachfront to match, from where you can swim (of course), watch the fishing boats come and go, and see magnificent sunsets. As you wander the property on your own, or in the presence of an in-house naturalist, you can discover things like a thatched roof heritage building that has been beautifully restored and is now used as a clubhouse and bar, the authentic Ayurvedic centre, and a lot of glorious birds, including a resident peacock population. At Marari Beach Resort, you have the opportunity of staying in a very comfortable cottage while getting a feel for the sea side culture of Kerala.
Organic garden and field kitchen
For me, one of the highlights of our visit to Marari Beach Resort was a guided tour with in-house naturalist. He opened our eyes to the rich diversity of the of the property, from flowers, to birds, to insects. He showed us butterfly eggs and where pepper and other spices grow, and told us about all the flora and fauna of the region. He also took us to the very large organic garden and field kitchen. Here, we discovered that much of the herbs, spices, and produce used in the kitchens at Marari Beach Resort are grown right on the property. Guests can help pick the produce and make an al fresco dinner that is as fresh as fresh can be. We had a spicy vegetable soup and a stir fry made of eggplant and other vegetables, right from the garden.
Kerala hotels are all about Relaxation, relaxation, relaxation
Marari Beach Resort place feels very natural, not artificial, and my word for this place is RELAX. The entire place invites you to spread out, and relax, from the expansive lawns to the wood verandahs, from the hammocks strung between palm trees to the refreshing pool. Marari Beach is one of the most relaxing Kerala hotels I have ever visited (and that says a lot!)
Three Top Things about Spice Village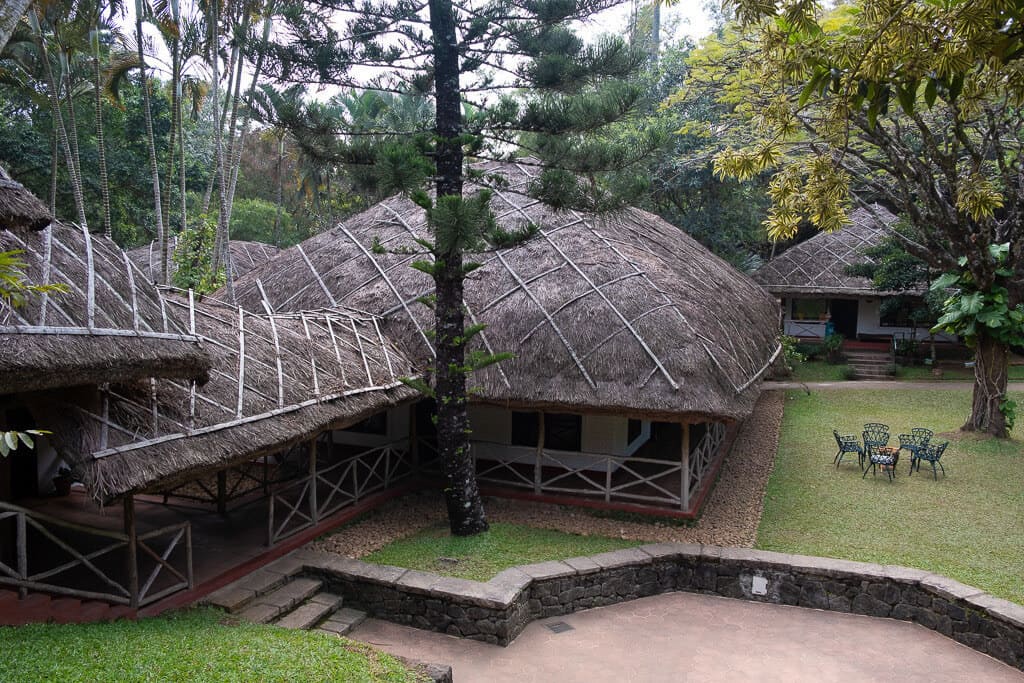 The air was filled with spices!
Spice Village is in Thekkady, among the Western Ghats. This highland region is romantically known as The Cardamom Hills as it's an area ideally suited to growing spices – as well as coffee, tea, fruit, and many other delectable things. My first morning at Spice Village, I woke up in a cool and misty forest, and walked in a spice garden lush with tropical flowers, sweet fruit, and tangy spices. Heavenly.
Like all CGH Earth properties, Spice Village was designed, built, and organized around the local culture and it is appropriately named – here, spices like pepper, cardamom, ginger, turmeric, cinnamon, cloves, tamarind, and nutmeg grow in profusion. Also, coffee, tea, bananas, lemons, papaya, and much, much more.
Spice Village was inspired by the local spice harvesting culture and tribal communities. The cottages are thatched with elephant grass — a skill that had almost disappeared. Spices and tea grow naturally on the 12-acre property, plus there's an organic garden, vermi composting, and all kinds of sustainability initiatives. Even the cuisines and beverages are locally infused. The 50 Mile Restaurant only serves food sourced from within 50 miles, the specialty cocktail is made with spice leaves, and only local tea and coffee are served — the tea with ginger, cardamom, and milk.
Tigers, tamarind, and tea
Wildlife, spices, and tea are three things that Spice Village showcases. In-house tea specialist Francis formerly worked at a tea plantation and he is one of the treasures of Spice Village. Francis showed me how to pluck, dry, and roast tea using a hot grill. It took all of about 15 minutes, we drank the resulting beverage, and it was lovely. I couldn't believe I made my own tea!
The in-house naturalists at Spice Village can be found in the Tiger Club, a dim, wood-panelled room filled with books, photos, and other materials all about the local flora and fauna. When I walked in, it was love at first sight. This is where guests can get all the information they need about Periyar Tiger Reserve. The room evokes a bygone era of intrepid explorers and pristine forests filled with lush vegetation and wild animals. From here, the naturalists will take you on a nature walk through the property, to a local spice plantation, up to sunset point, or into Periyar.
The bygone era feeling of Spice Village is reinforced in the Woodhouse, a bar and billiards room with furnishings, antique artefacts, vintage photographs, and an ambience that preserves the past. It was built on the exact spot where AW Woods, the first ranger at Periyar Game Sanctuary, lived. Apparently, bar was named after him because he was a "great patron of spirits." This is THE ideal place to have a gin-and-tonic – the go-to drink for colonists in India and Africa because the quinine in tonic water was said to prevent malaria.
Ayurveda Centre
Ayurveda is the "science of life," the traditional and holistic approach to healthcare that has been practiced in India since time immemorial. Ayurveda relies heavily on medicines made of herbs, spices, and other natural ingredients. At Spice Village, a spacious and beautifully designed Ayurveda Centre showcases the healthcare system's connection to nature and provides treatments administered by an highly experienced Ayurvedic doctor and well-trained staff. Ayurveda is something that CGH Earth takes very seriously. I can easily image taking treatments here, and returning to your cottage to sip tea on the verandah and soak up the highland atmosphere. A lot of Kerala hotels have Ayurvedic centres, but few are as highly rated, professional, and reliable as those at CGH Earth.
Three Top Things about Coconut Lagoon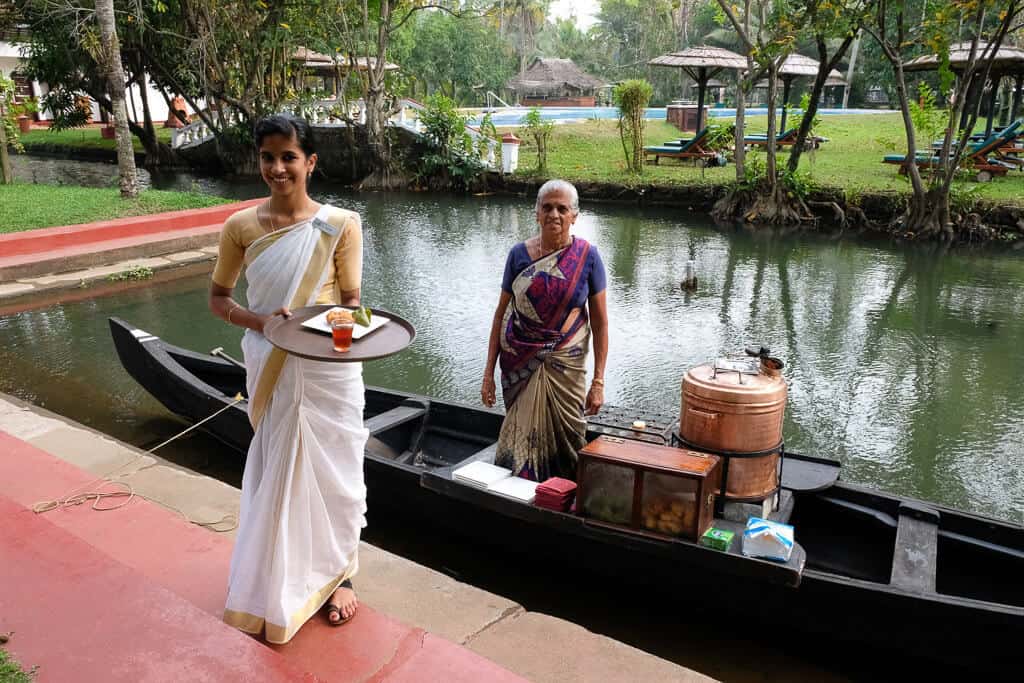 Preservation of culture
A microcosm of Kerala's Backwaters culture. That's the best way to describe Coconut Lagoon in Kumarakom. As we travelled through Kerala with CGH Earth, we found that the company's promise of giving guests not just a hotel stay, but an experience, is certainly true. At Coconut Lagoon, you get an authentic experience of the Backwaters, in a comfortable and naturally luxurious setting. Pioneer of sustainable tourism Jose Dominic, and his team, set up Coconut Lagoon in 1993 by buying up traditional Kerala Houses – houses that were slated for demolition. It was designed to showcase the unique culture of the Backwaters
The experience at Coconut Lagoon is: Graceful buildings carved of rich, dark teak. Vibrant green lawns criss-crossed with channels and waterways. Soaring palm trees that sway in the breeze as Lake Vambanad changes colour according to the movement of clouds. A menu that presents authentic flavours and dishes, full of local herbs and spices. Local musicians play table and flute, and a local woman paddles a boat in every afternoon to serve chai and snacks.
Preservation of environment
Coconut Lagoon is not just charming, it's also a zero-waste resort. They reuse or recycle virtually everything, such as making biogas from food waste and collecting rain water for use in the swimming pool (after filtration). We had a behind-the-scenes tour of Coconut Lagoon and it is seriously just as impressive as the beauty and luxury guests experience.
The Backwaters is a fragile ecosystem, and the company's commitment to sustainability is part of the way in which they protect this ecosystem. For example, Coconut Lagoon may be the only resort in the world that is helping to protect a rare breed of cow. The Vechoor cow is the smallest breed of cow in the world, but it produces a large volume of milk that Ayurvedic practitioners feel is medicinal in value. The wander freely on the property are were whisked to safety during the flooding.
This is a Kerala hotel with a unique and special ambience
Here, people live close to nature, close to the many water bodies that cut through the low-lying region. Their cuisine is notable for the liberal use of rice, fish, seafood, and of course the spices of Kerala, including the fiery chillies.
Coconut Lagoon is a watery place, dotted with small bridges that connect the tiny islands that make up the property. There's much to explore here. I estimate it would take weeks to discover all the special places — like the butterfly garden, sunset point, bird watching hut and having afternoon tea from a local boat.
Three Top Things about Brunton Boatyard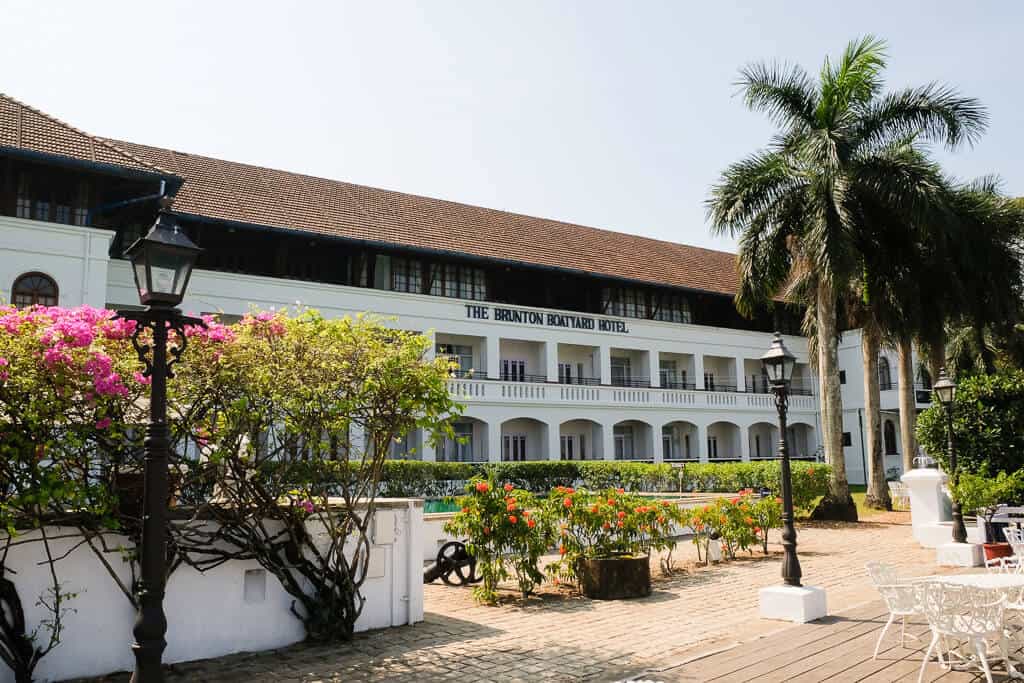 Colonial history captured
Our fourth stop was a stay at the Brunton Boatyard the historic trading port of Fort Cochin on the Malabar Coast, where the Backwaters meet the Arabian Sea. Like all CGH Earth hotels, Brunton Boatyard was designed to showcase the locality. The hotel property was once the site of a successful boat-building company. CGH Earth kept the name, Brunton Boatyard, but hired an architect steeped in the history of Fort Cochin to design a Dutch colonial-style building that "looks as though it was always here," according to hotel manager Manoj Nair.
The hotel is almost a museum of history. Old maps and photos of historically important figures, like explorer Vasco da Game, line the walls, and much of the furniture and decor is antique — up to and including the pankas that hang from the expansive and elegant lobby. This is one of my favourite hotel lobbies ever, and it made me feel more elegant and graceful just walking through it!
Celebration of local cuisine
Two of the hotel restaurants are named History and Armoury, to honour the historical ambience. The cuisine is also inspired by historical dishes, especially in the fine dining room History, where the menu – which reads like a book of stories— details the history of each dish. Vypeen Crab Soup was one of my favourite dishes. As the menu recounts, the chef found these crabs among the mangroves on the island directly across from the hotel and flavoured them with star anise. Many of the dishes evoke the colonial past such as Dak Bungalow Slow Roast Chicken, First Class Railway Mutton Curry, and a Tiffin Meal.
By the sea, by the sea, by the beautiful sea
Fort Cochin was an important stop on the Spice Route, a hub for the trade of spices, tea, and coffee, and a prized gem for European colonists. First the Portuguese, then the Dutch, and finally the English colonized Fort Cochin, so it's a small city packed with history.
Brunton Boatyard is located bang on the coast, in the middle of the very busy trading port. Most of the rooms are sea-facing, with spacious balconies and floor-to-ceiling windows. From here, you can watch vessels of every size, from the tiny wooden canoes of local fishermen to massive ocean-going freighters, as they ply the waters of the harbour.
Three Top Things about Chittoor Kottaram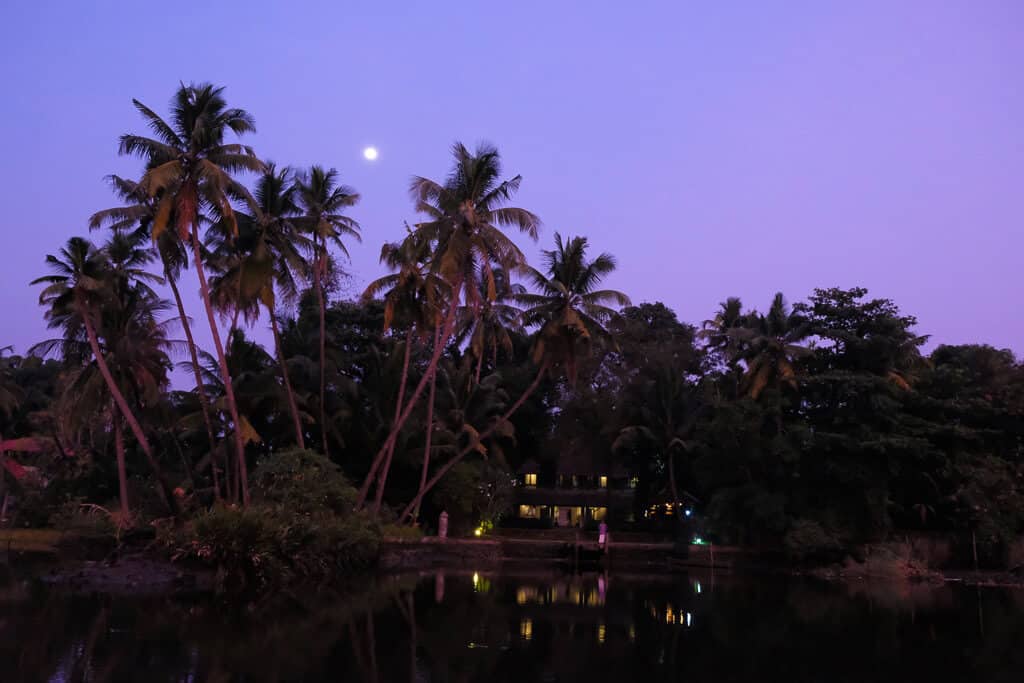 Live like a King (or Queen)
How would you like a palace all to yourself? Chittoor Kottaram was the last stop on our journey through Kerala with CGH Earth and it's a show-stopper. How often do you get to stay in a royal residence, all by yourself? Chittoor Kottaram is a single-key heritage mansion, hiding in a secluded cove in Chittoor, a residential neighbourhood on the Backwaters near Cochin. It's a small but exceedingly elegant palace built by the Raja of Cochin in the early 19th century. The palace was lovingly restored by owner Lady Helen Hamlyn, who also placed within it a precious collection of Indian art, and is managed by CGH Earth. You book the entire palace, three bedrooms, and get a staff of four warm and highly professional people who take care of your every need. We literally didn't want to leave.
Intoxicating atmosphere
To step through the graceful gate is to step into a dream world of magnificent 200-year-old architecture, antique furniture and artefacts, all steeped in the lush greenery of the Backwaters. Time does indeed seem to stand still here among the understated grandeur of Chittoor Kottaram, and a languid rhythm takes over. I slept in a stunning room designed for a King. Bathed in a private pool sunk into the tropical garden, where Brahminy kites fly overhead and butterflies flutter. Relaxed on a Backwaters-facing verandah watching an incredible profusion of birds. And ate delectable, authentic cuisine that includes fresh fish from the Backwaters, lovingly cooked and served in a pavilion by the water or on the gracious verandah. At Chittoor Kottaram, you are literally living a cultural legacy.
A royal standard of service
Everything about Chittoor Kottaram, including the warm and attentive service and the flavourful, authentic cuisine, is superb. The staff is directed by maître d Milton, whose warm personality and local knowledge adds charm to the experience. Food is cooked fresh and to order. Your preferences are remembered, and after one day in residence, you feel enveloped in a standard of service that is almost unheard or even undreamt of. If you want to feel like royalty …. this is the place …
---
Photo Gallery
---
Thank you to CGH Earth, and the staff at each hotel and resort, for hosting Andrew Adams and I and making us feel like family. This blog post was published as part of an ongoing campaign to promote CGH Earth and tourism to Kerala. #mediatrip
---
If you enjoyed this post, you can….
Sign up to The Travel Newsletter in the sidebar and follow Breathedreamgo on all social media platforms including Instagram, TripAdvisor, Facebook, Pinterest, and Twitter. Thank you!
---
If you are interested in travel in India …