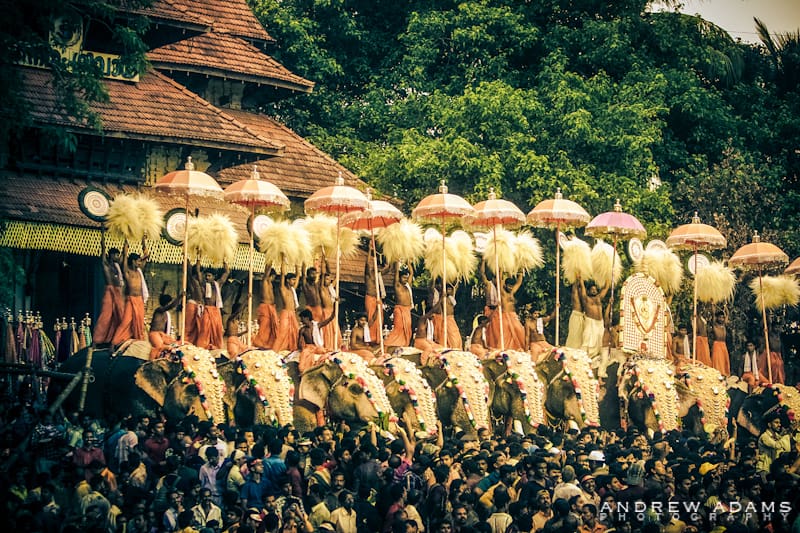 My top travel tips for Kerala, India's soft landing
Kerala is one of the top travel destinations in India, and following are my top travel tips for Kerala. Kerala has soft, white sand beaches, gentle people, a tropical climate, fresh spices, tea plantations, India's highest literacy rate, a unique culture … there are so many reasons to love Kerala. When asked, I often recommend starting a first trip to India in Kerala as it provides for a soft landing.
Photographer Andrew Adams shares my love of Kerala, and in this photo essay shows us several views of this beloved state, which shares the southern tip of India with Tamil Nadu. For my top Kerala travel tips and recommendations, please keep reading.
---
More reading about Kerala on Breathedreamgo
Click here for the best tourist places in Kerala and here to find out about CGH Earth and the best hotels and resorts in Kerala. And here for an Ideal two-week itinerary of Kerala.
Flying down to Kerala
On my first trip to India, I landed in Delhi in December 2005 and by the end of the month, I was chilly! Delhi can drop to 5 C. at night in winter, and the houses are not heated. I was staying with Indian friends, who were all huddled in layers of warm clothing around room heaters, and I decided enough is enough. I did not leave Canada and travel all the way to India to be cold. I called a travel agent I knew and booked a flight to Trivandrum, Kerala.
I flew on December 31, the only flight available, and I cannot tell you how happy I was to arrive in Kerala on a sun-kissed, balmy day. From that day to this, I have had a special place in my heart for this lush, tropical state. If you wish to discover this beautiful state, "God's own country," then I recommend that you book a tour package from a reliable and trusted Kerala travel agency like eKerala Tourism.
God's Own Country
The motto for Kerala, "God's Own Country," refers to the rich heritage, lively culture, lush topography and positive socio-political climate. A Yahoo! answer to the question "Why is Kerala called God's own country" turned up this: "Nestled between the pristine waters of the Arabian sea on the west and the lush Western Ghat mountains on the east, its intense network of rivers and lagoons, thick forests, exotic wildlife, tranquil stretches of emerald backwaters and a long shoreline of serene beaches make it a traveler's paradise." In Kerala, humans and nature coexist in harmony, and nature abounds.
Top travel recommendations in Kerala
I've been to Kerala many times, including to take Ayurvedic treatment, visit the Backwaters, enjoy the beach and the many of the best tourist places in Kerala. I have also driven along the coast, making several stops along the way — including to get a hug from Amma, "the hugging saint," whose ashram is in Kerala. Based on my experience and those of others, here are my top suggestions for a trip to Kerala.
1. Take treatments at an Ayurvedic resort. I stayed at Shinshiva Ayurvedic Resort for two heavenly weeks in 2006 and often dream of returning to relax on the beach, enjoy daily oil massages and eat fresh, healthy food. There are many Ayurvedic resorts and hospitals in Kerala to choose from, from the serious and austere to luxurious resorts on the beach that cater to tourists.
2. Float along the Backwaters. The Backwaters of Kerala are one of the state's top tourist attractions and for a reason. It's a unique way to relax and enjoy a traditional culture on board your own boat.
3. Ascend to the tea plantations of Munnar. Featured to great affect in the Oscar winning film Life of Pi, the lush hill station of Munnar is a centre of the coffee, tea and spice gardens of Kerala. A great place to find cooler weather and to commune with the natural beauty of the region.
4. Track wildlife at Peryiyar. Periyar Wildlife Sanctuary is one of India's most popular nature reserves, home to bison, sambar, wild boar, langur, elephants and about 46 tigers, at last count.
5. Visit the old port of Cochin / Kochi. Kerala has long been a seaport, attracting traders from the Middle East and beyond, and Cochin was a major port of call. The old part of the city is fascinating, and features boutique hotels, great restaurants, many cultural attractions, a spice market, the famous Chinese fishing nets and a wonderful atmosphere. Here, you can about a lot more things to do in Kochi.
6. Bask on the beach in Varkala. This is a favourite spot in Kerala for tourists. Dramatic cliffs, gorgeous sunsets and a relaxed vibe combine to make it a great spot to unwind and unplug.
7. Enjoy the festivals. Kerala has its own unique culture, distinct from the other states of India, and many of its own festivals. Onam, for example, is an exuberant festival that takes place in August/September to celebrate the abundance of nature.
8. Celebrate monsoon season. I have been besotted by the idea of being in Kerala when the monsoon arrives since seeing a documentary about it, called Chasing India's Monsoon. While it is the off-season, and extremely hot and humid, it is considered a special time to be in Kerala. Many festivals take place and apparently Ayurvedic treatments are more effective.
9. Stay at a homestay. Lonely Planet rated Kerala as one of their top family friendly destinations and recommended a homestay.
10. Eat fresh food and glorious spices. Kerala is the spice bowl of India, and you can visit, and even stay, at the spice gardens. The local cuisine is rice-based, spiked with fresh spices and often eaten off a large, bright green banana leaf.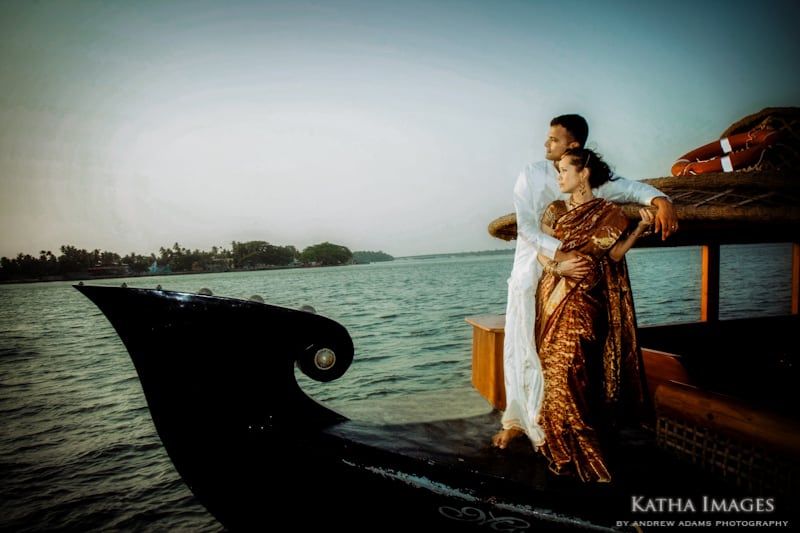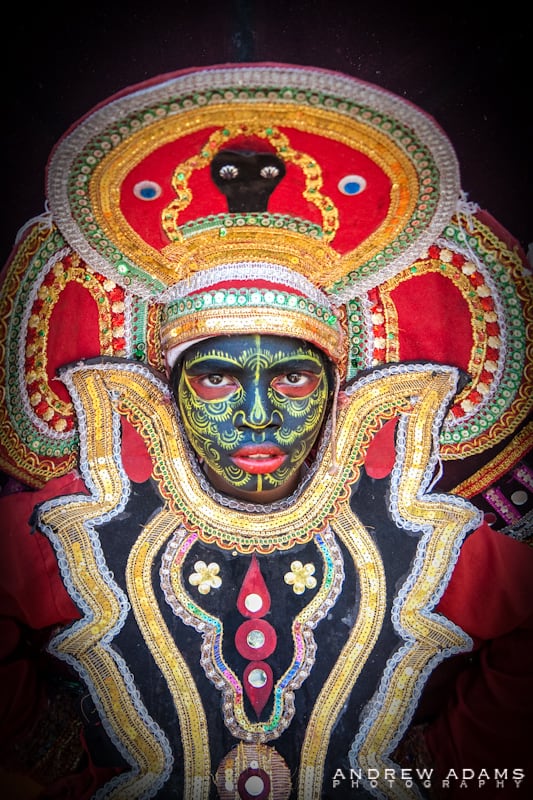 About Andrew Adams
The magic moment is what Canadian photographer Andrew Adams excels at capturing. Working with minimal gear, Andrew gets up-close-and-personal with his subject matter and creates exquisite images that evoke a sense of wonder. He has traveled extensively in India and Sri Lanka, and specializes in South Asian travel and wedding photography. Andrew is a superb chronicler of India — especially Kerala — in image. Check out out his photography here on his website AndrewAdamsPhoto.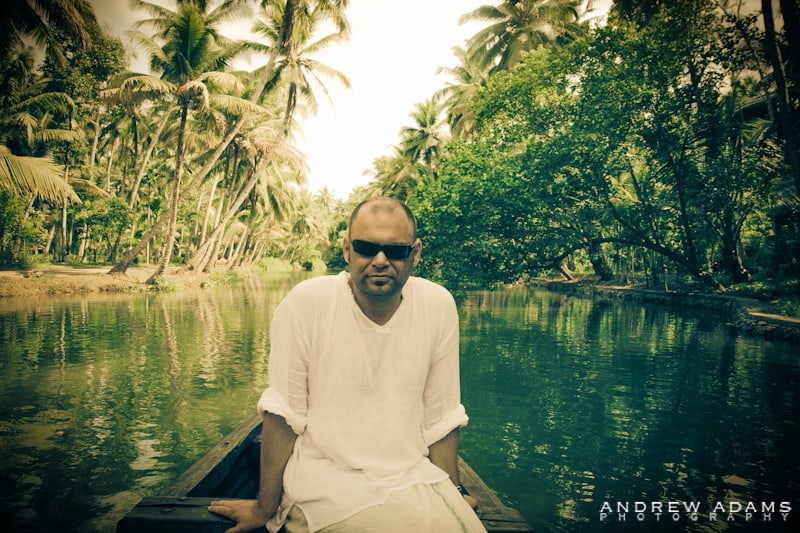 ---
If you enjoyed this post…
Please sign up to The Travel Newsletter in the sidebar and follow Breathedreamgo on all social media platforms including Instagram, TripAdvisor, Facebook, Pinterest, and Twitter. Thank you!