Guide to Rishikesh, India: Yoga, adventure, white water rafting, and digital nomad capital
RISHIKESH WAS ALWAYS one of my favourite places in India before I moved there in 2018. It's a small town in north India, scenically located at the spot where the Ganga (Ganges) River spills out of the foothills of the Himalayas and begins her long journey across the plains of India to the Bay of Bengal.
Rishikesh reminds me a bit of Banff in Canada. But with holy cows, ashrams, and orange-robed sadhus. I love the combination of robust, pristine nature — fresh mountain air, sunrise over the peaks, a torrential river — and the signs and symbols of a sacred India town. Temple bells ring incessantly, incense wafts on the breeze, and Yogis are everywhere to be seen. There is a feeling in Rishikesh unlike anywhere else. The vibe is both relaxed and reverent — and consequently attracts genuine Hindu devotees as well as foreign Yoga students, digital nomads, and adventure travellers.
More recently, Rishikesh has also emerged as an adventure capital that attracts young Indian travellers who enjoy water water rafting, nearby trekking, staying in hostels, and hanging out in river front cafes. There is a growing digital nomad scene in Rishikesh too, as the internet improves and more long-stay accommodation opens up with hostels, hotels, resorts, and guest houses popping up like mushrooms.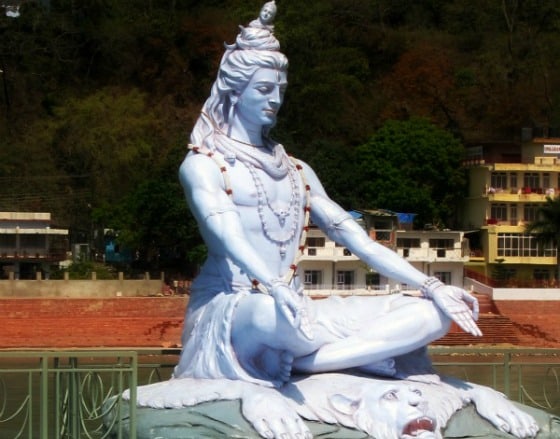 Favourite places in Rishikesh
One of my favourite spots in Rishikesh is where the emerald-green river spills out of the mountains. White sand beaches line the banks, an occasional cow wanders by, and locals, yoga students and tourists gather in small groups to bathe in the chilly, fresh water of India's most sacred river.
This is where the pedestrian bridge that spans the mighty river, Lakshman Jhula, is located. It was closed in 2021 (for safety reasons), and will be replaced in a few years. Cafes on both sides overlook the river and one of the most scenic spots in town. From here, Rishikesh wends its way along both banks of the river, at the bottom of a narrow valley. The east side is almost free of car traffic, and a walk from end to end takes about an hour, and passes sadhu huts, parks, and scores of small shops and stalls selling cotton clothes, gems, spiritual souvenirs, Hindu religious icons and snacks.
By the time you get to the other bridge, the big one, Ram Jhula, you are in the thick of the older and more religious part of Rishikesh. Sprawling ashrams, bustling restaurants, busy temples and statues depicting scenes from Hindu epics and the Bhagavad Gita abound.
It is at this end, near the huge Parmarth Niketan ashram, where the nightly aarti (spiritual ritual) takes place at dusk on the ghats (steps), in front of a massive white statute of Shiva in meditation pose. It is an exciting event to take part in: pandits chant and wave oil lamps as the sun sets, and after dark everyone is invited to release small offerings — little "boats" made of flowers and leaves, containing a candle and incense stick — on the strong currents of the black river.
You can stay in an ashram and study yoga, or stay in a hotel or guesthouse and simply wander the town and the surrounding mountains, enjoying the peaceful vibe and fresh air. All of the food is vegetarian, as Rishikesh is a sacred city, and the shopping is surprisingly good. Best bets are flowing clothes, devotional music, semi-precious gemstone jewelry and books. There are also lots of options for healing treatments, such as Ayurvedic massage, and courses in everything from astrology to sitar.
All about Rishikesh: Some history
While some may ascribe the increasing popularity of Rishikesh to the booming worldwide interest in Yoga, in fact people have been gathering at this confluence of nature since the dawn of time to pray, meditate, chant and imbue the peaceful valley with waves of sacred energy. It's a deceptively powerful place. Here are a few highlights in the evolution of Rishikesh.
There are several myths surrounding the origins of Rishikesh and the naming of it. One legend says the name came from Hrishikesh – one of the names of the Hindu God Vishnu. The town was always an important pilgrimage site for sages and Hindu devotees, but it began to become a spiritual centre in the 8th century when Adi Shankaracharya built several temples and ashrams in the region.
From Rishikesh Online: "It is impossible to speak about the history of Rishikesh, not to mention Lakshman Jhula and Ram Jhula. According to legend, Lord Rama bathed in the Ganges after the murder of Ravana, Lord of the island of Lanka (the ancient name of Sri Lanka), and Lakshman — another brother of the God Rama — crossed the river on the bridge, which he built with the help of jute ropes. So it was called the bridge (jhula) in honor of Lakshman. During the great flood that occurred in October 1924, the Lakshman Jhula bridge was destroyed, and was then reconstructed and reopened to the public by 1939. Another similar suspension bridge Ram Jhula was built in 1986 near Sivananda Nagar."
In 1932 Swami Sivananda founded an ashram in Rishikesh, and established the Divine Life Society in 1936. Today, the Divine Life Society is now global, but the headquarters remains in Rishikesh.
In February 1968, The Beatles famously visited Rishikesh, and stayed at the ashram of Maharishi Mahesh Yogi on the edge of town in Swargashram. This world-shaking event put Rishikesh on the global map, and paved the way for it to become the Yoga capital when the Yoga boom hit in late 20th century. You can read my Guide to The Beatles ashram here — it is now open to the public as a tourist attraction.
One more bridge was added, south of Ram Jhula, in 2020. It is called Janki Setu Bridge in honour of Sita.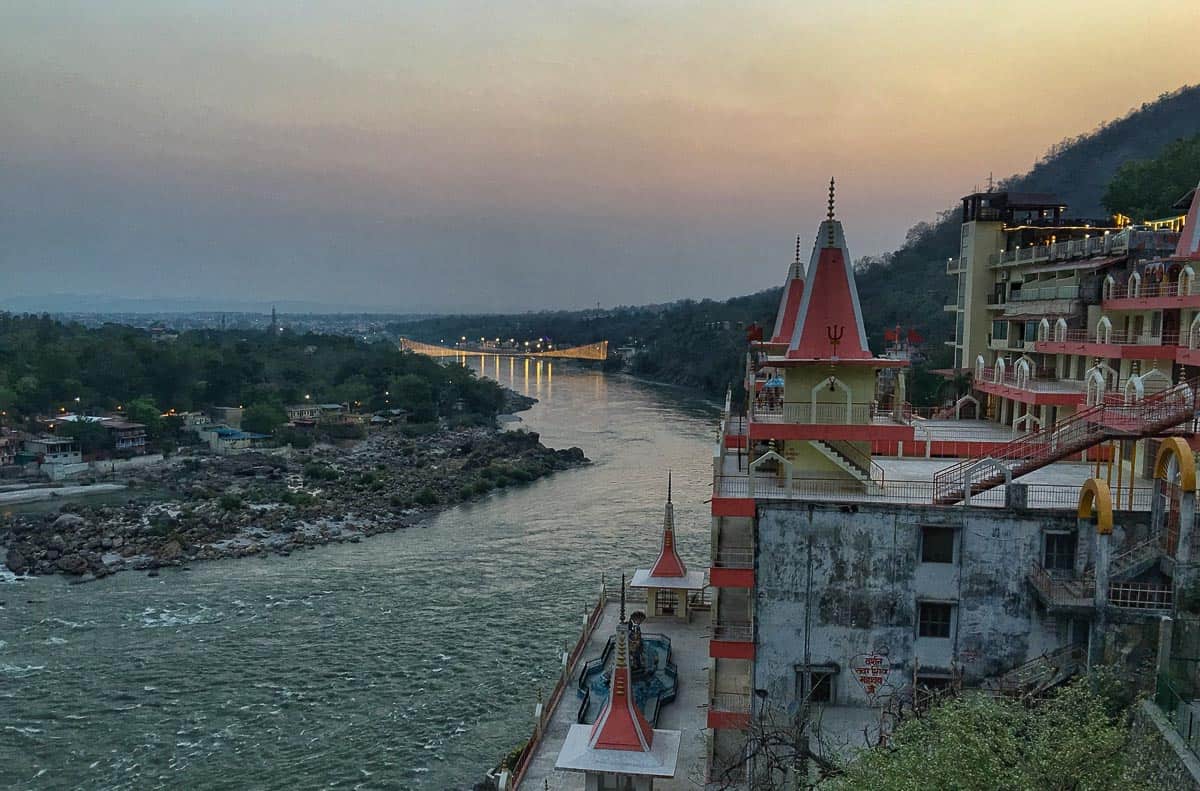 A haven for digital nomads
Rishikesh is the kind of place that some people end up staying in for long stretches of time, and others return to again and again. And then there are those who really never leave, at least not in spirit.
Years ago, before I moved here, I wrote: "I often think of Rishikesh, of the green river singing as it tumbles and surges through town; of the wind that howls from the abode of Shiva at dawn; of practising yoga in the morning and going for long, contented walks in the afternoon. I have many fond memories of Rishikesh, of friends and teachers and peaceful moments. It is one of those places I retreat to in my imagination when I need solace. Perhaps I have fully integrated Rishikesh, perhaps I never need to return. But I hope I do."
When I first visited Rishikesh in 2005, it was a much smaller and quieter place than it is now, and had much more of a spiritual vibe. But while today it is much busier and more commercial, there are more amenities to make it attractive to digital nomads. The internet has improved, there are loads of guest houses and cafes, and better shops too. The ATM problem still persists — no cash — and the traffic is sometimes grid locked. However, on foot you can walk out of Rishikesh in almost every direction to find waterfalls and hidden cafes and remote ashrams.
Favourite cafes and restaurants in Rishikesh
A Tavola Conte — for pizza and gluten free pasta
The 60s Cafe at Green Hills
Divine Resort — for an upscale ambience and fantastic views
Tattva Cafe — best hangout cafe in town
Ganga View — great views of the river
The Secret Garden — healthy food in a peaceful garden
The Beatles Cafe — good food, amazing view
---
If you enjoyed this post…
Please sign up to The Travel Newsletter in the sidebar and follow Breathedreamgo on all social media platforms including Instagram, TripAdvisor, Facebook, Pinterest, and Twitter. Thank you!