Defending an underrated city
Delhi often gets a bad rap, especially by tourists. But if you live here, or stay in one of the nicer areas and take time to get to know the city, you will find that Delhi has many lovely green spaces, excellent restaurants and cafes, shopping opportunities galore and a rich cultural life (not to mention a plethora of historical sites, five-star hotels, spas, universities, spiritual centres and much more). Delhi is, after all, the capital of India and home to the diplomatic community. It is a sophisticated city full of possibilities – once you get past the heat, air pollution, crowds and chaotic traffic conditions, of course. You can read some of my top travel tips for Delhi here.
Delhi nights: Music, dance and the indigo sky
The city plays host to a rich variety of art and cultural events, especially in winter, including music and dance festivals, art gallery exhibitions, talks, lectures, etc. This year I only went to a few events, but they were all spectacular. When I first arrived in Delhi, I bought several city magazines to see what was "on," and I spotted a notice for a music and dance festival at the Ravi Shankar Centre in honour of George Harrison's 67th birthday (Feb. 25 — a Pisces, like me). It said "by invitation only," but a number was listed, so I called. The nice woman who answered the phone immediately offered to put my name on the guest list. That night, after some difficult, my taxi found the Ravi Shankar Centre — which is in fact a lovely house with a big lawn in the diplomatic area of Delhi, close to the embassies and the most expensive hotels.
A small group gathered on the wide steps, topped with mattress-like cushions, to watch the performances on a small outdoor stage. It was a very intimate evening, hosted by Ravi Shankar and his daughter Anoushka. The first performer was Shalini Patnaik, an Odissi dancer, who danced beautifully, and energetically for an hour. I was enthralled. I particularly like this style of dancing. Next up was a singer, accompanied by four musicians. The music was melodic, heartfelt and evocative. It was gorgeous to listen to such music on a balmy February evening, under the starry indigo sky.
That same weekend, I also noticed a big Sufi music festival, Jahan-e-khusru, taking place outdoors at Humayun's Tomb, one of the foremost historical monuments in Delhi. It is somewhat like the Taj Mahal, though not white, and is surrounded by spacious grounds and Mughal era ruins. The final night of the festival was sold out because Abida Parveen, a female Sufi singer from Pakistan was performing. In truth, I had never heard of her, but she is considered one of the "finest Sufi music vocalists of the modern era," according to Wikipedia.
I didn't have a ticket, but decided to go anyway, and see if I could get in with my press pass. I passed through gate after gate, guarded by soldiers and security personnel, each one waving me through. (That seems to be a theme for this trip.) I ended up sitting in the front section, and was really, really impressed with the amount of work, effort and attention to detail that was required to turn a massive lawn, surrounded by ruins, into a comfortable and gorgeously lit outdoor theatre, with room enough for thousands of people. The first performance was an all-male Sufi dance troupe, accompanied by live musicians.
And then Abida came on stage and starting singing and I was thunderstruck. She is a large woman with a thick head of black hair, but she was singing to a HUGE audience in an ENORMOUS open-air space … and she filled it. She's the Janis Joplin – or Pavarotti – of Sufi singing. There was so much power coming from her; she was obviously singing from a place of deep spiritual communion. She was incredible. No wonder there were so many people there.
It was truly a magical night – to sit outside on a warm night, with the almost-full-moon coming up over the centuries-old ruins listening to this spiritual powerhouse sing in the heart of historic Delhi, India. Wow, what an experience.
More recently, I attended an art show, The World on a Canvas, with a friend and colleague from the Ministry of Tourism. I was meeting with him to interview him about the India's Rural Tourism program (which is run in collaboration with the United Nations), and afterwards he took me along to the event, which was an exploration of art, travel and tourism.
The artist, Paresh Maity, is apparently very well-known in India – an art star. I found him to be very charming and I really loved his paintings. He has incredible mastery with regards to colour and technique, and his extensive travels have inspired his work. His watercolours are very large and masterfully executed: it's not easy to work with water on such a large scale. The artist was on a panel with several others to talk about the intersection of art, travel and tourism. It was a fascinating evening.
All roads lead to Khan Market
Khan Market is one of the most upscale markets in Delhi, and probably the one most frequented by expats. It's in the centre of New Delhi, on Lodhi Road, and has lots of great cafes, so it makes a great meeting place. On this trip alone, I probably went there at least eight times, half of them for meet-ups. On two different occasions, I interviewed writer, traveler and Indiaphile Fiona Caulfield (author and publisher of the Love Guide Travel books, which I love) about Bangalore, her home city; and writer, photographer and conservationist Ananda Banerjee about the National Tiger Conservation Authority (which was formerly called Project Tiger). I also went there to shop and have lunch with various family members. And buy imported rice crackers for my favourite 11-year-old girl in India.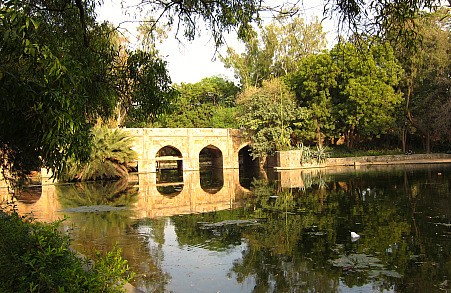 Khan Market is very near one of my favourite green spaces in Delhi, Lodhi Garden. Lodhi Garden is a large park, beautifully landscaped and maintained. It is a favourite walking and picnic spot for Delhi-ites. And of course, being in Delhi, the garden features several extremely historic monuments, the tombs of the Lodhi emperors. The affect of these turreted, ancient tombs set amongst lush greenery is really enchanting. I love walking there, and going to Lodhi Garden restaurant for tea or lunch.
This year I met my friend Mark (Manmohan) from Toronto (originally from Delhi) there for lunch. We happened to go during Navratri, which is a nine-day festival devoted to the goddess. During this time, Hindus do not eat meat or drink alcohol. In honour of this festival, Lodhi Garden restaurant offered a set vegetarian Navratri lunch, which was inventive and delicious.
I also dropped in on several art shows at Habitat Centre, which is one of the many cultural centres in Delhi; and I went to see two movies while I was here, the two biggest hits: Three Idiots starring Aamir Khan and My Name is Khan starring Shahrukh Khan. Three Idiots is a fantastic film about three talented industrial engineering students struggling with the pressures of attending a "prestigious" school (probably India Insitute of Technology); and My Name is Khan started off as a good film about being Muslim in America after 9/11, but descended into ridiculous melodrama. I have to say, though, that SRK did a great job of playing a mildly autistic man. I'm a fan of both Aamir and SRK, though for different reasons: Aamir is extremely intelligent and talented and SRK is charismatic and sexy!
Okay, enough about Bollywood! The point of this entry is that Delhi is a lot more than simply a transportation hub for harried tourists. I have said it before – if you get away from the commercial centre and the touristy areas such as Pahar Ganj, it's a fascinating, historical and cultural city that deserves to be explored. I have been fortunate to stay in South Delhi, which is one of the nicest areas; and I have been fortunate to have visited the other big cities of India, so I know how Delhi compares. Personally, I would take the dry heat, wide-open spaces, greenery and superior infrastructure of Delhi over Mumbai, Kolkata or Chennai any day.
If you enjoyed this post, you can….