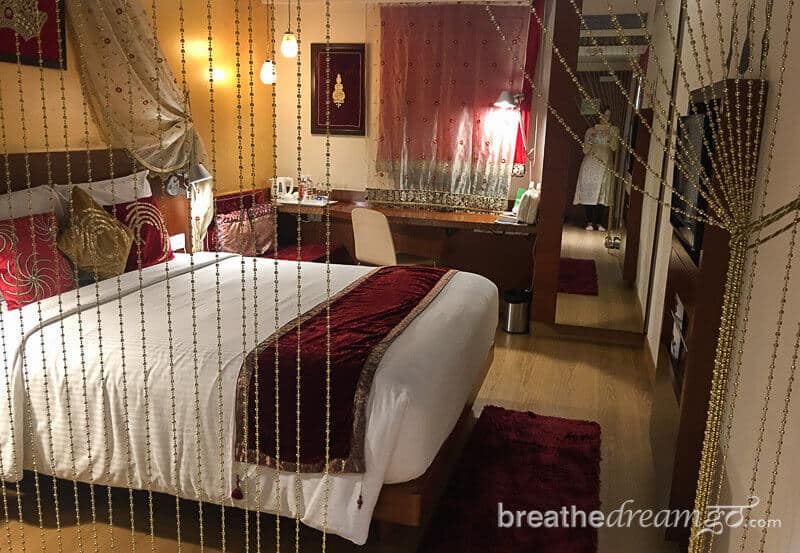 Hotels in Aerocity Delhi are much more than convenient
Hotels in Aerocity Delhi are far above and beyond what I expected from an airport hotel. It was my personal experience of staying in Aerocity on several occasions that opened my eyes to the value of this complex.
May 2018: I always find leaving India hard. I feel very connected to India and suffer from withdrawal pangs. It's also a bit of an ordeal to pack up. Plus, there's the long flight or flights home. But finally, I did it right. My last night was spent at the Hotel Ibis in Aerocity, near Delhi's international airport. I had never experienced Aerocity, and knew very little about it. But it turned out to be an extremely convenient, stress-reducing, and eye opening experience and I'm so glad I took the effort to explore it.
---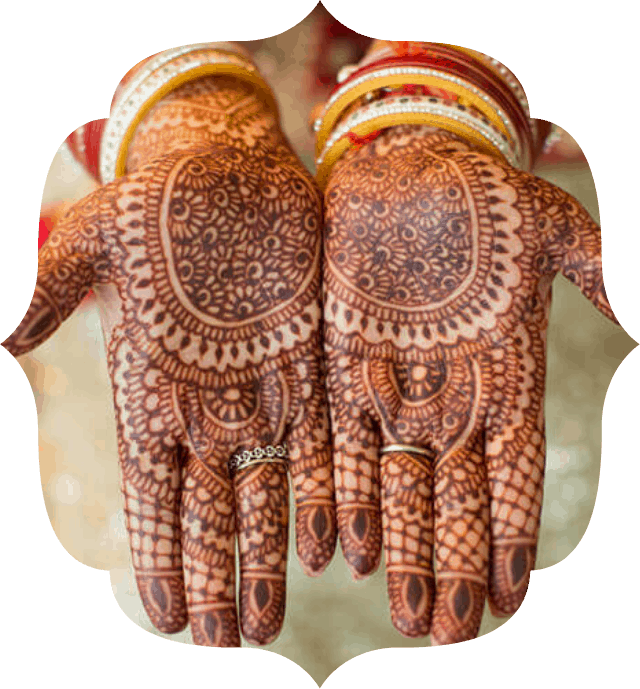 Come to India with us!
Are you dreaming of a trip to India? Come to India with India for Beginners custom tours, from Breathedreamgo and let us show you the India we love. With India for Beginners, we help you design a tour based on your interests, preferences, and budget. We pick you up at the airport and we are available by phone 24/7. We hold your hand in India!
FIND OUT MORE
---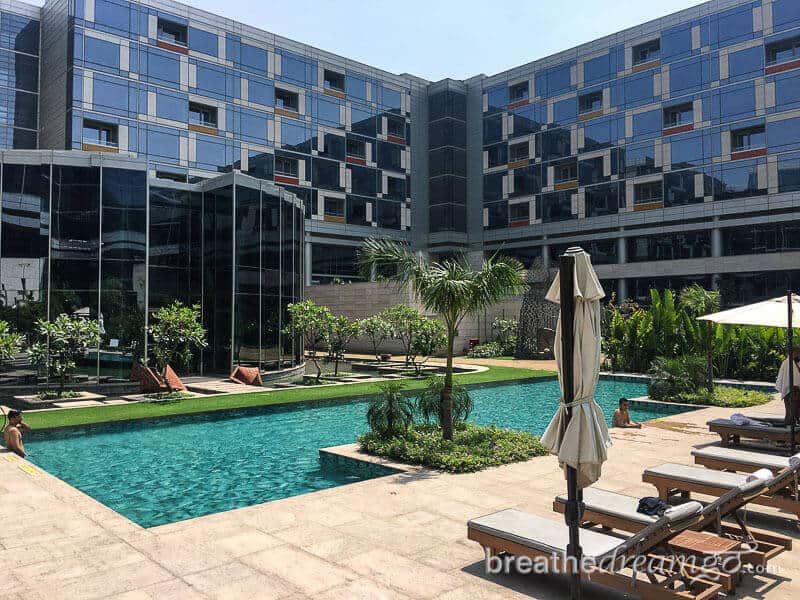 If you don't know, Aerocity is a development just a 10-minute drive to T3, Indira Gandhi International Airport in Delhi (and also close to T1, the domestic terminal). The development includes hotels in almost every price range — from the affordable Hotel Ibis to the luxury Pullman Hotel to the very grand Roseate House — plus a Delhi metro station and shopping malls. It's like a mini-city for travellers.
The thing that surprised me most is the hotels are not your usual soulless airport hotels. They are destinations unto themselves with gourmet restaurants, gin bars, rooftop swimming pools, gyms, screening rooms, presidential suites, runway views, posh lounges, and much more. I was truly gobsmacked a couple of times as Hotel Ibis rooms division manager Abhilash Kumar gave me an Aerocity tour that literally took four hours – but included a fresh and delicious lunch at Pullman's Pluck restaurant.
I did not expect such a range of experiences and so much sophistication. The three hotels that really stood out for me are Roseate House, the Pullman, and Andaz Delhi. There are some other good hotels at Aerocity, but these three are the knock-outs. Roseate House has a gorgeous Indian restaurant, a chic rooftop pool with a runway view, and a deluxe screening room, but it was the suites that really did it for me. The presidential suite was especially glam, with silver walls, a giant bathroom, and its own pool. Area general manager Kush Kapoor gave us a full tour of the property and told us Ranveer Singh, Akshay Kumar, and Aamir Khan have stayed in the suite. One day I will stay here overnight and give a full review!
---
More reading on Breathedreamgo about travel in Delhi
---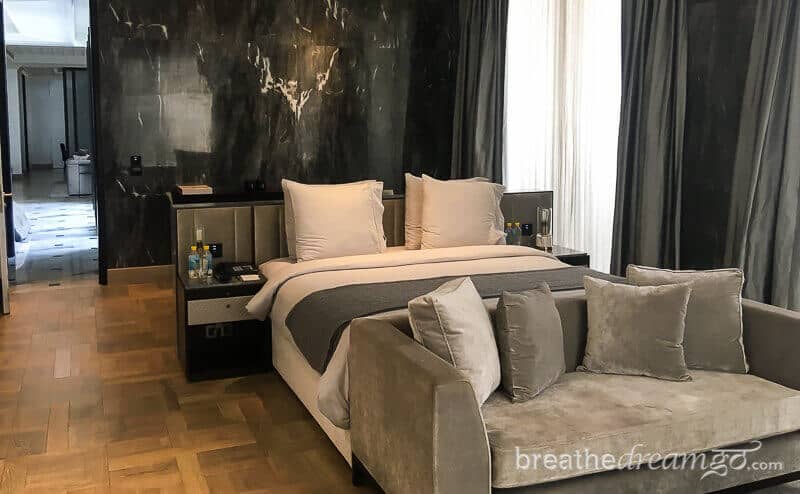 ANDAZ Delhi
The Andaz felt like a breath of fresh air. Super stylish, hip, and with an open concept lobby, the décor and cuisine blends traditional Delhi and Indian touches to create a very modern and unique fusion style.
UPDATE DECEMBER 2019:
In December, on my way to visit top tourist places of Madhya Pradesh, I got the chance to stay at the Andaz Delhi and experience the hotel. I ate in the restaurant, and stayed in a plush room with a runway view. I have to say, the Andaz is one of my favourite hotels at Aerocity. I love just about everything. The open, breezy decor in the lobby sets the tone for this hotel. It's hip, comfortable, a great place to wine, dine, work, and hang out. And I love the way Delhi is woven into the hotel in the cuisines, decor, and many fun touches.
To be honest, they had me at the gin bar in the lobby, the Juniper Bar. I'm not a big drinker, I only drink white wine and gin — and I'm very particular about my gin (basically has to be Bombay Sapphire). AT the Juniper Bar, they infuse their own gins and there's an astounding number to try.
But the Anna Maya restaurant is probably my single favourite thing about Andaz. This is how they describe it on their website and I found it to be true: "AnnaMaya is a modern European Food Hall which is inspired by the colours and flavours of India where food is served and interesting artisanal produce are available for sale. The menu is designed around consciously-sourced ingredients from local artisans who directly or indirectly contribute towards the well-being of society."
It's sprawling and cosy, fun and serious, delicious and healthy. One of my favourite restaurants in Delhi! They have a wide-ranging menu, but you can truly experience some of the most treasured foods of Delhi and India at Anna Maya.
I also loved my room, with a supremely comfortable bed, glamorous bathroom, and really convenient working space — a built-in bench along the window with a large table. Much more useful than just a cursory desk. The runway view was fun too …
The Pullman Hotel: Style and comfort
The Pullman is a very stylish, luxurious property with a chic lounge and a great restaurant, Pluck, that serves Asian-fusion dishes and lots of super healthy choices. This hotel has a large courtyard that features a swimming pool and private club. I loved the rain theme in the lobby, with thousands of glass rain drops hanging from the ceiling. And the rooms are equally luxurious and comfortable, some with incredible runway views.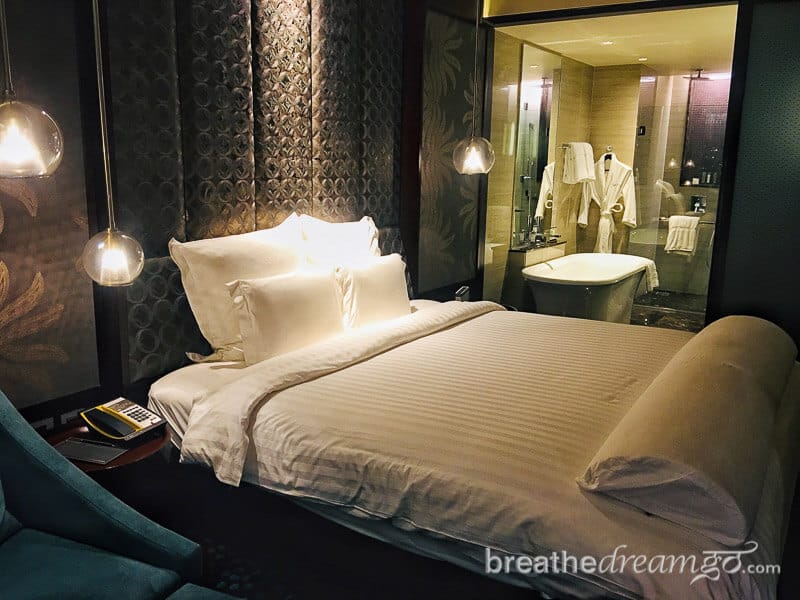 UPDATE 2018: I stayed one night at the Pullman Hotel on my way through Delhi in June 2018. I arrived in Delhi at about 9:30 pm, on a direct Air Canada flight from Toronto, and checked into the hotel about 10:15. It's literally a 10-minute drive from the airport. The first thing I did was have a late dinner at Pluck. I loved the menu choices, which included lots of fresh and flavourful fusion dishes, and ordered a Sweet potato, feta and pomegranate basket. This modern twist on Indian chaat was spiked with mint and tamarind flavours and perfect for my first dish in India after a two-month absence. The ambience of Pluck, and the hotel in general, is soothing and stylish in equal measure, which is perfect when you are jet-lagged and / or in need of some TLC (tender loving care).
Upstairs, I dropped into the large, comfortable bed, tired and happy. I could only look longingly at the deep bathtub in my room — the divider between the bathroom and the bedroom can be completely opened — as I was too tired to take a bath. I felt enveloped in plush comfort. The bed felt like a cloud and I have never ever ever slept in a quieter hotel room. I don't know how they do it, but I heard nothing at all from the corridor or other rooms, and could barely even hear the airport. I was lucky to get a room with a runway view, and woke up at dawn to watch planes taking off across the street, at the international airport. But the best was yet to come.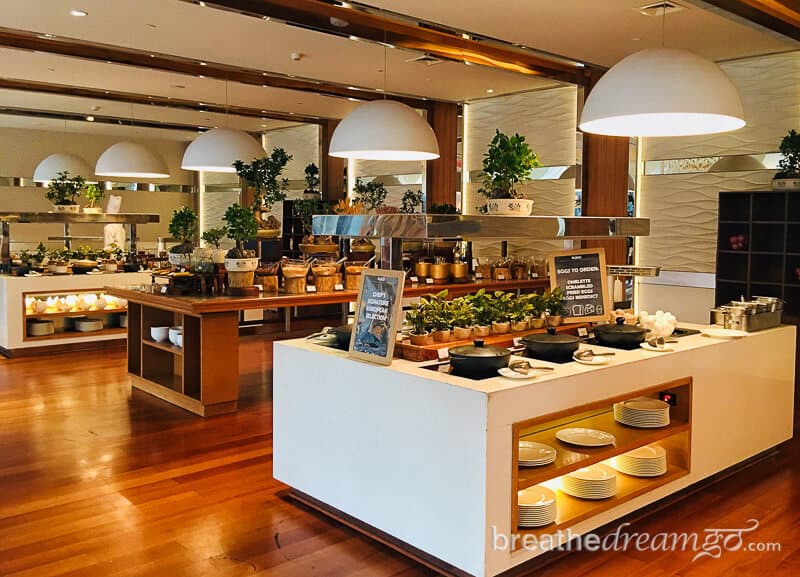 I went downstairs to walk on the grass in the courtyard and wait until the breakfast buffet opened in Pluck (I had jet lag and woke up waaayyy too early!). And when it did, wow. It was one of the most impressive buffet breakfast spreads I have ever seen, with choices that ranged from the healthy to the traditional Indian to the pan-global — and even included sushi and gluten-free muffins. Thank you for the gluten-free muffins!
The Pullman also has a luxurious spa, but alas, I was not there long enough to enjoy it or the other amenities on offer. The Pullman is a treat, and I highly recommend it after a long flight. You will be ensconced in comfort until you have to tear yourself away for the next flight …
The Hotel Ibis and the My Room concept
I enjoyed my stay at budget conscious Hotel Ibis, and especially the My Room concept. There are seven themed rooms at the Ibis, including Bollywood, English Vintage, and Spiderman, and I was lucky enough to stay in the Royal Rajasthani room. The rooms are all created by employees, who are given a budget to design the rooms based on their interests and passions.
"I welcome you to My Room, a royal suite where luxury meets Ibis," proclaimed the letter from creator Rajini Bisht, posted to the wall. "Inspired by India's rich culture and heritage, each piece of art and decor in this room has been hand crafted by me to transport you to the times when royal families ruled the country."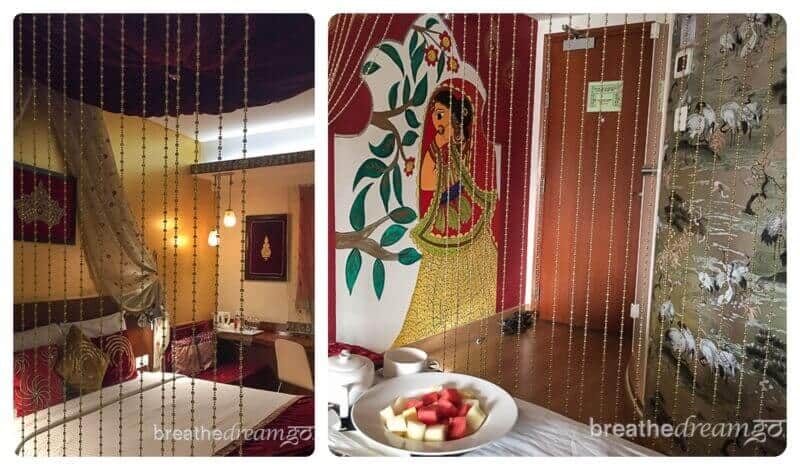 I loved my royal Rajasthani room, that made me feel like a princess. Even better, the Hotel Ibis let me keep my room until I had to leave for the airport at 8:30 pm, and I have never felt so relaxed leaving India.
I also really enjoyed the ground floor restaurant Spice IT, at Ibis Hotel, a bright and colourful place that actually serves tasty, spicy, and authentic Indian cuisine. They also specialize in healthy food, and have chai on tap. The restaurant is open 24/7 and has a stylish outdoor lounge. The night I was there a sudden and inexplicable rain storm hit the city, and I was able to sit outside, protected by a pavilion, in the rain. It was a Bollywood moment, and I suppose a suitable last night in India.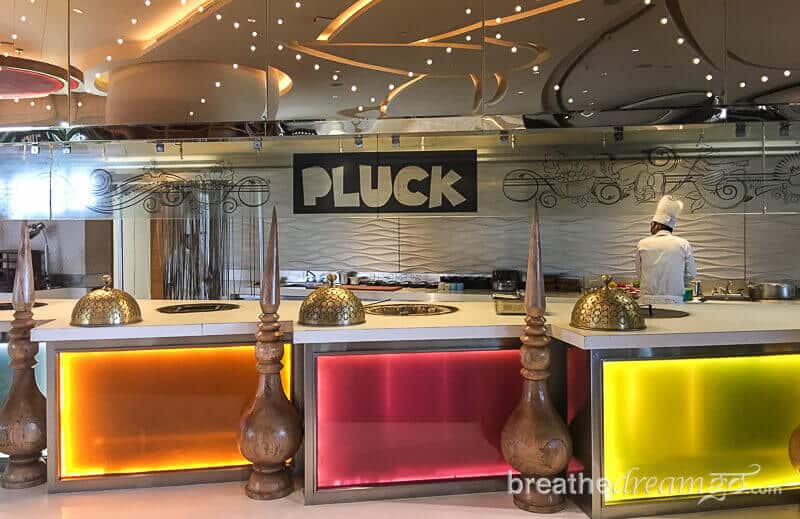 But of course Aerocity's salient feature is convenience. With a metro station that connects Aerocity to the airport and to downtown Delhi, plus numerous methods to take you the 10-minute drive to the airport — avoiding Delhi's stressful traffic — you can't beat it for convenience.
Then, to top off this smooth exit, Air Canada upgraded my ticket to Business Class at the gate. Which is a bit like winning the lottery when you have a 14-hour flight ahead of you. Kudos to Air Canada. I flew their Premium Economy over to India, and Business Class home, both on the 787 Dreamliner. Amazing plane, and excellent service that rivals any of the other top airlines I've flown. And, as it's a direct flight, it shaves several hours off flights that stop in Europe. Yup, Air Canada will be my ride from now on. Here's my Air Canada review.
So now with a direct Air Canada flight between Toronto and Delhi, and the convenience – and also luxury! – of Aerocity, I feel that the distance between my two favourite countries has actually shrunk. I cannot recommend Aerocity enough if you have a layover, or need a hotel near the airport for any reason. You could even potentially stay here and visit downtown Delhi by metro.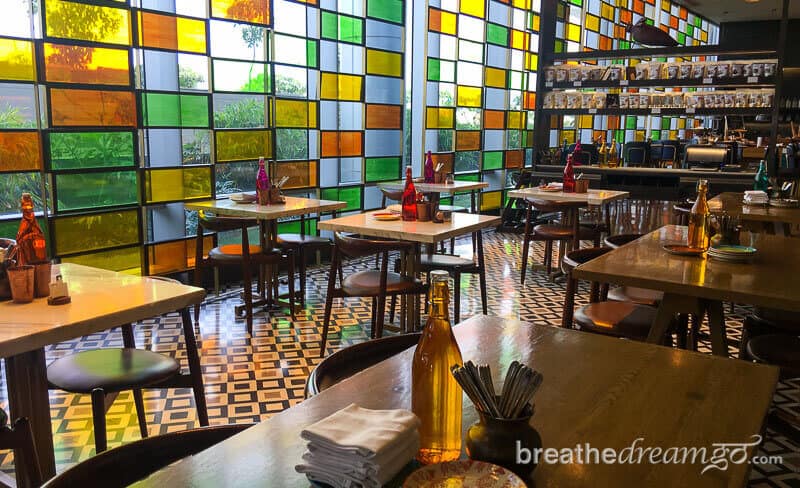 ---
If you enjoyed this post…
Please sign up to The Travel Newsletter in the sidebar and follow Breathedreamgo on all social media platforms including Instagram, TripAdvisor, Facebook, Pinterest, and Twitter. Thank you!