Sweeping film about India is an act of love
Midnight's Children is a vast, sweeping, complex, magical and tragi-comic tale. The book won The Booker Prize, and then the Booker of the Bookers. It's a phenomenal story, completely unique and, some say, impossible to make into a film. Yet Indo-Canadian director Deepa Mehta (who made one of my favourite films, Water, among many others) managed to do it — along with author Salman Rushdie's inestimable help, as he wrote the screenplay. Midnight's Children is a both a story about a boy — two boys, really — and the birth and early years of a nation that became two nations, India and Pakistan; and both stories are deeply, inextricably intertwined.
I went to the Toronto International Film Festival premier screening of Midnight's Children as a fan of the book, the director and of course the country, India — so for me it was a triple-loaded experience. What did I think of the film? Read on.
Film captures the magic of an astounding book
Saleem Sinai, the hero of Midnight's Children, was born on the stroke of midnight, August 14, 1947, as India gained her independence from British colonial rule. He — like the thousand other babies born at, or very close to, midnight — was blessed with a "magical gift." Each child's gift was unique, and each varied in intensity depending on how close to midnight they were born. Saleem's gift was the ability to bring them all together by twitching his nose. These children of midnight, Midnight's Children, represent the hopes born at that hour for 350-million long-suppressed people.
And what happens to Saleem and his cohorts mirrors the growing pains of the newly born nation. Partition, war, the emergency, class divisions, communal violence, societal restriction and upheaval — it's all here. And in spite of all that, the last line of the film — narrated by Rushdie himself — is: "Our lives had been in spite of everything, acts of love."
And so is this film. To shrink a 500+ page book down to a feature length screenplay, and capture the scope of the story, the juice of the characters and the magic of the … magic … was the challenge. And, in my opinion, Deepa Mehta and her team did it. I left the theatre and Tweeted: Midnight's Children captured the magic.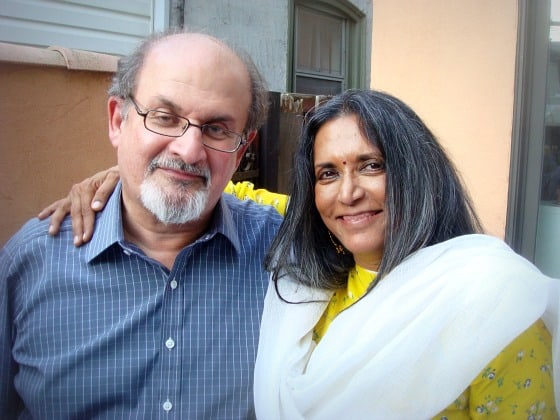 Love letter to India
Salman Rushdie has said that Midnight's Children is his love letter to India — which is probably why I love it so much. The book is full of juicy characters, created from love, I think — like Picture Singh, the snake charmer, and Wee Willie Winkie, the itinerant musician, both played to utter perfection by Kulbushan Kharbanda and Samrat Chakrabarti. And of course the main characters, the family line of Saleem Sinai (Satya Bhabha) — from his great-grandfather (Anupam Kher), grandparents, parents and ayah (Seema Biswas) through to his cohorts, the other Midnight's Children — especially Parvati the Witch (Shriya Saran) and his arch enemy Shiva (Siddarth). They are all good; they all brought the film to life and made me forget about the images the book evoked. I also loved the muted tones of the cinematography, which gave it a dreamy quality.
And of course, the script. Perhaps you can't go wrong when you have someone of Rushdie's talent writing the dialogue — "stop all the glass kissery!" Rushdie wrote the screenplay and, in a masterful stroke,  provided the voice-over narration. The liveliness and originality of his words pervade the screen. This movie could not have been made without his full cooperation.
Magic intact
Midnight's Children couldn't have been made without a huge injection of love, faith and … belief in magic, too, if you ask me. I went to a talk with Deepa Mehta about this film earlier this year and wrote about it in Deepa Mehta directs Midnight's Children. So I have a sense of how much it took to get this film made.
The magic in Midnight's Children is one of its most important and endearing elements, to me. If I didn't hang on to my belief in the hope-filled, magical element of life — the unknown and unknowable; synchronicity and surprise; the aspect of life that you can't plan and can't foresee; the once-in-awhile glimpse into the mysterious workings that shape our lives and in spite of everything provide a divine pattern — if I didn't believe in this, I don't think I could have survived the twists and turns in my own life.
Near the very end of the film, Pictureji (Picture Singh) says he always knew that Parvati's magic was real. Me too.
Now, if only the film could find distribution in India, and be watched without pre-judgements … that would be magic indeed.
---
If you enjoyed this post, please sign up to The Travel Newsletter in the sidebar and follow Breathedreamgo on all social media platforms including Instagram, TripAdvisor, Facebook, Pinterest, and Twitter. Thank you!