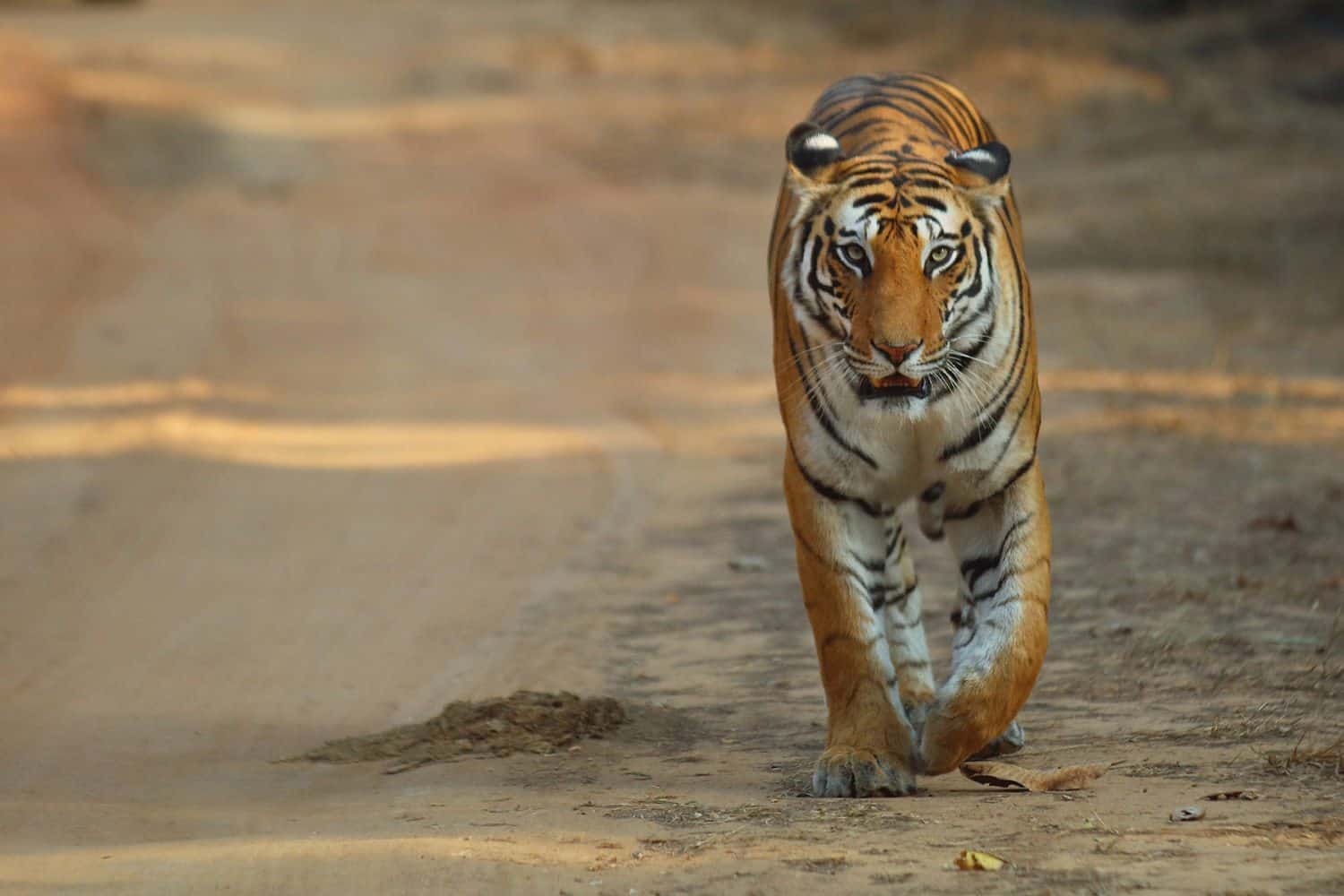 Comprehensive guide to the animals of India and the Big Six
AFRICA IS FAMOUS FOR the Big Five animals (lion, leopard, rhinoceros, elephant, and buffalo) but India has a Big Six wild animal list: Bengal Tiger, Asiatic Lion, Asian Elephant, Indian Rhinoceros (Greater one-horned rhino), Leopard, and Sloth Bear. There are many incredible animals of India, from the national animal of India, the Bengal Tiger, through to rare, unique, and endangered animals.
The Indian subcontinent has an amazingly wide variety of wild animals that live in the diverse terrain of the country. Four of the world's 36 Biodiversity Hotspots in the world are present in India: the Himalaya, the Western Ghats, the Indo-Myanmar region, and the Sundarbans. India is also one of the 17 countries that hosts about 60 to 70% of the world's biodiversity. As per estimates, India has more than 400 species of mammals, more than 1,200 species of birds, more than 350 species of reptiles, and more than 2,970,000 species of insects. The wild animal names listed below are just a small percentage.
Note: This is a guest post by Ketki of Explore with Ecokats.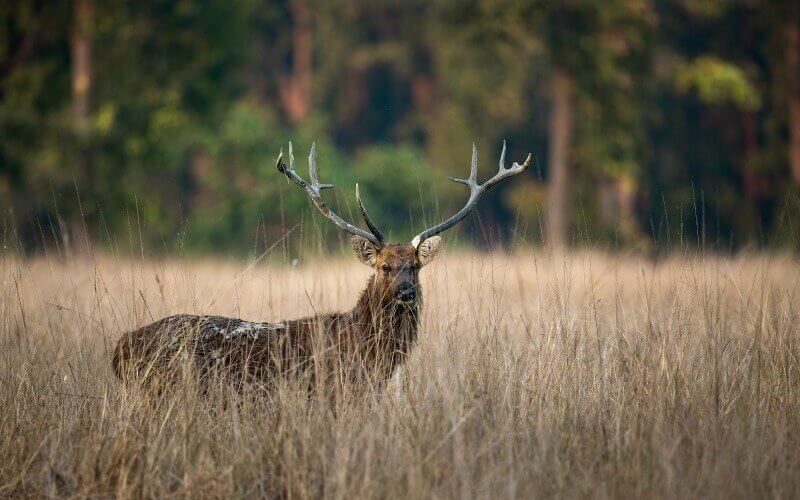 Conservation of wild animals of India
Much of the wildlife in India was at the brink of extinction due to hunting and poaching activities before 1970. Only five national parks existed and most Indian rare animals, as well as the predators, were threatened. The Wildlife (Protection) Act 1972 was enacted for the protection of plants and animal species. After the act came into being, India set up many protected areas in the form of national parks, wildlife sanctuaries, and tiger reserves. Project Tiger was launched in 1973 to help bring the national animal of India back from the brink of extinction.
India now has a total of 104 national parks (including more than 50 tiger reserves), 551 wildlife sanctuaries, 131 marine protected areas, 18 biosphere reserves, 88 conservation reserves, and 127 community reserves, covering a total of 165,088 square kilometres. There are a total of 870 protected areas that make up 5.06% of the geographical area of the country. One of the oldest national parks of India, Corbett National Park, was set up in 1936. It became the first tiger reserve in1973 and the site of the launch of Project Tiger.
Other than protected areas, there are many volunteers, organizations, NGOs, and corporates that work towards the preservation of Indian animals as well as endangered animals in India.
---
Wildlife in Asia
This post is part of a series on Breathedreamgo about Wildlife in Asia that seeks to highlight rare, unique, endangered, and/or fascinating animals in Asia. The series includes:
---
What are the big six animals of India?
India is home to a diverse variety of wildlife and has its own 'Big Six' wild animals in India. With a diverse habitat available across the country, the big six are now thriving with population increasing every year. The predators have enough prey in the Indian forests and jungles such as chital (spotted deer), sambar deer, barasingha (swamp deer) and sometimes even wild boar and nilgai. Here is the Indian animals list that are utmost important for the food chain and ecosystem.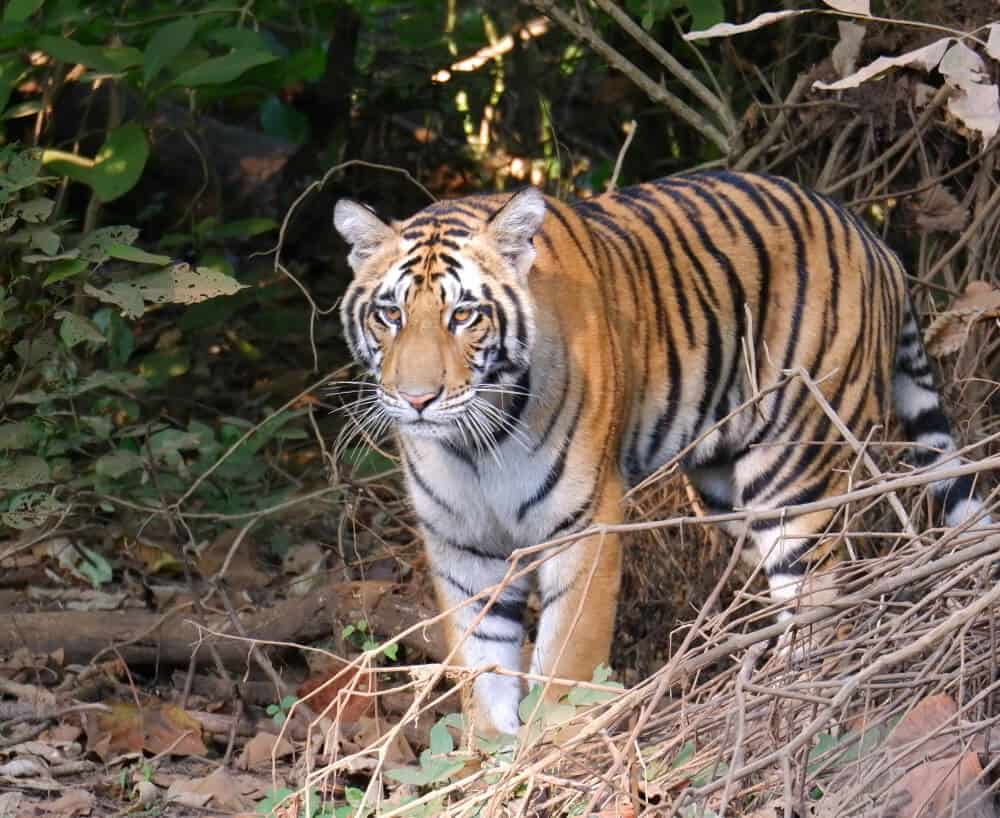 Bengal tiger
The Bengal tiger, also known as the Royal Bengal Tiger or the Indian tiger (Panthera tigris tigris), is the national animal of India. It holds a special place in the traditions and the culture of the country as well as in the forests and jungles as the apex predator. With its preferable habitat of tropical rainforests, marshes, and tall grasses, India has about 70% of the world's wild tigers at approximately 2,967 (2018 census). Other countries with tigers include Bangladesh, Nepal, Bhutan, China, and Burma.
The white tiger or bleached tiger is a leucistic pigmentation variant of the Bengal tigers. White tigers are present in the Indian states of Madhya Pradesh, Assam, West Bengal, Bihar, and Odisha.
Threats to the Bengal tiger
Habitat loss, prey depletion, poaching, and human-wildlife conflicts are the major causes of population decline of tigers. Rapid development, commercial logging, expansion of agriculture and the growing population of India poses a huge threat to their survival. Infrastructure development including fences, roads and dams further pose barriers to their movement and restrict their ability to find suitable habitat and food.
Conservation efforts for Indian tiger
The National Tiger Conservation Authority (NTCA), the organization that supervises Project Tiger, has been at the forefront of tiger conservation work in India whose work includes ground protection initiatives, science based monitoring of tigers and their habitat using latest technological tools and independent assessment of tiger reserves of India.
In 2006, the tiger census revealed there were only about 1,411 tigers left in the wild in India. This was down from an estimated 40,000 in the early 20th century. The country was shocked into action and due to conservation and protection efforts, the number of tigers has been increasing. The most recent tiger census in 2018 showed the figure had more than doubled, to 2,976. There will be another tiger census in 2022.
Where are the best places to see Bengal Tiger in India
Tiger safaris in India are extremely popular with the local as well as international wildlife enthusiasts. Some of the national parks with high population density and better chances of sighting are Kanha, Bhandhavgarh, Ranthambore, Corbett National Park and Tiger Reserve, Pench, Tadoba and Nagarhole.
The leading tiger states in India are:
Madhya Pradesh: 526 tigers

Karnataka: 524 tigers

Uttrakhand: 442 tigers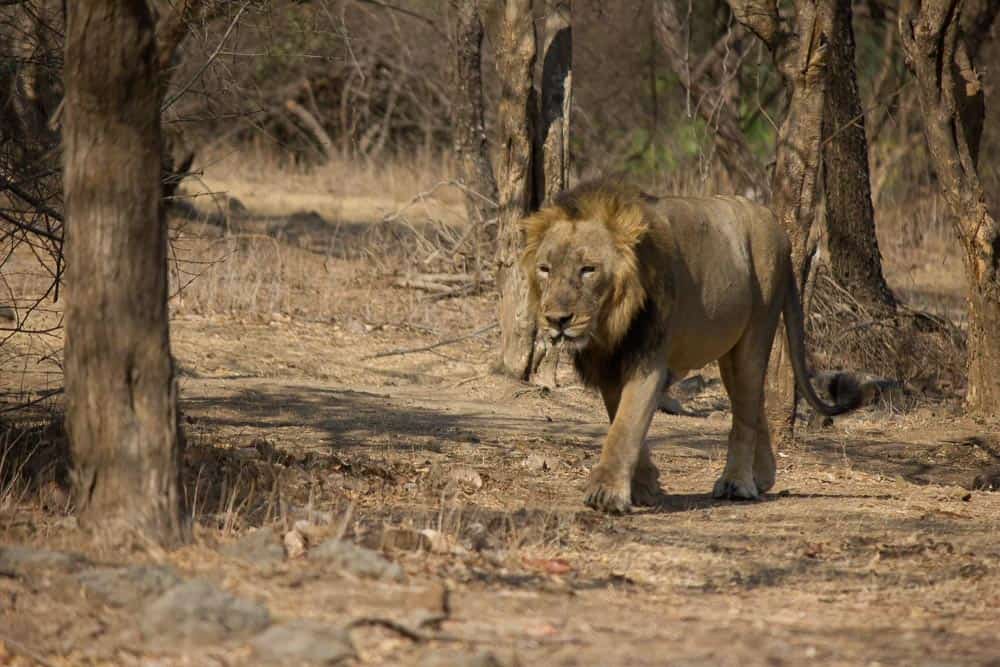 Asiatic lion
The lion is often called the king of the jungle — though in India, that title belongs to the tiger! At one time, Asiatic lions were widely distributed in central and east India, but now their numbers have dwindled and they are essentially restricted to Gir National Park in Gujarat. The Asiatic lion is smaller than the African lion, the males have sparser manes, and both males and females have a fold of skin under their bellies, which African lions do not have. Asiatic lion prides tend to be smaller and males do not live with the pride unless they're mating or they have a large kill.
The last surviving population of the Asiatic lions in India is at the Gir National Park and Wildlife Sanctuary, which is the only abode of this cat and the only place to see them. Gir is a dry deciduous forest and open grassy scrublands in southwestern part of Saurashtra region of Gujarat. It acts as a perfect camouflage for their hunting.
Threats to the Asiatic lion
Although poaching is the least concern, forest encroachment, forest fire, natural calamities, domestic animal grazing, collection of non-timber forest produce (NTFP), tourism, religious pilgrimage, and accidental lion deaths due to electrification and falling into dry wells are some of the threats to the Asiatic lion.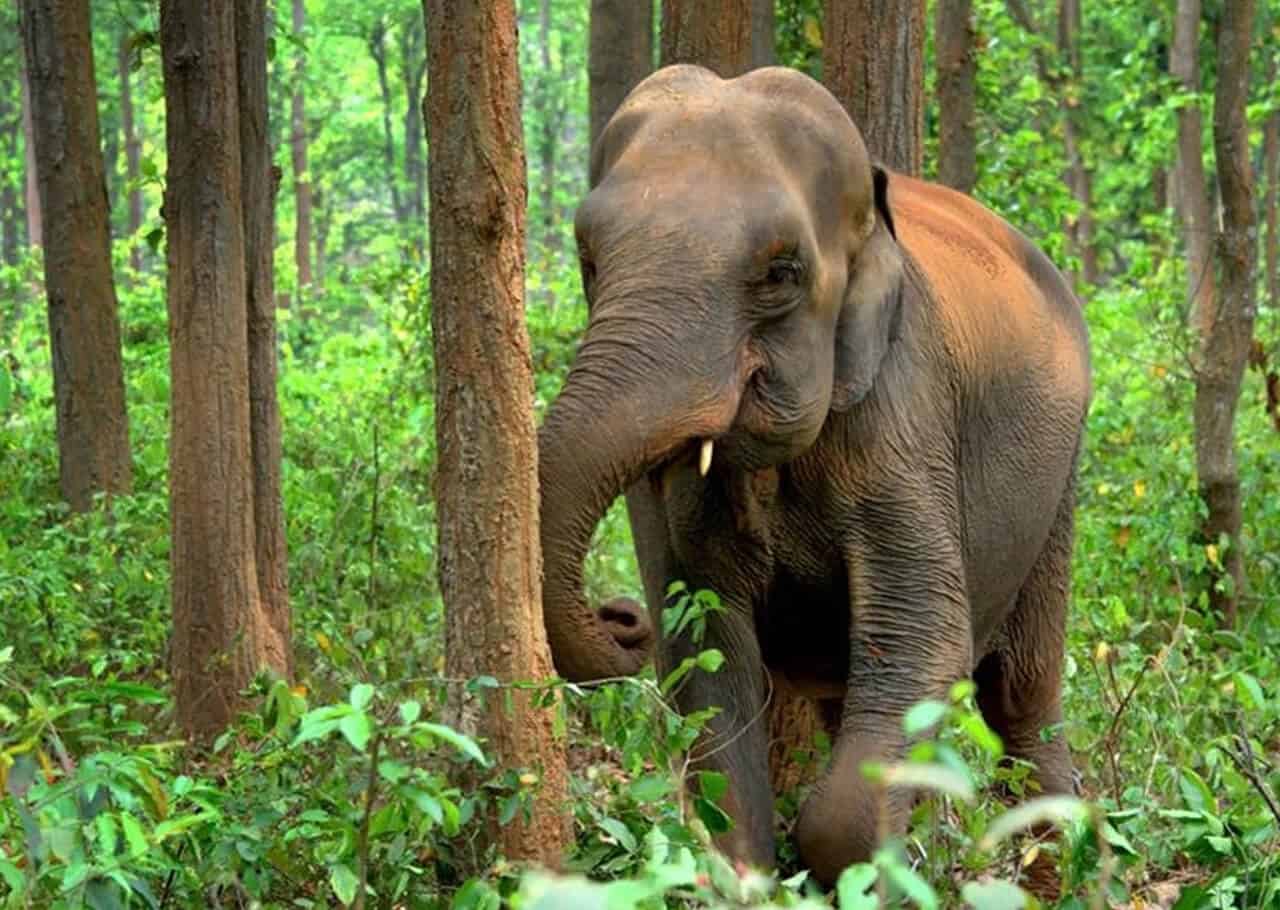 Asian elephant
Although smaller than their African counterparts, Asian elephants are the subcontinent's largest terrestrial mammals and can weigh as much as five tonnes. Fewer than 50,000 wild Asian elephants are estimated to survive today. Elephants in India are an integral part of cultural and religious ethos in India where the elephant headed god Lord Ganesha is revered.
Threats to Asian elephant
Threats include forest degradation and agricultural encroachment, as well as poaching for ivory. The biggest issue in India is the human-animal conflict due to construction of highways and rail routes through forests. Their traditional migration routes are cut off, which forces them onto agricultural land or into newly urbanised areas. This results in death or injury to both people and elephants. Project Elephant was launched in February 1992 by the Government of India to focus conservation on the Asian Elephant and its habitat. One of their projects, along with Wildlife Trust of India and other partners, is to maintain, improve, and establish elephant corridors.
Unfortunately, when the Wildlife Protection Act was passed in 1972, an exception was created for elephants in captivity at the time. There are more than 1,500 elephants in private hands, many of whom are facing abuse and neglect.
Elephants in India are used in religious ritual, to help patrol national parks and tiger reserves, for large construction projects, and also in tourism — giving joy rides to tourists. There is a movement to help protect the Indian elephant and halt the tourism joyrides, especially at Amer Fort in Jaipur. Putting elephants to work in this way amounts to animal cruelty. To learn more read this post Protecting Indian elephants.
Where are the best places to see Asian Elephant in India
Karnataka has the highest number of elephants (6,049), followed by Assam (5,719) and Kerala (3,054). Bandipur Tiger Reserve and Nagarhole National Park in Karnataka, Kaziranga National Park in Assam and Periyar National Park in Kerala are the best places to see Asian Elephants in the wild.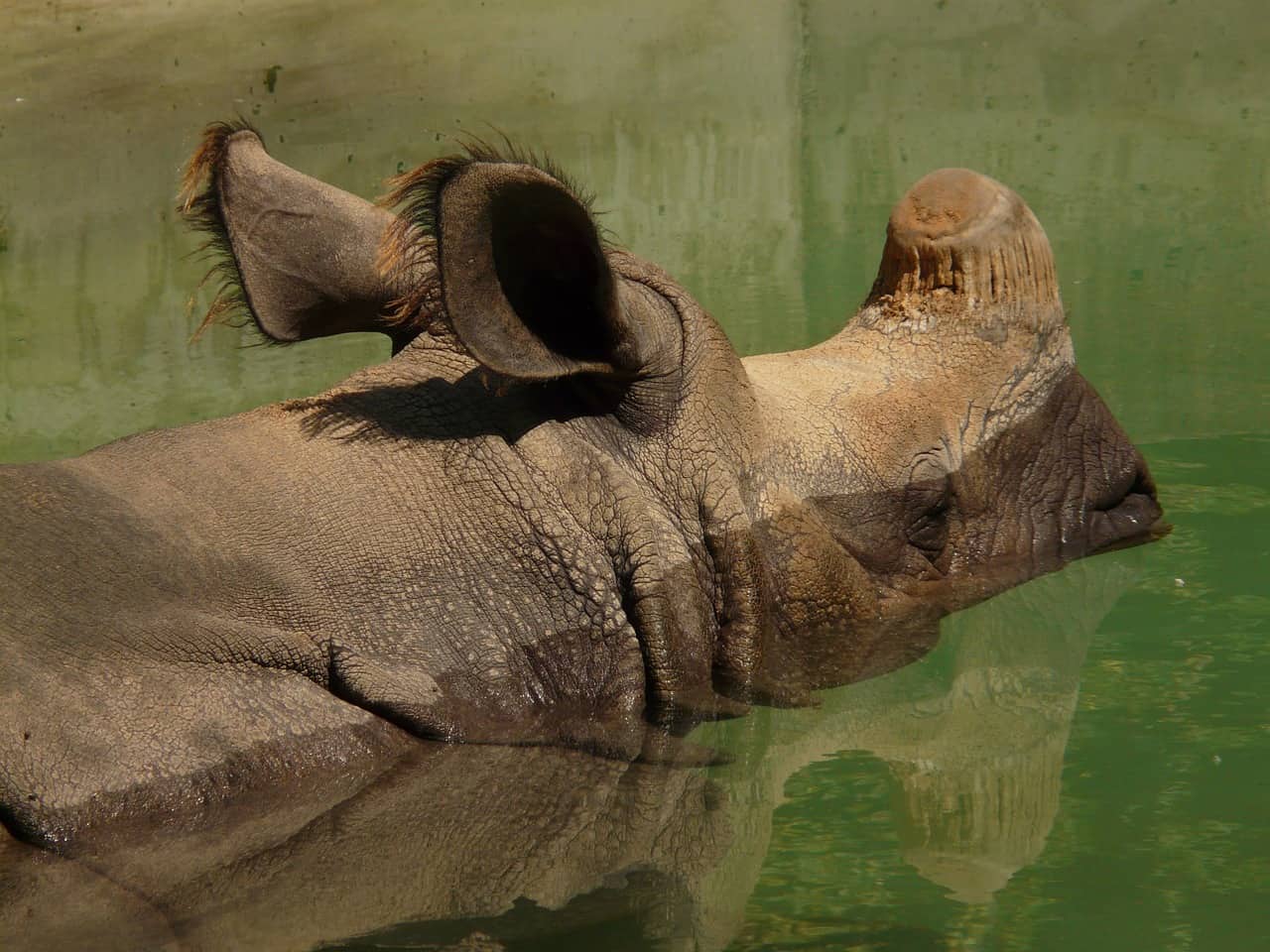 Indian rhinoceros (Greater one-horned rhino)
The largest rhino species is the greater one-horned rhino — also known as the Indian rhino or Assam rhino. Once widespread across the entire northern part of the Indian subcontinent, their population is now around 3,700 rhinos in northeastern India. They prefer grasslands and shrublands on the southern base of the Himalaya, which is why they also live in Nepal.
Threats to Indian rhinoceros
For centuries, rhinos have been hunted for sport and for their horn that drove them to almost extinction. Habitat destruction and loss are further threats to the rhinoceros population.
Conservation efforts for one-horned rhino
The initiatives by Manas Maozigendri Ecotourism Society (MMES) motivated the local people and together they started community-based conservation with a goal to end poaching and flourish biodiversity. Through stable remuneration to the guides and formation of eco-tourism policy, the poachers successfully turned into conservationists.Today, the park is manned by hundreds of volunteers who were poachers at one time.
Where are the best places to see the Indian rhinoceros
Kaziranga National Park, Manas National Park, and Pobitora Wildlife Sanctuary in Assam are the best places to see the Indian rhinoceros in the wild.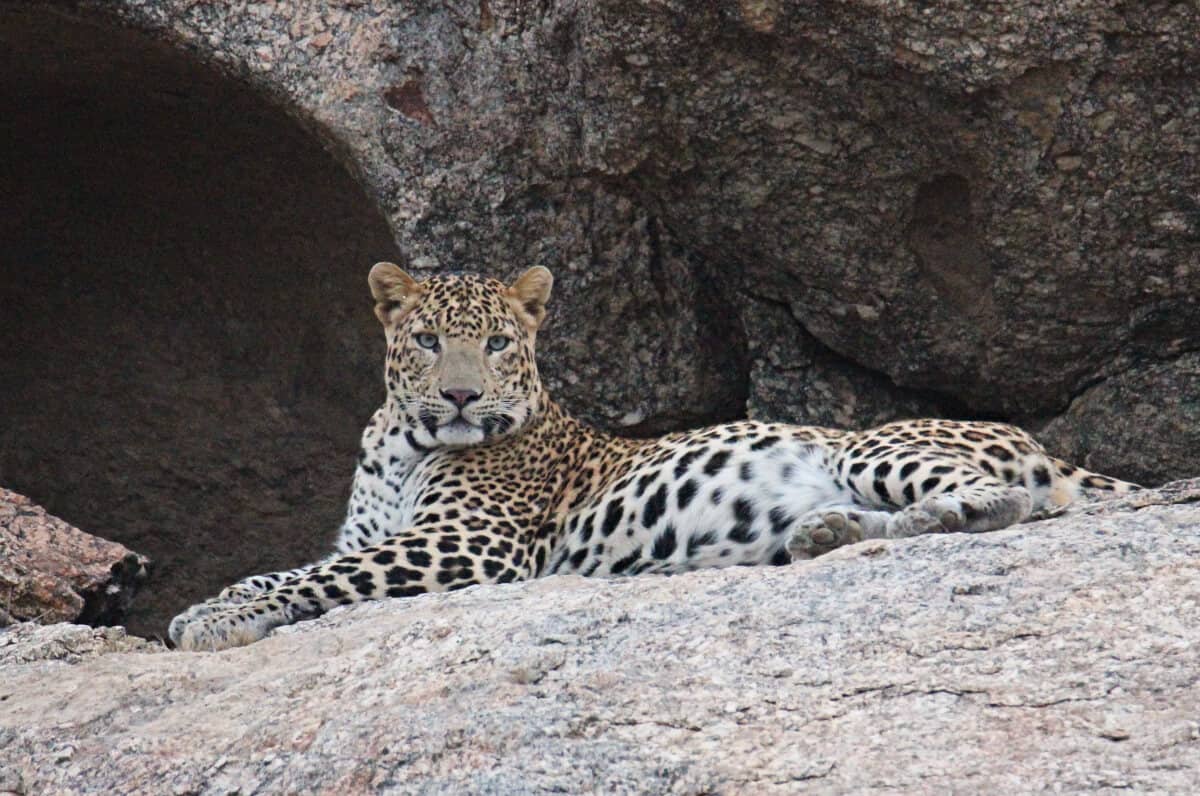 Indian leopard
Stealthy, elusive, graceful, and powerful is how the Indian leopard is usually described. Also known as Indian panther, leopards have the widest habitat tolerance, ranging from rainforest to desert, and also dry scrub and grasslands — which is why they thrive in almost all forests, jungles, and urban fringe areas across India. Their population is around 13,000 in the country.
Threats to Indian leopard
The biggest threats facing the common leopard in India are increasing conflict with humans, poaching for illegal trade in body parts, and loss of habitat. Leopards also die due to accidents on roads passing through and around protected areas.
Where are the best places to see Indian leopard
Most national parks in India have a leopard population, especially the forests and national parks of Madhya Pradesh. While Kabini Wildlife Sanctuary in Karnataka is popular for the black leopard, the hills of Bera and Jawai in Rajasthan are where leopards roam freely without a border for protection. Spotting a leopard is actually often much harder than sighting a tiger in India. There are many more of them, but they are also much more elusive.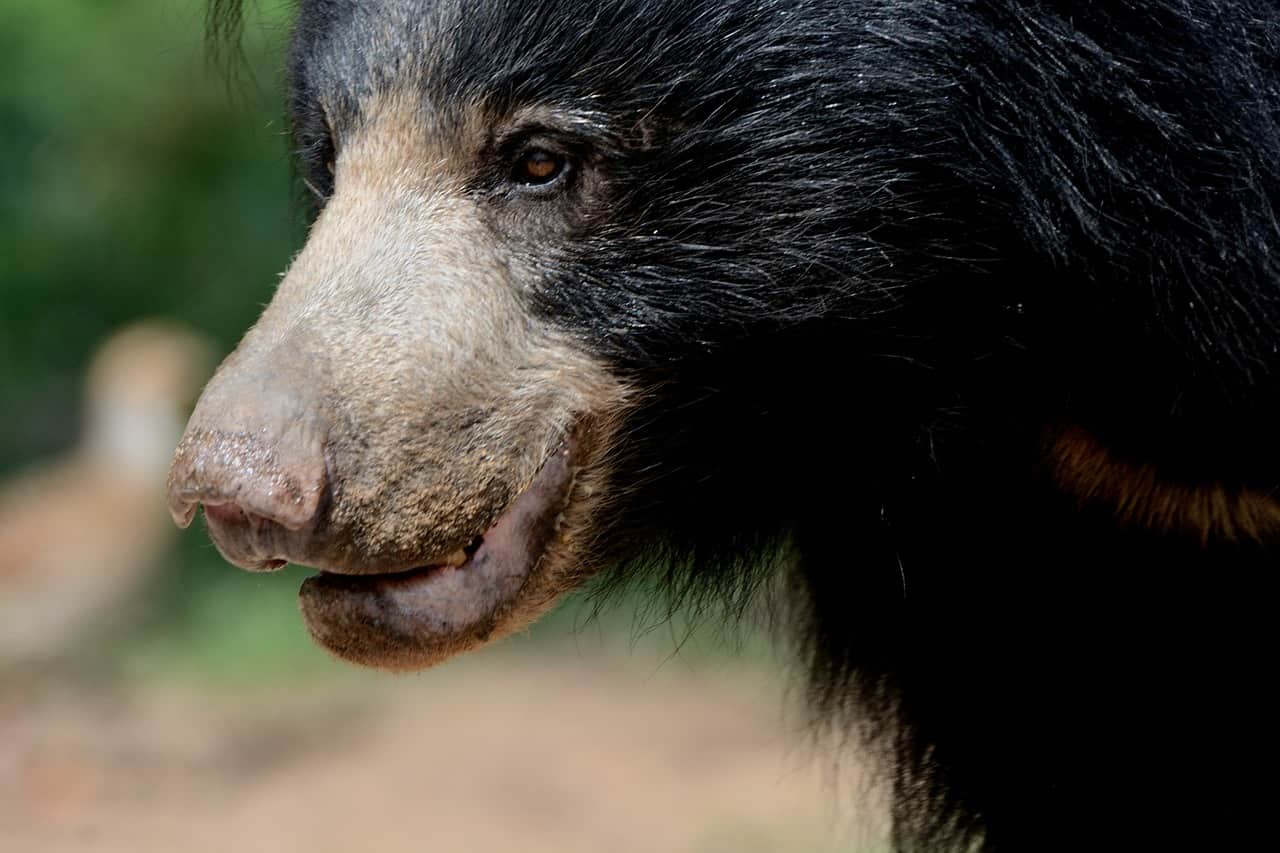 Sloth bears
Endemic to the Indian subcontinent, the sloth bear inhabits tropical and subtropical habitats across India. They are also known as Indian bears. Having a thick, shaggy coat of fur, their diet consists of termites and ants. Since they inhabit the tropical lowland forests, they do not hibernate in winter.
Threats to sloth bears
Habitat loss and fragmentation are the severe threats, as bears become displaced from their forest homes. Poaching for the bears' gallbladder, which is used in traditional medicine, is also a big problem.
Where are the best places to see sloth bears
Sloth bears are widespread in South and Central India national parks. They are seen in Daroji Sloth Bear sanctuary in Karnataka as well as in Bandipur, Nargarhole, BRT, Anshi, Kudremukh and Mudumalai in South. In Central India they are found in Satpura Tiger Reserve, Tadoba, Pench, Kanha, Bandhavgarh, and Panna.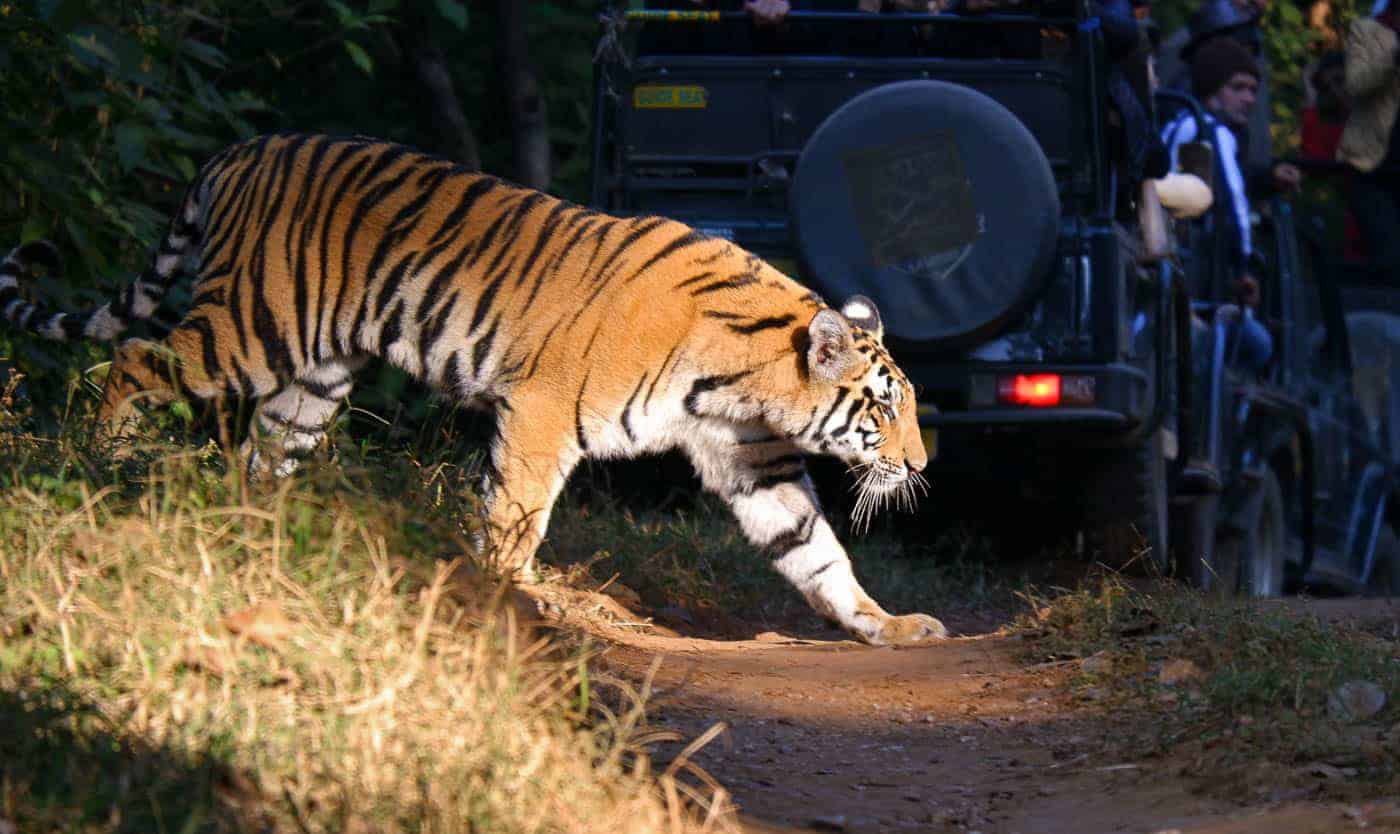 What is the national animal of India
The national animal of India is Bengal Tiger (Panthera tigris tigris), also known as Indian Tiger. The tiger is the king of the jungle in India, the apex predator, and the most electrifying animal you can see in the wild. When the tiger appears on the scene, everyone knows it — from the deer and monkeys who emit screeching alarm calls, to the wildlife tourists who feel a sense of exhilaration. These beautiful creatures, the largest cats, are a striking combination of grace, strength, agility and power. Seeing a tiger in the wild is an incredible experience for everyone.
The Bengal Tiger was declared the National Animal of India in April 1973 when Project Tiger was launched. The intention was to help protect the tigers in India. (Previously, the lion was the National Animal of India.) It worked — thanks to a committed and coordinated conservation campaign, the magnificent cat was saved from extinction, though it is still classified as Endangered on the Red List of Threatened Species published by the International Union for Conservation of Nature (IUCN).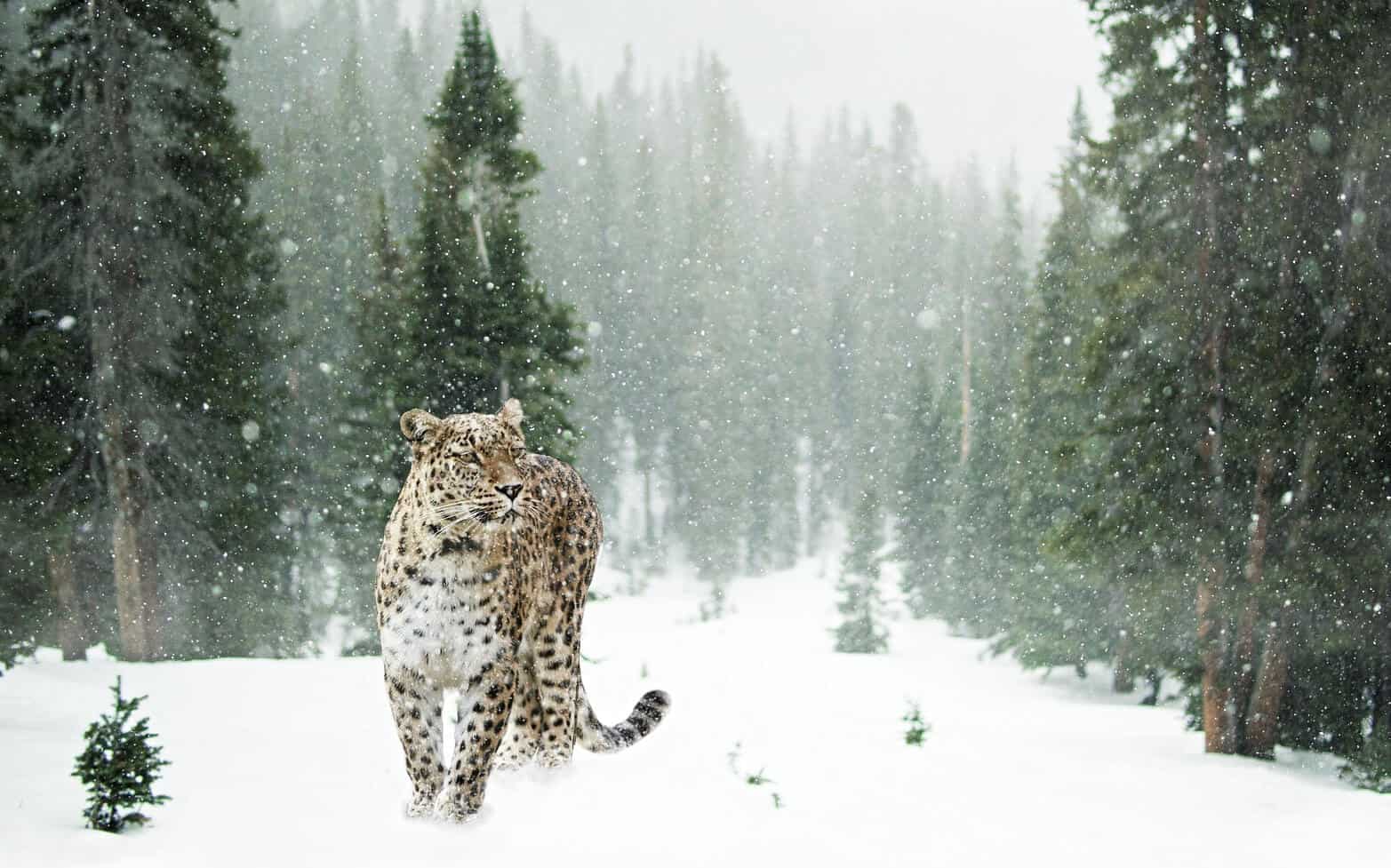 What animals in India are on the endangered list and facing extinction?
Apart from Royal Bengal tiger, Asiatic Lion, and Great Indian Rhinoceros the following animals of India are on the endangered list
Snow Leopard
The snow leopard is one of the world's most beautiful, mysterious, and elusive creatures. From the family of leopards, snow leopards are the most elusive species that live at an altitude. Estimates range from 450 to 500 individuals in India in the northern Himalayan Mountain range (Spiti and Ladakh).
Lion Tailed Macaque
Pride of the Western Ghats, the 3,000 odd macaques prefer living in India's rainforests. As the name suggests its tail is shaped like a lion's tail.
Nilgiri Tahr
Nilgiri tahr is an ungulate that is endemic to the Nilgiri Hills, Western Ghats and Eastern Ghats in the states of Tamil Nadu and Kerala. There are approximately 2,200 Nilgiri Tahrs in the wild.
Red Panda
The red panda is a small arboreal mammal found in the states of Sikkim, Arunachal Pradesh and West Bengal. Around 6,000 red pandas exist in the wild.
What are some of the rare and unique animals of India?
Indian Wild Ass
Thriving in the hot and arid climate of Gujarat salt pans, the Indian wild ass is one of the fastest Indian mammals. They are a subspecies of the onager and are about 6000 of them in the wild.
Gharial
Gharial is a fish eating crocodile with strong and slender jaws. Approximately 800 of them are known to survive in the tributaries of River Ganges, and especially the Chambal River near Agra, as they prefer deep fast flowing rivers.
Indian Pangolin
Commonly known as the scaly anteater, the Indian pangolin is found all over India and has large, overlapping scales on its body which act as armour. It can also curl itself into a ball as self-defence against predators. Pangolins are the world's most trafficked animals.
Wild Water Buffalo
Wild water buffalo, also called Asian buffalo, is a large bovine mostly found in Assam, Arunachal Pradesh, Meghalaya, and Chhattisgarh. About 3,000 to 4,000 individuals are currently living in the forests of North-east India.
Indian Wild Dog (Dholes)
An opportunistic feeder, Indian wild dog is also known as dhole, Asian wild dog, whistling dog, red dog, and mountain wolf. Living in close packs, about 2500 survive in the forests of central and south India.
Blackbuck
Blackbuck, also known as the Indian antelope, is a native antelope that lives in scrublands and grassy plains. Around 7,000 individuals of this species live in Rajasthan, Gujarat, Madhya Pradesh, and Tamil Nadu.
Indian Bison
Indian bison, also known as gaur, is a bovine native to India. They are the largest species of wild cattle and are found in Karnataka, Kerala, Tamil Nadu, Assam, and Madhya Pradesh. About 22,000-24,000 live in the wild.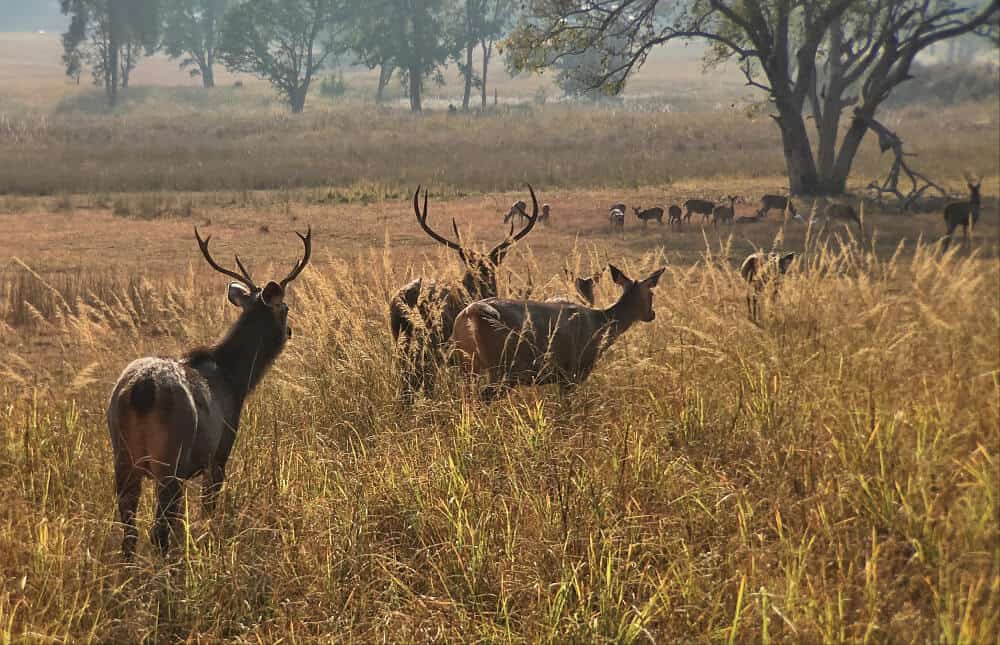 Tips to see animals of India in the wild
As exhilarating as it is to witness beautiful animals of India in the wild, it is important to adhere to certain rules of the protected areas for the safety of tourists as well as animals. It is highly recommended to follow these tips for a memorable forest experience.
Do not get down from your vehicle. Even if your vehicle breaks down, the guide and driver will make sure to arrange another vehicle so do not panic.

Wear camouflage colours which will easily blend with the forest – shades of green, brown and grey.

Do not play music or make noises to get a reaction from animals.

Avoid using mobile phones in the parks except while clicking photos.

Do not talk unless necessary. If you must speak, simply whisper.

Do not collect any plants, rocks, soil or animals as souvenirs. They belong to the forest.

Do not wear perfumes or body spray in the jungle.

Do not dispose of plastic or leftover food in the forest. Keep it in your bag or gypsy and dispose safely once you return to the hotel.

Do not feed the wild animals.

Do not carry firearms, cigarettes, lighters or any items which may start a fire in the forest.
---
Useful links and resources
---
Ketki is a content writer and sustainable travel blogger, who loves nature, wildlife, and traditional architecture. While she is a professional environmental educator by the day, her passion for travel has her jet-setting all over the world during her free time. Ketki enjoys bringing places to life through her informative writing style on her blog, Explore with Ecokats. She documents her journeys to inspire readers to travel sustainably and become responsible and ethical travellers.
---
If you enjoyed this post, you can…
Sign up for Dispatches in the sidebar and follow Breathedreamgo on all social media platforms including Instagram, Facebook, Pinterest, and Twitter. Thank you!