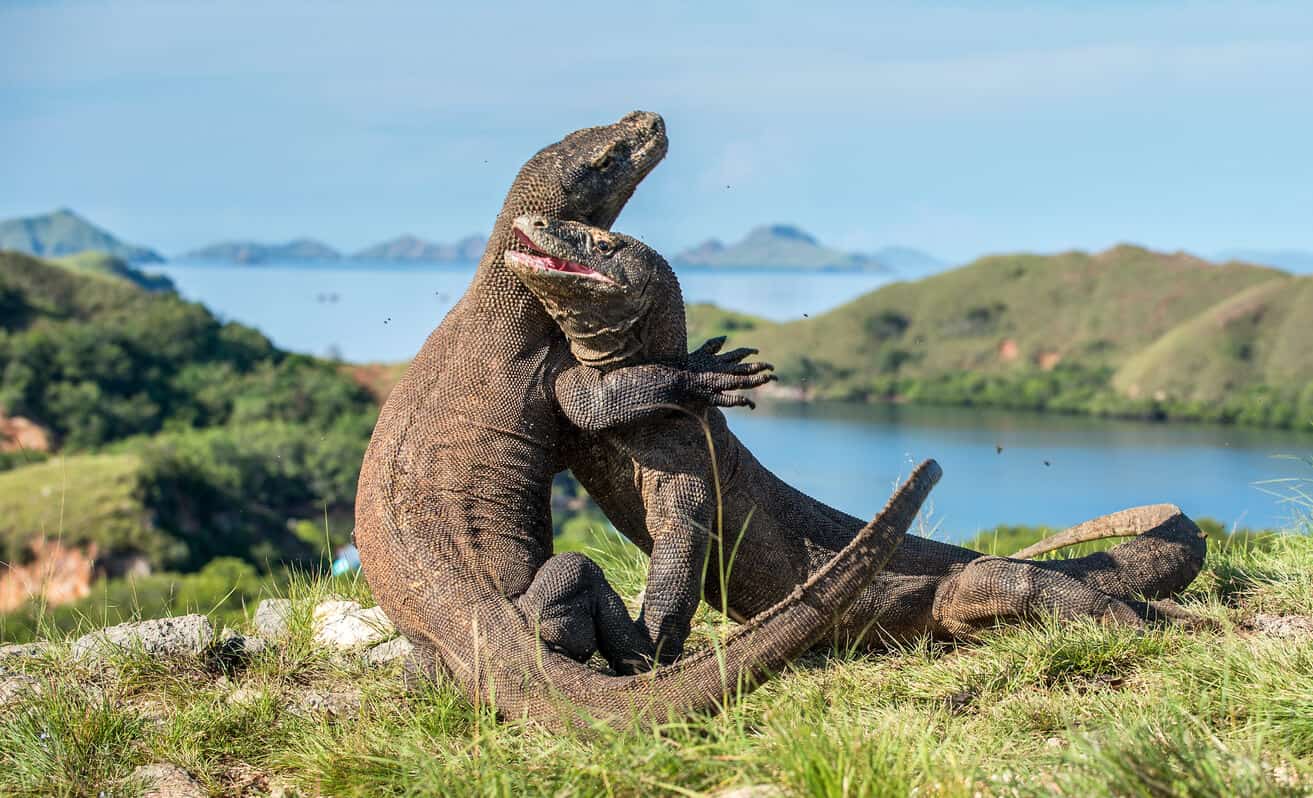 15 Facts about The Komodo Dragon, Indonesia's famous lizard
Guest post by Abigail, the travel blogger behind I'm Going On An Adventure.
Indonesia, a country of diverse landscapes and breathtaking beauty, offers an abundance of natural wonders for adventure enthusiasts and nature lovers alike. Within this captivating country lies Komodo National Park, a designated UNESCO World Heritage Site. Within the park, there is a collection of stunning islands including Komodo, Rinca, and Padar. This is the only place in the world you can find legendary Komodo dragons in their natural habitat. Are you ready to dive into fascinating facts about the Komodo dragon, Indonesia's famous endemic lizard?
After six months of exploring Indonesia, (including four months in Bali) we had a memorable visit to Komodo National Park during a three-day sailing trip, we can personally say encountering these majestic creatures up close was incredible. In this post, we'll embark on an expedition of knowledge as we unveil 15 fascinating facts about the Komodo dragon, a truly extraordinary Indonesian species of lizard.
---
Wildlife in Asia
This post is part of a series on Breathedreamgo about Wildlife in Asia that seeks to highlight rare, unique, endangered, and/or fascinating animals in Asia. The series includes:
---
Quick facts about the Komodo dragon
Common Name: Komodo dragon
Scientific Name: Varanus komodoensis
Average Lifespan in the Wild: 30 years
Average Lifespan in Captivity: 20-30 years
IUCN Red List Status: Endangered
Current Population: less than 1,400 mature individuals (ICUN Fact Sheet)
Native Range: Komodo National Park
Size and Weight: Komodo dragons can reach lengths of up to 10 feet and weigh more than 150 pounds, making them the largest living lizards.
---
Introducing the Komodo dragon
Komodo National Park not only showcases the impressive lizards, but also stunning scenery and rich marine biodiversity. Azure waters teeming with vibrant coral reefs and marine life create a paradise for snorkelers and divers. The park's rugged terrain, rolling hills, and lush forests add a touch of enchantment to the whole experience.
Did you know that the Komodo dragon is Indonesia's celebrated endemic species and the largest living lizard on the planet? These awe-inspiring creatures can grow up to an astonishing 10 feet in length and weigh over 150 pounds! They inhabit the Indonesian islands within Komodo National Park and are a symbol of the country's rich biodiversity.
With their distinctive physical characteristics, such as scaly skin, sharp claws, and powerful jaws, Komodo dragons are formidable predators. They possess a venomous bite and use their acute sense of smell and exceptional hearing to locate prey. With slow growth and an average lifespan of 30 years, these endangered creatures face conservation challenges due to habitat loss and human encroachment.
The Komodo dragon holds cultural significance in Indonesia, serving as a national animal and attracting visitors eager to witness the magnificence animals in the wild.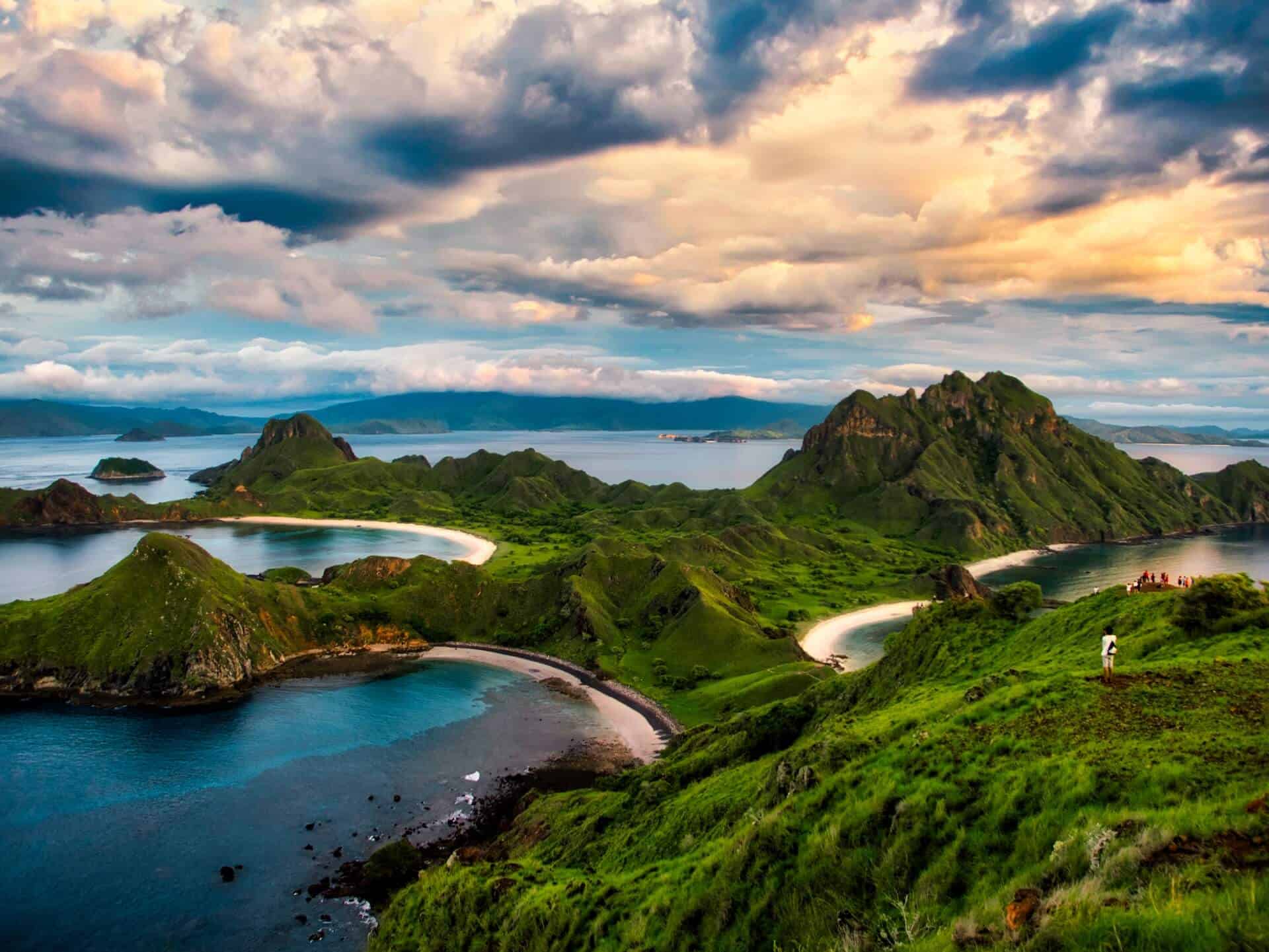 Where and how to see a Komodo dragon in the wild
The only place in the world to see Komodo dragons in the wild is Indonesia's Komodo National Park, which is spread over several islands: Rinca, Gili Motang, Komodo, and Padar. The park is beautiful, with scenic vistas and great beaches, and well worth visiting.
You have to start your tour of Komodo National Park from the island of Flores, which you can get to using ferries and buses or by flying. As the Komodo dragons are highly protected, you will need a permit to enter the park and you must go with a tour agency. There are a lot of different tours available by boat.
Please read this comprehensive post to learn more and get detailed information about exactly where and how to see a Komodo dragon.
15 Interesting facts about the Komodo dragon
Let's take a deeper look into all of the incredible facts about Komodo dragons!
World's largest lizards
Komodo dragons, scientifically known as Varanus Komodoensis, hold the proud title of being the largest living lizards on our planet. These incredible reptiles can reach an impressive length of up to 10 feet and weigh over 150 pounds, making them an awe-inspiring sight to behold.
Imagine encountering these fascinating creatures in their natural habitat. They are such an immense size for a lizard that their sheer presence is captivating. With their powerful frames and robust builds, these majestic dragons evoke a sense of wonder and fascination. We were left in awe of the wonders of the natural world after our visit.
Indonesian endemic species
One amazing fact about Komodo dragons is that they are only found in the Indonesian islands of Rinca, Gili Motang, Komodo, and Padar. These islands are within the Komodo National Park and are highly protected, you'll need a permit to enter the park. Komodo dragons can also be found along the northern shores of Flores, although sightings are much less predictable.
These huge lizards have become a national symbol of Indonesia's biodiversity and natural beauty, drawing travellers from all around the world to witness their majesty.
Distinct physical characteristics
You'll be amazed by the impressive appearance of Komodo dragons which are perfectly suited to their role as apex predators. These fascinating animals possess rough, scaly skin that protects them from the harsh elements of their habitat. They also have sharp claws which provide them with stability and excellent grip.
They have very powerful jaws, equipped with razor-sharp teeth, which is a clear reflection of their hunting abilities. Did you know with a single bite they can swiftly paralyse their prey? Additionally, their long tail serves both as a weapon and as a means of maintaining balance during hunts and territorial disputes!
These unique physical features work together, highlighting the agility and dominance of Komodo dragons in their ecosystem. These characteristics are all remarkable adaptations that enable them to navigate their rugged environment, secure food sources, and assert their dominance with confidence.
Impressive speed
Despite their size, Komodo dragons can reach impressive speeds of up to 13 miles per hour while in pursuit of their prey. Their legs are extremely powerful and with their streamlined bodies, they are able to navigate the harsh and various terrains within their habitat with ease. This agility showcases their finely tuned instincts and evolutionary adaptations.
The combination of speed and agility makes Komodo dragons perfect predators in the animal kingdom. They are easily able to close the gap between themselves and their unsuspecting prey, ensuring their survival.
Diverse diet
Komodo dragons exhibit a versatile and varied diet. While their primary source of sustenance is carrion, which refers to the decaying flesh of dead animals, they display remarkable hunting prowess when it comes to capturing live prey!
Even though they typically feed on the carcasses or remains of animals that have died naturally or been killed by other predators, these formidable creatures are capable of bringing down a wide range of animals. This includes deer, pigs, water buffalo, and sadly, even smaller Komodo dragons.
This is an exceptional ability, allowing them to conquer diverse prey and highlighting their position at the top of the food chain.
Acute sense of smell
For important fact about Komodo dragons is that carrion serves as a crucial food source and it's vital they can find it. Luckily, their sharp sense of smell plays a crucial role in locating carcasses from considerable distances. Surprisingly, their eyesight is not their strongest sense, but they make up for it with their remarkable ability to use their long, forked tongues to sample scent particles in the air.
This unique adaptation guides them to potential food sources but also aids them in identifying rival dragons within their territory. By relying on their keen sense of smell, Komodo dragons can capitalize on available resources, ensuring their survival even during periods when live prey is scarce.
Venomous bite
Did you know that Komodo dragons possess a venomous bite? Their hunting prowess is improved by serrated teeth and a potent venomous bite, making them a problematic predator in their habitat.
What's fascinating is that their saliva contains over 50 strains of bacteria, which serve a crucial role in their hunting strategy. When they bite their prey, these bacteria are introduced into the wound, causing a rapid decomposition of the flesh.
This process not only helps in breaking down the prey's tissues but also facilitates the digestion process for the Komodo dragon. It's a remarkable adaptation that highlights the unique hunting mechanisms and digestive capabilities of these incredible reptiles.
Poor hearing
An interesting fact about Komodo dragons is that their sense of hearing is quite poor. Even so, Komodo dragons, like other varanids, possess a unique hearing mechanism. They have a single ear bone called the stapes that transfers vibrations to their cochlea.
This limits their hearing range to approximately 400 to 2,000 hertz, this is in contrast to humans who can hear a broader range from 20 to 20,000 hertz.
Initially, it was believed that Komodo dragons were deaf based on a study showing their lack of response to vocal stimuli. However, a notable discovery by Joan Procter at the London Zoological Garden challenged this notion. She successfully trained a captive Komodo dragon to recognize and respond to her voice during feeding time, even when she was out of sight.
Parthenogenesis
A fascinating aspect of female Komodo dragons is their remarkable ability to reproduce without mating. This reproductive phenomenon, known as parthenogenesis, enables them to lay viable eggs that develop into healthy offspring.
By bypassing the need for male fertilization, female Komodo dragons ensure the survival and continuation of their species, even in the absence of available male partners.
This extraordinary reproductive strategy contributes to the resilience and adaptability of these iconic creatures, further emphasizing their remarkable nature.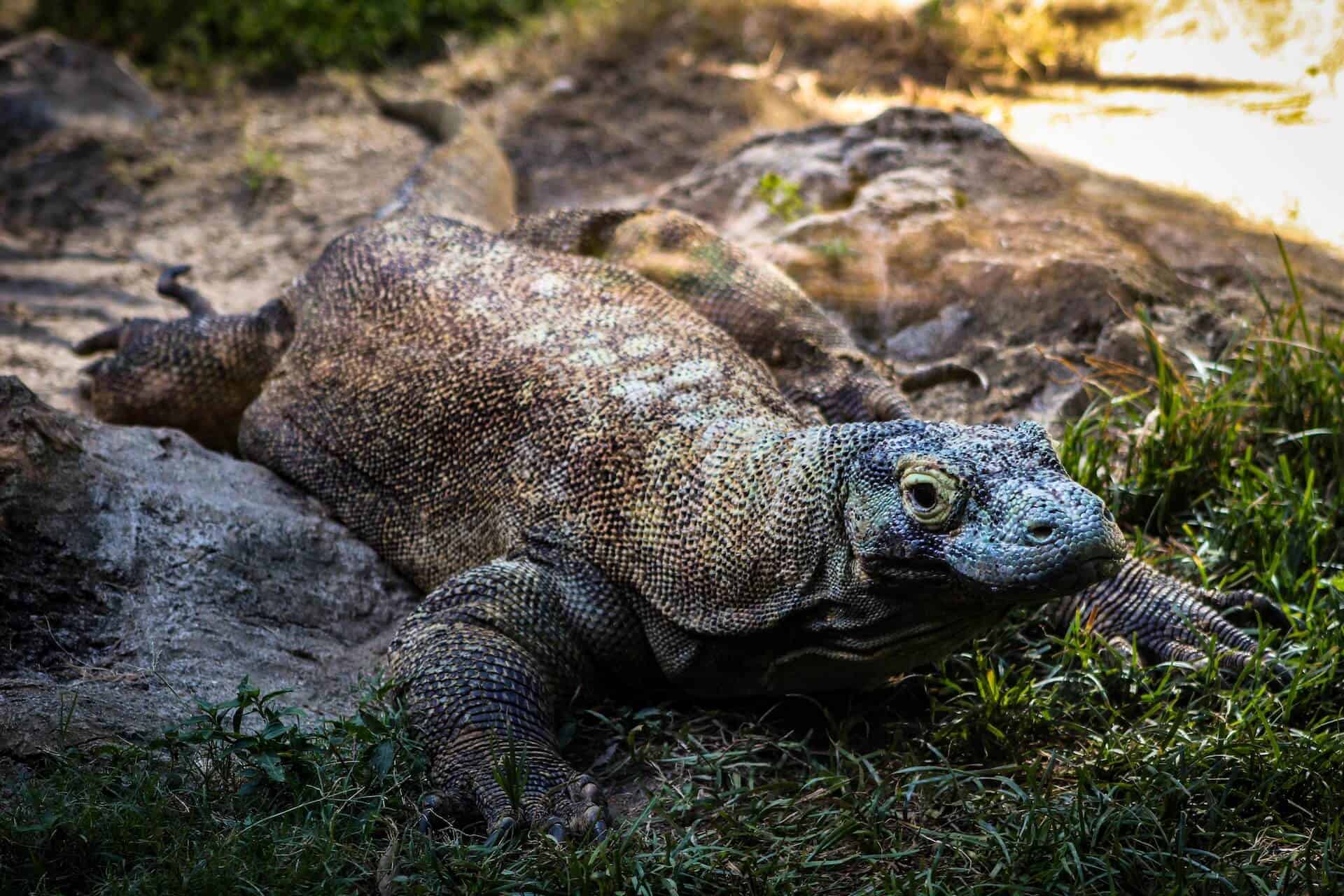 Nesting behaviour
Another interesting fact about Female Komodo dragons is they exhibit dedicated maternal instincts when it comes to protecting their eggs. They carefully construct a nesting hole where they deposit a clutch of around 20 eggs. Showing remarkable vigilance, these mothers guard their nests for several months, ensuring optimal incubation conditions for their precious offspring.
Once the eggs hatch the young Komodo dragons, known as hatchlings, instinctively seek safety in the tree branches. This behaviour helps them avoid potential threats from adult dragons who may perceive them as prey.
The hatchlings will spend several years in the arboreal haven, honing their skills and growing in strength, until they are large enough to descend and roam the grounds as mature Komodo dragons.
This survival strategy showcases the intricate balance between instinct, adaptation, and the remarkable ways in which nature ensures the continuity of these magnificent creatures.
Temperature-dependent sex determination:
Did you know the sex of Komodo dragon offspring is determined by the incubation temperature of the eggs? Higher temperatures result in the hatching of male dragons, while lower temperatures lead to female hatchlings. This phenomenon, known as temperature-dependent sex determination, adds an intriguing aspect to their reproductive process.
Slow growth and long lifespan
The slow growth rate of Komodo dragons is a testament to their longevity and resilience. It takes approximately 8 to 9 years for these magnificent creatures to reach sexual maturity, marking a significant milestone in their lifecycle.
Once mature, they can live for more than 30 years in the wild, allowing them ample time to establish their dominance within their habitat and contribute to the intricate balance of the ecosystem.
Their presence helps regulate the population of prey species, ensuring the health and stability of the ecosystem they call home. This extended lifespan provides them with numerous opportunities to adapt, learn, and navigate the challenges of their environment, ultimately contributing to the resilience and biodiversity of the natural world they inhabit.
Thermoregulation
To maintain their optimal body temperature, Komodo dragons exhibit fascinating thermoregulation behaviour. They strategically engage in basking, taking advantage of the morning sun to absorb warmth into their bodies. By spreading out and soaking up the sun's rays, they efficiently raise their body temperature, promoting metabolic processes and overall activity.
However, as the day progresses and the midday heat becomes intense, these intelligent reptiles seek shelter in the shade to prevent overheating. This careful balance between basking and seeking shade allows them to regulate their body temperature effectively, adapting to the ever-changing environmental conditions of their habitat.
Conservation concerns
Despite their awe-inspiring presence, one fact that might surprise you is Komodo dragons confront significant conservation challenges that jeopardize their survival. The primary threats they face stem from habitat loss and human encroachment into their natural habitat. As human populations expand and infrastructure development encroaches upon their territories, the once-pristine environments of these magnificent creatures are being disrupted and fragmented!
Cultural significance
The Komodo dragon holds a special place in Indonesian culture. As Indonesia's national animal, it represents the country's rich biodiversity and natural heritage. The dragons have also become a significant tourist attraction, drawing visitors who seek to witness these magnificent creatures in their natural habitat, further fostering awareness and appreciation for their conservation.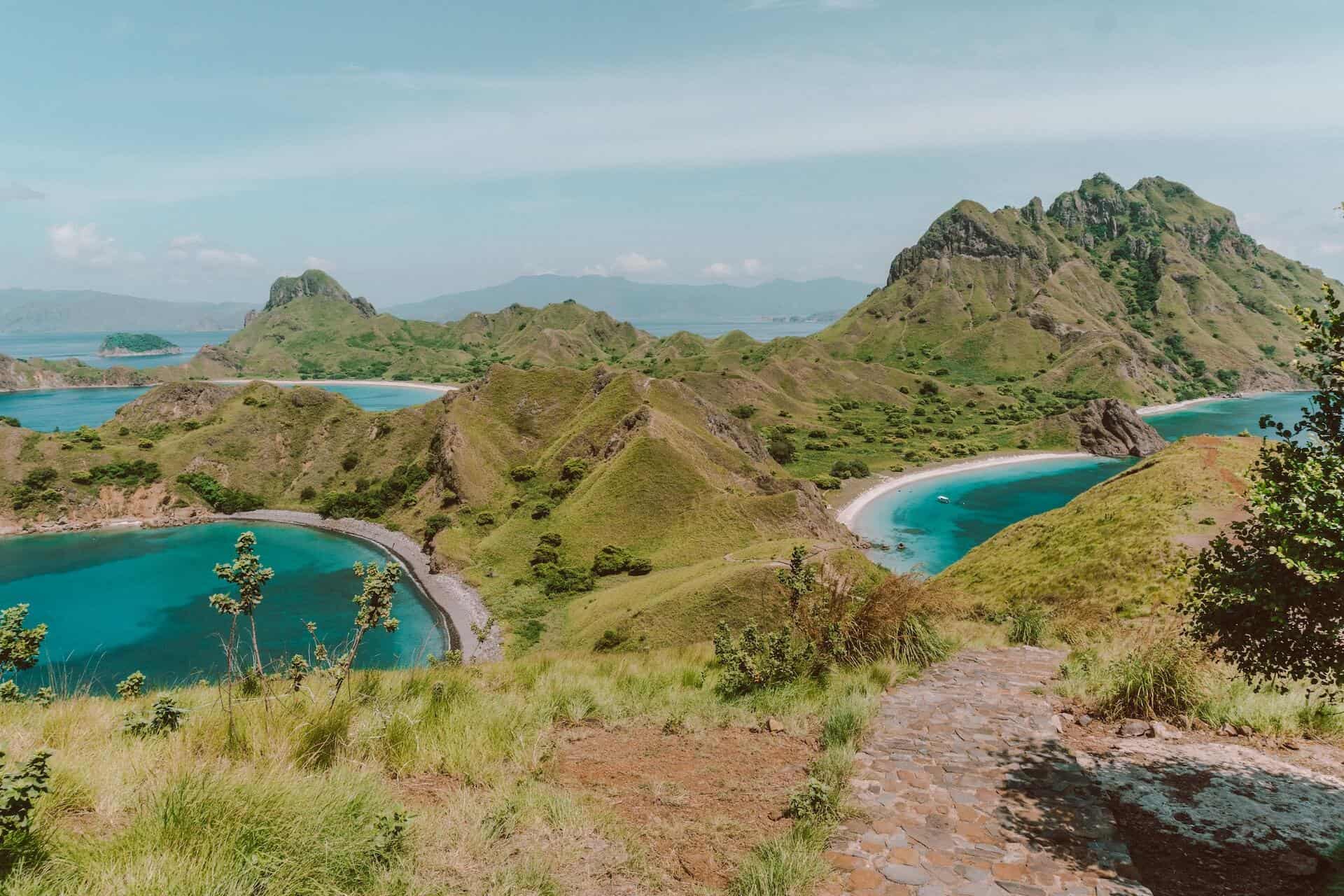 Komodo dragon conservation
It is a fact that the preservation of Komodo dragons is crucial, and conservation efforts play a pivotal role in ensuring their future survival. Creating awareness about their ecological significance and the necessity for their safeguarding is of utmost importance.
Conservation measures encompass activities such as safeguarding their natural habitats, establishing protected areas, and adopting sustainable practices to reduce human interference.
Furthermore, fostering cooperation between local communities, governments, and conservation organizations is crucial in achieving long-term conservation goals.
Preserving the unique ecosystem that supports the Komodo dragons not only ensures the survival of this iconic species but also safeguards the biodiversity and ecological balance of the region. By protecting their habitat and promoting responsible tourism, we can contribute to the conservation of these incredible creatures, allowing future generations to appreciate and marvel at their existence!
Learn more about Komodo conservation and volunteering here.
FAQs: Facts about Komodo dragons
How many Komodo dragons have killed humans?
There have been recorded instances of Komodo dragons attacking and injuring humans, but fatalities are relatively rare. While the exact number of human deaths caused by Komodo dragons is uncertain, it is believed to be few. Nevertheless, caution should be exercised when encountering these powerful predators in their natural habitat.
How long can a Komodo dragon live?
Komodo dragons have an average lifespan of around 30 years in the wild. In captivity, lifespan ranges between 20-30 years. Factors such as habitat conditions, availability of food, and overall health can influence the longevity of these remarkable creatures.
What eats Komodo dragons?
While adult Komodo dragons do not have many natural predators, they can still face threats from other animals. In some cases, large water buffalo have been observed defending themselves against Komodo dragons. Additionally, there have been reports of predatory birds, such as eagles, targeting young Komodo dragons and eggs. However, due to their size, strength, and predatory prowess, Komodo dragons generally occupy the top of the food chain in their native habitat.
Facts about Komodo dragons: Conclusion
The world of the Komodo dragon is a captivating one, filled with astonishing facts and remarkable adaptations. These giant reptiles continue to captivate and intrigue people from all walks of life.
By understanding their fascinating traits and highlighting the importance of their conservation, we can ensure the preservation of this extraordinary species for generations to come.
---
Abigail is the travel blogger behind I'm Going On An Adventure. She focuses on budget travel and adventure, giving first-hand experiences to help her readers plan their perfect travel and make the best memories.
---
Photo credits:
---
If you enjoyed this post, you can.
Sign up for Dispatches in the sidebar and follow Breathedreamgo on all social media platforms including Instagram, Facebook, Pinterest, and Twitter. Thank you!