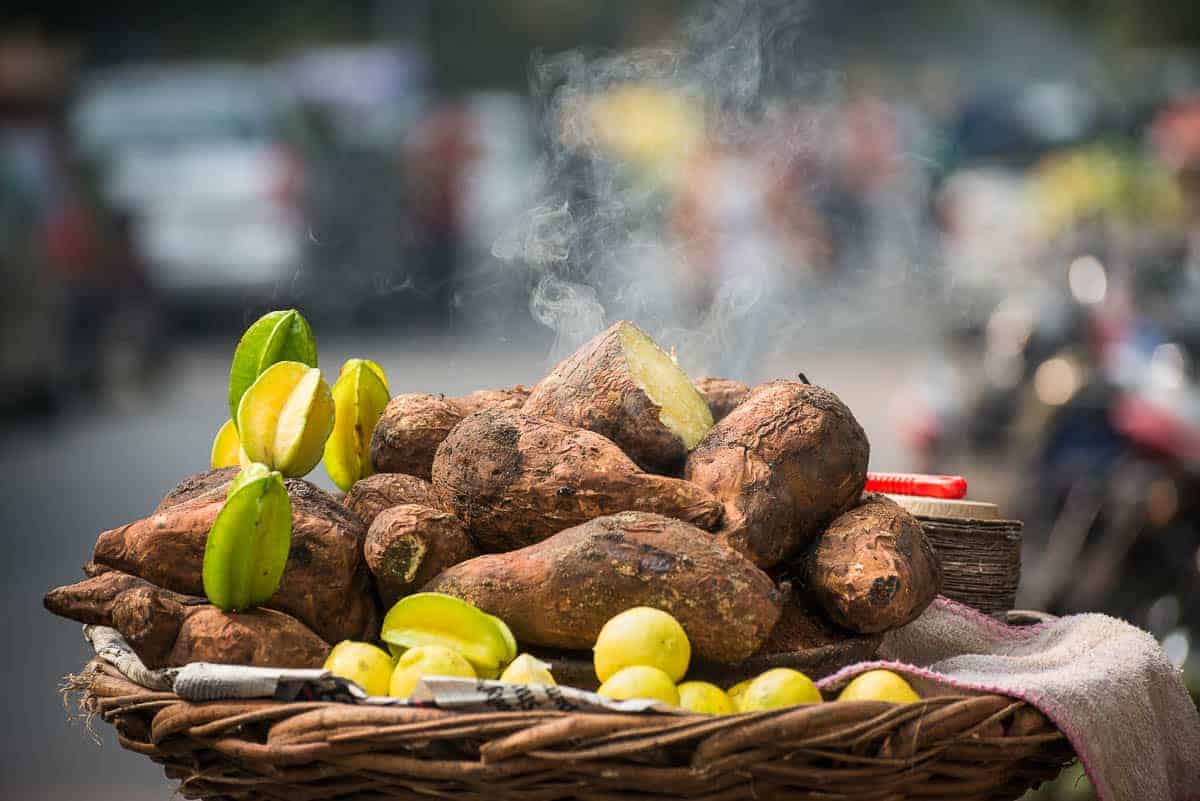 26 Best Indian Street Foods with recipes you can make at home
WHEN IN INDIA YOU MUST try the street food. But if you can't visit, here are the 26 Best Indian street foods with recipes you can make at home. The street food of India is one of the main tourist attractions and can't be missed! From Bombay vada pav to samosas, and from kebabs to dosas, Indian street food changes from place to place — but this is Indian delicious food at its best. Below is a list of Indian snacks, arranged by region.
Also included are tips on where to eat the famous snacks of India, and recipes so you can make them at home. If you can't travel to India for street food, at least you can recreate these popular foods of India in your own home. Make a cup of steaming masala chai, watch a Bollywood movie, burn some incense, and munch on these famous Indian snacks — and you will be whisked away to India in no time!
Note: This is a guest post by Mohana of the travel blog Two Together.
How to eat street food safely
If you are reluctant to try street food for hygiene reasons in India, I completely understand. There are more details in this post on How to avoid getting sick in India, but in essence, here are some general tips to help prevent a dose of Delhi Belly:
Look for popular food stalls that have a fast turnover, and only eat freshly prepared food.
Don't eat any raw foods, such as salads, or foods with watery sauces such as pani puri / golgappa.
Eat at a hygienic restaurant that specializes in street food such as Halidram's (all over India) or Swati Snacks (in Mumbai) or the South Indian chain Saravanna Bhavan.
---
More reading about street food on Breathedreamgo: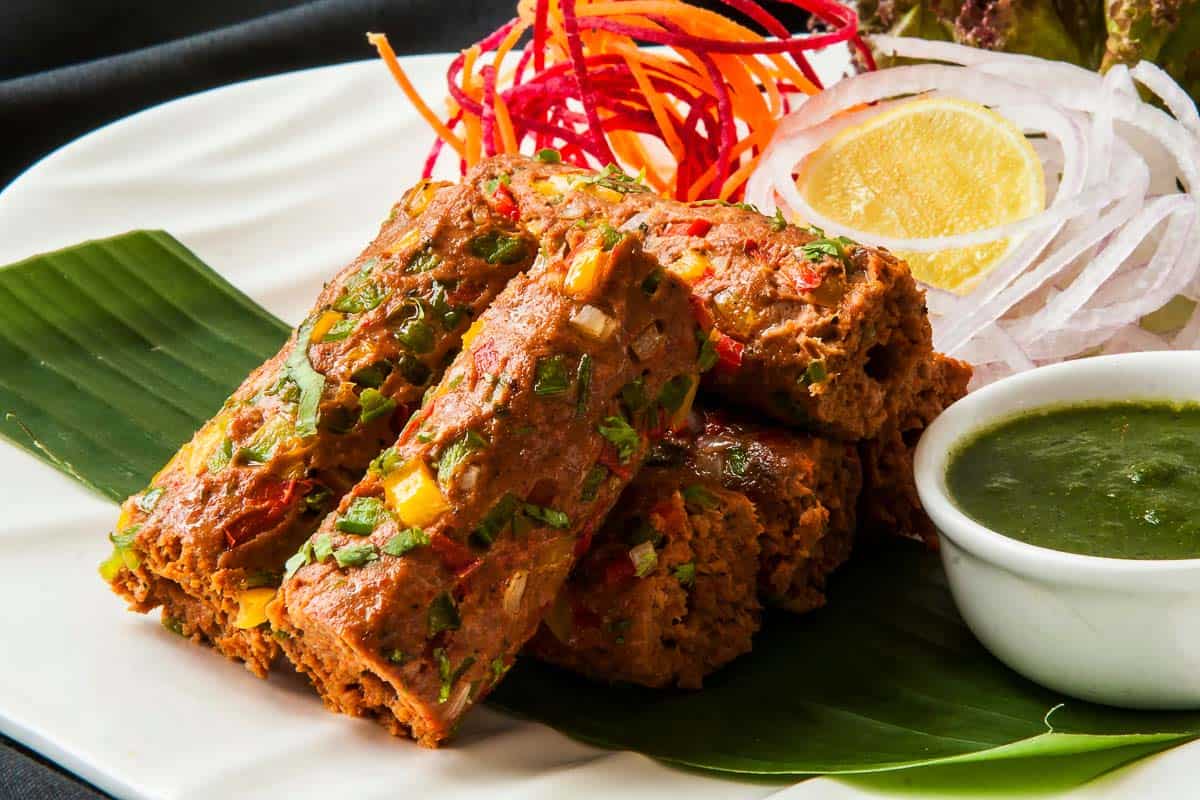 North Indian street food
Samosa
No list of Indian street food can be complete without the samosa! These little pyramids rule the hearts of Indians. The samosa was brought to India from Central Asia, but we have truly made it our own. Piping hot, straight from the cauldron, is how we love it here. Samosas, too, have regional variations, but in North India, it is mostly stuffed with a spicy potato mix. The addition of cauliflower makes an appearance in the winter.
Where to eat samosa in India: Samosas are ubiquitous across North India, but try Kota, Rajasthan or Indore, Madhya Pradesh for some of the best.
How to make samosa with YouTube recipe:
Chaat
The word chaat is derived from the Hindi word, chaatna, to lick. And that is exactly what you do after you finish your plate of chaat, you lick your fingers. These sweet-salty-tart-hot snacks are ubiquitous all over India, but you can find the best in the serpentine gullies of old Delhi. There are too many variations to be documented, but do not miss the aloo tikki chaat (smashed fried potato patties topped with tamarind chutney, mint chutney, and yogurt), papdi chaat (fried discs of chickpea flour batter topped with disc of boiled potato, onions, tomatoes, and chutneys), and shakarkandi chaat (cubes of boiled sweet potato sprinkled with lemon juice and chaat masala and topped with sliced star fruit).
If you are visiting in winter, don't miss the Daulat ki Chaat. This sublime dish is made with the foam that forms when milk is churned. The foam is then layered until a cottony pile is formed. It is served with a garnish of chopped nuts and sugar. According to local folklore, this dish could only be made on cold, full moon nights and it was left out in the morning dew to cool.
Where to eat chaat in India: Everywhere! But the gullies of Old Delhi are legendary for chaat and so is Varanasi. Stop by Kashi Chat Bhandar in Varanasi for Tamater Chaat. Also try the restaurant 56 Dukan Indore, Madhya Pradesh.
How to make chaat with YouTube recipe:
Paan
Songs have been written about the famed Benarasi paan! In the ancient city of Benaras (now, Varanasi), the paan, betel-leaf, is given the royal treatment that elevates it from a simple mouth-freshener to a concoction of epic proportions. To the leaf, areca nuts, tobacco, slaked lime to which other ingredients like gulkand, saffron, candied cherries, cardamom, candied fennel, etc. are added and the leaf is then rolled into a cone. It is often garnished with silver foil, or varq. In the alleyways of Varanasi, you can get a variety of paans like the Benarasi meetha paan and the Benarasi navratan paan. Prices can range from INR 15 to INR 500.
Where to eat paan in India: Paan is available across India, but do try legendary Benarasi paan when you are in Varanasi.
How to make paan with YouTube recipe:
Kebab
The Mughal era is remembered mostly for its decadent food and magnificent architecture, and in cities like Delhi and Lucknow, both are abundant. You could spend a week and eat kebabs for lunch and dinner and there would still be some varieties of kebabs left to try. At its simplest, a kebab is a barbequed piece of marinated meat. They are originally from the Middle East, but it is in India that the khansamas, or royal cooks, elevated them with their expertise and understanding of flavours and spices. Some, like the chicken tikka and the reshmi kebab, have gone on to make waves in restaurants around the globe but others like the kakori kebab (similar to the seekh kebab but the meat is tenderized with raw mangoes), the sutli kebab (minced meat wrapped with a string around a skewer and grilled), and the gallouti kebab (minced meat patties invented for a toothless king!) can only be found in these cities.
Where to eat kebab in India: Delhi and Lucknow are the best cities for kebabs.
How to make kebab with YouTube recipe: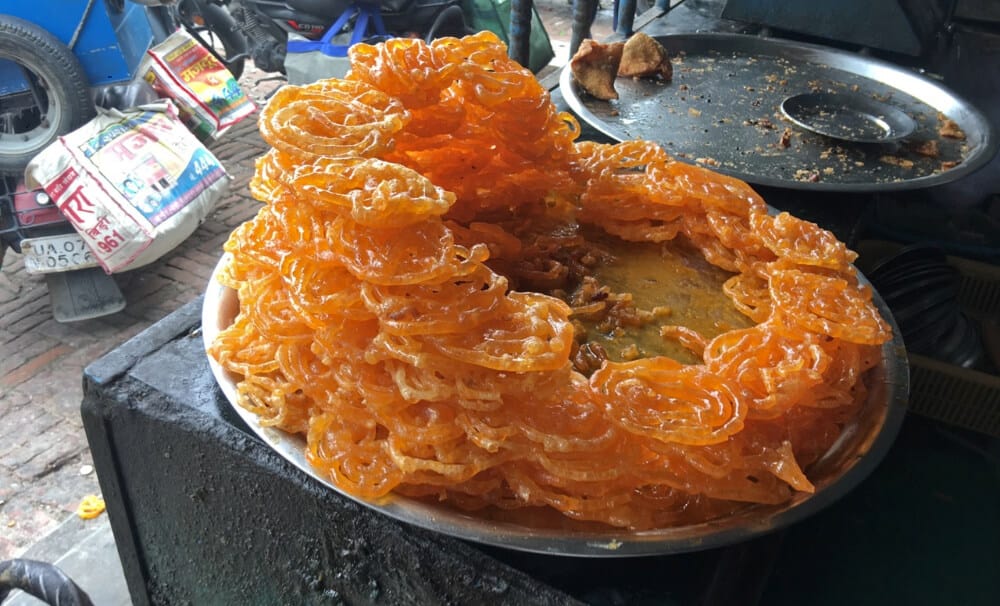 Jalebi
One could describe a jalebi as a fried pretzel doused in sugar syrup, but there is so much more to this Indian street food than just that! In the streets of Delhi, and all across India, jalebis are made in massive iron woks. It is mesmerizing to watch the cook create coils of batter, using a muslin cloth, in the hot oil. Once done, the cook slides them into a bath of sugar syrup, from where they go straight into your mouth! Jalebis are best paired with samosas or with rabdi (clotted milk garnished with saffron and nuts). Though jalebis are now as Indian as it gets, they are said to have originated in Turkey, from where they travelled to Tunisia, and then to Iran where zalabiya became a festive treat relished during Ramzan. From Iran, it travelled to India and is now an iconic street food of India.
Where to eat jalebi in India: Jalebis are a beloved snack, and made in many markets across India, but Delhi, plus Bhopal and Indore in Madhya Pradesh, are good bets.
How to make jalebi with YouTube recipe:
East Indian street food
Phuchka
The phuchka by any other name would taste as delicious! It is the darling of the street foods of Kolkata, and you absolutely can't just stop at one. Or, 10. Known as panipuri, golgappa, fuska, gupchup, or pani batasha in different parts of the country, a puchka is essentially a hollow ball of fried dough (often a mix of flour and semolina) that is stuffed with a spiced potato mix. It is then lowered in a bowl of tamarind water redolent with the aroma of mint and gandhoraj lime leaves and served to you on a leaf plate. Pop it whole into your mouth and experience nirvana as the fried ball breaks and the savoury – sour tamarind water waltzes with the spicy mashed potato in your mouth! Nowadays, you can order phuchkas with fillings as diverse as aloo dum or chilly chicken and topped with beaten curd, sweet tamarind chutney, or an itsy-bitsy shot of vodka!
Where to eat phuchka in India: Kolkata is the place. Try Vivekananda Park and the stall outside Dakshinapan near Gariahat. Or, the phuchka-wallahs at street corners in New Alipore, Southern Avenue, Deshapriya Park, Hazra.
How to make phuchka with YouTube recipe:
Kathi Roll
An iconic Kolkata street food, the Kathi Roll is a parantha filled with kebabs and garnished with pickled onions, lime juice, and green chilli sauce. The most popular item is the Egg Roll, a parantha and omelette wrap stuffed with pickled onions. According to local folklore, the dish came into existence when a bunch of royals demanded parantha and meat that they could eat without their hands getting stained with oil. An enterprising cook rolled the meat into the parantha, then wrapped the roll with paper and served it to his royal patrons and tada! the roll was born. The word kathi become part of the nomenclature when Nizam's, an eatery in Kolkata, made a switch from iron skewers to bamboo sticks (locally called kathi) to grill kebabs in 1964.
Where to eat kathi roll in India: Kusum Rolls on Park Street in Kolkata
How to make chicken kathi roll with YouTube recipe:
Litti Chokha
This rustic gem from the streets of Bihar is as healthy as Indian street foods can be. A meal that continues to fill the bellies of hard-working workers from around the country today, litti chokha is a combination of two dishes: the litti is a ball of whole wheat dough stuffed with a mixture of sattu (ground chickpea or gram flour) and grilled on an open fire, then doused in ghee. The chokha which is a dish of mashed grilled vegetables like potatoes, onions, chillies, and eggplants. Migrants from Bihar have popularized this dish in countries like Suriname, Fiji, and Mauritius.
Where to eat litti chokha in India: Bihar of course, or Baati Chokha restaurants in Lucknow or Varanasi.
How to make litti chokha with YouTube recipe:
Jhaal muri
Essentially a poor man's dish that originated in rural Bengal, the jhaal muri has now reached the streets of Great Britain! Puffed rice is tossed with sliced onion and green chillies, toasted ground cumin, toasted peanuts, salt, and pungent mustard oil. Add some spicy, crunchy chanachur (that addictive spicy mix of fried bits and peanuts that is only available in grocery shops in Kolkata) and top with a slice of coconut and you have a snack to remember. Usually, vendors serve it in a rolled paper cone called thonga which adds to the charm of the jhaal muri.
Where to eat jhaal muri in India: Anywhere in West Bengal!
How to make jhaal muri with YouTube recipe:
Dahi bara aludam ghugni
Served on the streets of Odisha is dahi bara aludam, a snack that perfectly balances hot and cold. Bara, or fried balls of dough, are soaked in a thin yogurt bath. To serve, these cold baras are topped with two curries: a hot and spicy potato curry called aludam and a runny white pea curry called gughni. It is then garnished with yoghurt, sliced cucumbers and onions, and sprinkled with black salt and red chilli powder.
Where to eat dahi bara aludam in India: Cuttack, Odisha.
How to make dahi bara aludam with YouTube recipe:
Telebhaja
Telebhaja means fried in oil and come evening, telebhaja stalls are where a significant number of Kolkatans are drawn like moths to a flame. In Kolkata, we call these fried items chop. Not much is known about the etymology, but they are close kin of the English croquette and prepared similarly. There are two kinds of chops on offer: crumb fried, and without. Crumb fried options range from potato, mashed beet, mocha (banana flower), paneer, and more. Non-vegetarians can gorge on fish fries, chicken cutlets, dim'er devil (a cousin of Scotch eggs), and kobiraji cutlets (do not miss this unique offering; it is a fillet of fish encased in a fragile net of beaten egg). Classic batter-fried options are the beguni (batter-fried eggplants) and the fuluri (fried dough balls).
To learn more about how they do breakfast in Kolkata, here's a guide.
Where to eat telebhaja in India: Sold by chop shops at the street corners of Kolkata.
How to make telebhaja with YouTube recipe:
West Indian street food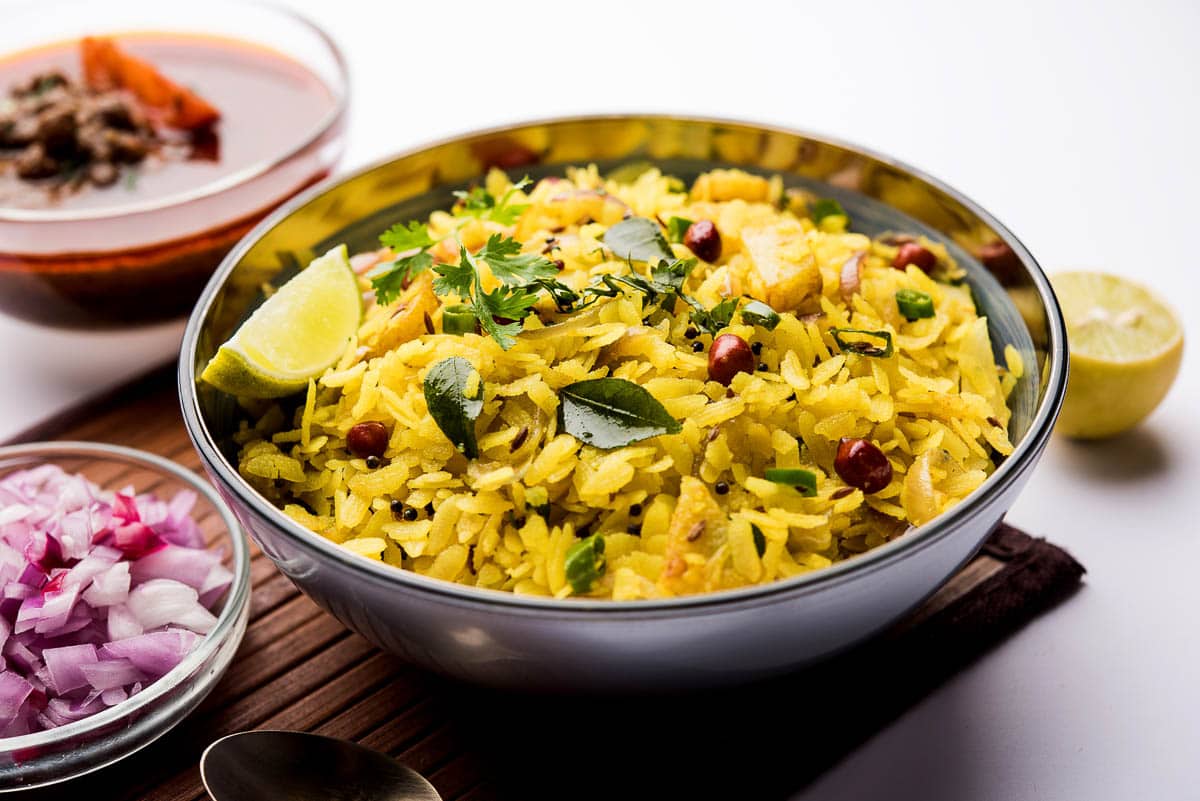 Poha
This humble and simple Indian street food is the quintessential breakfast item on the streets of Maharashtra. Flattened rice, also called beaten rice, is cooked with onions, potatoes, green chillies, and roasted peanuts, and garnished with grated coconuts. Sometimes grated carrots, green peas, and cashews are also added. First, the flattened rice is soaked and kept aside. Then a neutral oil is tempered with spices like mustard seeds, and the vegetables are cooked. Once done, the soaked flattened rice is added. Regional variations include kari leaves and fennel seeds.
Where to eat poha in India: There are regional variations, but Maharashtra and Madhya Pradesh seem to be vying for the best version.
How to make poha with YouTube recipe:
Bombay Vada Pav
You can't visit Maharashtra and not have a vada pav. The Bombay vada pav is the beloved Indian burger is as simple as it gets: A potato patty squished between two slices of buttered bun that are slathered with dry garlic chutney. If you are brave, take a bite of the fried green chilli it is served with! Mumbai (formerly Bombay) is a well known street food destination in India. Please read our Guide to the Street Foods of Mumbai.
Where to eat Bombay vada pav in India: Bombay! Err, I mean Mumbai! Especially the area near Dadar.
How to make Bombay vada pav with YouTube recipe:
Kachori
Though kachoris are found all over India, nowhere are they more delicious than in Rajasthan where this popular Indian street food was invented in the kitchens of the Marwari community. A kachori is a stuffed pastry that is fried in ghee. It is crispy and flaky and is often eaten with two chutneys: a green chutney made with coriander and mint and a sweet and sour tamarind chutney. For breakfast, opt for the pyaaz kachori (stuffed with spicy browned onions) or the dal kachori (stuffed with lentils) and order a malai kesari chai (tea with saffron and cream) on the side and it will make your day! If you have a sweet tooth, order the mawa kachori, an indulgent syrup-soaked kachori stuffed with mawa (dried milk solids) and dry fruits.
Where to eat kachori in India: Rajasthan is the place for kachori. Samrat at Jaipur serves delicious Pyaz Kachori and is a local favourite there. Kachori in Kota, Rajasthan is also well known. Legend is that it's the water that brings the taste. In fact, there are a few shops in Jaipur by the name 'kota kachori' that bring water from Kota to make the dough. Indore in Madhya Pradesh is also known for kachoris, and so is Delhi.
How to make kachori with YouTube recipe:
Ros Omelette
Ros — Konkani for gravy — is poured over the omelette and served with buttered Goan pao breads at stalls across Goa for breakfast. The gravy in this Indian street food is either made with chicken or chickpeas and spiced with fragrant Konkani spices. The omelette soaks up the flavours of the gravy beautifully! Pair it with a strong cup of chai and you already have the perfect start to your day.
Where to eat ros omelette in India: Goa!
How to make ros omelette with YouTube recipe:
Khamman Dhokla
Looking for healthy street foods in India? Here's a khamman dhokla for you! These steamed, fluffy chickpea "sponge" cakes rule the roost in Gujarati communities across the country. They are sweet and savoury and are often tempered with kari leaves, mustard seeds, and green chillies and served with coriander chutney. Note that khamman dhokla and dhokla are not the same; the former is made with chickpea flour while the latter is made from a fermented batter of rice and split chickpeas. Baking soda is used in the khamman dhokla, so it is usually lighted and fluffier.
Editor's Note: Dhokla has a unique texture that is, perhaps, an acquired taste. Most foreigners don't seem to like it, me included — which is odd because I actually love the food from Gujarat, especially Gujarati thali. Everything in Gujarat seems unique to me, even the restaurants. When I was in Ahmedabad, the state capital, I visited a restaurant that has been built over a cemetery. The New Lucky Restaurant has been popular for more than 50 years. There are 12 graves inside the restaurant, with the tables around them, all filled with happy diners. It is believed the graves belong to Sufi saints from the 16th century. It's unnerving at first, but when you sit down for chai or lunch, and see the other diners chatting happily, you do get used to it … in a way. Mariellen
Where to eat khamman dhokla in India: Gujarat.
How to make khamman dhokla with YouTube recipe: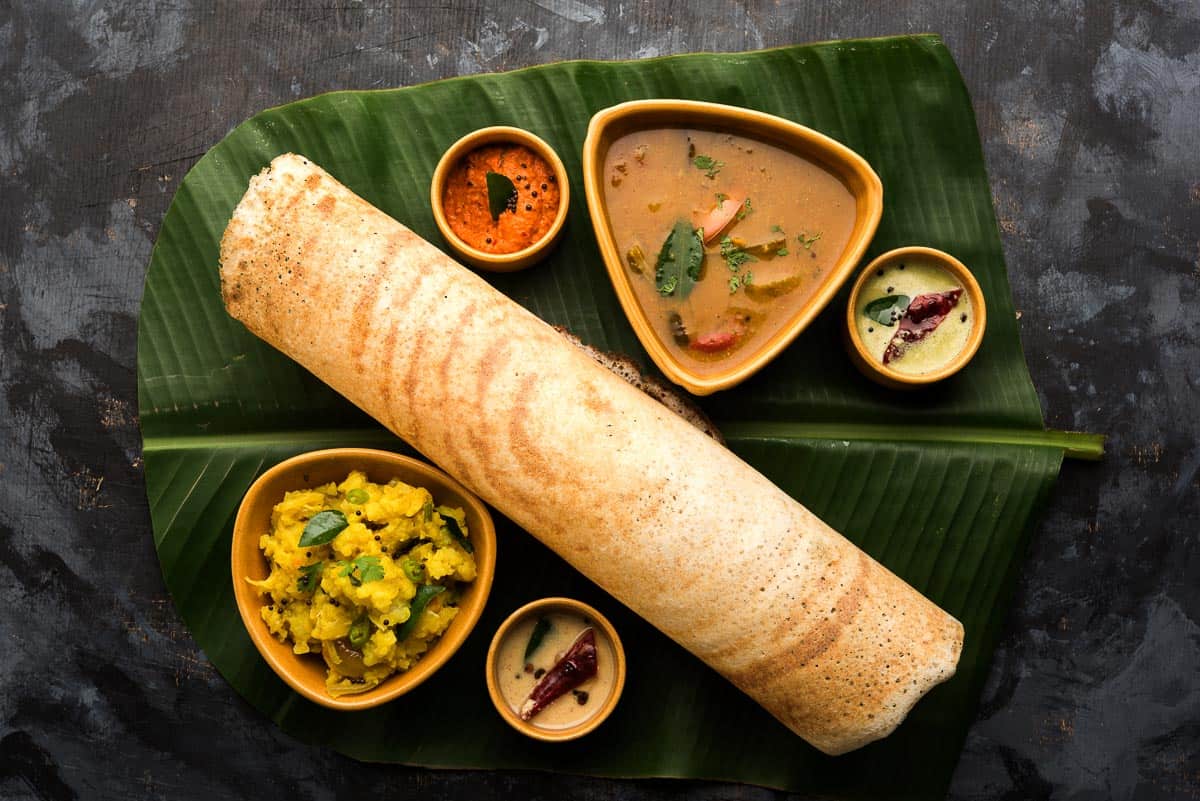 South Indian street food
Dosa
The dosa is a no-nonsense savoury crepe made with a fermented rice batter. It is either served plain or stuffed with spicy potatoes. On the side, there is a bowl of sambar and one or two types of chutney. The creamy coconut chutney is a must! While the dosa is available across South India, there is some confusion over the place of origin of the dish; those in Udupi on the west coast in Karnataka claim the invention of the dosa as theirs, but Tamilians on the east coast claim it as theirs. The Udupi dosa — popularized by Udupi restaurants around the country — is crisp and thin while the Tamil dosa is thicker and softer. Both are equally delicious and are a perfect item for vegetarians! If you are vegan, ask the cook to skip the ghee. And don't forget to ask for extra podi (a spicy masala mix that tingles your tastebuds)!
Where to eat dosa in India: Udupi in Karnataka, MTR or any other South Indian vegetarian restaurant in Bengaluru, any stall in Madurai and other locations in Tamil Nadu.
How to make dosa with YouTube recipe:
Punugulu
These fried dough balls from the street food stalls of Telangana and Andhra Pradesh will keep you coming back for more! The batter is made with rice flour mixed with black gram and fried in hot oil. A punugulu is crispy on the outside, and soft on the inside. They are served with coconut chutney, ginger chutney, and peanut chutney. Perfect for rainy evenings!
Where to eat punugulu in India: Andra Pradesh is the birthplace of punugulu.
How to make punugulu with YouTube recipe:
Gadbad Ice Cream
Popular in the coastal stretch of Karnataka, especially around Udupi and Mangalore, is the gadbad ice cream. Garibadi, in the local language, means to hurry. Different flavours of ice cream, fresh fruits, jelly, dried fruits, and nuts are layered in a tall glass to make this dessert. It is said that the ice cream was born at Udupi's Diana restaurant. When a group of customers requested a unique treat and the restaurant was short on ingredients, the chef whipped up a dessert in a hurry with whatever he had at hand and served it in a tall glass. It won the hearts of the customers who began to order it regularly and thus the gadbad ice cream became a fixture on the menu.
Where to eat gadbad ice cream in India: Diana restaurant in Udupi. And Mangalore in Karnataka.
How to make gadbad ice cream with YouTube recipe:
Seafood / Fish
Thanks to the long coastline, seafood graces the menu of many establishments in southern India and to taste some of the best, you just have to make your way to the nearest street food joint. From marinated fish grilled straight over coals and fried fish to masala-fried mussels and crabs, fresh seafood is available all along India's coastline. You can sit down at hole-in-the-wall eateries and dig into filling meals of rice and fish curry. In Kerala, the Toddy shop meen curry is particularly famous; and in Goa, spicy hot Goan fish curry is iconic.
Where to eat seafood / fish in India: Almost anywhere along the coast in India! Fish curry in Goa is highly recommended.
How to make Goan fish curry with YouTube recipe:
Pazhampori
No trip to Kerala is complete without some pazhampori, crisp ripe banana fritters. Bananas are sliced lengthwise, dipped in a batter of rice and gram flour mixed with a little semolina, and fried in hot oil. The pazhamporis are crisp on the outside and soft and custardy on the inside. Best enjoyed alongside a cup of milky tea at a roadside joint!
Where to eat pazhampori in India: Kerala!
How to make pazhampori with YouTube recipe: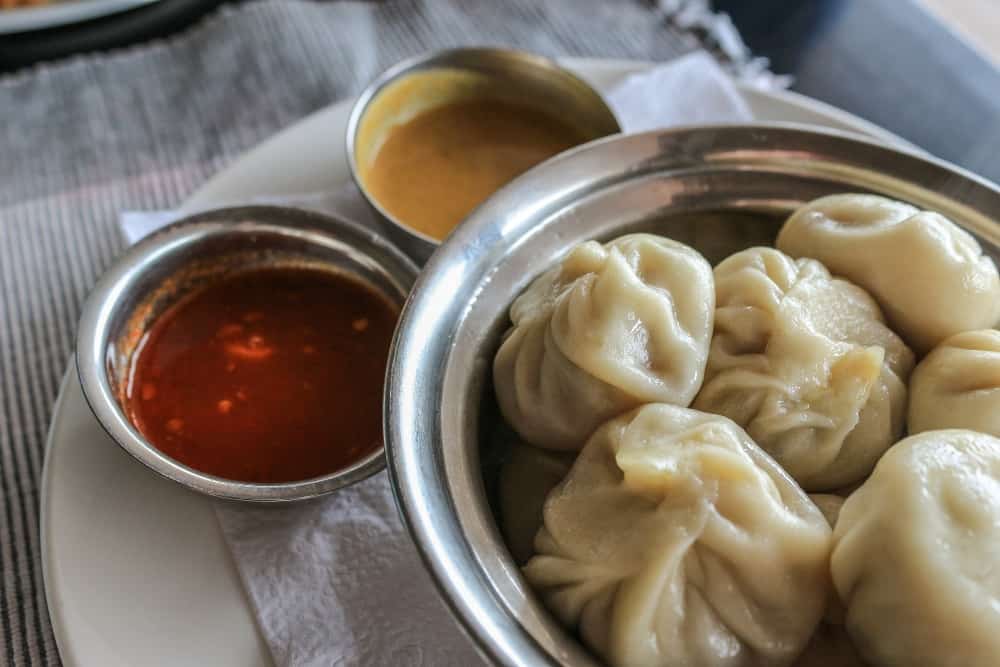 Northeast Indian street food
Momo
Today, momos are a popular street food all over India, but these little dumplings of love are originally from Tibet where they were filled with yak meat. The best momos, in my opinion, are found in Sikkim and other parts of the northeast. In India, the fillings range from anything but yak meat; you can get momos filled with steamed cabbage, cheese and potato, chicken, mutton, paneer, corn, and more! Momos are steamed—you can identify a momo stall by its steel multi-tier steamer contraption — and are usually served with a clear soup and sepen, a tongue-searing sauce made by grinding chillies and garlic together. You can also get pan-fried momos and momos slathered in the spicy Indo-Chinese Schezwan sauce. If you do make it to Sikkim, here's a list of best places to eat in Gangtok, the capital.
Where to eat momo in India: Sikkim, Dharamshala, and Majnu ka Tilla, the Tibetan neighbourhood of Delhi.
How to make vegetarian momo with YouTube recipe:
Smoked pork
Smoked pork is enjoyed across the northeast. On the streets of Shillong, you can find vendors skewering cubes of pork meat and grilling them over racks heated on charcoal. They taste delicious as is, but if you are longing for spice, ask for the chutney! Other meats, like beef and chicken, are equally popular. Blood sausages and offal like pork stomach, chicken liver, and gizzard that are rarely available in the rest of India sell like hot cakes on the streets here.
Where to eat smoked pork in India: Shillong, West Bengal and across Northeast India. Phejins in Mon, Nagaland for smoked anything.
How to make smoked pork with YouTube recipe:
Chowmein
Chowmein, or fried noodles, is as popular in the northeast as it is in the rest of eastern India. Street stalls from Sikkim to Tripura serve chowmein to hungry eaters. It is delicious and filling. The noodles are the kind of greasy that brings you joy on the loneliest of days and they are fried with seasonal vegetables and topped with soy sauce, tomato sauce, and chilli sauce. Often shredded meat, prawns, and eggs are added to it. Chowmein is a descendant of the Chinese Hakka noodles; in Kolkata, where the Hakka community settled, local flavours blended into the original recipe to create something unique to the Indian foodscape and thus was born the chowmein. In Kolkata's old Chinatown, you can still find eateries that sell authentic Chinese-style noodles.
Where to eat chowmein in India: Kolkata, eastern, and northeastern India, plus stalls in Sanjay Van, Delhi.
How to make chowmein with YouTube recipe:
Keli Chana
Kelli Chana is a popular street food item in Manipur. Chickpeas are cooked with tomatoes, onions, and local herbs and tossed with chilli pepper. It is traditionally served in a lotus leaf.
Where to eat keli chana in India: This tasty snack is best known in Manipur, northeast India.
How to make keli chana with YouTube recipe:
Lukter
Lukter is popular in Arunachal Pradesh. To make lukter, meat is first sun-dried and then grilled with the bhoot jholokia, one of the hottest chillies in the world. This chilli scores a brain-numbing 1,041,427 units on the Scoville scale.
Where to eat lukter in India: Arunachal Pradesh.
---
Mohana writes about food and places on Two Together. She is a picky eater who has recently started exploring her complicated relationship with food and now spends a significant part of her week reading stories about food and eating, and the history of food. You can send her recommendations for books, including memoirs, that involve food on her Instagram account @twotogetherfeed.
---
Pin it on Pinterest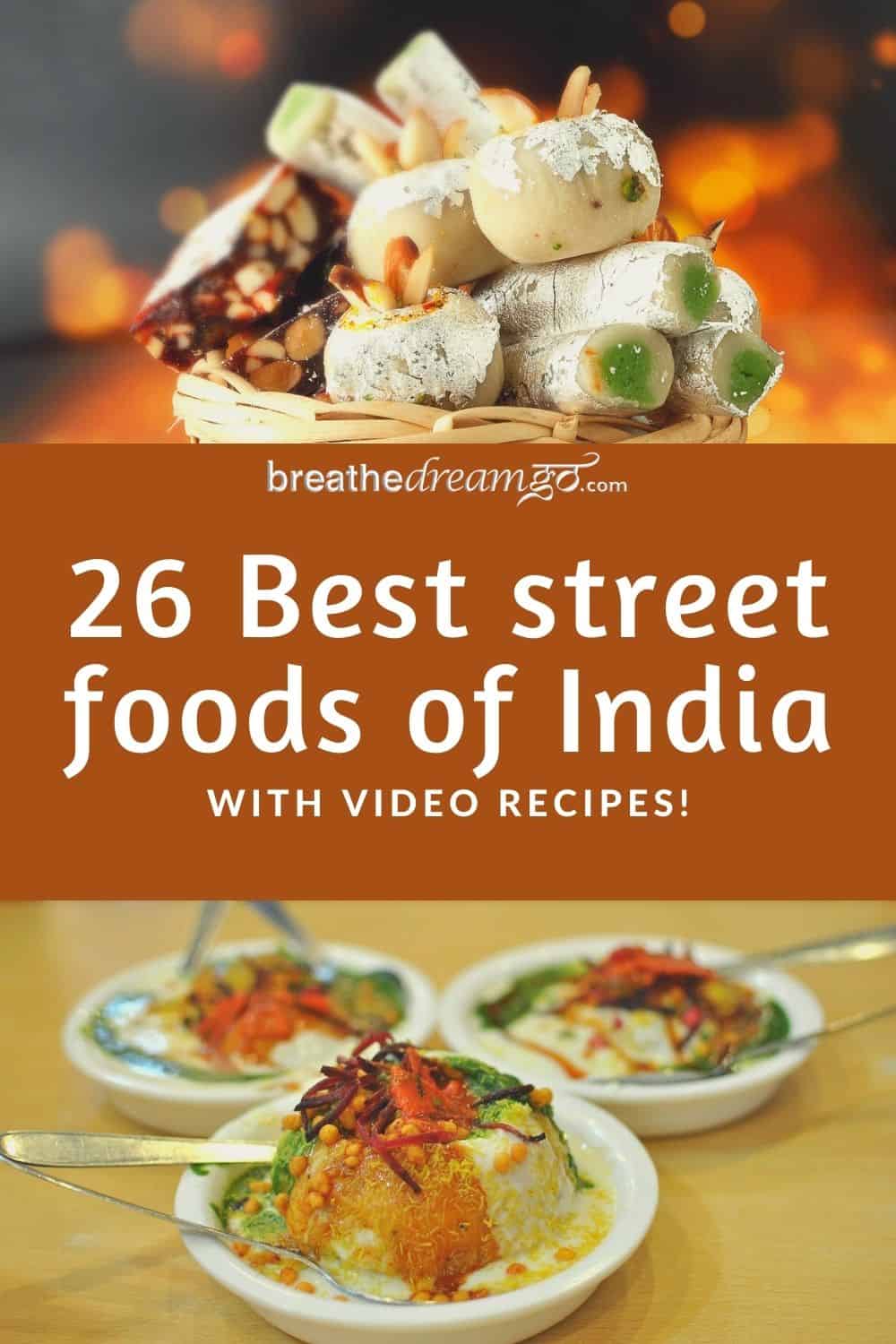 ---
If you enjoyed this post, you can…
Sign up for Dispatches in the sidebar and follow Breathedreamgo on all social media platforms including Instagram, Facebook, Pinterest, and Twitter. Thank you!
---