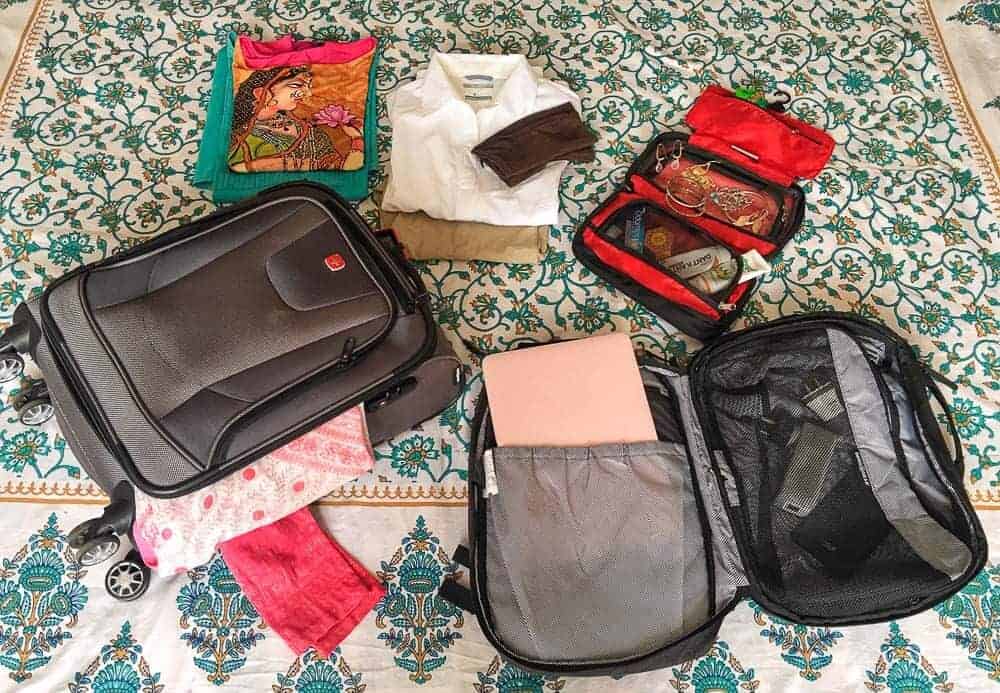 Packing for travel in India: What you need and what you don't
UPDATED MAY 2019. Over the past 13 18 years, I have packed for about 11 13 lengthy trips to India, and packed for travel within India innumerable times. After a lot of experience, I have developed a packing for travel in India checklist, and know what to bring to India. Below, I have also narrowed down a list of top travel essentials for India, too. So please benefit from my experience, and follow my packing list advice!
What you must pack for travel in India
These days, you can get a lot of things in India that you can get at home. It was very different when I started travelling in India in 2005. But still, there are some items that are either hard to find, or expensive, or don't fit. Here's what you absolutely need to pack for travel in India
A backpack or day pack and carryon suitcase. Unless you are going five-star all the way, you will be happy you can easily carry everything you brought on your back. There are going to be times when the taxi can't get closer than a 10 minute walk to the train station because of the crowds and you have to get out and walk.
A roller carryon or spinner suitcase. I travel with a combination of daypack and carryon suitcase, rather than a full-sized back pack. This combination works better for me. You can read up on hardside carryon luggage here to get some recommendations.
Very comfortable sturdy walking shoes. India's infrastructure is often lacking. The roads and sidewalks are a jagged obstacle course, and there is sometimes an open sewer spilling its gruesome contents across your path. You will want a pair of closed toe shoes.
Walking sandals. It's hard to find sturdy, well-made and comfortable walking sandals in India, and these will be your go-to shoes.
Flip-flops. For the beach, in the shower, around your hotel and in other predictable settings. Don't go barefoot in India.
Swim suit. Indian women don't traditionally wear swim suits, so it's hard to find a good selection. The imported ones are super expensive, too.
Deodorant, hair conditioner, tampons, sunscreen, Deet mosquito repellent. I recommend bringing all of these with you as you may not get the quality you're used to in India.
A sheet sleeping bag. For taking the train in India and questionable hotels.
Good quality suitcase locks and cable. You will need to be able to use the cable to lock your bag to your train or bus seat.
To keep as healthy as possible on the road, take heat-resistant probiotics (one per day), either oil of oregano or GSE (grapefruit seed extract), rehydration salts, tea tree oil and homeopathic remedies for digestion and respiration issues (Indian cities are highly polluted — try to get out of the cities and enjoy some offbeat places in India).
Contact lenses and lens solution. You might not find what you need in India.
Prescription drugs. Almost everything is available in India, but it may not be exactly the same.
---
If you are planning to travel in India, let us help you! We offer itinerary planning, India for Beginners custom tours, and much more to make sure your trip to India is filled with more magic … and less madness.
---
Travelling to India: a packing checklist
Get professional and up-to-date advice regarding vaccinations, antibiotics, and anti-malarial medication.
ORS (oral rehydration salts) packets and activated charcoal capsules. If you do happen to get Delhi belly, these will be your best friends. Make sure you stay hydrated – it's the dehydration that makes you sick.
Small bottles of hand sanitizing gel and small kleenex / tissue packets. I don't walk out the door without these in my bag. You will find out quickly why they're both integral.
Earplugs and head phones. You will need them, take my word for it. India is a noisy place!
Electrical adapter.
Headlamp or good-quality small flashlight (for reading on the train and power outages)
Resteasy bed bug spray
Quick dry towel. I found 101 uses for this. Also useful is a sarong or piece of cloth.
Money belt. I didn't use it a lot, but I was glad I had it.
A daypack and/or a small-ish bag you can carry very safely. The kind that's got a wide strap and fits under your armpit is perfect for crowded situations such as bazaars and railway stations.
Reusable water bottle. Please don't add to India's plastic bottle pollution problem
Small thermos. I have a great little thermos I call the "bullet." I fill it up with tea on the road.
Mesh laundry bag.
Underwear. I do not like the bras in India. I will always make sure I have a lot of comfortable cotton bras to choose from when I go. And let modesty be your guide.
Modest clothing. It is not really a good idea to wear scanty clothes in India. I know some people do it, but I personally think it is unsafe and disrespectful. When in Rome and all that. In fact, I recommend bringing very few items of clothing and making a beeline for Fabindia (the Gap of India). Indian clothes are inexpensive, colourful, comfortable and they suit the climate and the culture. Indians will appreciate your attempt to bridge cultures and show respect and they will be even more open towards you.
---
---
Things you can get in India
When you are packing for travel in India, you need to know about the things you DON'T have to bring. Some things I recommend getting in India as they are either more cost-effective, more suitable, or better quality.
Aside from shoes, underwear, bras, jeans, and a swimsuit, you can get a lot of great clothing in India that suits the climate and culture.
Whether you go for costume jewelry or precious gems and gold jewelry, you cannot beat India for bling. You will find amazing jewelry in every price range. Just be careful buying the real stuff. Make sure you are buying from a reputable jeweler
I buy almost all of my toiletries in India: creams, lotions, face wash, lip balm, etc. I like Biotique and Himalaya Herbals, but there are others as well.
Sarong, scarf, shawl. Sarongs, scarves, and shawls come in very handy when travelling, and you will not find more variety than in India. Personally, I have an embarrassing number of pretty scarves in silk, cotton, chiffon, etc.
Blingy sandals. There are stores filled with jeweled flats and you will want to buy them all. Be aware they are often not that comfortable, though.
They may not be practical or particularly safe, but the embroidered bags in India are fun and handy, especially for shopping and the beach.
A sun umbrella. It's very useful to carry an umbrella, and you can find them in India with a special coating that blocks the sun's rays.
---
Travelling to India? Don't miss my India Travel Guide.
---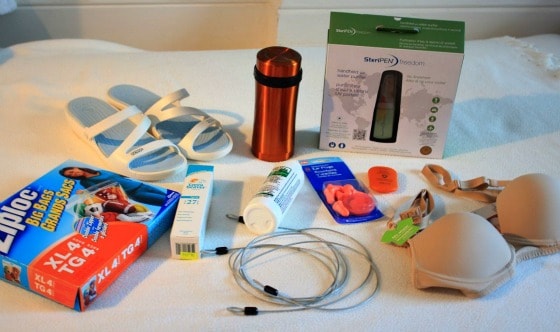 If you travel in India, you need to pack these essential items
For travel in India, these 10 essential items are some of my favourites, and most useful. Clockwise list of top 10 essential items for travel in India:
Plastic bags that seal. There are so many uses for good quality plastic bags, I bring about about five each in three sizes. They keep humidity and insects out of your snacks stash, toiletries and electronics. Throw a silica bag in with your electronics when you are travelling during the monsoon.
Crocs. I held out because the traditional style is so darned ugly, but the company now makes dozens of stylin' shoes, including these beauties that I am wearing — and loving — every day in India. Comfy, cool and waterproof. What more could you ask for? Since writing this, I have also discovered Skechers! Now a big Skechers fan too.
Thermos cup. I call this "the bullet" as it is indestructible and completely water tight. Made by Mountain Equipment Coop in Canada, but I'm sure you can find other makers. Particularly useful for long train rides: just ask the chai-walla to fill 'er up. Update: You can now buy this kind of thermos in India.
Steripen. I bought the small travel size Steripen, which uses ultraviolet light to kill all bacteria and other bad things in water. Expensive, but well worth it as most travel illness is caused by waterborne squigglies.
Update: Since writing this, there are a lot of new water filters on the market such as Lifestraw and Grayl.
Modest yet comfortable bra. Very hard to find in North America, never mind India. I searched around and stocked up on a few different styles before leaving. For the ladies, I HIGHLY recommend this! You have to wear a modest bra in India, that covers and protects you fully, believe me. The first time I travelled in India (for six months) I had a bra crisis. Not fun. Leave the lacy, frilly, see-through bras at home.
Laundry leaves. The little orange packet is full of little slips of paper soaked in laundry detergent. It takes up very little room, will not make a mess, but will really come in handy when you have to wash your unmentionables in the sink.
Earplugs. Have you ever seen a Bollywood movie? I love India, it's full of life … but quiet it is not.
Cable locks. The cables are pictured here but not the locks (sorry, forgot to include them). Invest in some good quality suitcase locks and steel cable, for locking your pack or suitacases while travelling by train or bus; and to heavy furniture in hotel rooms. You will be glad you have them.
Insect repellant. I like Watkins, which is a cream. It doesn't smell and though it does contain DEET (necessary), it doesn't seem particularly toxic. There are night-time mosquitoes in India that can carry malaria; and day-time mosquitoes that can carry dengue fever. I also have a small travel size bottle of Watkins that I refill and always have in my purse … and don't hesitate to use whenever I see even one mosquito, because unlike me, they never travel alone. You can buy Odomos in India that seems to work well, too.
Sunscreen. I have very fair skin and I just don't really trust Indian made sunscreen. I'm not sure the industry is as well regulated as it is in North America. I also recommend that you buy reef-friendly sunscreen … it's better for you and the planet.
---
PIN it on Pinterest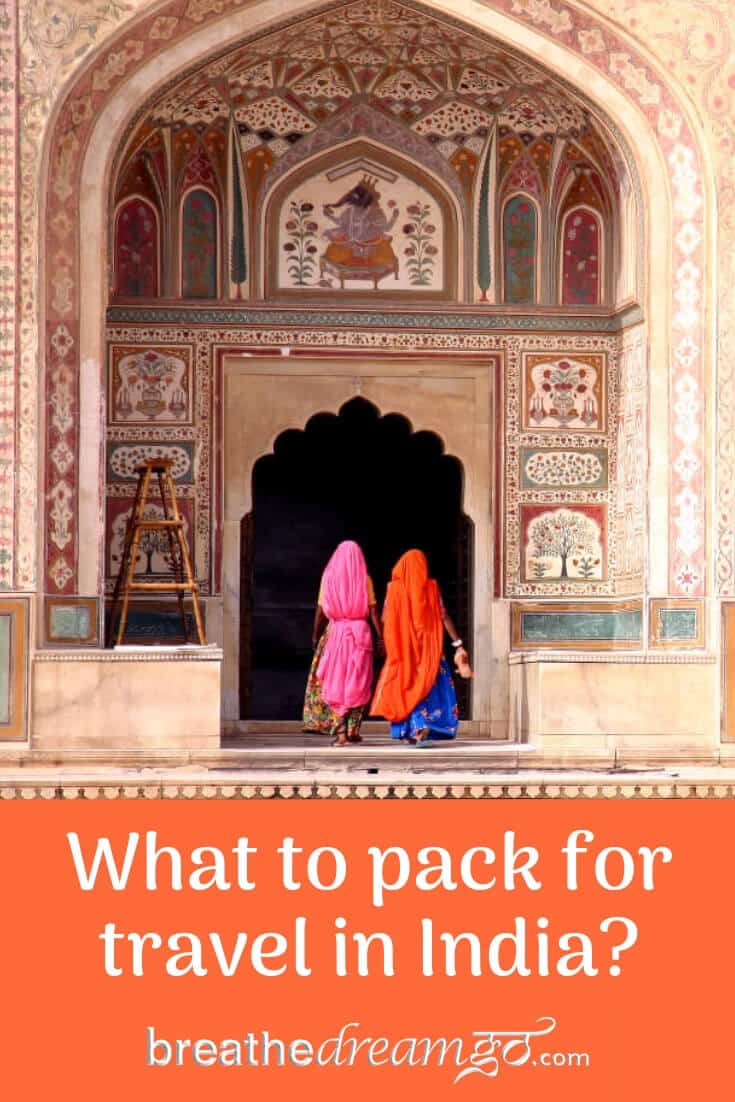 ---
If you enjoyed this post, you can….
Sign up to The Travel Newsletter in the sidebar and follow Breathedreamgo on all social media platforms including Instagram, TripAdvisor, Facebook, Pinterest, and Twitter. Thank you!