Best Sri Lanka food includes Sri Lankan curry, hoppers, sweets, and tea
A guest post from Lotte of Phenomenal Globe.
One of the main reasons I travel is to try new and exciting dishes. So, during our travels around Sri Lanka I tried out a lot of food. Even before traveling to Sri Lanka, I researched Sri Lanka food (I am a Type A traveler) and read about many different dishes and Sri Lankan recipes with delicious ingredients like coconut, chilli, and curry spices. Sri Lankan curry and hoppers were at the top of my must-try lists!
Despite its relatively small size (438 kilometres long and 225 kilometres wide), there are many cultures, languages and ethnic groups found within Sri Lanka. As such, there is also a lot of variety within Sri Lankan cuisine, making it a great culinary place to visit as well.
From the early days of trading, Sri Lanka has been involved in the spice trade. Known as spice island, cinnamon, nutmeg, cardamom, turmeric, curry leaf trees and chilli are just a few of the spices cultivated in and exported from Sri Lanka. All these spices play an important role in the delicious Sri Lankan cuisine. That's why Sri Lankan curry is one of the amazing dishes you can find in a Sri Lankan restaurant.
Throughout the years, Sri Lankan traditional food has been influenced by several nations, such as Portugal, Holland, Britain, and of course India.
While there is lots of variety in the Sri Lankan cuisine, rice plays an important part in most dishes. So important in fact, that there is a Sinhalese greeting which translates into 'Have you eaten rice?' Rice (dishes) are also part of important events such as weddings and New Year's celebrations. And rice milk or kiribath is traditionally the first solid food given to a baby.
Nevertheless, there is much more to Sri Lankan cuisine, ranging from seafood, to fresh fruits, dhal, coconut, curries, chutney and more. And let's not forget Sri Lankan beer and Sri Lankan sweets! After spending a month in Sri Lanka and trying out pretty much everything I came across, I have put together this post to give you a little peek into Sri Lankan (street) food!
TIP: Food is a big part of culture around the world. Explore the intersection of food and culture in this post about 19 culinary traditions designated by UNESCO.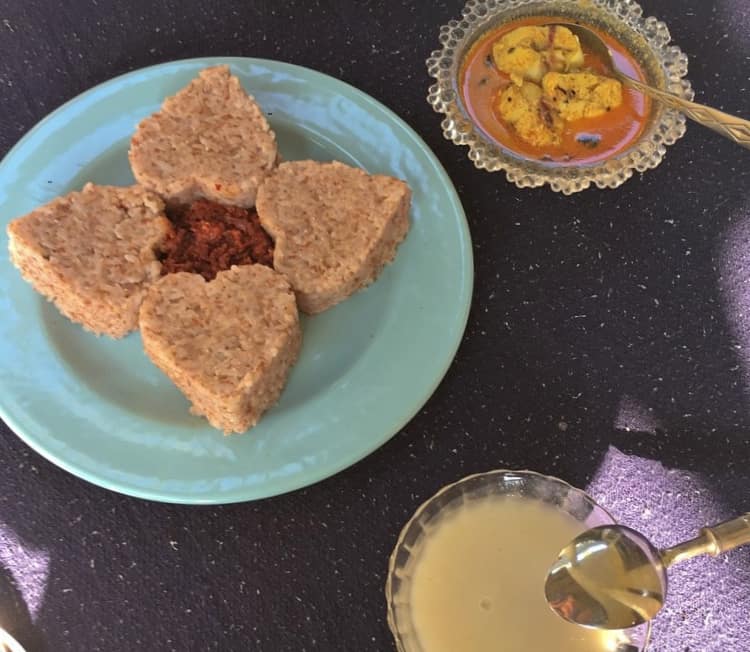 Best things to eat in Sri Lanka
Curry and rice
As explained above, rice is definitely a staple in many Sri Lankan food recipes and eaten every day. While rice is eaten in many varieties, curry and rice is considered the national dish.
Curry and rice may sound simple, but it's far from it. Each time you order curry and rice you will get a completely different dish. It can be a vegetable curry, a fish curry, curry with chicken or curry with something you can't define but that always tastes delicious.
There are usually several side dishes served with the curry and rice, and while these side dishes also vary (in number and content) sambol is bound to be included.
Kottu
Rice and curry may be the number one dish in Sri Lanka, but Kottu is a very close second! Kottu is delicious, I love kottu and would fly back to Sri Lanka just for a plate of this ultimately comforting (though admittedly not very healthy) food!
Kottu is a mix of chopped up roti, vegetables, and (depending on your preference) egg, chicken, or cheese. I usually asked for the spicy version. Though different at each Sri Lankan restaurant, I was never disappointed when ordering a plate of kottu.
My favourite roti kottu dish I ate in the famous Hotel de Pilawoos in Colombo, but my favourite kottu was a string hopper kottu. This type of kottu is made with very thin noodles instead of chopped roti. I bought this takeaway string hopper kottu from a tiny nondescript food truck somewhere along the road in Colombo and it was absolutely delicious!
Roti
There are numerous different types of roti found in Sri Lanka! There is vegetable roti, which usually comes in triangles, coconut roti, shaped like a small disk and egg roti, which is most often square shaped or rectangular.
I loved all types of roti and ate one or more pretty much every day of our one month Sri Lanka trip. Besides the more 'traditional' roti mentioned above, the Sri Lankans also serve lots of 'exotic' roti variations, such as pineapple roti, cheese roti, and peanut butter roti. I especially liked avocado roti and roti with banana and Nutella.
Roti is available everywhere in Sri Lanka, in restaurants, at train stations, in little streets carts by the road and even sold through train windows during short stops.
Sri Lanka hoppers
When looking for a hopper, Sri Lanka is the place to go! A hopper is a bit similar to a pancake, but with a hint of coconut and bowl-shaped. It was incredible to watch people making these tasty snacks. The layer of rice flower mixture in the pan is so thin, it's amazing the hoppers don't crack!
Hoppers come in several varieties. For breakfast an excellent choice is an egg hopper (a hopper with an egg in the middle).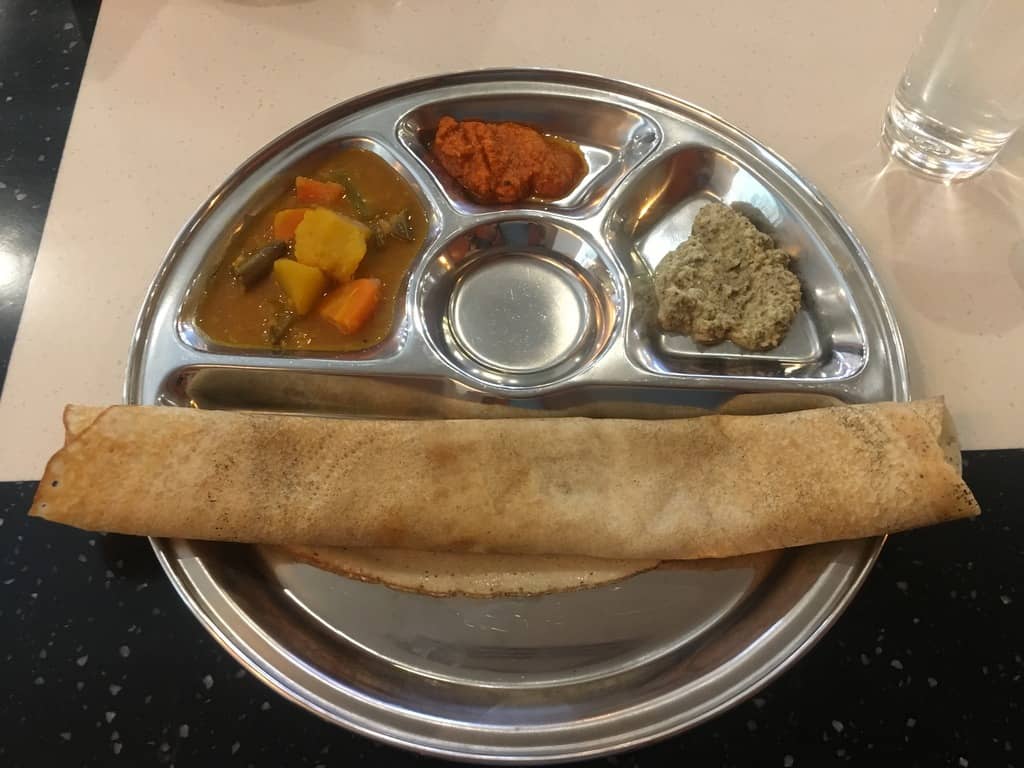 Dosa
While it's a bit of an ongoing debate whether dosa originated in India or Sri Lanka, Sri Lankans do dosa well. Very well! [Editor's note: I'm with the people of Udupi, Karnataka, who believe the dosa was invented there. Mariellen]
I ate my favourite dosa ever in Jaffna, in a local restaurant that was extremely busy with locals. The ghee dosa was superb, it was dripping with butter and so tasty. I would do the four-hour train ride from Anuradhapura to Jaffna all over again, just to eat one of those delicacies.
Other popular varieties are the 'regular' dosa or masala dosa.
Coconut rice
Breakfast is often said to be the most important meal of the day. The hostess at one of our lovely (budget) accommodations in Sri Lanka took this very seriously and made us such an extensive and delicious breakfast, including the aforementioned kiribath. Mixed with coconut and honey they made for an excellent (and very filling) breakfast!
Pani pol (coconut pancakes)
Another excellent Sri Lankan creation are these delicious coconut pancakes. Stuffed with sweetened coconut mixture, these rolled up soft crepes are a highly addictive. They can be eaten at breakfast but also at tea time. While not very healthy, pani pol is a very typical Sri Lankan food that you must try (at least once) during your trip.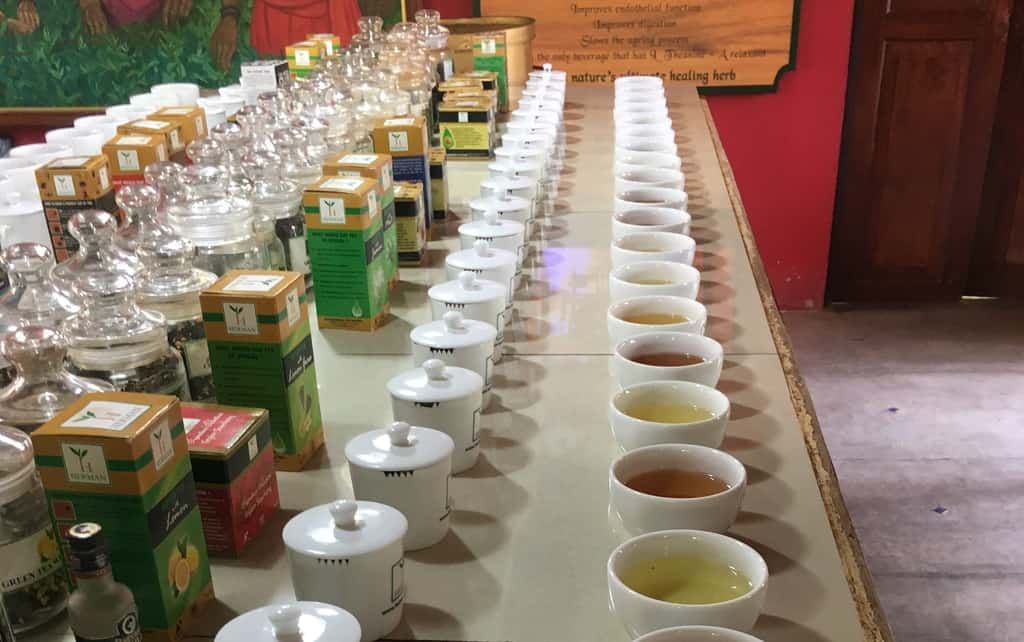 Tea
When a country used to be called Ceylon, no food list is complete without mentioning tea (even though it's a drink).
The cultivation of tea in Sri Lanka started after the British colonized the island and imported tea plants from China. The climate of Sri Lanka turned out to be perfect for tea and in 1867 the first tea plantation was founded by James Taylor. Tea remains one of the most important export products of Sri Lanka, in fact, Sri Lanka is the third biggest producer of tea in the world!
We visited several tea plantations during our Sri Lanka trip. On our train trip through the mountains between Ella and Nuwara Eliya, we drove through beautiful green tea plantations for hours. On the plantations you can sample many different kinds of tea and buy special types of tea as a souvenir.
Fruit juice
Also a drink, nevertheless, fruit juice should be included in this list. Due to Sri Lanka's tropical climate and fertile soil, many different native tropical fruits are cultivated.
For me personally, nothing beats a fresh pineapple fruit shake, though the mangoes in Sri Lanka are also amazingly tasty. And if you're up for it you can try wood apple juice, a typical Southeast Asian fruit which smells a bit like blue cheese.
Though this may not sound like a very appealing drink, it's actually not bad and definitely worth a try. Usually mixed with jaggery (cane sugar) and some water, it has a very typical sweet and sour flavour that many Sri Lankans absolutely love.
Vegetable fried rice with sambol
Officially a Chinese dish, but available all throughout Asia, vegetable fried rice is a great dish to eat for lunch. Or dinner. Or even breakfast! What makes vegetable fried rice in Sri Lanka special, is not so much the fried rice but the sambol. Sambol is eaten pretty much at every meal in Sri Lanka and why not, it makes everything taste better! (Pol) sambol is made from grated coconut and lots of chilli. Sometimes red onion, lime or fish is added as well.
---
Tip: Monsoon is a great time to travel in Sri Lanka. Read about the 14 Best monsoon travel destinations around the globe.
---
General information about Sri Lanka
Sri Lanka is a beautiful island located in the Indian Ocean, about 1400 kilometres off the south coast of India. This tropical island is also called the Pearl of the Indian Ocean, and with good reason: Sri Lanka is a wonderful place for a holiday.
With mountains, rain forests, ancient cities, beautiful beaches, and national parks where you can find elephants, leopards, crocodiles, and more, Sri Lanka offers a whole lot of things to do! We've spent one month in Sri Lanka and not nearly managed to see everything Sri Lanka has to offer.
History buffs must include Sigiriya, Anuradhapura, and Pollonnaruwa on their itinerary, while surfers should head to Arugam Bay, Unawatuna, and Weligama. Hikers will love to the mountains around Ella and Haputale. The mountains are also the place for train lovers, as the (dirt cheap) train rides are amongst the most scenic in the world. Here's a list of the best things to do in Ella.
Sri Lanka food: in conclusion
I hope you have enjoyed this list of the best things to eat in Sri Lanka. But don't limit yourself to just these dishes as there is much more to try in this colourful country!
Lotte is a thirtysomething adventurer from the Netherlands who tries to combine a full-time job and traveling the world with her husband and 1y old son. She writes about their family adventures on her blog Phenomenal Globe, her favourite countries are Canada, New Zealand and Japan.
---
Lead photo above is from amanjahemal on Pixabay.
---
Pin it on Pinterest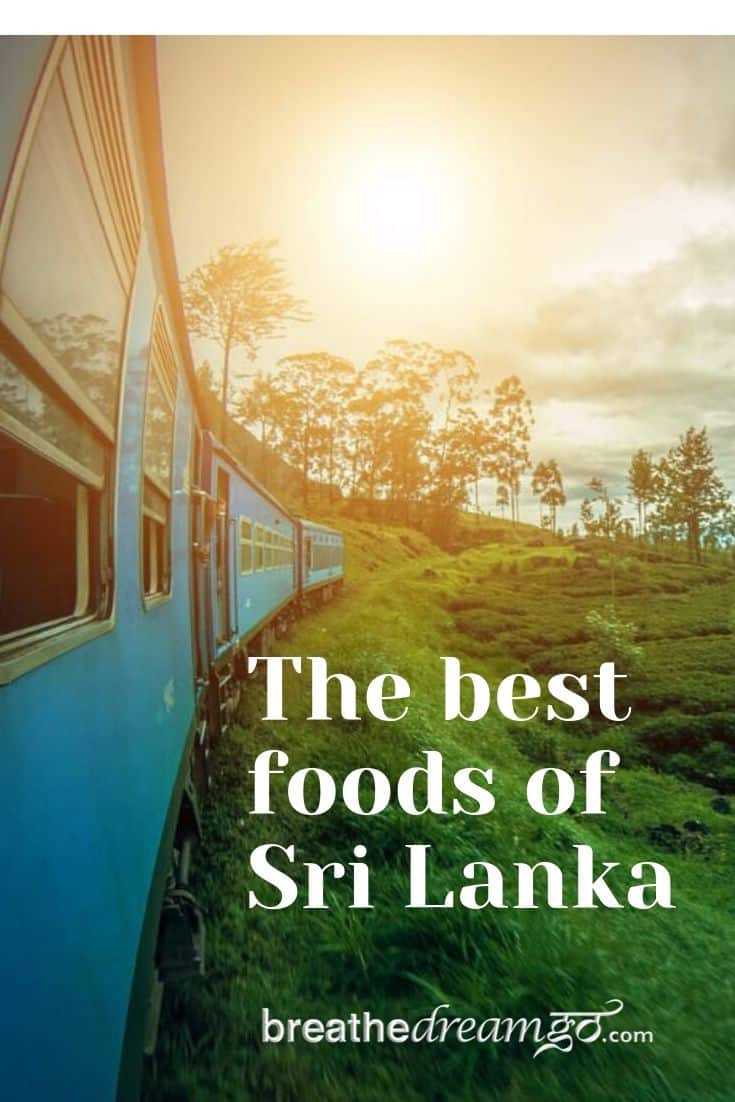 ---
If you enjoyed this post, you can….
Sign up to The Travel Newsletter in the sidebar and follow Breathedreamgo on all social media platforms including Instagram, TripAdvisor, Facebook, Pinterest, and Twitter. Thank you!