If you travel in India, you need to pack these
I HAVE travelled in India for about a year-and-a-half altogether close to five years over the last six or seven 13 years, and I have learned a thing or two about what you need to pack. First time visitors to India in particular should pay close attention to this list, and should consult my Packing list for India too. There are other things I make sure I carry with me that are not pictured here (such as tea tree oil, a sheet sleeping bag, quick dry towel, stainless steel water bottle, resuable water bottle, travel clock, and headlight), but for the sake of brevity and SEO, I picked these 10. To find out what they are and why they are necessary, read on.
Clockwise list of top 10 essential items for travel in India: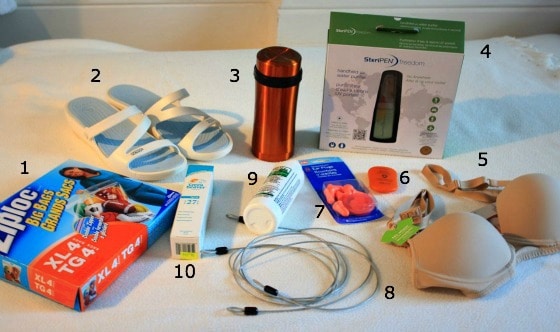 1. Plastic bags that seal. Did you see my Facebook update about the hundreds of ants that got into my stash of granola bars a couple of days ago at Aurovalley Ashram? No? It was a mess! There are so many uses for good quality plastic bags, I bring about about 5 each in three sizes. They keep humidity and insects out of your snacks stash, toiletries and electronics. Throw a silica bag in with your electronics when you are travelling during the monsoon.
2. Crocs. I have just discovered Crocs. I held out because the traditional style is so darned ugly, but the company now makes dozens of stylin' shoes, including these beauties that I am wearing — and loving — every day in India. Comfy, cool and waterproof. What more could you ask for?
Update: Since writing this, I have discovered Skechers! Now a big Skechers fan too.
3. Thermos cup. I call this "the bullet" as it is indestructible and completely water tight. Made by Mountain Equipment Coop in Canada, but I'm sure you can find other makers. Particularly useful for long train rides: just ask the chai-walla to fill 'er up.
Update: You can now buy this kind of thermos in India.
4. Steripen. The Steripen  is a new item and I am loving it. I bought the small travel size, which uses ultraviolet light to kill all bacteria and other bad things in water. Expensive, but well worth it as most travel illness is caused by waterborne squigglies.
Update: I am also carrying a reusable water bottle with me all the time, and refilling it with RO water. Plastic pollution has become a serious problem, and I try to avoid adding to it!
5. Modest yet comfortable bra. Very hard to find in North America, never mind India. I searched around and stocked up on a few different styles before leaving. For the ladies, I HIGHLY recommend this! You have to wear a modest bra in India, that covers and protects you fully, believe me. The first time I travelled in India (for six months) I had a bra crisis. Not fun. Leave the lacy, frilly, see-through bras at home.
6. Laundry leaves. The little orange packet is full of little slips of paper soaked in laundry detergent. It takes up very little room, will not make a mess, but will really come in handy when you have to wash your unmentionables in the sink.
7. Earplugs. Have you ever seen a Bollywood movie? I love India, it's full of life … but quiet it is not.
8. Cable locks. The cables are pictured here but not the locks (sorry, forgot to include them). Invest in some good quality suitcase locks and steel cable, for locking your pack or suitacases while travelling by train or bus; and to heavy furniture in hotel rooms. You will be glad you have them.
9. Insect repellant. I like Watkins, which is a cream. It doesn't smell and though it does contain DEET (necessary), it doesn't seem particularly toxic. There are night-time mosquitoes in India that can carry malaria; and day-time mosquitoes that can carry dengue fever. I also have a small travel size bottle of Watkins that I refill and always have in my purse … and don't hesitate to use whenever I see even one mosquito, because unlike me, they never travel alone.
You can buy Odomos in India that seems to work well, too.
10. Sunscreen. I have very fair skin and I just don't really trust Indian made sunscreen. I'm not sure the industry is as well regulated as it is in North America.
Tip: Click here to find out about best cross body bag for travel.
---
If you are interested in travel in India …
---
If you enjoyed this post, please sign up to The Travel Newsletter in the sidebar and follow Breathedreamgo on all social media platforms including Instagram, TripAdvisor, Facebook, Pinterest, and Twitter. Thank you!