Looking for the best Thai food in Thailand on many trips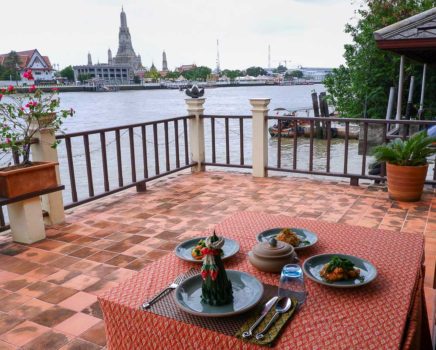 Thailand is one of the top tourist destinations in Asia for many reasons that include the tropical climate, the beautiful beaches, the warm and friendly people, and Thai cuisine! From traditional foods, to popular Thai dishes such as pad thai, to street food in Bangkok and Chiang Mai, Thai food is always tasty and delicious.
Thai food (along with Indian, Japanese, and street food of Vietnam) is one of my top three favourite cuisines, and I have been to Thailand about four-five times, so I've had lots of opportunities to sample Thai dishes all over the country. This is a personal guide to the best Thai food in Thailand and it covers gluten free, vegetarian, and healthy options.
There are many ways to sample Thai food in Thailand from taking a walking tour, to sampling street market stalls, to going on a cruise that visits several destinations. One of the best Thailand cruises visits Bangkok, Koh Samui, and Phuket. One of the best food tours I have taken was with Urban Adventures in Bangkok.
Recently, I was in Bangkok and Chiang Mai, and I made sampling Thailand traditional foods, street foods, noodles, Thai curry, and mango with sticky rice a focus of my trip. I have also been to Koh Samui, Phuket, Koh Kood, Trat, and several other locations in Thailand on other trips.
---
More reading about Thailand
---
What is Thai food?
Thai food is popular the world over, and many of the best Thai dishes can be found almost everywhere. Most people know some of the more popular food dishes from Thailand:
Pad Thai, a spicy fried noodle dish,
Som Tam, papaya salad,
Khao Soi, coconut curry noodle soup,
Kao Niew Ma Muang, mango with sticky rice. See the video below for instructions on how to make this easy, delicious dish!
However, there are many, many more Thai dishes, and also regional cuisines, available in Thailand. I was very lucky to visit a fabulous restaurant in Chiang Mai called Ging Grai that featured Thai cuisine from the North, Northeast, Central, and Eastern regions. Each region had a page in the menu that explained the dishes, and it was easy to see how different these food traditions and cuisines are.
All the dishes at Ging Grai are made from family recipes and feature flavours that are rarely found in other regional restaurants. Dishes from the Northern region include ab pla duk (grilled catfish in curry paste), kanom jeen nam ngiaw (fermented rice noodle with spicy pork rib sauce), and larb nuer (Northern style larb with pig's blood). The dishes from Northeastern Thailand's Isan cuisine include tum sua (spicy papaya salad with fermented rice noodle), gaeng om gai (spicy chicken thick soup), and larb pla tong (Chitala fish larb).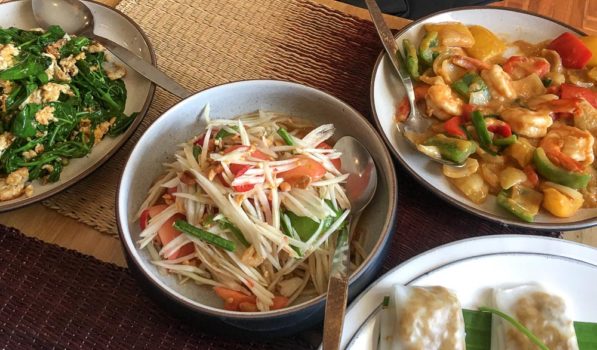 Dishes from Central Thailand include kanom jeen sao nam (fermented rice noodle with coconut sauce), si-krong moo tod nampla (fried spareribs with fish sauce), and goong kratiem pad kai khem (stir-fried shrimps with garlic and salted egg). Ging Grai alsi serves hard to find Eastern dishes like maeng krapoon nampla whan (jelly fish with sweet fish sauce), yum pla sala khem tod (spicy salad with fried salted talang queenfish), and gaeng pa hed kon tua fak yao (spicy clear curry with mushroom and yard-long beans).
Generally speaking, Thai food from the Central region, including Bangkok, features a lot of fish and seafood dishes. Thai food from the North region includes a lot of meat dishes such as pork and chicken. Larb, which is spicy meat salad, is from the North. Tum Thai, the original Thai spicy papaya salad, is from the Northeast.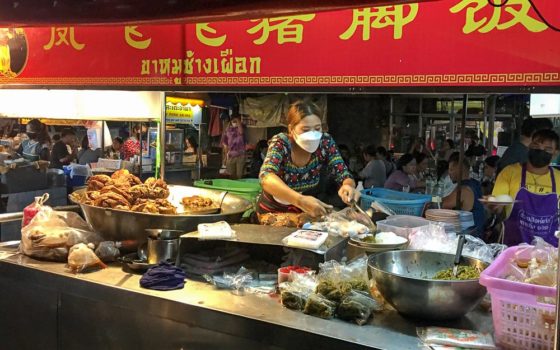 Thai street food
When I am in Thailand, I do not hesitate to eat street food. In other parts of the world, street food might be questionable, but in Thailand it is almost universally fresh, tasty, and hygienic enough to be safe for most people. I have never had travellers' sickness in Thailand.
You can find Thai street food everywhere in Thailand. I have grazed night food markets in Trat, Bangkok, Chiang Mai, Phuket, and Koi Samui – stopping to sample whatever looks tempting.
When I was in Chiang Mai, I went around to a couple of night food markets — Chang Phueak and Chiang Mai Gate. Anthony Bourdain visited the Chang Phueak night food market to eat khao kaa moo (roasted pork leg) at the stall of the "Cowboy Hat" lady. The stall is still there, but not the Cowboy Hat lady. It was a nice feeling to eat spicy Thai food on a little plastic stool in the same food market that Tony visited.
I ate papaya salad, sticky rice, seafood pad see ew, coconut smoothie, and a yummy coconut dessert called khanom crok. It was a very fun night out — and super affordable. I think I spent less than 380 Thai baht (about $14 Canadian).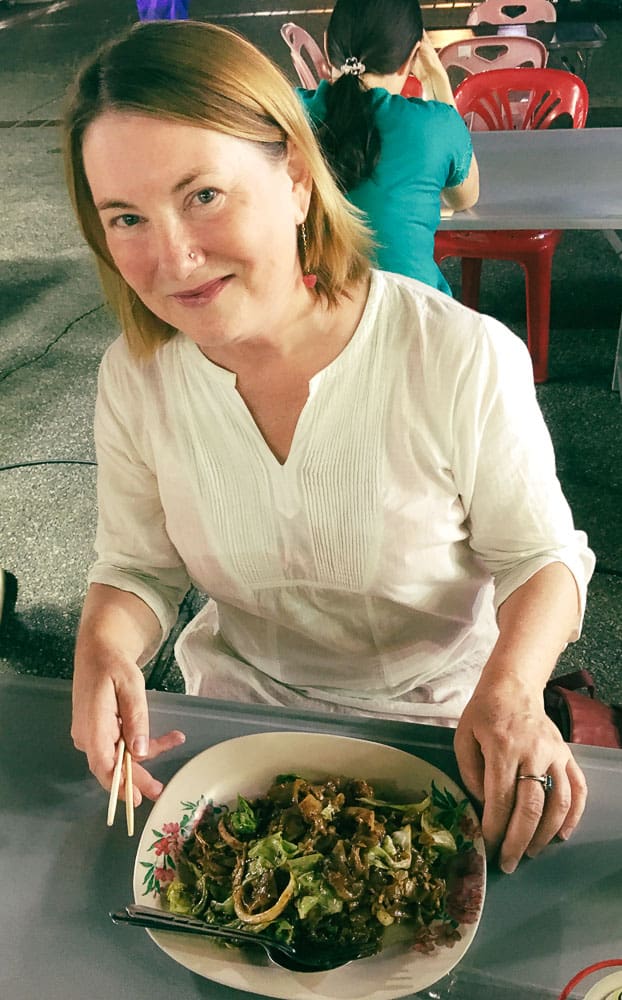 Bangkok street food
Bangkok is probably my favourite food city in the world (though it's in a very close race with Tokyo and Delhi, with New York as a distant fourth). There's so much great food in Bangkok, that a guide to Thai food in Bangkok, or Bangkok street food, would run into millions of words! So instead of trying to be comprehensive, I will just tell you about some of my favourite food experiences.
My go-to food in Bangkok is usually spicy, and often composed of noodles and seafood or rice and seafood. Which means pad thai of course, and mango-with-sticky rice. I also love som tam salad, and other spicy fruit salads. But that's not all I eat.
On my recent visit, I went with blogger Derek Freal of The Holidaze to visit Prachak Roasted Duck. I was too busy eating the delicious food to take any images, so I found this blog post, which pays a loving tribute to this iconic food temple in Bangkok and includes a video, too.
I like to stay at an Airbnb very near Thewet Pier, and I have eaten at a lot of places within walking distance on several visits. There are streets lined with small stalls selling everything from fried bananas, to grilled meat, to tiny crepes and much, much more. I love Mark Wiens of Migrationology's guide to Bangkok street food sanctuaries. You can read it here.
Healthy Thai Food
Generally, I find a lot of Thai food to be pretty healthy because it tends to be low in fat, uses fresh ingredients, and often features fish, rice, fruits, and vegetables. Of course, there are a lot of rich, greasy, meat-based dishes, sweets, and other less-healthy foods to be found, but it depends on what you choose.
Healthy dishes include fruit salads such as som tam (papaya) and yam mamuang (mango), stir fried vegetables (such as stir fried morning glory greens), steamed fish (such as snakehead fish), and fresh spring rolls.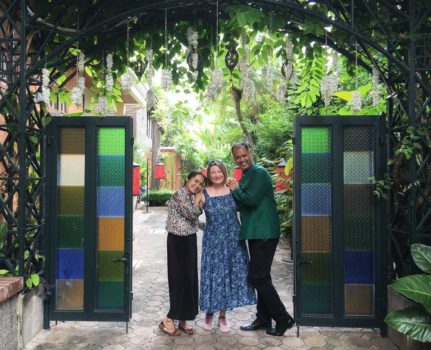 Some of the best meals I have had in Bangkok were at the charming Chakrabongse Villas boutique hotel. A royal residence, Chakrabongse Villas was built in 1908 by Prince Chakrabongse, along the banks of the Chao Phraya River in the heart of Old Bangkok, almost directly across the river from Wat Arun (the Temple of Dawn). It's a tranquil haven with only seven, suites set in a lush tropical garden that surrounds a glamorous swimming pool.
At their intimate waterfront dining room, Chakrabongse Villas serves traditional Thai food that's delicious, flavourful, and very fresh. Everything I have ever eaten there was healthy because of the fresh ingredients and caring attention to detail. A full course meal might include a pyramid shaped mound of purple sticky rice, seafood curry, stir fried vegetables, and spicy fruit salad.
For very healthy vegan and gluten free food in Thailand, the best I have seen was at the Soneva Kiri in Koh Kood. This luxury property is a stunner on a paradise-like island in the south, off the coast of Trat. And it's not just luxurious, it's also heavily invested in sustainable practices. You can read my full report on Soneva Kiri, one of the best luxury resorts in Thailand here.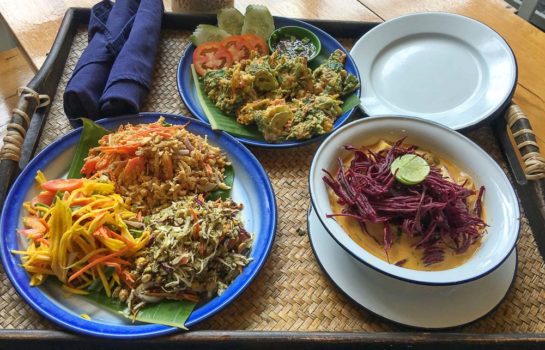 Chiang Mai is also a haven for healthy, vegan, and gluten free Thai food, especially in the Nimman neighbourhood – the digital nomad hub. I ate very well when I was there. I especially loved the food at Aum Vegetarian and Free Bird Cafe. Both of these places make fresh, tasty, healthy vegetarian and vegan food.
Aum Vegetarian is a homey, family run cafe with a very casual, welcoming vibe. It's set in a traditional Thai house, on a back street at the edge of the Chiang Mai's old city. The food is fresh and delicious and tastes home made. You can see the reviews of Aum on Happycow here.
At Free Bird Cafe in Nimman, there are Thai, Burmese, Shan and hip, western options. You can eat indoors or outdoors, and the food and service is excellent. Prices are a bit steep at Free Bird Cafe, and all proceeds support Burmese refugees.
There are so many amazing food options in Chiang Mai, especially in Nimman, the Old City, and the various the night food markets. A food tour would be a good option both in Chiang Mai and Bangkok.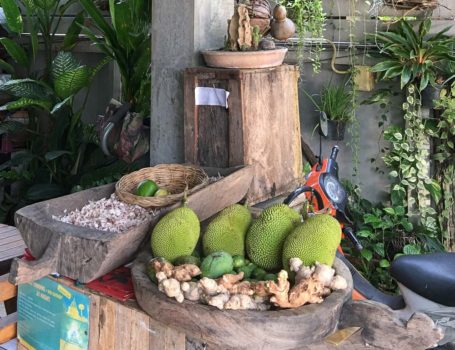 ---
If you enjoyed this post, you can.
Sign up for Dispatches in the sidebar and follow Breathedreamgo on all social media platforms including Instagram, Facebook, Pinterest, and Twitter. Thank you!