IN ALMOST EVERY COUNTRY, some of the best food available is street food, and Italy is no exception. Street food in Italy is just as tasty, delicious, and wonderful as many of the other dishes Italy is famous for around the world. Moreover, different cities and regions are known for speciality street foods that often can't be found anywhere else in Italy.
One of the best ways to get to know the culture of Italy, is to find out the specialty regional foods, including the street foods, and try them as you travel. When in Naples, you can't miss Neapolitan Pizza of course! And in Sicily, the sweet, light flavour of Granita is a must-try. In Rome, Trapizzino has captured the hearts of locals and has to be tasted.
Take a Grand Food Tour of Italy! Use this guide to the 15 most popular street foods of Italy, and plan a trip by train through Italy to discover local food specialities in each region. Start in the north, in Venice, and work your way south by train, stopping at Bologna, Rome, Naples, the Amalfi coast, Bari … and then on to the islands of Sardinia and Sicily!
---
Cicchetti in Venice
Contributed by Maddalena from Venice Travel Tips
A popular Venetian street food of Italy is the cicchetti. They are not only the king of all street food in Venice, but also a cultural experience not to miss when visiting the city of water and bridges. The famous finger food is the equivalent of Spanish tapas: small pieces of bread with various fresh toppings.
You can find cicchetti made with cured hams, cheese, seafood or fish and vegetables. When in Venice, you should definitely try the sarde in saor and the creamed cod. What makes cicchetti so delicious is the freshness of the ingredients and the richness of the flavours. You may be surprised by how tasty they are, and they can satisfy just about every palate. This means that if you're vegetarian or vegan, you can find cicchetti prepared with vegetables and/or cheeses only. Not many places serve gluten-free cicchetti, but you can find them at Osteria I Compari.
You can try this traditional street food at the bars which are called bacari. They are traditional wine bars and you can find many of them dotted around Venice. A bacaro is characterized by wood furnishing and dim lights. The word cicheto means small bite in Venetian and it was originally consumed by merchants with a glass of red or white wine to celebrate the end of a successful commercial transaction in the Rialto bridge area. Even today, cicchetti is normally served with a glass of wine, in Venetian dialect called ombra de vin or a glass of Aperol Spritz.
---
More street food posts on Breathedreamgo
---
Piadina in Bologna
Contributed by Izzy of The Gap Decaders
A piadina is a classic northern Italian street food, believed to originate from the famous food city of Bologna. A delicious slightly crumbly and usually round flatbread, a piadina is thicker than a tortilla and thinner than a pita bread. The texture is slightly chewy and soft, with toasty bits on the outside where they are cooked on the griddle.
The piadina has a very subtle olive oil taste, one of the three ingredients used to make this bread, the other two being simple flour and water. But the piadina doesn't need to be strongly flavoured as it's really a vehicle for other flavours.
The joy of a piadina is that you can choose the filling, just like in a sandwich — except the piadina is the size of a dinner plate, and the filling is rolled inside when the bread is fresh off the griddle!
You can buy piadina in most delicatessens, where they'll fill it for you as you watch, with your ingredients of choice. You can find gluten-free and even vegan piadina across Bologna, just look for the signs senza glutine and vegani.
Ideally you'll want a soft Italian cheese like Squacquerone di Romagna, another Bologna speciality. Squacquerone is soft and crumbly and will melt just a little from the warmth of the bread, stopping your piadina from being too dry. Add piquant salami, or Prosciutto di Parma, made just up the road from Bologna, and a splash of peppery rocket or watercress for the most perfect taste of Italy as you wander the historic streets of Bologna.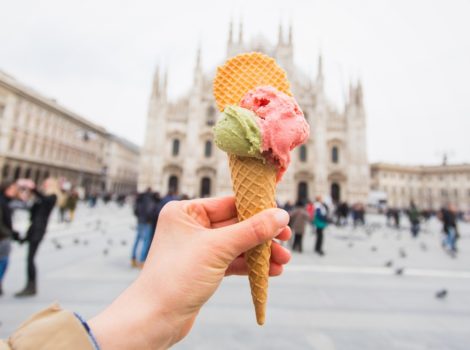 Gelato in Rome
Contributed by Nicholas of Rambling Feet
In the height of a Roman summer, who can resist a cold scoop of sweet gelato in a cone? Gelato is a beloved street food of Italy! In Italy, gelato refers broadly to all kinds of ice-cream, even though the English-speaking world tends to reserve it for artisanal Italian-style frozen desserts. It is usually milk-based, but it has a lower percentage of fat and air in it than conventional ice cream. Don't despair if you are vegan or lactose intolerant, because many contemporary gelateria have grain or nut-based options. Gelato today is a completely different animal from the sorbet-like recipe from the Middle East that it was probably based on.
These days, most gelateria display their flavours in open tubs with generous toppings. It is visually appealing and attractive, but don't rule out stores that keep their wares lidded like Fattore (near the Vatican Museums) does. It's hard to go wrong with local and seasonal ingredients like pistachios and lemons, or good old-fashioned fior di latte or stracciatella. Feeling adventurous? Then head to Günther near Ponte Sisto for pine or ricotta-and-strega flavoured gelato. Fret not if you're visiting in the colder months because many stores open year-round, so you'll get to enjoy your frozen treat longer without it melting.
Learn more about food in Rome here.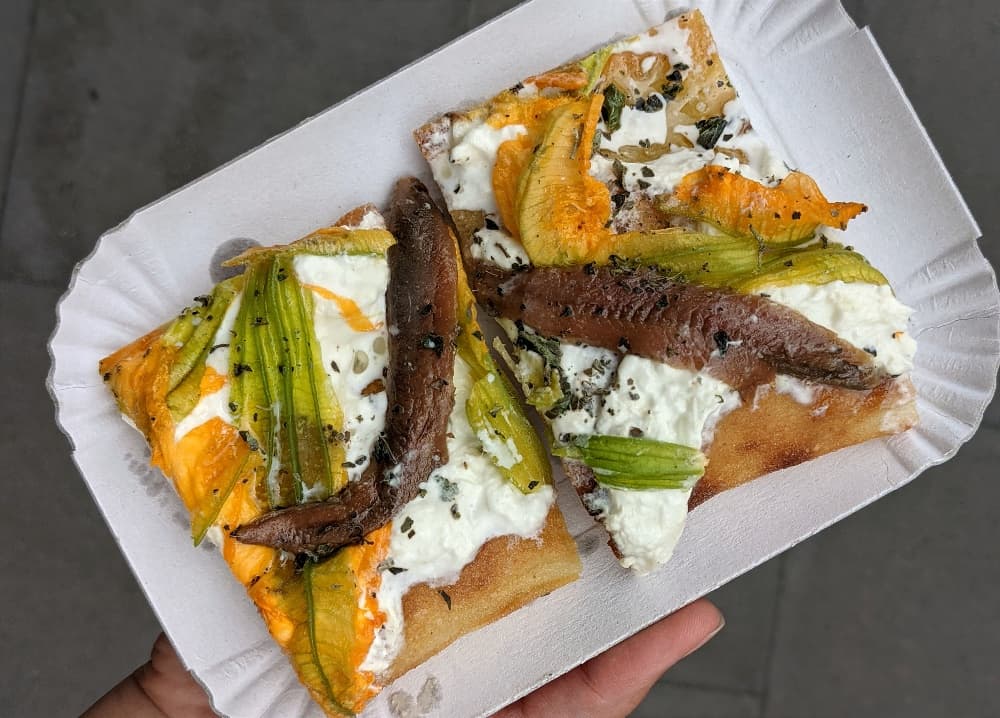 Pizza al Taglio in Rome
Contributed by Gabriel of Chef Travel Guide
The ultimate street food in Rome is the legendary pizza al taglio which is sold by the slice and paid for by the kilo. It is the ultimate street food of Italy! You get to select as many different types of pizzas as they have prepared, and then you tell the baker how thick to slice each flavour.
This type of pizza has a thick and airy dough similar to focaccia which is perfect for eating on the street. Pizza al taglio comes topped with a myriad of ingredients depending on the baker's creativity or what's in season at the moment.
One of our favourites is a combination of roasted tomatoes and basil with a large piece of cold burrata cheese on top that we tried at Antico Forno Roscioli. Another stand-out slice was at Casa Manco in the Mercato di Testaccio where they topped the dough with squash blossoms, ricotta, and anchovies.
Luckily for the vegetarians, most pizza al taglio options are vegetable-focused and based on what's coming from the market. This gluten-heavy treat is a celebration of bread with some options that only include olive oil and sea salt.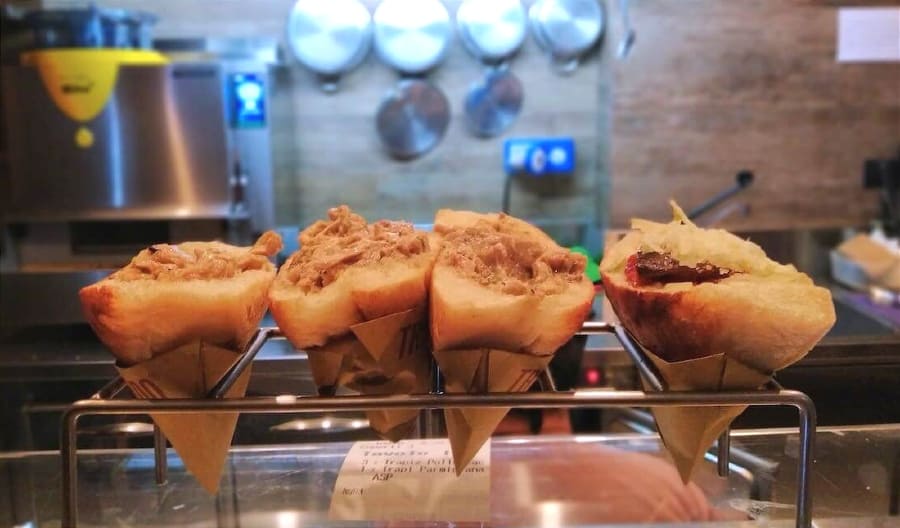 Trapizzino in Rome
Contributed by Annalisa of Travel Connect Experience
Those passing through Rome should try the street food that has made its way into the hearts of contemporary Romans: the trapizzino. The trapizzino was born in Testaccio, the best neighbourhood in Rome for foodies, in Stefano Calligari's pizza al taglio shop.
The pizzaiolo had the idea of using corners of fragrant pizza bread as pockets to be filled with a small portion of a typical Roman or Italian dish. There are five basic toppings for the trapizzino, to which are added the fillings of the day –including options for vegetarians and seasonal foods. The main feature of the trapizzino is that it is so delicious that, while very hearty, you will want to eat at least two.
Among the trapizzinos, try these favourites: trapizzino with chicken cacciatora, trapizzino with eggplant parmigiana, trapizzino with meatball sauce, trapizzino with Roman artichokes, and trapizzino with burrata cheese and zucchini.
From Rome, the trapizzino has taken off to Florence, Milan, Trieste, Turin, and New York. In Rome, try the trapizzino in Trastevere at Piazza Trilussa 46 and in Testaccio at Via Giovanni Branca 88.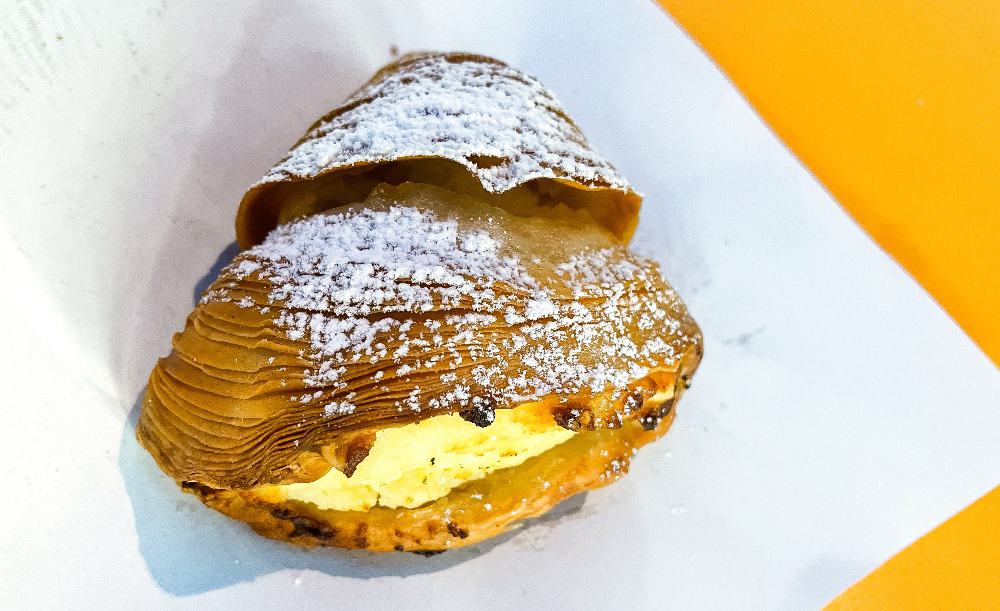 Sfogliatelle in Naples
Contributed by Sam from My Flying Leap
If you're looking for an incredible Italian pastry with just a touch of sweetness, look no further than sfogliatelle. It's a Neapolitan pastry that you can find everywhere in and around Naples, and you'll also see it in Rome.
This exquisite pastry was created in a monastery in the Campagnia region. In the 17th century, a pastry chef from Naples got the recipe and began selling it in his pastry shop.
Sfogliatelle means "small, thin leaf" and this shell-shaped pastry resembles stacked leaves. It's delectably crispy with thin layers surrounding a rich, creamy inside.
The traditional mixture inside is made of ricotta, flavoured with a light orange and almond paste, and it sometimes contains candied orange pieces. It's dusted with powdered sugar, giving it a crunchy, creamy, and rich flavour with a little sweetness. You'll also find sfogliatelle in different flavours at specialty shops.
Sfogliatelle is neither gluten-free nor dairy-free. There are likely no vegan options given the butter used to perfect the crunch of the pastry and the ricotta filling, but it is vegetarian.
You may see two kinds of sfogliatelle: the sfogliatelle riccia (curly), which is the typical layered version, or the sfogliatelle frolla, which uses shortcrust dough in a less labour-intensive version (but not nearly as fun to eat).
Learn more about food in Naples here.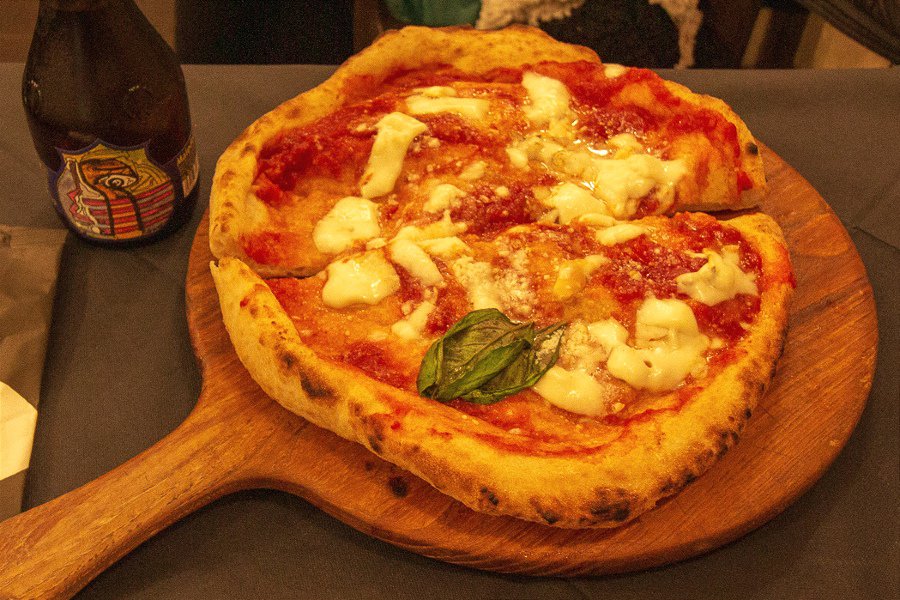 Neapolitan pizza in Naples
Contributed by Alex from Just Go Exploring:
If you're looking for the best pizza in Italy, you need to go to Naples.
This is where pizza was invented after all, in the late 18th century, by poor Napolitanos who decided to top their flat-breads with tomatoes. Genius!
Traditional Neapolitan pizza has a thin, crispy crust and is topped with high-quality fresh tomatoes, basil and olive oil. This most classic variety is known as a marinara, and it's a thing of beauty. Simple, satisfying, and utterly delicious – you should definitely try at least one of these amazing pizzas during your time in Naples.
Another common variant is the margherita, which is essentially the same as a marinara but with the addition of fresh mozzarella. This is my favourite type of Neopolitan pizza.
Super-purists might tell you that you should only ever order a marinara or a margherita when in Naples. I say this is nonsense, there's so much incredible pizza in the city, so why limit yourself!
Some of the most famous pizzerias in Naples are on Via Tribunali, which is often called Pizza Alley, in the historical centre of the city. Sorbillo is one of many exceptionally good places to sample true Neopolitan pizza, and is worth the queue (which can be fairly long).
Traditional Neopolitan pizza is vegetarian, and most pizzerias offer gluten-free versions of their classic crust.
It's not an exaggeration to say that eating true Neopolitan pizza is a life-changing experience. Once you've tasted one, you'll never look at those oven pizzas in the same way again. Pizza is the pinnacle of street food of Italy.
Amalfi Lemon Ice Cream
Contributed by Monique at Trip Anthropologist
Eating ice cream made from lemons freshly grown on the Amalfi Coast is a truly delicious experience! The texture and flavour are similar to frozen lemon meringue pie.
Amalfi lemon ice cream uses lemons called Sfusato Amalfatino. They are shaped like a spindle. They're grown all over the Amalfi coast on wooden trellises and covered in green mesh to protect them as they grow. Many years ago the original lemons (the ones known as Sorrentino lemons) were crossed with local Amalfi oranges.
The juice of the lemons and their rind is mixed with eggs, sugar, and cream and then frozen to make this heavenly and very local treat!
Of course, you can only find it in the ice cream shops on the Amalfi coast — you can't even find it in Rome or Tuscany, which aren't that far away. Lemon ice cream in other parts of Italy, and even in nearby Sorrento, won't necessarily be made with Amalfi lemons.
It is served in cones or cups and the ingredients themselves don't contain gluten. Unfortunately, there aren't vegan options for this sensational ice cream, but surely it can't be far away!
Focaccia Barese in Bari
Contributed by Anda from Travel For A While
Focaccia is a flatbread specialty popular all over Italy. It was originally an Etruscan type of bread, and it became popular in ancient Rome.
Some regions have their own variations. Genova and the Liguria region is especially famous for focaccia. In Bari, the typical Apulian focaccia, also known as focaccia barese, is fluffy and topped with tomatoes and olives. Add to that some coarse salt and herbs, and you have the perfect bite.
Well, not really. There are some secrets involved. In addition to the wheat flour, they add mashed potatoes into the dough to make the focaccia light and delicious. The yeast will make the focaccia rise before going into the oven. Some Apulian olive oil adds the final touch.
There are no gluten-free options, but focaccia barese is the perfect snack for vegetarians.
You can find focaccia barese in every bakery in Bari and the surrounding region. When you need a snack, look for a forno sign. You can eat a slice on the go, warm and fresh out of the oven, for a taste of Apulia.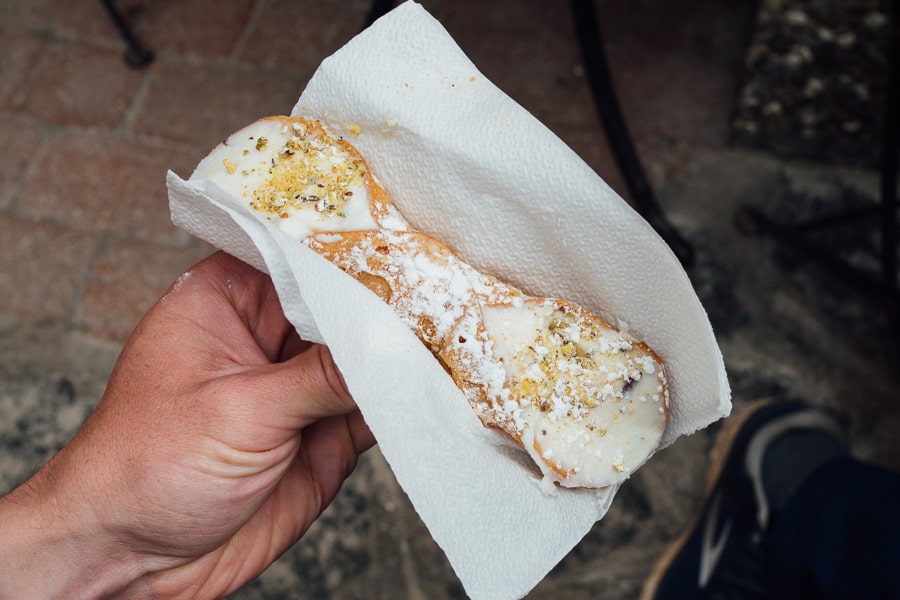 Cannoli Siciliani in Sicily
Contributed by Emily from Wander-Lush
It's no secret that Italians have a bit of a sweet tooth. When it comes to street food of Italy, many are sweet … and no one does delectable pastries quite like the Sicilians.
Cannoli Siciliani is a traditional treat born on the streets of Palermo and embraced by the entire country – and the rest of the world. A cannoli is essentially a cylinder of crisp, bubbly pastry filled with smooth, light whipped ricotta.
Many different regional recipes for cannoli exist, with Marsala wine, candied fruit, coffee, chocolate nibs and/or cinnamon all used to flavour the filling. On the island of Lipari you can find cannoli made with pistachio and preserved lemon.
One very important characteristic shared by every good cannoli is a super-crisp pastry shell, and this can only be achieved by adding the filling at the very last minute. The medley of creamy and flaky textures is what makes this snack so good.
The name cannoli comes from the Italian word canna, which refers to the river reeds that were traditionally used to mould the pastry. It's believed that the recipe was developed during Saracen times in the 10th-11th century and originally deployed for Carnevale celebrations. These days cannoli are available year-round at almost every bakery and cafe in Italy.
Some places offer a gluten-free version made from alternative flours.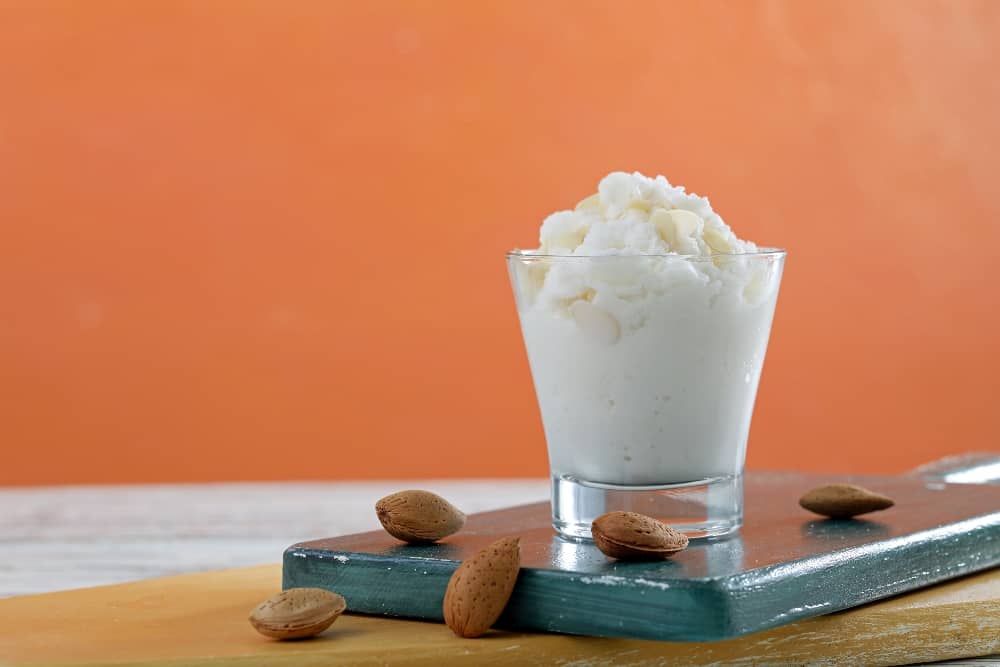 Granita in Sicily
Contributed by Caroline of Veggie Wayfarer
Granita is a frozen dessert made up of ice and fruit flavouring. This delicious street food is comparable to gelato except it is fully vegan (no milk products are used) and a lot more refreshing. Granita is a traditional Sicilian food hailing from the shores of coastal Messina where it has been eaten for more than 4,000 years.
Ask any Sicilian how to eat a granita and they will staunchly respond "with a brioche of course." The beauty of granita is that it can be eaten for breakfast (in fact it is often the breakfast of choice during the blistering summers in Sicily), as a midmorning snack or as a dessert after a hearty meal.
These days Granita is ubiquitous around Italy, yet the very best granita is eaten in eastern Sicily in towns like Messina and Noto. Traditional flavours include lemon, almond, strawberry, plum, and pistachio served with a generous topping of whipped cream and the ever-present brioche on the side.
Arancini in Sicily
Contributed by Lavina of ContinentHop
Arancini balls are delicious, deep-fried rice balls with a crunchy exterior and a centre usually filled with mozzarella and ragu. Arancia means orange, and arancini means a little orange, which is how these rice balls look once they're fried.
A typical street food of Italy, Arancini are made from risotto rice; however, many places also make them with regular rice. The balls are pretty versatile as, in addition to mozzarella, many stuff them with fillings of their choice, such as meat, mushrooms, and swordfish. Arancini hail from Sicily and making arancini is time-consuming as risotto rice is traditionally used. The best arancini are made from leftover risotto rice and come in two shapes, perfectly round as they're usually found, or in a pear shape with a stuffing of prosciutto and cheese.
Some believe arancini originated in Sicily in the 10th century during the rule of the Arabs in the area. During this time, the rice was flavoured with saffron giving it a bright orange hue leading to its name. Others say it originated in the Campania region and was introduced here by the Aragonese. Irrespective of how they originated, arancini are vegan friendly depending on what they're stuffed with and since the main ingredient is rice, they are also gluten-free.
Focaccia from Sardinia
Contributed by Iris Veldwijk of Mind of a Hitchhiker
A truly Italian specialty that will keep you going all day long is their best bread: focaccia (foh-CAH-chyah). Get it in a paper bag for takeaway and eat it at a lighthouse, a beach, or on a scenic scooter trip break. Most versions travel well in minimal packaging.
This gift from the oven gods is good by itself. It only contains flour, water, salt, yeast, and a lot of olive oil—and it's that last one that makes it taste so satisfying. Plain is good, but the versions with rosemary or cherry tomatoes baked in are even better. And the best focaccia is the one that's been sliced open and stuffed with more goodies. Typical fillings are tomato, arugula, cheese, egg, bacon, tuna, and anchovies.
Focaccerias are everywhere in Italy with many local interpretations, including sweet varieties. My favourite is Bar Focacceria Milese in downtown Alghero on the island of Sardinia. They've been slicing open focaccias for over 50 years and you can taste the craftsmanship. You can see them cut the focaccia-for-giants into focaccia-for-humans behind the counter. My favourite is the vegetarian focaccia with eggplant and cheese (melanzane e formaggio).
Traditional Italian focaccia is not gluten-free, though some businesses do offer a gluten-free version. The default focaccia you'll find everywhere is vegan, so it's usually the toppings or fillings that make it non-veg. It might take a few tries, but there's a perfect focaccia sandwich out there for everyone.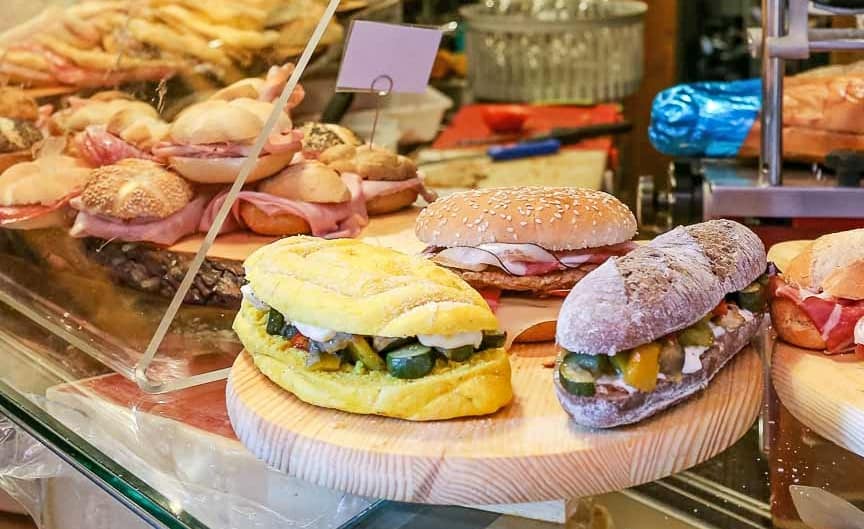 Panini and Crostini … throughout Italy
Contributed by Lori from Italy Foodies
It's not surprising the street food of Italy is among the best in the world given its social nature and the fact that the food culture in Italy is so deeply rooted in cucina povera, or peasant food. Some of the best street food is made using leftover ingredients like bread, the foundation for any great panini or crostini.
You'll find single slices of bread known as crostini topped with assorted veggie spreads like pesto or caponata, or rubbed simply with garlic and oil. If there's two slices pressed tightly by a grill, you have the panino, and the choices of stuffings are endless — and veggie options abound for both!
In southern Italy, grilled eggplant is a favourite stuffing, while cheese topped with greens make the perfect melted panini in northern Italy. The Caprese mix of tomato, basil, and fresh buffalo mozzarella between fresh bread is a dream street food combo in Naples and the Amalfi Coast.
You may have to search harder to find gluten-free options, but take heart. Unique twists on the traditional panini and crostini can be found, such as grilled polenta crostini and gluten-free bread options.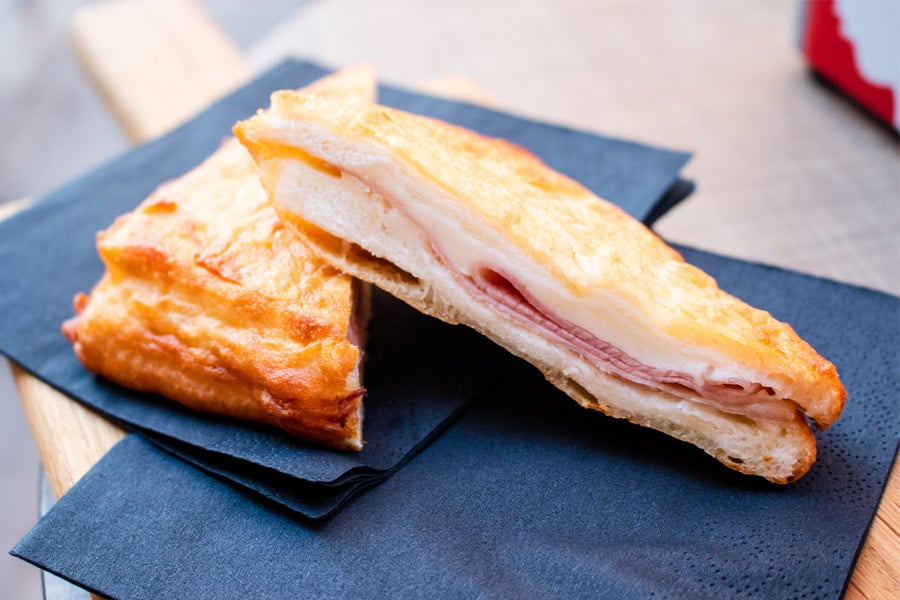 Mozzarella in Carrozza … throughout Italy
Contributed by Paul D'Souza of Paulmarina.com
Mozzarella in Carrozza is a fried mozzarella sandwich that originated in the Southern Italian provinces. Two slices of bread hold fresh and drained buffalo mozzarella, which is then coated with an egg wash. The sandwich is then fried golden brown to perfection. Variations exist with ham as a stuffing, or breadcrumbs or flour used as a coating with the egg wash.
Local ladies would reuse stale bread to make these wonderfully cheesy sandwiches. The Buffalo mozzarella would be slightly wet and using stale bread, in combination, is a genius idea. Today, you can easily spot Mozzarella in Carrozza in all the popular touristy Italian cities.
We discovered the Mozzarella in Carrozza in a bar on a roadtrip to Venice while sipping Aperol Spritz and have been seeing it in all the major cities ever since. The fried sandwich is frequently sold as a convenient street food takeaway and snack. These stuffed Italian cheese sandwiches can be easily recreated at home, and you can make them gluten-free too by using gluten-free bread slices. To make it all vegan, you can use vegan Mozzarella cheese.
---
If you enjoyed this post, you can.
Sign up for Dispatches in the sidebar and follow Breathedreamgo on all social media platforms including Instagram, Facebook, Pinterest, and Twitter. Thank you!