India is the source and the soul of yoga
As I sit writing this on the balcony of my room at the Anand Prakash Yoga Ashram in Rishikesh, India, the melodious sound of people singing kirtan (devotional songs and chants) floats up from the yoga hall below. From here, I have a breath-taking view of the imposing foothills of the Himalayas and I can feel the invigorating mountain air as it sweeps into this serene valley, through which the jewel-green Ganga (Ganges) River flows. It is easy to see why legend refers to the Himalaya range as Dev Bhoomi, land of the gods.
Rishikesh is a small and relatively (by Indian standards) peaceful town that meanders along the narrow valley on both sides of the Ganga, connected by two impressive suspension bridges, Laxman Jhula and Ram Jhula, which are open for pedestrian traffic, bicycles and motorcycles only. Seers – rishis – and sages have been gathering here, at this picturesque spot on the Ganges, since before recorded history to prayer, chant and meditate. Indian pilgrims and foreign yoga students alike flock here to stay in one of the town's many ashrams and soak up the devotional vibes. It is often referred to as the yoga capital of the world.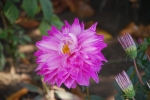 "Yogis have been coming here for long time, and they created vibrations in their bodies that have gone into the Ganga water, trees, stones," says Yogi Vishvketu (Vishva) who, along with his Canadian-born wife, Chetana Panwar, founded the Anand Prakash Yoga Ashram in Rishikesh two years ago. "People who come here feel it immediately. I have seen people coming here from all over the world. They experience immediate healing and they change on all levels, mental, physical, emotional and spiritual."
To Vishva, who has trained since the age of eight to become a yogi, and who holds a Phd in yoga from the university in nearby Haridwar, this is one of the main reasons why yoga students are drawn to Rishikesh. The other is the opportunity to be exposed to the whole philosophy of yoga. "Our intention in creating this ashram is to give westerners a safe and clean environment in India to experience both the beautiful, magical energy of Rishikesh and to heal themselves by following the Indian yogic system. We chant, perform rituals, sing kirtan, observe yogic diet and lifestyle and give people the whole picture of yoga."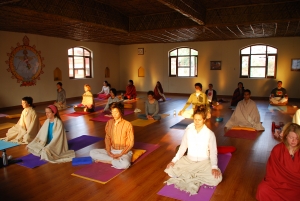 For me, the highlight of staying at Anand Prakash is the 6 a.m. yoga class with Vishva in the rooftop yoga hall. As we move, chant and meditate under the guidance of this bliss-master (Vishva is the happiest person I have ever met!), the sun rises from behind the mountains and bathes the room in a golden glow.
The first time I visited Aurovalley Ashram, about 10 kilometres south of Rishikesh, I took a short nap soon after arriving and fell into the most restful sleep of my life. I felt the profoundly peaceful energy of this garden ashram almost immediately and knew it was my spiritual home.
Several hand-painted signs on the ashram grounds proclaim, "All life is yoga." This is the philosophy of Sri Aurobindo, one of the great Indian thinkers of the 20th century, reduced to its essence. Aurovalley was founded 30 years ago by Swami Brahmdev (Swamiji), a disciple of Sri Aurobindo and The Mother's teachings. It is a garden ashram, surrounded immediately by meadows and, in the distance, by the mist-covered hills of Rajaji National Park. Nature is ever-present at Aurovalley in the form of fragrant tropical flowers, fluttering butterflies, colourful songbirds, fruit-laden trees, gardens and glorious sunsets. Regular visitors extol the ashram's healing benefits.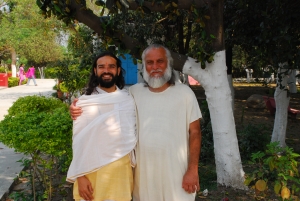 Swamiji explains there are two conceptions of yoga. The one that is popularized in the west is that yoga is something you do. According to Swamiji, however, "Yoga is established in your understanding and attitude; it is a way of life. Yoga is living with a yogic attitude – naturally and with simplicity. When that attitude is born, you are a yogi, no matter where you are."
Swamiji doesn't lecture or teach. Every day he sits outside the ashram library building, under a mango tree, and people gather to ask questions. Does one need to go to India to learn to be a yogi? "If you want to buy vegetables where will you go," he answers, with lightness, and a twinkle in his eye. "India is a university for the world to understand more and collect more information on this subject."
The International Sivananda Yoga Vedanta Centers is a nonprofit organization founded by Swami Vishnu-devananda. He established the first Sivananda Yoga Vedanta Center in Montreal, Canada, in 1959 and there are now close to 80 Sivananda ashrams and yoga centres around the world. Mani Chaitanya, director of the Sivananda centre in New Delhi is a tall, slim soft-spoken man who chooses his words very carefully. The Sivananda centre is an oasis of calm in a very hectic city, and it is where I practice yoga when I am in New Delhi.
"Yoga practitioners are naturally curious to discover the roots of yoga," he says. "In India, people can discover a spiritual way of understanding life. They can experience a new lifestyle and incorporate it into their own practice."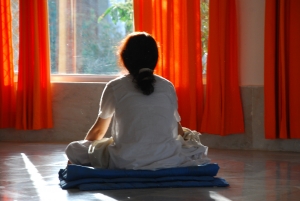 Mani explains that Sivananda offers westerners a systematic method for learning the traditional yogic lifestyle and balancing it with the demands of modern life. "It's a unique structure that is easy and effective to practice in daily life. You can learn to manage a spiritual life that doesn't take you away from where you are."
Sivananda is a worldwide network, a gateway to yoga for westerners, and the same method is followed in all locations. One its main attractions is that the ashrams are located in peaceful places, away from city life. The Neyyar Dam location in Kerala, south India, for example, is set in a lush tropical paradise surrounded by sacred mountains. The ashram offers yoga holidays as well as various levels of teacher training programs.
Many people come from all over the world to study and practice yoga in India. And while there are countless methods and styles; teachers and ashrams, they are all streams leading to and from the same ocean of yogic wisdom.
Navjeet Kaur Mackie is a yoga teacher from Mississauga, currently living in Nova Scotia. She studied yoga in North America before heading off to India in 2007 to deepen her practice and understanding of this ancient tradition.
"India is yoga," Navjeet says. "India is where I found the very essence of yoga, and discovered that yoga is not only a practice on the mat, but a way of life. Even though yoga is everywhere in India, Rishikesh is where I practiced my physical yoga the most. The feeling that you get when you visit Rishikesh is one of peace and serenity, but still infused with the typical Indian charm. I would recommend India to anyone and everyone who has found themselves on the yoga path."
[NOTE: Originally published in Dreamscapes magazine.]
---
IMPORTANT NOTE: In the wake of the conviction of yet another so-called "Godman" in India — Ram Rahim to 20 years in prison for raping two of his followers — I feel it's important to warn women seeking spiritual guidance in India to be very careful. Unfortunately, these incidents are more common than we would like to believe. Spiritual teachings are powerful, worthwhile, and rewarding. However, spiritual teachers are just people. In the end, I believe we each have to be our own Guru.
---
If you enjoyed this post, you can….
Get updates and read additional stories on the Breathedreamgo Facebook page.