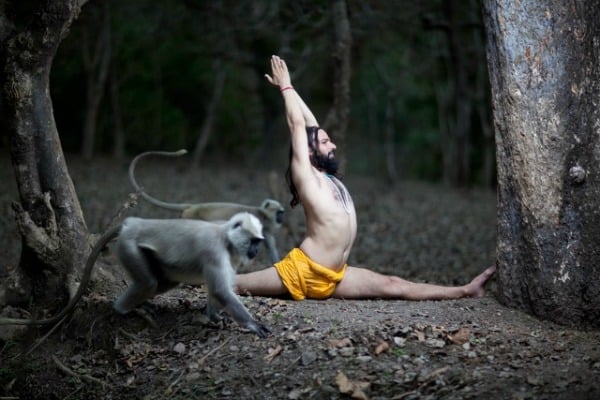 New book by yoga master Yogrishi Vishvketu features extraordinary photos and wealth of yoga wisdom
ABOUT TEN 17 YEARS ago I was getting ready to attend a Yoga Conference in Toronto. I flipped through the brochure and saw only one teacher from India: Yogrishi Vishvektu. As I was then in throes of planning for my first trip to India, I decided to take his class. It was a revelation, the best asana class I had ever experienced. He led us through the five koshas and by the end, I was in a state of bliss. I walked straight up to him and said, "I am going to study with you in India."
We have been friends ever since, and I have benefitted from his wisdom, teachings and good humour over the past 10 15 years. Recently, Vishva-ji (as he his known to friends and students) published a book called Yogasana: The Encyclopedia of Yoga Poses. It was a great excuse to interview him, find out more about his life story, feature some of the extraordinary photos from the book and expand the meaning of yoga for those westerners who think yoga is only exercise.
---
MORE READING ON BREATHEDREAMGO
---
Interview with Yogrishi Vishvketu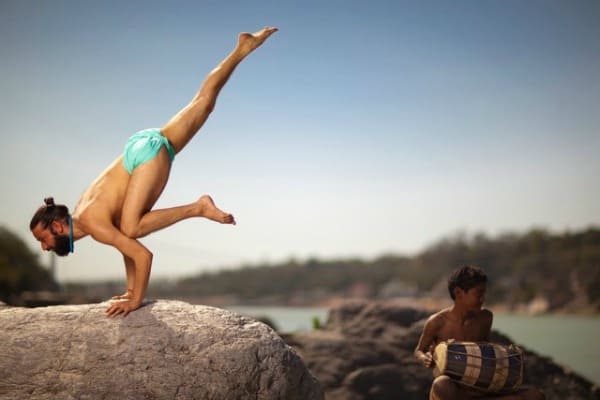 Q: How and where did you begin to learn about yoga?
Vishva-ji: I started yoga in childhood. I was practicing at the early age of three. I already knew some things about yoga from my previous lives. And three of my uncles were yogis and that helped to stimulate my interest in yoga. I learned in the foothills of the Himalayas.
Q: What is the essence of yoga, the most important thing students should learn?
Vishva-ji: The essence of yoga is to bring freedom. And to believe and trust, to practice, and to help people to connect to their true nature of being fearless, blissful, joyful and playful.
Q: How are your teachings different, or the same, as other types of yoga?
Vishva-ji: When I came to the West, I noticed that the style of yoga practiced by most people was either asana or meditation based, but not both together in the holistic manner. To my understanding asana and meditation are not separate things. In each yoga class we must do all things together to experience Akhanda, whole and indivisible; knowledge, asana, breathing, singing, chanting, meditating. All must be done together, not separately. Asana helps your meditation practice and meditation helps your asana practice. In both we practice and cultivate mindfulness. Also in Akhanda Yoga we are conscious of what we offer the body in the form of food. The best quality of food is optimal for the body. This is also part of yoga.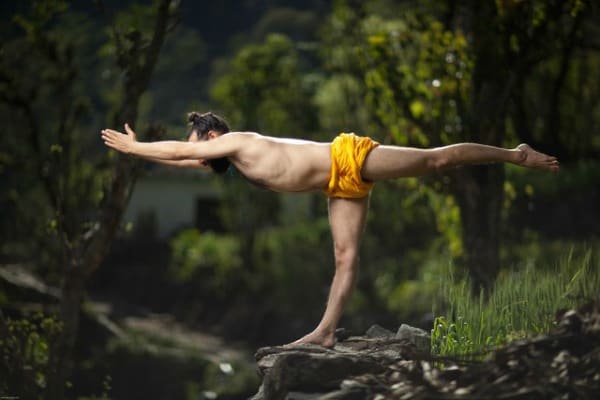 Q: Is yoga in the West different than in India? How?
Vishva-ji: In the west, most of the practice focuses on the physical aspect of yoga. In India, yoga practice is for internal liberation; it is a spiritual practice. In bringing Akhanda Yoga to the West, I hope to inspire Westerners to practice holistic yoga.
Q: Where do you teach yoga now?
Vishva-ji: My time teaching is divided between India and Canada. In India, I lead Yoga Teacher Trainings (YTT) at Anand Prakash Yoga Ashram in Rishikesh where I also offer classes, workshops and retreats. In Canada, I am based in British Columbia and I teach at various locations. I also offer retreats and trainings all over the world. I will also be doing some travelling to promote my book, Yogasana: The Encyclopedia of Yoga Poses (Mandala Publishing, 2015). My schedule can be found at Akhanda Yoga.
Q: Tell us about your book, Yogasana: The Encyclopedia of Yoga Poses. How did it start, what is it about and why did you have it published?
Vishva-ji: When I came into the West, people were doing so many different yoga asanas and calling them names that do not make sense based on ancient yogic knowledge and Sanskrit language. I often heard people calling different asanas by the wrong names. I realized that there was no single book in existence containing the proper names or which addressed the energetic aspect of yoga.
As a lifelong yoga practitioner with a PhD in Yoga Philosophy and with a background in Sanskrit, I felt it important to share my knowledge and expertise to provide a resource where practitioners of all levels and yoga teachers could learn the correct names and the variations and pronunciations of the asanas. Everyone who worked on the book was a scholar with a PhD or expert in the fields of yoga and Sanskrit.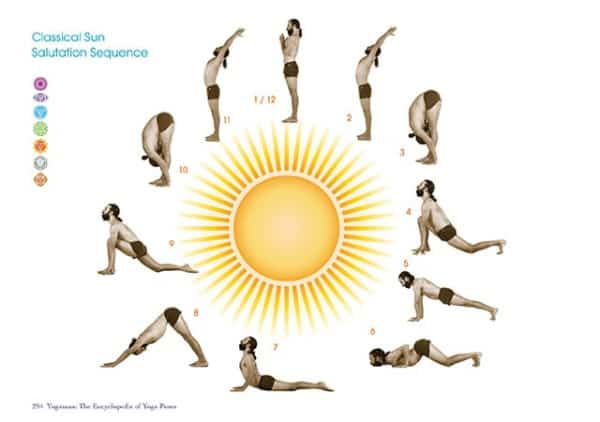 Yogasana is very visual and easy for teachers and practitioners to see the benefits of the pose. The book features 850 poses from beginner to advanced postures. In addition to the English and Sanskrit names, it includes charts describing the properties of each chakra, and graphics highlighting which chakras are activated by each asana.
It was important to me to make this book because there was a need. I felt the yoga community was struggling with the names of the asanas and their variations. As there is no other reference book like this, I had to do this work and so I did. I wanted the names of the poses to be honoured and pronounced properly. Writing this book was an opportunity to use my knowledge and experience as well as professional connections. This makes it unique, educational and accessible for all levels of practitioners and teachers.
For more information about Yogrishi Vishvketu:
Himalayan Yoga Master and Founder of Akhanda Yoga, Yogrishi Vishvketu (Vishva-ji) is known for his infectious laughter, playfulness and approachable teaching style. He offers Western teachers, a grounded, knowledge and experience-based and approach to yogic spiritual life and teachings.
Vishva-ji has dedicated his life to sharing the teachings and spirit of Akhanda Yoga to inspire people to connect to their true nature of being fearless, blissful, joyful and playful. He combines all aspects of yoga in a holistic approach including asana, pranayama, meditation, chanting, cleansing kriyas, yogic philosophy, and Ayurveda.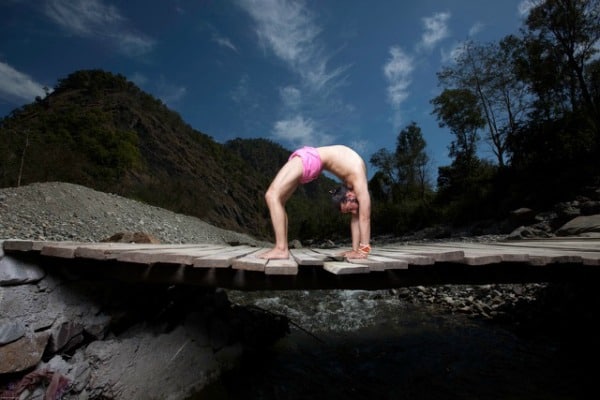 Vishva-ji was born into a family of yogis and Ayurvedic practitioners, and has been immersed in the teachings of Yogic wisdom and science since childhood. Practicing yoga since he was three, he began his formal yogic studies at the early age of eight. He completed an M.A. in Yoga Philosophy as a gold medalist scholar followed by a PhD in Yoga Philosophy at Gurukul Kangri University in Haridwar, India, a major global spiritual center.
His teacher Baba Premnāt once stated, "You will never have a job. You will create jobs for other people." Yogrishi Vishvketu has since trained thousands of teachers through his Yoga Alliance registered 200 and 300-hour Yoga Teacher Training (YTT) programs in Rishikesh, India and around the world.
Vishva-ji has lead hundreds of workshops, trainings and retreats globally including in Italy, U.K., India, Singapore, Hong Kong, Japan, Australia, U.S., Canada, France and Ireland, creating an international family of yoga practitioners and teachers.
He continues his father's legacy of charitable works in local communities; In 2007 Vishva-ji co-founded the Anand Prakash Yoga Ashram Charitable Trust in Rishikesh and in 2013 founded Sansar Gyaan Pathshala, a free school for over 250 underserved children in rural Uttar Pradesh, India.
Yogrishi Vishvketu is a published author (Yogasana: The Encyclopedia of Yoga Poses, Mandala Earth, 2015) and conference presenter. He is currently working on his next book.
His yoga teacher trainings, retreats and workshops are offered internationally. To learn more, for his schedule or for invitations visit Akhanda Yoga.
His book, Yogasana: The Encyclopedia of Yoga Poses (Mandala, 2015) is available on Amazon.ca, Amazon.com and Amazon.co.uk. Yogasana is also available in bookstores.
---
If you enjoyed this post, please sign up to The Travel Newsletter in the sidebar and follow Breathedreamgo on all social media platforms including Instagram, TripAdvisor, Facebook, Pinterest, and Twitter. Thank you!