"Authentic travel" is about engagement
I have been thinking about the concept of authentic travel for the past few days, ever since seeing the 76-second Travel Show with Robert Reid on this subject. He actually filmed one shot for the show at TBEX, the travel bloggers conference, and I was one of the audience members loudly saying "no, it's not" in response to his statement: all travel is the quest for difference and the more exotic the better. But even though I went along with the gag, for the video, I do think a lot of people go to India because they perceive it to be so different and exotic.
India is one of those places where the question of authentic, or "real" often comes up. I have heard backpackers say that Pahar Ganj – the backpackers ghetto in Delhi – is the "real India," whereas the Delhi-ites I know have almost never been there, and would probably be happy if it was bulldozed.
My own feeling is that backpacker culture is an import, and far from being "authentic" or "real" has actually caused the local culture to morph around it. It unwittingly creates a scene in which poor local people learn to cater to foreign tourists. And thus you find the Pink Floyd Café in the sacred town of Pushkar, and foreigners happily sipping beer in a place that is supposed to be entirely free of alcohol.
Authentic travel in India to me is: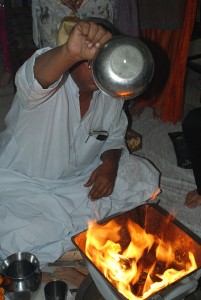 – sitting on the living room floor around an open fire during the naming puja (religious ritual) for my partner Ajay's nephew,
– going shopping for diyas (lights) and flowers during the pre-Diwali madness in Delhi with Ajay's Mother,
– trying to wrap my head around teacher Swami Brahmdev's answers during satsang (question and answer period – literally translated from the Sanskrit as a search for truth) under the mango trees at Aurovalley Ashram,
– watching the effect love and play has on the Tibetan refugee children in the Art Refuge program in Dharamsala – they become children again.
For me, "authentic" travel is about engagement. The more deeply involved I am, the more "authentic" it is.
But my experience of travel in India is rooted in my involvement with an Indian family, and has given me perhaps a different lens through which to view India. When I first landed in India in December 2005, Ajay picked me up at the airport and I stayed at his family home. (I had met him through a mutual friend about 13 years earlier, in 1992, when he visited Toronto.) We fell in love about three days later, and I was lucky to be warmly welcomed into his family.
So I live with my Ajay's Indian family when I am in Delhi and try to blend in as much as I can – I am essentially Indian in Delhi. I live in non-touristy south Delhi, wear Indian clothes, rarely see or speak to non-Indians and move around the city as a local, not as a tourist. But of course I am not Indian so there is bound to be moments of friction as I assert my individuality or need for privacy. (Luckily his family is very tolerant.)
But the moment I start traveling and staying in guest houses, I am perceived as a foreigner and I can really sense the difference. In Delhi, I feel like I have crossed the cultural divide; I feel accepted for who I am. But on the road, I feel a bit like a target. I can sense a slightly condescending attitude (until I say I am married to an Indian, and the attitude completely evaporates); and of course I am often confronted with what one pundit called the "white tax" – inflated prices for foreigners.
Personally, I don't like being a tourist in India – probably because I do have the experience of being in an Indian family for much of the time I am there. But I don't know how to get around it when I am on the road.
In the end, if you have a profound and meaningful – or fun and enjoyable – personal experience, who is to judge whether it is authentic or not? After all, reality is perception.
Would love to hear about others' experiences with authentic travel and thoughts on the subject.
---
If you enjoyed this post, please sign up to The Travel Newsletter in the sidebar and follow Breathedreamgo on all social media platforms including Instagram, TripAdvisor, Facebook, Pinterest, and Twitter. Thank you!