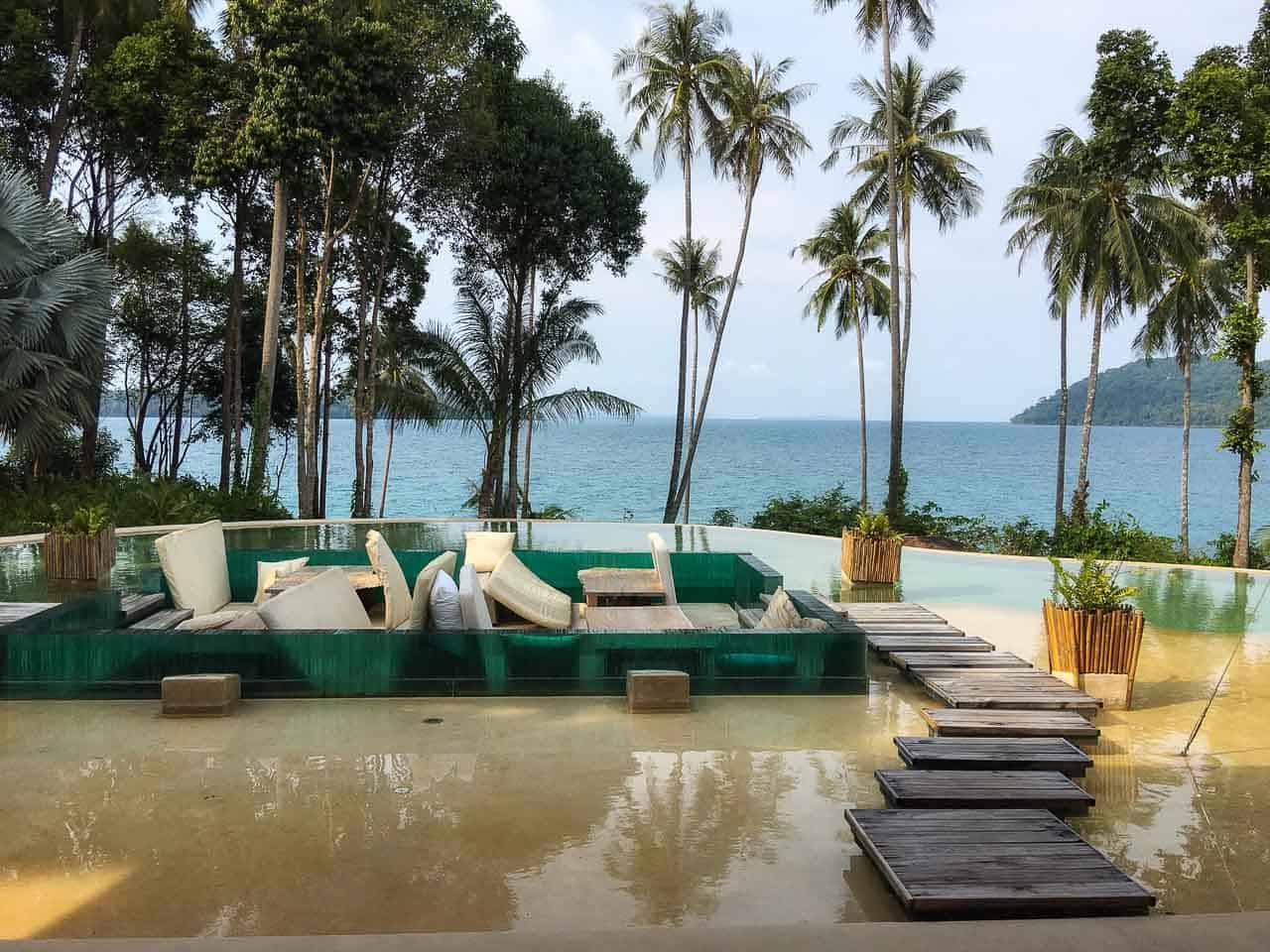 Soneva Kiri Thailand, the best luxury resort in Thailand
THERE ARE MANY luxury resorts in Thailand, but there's only one Soneva Kiri. Picture large, private villas spread over an expansive property that occupies an ideal location at the tip of one of Thailand's best islands, Koh Kood. The luxury villas, restaurants, spa, pool bar, stores — even the observatory — are all made from wood and natural materials. If you are looking for a luxury private pool villa in Thailand and / or the best beach resort in Thailand, you've found it.
Not only is Soneva Kiri one of the best Thailand 5 star resorts, it's also known for sustainable practices. A large organic garden, in-house water filtration system, and other measures, add to the sustainability factor and make Soneva Kiri one of the most eco-friendly luxury resorts — in fact, they won a World Responsible Tourism Award in 2019 for their efforts. In the category of luxury Thailand resorts, you can't beat Soneva Kiri.
---
UPDATED AUGUST 2021 with Soneva COVID-19 protective measures in Thailand and Maldives.
---
I was very lucky to visit the luxury beach resort resort in January 2020 for four days, and enjoyed many of the activities they offer, from snorkelling a coral reef, to enjoying fine dining with a sunset view, to a tour of Koh Kood Island. Plus, I had a behind-the-scenes tour of the steps they take to make Soneva Kiri as sustainable as possible. Soneva Kiri is not only one of Thailand's best 5 star resorts, it's also one of the most environmentally responsible.
There were so many things I loved about my stay at Soneva Kiri Thailand on Koh Kood Island. Impeccable service and the personal touch of my valet who helped arrange my activities, zipping around the large property in my own golf cart, swimming in my own private pool at sunset, my spacious luxury villa … the list is endless. But here are the top 10 things I loved most about Soneva Kiri — the best beach resort in Thailand. And read this if you're interested in the Soneva resorts in Maldives, and a bit about the background of the company. 🍃
Top 10 things I loved about Thailand island resort Soneva Kiri

My private pool villa in Thailand
The privacy was complete, and the view of the ocean divine. There is nothing like a private pool villa in a place like Thailand. At Soneva Kiri, the pools are full-sized — with complete privacy, spacious surroundings, and an outdoor shower and bathing area. For me, this is about as good as it gets. My Bay View Pool Villa was luxurious, spacious, and very open to nature. Everything was made of all natural materials, too. I love swimming in the ocean, but swimming naked in your own pool at night, under the stars, is sublime. 🍃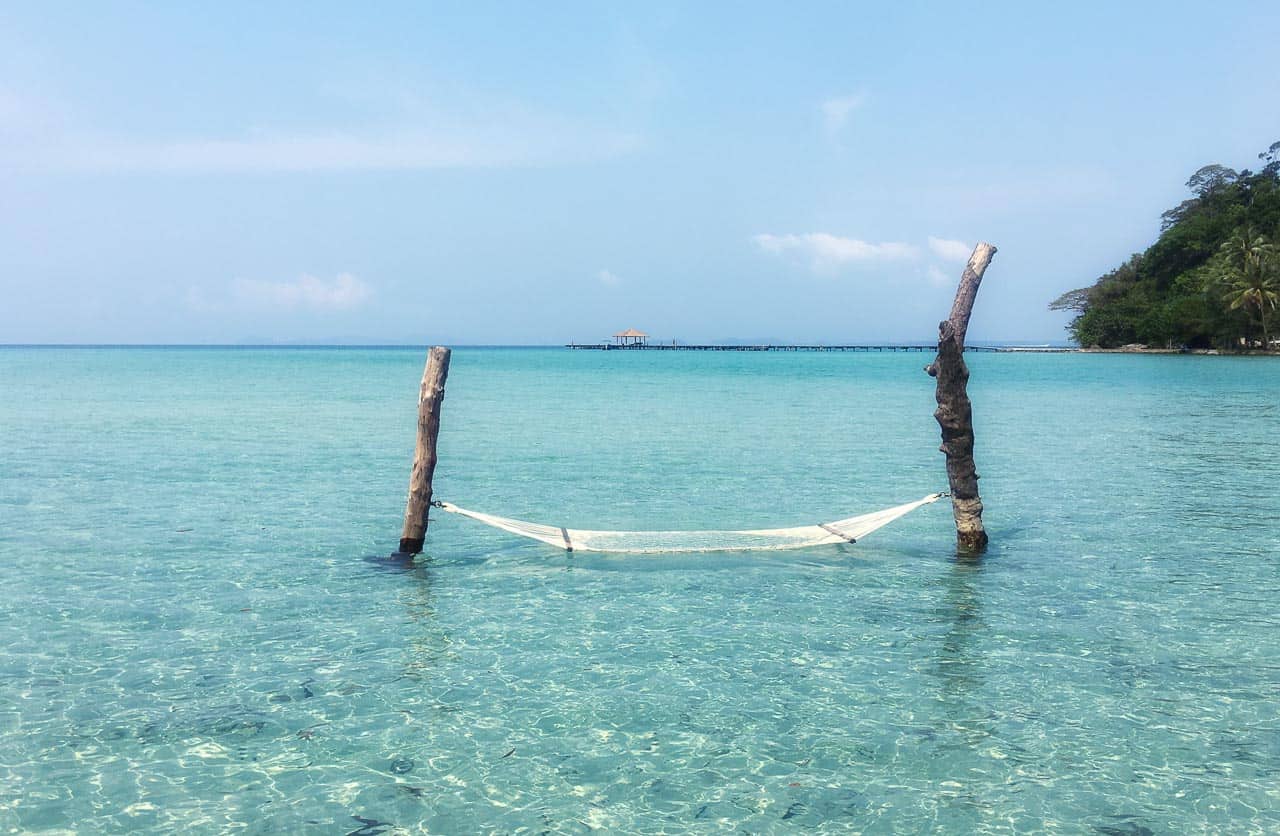 Paradise Beach in Thailand
We all dream of the perfect beach. Pristine white sand, rows of swaying palm trees, crystal clear aqua water, and just the right amount of amenities — so you can enjoy a glass of crisp, cold wine and a seafood salad on the beach. At Soneva Kiri, they have gone to great lengths to offer visitors the perfect Paradise Beach — the best beach I have seen in Thailand. In fact, it's so exclusive, you have to leave the resort and take a speedboat ride to get there. But they even make that fun, easy, and convenient with boats going back and forth all day long. It was my favourite place, I went every day! 🍃
The chocolate room
There were moments when I felt Soneva Kiri was actually designed with me in mind. The "no shoes, no news" values and invitation to live for a week in bare feet. The fresh food, sea breezes, glorious beach, private pool, and sustainability initiatives — all of these things appealed to me enormously. But when I walked into the chocolate room — that was when I thought I had died and gone to heaven. The chocolate room is open, free of any additional charges, to all guests of Soneva Kiri. 🍃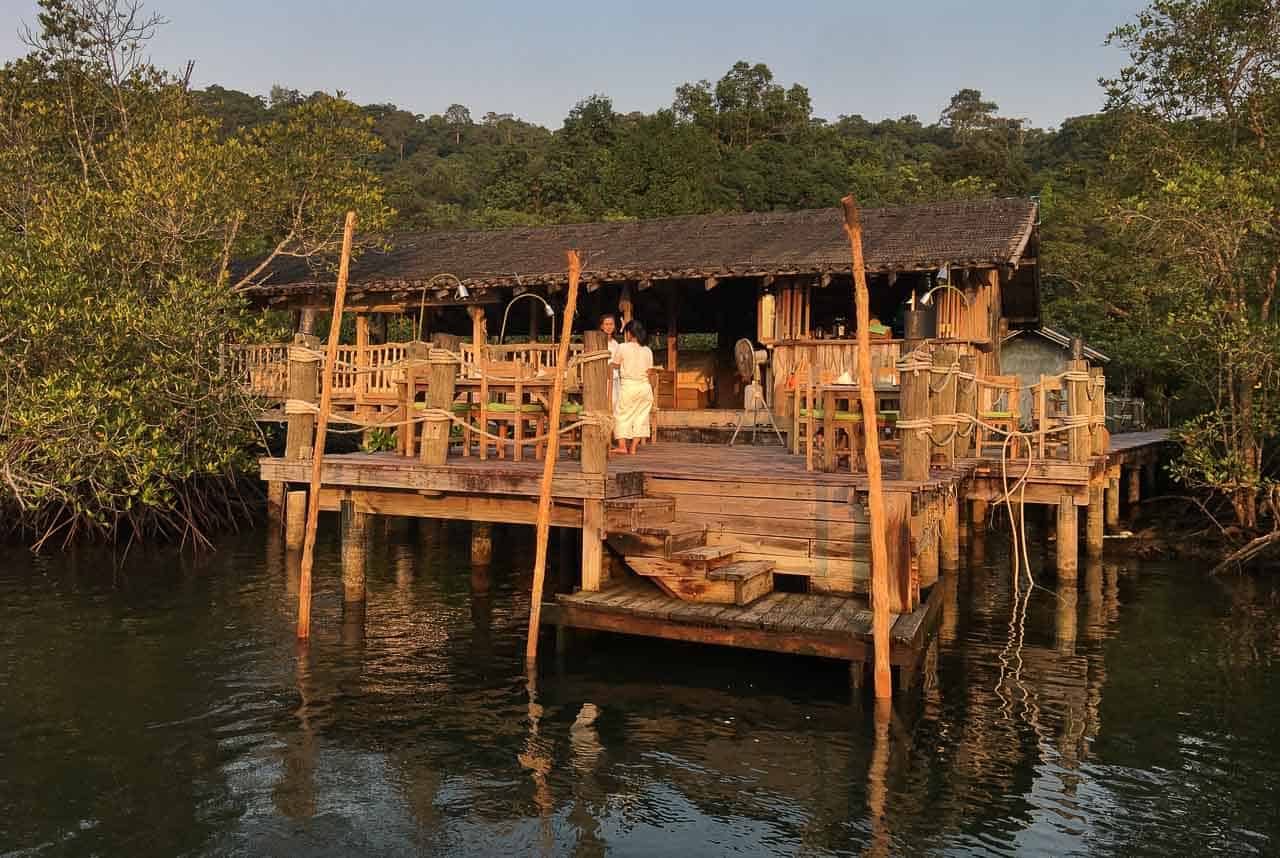 Boating to dine at a traditional Thai restaurant
Romance and adventure. The friendly folks at Soneva Kiri know how to get this exactly right (and it is so often missing from your typical luxury resort in Thailand). And they proved it again and again. On my first evening, my valet had arranged for me to leave the resort and dine at a nearby Thai restaurant, known as Tuk's Kitchen. I was tired from traveling, but wow, am I glad I went. A boat ride along the coast at sunset, and then down a river through the jungle, was one of my favourite activities. And this was even before arriving at the restaurant and eating one of the best Thai food dinners of my life, in relaxed comfort … with just the right amount of romance and adventure in the mix. At Tuk's Kitchen, they have a a 'no-menu' dining concept with dishes inspired by local ingredients and seafood caught by local fishermen. 🍃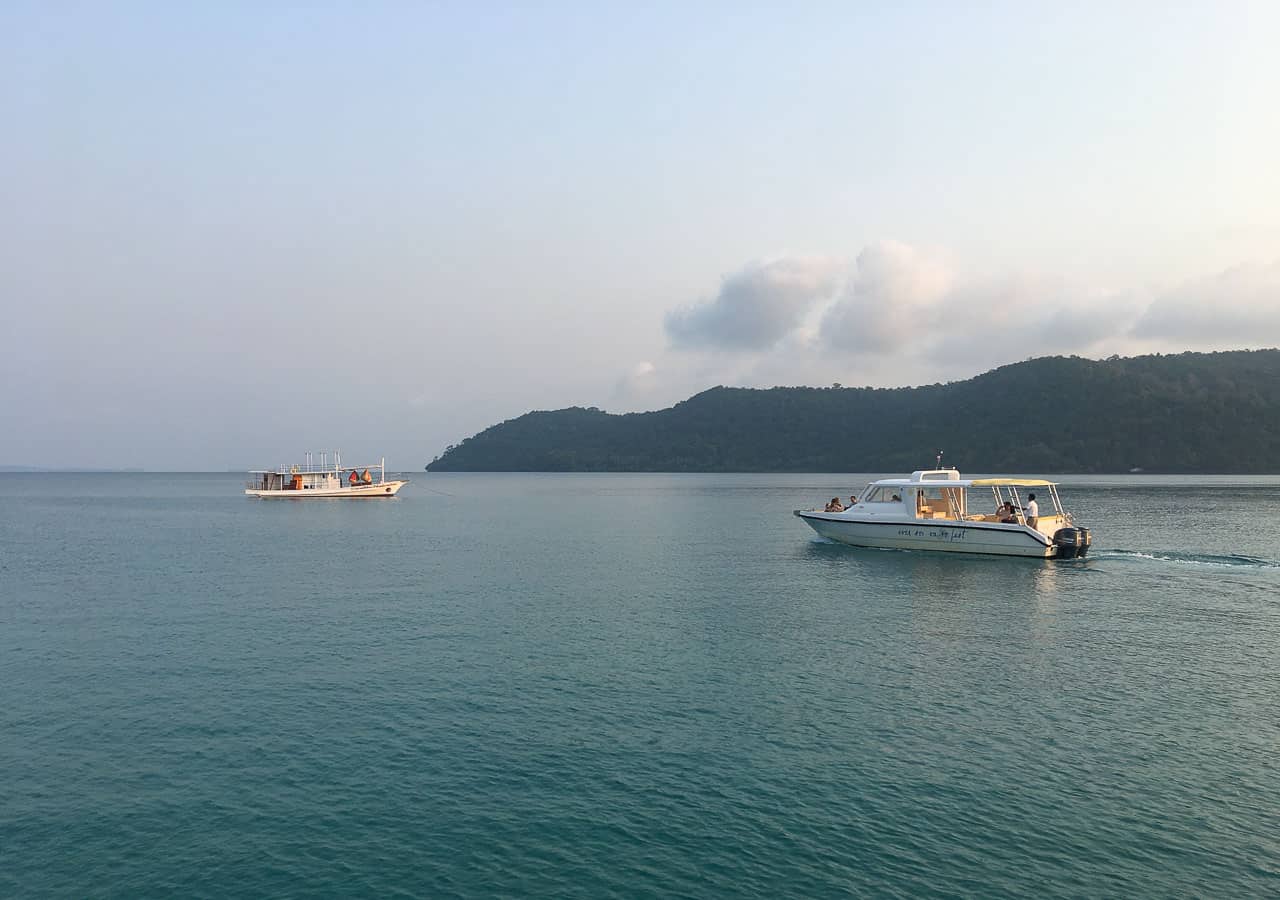 Snorkelling a coral reef
Soneva is known for offering their guests spectacular Signature Experiences and I was very lucky to experience several of them. Snorkelling a man-made coral reef, just off the coast of Koh Raet Island, was one of my favourites. We went by boat — a yacht, really — sunbathing on the rooftop deck while the staff prepared a delicious cold lunch plate of fresh tropical fruit. When we got to the reef, they were all ready with snorkelling equipment for each of us, and in we jumped. As we swam, we could see an underwater sculpture garden made of larger than life-sized animals, with coral transplantation grafted to them. The resulting reef attracts all kinds of colourful fish, anemone fields, and giant clams … and the effect was magical. 🍃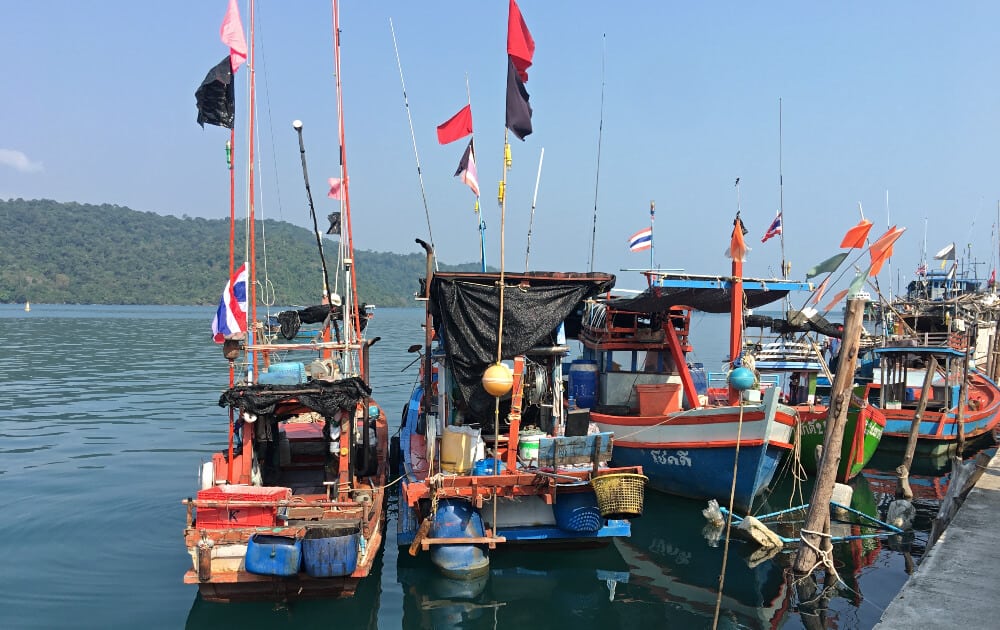 Tour of Koh Kood island with stop at waterfall and fishing village
Koh Kood is a one of those very special islands in Thailand, still relatively unspoilt because it's a bit remote, and not that easy to get to. It's not as built up as the more famous islands, and doesn't attract crowds because it's not close to Bangkok. The island has a pier — where ferries from the mainland arrive — at Ao Salat fishing village, several waterfalls, and many fine beaches. One of the Signature Experiences Soneva Kiri offers is a tour of Koh Kood, with a short trek to Klong Chao waterfall and freshwater lagoon. Another magical experience, of the kind usually missing from luxury beach resorts in Thailand. 🍃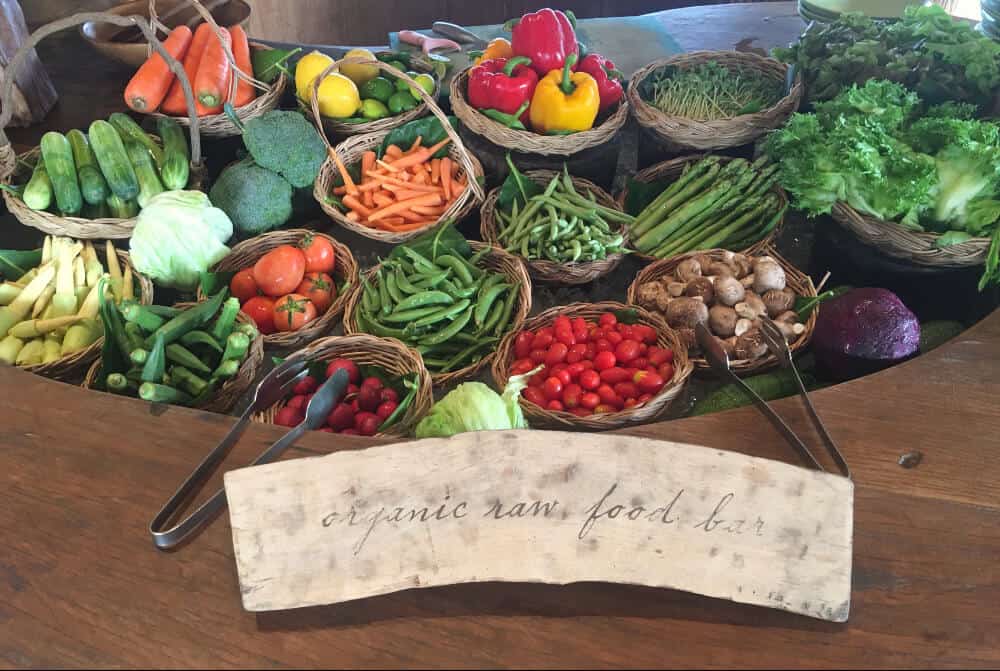 Fresh food with gluten free choices
I'm always a bit worried when I stay in a remote location about whether I will have access to gluten free options. At Soneva Kiri Thailand, I need not have worried. The abundance of fresh food, seafood, salads, fruit, and gluten free breads and baked goods was literally astounding. I ate very well at Soneva Kiri, and also felt that I was eating a healthy diet, too. They have found the sweet spot between healthy and delicious, with lots of local ingredients — including organic produce from their own large garden. This commitment to healthy food and organic produce was yet another I didn't expect from a 5 star beach resort in Thailand, to be honest. But at Soneva Kiri, good food is an obsession, and it shows. 🍃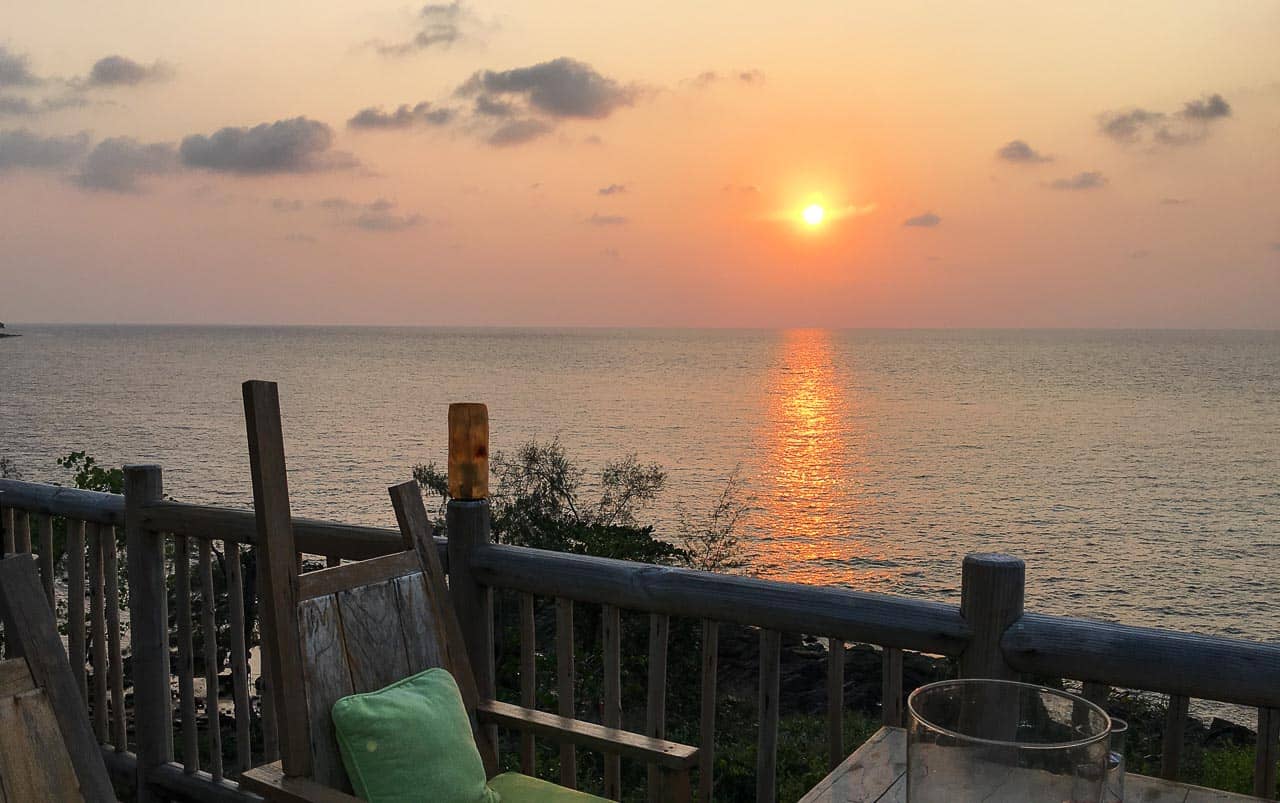 Fine dining with sunset at The View
Soneva Kiri Thailand offers so many amazing experiences … and sometimes you just want to sit back, enjoy fine food and great service, and take in a stunning view — like watching the sun sink into the the Gulf of Thailand as you nibble on gourmet food. Soneva Kiri knows people want a touch of luxury with their beach resort vacation and they find many ways to provide it. At The View, the inspired menu combines "the delicacy and nuance of Japanese culinary traditions with the vibrant and zesty flavours of Peru." It's a combination that effortlessly works to give you an unforgettable evening. 🍃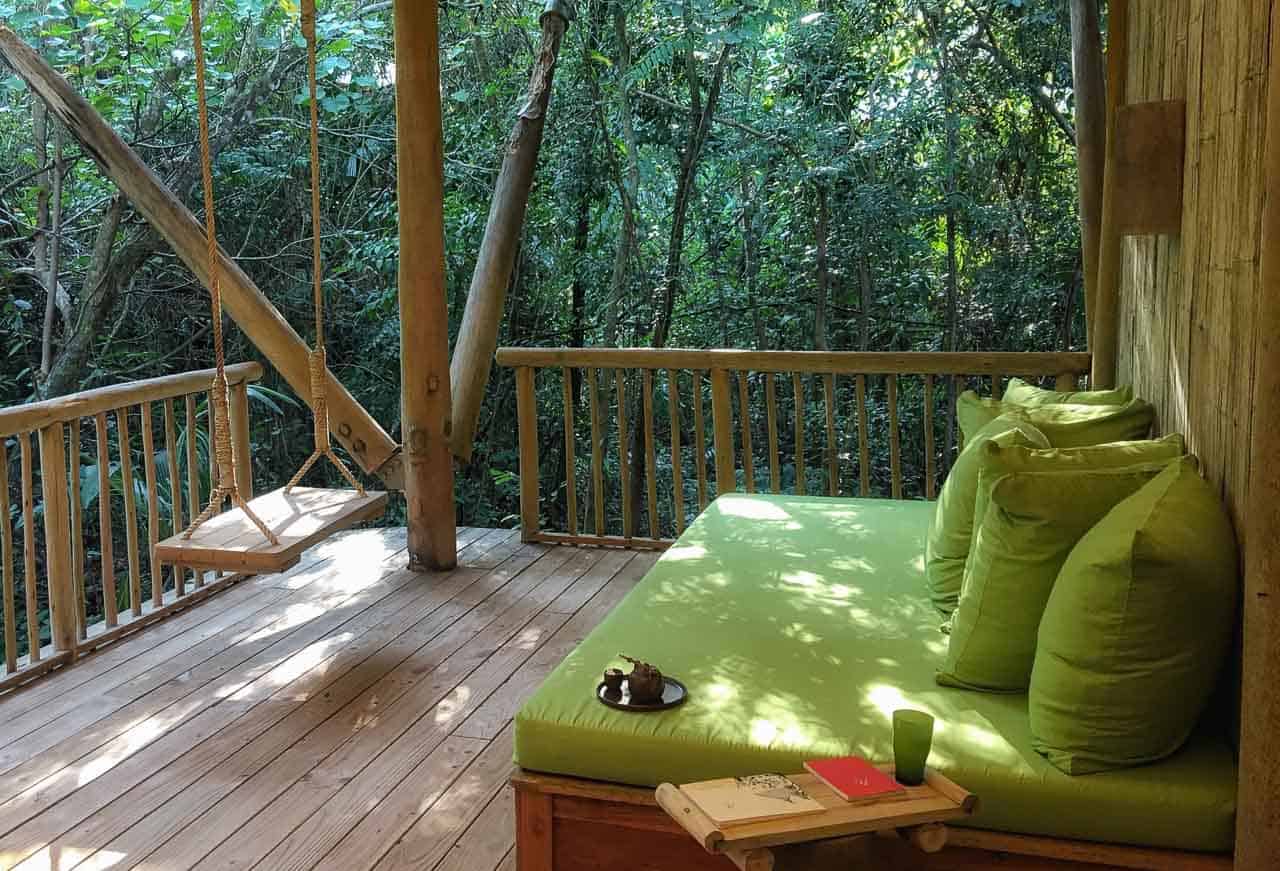 Massage and forest bathing at the spa
I love spas and I especially love spas that are open to nature. To me, it's an ideal combination and it's another thing Soneva Kiri Thailand gets exactly right. The massage room was open on one side, facing a view of the forest and the ocean. A soft ocean breeze wafted in while I received an exceptional massage from a strong and gentle local woman. After the massage, I was invited to shower and relax with an herbal tea on a forest-facing wood verandah, complete with day bed and swing. This is the Sound Pod Room, where you can relax, listen to soothing music and do some forest bathing after your spa treatment. Forest bathing is a charming concept that is perfectly paired with a spa visit to invoke deep relaxation. The oxygen rich air and view of natural greenery soothed and lulled my senses and I didn't want to leave. Ever. 🍃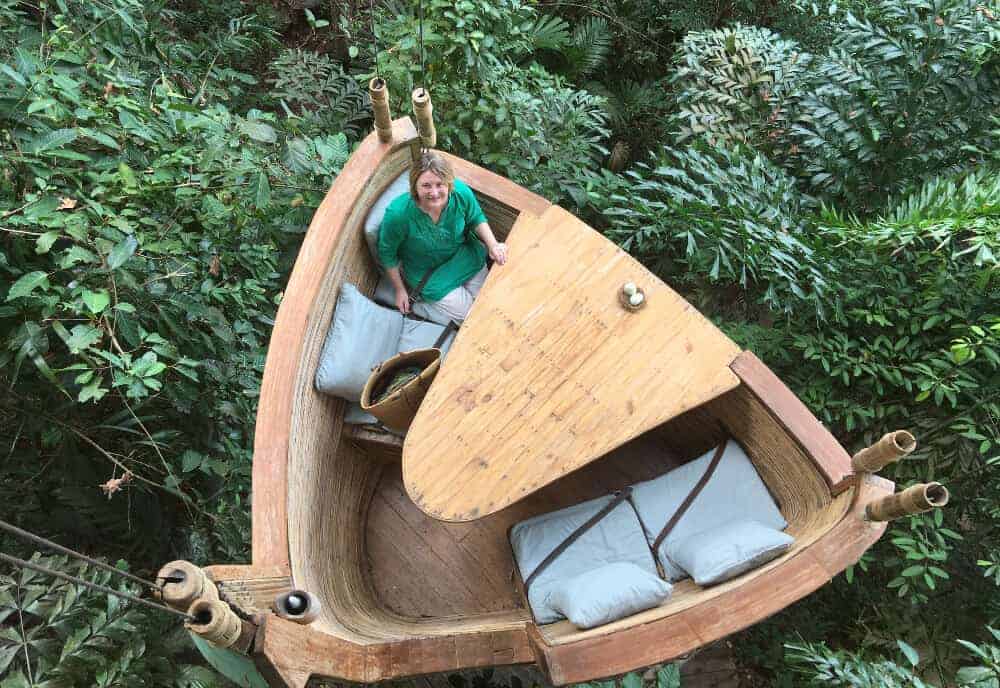 Blasting off with a dining pod experience
First you step into the wooden pod and they strap you in. Then a hydraulic system hoists you and your dining pod 10 metres up … and you dine in the air, surrounded by jungle canopy. The pod gives you a bird's eye view of stunning Ao Thai Ocean and the north tip of Koh Kood while a waiter on a platform above arranges your food and drinks — which arrives, using a system of ziplines, in a wicker bag! One of the most unique Signature Experiences at Soneva Kiri, it is not to be missed. 🍃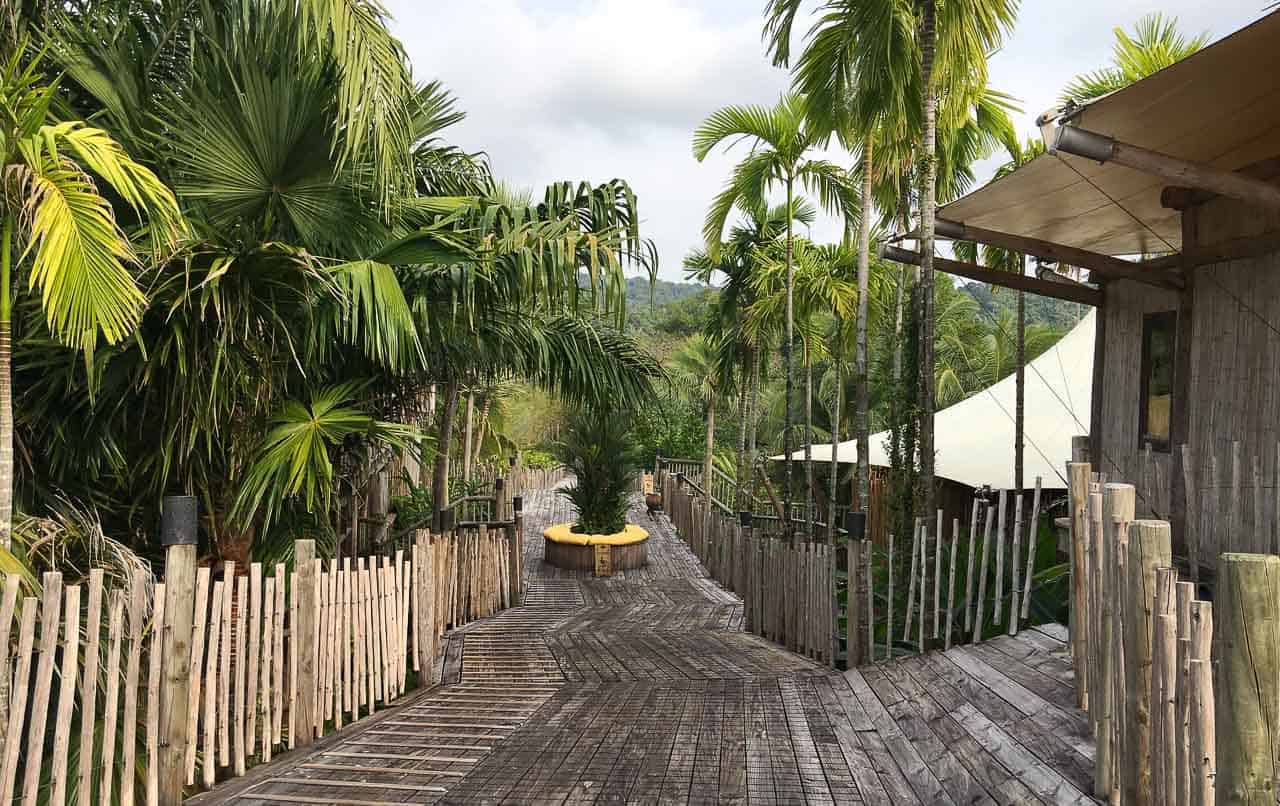 Sustainability measures at a luxury resort in Thailand
Soneva Kiri Thailand takes sustainability seriously. If you want to stay at a luxury resort in Thailand, and you care about the environment, Soneva Kiri is for you. This is the reason I call it the best beach resort in Thailand — because of the commitment to sustainability. Soneva Kiri won a Silver Medal at the World Responsible Tourism Awards in 2019, and it's the reason I wanted to visit.
While at the resort, I had a tour of their eco facilities by the in-house biologist Nadia, from Italy. I discovered extensive facilities for treating cooking oil, recycling grey water, water harvesting, and organic gardening. They produce 40-50 per cent of the fruits, vegetables, and herbs they use at the resort and have plans to grow even more.
For such a luxury island resort in Thailand, I was happily surprised by the extent to which they use natural materials for building and offer many immersive experiences in nature such as snorkelling a coral reef they helped to nurture, an observatory for learning about the night sky, and nature walks with an in-house naturalist or the biologist, Nadia. 🍃
---
NOTE: Thanks so much to the people at Soneva Kiri Thailand for hosting my four-day stay and giving me one of the most memorable trips of my life. Soneva Kiri is a very special place and I would encourage readers to consider it for a honeymoon, special anniversary, or family gathering. It's also ideal if you want a luxury beach vacation and care about environmental protection and sustainability.
---
Pin it on Pinterest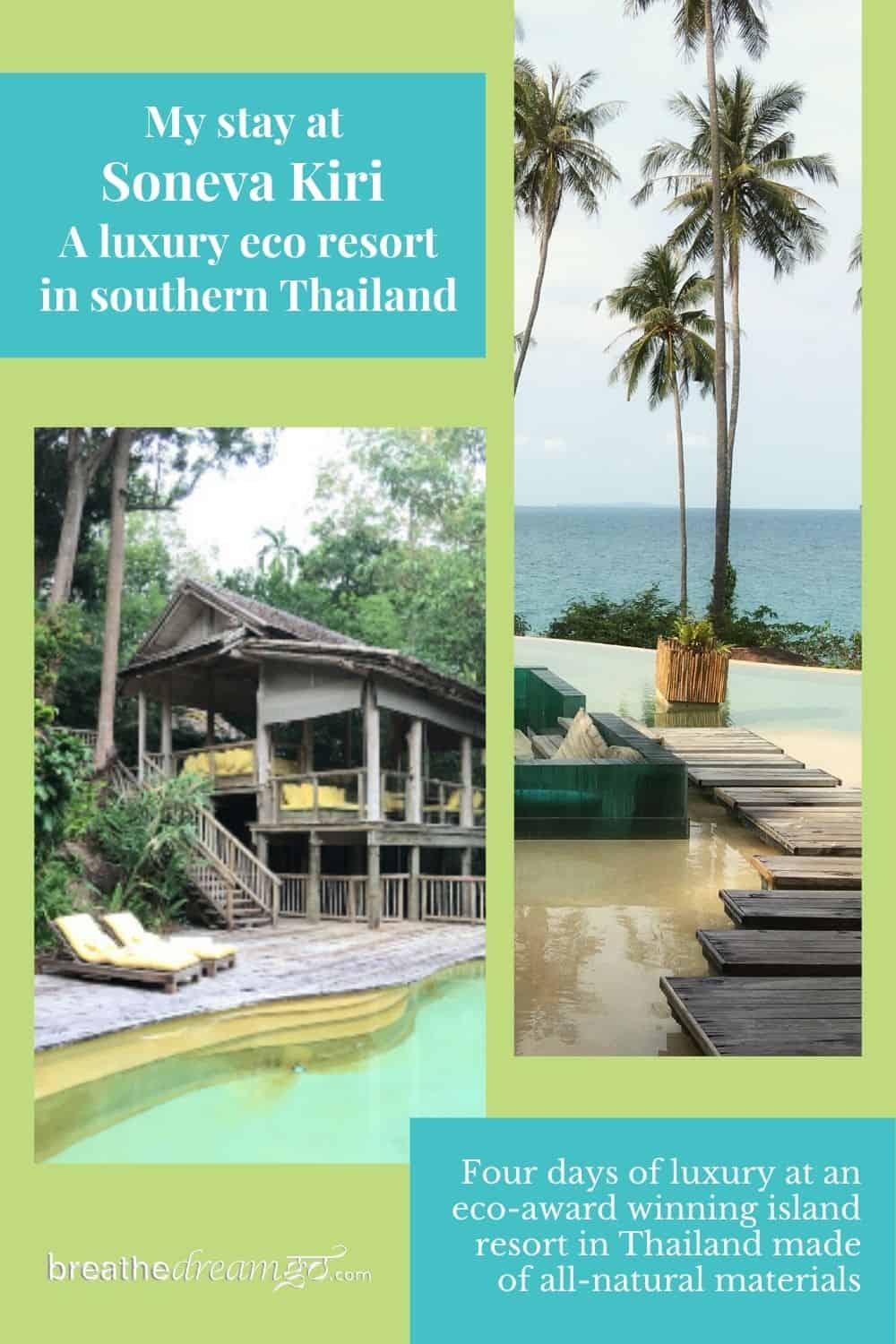 ---
Photo gallery of Soneva Kiri Thailand