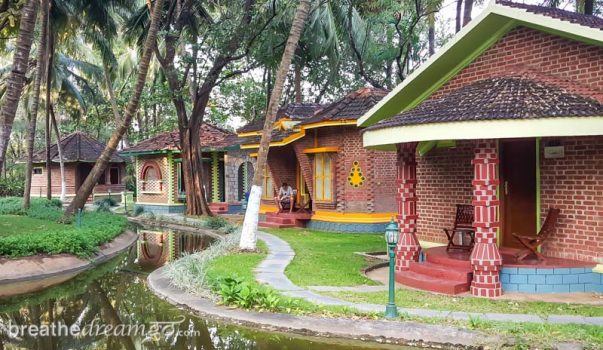 What you need to know about Ayurveda and visiting an Ayurvedic health resort in Kerala, India
THE AYURVEDA MASSAGE THERAPIST stripped off my sarong, and tied a wispy, diaper-like cloth around my bottom. After helping me onto a massive teak table, she and another strong-armed, small-boned woman began pouring hot oil all over me. Together, in unison, they proceeded to massage me in long rhythmic strokes. All of me. Neither longish hair nor false modesty kept them from their business. Head, face, buttocks, breasts … by the end I was slathered in oil. And woozy from the relaxation.
Together, the women helped me off the table and into a wooden contraption that looked like a magician's prop. They shut the lid, letting only my head stick out the top. The cabinet filled with steam and the oil started to melt, and mix with sweat, and slither down my limbs. After about five minutes, I felt cooked, and they helped me into a shower room. One of the women mixed a bowl of light brown powder with water and told me to scrub it all over me. It had a faintly earthy smell, and made a mess.
Oil, sweat, steam, powder and hot water. All of it ran down the drain of the shower room, along with the shampoo they, thankfully, provided to get the oil out of my hair. It was all strangely blissful, and my skin glowed for days.
This is abhyanga, Ayurvedic massage, a classic treatment that most guests at Kairali Ayurvedic Health Resort would receive on a daily basis.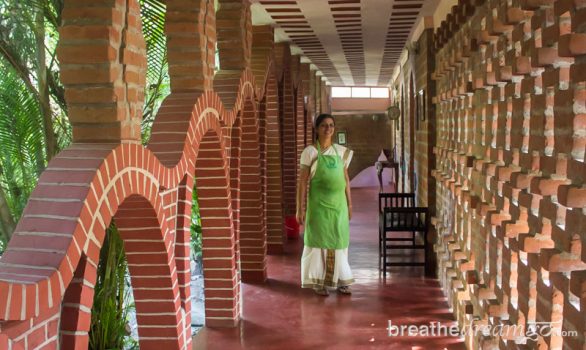 Ayurveda is the science of life
At 16 years old, Kairali is one of the pioneers in the Ayurvedic health resort industry in India. At Kairali, they take their Ayurvedic treatments very seriously. And here at their location in North Kerala, near Palakkad, they do it in a very lovely resort like setting.
It was revolutionary at the time. Ayurveda, the ancient health care system of India, was mostly the preserve of hospitals and clinics, where people with a wide range of diseases and syndromes were treated. When Kairali opened in 1999, combining authentic Ayurvedic treatment with a resort-like setting was a new idea. Needless to say, it caught on, with hundreds of Ayurvedic resorts popping up all over Kerala, and also throughout India, and in Sri Lanka, Maldives, Bali, the United States and other countries as well.
Ayurveda is often called the sister science of Yoga. While Yoga is a spiritual pursuit, Ayurveda — which means science of life in Sanskrit — is a system of wellness primarily for the body. Of course, these divisions of mind-body-spirit are illusory, all work together, and all must be holistically addressed to achieve wellness. The intention of Ayurveda is to bring the mind-body-spirit back into balance so that health can be maintained, or regained, naturally.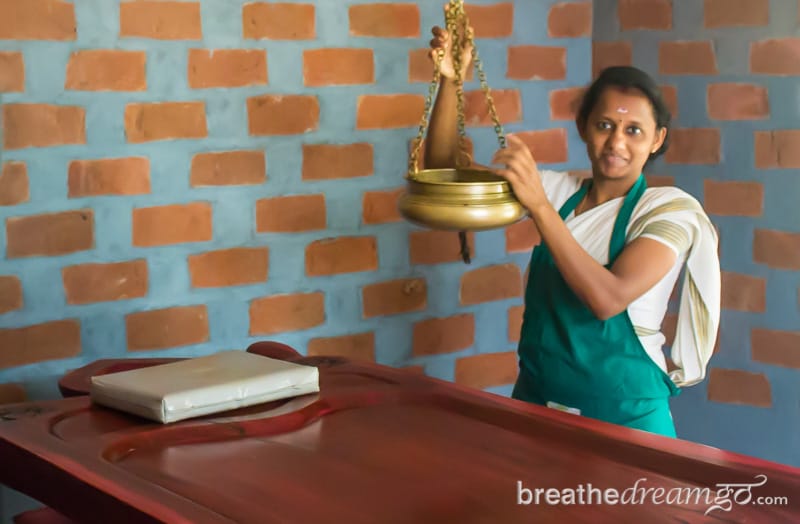 Ayurveda employs a wide variety of treatments and medicines, all derived from nature, and all are available at Kairali. These can range from a relaxing oil massage and taking herbal supplements to following a strict diet and some rather extreme forms of detoxification and purging. It all depends on what you're there for. Some people simply want a healthy vacation, while others want to lose weight, treat a serious illness or undergo Panchakarma — meaning "five procedures." The full Panchakarma treatment usually takes a minimum of three weeks. The procedures aim to eliminate toxins from the body.
At Kairali, as at most Ayurvedic treatment centres, your stay begins with a consultation with a certified Ayurvedic doctor. The doctor's assessment determines your course of treatment, and then an entire team springs into action. Your treatment schedule is drawn up, your herbal medicines ordered and your dietary instructions given to the kitchen.
I was at Kairali only for a few days, to experience the health resort and try some of the treatments. I was not really there with any specific health issue, so I cannot personally comment on the efficacy of the treatments. However, I know from previous experience that receiving Ayurvedic treatments and following the principles does indeed lead to a greater feeling of health and wellness.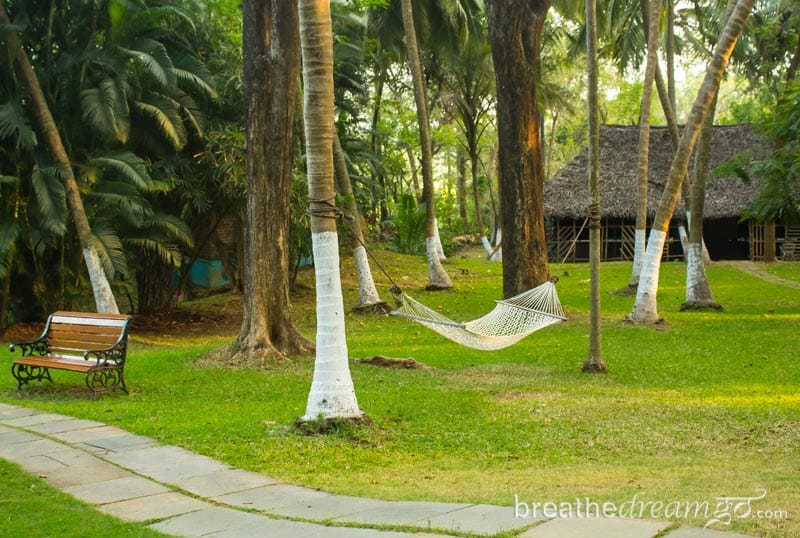 What I liked about Kairali
Overall, my experience at Kairali was very good. I was impressed with the authenticity and quality of the treatments, the food and the herbal medicines. As a large, well respected organization with many years of experience, Kairali is at the top end of the spectrum in terms of quality and professional Ayurvedic services and treatment in India. Whether at the Kairali Health Resort in Palakkad, or at any of their centres throughout India, you are in good hands.
I had Abhyanga and Shirodhara treatments, followed by steam, and they were excellent. The treatment rooms were spacious, airy and traditionally appointed with big, wood massage tables, and the women who massaged me were friendly and very skillful.
I absolutely loved the location. Kairali is set on a 300-acre property in rural Kerala. The resort occupies about 60 acres, and surrounding it is about 90 acres of garden, farm and paddy fields. The rest is a natural jungle, and nearby is a coconut farm. Ananda took me on a tour of the garden, and showed me rows and rows of tomatoes, eggplant, bottle gourd, bitter melon, snake gourd, lady fingers (okra) and other vegetables they grow for use in the kitchen. It's all completely organic.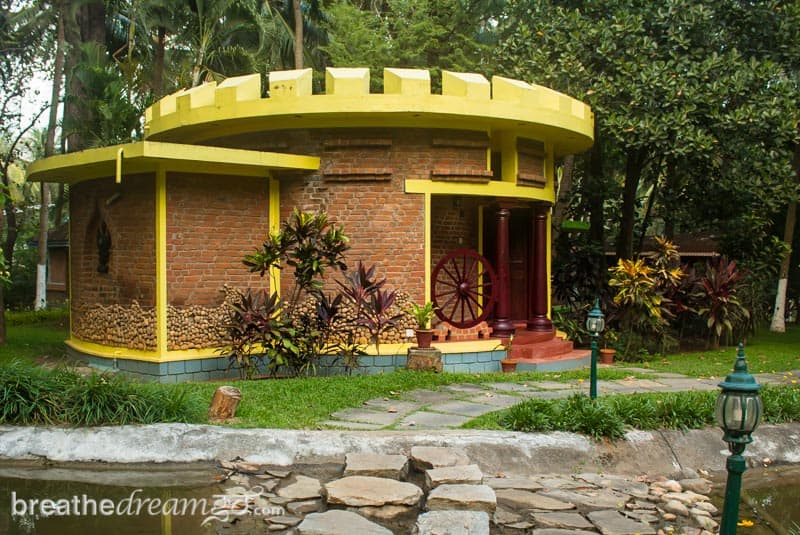 The resort itself is designed to be a village, with 30 small cottages for the guests dotted around the property, cooled by a canopy of palm trees and a man-made stream. The cottages are circular, each unique, and in four categories; standard, deluxe, classic, maharaja. A beautiful pool, thatch-roof yoga shala and large treatment centre are among the best amenities. WiFi is available in the handsome reception building.
Though the property is maintained to the point of being manicured, I still felt I was in a natural setting. There are many trees, flowers, plants, insects and birds on the property, and a running stream filled with goldfish. I loved to lie in the hammock at sunset and watch the palm trees sway and become black against the darkening sky.
Kairali is a good place to relax. They do offer a workshop or excursion, plus yoga and meditation every day, so you can keep busy if you want. I really enjoyed a cooking lesson I took with the chef. We got to eat what we made, which included some sweets — a treat given that we were eating Ayurvedic food only. But mostly, I liked getting treatments and relaxing.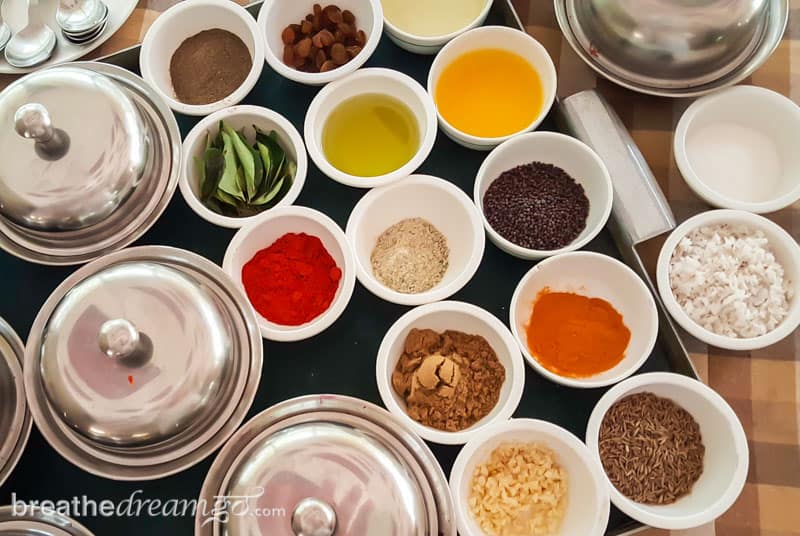 Food is always an issue at a health resort. I actually liked the food at Kairali, which was fresh and delicious while still following Ayurvedic principles. I have been at Ayurvedic resorts that erred in either direction: either the food was too spartan and tasteless or too much like typical resort food. However, if you are on a special diet for weight loss or health reasons, it's a different story. I heard some of the other guests sweet-talking the wait staff to give them other choices.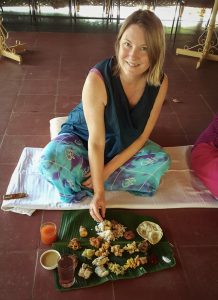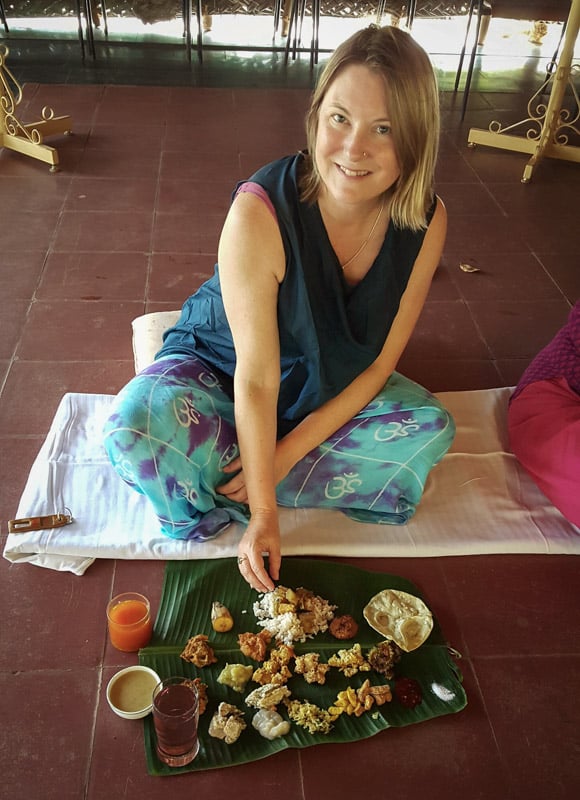 My diet was "Pitta reducing," which was not very restrictive. For breakfast one day, for example, I had a fruit plate, watermelon juice, plain dosa with chutney and sambar, and chai. Lunch was salad, soup, rice, vegetables, and sweetened vermicelli noodles. For dinner I had boiled vegetables (no raw for me because of the Pitta diet ), curried lentils (dal), rice, greens, curried gourd. Every meal is also served with warm water flavoured with herbs.
Without doubt, my favourite meal, and one of my favourite experiences at Kairali, was the traditional Malayalam meal we had on Sunday. The staff placed large, sweet-smelling banana leaves in rows on the floor of the yoga shala. Everyone sat on cushions behind the rows of banana leaves and waited while the staff ladled small portions of 19 different dishes, plus salt, onto the leaves: Tiny, spicy condiments, fragrant vegetables, crispy papads, creamy rice. It was one of the best meals I have ever eaten.
The wait staff — like all the staff at Kairali — bend over backwards to make guests happy. They embody that divine Indian philosophy, "Atithi Devo Bhava" — which means "Guest is God." The service is impeccable. And often invisible. Each day, a thermos of warm water was placed on my door step, and I never saw anyone actually put it there. I did, however, see staff members literally running to meet requests on many occasions.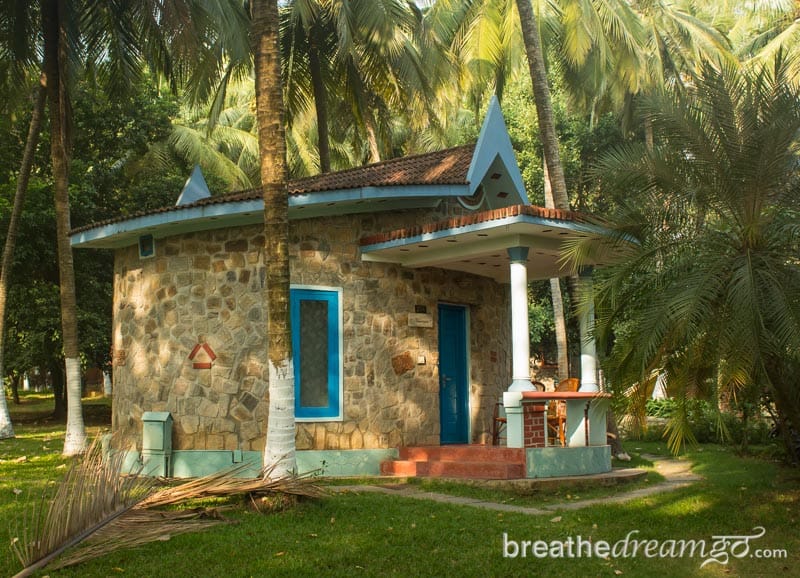 What I didn't like about Kairali
My only complaint about Kairali is about the rooms and buildings. I think they were built at a time in India when "modern" decor — which I would describe as airless and soulless — was in fashion. From the outside, the villas are charming, looking like a cross between a Hobbit home and an English cottage. But inside, the decor is dated and the rooms musty. When I was there in January 2016, they were starting to renovate the villas, so hopefully they will all be refreshed.
The dining room was the worst. It looked like a hotel coffee shop from the 1970s, and was either freezing cold (when the A/C was on) or stuffy and airless. I understand that bugs are a problem, especially mosquitoes at sunset, but there must be a better option.
Given that Kairali is offering an Ayurvedic experience in rural Kerala, I would strongly suggest that underlining the traditional culture through decor is a sound idea. It would certainly appeal to me, and probably to most foreigners (and Indians too, no doubt, many of whom come from far-away Delhi).
It's a small complaint, given how well they do everything else, and I would hate for someone to reconsider booking an Ayurvedic course of treatment here. Kairali gets all the important things right.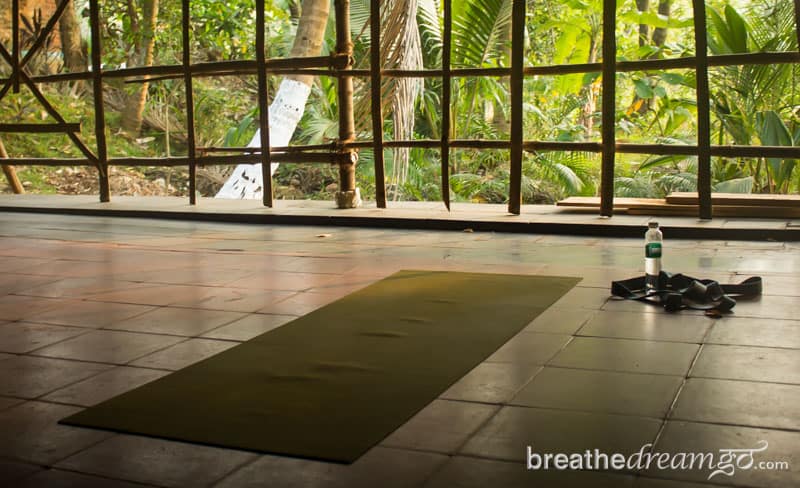 ---
WHAT YOU NEED TO KNOW BEFORE YOU GO
If you want more information about booking into Kairali Ayurvedic Health Resort, please visit their website and contact the company directly. They can advise on length of stay and program, depending on your circumstances and health concerns.
Personally, I do not recommend Kairali as a relaxing resort, but more as a treatment centre for people with health or weight management goals. The location is quite remote in north Kerala, and there is very little to do, or other places to go, within driving distance. Also note that Kairali is not on the coast, but inland. There is a railway station nearby, Palakkad Junction, and you can arrange with Kairali to pick you up from there if you are not driving.
NOTE: I was a complimentary guest at Kairali Ayurvedic Health Resort for four days.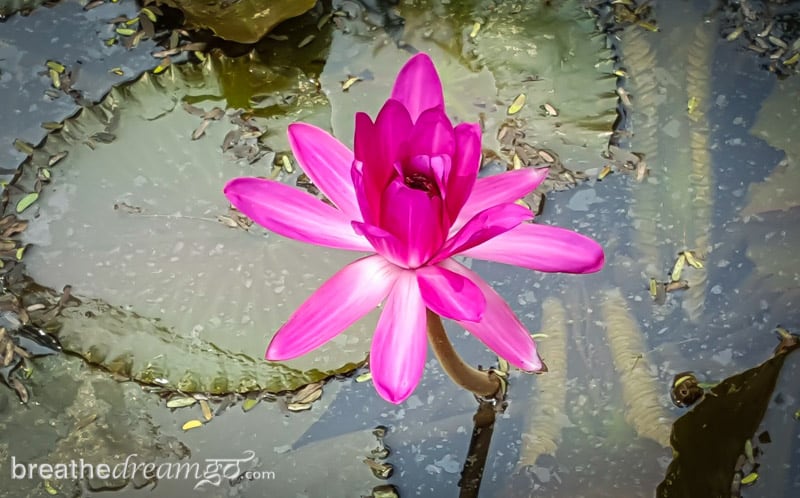 If you enjoyed this post, you can….