Launching GO Books
Full Tilt: From Ireland to India
This book review of Full Tilt: From Ireland to India by Dervla Murphy marks the first in a new series on Breathedreamgo called GO Books. I will be reviewing and recommending books about travel, personal transformation, culture, India, yoga and/or writing, and providing a link for purchase from Amazon. I will be reviewing classics, like Full Tilt, as well as newly published books. I will NOT recommend any book unless I absolutely believe it is a first-rate read. If you buy it and don't like it, I will personally invite you over for a home-cooked dinner and you can tell me why (some conditions apply).
I am trying to hatch a plan to visit Ireland (the country of my ancestors) and look up Dervla Murphy. Ever since reading Full Tilt: From Ireland to India, I have become a staunch fan, and I am delighted the adventurous cyclist — who is now in her late 70s  — is still with us. In 1963, Dervla Murphy — who was 32 years old at the time — rode her bicycle from the western edge of France all the way to Delhi, India. Yup, that means she rode through Turkey, Afghanistan, Pakistan, the Khyber Pass – the lot.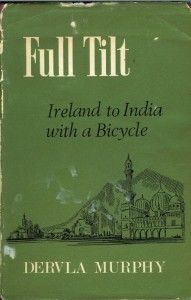 She not only fearlessly triumphed over wolves, wolfish men, blizzards, sunburn, snakes and much, much more, she broke out of the 'confining parameters of her era' to follow her rugged, independent spirit on a truly great adventure. And, lucky for us, she chronicled the journey in a rollicking book called Full Tilt. Dervla can not only ride, she can write. Her vivid descriptions and trenchant observations impart a sense of place, and of her in it — like a fly in ointment. A white woman riding a bicycle alone across the breadth of a country like, say, Afghanistan, was completely unheard of; so much so, that many people assumed she was a man.
I grew to really like Dervla, as much as I liked her spirit of adventure and her story. She has a (usually) non-judgmental, honest approach and a genuine love of people; and she seems to have a particular affinity for Muslim countries, especially Afghanistan and Pakistan. Plus, she has a way with words. In one of my favourite passages, about dealing with intense heat, she writes, "Riding into Delhi in July showed gross mismanagement of itinerary."
Dervla rarely writes about herself directly, but I have gleaned that she took care of aging and unwell parents for 16 years, until she was in her early 30s, missing out on much of her youth. After they passed away, she began planning this grand adventure — and I think the magnitude of it was in direct relation to the suffocation she must have felt. She continued to travel and write, even after her daughter Rachel was born; so if you like this book, there are plenty more to read, such as The Waiting Land: A Spell in Nepal and On a Shoestring to Coorg: A Travel Memoir of India and Tibetan Foothold.
Full Tilt was one of the best books I read last year (2010). It's moving, exciting, heart-warming, well-written, true — all the things I like in a book. If you like good travel writing, this it.  Paul Theroux wrote a chapter about Dervla Murphy in his book, The Tao of Travel. You can read an interview with him here.
My GO Books rating is 5 / 5:  I would definitely put it in my backpack.
Author and book details
Dervla Murphy, born November 28, 1931, Ireland
Full Tilt first published in 1965; reprinted in 1987 (Overlook); and 2010 (Eland).
Purchase from Amazon by clicking image, below.
If you enjoyed this post, you can….
Get updates and read additional stories on the Breathedreamgo Facebook page.
Buy Song of India, a collection of 10 feature stories about my travels in India. E-book version is now only $1.99.
Subscribe to the free — and inspiring! — e-newsletter, Travel That Changes You.