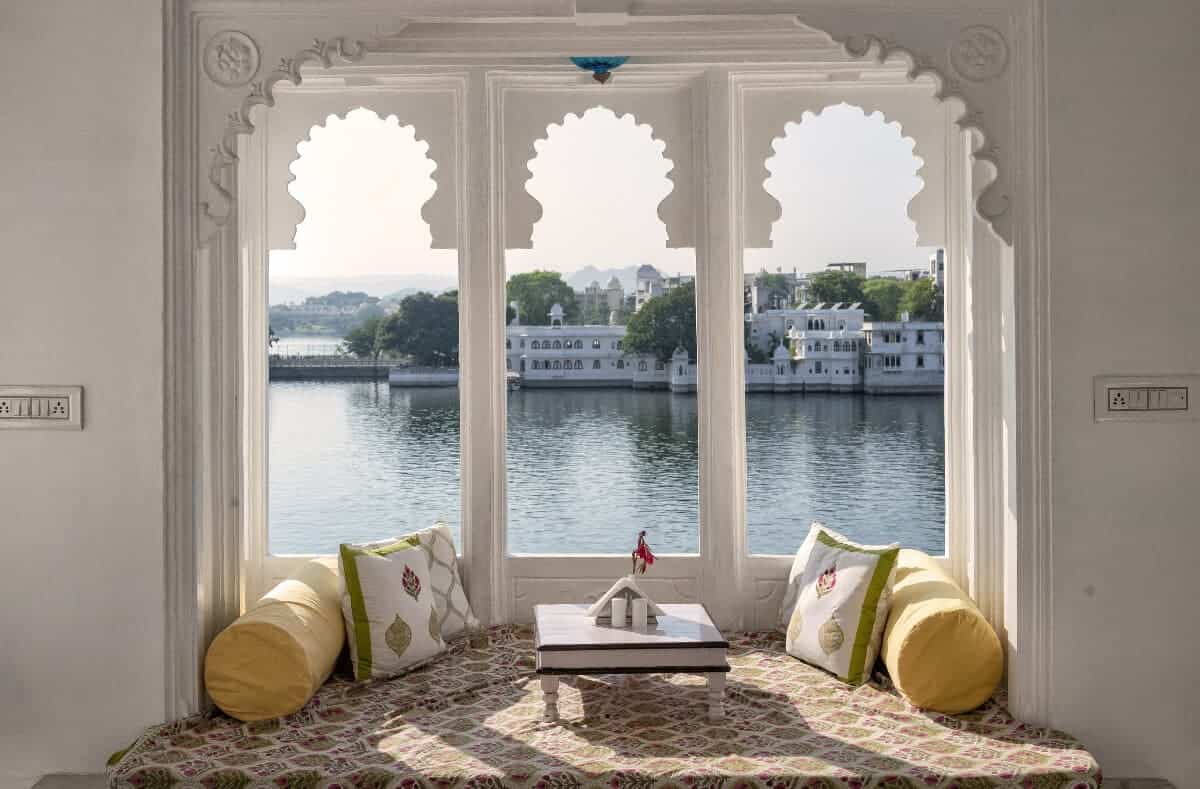 Where in the world do writers find inspiration for writing?
Where the writers go: A roundup of writers' retreats, hotels, bars, homes, and museums that you can visit
ARE YOU ITCHING TO WRITE the next great travelogue, novel, or bestselling book? You might try traveling to one of the places on this list — places where writers find inspiration. There are places around the world that attract writers. Some mysterious combination of ambience, atmosphere, and convenience seem to provide the ideal setting for writers to find inspiration and focus. In these places the muse strikes, the words flow, and a masterwork is born! Sometimes it's a home by the sea, sometimes a noisy bar, sometimes an elegant hotel, and sometimes a picturesque town.
Who knows why writers choose the places they do to work — but we do know that many of them have been preserved for posterity. All of the places listed below are open to visitors. Who knows, perhaps if you immerse yourself in one of these charmed places, you too will write a bestseller.
Speaking of inspiration to write …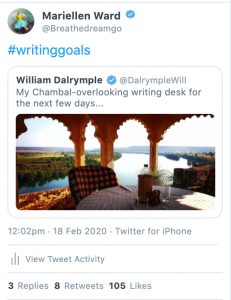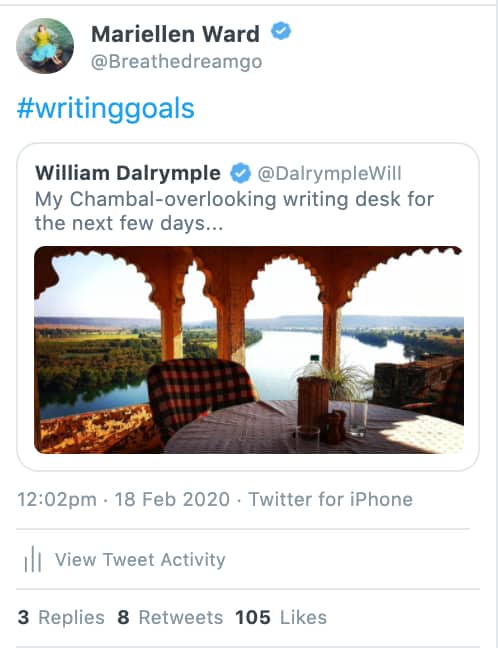 This post was inspired by a tweet I saw by the eminent British writer and historian William Dalrymple who, like me, lives in India. He tweeted a photo of the view from his writing desk at Bhainsrorgarh Fort boutique hotel in Rajasthan, India — and yes, it did have that spaciousness I also love. My psyche seems to need to fly and prefers a sweeping and inspirational view.
I have travelled around India for many years looking for the perfect place to write and have found some contenders. The rooftop room of a guest house in Bundi below the gothic palace fort, a hotel on Assi Ghat in Varanasi with a shuttered window overlooking the ghats, a restaurant in Udaipur with the classic view of Lake Pichola … and my own apartment in Rishikesh with a soaring view up the valley and of the surrounding lower Himalayan mountains.
So, below is a roundup of different places around the globe writers have chosen, for various reasons, as submitted by travel writers and bloggers.
---
More reading about writing and travel writing
---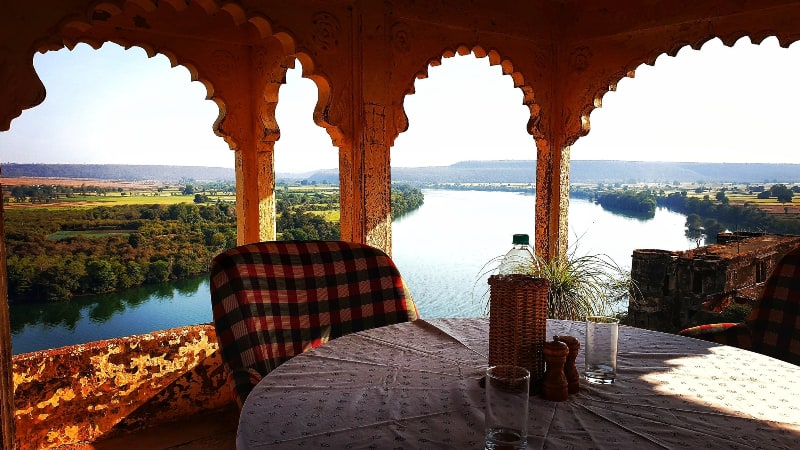 Where writers find inspiration in Asia
Rohet Garh in Rajasthan
Rohet Garh is a heritage hotel near Jodhpur in the desert state of Rajasthan. The luxury hotel is housed in the ancestral home of a noble family that traces its local roots back to 1622. Over the changing times, noble families branched out into different fields, many transforming their homes into hotels. Rohet Garh is a particularly good example — if you read reviews, visitors rave about the bountiful gardens, superb cuisine, gorgeous rooms, and magical setting. In fact, the word "magical" is used often to describe the experience of staying at Rohet Garh, sprinkled over descriptions of listening to live music during a candle lit dinner in the garden, for example.
I have never stayed at Rohet Garh, though I have long wanted to because of its reputation for hosting writers — in fact, some of my favourite writers have written some of my favourite books here. This is from Rohet Garh's website:
"The peace and tranquility of the environs have drawn writers from around the world. Rohet Garh has had the honour of hosting some of the most respected names in the literary world. Bruce Chatwin and William Dalrymple practically lived at Rohet Garh for four to five months working on their respective books, The Song-lines and The City of Djinns. Patrick French is a friend of the family and has spent time at Rohet Garh, as did Simon Winchester and Jeffery Moorhouse."
One day I too hope to write a travel book at Rohet Garh, inspired by these great names!
Mariellen
The Oriental Hotel, Bangkok
When I first traveled to Asia in 1993, I stayed briefly at The Oriental Hotel in Bangkok, on the Chao Phraya River. It was a legendary hotel, founded in 1877, the very first hotel to open in Thailand. The Oriental (now called the Mandarin Oriental) is an elegant and luxurious haven of peace and calm in a frenzied city. A photo of me having breakfast by the river, and looking worldly and nonchalant, was for many years my favourite photo. I never thought I would ever be so sophisticated; I never thought I would ever travel to Asia.
It was really a dream come true for me to stay in a hotel with rooms named after Graham Greene and W. Somerset Maugham (Maugham is one of my favourite writers), who stayed there when they were in Bangkok. The list of authors who stayed at The Oriental — and immortalised it in literature — is almost endless and includes: Noel Coward, Graham Greene, Victor Hugo, Henrik Ibsen, Leo Tolstoy, Thomas Hardy, Henry James, Oscar Wilde, Arthur Conan Doyle, Ernest Hemingway, Evelyn Waugh, James Michener, Barbara Cartland, George Orwell, Fyodor Dostoyevsky, Rudyard Kipling, and George Bernard Shaw.
Today, the hotel's Authors' Wing is the only part of the original hotel that's left standing. According to the hotel's website, you can stay in an Authors Suite: "These suites are tributes to some of the great literary figures that have stayed with us. All feature floor-to-ceiling windows, a balcony, spacious sitting room, a large bathroom and powder room. Individually designed, each 101sqm suite pays tribute in name and ambience, from colour scheme and antique decorations, to one of the celebrated authors who have stayed here."
Mariellen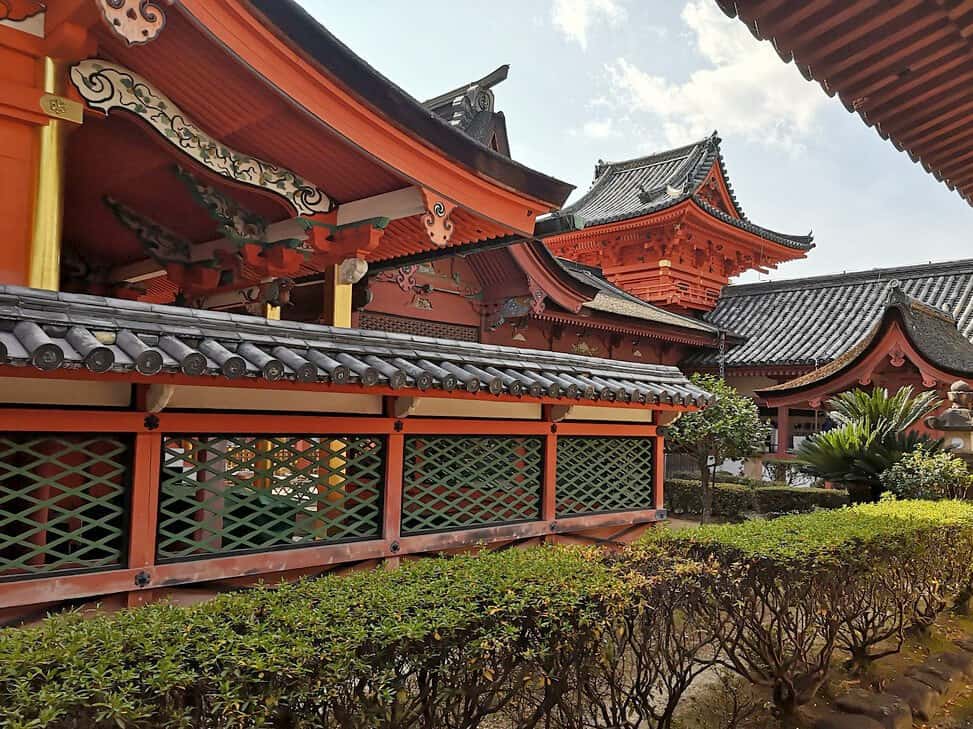 Matsuyama and Dogo-Onsen, Japan
Matsuyama is on the island of Shikoku in Japan. It's a historic city that somehow fell off of the tourists' radar due to its location and the lack of high-speed train connections. However, it has a deep-rooted connection with the great Japanese novelist Natsume Sōseki. Matsuyama's unique cultural vibe, heritage sites, and famous Dogo-Onsen makes it a popular weekend getaway for Japanese locals.
Natsume Sōseki is an influential Japanese novelist of the Meiji period. Today, his image appears on Japanese 1000-yen dollar bills. One of his most famous novels, Botchan, was written in 1906 and the story was set in Matsuyama. The central theme explores morality, with a touch of Japanese humour and sarcasm.
Today, the city still celebrates this important work. You can see figures of the story's characters on display in many places in the city. Botchan Ressha is a steam locomotive ride — a replica from the novel. If you take a traditional ride through the city streets, you can still see the kind of Japanese life described in Natsume's novel a hundred years ago, and perhaps feel some Meiji-period nostalgia.
If you truly want to be inspired, visit one of the historic bathhouses in Dogo Onsen. It is one of the oldest hot springs in Japan with a 3,000-year history. Not only did this onsen serve as a backdrop to Natsume's novels, it also inspired an animated blockbuster by Miyazaki called Spirited Away.
In Matsuyama, you can truly slow down, soak up the traditional Japanese atmosphere, and find inspiration for writing your own period piece.
Kenny Chow is fascinated by the wonderful and beautiful and blogs at Knycx Journeying.
Where writers find inspiration in The Americas

The legend of Anne of Green Gables lives on in Prince Edward Island
There's a special place, in Atlantic Canada, where a literary legend and her creator exist together, an ageless, timeless story of belonging. Anne Shirley, the orphan girl with the red hair, green eyes, and freckles is known the world over because of the popularity of the Anne of Green Gables books.
Author Lucy Maud Montgomery (1874-1942) was born on Prince Edward Island and raised by her grandparents. These were the impressionable years that live on in the character she created and the books she wrote. Montgomery's inspiration for Anne came from her deep love of her home — from the lighthouses to the green fields to the red cliffs. You can visit the house Lucy Maud was raised in — tiny in comparison to the houses of today — and walk where she walked, among the woods and to her relatives' farmhouse. This was the terrain that inspired her to write, and she left a deep impression all across the island.
Growing up in Canada, I fell in love with Anne of Green Gables when I was in eighth grade, but it wasn't until my early 30s that I got to visit her birthplace and to stand at the doorway and peer into the tiny bedroom where she was born.
Not far away from the house, you'll find her grave. There, on the old and worn headstone, rests a collection of rocks and coins left behind by dozens of admirers over the years. Lucy Maud Montgomery's spirit can be felt everywhere you go on PEI. She wrote literature from her imagination that Canada is proud to hold dear.
Kerry is a writer and blogger from Ontario, Canada. Her favourite season is fall, the season of L.M. Montgomery's birth date. She lives with her literary dog and cat: Dobby and Lumos. Find her on Twitter at: twitter.com/theiwanderer
Sylvia Beach Hotel, Oregon
On the rugged and beautiful Oregon coast, a large clapboard building has been turned into something very special and very different. Each of the 20 rooms in the Sylvia Beach Hotel is themed after a different writer, from Dr. Seuss to Shakespeare, and from JRR Tolkien to JK Rowling — and they have gone to extreme lengths to make sure you know who's room you are in with decor, memorabilia and other inspiring touches.
I stayed in the F. Scott Fitzgerald room, a corner room with a partial view of the ocean that had a charming 1920s look-and-feel that I loved. Photos of wife Zelda, a Tiffany lamp and a row of empty Tanqueray Gin bottles (one with a note in it that read: Top me up eh?) were just some of the many touches that gave the room a vérité feel. I fell asleep reading a book of Fitzgerald's letters, written at the time he was writing The Great Gatsby.
Aside from fun and entertaining rooms, the Sylvia Beach Hotel also inspires with it's setting right on the beach. Fog and mist roll in, the waves beat rhythmically, and the mood is timeless and introspective. Perfect for getting you into the writing mood.
Mariellen
Get noticed at the Musso & Frank Grill, Hollywood, California
As people walk down Hollywood Boulevard with their eyes fixed on the stars' names below their feet, they often miss one of the most notable Hollywood gems, Musso & Frank Grill. During 100 years in business, this restaurant with an old-world charm has quite possibly been home to more writers than anywhere on the planet.
Starting in the 1930s, famous authors were lured to Hollywood by studio executives. Musso & Frank's played host over the years to writing legends such as William Faulkner, T.S. Elliot, John Steinbeck, Aldous Huxley and Kurt Vonnegut, many of whom became regulars at the Back Room bar. F. Scott Fitzgerald would proofread his novels there and Raymond Chandler was known to pen some chapters onsite.
The wood-panelled dining room has also served the likes of Charlie Chaplin, Marilyn Monroe, Madonna, George Clooney, Brad Pitt, and probably everyone who's anyone in Hollywood. You may have seen Musso & Frank's in Ocean's Eleven, Mad Men, or one of the many movies filmed there. [EDITOR'S NOTE: This place also figures prominently in the Quentin Tarantino film Once Upon a Time in … Hollywood.]
If you're headed to Los Angeles and want to pen your next novel at this historic writer's hotspot, it's open for lunch and dinner, Tuesday through Saturday or Sunday for dinner only. Grab a booth where your favourite writer, director, or starlet may have sat. Order up a martini to toast all the Hollywood legends. You can extend that literary feeling with a stay at the Hollywood Roosevelt Hotel, where William Faulkner stayed. Only a short walk between both locations, you'll find plenty of cozy corners for inspiration.
Jenifer Byington, a native Angeleno and travel blogger at The Evolista, loves old world Hollywood as much as traveling around the world.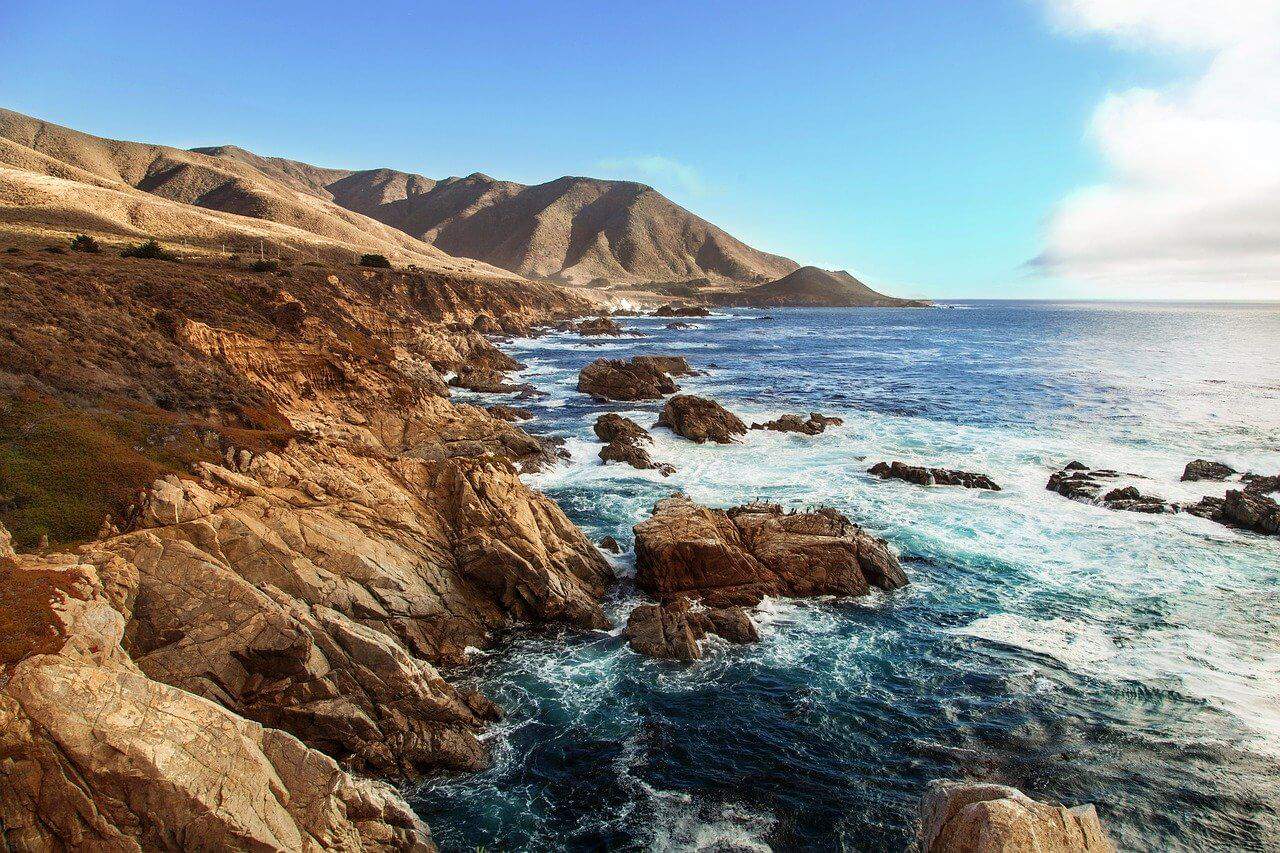 Slow down and write in Big Sur, California
Big Sur, California is a great location for a writing retreat and quite possibly the most spectacular of California's Pacific Coast Highway road trip stops. Known by some as "the greatest meeting of land and sea in the world," Big Sur has dense forests of redwood trees blanketing steep cliffs until they drop off into a rough deep blue ocean. If there's any location that's sure to ease the flow of your words, it would be here — perhaps in a remote cabin in the dense green forest, or overlooking a vast expanse of sea.
Famous author Jack Kerouac shared these sentiments, too. His book aptly named Big Sur depicts his three separate journeys to a cabin in Bixby Creek. The main fictional character is based upon himself, and the book depicts the challenges and mental health issues he faces as he seeks respite in Big Sur.
While today you may not be able to stay specifically in the same cabin that inspired Kerouac, you can choose between a variety of accommodations from super-luxe resorts to campsites next to babbling brooks. If you are looking for a truly luxurious getaway, Ventana Big Sur or Post Ranch Inn will tick all the boxes and more. For something a bit more quaint yet still comfortable, try Glen Oaks Big Sur for a cabin in the forest, or Treebones Resort to stay in an ocean view Yurt.
Kimmie Conner is a Californian nomad/expat who has been traveling, blogging, working overseas, and photographing for over 5 years. She documents her adventures on her blog, Adventures & Sunsets.
Vampires inspired by Hotel Monteleone, New Orleans
One of the best places to visit for writers, readers, bibliophiles, and literary travelers is Hotel Monteleone in New Orleans, Louisiana. Located on Royal Street, Hotel Monteleone is a designated National Literary Landmark. The historic hotel has been a favorite haunt of some of the country's best authors since its establishment in 1886. William Faulkner, Ernest Hemingway, and Tennessee Williams all lived at Hotel Monteleone at one time. More contemporary authors to stay in Hotel Monteleone include Anne Rice and John Grisham. And as for Truman Capote, his mother lived there while pregnant and the hotel was his first home!
Some of the famous books written at Hotel Monteleone include In Cold Blood by Capote and A Streetcar Named Desire by Tennessee Williams. In fact, in the hotel lobby, visitors can see an exhibit dedicated to the influential writers and their literary works. Both established and aspiring authors will find their ideal writer's retreat in Hotel Monteleone. They can book one of the hotel's famous literary suites to scribble away in peace. Or for a more budget retreat, sit at the famous Carousel Bar and order a drink – just like Eudora Welty and Stephen E. Ambrose did!
Ketki of Dotted Globe.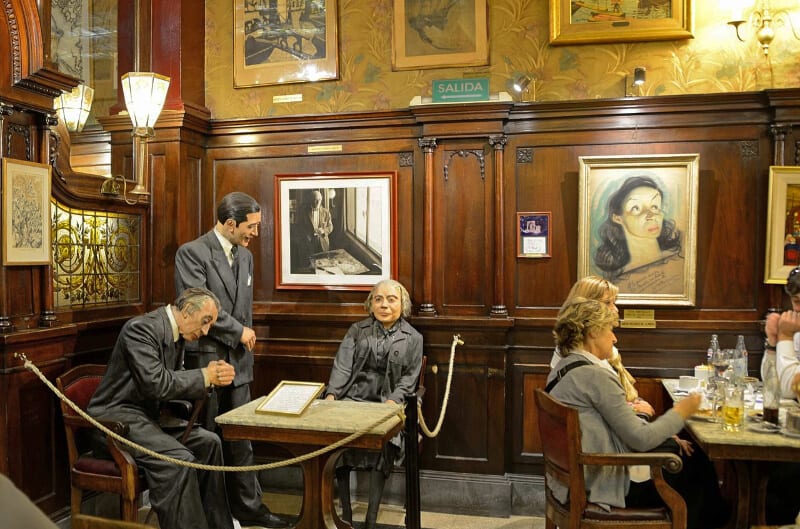 Literary history at the library Café Tortoni, Buenos Aires
Did you know Buenos Aires is one of the top cities in the world for artistic inspiration? The coffee houses in Buenos Aires are an intrinsic part of Argentine culture and account in great part for the city's inspirational flair. Buenos Aires is known for historic cafes, known in Spanish as cafes notables, that are dotted around the city. Many of the cafes notables were once meeting places for writers and other important public figures. Writer Jorge Luis Borges, poet Alfonsina Storni and tango singer Carlos Gardel would gather in groups at Café Torton, which was named after the popular Parisian café.
During the 1920s, the basement of Café Tortoni became a popular meeting place for groups of intellectuals, artists and musicians. The regulars were led by Benito Quinquela Martin, who later went on to form the Agrupación de Gente de Artes y Letras (Arts and Letters Association). Today, the basement is somewhat of a tourist attraction and is used for tango shows. It has been visited by international figures such as Albert Einstein and Hillary Clinton. So, whether it is to try the famous Cafe con Leche, a strong espresso or to find new inspiration as a writer, Café Tortoni is a great place to visit in Buenos Aires.
NOTE: Image of Café Tortoni (Attribution-Share Alike 3.0) (Licence) by Ramon Corvera
Daniel James of Layer Culture.
The real emerald city is the Hotel del Coronado, San Diego, California
There are many beautiful hotels in the world. But how many of them are beautiful enough to compare to the magical Emerald City of Oz? Only the Hotel del Coronado in San Diego. L. Frank Baum, the author of The Wizard of Oz and thirteen other books in the Oz series, loved the Coronado and regularly spent summers here. Compared to his freezing home in Chicago, the sunny Coronado, with its elegant Queen Anne architectural style, seemed like paradise.
Oz experts believe that Baum came up with the idea for the Emerald City before he stayed at the Hotel del Coronado. But it's true that he fell in love with the hotel and wrote three other books in the Oz series while staying here. He even wrote a poem expressing his love for the Coronado, calling it the Queen of Fairyland.
When you stay at the Hotel del Coronado you can see reminders of Baum's time here. First, check out the crown chandeliers in the Grand Crown Room. Frank Baum designed them himself while he was staying here. You can also stop by the gift shop at the Coronado and buy a pair of ruby slippers to take a little piece of Oz home with you. But if you want to see the same beauty that touched Frank Baum, just step outside the Hotel del Coronado in the morning where San Diego's most beautiful beach awaits. Maybe it will inspire you to write a legendary fantasy series of your own!
Stella Jane is a blogger at Around the World in 24 Hours. She loves planning 24 hour travel itineraries that make every day of a trip count.
Solitude in Cartegena, Colombia
Colombia's most well known author Gabriel Garcia Marquez spent lots of time in the historic colonial city of Cartagena. His book Love in the Time of Cholera takes place in a fictional port city based on Cartagena, and many of his other works draw on inspiration taken from the city.
Marquez loved the colonial charm, culture, and connection to the sea he found in Cartagena. Those trappings, along with year round warm weather, make it a great place for writers to follow in Marquez's footsteps and get some writing done in the city.
A writer will be able to enjoy and find inspiration sitting in cafés sipping on some of Colombia's famous coffee, admiring the gorgeous colonial architecture of the churches and former mansions, walking atop the city's colonial era wall and watching the sun set over the Caribbean, or working while enjoying the view from a flower-covered balcony in one of those former homes-turned-hotels.
For those looking for a bit more seclusion and that connection to nature and the sea Marquez loved, a stay in the nearby Rosario Islands is also a great option.
In sum, Cartagena would make a great place for a writer to get some work done.
Adam McConnaughhay has lived in Cartagena since 2011 and writes about the city and other destinations in Colombia at Cartagena Explorer.
Where writers find inspiration in Europe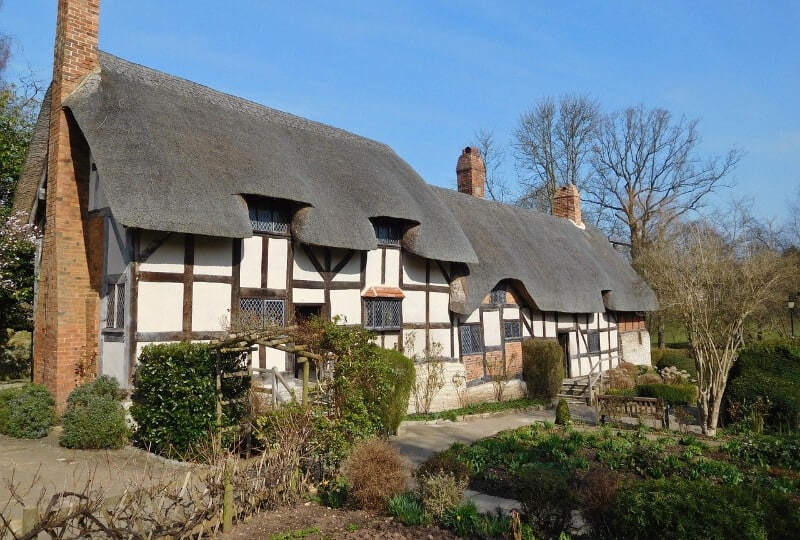 Shakespeare's base in Stratford-upon-Avon, Britain
I'm publishing this post on April 23, Shakespeare's birthday, to honour the poet and playwright's great legacy. He is perhaps the most famous writer in the English language, and certainly one of the most accomplished. His words live on and on (in fact, we owe many English phrases and sayings to him). If you visit the small market town where he was born on April 23, 1564, Stratford-upon-Avon, England, you will find lots to do — from visiting the house he was born in, to seeing his grave in a medieval church, to attending a play at The Royal Shakespeare Theatre.
Learning about Dublin's literary history in a pub
I arrived in Dublin for the first time on a blisteringly rainy evening. The rain tore into me like sharp pins as I struggled to find the rooms I had booked. It wasn't a very auspicious start to my stay in the city, which was granted status as a UNESCO City of Literature in 2010:
"The city was home to four Nobel Prize Laureates for Literature. Its literary influence has spread to the four corners of the world: Bloomsday, commemorating the life of James Joyce, is celebrated as far away as Melbourne and St. Petersburg, Oscar Wilde Societies exist around the world and one of the world's most familiar literary characters, Dracula, was created by Irish author Bram Stoker."
I celebrated the city's literary heritage by going on a Dublin Literary Pub Crawl. It was a really fun way to have a pint and learn about Dublin's rich literary heritage — often in the exact same bars where the scenes unfolded, acted out by a couple of actors. We walked to about four pubs in historic, Georgian Dublin, and had a drink or two in each as the actors regaled us with bawdy and often hilarious stories about James, Samuel Beckett, George Bernard Shaw, W.B. Yeats, Brendan Behan, and Oscar Wilde, among others: "who went to pubs like the Palace, McDaid's, Mulligan's and the Bailey to meet the journalists and literary editors of the Irish Times and the Irish Press. The scene was small and gossipy, poisonous and paralyzed. Beckett referred to the 'indiscretion and broken glass' in Dublin's pubs." The pub crawl was the perfect way to learn about both the city and the writers.
Mariellen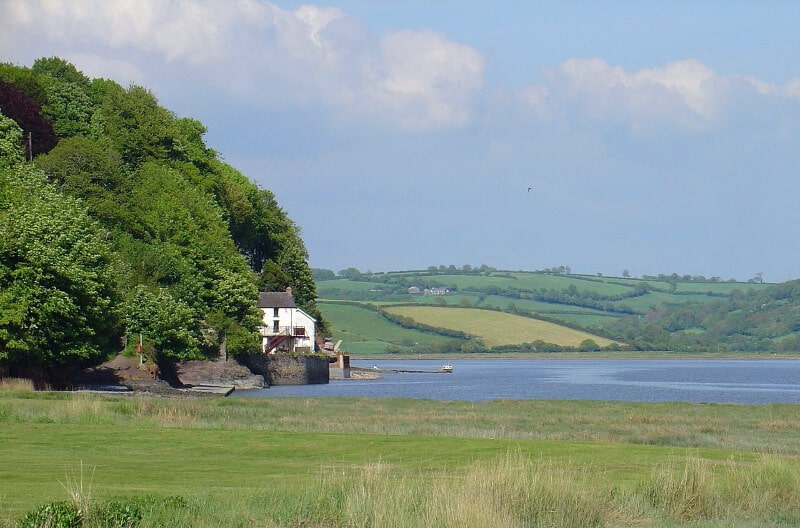 Going gentle into the night at Laugharne, Wales
The tiny Welsh town of Laugharne (pronounced 'Larn') sits at the mouth of the Tâf estuary and was home to Dylan Thomas, one of the greatest poets of all time.
Thomas fell in love with this seaside town in 1934 and described it as "the strangest town in Wales" in his diary as a prodigious 19-year-old writer. Though his work took him to London and, to his ultimate demise, New York for long periods of time, Thomas spent almost 20 years living in Laugharne — accounting for almost half of his short life.
So little has changed in this seaside town that it's easy to imagine the writer – or any writer – would still find a muse in it today. The Cross House Inn, where Thomas lived, drank, and wrote when he first moved there, remains perfectly intact today. Browns Hotel (and pub), too, continues to shine as a beacon of hope and comfort for writers and pub-lovers alike. Indeed, one of its plush (but affordable) rooms would make quite the writing studio, as would the various bar lounges downstairs.
And although Thomas lived at a number of houses in Laugharne, it's the iconic Boathouse property that survives as the poet's spiritual home. Perched on a cliffside overlooking the estuary, the house was owned by Thomas' patron Margaret Taylor, who let Thomas' family live there rent-free so that he could focus on his work. And work he did. Here, in a little wooden shed overlooking the fishing boat bobbing sea, it's thought he wrote some of his most famous poems and finished up his magnum opus, Under Milk Wood.
Today, both Dylan and Caitlin are buried in St. Martin's Church in Laugharne, while this strange little town continues to inspire writers to rage, rage against the dying of the light.
Ben Holbrook is a Welsh travel writer, photographer and filmmaker based on the glorious Gower Peninsula in South Wales. Discover more of his work on his blog, DriftwoodJournals.com.
Books and wine at the Literary Man Hotel, Óbidos, Portugal
Just one hour from Lisbon is the small town of Óbidos, a UNESCO City of Literature. It's home to over 15 independent bookshops, which can all be found within a 1 kilometre radius. Many of them are located in the strangest of settings. Imagine a bookshop in a church, a market, a wine cellar and more!
An unmissable stop in Óbidos for writers is The Literary Man Hotel, thought to be the largest literary hotel in the world. There are over 65,000 books on the shelves there — books are literally everywhere. They line the walls, they're in the bedrooms, they're in the restaurant, everywhere.
The building the hotel occupies is stunning and dates back to the early nineteenth century. At that time, it was a nunnery, but today it is a beautiful literary hotel. The hotel has more than 30 rooms, a lovely restaurant and bar. The restaurant is located in the library so you can dine with books all around you. People don't just come for the beautiful setting though, the food is excellent too. For a cheeky tipple after a long day of writing, there's a library bar with more than 30 types of gin, plus floor to ceiling bookshelves. How could you not feel inspired?
The Literary Man is the perfect place to shut yourself up for a solid week of writing. The rooms are simple but they each come with a writing desk (more books on the side, of course), or alternatively you can set up shop in the beautiful restaurant/library. There are tables here of varying sizes, big group ones, two-person tables and even some comfy sofas. It's the ideal hideaway for every kind of writer.
Laura @ What's Hot? a culture & travel blog. Book Blogger of the Year 2019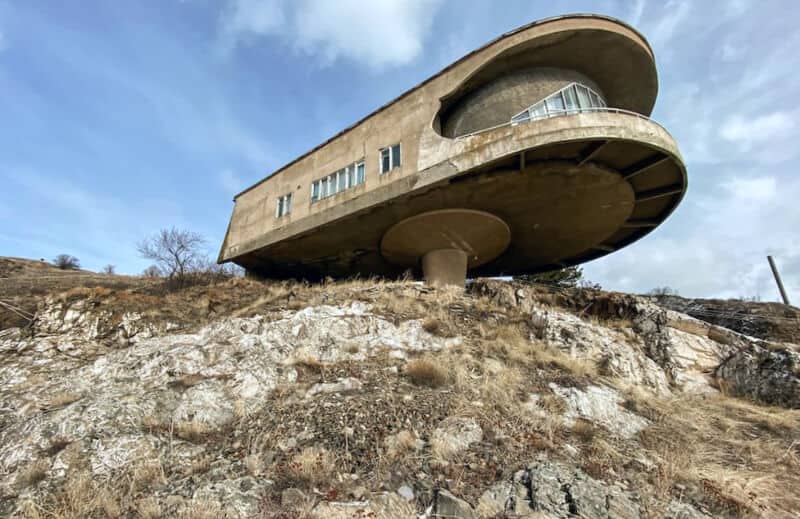 A retreat in Soviet era brutalist glory, Sevan, Armenia
While there is Soviet architecture all around the world, one of the most famous examples is the Sevan Writers' House in Lake Sevan, Armenia. The obscure architectural marvel is located nearby one of the most famous monasteries in the country, on the banks of the largest lake in the Caucasus.
The origins of the Armenian Soviet Modernism style of architecture dates back to the 1930s, when creative architects Gevorg Kochar and Mikael Mazmanyan were tasked with building The Writers' House, a home for creative professionals. The Writers' House was built for writers, artists, and other intellectuals.
Stalin eventually sent the accomplished architects to a gulag in the Arctic, and 30 years later they were released — after the Soviet leader's death. In 1962, a new wing of the hotel was built. Kochar used his time in the gulag as inspiration, giving the Sevan Writers' House two very distinct looks (between the two buildings).
During its most popular days, it housed and provided a creative refuge for famous Soviet and international names such as Avetik Isahakyan (writer), Vasily Grossman (writer and journalist), and Simone de Beauvoir (writer, feminist, and existentialist philosopher).
The Sevan Writers' House has fallen victim to dilapidation in recent years. Fortunately, the renowned building received a grant from the Getty Foundation as a heritage of Soviet Modernism. They have provided $130,000 in an effort to preserve the building. The project will take 3-4 years to complete, while they find ways to save the beautiful masterpiece. The Sevan Writers' House is still used as a retreat for Armenian authors and those inspired by the natural surroundings and history of the place.
Megan & Aram from AbsoluteArmenia.
Writers make hay at Hay on Wye, Wales/UK
Hay-on-Wye is the nearest thing the U.K. has to a literary capital. It's a tiny market town on the banks of the River Wye, on the Wales-England border, and through a quirk of fate ended up being home to the biggest literary festival in the world.
The town was on the slow road to rural oblivion in the 1960s when Richard Booth, a local bookseller, began acquiring thousands of books, many of which were from public libraries in the U.S. He and others began opening second-hand bookshops in the town, and by the 1970s it had a reputation as a "book town." This reputation burgeoned as more and more book shops opened – at its peak in the 1990s, there were at least 60 bookshops in this town of around 2,000 people.
The Hay Festival started in a local school in 1988 and has grown every year – it now hosts around 250,000 visitors each year. It's held on a purpose-built site just outside the town. There are usually several events happening at any one time. It has attracted the likes of former U.S. President Bill Clinton, who described it as a "Woodstock of the mind" and U.S. playwright Arthur Miller, who asked if Hay-on-Wye was "some kind of sandwich."
Around 25 bookshops still remain in the town, including Richard Booth's shop near the Clock Tower. The area around Hay – the Brecon Beacons National Park – has been the inspiration for writers long before it became famous. The 19th century diarist Francis Kilvert was a curate at the church in the nearby village of Clyro. And legendary travel writer Bruce Chatwin drew inspiration from the Llanthony Valley in the Black Mountains, 10 miles south of Hay, for On The Black Hill.
David Angel from DelveIntoEurope.
A literary shrine at Shakespeare and Company, Paris
Shakespeare and Company is an English-language bookstore located in the heart of Paris, right across from Notre Dame Cathedral on the banks of the River Seine. It was founded by George Whitman, an American who came over to Paris to study after World War II. He opened the bookstore in 1951. From day one, transient writers, artists, and other misfits and lost souls were invited to stay in the bookstore, sleeping on narrow beds that doubled as benches for customers by day. Having been a penniless adventurer who was sheltered by strangers, George's motto was to "be not inhospitable to strangers lest they be angels in disguise."
Henry Miller, James Baldwin, Allen Ginsberg, and Anaïs Nin are just a few of the writers who passed through here in the early days. It's even rumoured that George Whitman had a romantic relationship with Anaïs. He referred to his bookstore's many short-term residents as "tumbleweeds." In exchange for a place to sleep, he asked that they help out in the shop for a couple of hours, write a single-page autobiography, and read a book a day.
George continued to run the bookstore on his own, with the help of his tumbleweeds, until well into his 80s. In the early 2000s his only daughter, Sylvia Whitman, came to help him co-manage the bookstore and eventually took over. Even then, George continued to be a huge part of life at the bookstore and lived in the apartment above it until his death in 2011, at the age of 98.
While the bookstore has modernized a bit since George's death (it now accepts credit cards and has an attached café serving some of the best vegetarian and vegan food in Paris), the spirit of the place hasn't changed. Tumbleweeds are still welcome, and thus far the bookstore has hosted more than 30,000 guests.
Wendy Werneth Creator | The Nomadic Vegan
Temptation in a Greek paradise, Krasi, Crete
The small village of Krasi, almost unknown to the hundreds of visitors who flock to the island of Crete every summer, is an ideal mountain retreat to gather your thoughts and get inspiration from the unique surroundings.
The local history of Krasi has a deep connection to Nikos Kazantzakis, Crete's most famous writer — who is often described as a giant character of the modern literature of Greece. Some of his most remarkable books include Zorba the Greek, Christ Recrucified, and The Last Temptation of Christ as well as many philosophical essays and travel stories. He was also an excellent translator.
Kazantzakis was nine times nominated for the Nobel Prize in Literature, never winning. In fact, in 1957, he lost the Prize to the French writer Albert Camus by just one vote. Some time later, Camus declared that Kazantzakis deserved the Nobel a hundred times more than himself.
Kazantzakis chose to spend long summer in Krasi, writing tormented stories about the life and history of the island, the characters and traits of the islanders, and examining his existential doubts about life and religion.
It was also in Krasi where he met his first wife, Galateia Alexiou, another important Greek writer. She was born in Heraklion, the capital of Crete, and later on in life was held prisoner for her political ideas. It was the Alexiou family, along with other intellectuals, who created the Literary Company of Krasi.
The village of Krasi has long been connected with the literary movement of Crete, so much so that in 2009 the House of Literature was established in the small town. The House of Literature is a place where authors and translators all over the world can find accommodation at a very convenient price and for long periods of time. The only request is that they briefly mention the place in their published work.
Krasi is about 600 meters above sea level, just a few kilometers from the capital of Crete. It's known for a monumental plane tree, more than 2,500 years old, and for the beautiful natural springs in the central square of the village.
Gabi Ancarola writes about the Greek island of Crete in The Tiny Book and hosts gastronomic experiences on the island.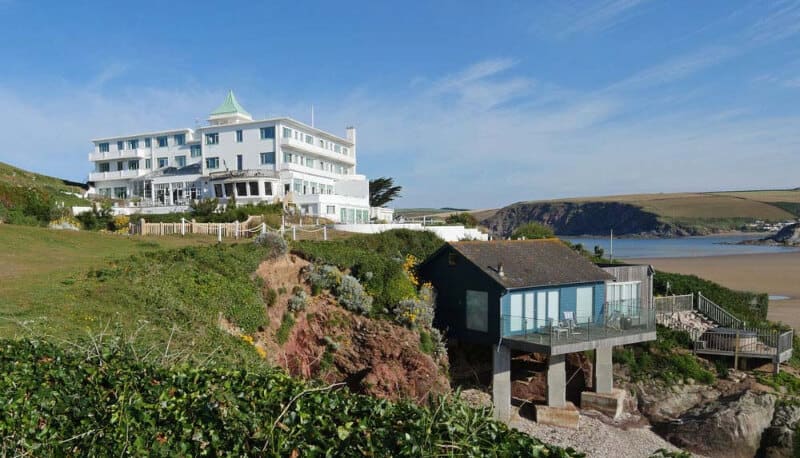 Inspiration under the sun at Burgh Island Hotel, U.K.
Escape to the South Devon Coast of England, to Burgh Island, just across from the mainland seaside town of Bigbury on Sea. There's a stunning art deco hotel on the island, cut off from the sea by a sandy causeway, and built into the cliffs. The Burgh Island Hotel was the height of fashion in the 1930s and 40s, attracting all sorts of famous guests including Noel Coward and Winston Churchill.
Originally, Burgh Island Hotel was a writer's retreat for Agatha Christie. The island inspired — and was featured in — two of her novels: And Then There Were None and Evil Under the Sun.
Today, you can stay in the Jane Marple room or the Hercule Poirot Suite – all the rooms are named after characters from Agatha's novels. And you can swim in the mermaid pool, sip cocktails in the palm court bar, and dine and dance the night away to live music in the ballroom. You'll feel as if you've stepped into another world.
The entire hotel has been beautifully restored to its former glory and is filled with authentic art deco furnishing. Or if you want some solitude to create your own masterpiece, escape to the Beach House with its panoramic view of the sea and stay in the self-contained luxury retreat. What better way to get inspiration for your own murder mystery novel?
Fiona Maclean writes about food and travel for London Unattached. She loves travel, opera, good food and wine.
Discover the bliss of solitude at Lake District, Cumbria, UK
The stunning landscape of the Lake District in Cumbria has for centuries been a place where artists and writers have gone for inspiration. The famous poet William Wordsworth spent much of his life there, and the characters in Beatrix Potters famous children's books were all inspired by the local wildlife.
If you want to follow in Wordsworth's footsteps, his home Dove Cottage, and the Daffodil Garden at St. Oswald's Church, are fantastic places to visit in Grasmere.
If you are looking for somewhere nearby to spend a day writing, a visit to Allan Bank is a must. The property was the family home of Wordsworth — and the views over Helm Crag and the lake are stunning.
Allan Bank is now an innovative and creative space where visitors can go and read a book, paint in one of the art rooms, or enjoy sitting next to the open log fire. Refreshments are free, and you're welcome to bring a picnic lunch to enjoy.
Another popular place for writers and painters is Blackwell Arts and Crafts House near Bowness-on-Windermere. The house was once the rural retreat of the Holts family who owned the famous Manchester Brewery.
It's packed full of art deco features, mosaic floors, and beautiful wooden panelling. The stunning bay windows that look out over Lake Windermere are the perfect place to seek inspiration from the natural beauty of the landscape.
To learn more about Beatrix Potter, a visit to Hilltop farm near Ambleside and the village of Hawkshead are well worth a trip. There's plenty of BnB's to choose from, or holiday cottages to rent if you want to stay longer.
With so much countryside to explore, it's never hard in the Lake District to find a quiet spot to relax, soak up the tranquil beauty of this UNESCO World Heritage National Park, and find inspiration to write.
Fiona is the writer behind Passport and Piano. She is an international music examiner and a newbie travel blogger.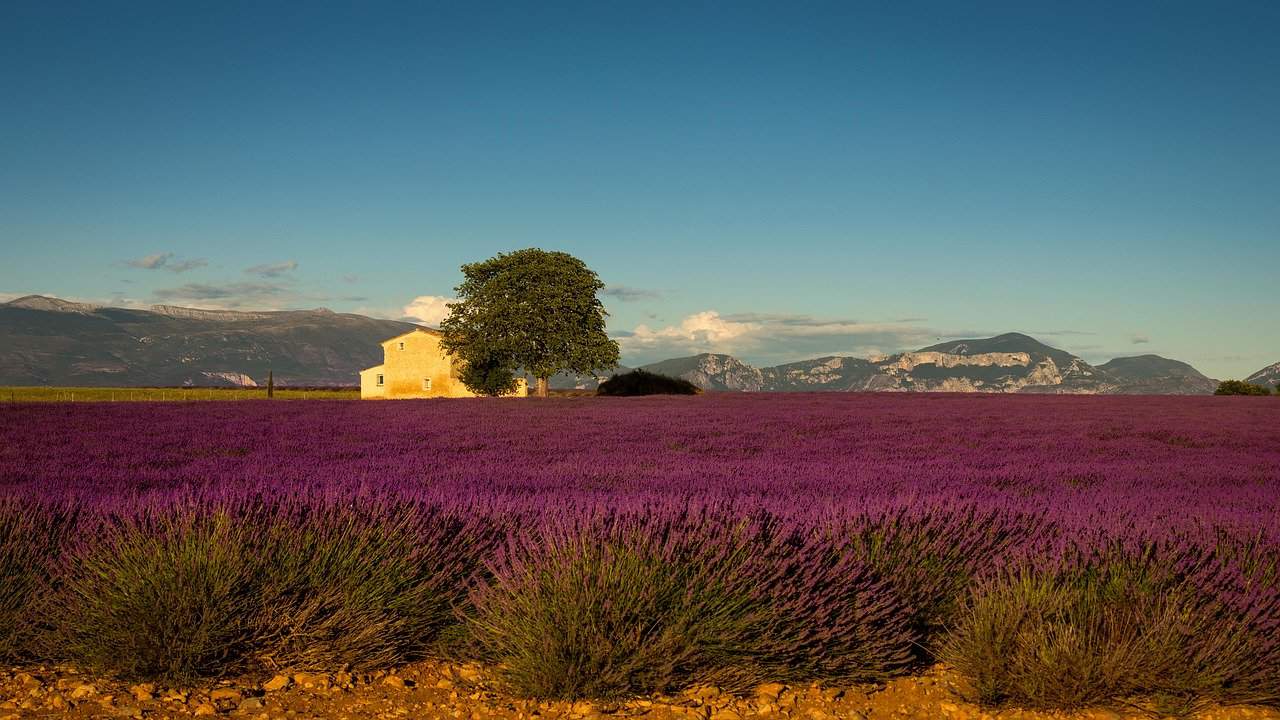 A good year in Provence, France
Provence has long been a sanctuary for writers. Frédéric Mistral wrote about the landscapes and people of Provence in his Noble Prize-winning poetry, and Marcel Pagnol encapsulated the beauty of Provence in his novels and films. Modern-day writers also find inspiration from Provence's light, scenery, and culture. And one particular author, Peter Mayle, brought Provence to the homes of people worldwide with his international bestselling book, A Year in Provence.
Peter Mayle moved to Provence in 1987 with the idea of writing a novel. Instead, he found himself embroiled in everyday life and the struggles that came with refurbishing an old farmhouse in Ménerbes. He turned his attention to writing an account of his life in Provence instead, and A Year in Provence was born. Some years later, after a move back to the U.S., he returned to Provence once again to write. Based near another Luberon village, Lourmarin, he penned (among others) A Good Year, a novel that was later adapted into a film directed by Ridley Scott.
These days the Luberon still provides a calm and bucolic respite from life. It's a wonderful place to retreat to in order to write, or to simply gain inspiration to write and for works to come. Visit in the off-season to truly appreciate the slower pace, the daily flow of village life, and those unique South of France skies.
Nadine Maffre is a New Zealand-native now happily ensconced in the Provence countryside. She writes about her new home and European travels at Le Long Weekend.
Where writers find inspiration in Africa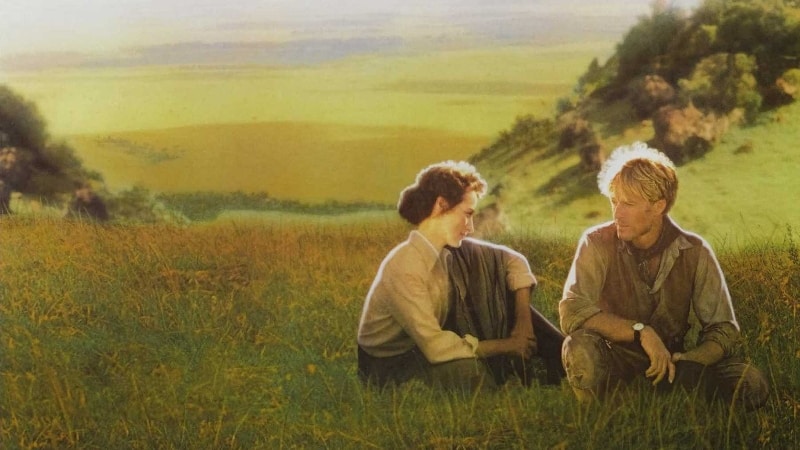 Karen Blixen Museum in Nairobi, Kenya
Out of Africa, a memoir published under the author's pen name, Isak Dinesen, is about aristocrat Karen Blixen, who travels to Africa to join her husband in Kenya. The young Baron and Baroness run a coffee plantation below the Ngong Hills, a few miles southwest of Nairobi. While struggling to make the coffee plantation work, Karen Blixen helps empower the local community especially the children.
Unfortunately, the Baron and Baroness have trouble making the marriage work — the Baron's infidelities don't help. Meanwhile, Karen develops feelings for a hunter named Denys Finch-Hatton. The memoir is about all of this — her personal life, her farm, and her love for Africa.
If you have read the book Out of Africa, or seen the movie, you'll want to visit the museum where the author Karen Blixen started writing the memoir. Set in expansive gardens and the lovely colonial house where she lived in Nairobi, Kenya, the place has been preserved as a museum that's open to the public.
Inside the museum, you can see Blixen's study where she wrote, her kitchen, her pots and pans, her cuckoo clock that the Masai children came to see every day, and the place where she sat down to prescribe medicine to the local people. You can tour the gardens and see all the coffee plantation equipment. Or sit in one of the chairs in the garden, read her book and be inspired to write and start working on your own memoir.
Priya is a family travel writer, photographer & blogger balancing her love of travel, art, and hot air balloons and life inside the suburbs. She is a Lonely Planet Pathfinder, active on social media and shares her experiences on her blog at outsidesuburbia.com.
---
Pixabay photo credits
Prince Edward Island Image by ArtTower from Pixabay
Big Sur Image by DanielCamer from Pixabay
Mary Arden House Image by Susli from Pixabay
Provence Image by David Kooijman from Pixabay
---
Pin it on Pinterest
---
If you enjoyed this post, you can….
Sign up to The Travel Newsletter in the sidebar and follow Breathedreamgo on all social media platforms including Instagram, TripAdvisor, Facebook, Pinterest, and Twitter. Thank you!