On the goose bump trail to find my ancestral home in Ireland
Researching my family history in Dublin, boarding a famine ship in Wexford and discovering an ancestral castle in Cork: These were just some of the highlights of my trip to Ireland to connect with the land my ancestors left behind more than 200 years ago when they journeyed to British North America (now Canada) for the chance of a better life. I was on what genealogist Helen Kelly describes as the "goose bump trail" to walk the ground of my ancestors during Ireland's Year of The Gathering. And, yes, there were goose bumps indeed…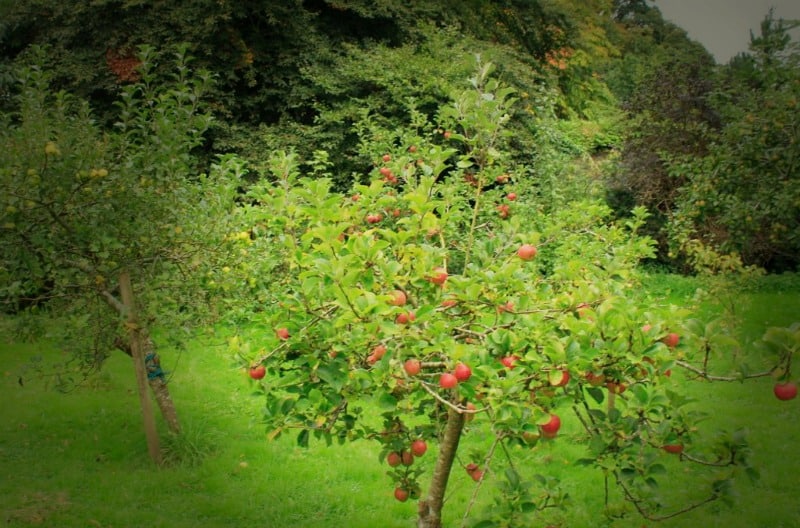 As I wrote this post in Dublin, I was eating a crisp apple that came from an orchard on the Blackwater Castle estate in Castletownroche, Ireland. It was perhaps the best apple I have ever eaten — certainly the most significant, for I picked it myself just a day or two before. Climbing the 12th century tower of Blackwater Castle to survey the village and environs of Castletownroche in Cork was one of the highlights of my Gathering trip to Ireland — for it was from Castletownroche that my ancestors left Ireland, more than 200 years ago.
---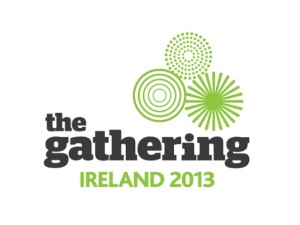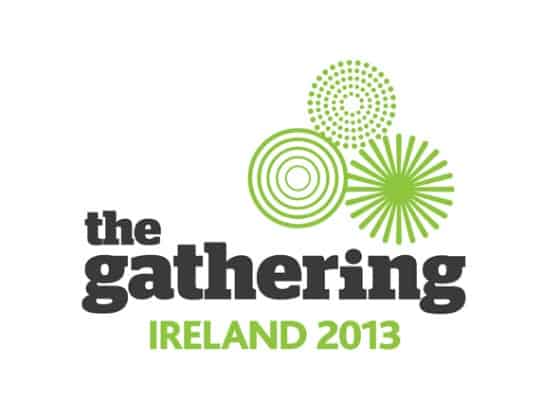 The Gathering 2013
The Gathering was a year-long festival of events all across Ireland to entice and entertain visitors, especially the Irish diaspora. It was a celebration of Irish culture, history, people and places.
---
The dead centre of Dublin
When I arrived in Dublin, before my road trip to the south east to "walk the ground of my ancestors," I made a couple of stops to research my family history. The first was to visit Glasnevin Museum and Cemetery during the week of the Glasnevin Whelan Family Gathering, which I wrote about in My link with Ireland. I went on a cemetery tour that was gripping, informative and just creepy enough: I highly recommend it as an entertaining way to learn about modern Irish history.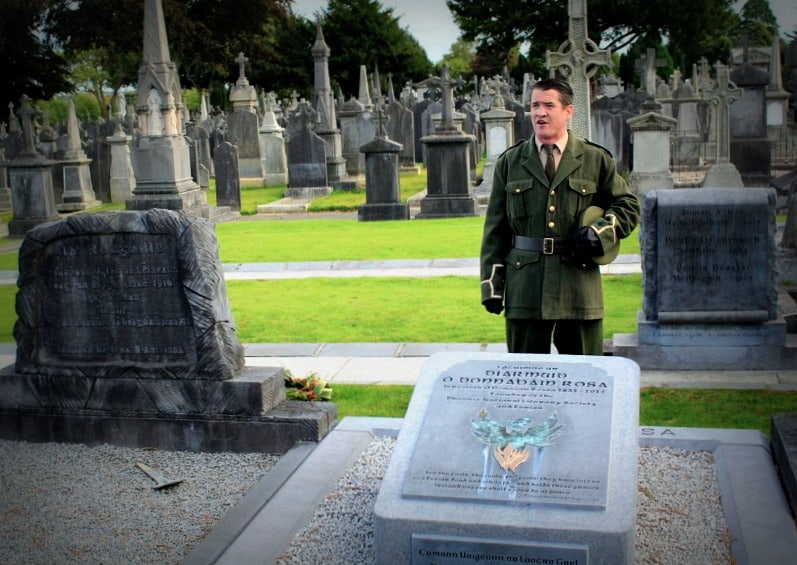 Most of the major figures in Irish history and culture are buried in the vast cemetery, and there are plenty of stories about their lives and deaths to fill a two-hour tour. Glasnevin is the largest cemetery in Ireland, and more people are buried there (1.5 million) than currently live in Dublin (1.2 million).
We like to say we are the dead centre of Dublin." Glasnevin Deputy CEO Mervyn Colville
Afterwards, Mervyn Colville showed me around the museum and even into an off-limits research room filled with ancient, brittle record books. The museum is surprisingly state-of-the-art, and was designed by someone with a dark sense of humour. I think the tour and museum are a must-visit in Dublin. However, though there are 10,000 Whelans buried in Glasnevin, and though I was there during the week of the Whelan Family Gathering, there were no gatherings scheduled and I was not able to make contact with any potential living relations.
---
TIP: Find out about 8 of the Best day trips you can take from Dublin — including Cork, which is where I went.
Learning to walk the goose bump trail
The next day, I met up with genealogist Helen Kelly at the National Library of Ireland, one of those many stately Georgian buildings in Dublin that give the city its character. Helen is a professional genealogist who was assigned to me via Failte Ireland. Among her other roles, Helen is the Genealogy Butler at the historic Shelbourne Hotel.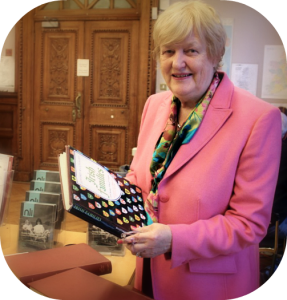 Helen showed me the resources in a second floor room devoted to genealogical research, and we talked about my "case" and the difficulty of tracing old records. Added to the difficulty is the fact that the names I am tracing are relatively common — it's much easier to trace an uncommon name.
For a list of resources to help trace your family in Ireland, please scroll down.
Helen's modus operandi is to empower people to do their own research. She said she tells people to: "identify the place and take themselves to it." Her best advice is to, "cradle yourself in the landscape of your ancestors" and that's what I decided to do. Instead of spending my time in Ireland chasing paper, I chose to visit the counties associated with two of the names in my Nana's family tree: Whelan (Waterford and Wexford) and Roche (Cork).
This is what it's all about for the Diaspora," Helen said. "I call it the goose bump trail."
I worked with Helen and a copy of a family history to ascertain that my Whelan ancestors came from south east Ireland and my Roche ancestors from Castletownroche (see my blog My link with Ireland). So it was to these areas that I drove with scant information, just points on a compass, really; plus a map, an open mind, a trusting heart and a desire to connect with my past.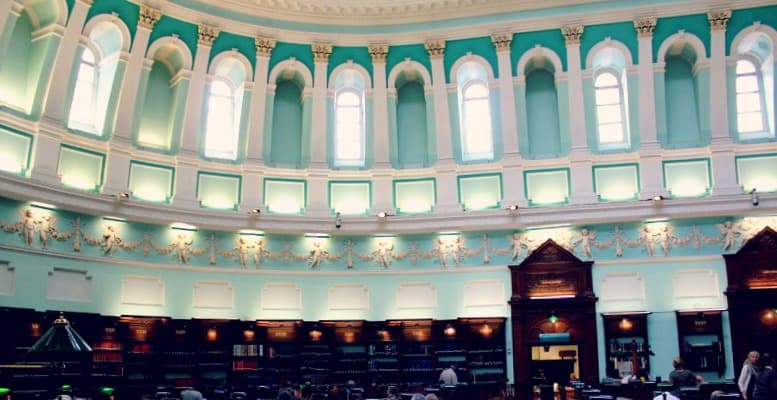 Pier of The Sorrows
More than 200 years ago, my ancestors Clara Carty and John Whelan made the short journey to the port of Queenstown in Cork, Ireland to escape living under harsh conditions following the 1798 Rebellion. I wrote about their tragic history some months ago, before I left for Ireland, in The Journey From Ireland … and Back.
In September 2013, I also made the journey to Queenstown, now called Cobh, on the southern coast of Ireland. For me it was a reverent journey, accompanied by the deep feelings that all true pilgrimages engender.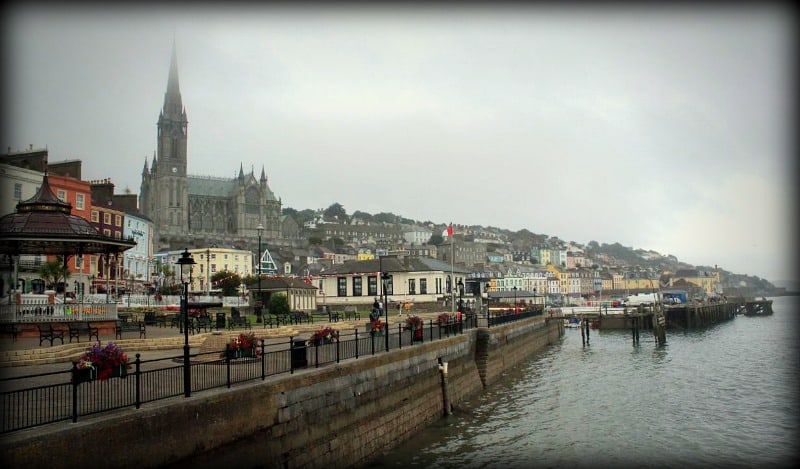 As I drove the long, winding road that follows the River Lee towards Cobh — one of the world's finest natural and deepest harbours — I tried to imagine how it might have been for my ancestors as they prepared to leave their homeland forever. And it was impossible. How can we know — in this age of jet air travel and instant communication — how people felt when they left Ireland in the 19th century, knowing they would never see their country or kin ever again? They used to hold wakes for people leaving Ireland, because they were as good as dead.
When John and Clara left Ireland, there was just a trickle of people boarding flimsy wooden boats for the two-month journey across the Atlantic Ocean to the new world. By the mid-19th century, when the famine was devastating the land, the trickle grew to a flood. This period, called "The Great Hunger," cut a swath through the history of Ireland, and the deep gash is still felt: before 1840, there were eight million people in Ireland. After 1850, there were four million. Many died of hunger, and many emigrated to Canada, the USA and Australia.
Today, the population of Ireland is still only about six million; it has never fully recovered. But the Irish Diaspora totals about 80 million worldwide — which is why Ireland is holding The Gathering this year, to bring people of Irish descent home.
And I was one of them.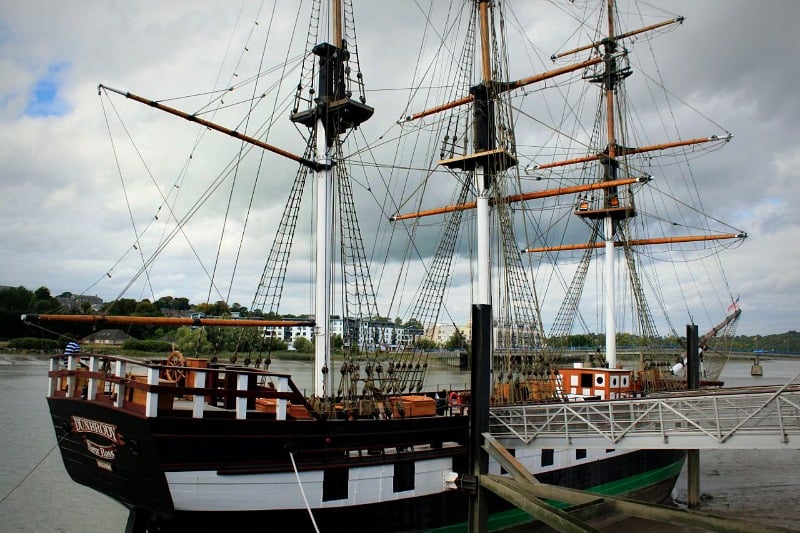 Boarding a coffin ship
Today, there are many sites in Ireland set up so that you can experience the country's history. Before driving to Cobh, I stopped in New Ross, Wexford — just a few kilometres from the site of the John F. Kennedy homestead — to tour the Dunbrody Famine Ship. The Dunbrody is a replica of a ship built in Quebec in 1845 for transporting timber from Quebec to Ireland. It was pressed into service as a passenger ship to help transport some of the millions who left Ireland during the famine years.
Visiting the Dunbrody museum — built to resemble a quayside warehouse from the 19th century — and then the ship, was a surprisingly moving experience. They've done an excellent job of trying to recreate the experience. I was given a passenger ticket with a name on it, and encouraged to find "my bunk." While below decks, the tour guide explained how harsh the conditions were, and why many people died enroute — giving rise to the term "coffin ships." A couple of actors appeared to complete the verité experience. The actress who played the peasant woman, Anne White, was eerily good. She rocked a baby doll, told us she had four more children with her, and had already buried two — and was going on the voyage to British North America because she didn't want to bury any more.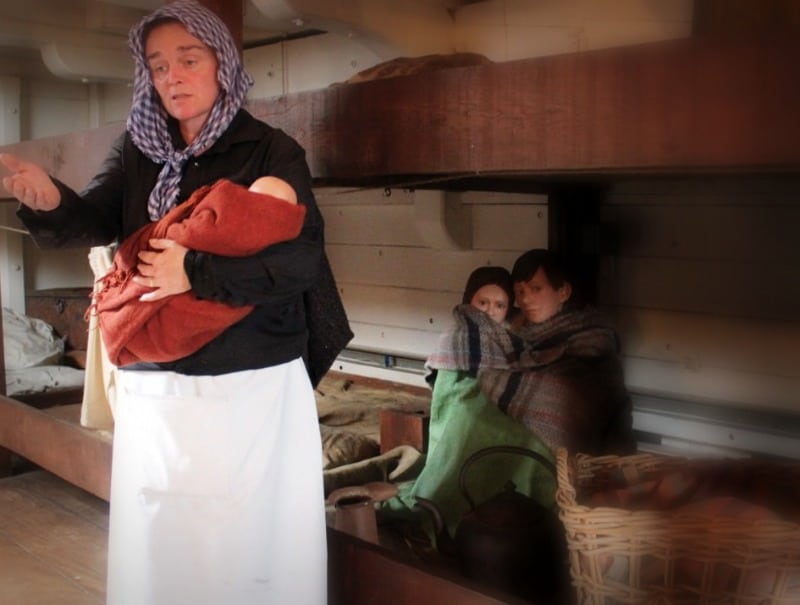 After stories about being locked downstairs for most of the day and only being allowed on deck for half-an-hour; of having to use a bucket toilet; of rations of hard-tack biscuits; of entire families being crammed into small bunks, I was suitably horrified. You can say what you want about tourist attractions, but this one really did give me a deeply felt idea of what my ancestors endured to go in search of a better life for themselves, their children, and their descendants — me.
To say I was humbled and grateful by the experience is an understatement.
Genealogical Resources for finding your family history in Ireland
National Library of Ireland
Thank you to Failte Ireland, Ireland Tourism Canada and The Gathering for making this trip possible.
---
If you enjoyed this post, you can….
Sign up to The Travel Newsletter in the sidebar and follow Breathedreamgo on all social media platforms including Instagram, TripAdvisor, Facebook, Pinterest, and Twitter. Thank you!