Fairmont Royal "Raja" York is ground zero for the IIFA Awards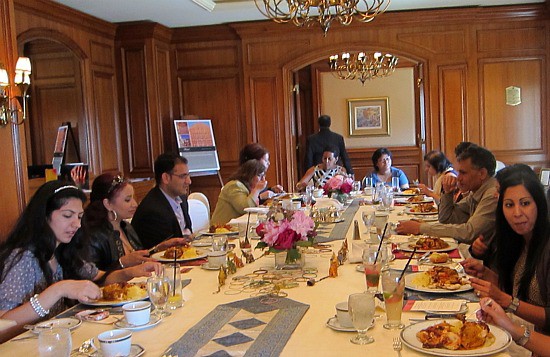 Historic hotel plays host to Bollywood in Toronto
The Fairmont Royal York Hotel in Toronto has "gone Indian" for the 12th International Indian Film Academy (IIFA) Awards, June 23-26, 2011. Renamed the Fairmont "Raja" York Hotel for the week, the landmark hotel has also introduced the Raj Kapoor Martini and several other cocktails and mocktails, and a specially created Indian menu. The hotel is also turning its York's Deli into Delhi Deli  for the three-day show. Indian-inspired foods the hotel will be serving include spicy Bombay street snacks, home-style curries and authentic recipes such as chai, samosas and pakoras. The iconic hotel is also holding its first-ever Indian Wedding Show on Wednesday, June 22.
Stars such as Shahrukh Khan, Dharmendra, Priyanka Chopra, Anil Kapoor, Rani Mukherji, Sonny and Bobby Deol, and many more are expected to attend.
Here are the cocktails the Fairmont Raja York will be serving:
Raj Kapoor martini of Victoria Gin and Polar Ice Vodka
Watermelon Mojito made with or without rum and muddled rooftop mint
Filmi Fizz: tropical flavours paired with Lambs Navy Rum
Kashmir featuring saffron, vodka, mixed with the sweet juices of oranges and mangos
Bollywood week at the Fairmont starts with lunch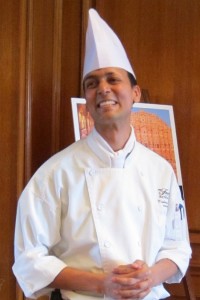 To kick off "Bollywood" week in Toronto, the historic Fairmont Royal York Hotel hosted a media luncheon on the luxurious "Gold Floor." A special Indian-with-a-twist menu was prepared by chefs David Garcelon and Vishwa Mohan. Mohan was trained at the Oberoi  Udai Vilas in India, and really knows how to bring Indian spices and cooking techniques to North American foods. We started with Tandoori Lobster and asparagus soup and finished with a sublime Gajjar Halwa.
Guests included representatives from Wizcraft, the organization that owns and runs IIFA, and local media, including journalists from the Toronto Star, Toronto Sun, National Post, OMNI TV, India-Asia News Service, Anokhi Magazine, Indian Express and Canadian Immigrant Magazine; bloggers such as Marissa Bronfman, Piali Roy and Syerah Virani of MyBindi and media personalities such as Rishma Malik, Renu Mehta and a representative from Toronto Tourism.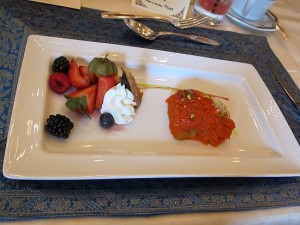 In accordance with IIFA's commitment to environmental awareness, the Fairmont Royal York will roll out a "green carpet" instead of the traditional red carpet. The hotel is well-known for well-established environmental practices: reducing, recycling, reusing, redistributing and rooftop gardening.
Get live updates from IIFA!
As the hotel's "embedded" blogger, I will be blogging about the events and the stars, and micro-blogging on Facebook, during IIFA. To get live updates, please LIKE the Breathedreamgo Facebook page and follow me, Breathedreamgo, on Twitter
Some information contributed by IANS.
[DISCLOSURE NOTE:  As embedded blogger during the IIFA Awards, I was a guest of the Fairmont Royal York Hotel. But as always, views expressed are my own and are in no way influenced by accepting accommodation. I will not compromise the editorial integrity of Breathedreamgo.]
If you enjoyed this post, you can….
Get updates and read additional stories on the Breathedreamgo Facebook page.
Buy Song of India, a collection of 10 feature stories about my travels in India.
Subscribe to the free — and inspiring! — e-newsletter, Travel That Changes You.