Bollywood in Toronto: Fave moment #1 – Shahrukh Khan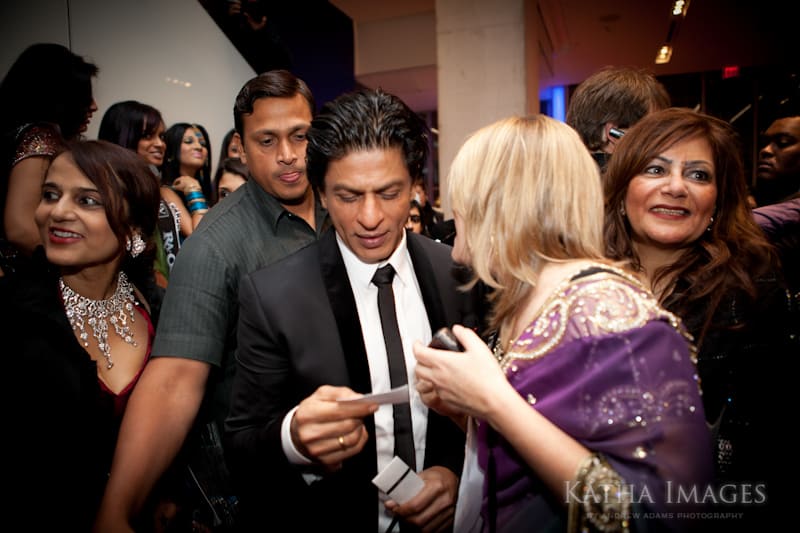 My top five favourite moments
This is the first in a series of blog posts about my favourite moments of the International Indian Film Academy (IIFA) Awards weekend in Toronto, June 2011. I had the good fortune to be the "embedded" blogger at the Fairmont Royal York Hotel, the IIFA's host hotel, during the Bollywood invasion, so I was right at the centre of the action. Number 2 moment: Fan frenzy. Number 3 moment: The stars.
Fave moment #1: Meeting King Khan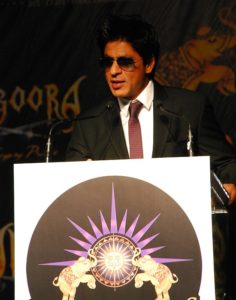 Some of my readers will have no doubt, others will be totally surprised to learn: Shahrukh Khan (often known as SRK or King Khan) is the world's number 1 movie star. By far. Any number or metric you want to use to measure — loyalty, fan base, power, influence, sheer hysteria — will show SRK way out in front. He is NOT the Tom Cruise or Brad Pitt of India. We do not have stars in the west the way they do in India. There are probably 1 billion people — that's about one-quarter of the planet — who would give Shahrukh their kidney, if he needed it. Shahrukh attended the International Indian Film Academy (IIFA) Awards in Toronto in June 2011, and took the city by storm. He worked non-stop from the moment he landed (on a private plane from Mumbai), attending press conferences, a special Toronto City Hall reception, the IIFA Rocks show, parties and of course the IIFA Awards show — where he helped MC, won the best actor award, and closed the show with a spectacular dance number.
Frenzied crowds and a media scrum ensued wherever he went — and I can tell you because I was up close, he handled it all with an astonishing amount of grace under pressure. He was calm, cool, collected and courteous — even when surrounded by screaming fans; even when a man from the audience pounced on his feet and wouldn't let go during the IIFA Awards show. He took time out to let people ask him questions, and answered with thoughtfulness and intelligence. He doesn't suffer fools gladly, but if you show him you are serious, he will respond accordingly.
I am generally not star struck, in fact celebrity culture turns me off: I am fully aware that fame is about 2% reality and 98% illusion and imagination. Shahrukh is charismatic and talented, and I love some of his movies, but my admiration for him stems largely from knowing how hard he works, and that he came from nothing, and achieved success purely on sheer talent and determination. He takes his "job" as SRK very seriously indeed, and manages his persona with great care. I also admire the fact that he makes heartfelt movies — my favourite, Paheli, is positively spiritual. And, let's face it, some people seem to absorb the limelight. I recently wrote about my feelings for SRK in my post, Shahrukh Khan and me. I wrote that I hoped to meet him in Toronto, after many near misses in India.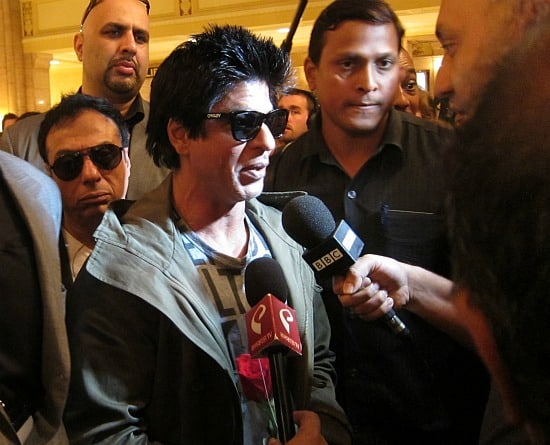 I got my wish. My fave moments of the Bollywood invasion are the three I had with SRK.
The night before SRK landed, I didn't sleep well, and I occupied some of the time coming up with two questions I genuinely wanted to ask him. When he arrived at the Fairmont Royal York Hotel, the media and fans waiting in the lobby went wild. Somehow, I managed to get right up to him with my digital recorder and ask, "What do you think of the ascendancy of India culture globally?" He said, "I think we have a very strong, warm, colourful culture and if we're able to take it all over the world, it just make people understand what India's relations are."
Later that morning, there was a press conference with Shahrukh for an Indian-themed amusement park near Delhi (think, the Pirates of the Caribbean ride at Disneyworld crossed with an over-the-top Bollywood dance number and you'll get the idea. It looks totally bogus to me, but if you can't deal with the heat and dust of India, you'll probably like the park's hygienic conditions).
After all the boring spiel was over, SRK opened the floor to questions. I was right near the front and got to ask my question number two, the one I spent half the night thinking about:
You have an unparalleled platform, one of the biggest in the world. What's your message? How are you using your platform for good?"
To summarize his answer, he first showed modesty by saying that he didn't make his films alone, and that he's been very lucky; but then he said that through his films he tries to offer people two very important things: hope and humour. It was a great answer, and I tend to agree — some of his movies are very uplifting, such as Chak De India!, which is about an all-girl field hockey team. SRK plays the coach who believes in them. It's a great girl power movie!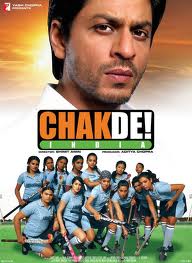 After the IIFA Awards show, I went back to my room at the Fairmont Royal York to freshen up, before heading downstairs to the after-party. I walked out of my room into an otherwise completely empty hallway and bumped smack into Priyanka Chopra, one of the biggest stars in India. I could see only her, and not the three men she was with, because she is so stunning, and she was wearing a sparkly sari.
But then one of the men turned to me and said, in a suave and sexy voice, "You look lovely in that dress." (I was wearing an Indian "suit," covered in rhinestones and glitter.) That's when I noticed it was Shahrukh Khan.
That was my moment. It was magical because it was unexpected, unscripted, unforced. I had set my intention to meet him, and worked hard in the media scrum … but "my moment" didn't take any work at all. I felt this was a confirmation of some spiritual truths: the universe listens to intentions; our destiny is rushing to meet us; and faith is more important, and far more powerful, than ego-based will power. In other words, let the magic happen….
[DISCLOSURE NOTE: As embedded blogger during the IIFA Awards, I was a guest of the Fairmont Royal York Hotel. But as always, views expressed are my own and are in no way influenced by accepting accommodation. I will not compromise the editorial integrity of Breathedreamgo.]
---
If you enjoyed this post, please sign up to The Travel Newsletter in the sidebar and follow Breathedreamgo on all social media platforms including Instagram, TripAdvisor, Facebook, Pinterest, and Twitter. Thank you!