Discovering vibrant arts & crafts in Haliburton Ontario
This summer, my sister Mariellen Ward and I wandered the Haliburton Highlands in search of art, culture, and natural beauty – and opportunities to enjoy them. We found a profusion of all three. In fact, it is safe to say, the Haliburton Ontario region can be characterized by the thriving art and culture scene, and the beauty and serenity of the rugged Haliburton Highlands. This is the first post about our #ComeWander trip in the Haliburton Highlands. Please note: We were on a media trip sponsored by the Ontario's Highlands Tourism Organization.
IF YOU WANDER THE Haliburton Highlands, like we did, you can find art everywhere. Haliburton Ontario is home to some very good artists and a surprising number of arts organizations. In the Haliburton Highlands alone, there is the Haliburton School of the Arts, the Agnes Jamieson Gallery, and the Rails End Gallery and Arts Centre. Both galleries show contemporary work.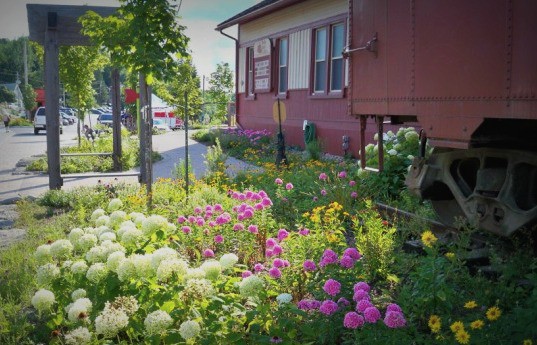 When we visited the Rails End Gallery on our #ComeWander weekend, we saw an intriguing exhibition by artist Andrew Lennox. Lennox took celluloid films from when he was a child at a nearby cottage and used a technique called 'emulsion lift' to make them into two-dimensional works and a lovely digitally manipulated video. Not your typical small town, mauve landscape with clouds! We were very impressed by this moving and technically proficient exhibition. By the way, the Rails End Gallery is so named because it occupies the former Haliburton Ontario train station. When the pioneers were settling the Haliburton Highlands in the late 19th century, this small, charming town was literally the end of the railway line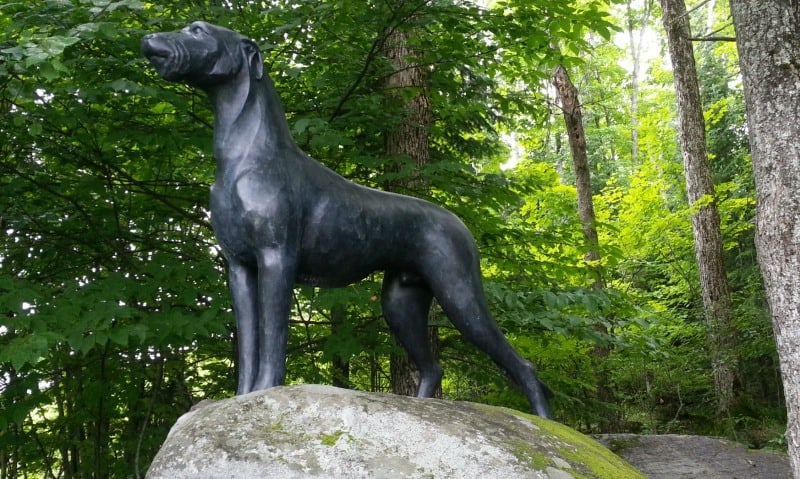 The Haliburton Sculpture Forest is adjacent to the Haliburton School of the Arts, in and among the forest that surrounds this rural location near Haliburton Ontario. My favourite piece of art in the Sculpture Forest is by one of my favourite Canadian contemporary artists, Mary Anne Barkhouse. An Indigenous artist, Mary Anne's bronze sculptures are devoted to giving animals a sense of majesty, and they are all over the province – including in front of the Museum of History in Ottawa. In the Haliburton Sculpture Forest, her bronze dog "Gelert" honours the dramatic legend of a Welsh prince and his dog. You read the legend of Gelert here.

Craft is also a big part of the Haliburton Highlands, and there are some great craft artists here, as well as a few who blend their work into what could easily be called art. Our #ComeWander trail took us to Blackbird Pottery, a three-year-old studio owned by artist April Gates. The addition of Blackbird Pottery to the Haliburton Highlands – with its Gothic/Tim Burton/Wes Anderson élan – has been well celebrated, and so it should be. Blackbird Pottery is a very good example of where art and craft meet. The quality of the work reflects someone who takes a serious and professional approach to art and craft. Blackbird Pottery is located in an old school house just outside of Haliburton village. It's an airy room that easily merges retail space with room for workshops, and it's open to visitors four days a week.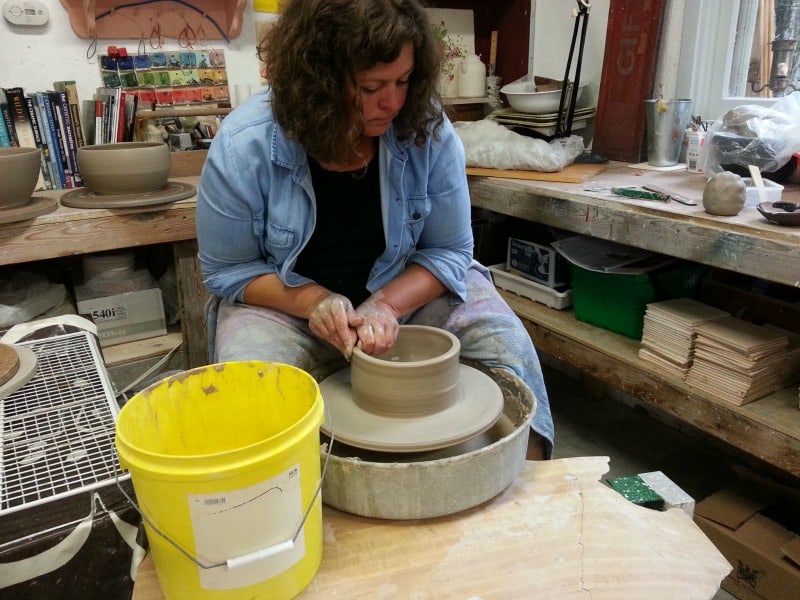 We stopped by Blackbird Pottery for a demonstration and short turn on the 'wheel' on a rainy, warm Friday afternoon. We discovered that while pottery is lovely to look at and purchase, trying your hand at making it is another thing altogether. April was patient and funny as she guided us through the very complex and often confusing skill of learning to throw. We learned that you have to train your body to hold the clay on the wheel, and it's a lesson in ergonomics as well as economics: mistakes in the throwing stage can ruin a piece during the firing and glazing processes.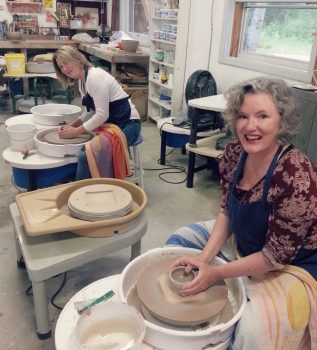 We tried our best, keeping our bodies braced, our hands steady, and our eyes on the evolving shape. It felt like a lot to do at once, along with breathing rhythmically and staying grounded, and we gained a real appreciation of this labour-intensive art form. By the end, we felt like pretzels, and had no control over the outcome of our creations. However, it was just a start and we could well understand why her classes and workshops are full. Meanwhile, we watched April at the wheel – she makes it look so easy! She explained that after the wheel, the object goes on to several more stages of firing, painting, drying, glazing. It's a long process, which is what makes her gorgeous, hand-painted works so special.
Blackbird Pottery is one among many new, hip burgeoning destinations in the Haliburton Highlands. April's studio is "Instagrammable," (@blackbirdpottery) and this is no accident: she has a keen understanding about how social media plays a role in creating a creative community.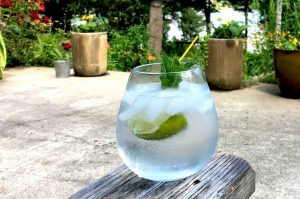 Our #ComeWander trip also took us into Haliburton village for a wellness festival in Head Lake Park where we stopped by the Living Libations booth. Living Libations is a local success story that continues to grow, and is already employing dozens of people. They make hand-crafted, organic, and aromatherapy-infused cosmetic products in the Haliburton Ontario region and ship them all over the world. You can order from their website, Living Libations. We tried some samples and the divine scents made us feel quite blissful.
From Haliburton village we wandered to The Russell Red Guest House, a stylish lakeside property just a few minutes outside of town. The Russell Red is the county's most successful and LGTBQ-friendly guest house, and it's often booked up. We sat on the lawn overlooking Kashagawigamog Lake for a drink, and then went swimming from a small beach across the road. By this time, we were truly in the spirit of wandering, enjoying our time in a beautiful Canadian destination, sans clock.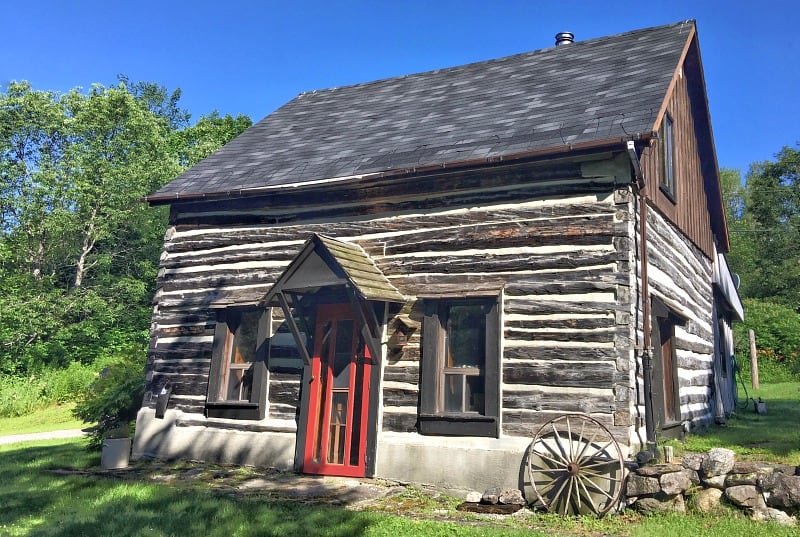 In rural areas like the Haliburton Highlands, there are many different artists and artisans, and their numbers are growing. One of the effects of the gentrification of cities like Toronto is that creative people get pushed out when they can no longer afford to live in their own neighbourhoods. Some of them move to places like the Haliburton Highlands. Toronto's loss is our gain.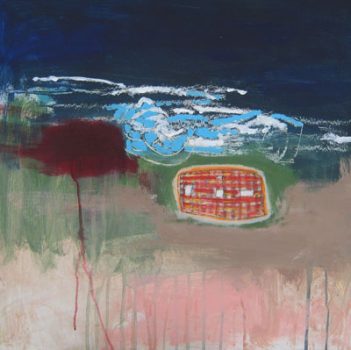 As an artist myself, I can tell you that owning your own studio in a place that can't be overtaken by condo development is itself a great reason to live in rural Ontario (see Hotspur Studio). My partner, artist Gary Blundell, and I moved here because we do landscape-based work and we wanted to be immersed in the wilderness – you cannot put a price on the space and beauty a region like the Ontario's Highlands provides.
I've spent a lot of time over the years trying to convince people to see that good, contemporary work can exist in a place like the Haliburton Highlands. Our #ComeWander weekend has allowed me to highlight some of these artists and their work.
---
Information for visiting Haliburton Highlands
More information for your #ComeWander itinerary:
Find out what type of Wanderer you are on the OHTO Come Wander website
The Ontario Travel website has lots of info for planning your trip – check out the Discover Ontario mobile app
Blackbird Pottery is open Wed. to Sat.,

10am – 5pm

all summer.
Haliburton School of the Arts and Haliburton Sculpture Forest can be visited at any time throughout the year.
Agnes Jamieson Gallery is open year-round Tues. to Sat.

10am – 4pm

.
Rails End Gallery is open in the summer Tues.

10am – 7pm

, Wed. to Sat.

10am – 6pm

and

Sunday

12 – 4pm

The Russell Red Guest House can be found on Airbnb, it books up quickly.
---
Thanks to Ontario's Highlands Tourism Organization and the organizations mentioned here for hosting us on a sponsored media trip. As always, our opinions are our own, our stories are heart-felt, and we only make recommendations based on personal experience and with the needs of readers in mind. This post may contain affiliate links. Please read our Disclosure Policy for more information. #MediaTrip #Sponsored
---
PIN it on Pinterest

If you enjoyed this post, you can….
Get updates and read additional stories on the Breathedreamgo Facebook page.
Follow Breathedreamgo on Instagram.
Follow Breathedreamgo on Twitter.