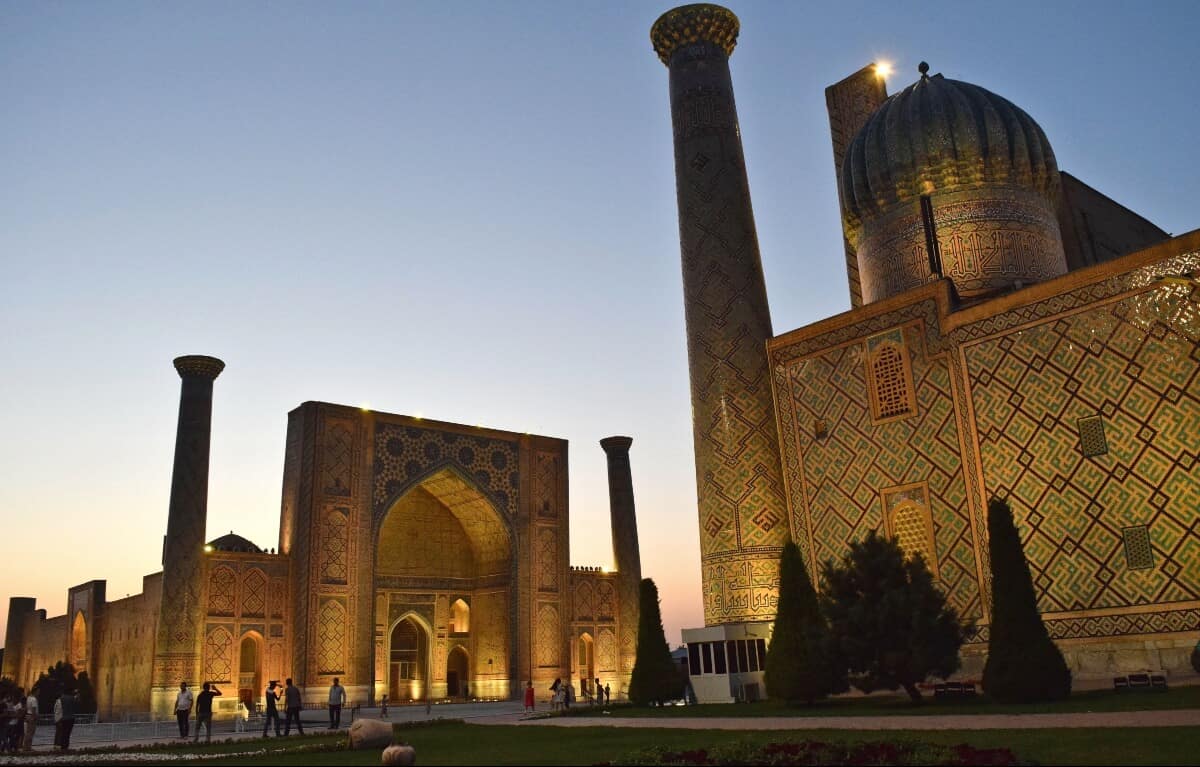 Uzbekistan tourism:

Top 10 reasons to visit Uzbekistan

Guest post by Sophie Ibbotson. I fell in love with Uzbekistan 10 years ago on a journey from the United Kingdom to Afghanistan. After weeks crossing Eurasia, I arrived in Uzbekistan: Heart of the Silk Road and was dazzled by the UNESCO monuments, the warmth of the hospitality, and the majesty of the landscapes. As a guidebook author and Ambassador for Uzbekistan Tourism, I have now had the great privilege to travel to every corner of the country, and want to share with you my top 10 reasons to visit Uzbekistan.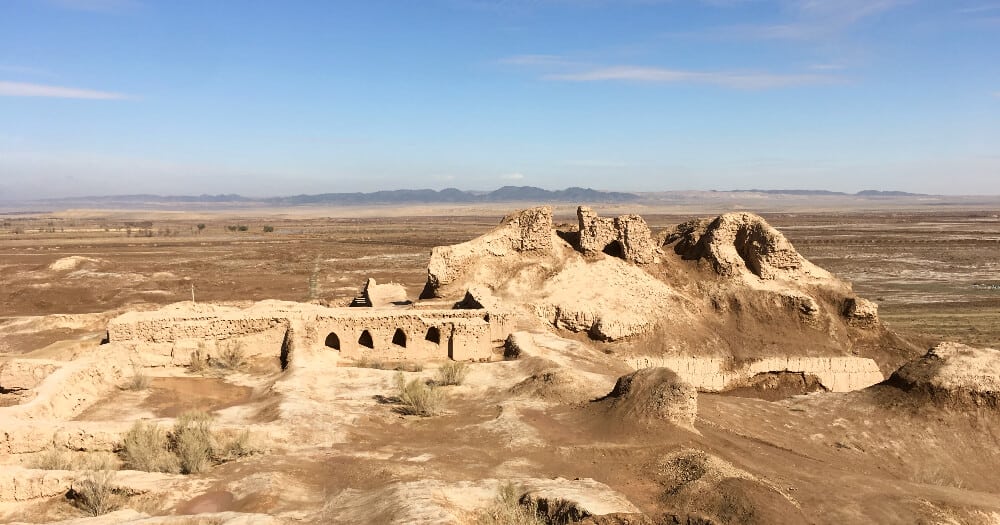 Ancient cities of Uzbekistan
Uzbekistan has been inhabited by mankind for more than 10,000 years, and in the dry, arid climate, the ancient cities are well preserved. Archaeological sites such as Kampir Tepe (built by Alexander the Great as Alexandria on the Oxus) and the Desert Fortresses of Khorezm are now romantic ruins, occupied only by the ghosts of the past. When you explore them, more often than not you will be the only tourist there. This contrasts with the likes of Tashkent and Samarkand, both of which are more than 2,500 years old, where each generation of rulers has built another layer of the city. Ancient, medieval, and modern marvels jostle for your attention, and whether you are exploring the streets or touring one of the many museums, you will certainly be awed by the richness of Uzbekistan's history.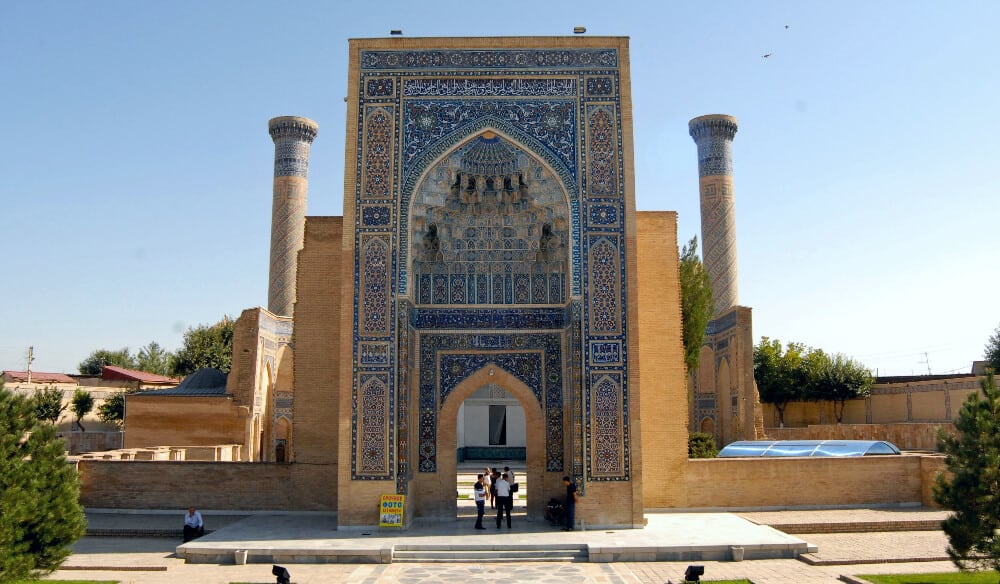 Magnificent mountains
When people think about Uzbekistan tourism, they imagine the deserts crossed by camel caravans, the majolica tile covered mosques and madrassas, and the bustling Silk Road bazaars. That Uzbekistan is also a mountainous country comes as something of a surprise! But what this means is that in the heat of the summer you can escape into the relative coolness of the Western Tien Shan, a UNESCO World Heritage Site. You can hike, mountain bike, picnic by one of the many lakes, and soak up the beauty of the great outdoors. The winter snowfall is superb for skiing, and the brand new Amirsoy Mountain Resort has world class facilities, giving Europe's Alpine ski resorts fierce competition in quality, not to mention price. The day I spent heli-skiing with Uzbekistan Tourism last season was quite unlike anything I've ever experienced anywhere else in the world.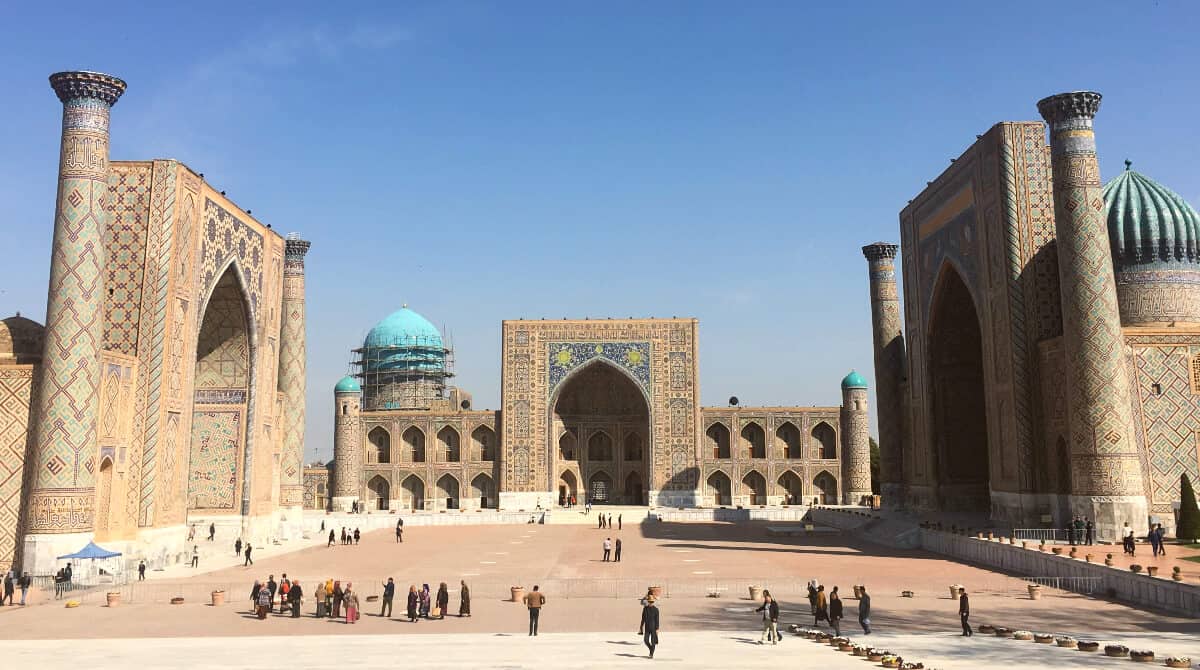 Medieval monuments
The UNESCO-listed Registan in Samarkand is Uzbekistan's answer to India's Taj Mahal. This economic complex of World Heritage Buildings graces postcards and the covers of guidebooks, and it is the #1 site that every tourist in Uzbekistan wants to visit. But the Registan is just one of hundreds of breathtakingly beautiful medieval monuments spread across Uzbekistan. The Gur-i Amir (the mausoleum of Emperor Timur) is believed to be the architectural model for both Babur's Tomb in Kabul and Humayun's Tomb in Delhi. The Kalyon Minaret in Bukhara (another UNESCO World Heritage Site) was the only structure in the city to survive destruction by Genghis Khan, and it is flanked by the Kalyon Mosque and the Mir-i Arab Madrassa, both of which are decorated with the mesmerising patterns of tiles and glazed turquoise domes that are so evocative of the Silk Road.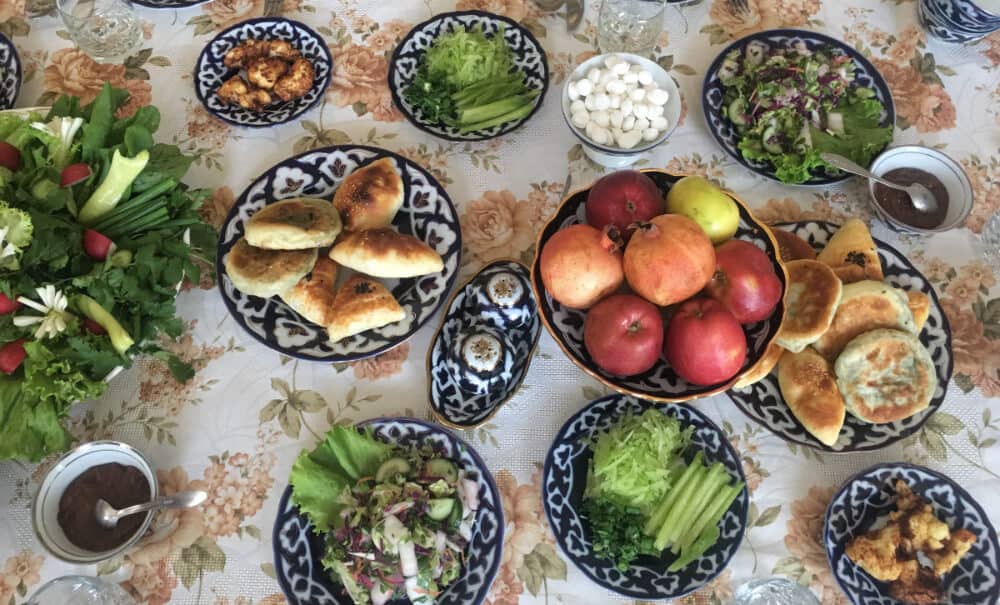 Mouthwatering foods
When you visit Uzbekistan, you will spend a disproportionate amount of time eating and drinking. Nothing beats the smell of fresh non which has been cooked in a tandoor, or the sizzling of lamb kebabs on the grill. The winter melons of Uzbekistan are so famous that even the UK's Financial Times newspaper published a eulogy to them, and in the summer months, the market stalls groan beneath the weight of locally grown strawberries, cherries, apricots, and pomegranates. Uzbekistan's national dish, plov, is the Central Asian sister to a biryani, and every region has its own variation of the recipe. Everyone you meet in Uzbekistan will tell you that their mother's plov is the best and urge you to try a portion. Resistance is futile: eat another mouthful, and enjoy!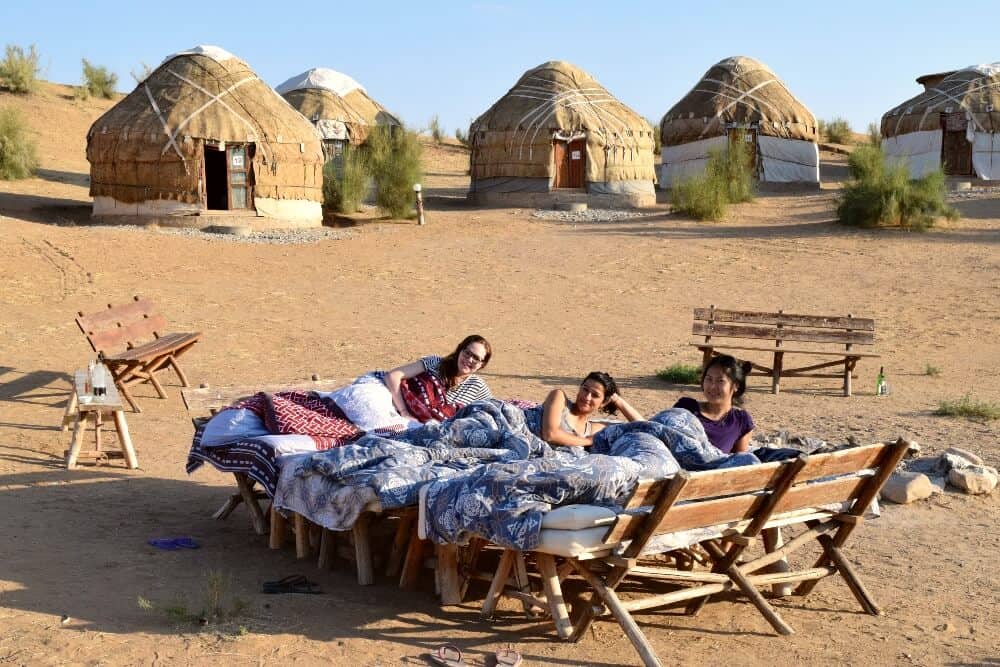 Quirky places to stay
When it comes to accommodation, Uzbekistan tourism's top draw is not its five-star hotels, but rather the small, unique places to stay. In Bukhara's UNESCO Old Town, historic merchants' houses are now boutique hotels. You can breakfast in their galleried courtyards, or in dining rooms decorated with antique paintings. Khiva's madrassas are no longer in use as religious schools, but in some cases the cells where students studied and prayed have been converted into atmospheric guest rooms. Hotel Orient Star occupies a prime location within the Mohammad Amin Madrassa, right next door to the Kalta Minaret. Out in the Kyzylkum Desert, you can spend the night in a yurt camp at Aydarkul, with camels watching on. Alternatively, if you need your mod cons, you can upgrade to a rather swankier yurt with an en suite bathroom at Sarmishsoy. It's important to remember that when you stay in local properties like these, you not only learn more about Uzbekistan, its culture and hospitality, but you also contribute directly to the local economy, making tourism much more sustainable.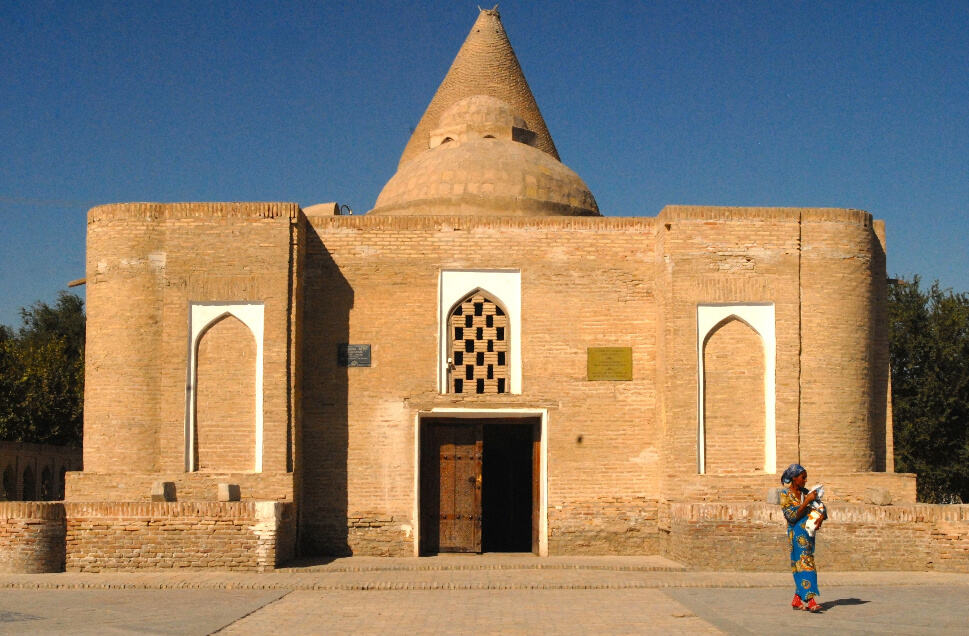 Sacred shrines
The BBC called Uzbekistan "Land of a thousand shrines" and indeed there are countless religious sites across the country, from the Graeco-Bactrian era Buddhist monastery at Fayaz Tepe, to the Zoroastrian altars excavated in Khorezm. It is for the Islamic shrines that most pilgrims visit Uzbekistan, however. Sunni Muslims come to the holy shrine of Imam Bukhari, author of the Sahih al-Bukhari collection of hadiths, near Samarkand. Followers of the Naqshbandi order of Sufism pay their respects at the shrine of Baha-ud-Din Naqshband in Bukhara. I appreciate the peace of the Nurata Chashma in Navoi Region, and the small shrine amongst a glade of chinar trees at Urgut. There are shrines connected with the Prophets Job (Ayub in Uzbek) and Daniel, too, and as Daniel's body is said to still be growing, his casket is now more than 18 metres long.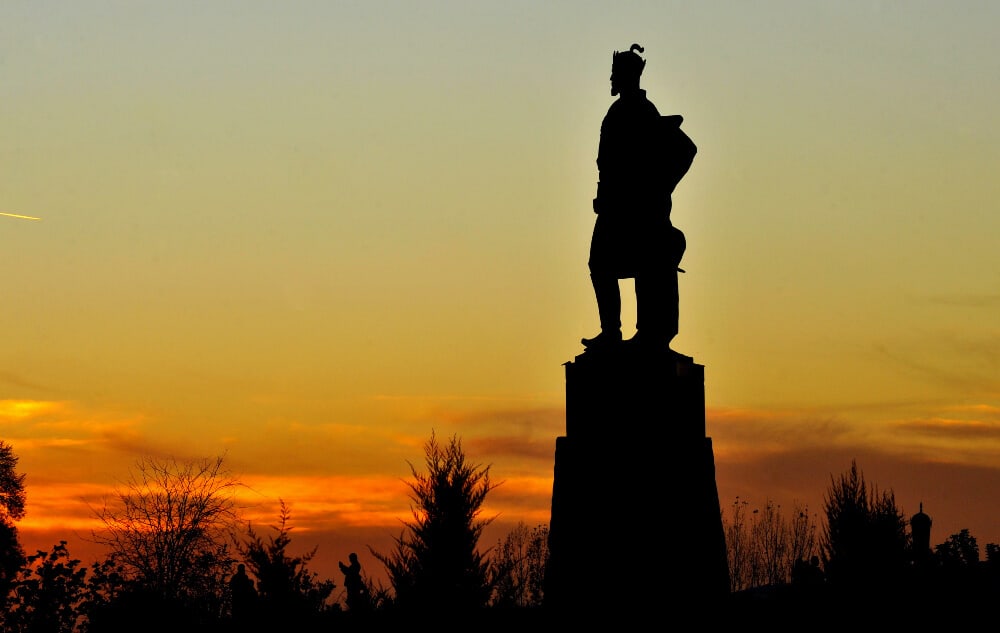 Star-filled skies
Uzbekistan has some of the darkest night skies I have ever seen. When I am out in the desert or in the mountains, I long for nighttime to come, because as soon as you leave the cities behind, countless stars prick the heavens, sparkling bright. With the naked eye you can see the edge of the Milky Way, planets in our solar system, shooting stars, and even manmade items like the International Space Station. Uzbekistan Tourism has begun investigating opportunities for astro tourism, and it is my dream that one day soon we will have an International Dark Sky Place in Uzbekistan, as well as astro guides to help dark sky tourists enjoy such a high quality of astronomy. It is no wonder that Ulug Beg, the grandson of Emperor Timur, was inspired to become one of the great astronomers of the medieval age: he would have been awed by the stars over Samarkand night after night. You can still visit his astronomical observatory to learn about the scientific instruments he used.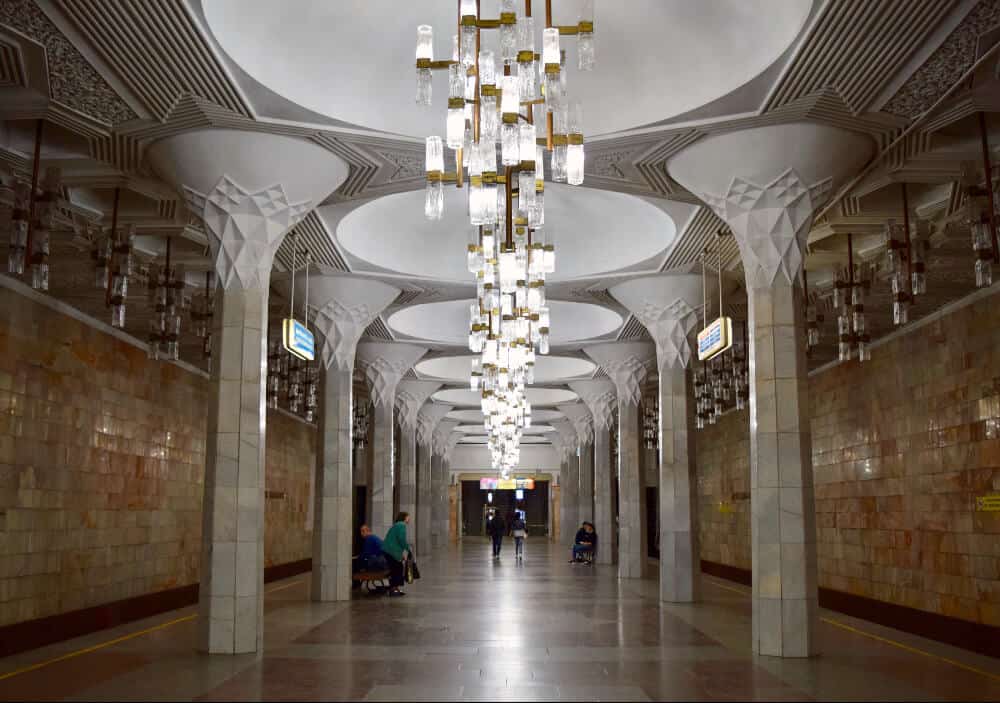 Tremendous trains
As an environmentally conscious traveller, being able to travel safely and affordably by public transport is important to me. In the capital, Tashkent Metro is cheap and efficient, but just as excitingly, it is a subterranean art gallery! Every station on the network was designed by a different artist or architect, and the themes vary from the Soviet space programme to the poetry of Alisher Navoi. To reach the UNESCO cities of Samarkand and Bukhara (and, very soon, Khiva), I always recommend taking the high speed train. Modern, air conditioned, and spotlessly clean, the Afrosiab train service is not only the fastest, but also the most responsible, way to travel across Uzbekistan. The Afrosiab makes it viable to fly direct to Tashkent from New Delhi (three hours away) and visit Samarkand and Bukhara for a long weekend.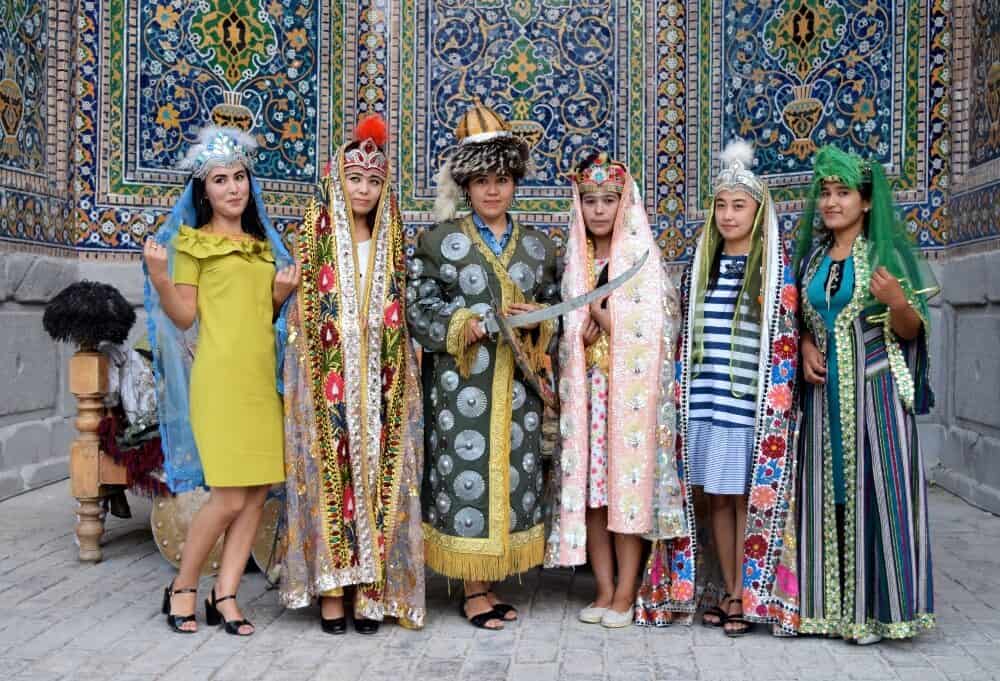 Uzbekistan Tourism offers a warm welcome
In Uzbekistan tourism is relatively new: it is only since 2016 that international arrivals have soared. One of the advantages of this is that tourists are still viewed first and foremost as honoured guests, and in many communities the novelty of seeing foreigners hasn't yet worn off. Wherever you go in Uzbekistan, you will receive a warm welcome from the local people you meet. People are curious to find out who you are and where you are from, to practise their English with you, and to teach you about their culture and traditions. I adore being invited into people's homes for tea, and sitting chatting for an hour or two, even if we share relatively few words in common. It is a privilege to have such personal, authentic experiences, and these intimate social interactions will be one of the highlights of your trip.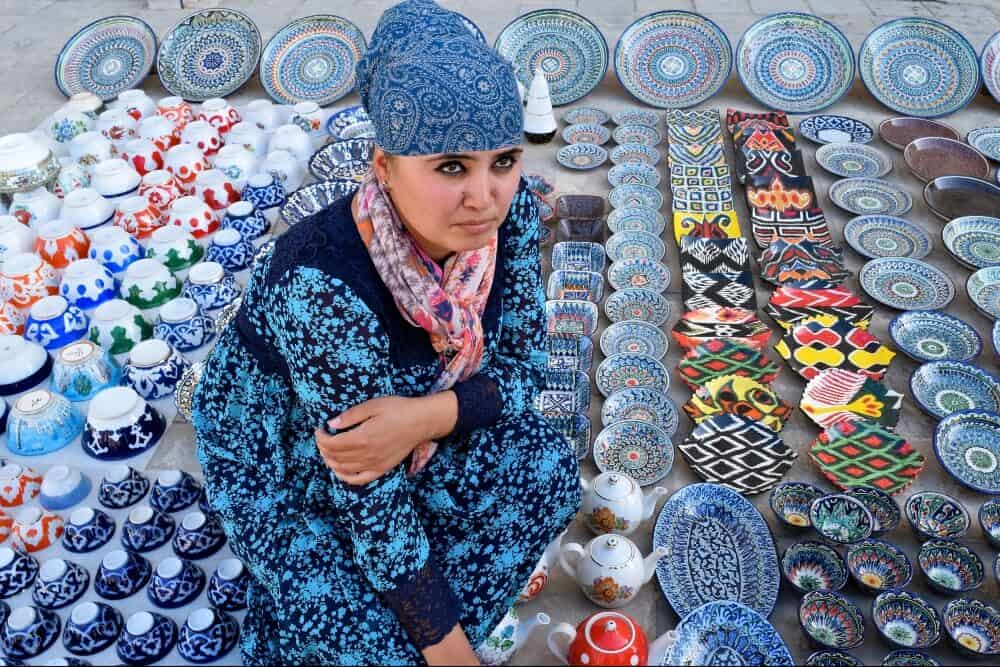 Vibrant festivals
One of the very best ways to experience Uzbekistan's intangible cultural heritage is by attending a festival or other public event. Uzbekistan Tourism puts on a calendar of inspiring cultural events throughout the year, so there is always something to enjoy. The biennial International Festival of Handicrafters takes place with the dazzling Kokand Palace as its backdrop, and the Sharq Taronalari International Music Festival uses the central square of the Registan as its unforgettable stage. Electronic music lovers should schedule their visit to coincide with Stihia Festival, a celebration of Techno which takes place in the eerie desert town of Muynaq, surrounded by the skeleton ships of the shrunken Aral Sea. Billed as Central Asia's answer to Burning Man, Stihia also does an important job of raising awareness of the Aral Sea environmental disaster and the efforts to restore its water levels.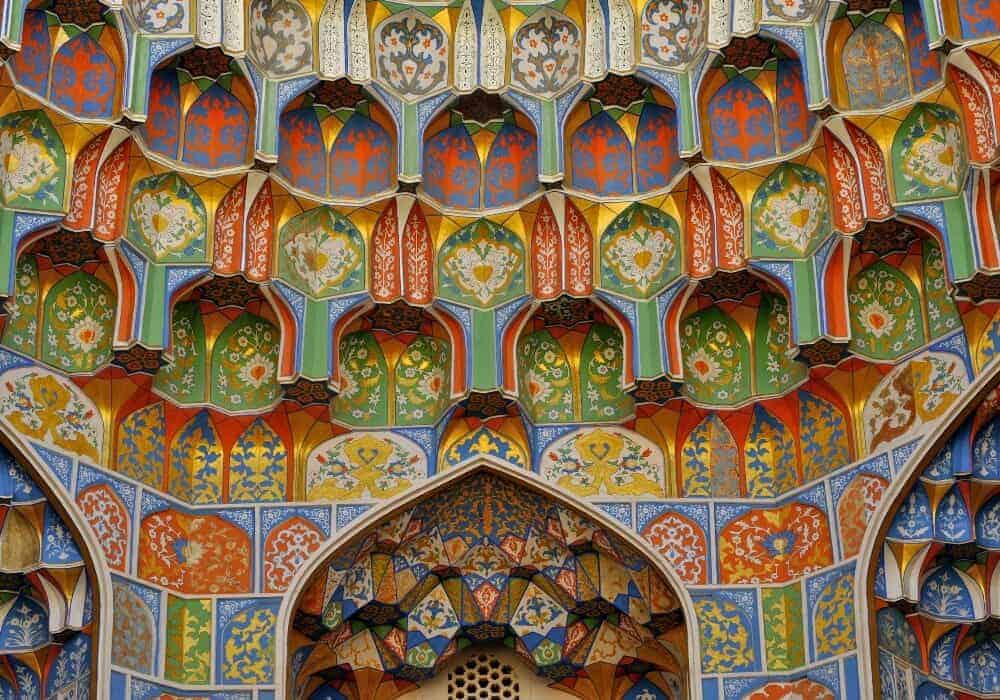 ---
Guest post by Sophie Ibbotson. Sophie is Uzbekistan's Ambassador for Tourism and the author of Bradt Travel Guides' Uzbekistan guidebook. She runs tourism consultancy Maximum Exposure Ltd and is an advisor to the World Bank in Central Asia and the Balkans. You can follow her on Twitter and Instagram at @uzambassador.
---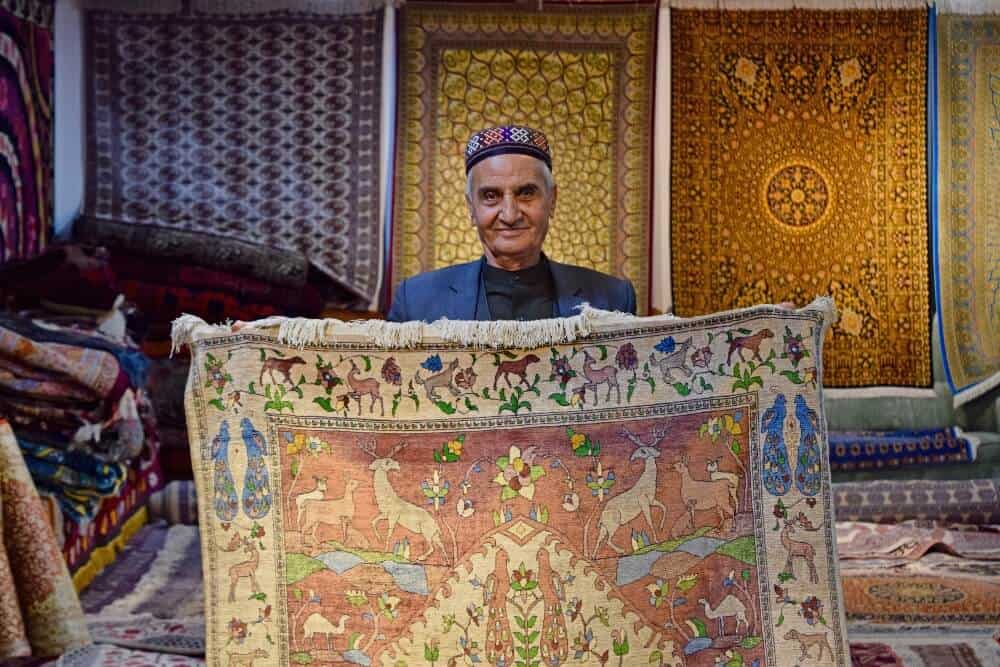 ---
Pin it on Pinterest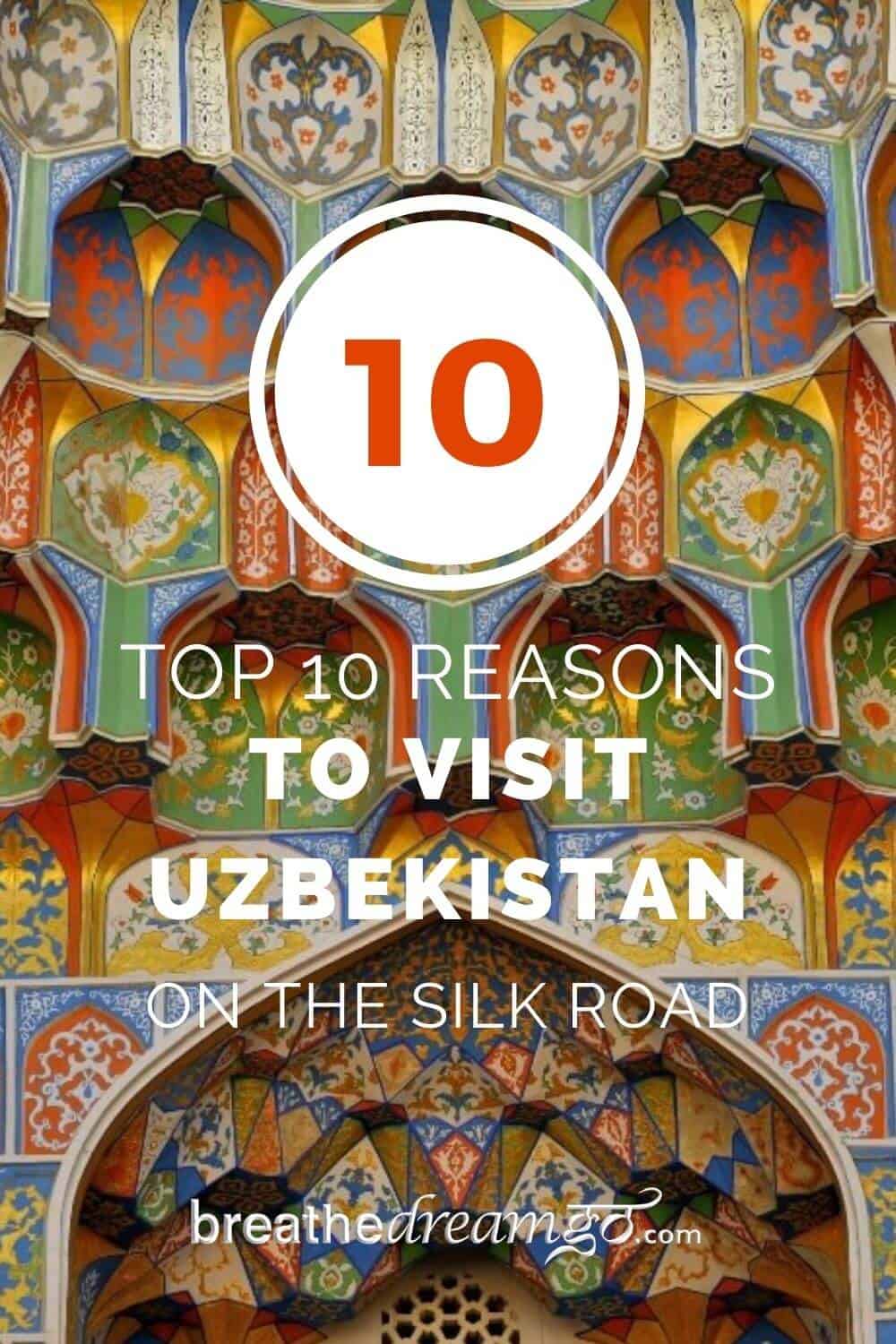 ---
If you enjoyed this post, you can….
Sign up to The Travel Newsletter in the sidebar and follow Breathedreamgo on all social media platforms including Instagram, TripAdvisor, Facebook, Pinterest, and Twitter. Thank you!