Traveling solo is essential for seekers
It worked for me, and now there's a handbook to show you how to do it.
Back in 2005, when I set off on my first six-month trip to India, there was no question that I was going alone. The thought of traveling with someone else never even crossed my mind. Although I was heading out on my first real voyage of discovery, my first pilgrimage, I instinctively knew that I had to do it alone. I don't remember anyone telling me, or giving me this advice — it just seemed obvious.
I was going to India for two reasons: one, I had always wanted to go to India, but it seemed like an impossible dream. But I was at a time in my life when I knew that if I didn't start following my dreams, my life wouldn't be worth living. And, two, I was very unhappy, and needed to shake up my life. I was in a deep rut, trying desperately to come out of a lengthy depression following a series of devastating losses (including the deaths of both my parents and the break-up with my fiance).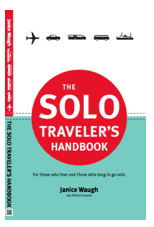 What I needed to do in India, I needed to do alone: Jump off the cliff and find out if the net would appear. Stand on my own two feet. Face myself. Find the fuel, or inspiration, or reason to keep living. Re-start my life. Truly experience adventure.
This is why I enthusiastically support solo travel proponent Janice Waugh. I follow, and have contributed to, her website Solo Traveler. I belong to the Solo Travel Society on Facebook.  I follow her Twitter feed @solotraveler. And now I am reading her new book, The Solo Traveler's Handbook, and loving it. For a review — and to find out why I think this book is important — keep reading.
Inspiration through sharing
The Solo Traveler's Handbook is a delightful combination of inspiration and information. The inspiration comes largely from the personal anecdotes author Janice Waugh consciously peppers throughout the book. She has an open, down-to-earth and articulate style that conveys the depth of her experience without overdoing it. She shares personal stories that include the death of her husband, and the effect it had on her life; and her awkward first solo trip, to Havana, Cuba, with no hint of self-pity. Everything is written with the sole purpose of inspiring others to get out there and try solo travel. For Janice, going to Cuba alone — after years of traveling with her husband —  obviously signaled an important turning point in her life. She reclaimed her love of travel, and, no doubt, her love of life, too.
I especially like the inspiring stories she shares about making friends on the road. My favourite is the story about how she was stranded for a couple of hours in Patagonia, wishing the nearby coffee shop was open so she could have a cup of coffee. Along comes Steve from Seattle. After striking up a conversation, Steve discovers she is craving coffee, gets out his portable stove, heats water, opens up a packet of Starbucks coffee he is traveling with, and make her a cup 'o joe. A great story, told with the intention of assuring readers that you are not alone on the open road.
Advice from a trusted friend
Aside from sharing of herself, another great thing about Janice Waugh's book, The Solo Traveler's Handbook, is that she offers good advice. Throughout the book, Janice stresses two things over and over: almost anyone can go on a fun and enjoyable solo vacation or long-term trip; and, while a certain amount of risk is necessary for adventure, you should never, ever, compromise where your safety is concerned. The entire last section of the book is devoted to safety and I really appreciate that she shared her story of being caught in a con game in Paris. Be sure to read "The 5 principles of safety" and "60 tips for solo safety."
Like a concerned friend, Janice offers advice, tips and information on budgeting, dining alone, going out at night and even sex on the road. She intersperses real stories of her solo travel adventures with both lessons learned and solid advice. In many places, inspiration and information meet, such as, "Dream trips to real trips in 7 steps," and "Solo is the downward dog of travel."
The book also includes lots of resources, such as recommended websites for learning more about home stays and beating the single supplement.
Finally, the third thing I want to say about The Solo Traveler's Handbook is that … it's funny! Janice also uses humour and a light touch to inspire people, and make them feel at ease. I laughed out loud at "Confessions of a solo bobo," and "15 signs that you've had too much time alone."
So, if you're thinking of going solo, or know someone who could use a little push, I highly recommend The Solo Traveler's Handbook. Janice covers some of the benefits of solo travel in the book, but, truth to tell, words can never fully convey the depth and richness of finding yourself on the other side of the world.
You can order your copy of The Solo Traveler's Handbook using this link to the Solo Traveler website.
If you enjoyed this post, you can….
Get updates and read additional stories on the Breathedreamgo Facebook page.
Buy Song of India, a collection of 10 feature stories about my travels in India.
Subscribe to the free — and inspiring! — e-newsletter, Travel That Changes You.