Going, going, gone in Goa
I walked out of the small, crowded airport in Goa to find my pre-paid taxi, pushing past the usual throng of sharks looking for a fare. On the 30-minute drive south to Benaulim, where I was to stay in the home of a friend from Bangalore, I caught sight of a billboard with this declaration, hand-painted in glaring tropical colours:
Goa is like a refrigerator. There is nothing to do here but chill.
Oh man, I was already in trouble. I had all but lost the ability to chill. And I wasn't sure I was in the mood. Years of hard work building my freelance writing and blogging career was wearing me down. Plus, I was recovering from a nasty sinus cold I picked up in Odisha. And I felt sluggish and heavy from spending way to much time sitting at a computer. How the hell was I going to catch the famous Goa vibe, hit the beach and just chill?!
Resistance is futile
I resisted Goa for a long time. Images of hard-scrabble foreigners getting drunk together on the beach crowded out any native allure the tiny state, squeezed up against the Arabian Sea coast in Southern India, might have held. Even though I know this is one of the best places to go for some winter sun.
However, after three trips to the subcontinent, I decided to dip my toe in the water in 2010 and stay at unique eco-lodge called Bhakti Kutir, which is Sanskrit for "sacred place." They had me at Sanskrit. I enjoyed my stay, and think fondly back on my al fresco bathroom at the Bhakti Kutir, and of the beauty of all-but-deserted Palolem Beach, but I did not fall in love with Goa, and had no plans to return.
But last winter when I needed it most, some friends offered their house in Benaulim, Goa to me for a week, and I jumped. The house turned out to be a disappointment — too isolated, and surrounded by a construction site — so on my first morning in Goa I hired a taxi to take me around until I found a little slice of paradise for a very reasonable rate: a small flat with a kitchenette, balcony and winding staircase to a rooftop patio, in a luxe residential community on the beach. Most of the flats at Costa Montage in Benaulim are privately owned; I managed to grab one of the only places available for rent. And as I was a walk-in, I was able to negotiate a very good rate (about 60% off).
Feeling happily ensconced among the Portuguese inspired architecture of the buildings, each painted in a different Hollywood colour, I found myself relaxing. The pool glistened impossibly turquoise, the walk to the beach was past gracious homes and through a private stretch of sand, the food at the chic beach-side cafe was impeccable, and the sunny weather was perfect — and it all made me feel like I was on a movie set.
Catching a chill
So, for a week I forgot about debts and deadlines, haste and waistlines … and caught the Goa vibe. Finally. What did I do? I walked into town and bought groceries, and made scrambled eggs, rice and curried vegetables at home. I walked along the beach. I met up with several other foreign women, all under the social command of Cynthia, an athletic and outgoing woman from Edmonton, and ate long, leisurely lunches on the beach or in town. I swam and played in the surf. I sampled spicy Goan seafood.
One day, I spent an afternoon walking to the far side of Benaulim, which is a small tourist town with a very relaxed vibe that caters to older foreign visitors who like to do as little as possible on as little money as possible. I met a very respectable retired European people who were living on about $25 per day, and that included their guesthouse.
My goal was Art Escape, a resort-and-art-bar near the south end of Benaulim. I was met by Sandra, one of the team who runs this funky place, and treated to lunch. A Swiss DJ was spinning tunes that ranged from Louis Armstrong to Roxy Music to funk-fusion. The chef came and sat with us and talked excitedly about creating inspired dishes that melded Indian and European influences. Two young women performed a kind of poetry slam about garbage culture and the evils of TV.
It was a fun way to spend an afternoon, and I appreciate their enthusiasm for all things artistic, but the accommodations were a bit too basic and ramshackle for me to want to stay there; just a notch up from camping on the beach, but without the romance and privacy. However, if you are in the area, they hold music nights on a regular basis, from concerts to jams, and from rock to Indian classical, which I would highly recommend; along with dinner.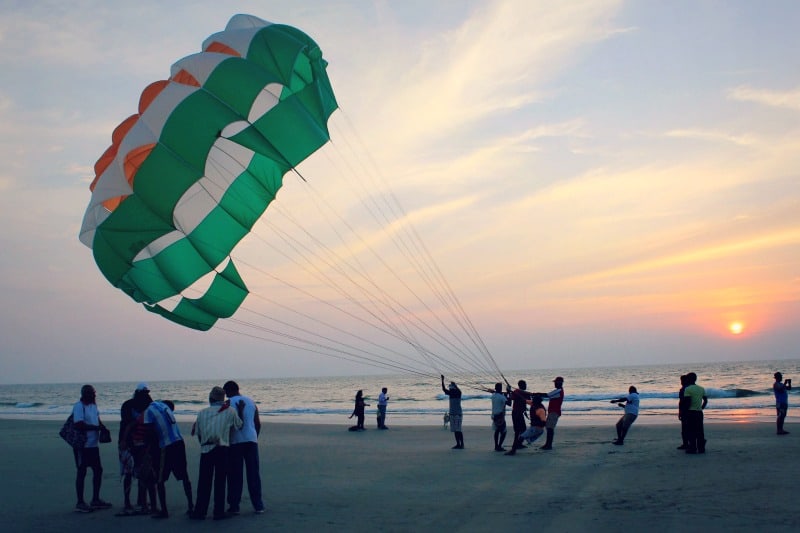 On another day I visited the Taj Exotica, at the extreme south end of Benaulim. Like all Taj hotels, it's a special place — in this case, largely due to the spaciousness of the property, about 50 beachfront acres dotted with pools, villas and wide expanses of lawns where families were playing tennis and croquet. Even the lobby is immense. I was taken on a tour of the hotel and left, very happily, at the beach-front Lobster Shack, where I delighted in eating crab cakes as I watched people balloon riding as the sun set, gloriously, into the Arabian Sea.
On my last evening in Goa, I walked along the beach in my bathing suit and sarong skirt, as usual, just before sunset. The sound of ambient-techno music drifted along from one of the beach shacks and I decided to sit down and have a drink. A gin and tonic. Then I decided to have another, which is not like me (I'm usually a non-drinker).  I struck up a conversation with two young men from Germany, and I asked them to watch my things as I dove, tipsy, into the surf exactly as the sun was setting. I threw myself into the gentle warm water, and swam along the pink ribbon of the sun's reflection, and time stood still, and my sense of self expanded and was fully truly in that glorious moment. As I emerged wet and happy from the surf I realized that I had caught the Goa vibe. I was chill.

---
If you enjoyed this post, please sign up to The Travel Newsletter in the sidebar and follow Breathedreamgo on all social media platforms including Instagram, TripAdvisor, Facebook, Pinterest, and Twitter. Thank you!